Gronk spiked Lego Steve Harvey and Harvey was NOT happy.

Harvey: "I don't want to work with him no more." 😂pic.twitter.com/FxCUKTG2LY

— NFL Update (@MySportsUpdate) January 1, 2020
Happy 2020! There were some uni-related shenanigans during last night's New Year's Eve festivities, as former NFL tight end Rob Gronkowski appeared on Fox's midnight countdown show in an old-timey football uniform with a leatherhead helmet (and also spiked a Lego representation of host Steve Harvey, much to Harvey's displeasure, although all of that seemed more like a scripted shtick). Not a bad outfit for ringing out the old year and ringing in the new.
Here's a better view of the uniform, including the excellent socks (click to enlarge):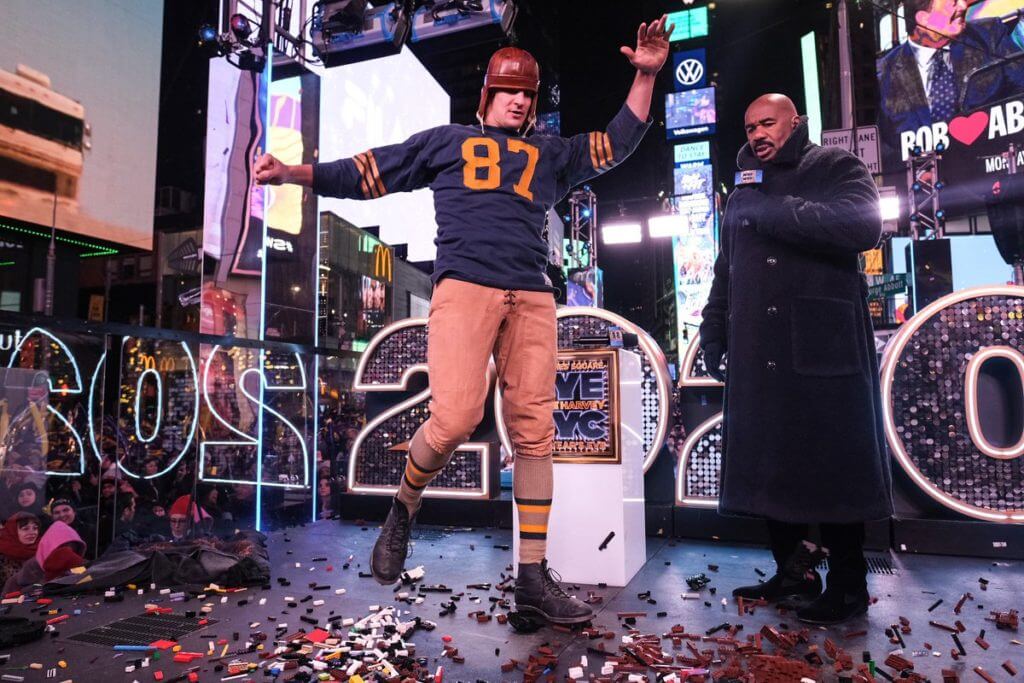 As you may recall, NBC celebrated Thanksgiving by creating side dish football uniforms, so we're definitely seeing more of a uni presence for various holidays. I heartily approve!
• • • • •
• • • • •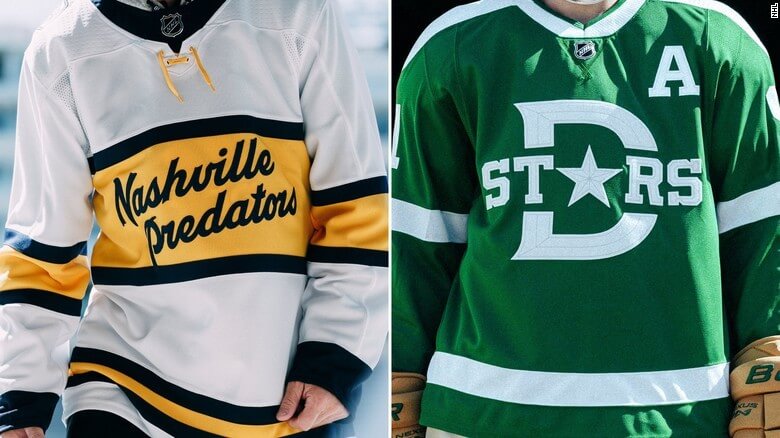 A Jan. 1 tradition: New Year's Day is always a big day in the uni-verse because of the retro-themed NHL Winter Classic, now in its 13th year. This season's installment features the Predators and Stars facing off at the Cotton Bowl in Texas, with the game scheduled to begin at 2pm Eastern.
Uni Watch reader Chris Mycoskie will be attending the game with his three-year-old son, so we may have a first-hand report from them tomorrow — stay tuned.
• • • • •
• • • • •
I'm digging the blue-collar look that HC @CoachJayNorvell is rocking today at @NevadaFootball practice as they prepare for the @IDPotatoBowl. #BattleBorn @UniWatch @PhilHecken pic.twitter.com/GA7M5pFdYx

— Damon Hirschensohn (@NevadaPackFan) December 31, 2019
Free car wash with oil change: Nevada coach Jay Norvell became college football's latest Working Class Wannabe™ yesterday, as he dressed up as an auto mechanic to show his team's "blue collar" values.
As you may recall, Eastern Michigan's entire coaching staff pulled this same stunt last week. At this rate, blue collar dress-up is going to replace military dress-up as the sports world's favored form of cosplay. (For more thoughts on the sports world's fetishizing of the working class, look here.)
Norvell, incidentally, makes half a million dollars per year. I wonder what his mechanic thinks of that costume. Or the custodian who cleans his office. Or the people who had to sew that shirt together for him.
• • • • •
• • • • •
Auburn is wearing alternate helmets tomorrow in the Outback Bowl. Standard AU logo on one side, #7 to honor Pat Sullivan on the other. pic.twitter.com/v9siGrtInY

— Nathan King (@byNathanKing) December 31, 2019
Tiger tribute: In a more laudable development, Auburn will honor 1971 Heisman winner Pat Sullivan, who died on Dec. 1, by wearing his No. 7 on the left side of their helmets in today's Outback Bowl. As you can see above, they're also going with a throwback grey facemask. Classy move — nicely done.
• • • • •
That's it for today, as the entire Uni Watch team had yesterday off. Hope everyone had a safe and enjoyable New Year's Eve and that you have fun activities planned for today. Speaking of which, the Tugboat Captain and I are having a few dozen friends over for a New Year's gathering, so I have to get crackin' on party preparations. See you back here tomorrow! — Paul