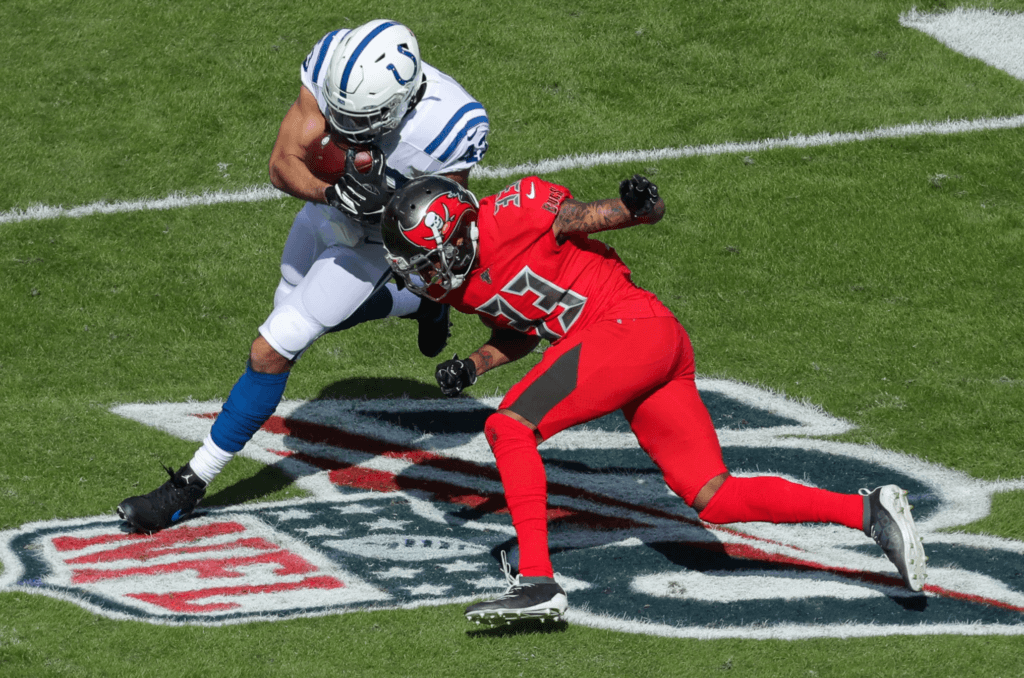 For all photos in this section, click to enlarge
Good morning! Very interesting collision of styles yesterday in Tampa. On one side of the ball were the Colts, wearing what might be the NFL's definitive old-school uniform — one color plus white, block numerals, a design that's been more or less unchanged for more than six decades. On the other side were the Bucs, wearing their newfangled mono-red costumes — a design that's now in its sixth season and may not make it to a seventh. Regardless of which style you prefer, it sure made for a weird-looking game, because the two teams looked like they came from different universes (and uni-verses). Lots of additional pics here, here, and here.
In other news from around the league yesterday:
• The 49ers added a "TY" helmet decal for team CEO Jed York's brother, Tony, who died by suicide a year ago Saturday: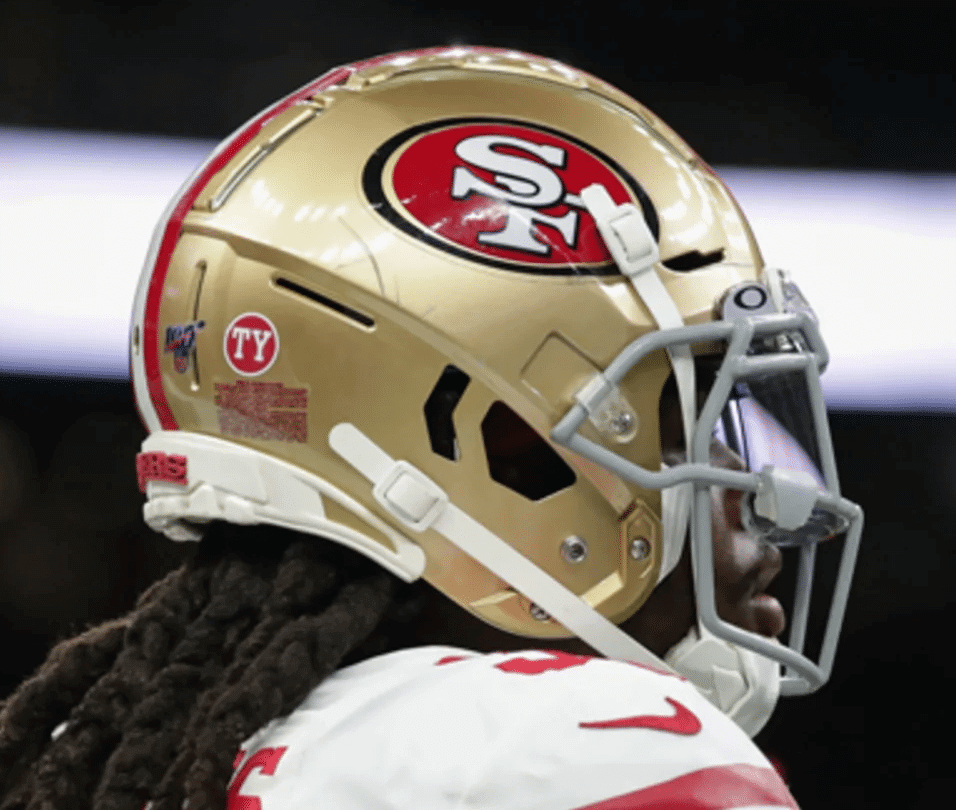 • The Jets wore their awful mono-BFBS alternates: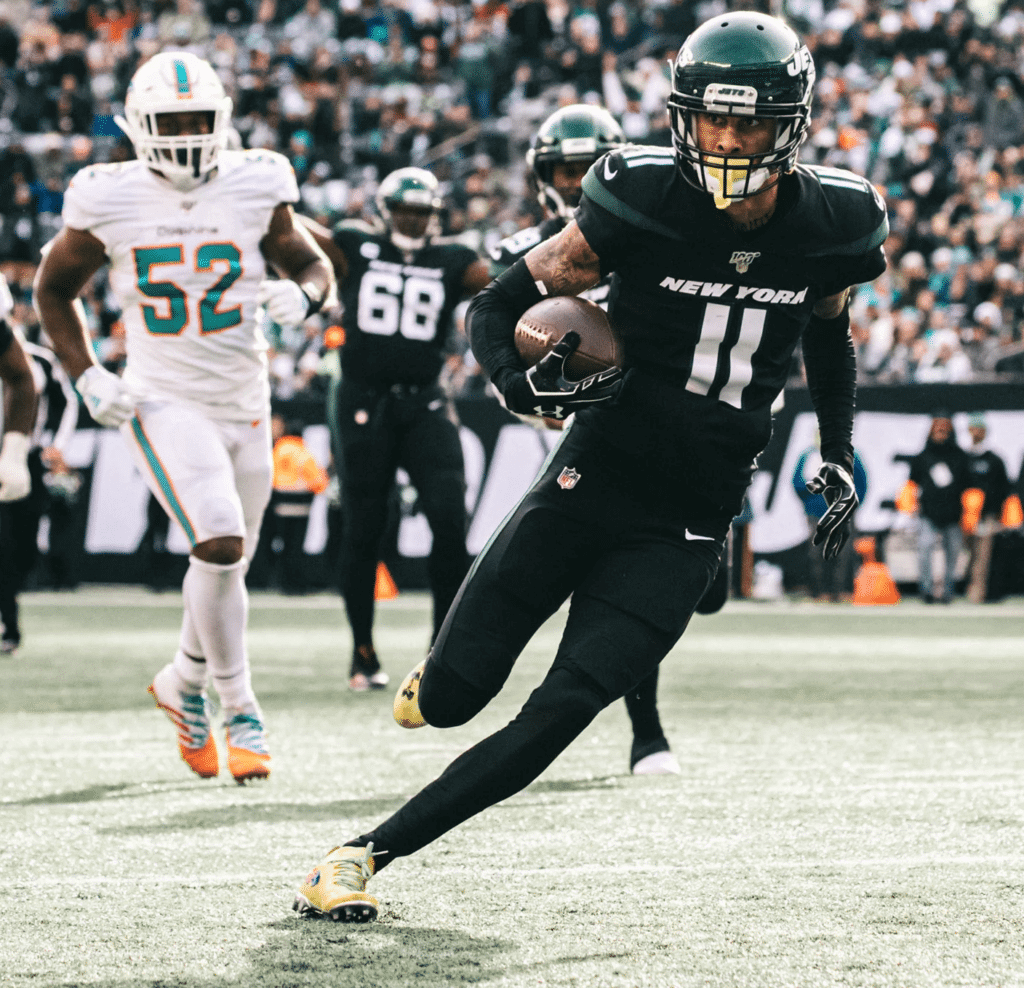 • The Browns went mono-turd: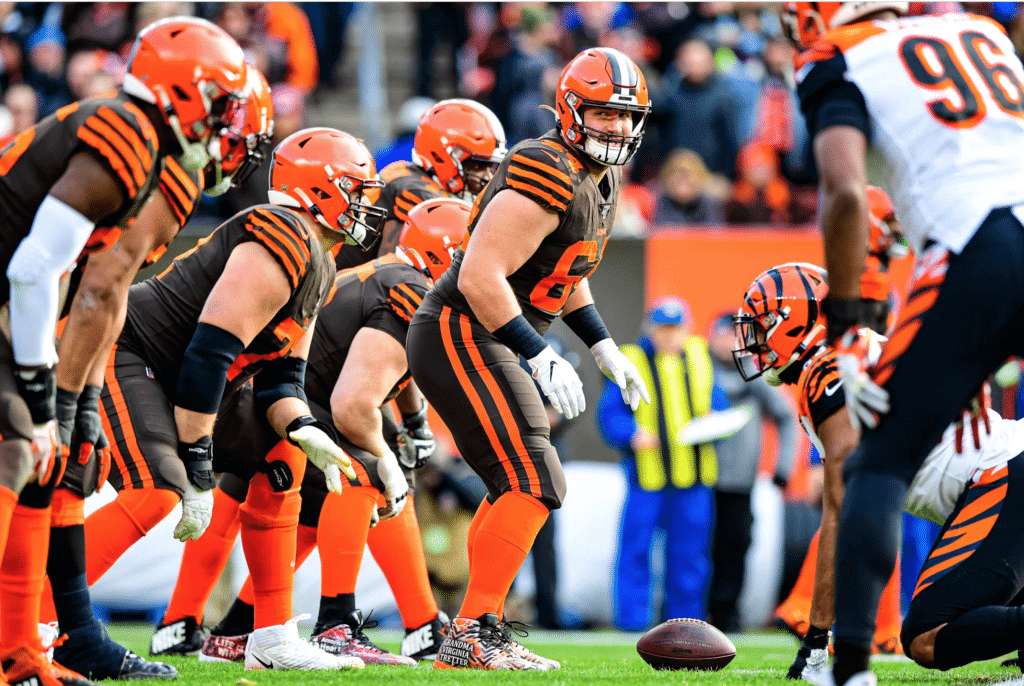 • When it comes to the Bills, the only thing I like less than them going mono-blue is when they go mono-red: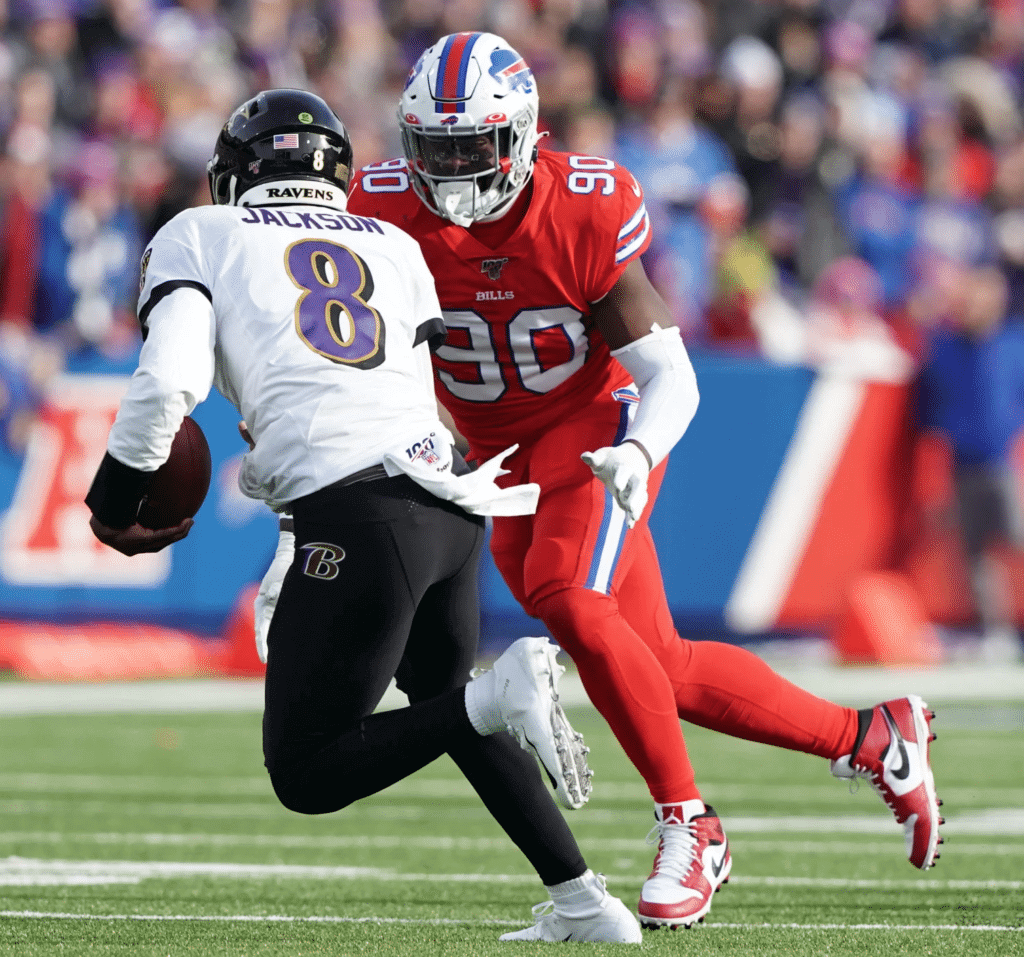 • Speaking of red, the Texans wore their red alternates:
• The Jaguars went mono-black: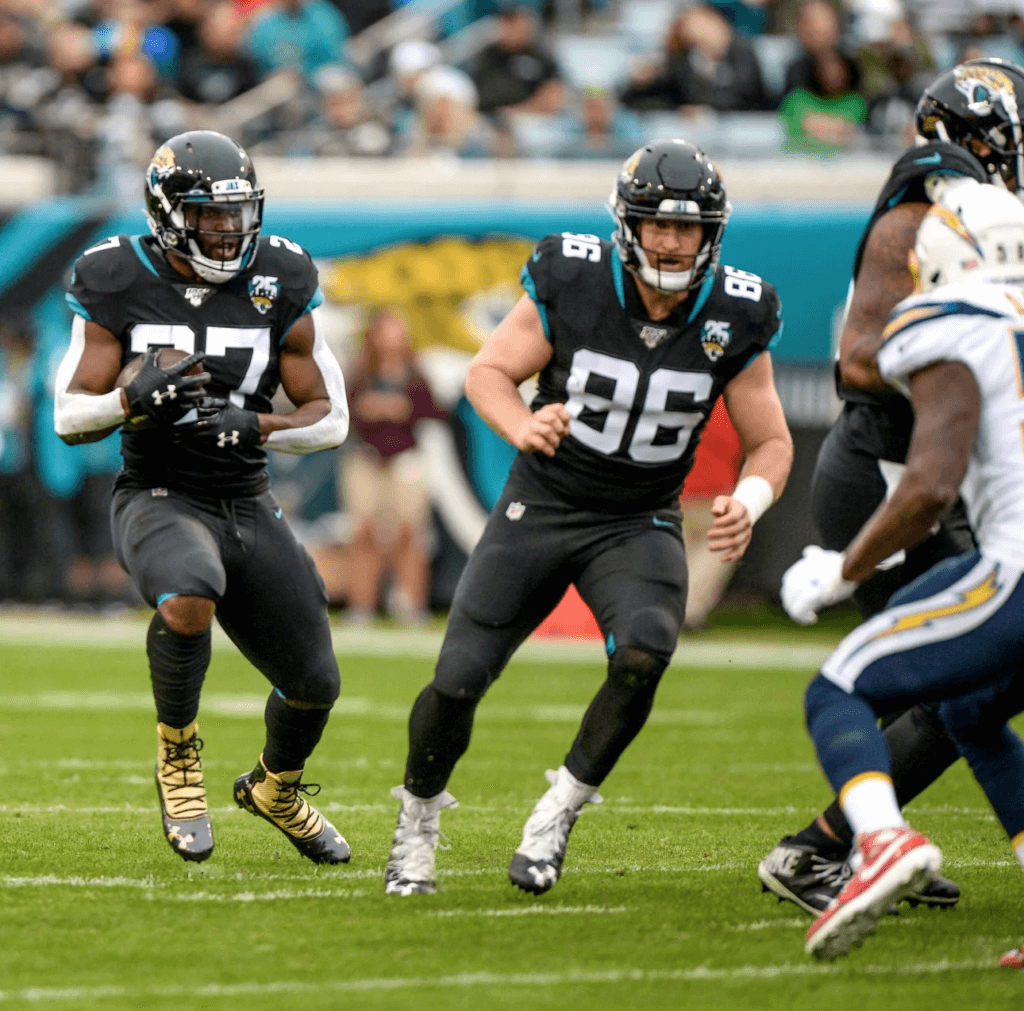 • The Patriots wore their mono-navy alternates:
If you add the Saints going mono-black (which I don't call out anymore because it has become their standard home look, just like I don't call out the Seahawks going mono-navy at home), that means seven out of yesterday's 14 games featured at least one team in a non-white mono-chromatic uniform. That's way too many!
• In that Pats/Chiefs game, Pats wideout Julian Edelman had the standard NFL logo on his collar, instead of the NFL centennial logo: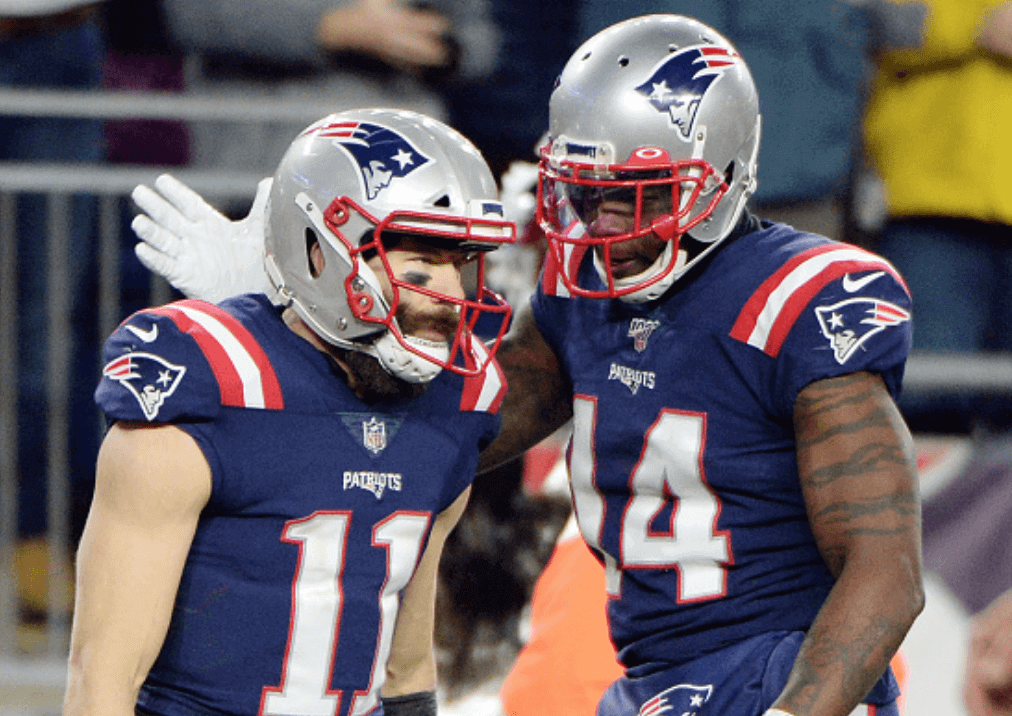 • There was a weird situation prior to that Chiefs/Pats game, as some of KC's pads and helmets were mistakenly sent to New Jersey instead of to Massachusetts. The gear was re-routed and arrived in time for the game, however.
• The Lions went white over blue, which isn't remarkable but I'm mentioning it because I like it sooooo much better than any of their other uni combos (even with the annoying leotard effect):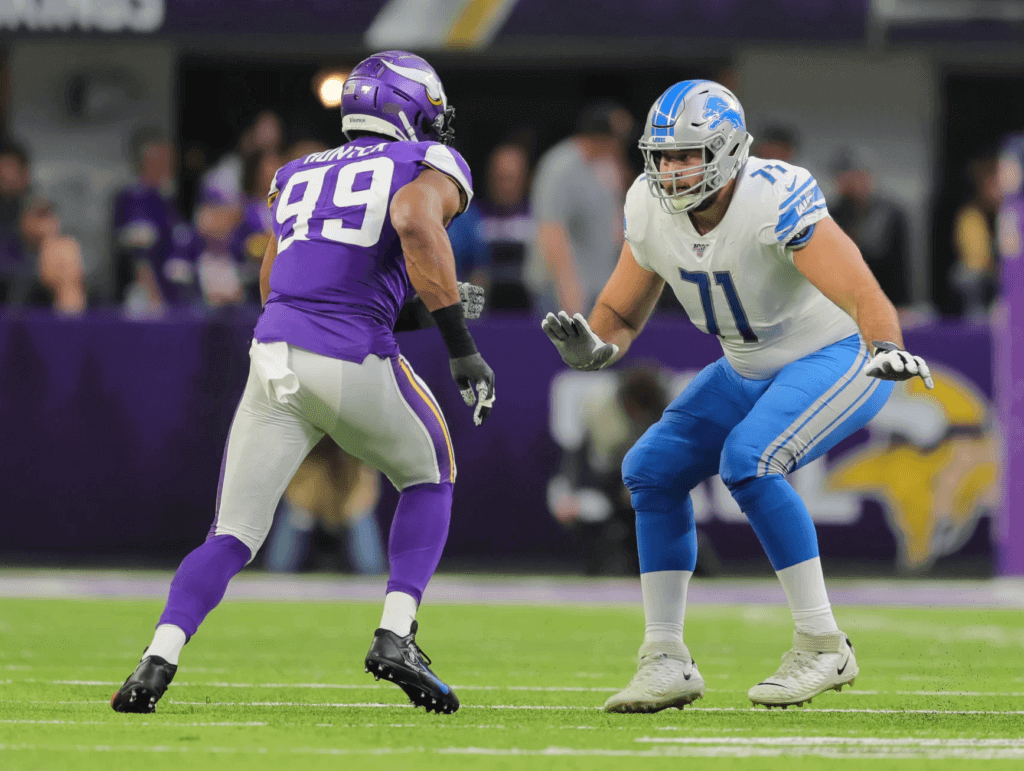 • In that same game, the Vikings' stadium mistakenly put a Broncos logo, instead of a Lions logo, on the scoreboard:
@Vikings graphics team: that's a @Broncos logo, but we're playing the @Lions. 😬 #Skol #Vikings pic.twitter.com/AWCmUOLIPA

— Mr. Ryan Higbea (@MrRyanHigbea) December 8, 2019
• Three weeks ago I counted 18 Ravens players with pockets sewn into their purple jerseys. Yesterday I counted 22 of them with pockets sewn into their white jerseys! Here they are in uni-numerical order:
• Prior to the Steelers/Cardinals game in Arizona, Steelers linebacker Devin Bush apparently dunked a ball over one of the goalposts — which required a goalpost repair:
Devin Bush threw down a dunk on the goal posts a bit ago, and it appears he shattered the backboard. They're out here leveling and tightening the uprights now. #DKPS #Steelers #PITvsAZ pic.twitter.com/Hk6A4u19cH

— Matt Sunday (@mattsunday) December 8, 2019
• Yesterday was this year's "wear custom-designed cleats for charity" day. Remember what a big fuss everyone made over that when it launched in 2016? This year I barely heard a peep about it.
• No home team wore white.
(My thanks to Andrew Julian, Matt Snyder, and Jerry Wolper for their contributions to this section.)
• • • • •
• • • • •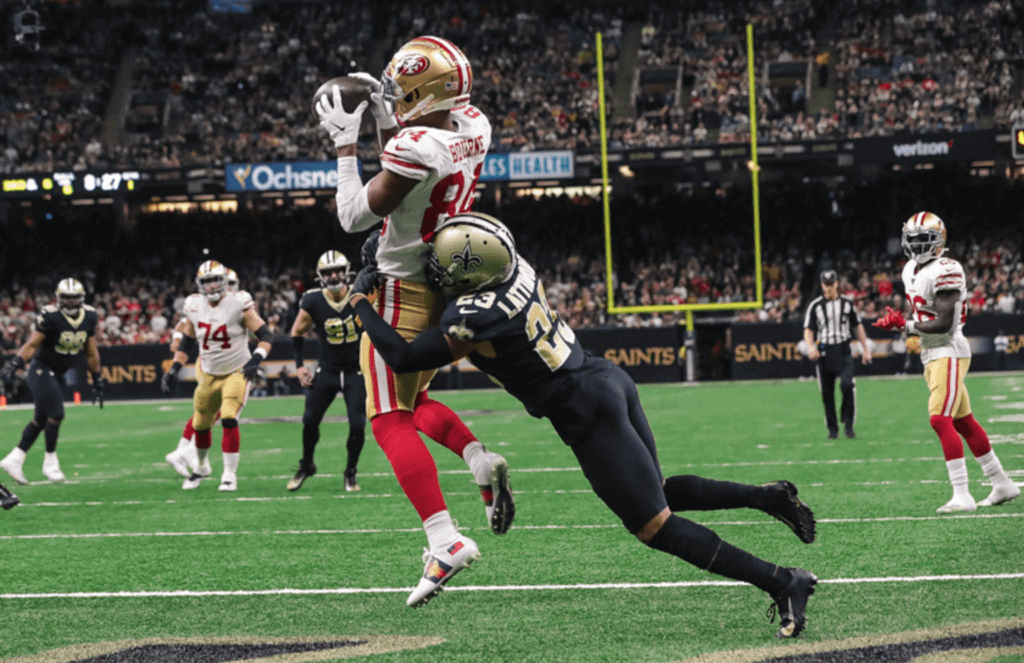 What makes a "great game"? All the postgame and highlight shows yesterday were saying that the 49ers/Saints game — a 48-46 Niners victory — was a "great game" or a "classic" or "one for the ages."
I watched this game myself (and as a lifelong Niners fan was very pleased with the outcome), and I can affirm that it was certainly exciting. But was it great football? As you can tell from the score, the defense was pretty dreadful on both sides, with lots of blown coverage and missed tackles. Plenty of stupid penalties on both sides, too (including one on the Saints that probably cost them the game). Is that what constitutes a "great" game — lousy defense that leads to lots of scoring?
I've often thought the same thing about boxing, where the bouts that get described as "great" are invariably the ones in which both fighters absorb a lot of shots to the head — in other words, the fights with lousy defense. I agree that this can be exciting, but should poor technique really be called "great"?
Discuss.
• • • • •
• • • • •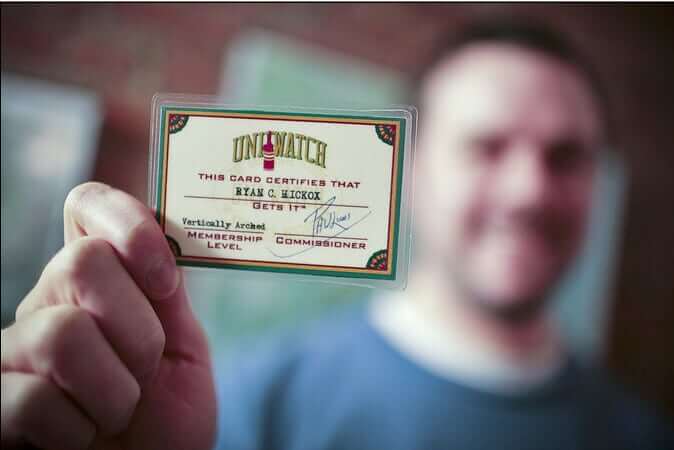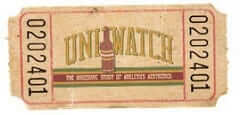 ITEM! Another membership raffle: Today we're raffling off the last of the five memberships that were recently donated by reader David Cline.
This will be a one-day raffle. To enter, send an email to the raffle address by 8pm Eastern tonight. One entry per person. I'll announce the winners tomorrow. Mega-thanks to David for sponsoring all these raffles!
• • • • •
• • • • •
Click to enlarge
KY deli: Yes, it's a juvenile joke. But come on, it's funny!
• • • • •
• • • • •
Photo by the New Girl, Oct. 24, 2014; click to enlarge
Sigh, time for the black armband again: Very sad news out of Wisconsin, where longtime reader/pal Jeff Ash informed me that Marcy Skowronski, the pint-sized proprietress of Holler House — the awesome Milwaukee bar with America's oldest pair of league-sanctioned lanes in the basement — died on Thursday at the age of 93.
I first drank and bowled at Holler House in October of 1997, and have been back many times since then. While I always loved the setting, the crowd, and the amazing bowling scene (live pinboys, no auto-setting machines!), the high point was invariably Marcy herself. Always welcoming (she never remembered my name but usually said, "I know you, you're that guy from out of town, right?"), always trash-talking, always long on humor and short on patience for BS, she was an American original. I'm lucky to have known her, and to have bowled at Holler House. R.I.P.
• • • • •
• • • • •
The Ticker
By Jamie Rathjen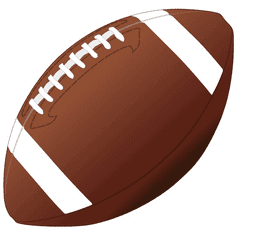 Football News: Saturday Night Live's Weekend Update segment included a uniform-based joke about the XFL (from Darrel Marusek). … There's also a video about the making of the XFL's ball (from Mike Chamernik). … Yesterday's school of the day from Blaise D'Sylva's helmet collections was a doozy — Oregon. Scroll through that thread to see all 92 helmet designs! Paul will have more about Blaise and his assorted helmet-related projects soon. … The clue for 26 across in today's New York Times crossword puzzle is "Only NFL team that doesn't have a logo on their helmets."

Hockey News: The WHL's Edmonton Oil Kings did a teddy bear toss game on Saturday and wore white and dark-blue uniforms. Their opponents, the Calgary Hitmen, also brought the teddy-themed uniforms from their teddy bear toss, creating what Wade Heidt thinks is the first teddy-on-teddy matchup. … The next three are also from Wade: The OHL's Niagara IceDogs wore teddy bear toss uniforms as well. … The QMJHL's Sherbrooke Phoenix wore their annual Christmas-themed uniform. … A Canucks blog wrote about the team's uniforms and picked a "worst" one, and you, too, can vote on which one is the worst. … UNLV's club team also wore Christmas sweaters (from Bryan Metcalf). … On Saturday, Dallas's arena hosted the NBA's Dallas Mavericks in the afternoon and the Stars at night. Here's a time-lapse of how the crew flipped the playing surface from hardwood to ice (from Mike Chamernik).

Basketball News: Florida State wore gold at home against Clemson (from Josh Hinton). … San Diego State wore the Michael Jordan/Bulls-themed alternates revealed last week, which created a color-vs.-color game with San Jose State (from multiple readers). … Furman and Auburn, who played each other on Thursday night, both had unusual shoulder ticking (from Timmy Donahue). … Cross-listed from the hockey section: On Saturday, Dallas's arena hosted the Mavericks in the afternoon and the NHL's Dallas Stars at night. Here's a time-lapse of how the crew flipped the playing surface from hardwood to ice (from Mike Chamernik).

Soccer News: In the Premier League, Aston Villa wore black armbands for former manager Ron Saunders, who passed away on Saturday. … The next two items are wrapping up the Rainbow Laces campaign in the UK: Tottenham Hotspur Stadium was lit in rainbow twice last week, including during the home team's game on Saturday. … England's Women's Super League had their own version of the rainbow captain's armbands — with definitely the most writing or logos I've ever seen on one — this week. … We mentioned German team Borussia Dortmund's entirely black on-field merch dump 110th-anniversary shirt yesterday, but the shorts and socks also appeared to be different than BVB's other black shorts and socks, which would make three different pairs of black shorts and two pairs of black socks for them on the season. … As we mentioned, Southampton wore last season's third shirt, but with the shorts and socks from this season's first kit (from Mike Miller). … Estadio Azteca in Mexico City still has visible field markings from the NFL game there Nov. 18, though yesterday was only Club América's second home game there since then (from Josh Hinton). … Also from Josh: new third kit (worn on Thanksgiving) for Danish team FC Copenhagen, and the ball for the upcoming Club World Cup was revealed. … You can see more on Josh's Twitter feed. … New shirts also for Irish team St. Patrick's Athletic, Japanese team Consadole Sapporo, and Swedish team Hammarby IF. … The UNC women's team wore jerseys with an argyle pattern on the back.

Grab Bag: Two new National Lacrosse League teams, the expansion New York Riptide and the relocated Halifax Thunderbirds, played for the first time. "Halifax have elected to go with white helmets even with their purple uniforms," says Wade Heidt. … Australian Football League club Collingwood has a new-ish tradition of giving its top draft pick No. 35 for the following season, which is continuing for 2020.