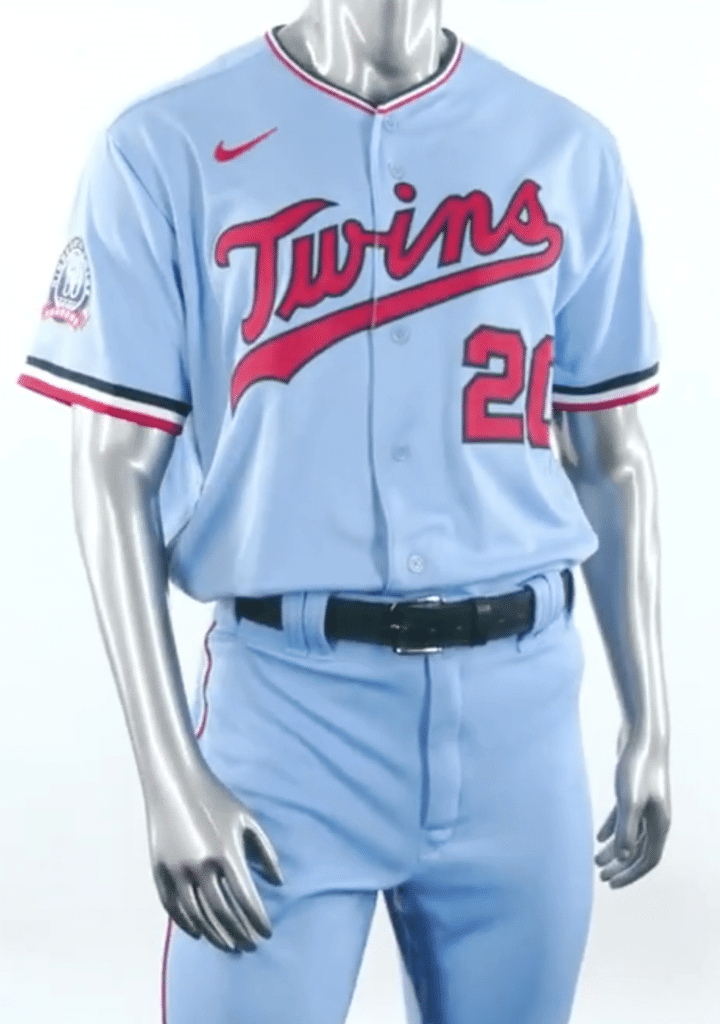 The MLB uni-verse's hot stove action heated up a bit more yesterday, as the Twins unveiled a new powder blue alternate uniform. It can be worn either at home (which will be weird) or on the road (which is where it belongs).
The design is a variation on the road uni the Twins wore from 1973 through 1986, although that one had a pullover jersey and sansabelt pants, while the new alternate will have a traditional button-front jersey and belted pants. Also, the original powder blues had vertically arched NOBs, while the new NOBs will be radially arched: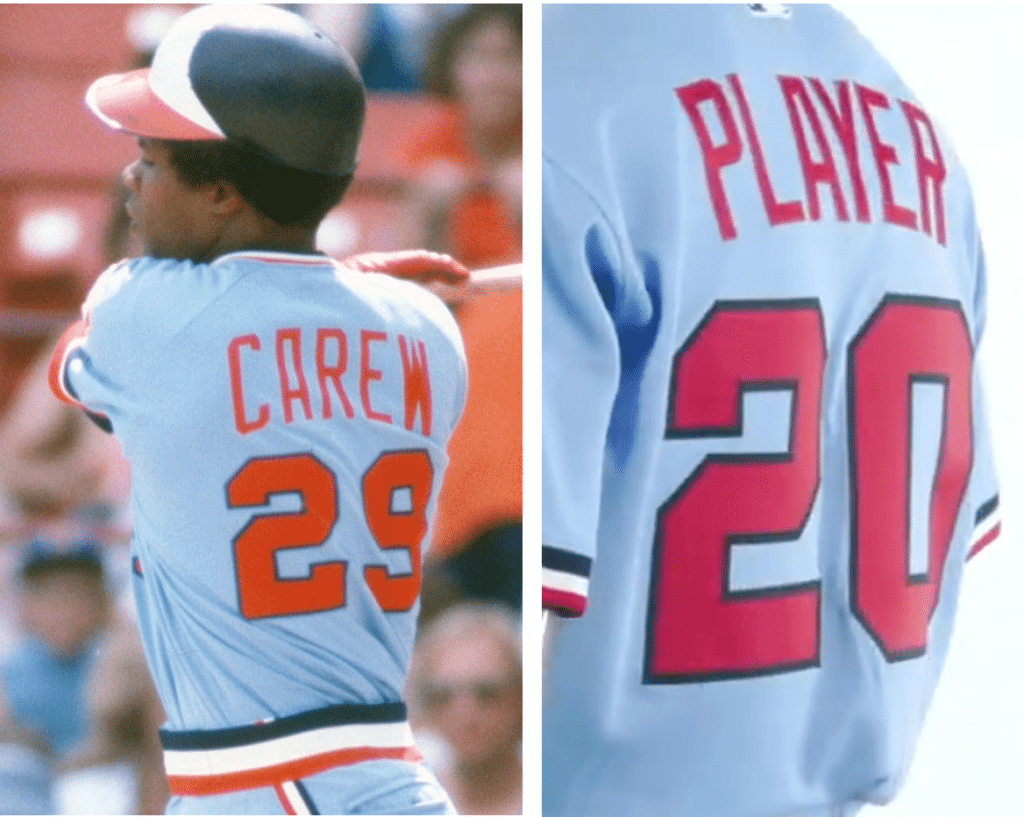 The left sleeve will have the old patch of Minnie and Paul shaking hands across the Mississippi River, symbolizing the spirit of the team's namesake, the Twin Cities (click to enlarge):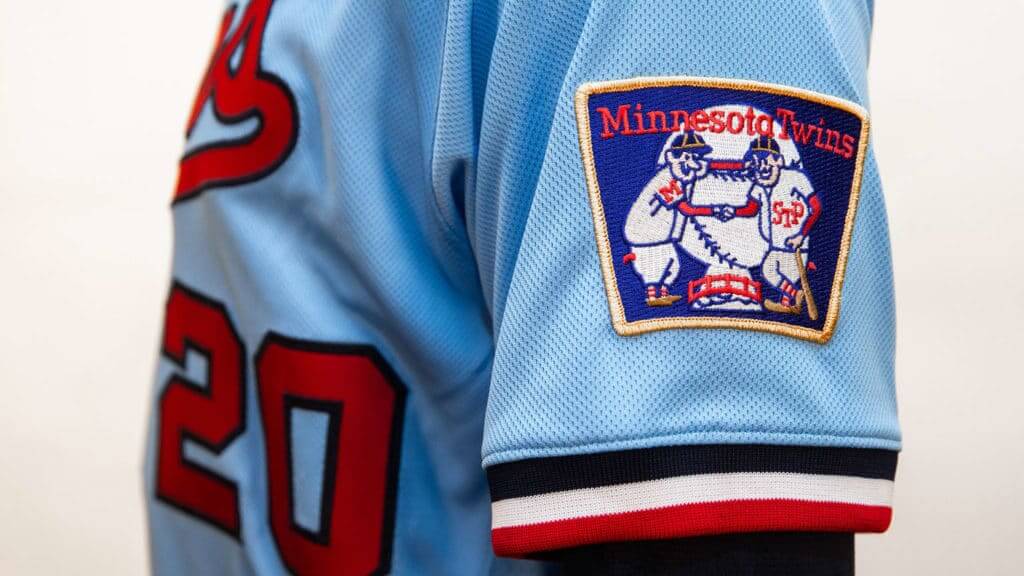 The right sleeve will have a new 60th-season patch, which will be worn on all of the Twins' jerseys in 2020 (click to enlarge):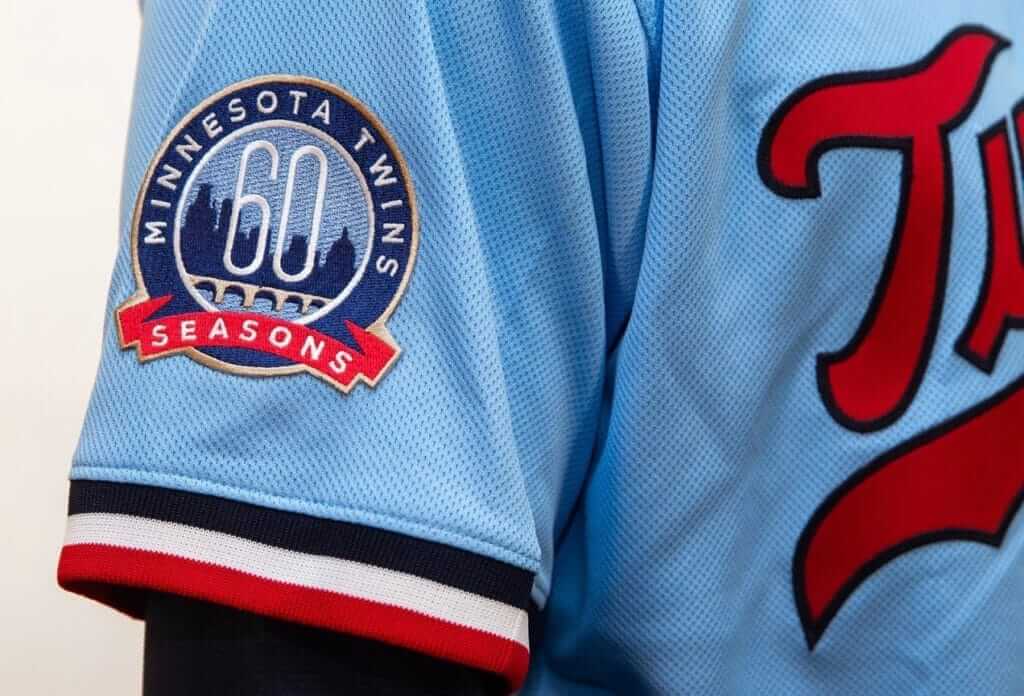 As always, I wish they'd been patient enough to wait for the 60th anniversary, instead of going with the 60th season. On the other hand, as I've been saying for years, one reason I prefer anniversary patches is that they have cleaner, more satisfying year spans — and this patch doesn't even show the years! When's the last time we saw an MLB anniversary or ordinal logo that didn't reference the relevant years? Very odd.
By my count there are now five MLB teams with powder blue uniforms in their wardrobes: the Twins, Cardinals, Phillies, Royals (jersey only), and Rays (jersey only). And that number will get higher before the start of the 2020 season — stay tuned.
Want to learn more about MLB's powder blue history? Check out this piece I wrote for ESPN last year.
Finally, one footnote to all of this: Although the Twins have never worn a button-front powder blue jersey on the field, they were apparently toying with that idea at one point. Back in 2010, when we had a Uni Watch party in Minneapolis, longtime reader/contributor Jimmy Lonetti showed up wearing what he said was a salesman's sample prototype jersey — powder blue, button-front, and featuring an unusual variation of the team's script (click to enlarge):
That same prototype design appears in Bill Henderson's jersey guide.
• • • • •
• • • • •
The Rash spreads to Monday Night Football: The Evil Grimaces beat the Ronald McDonalds last night. Tune in next week for the Cookie Monsters against the Teletubbies!
(My thanks to Mike Trozzo for his contribution to this section.)
• • • • •
• • • • •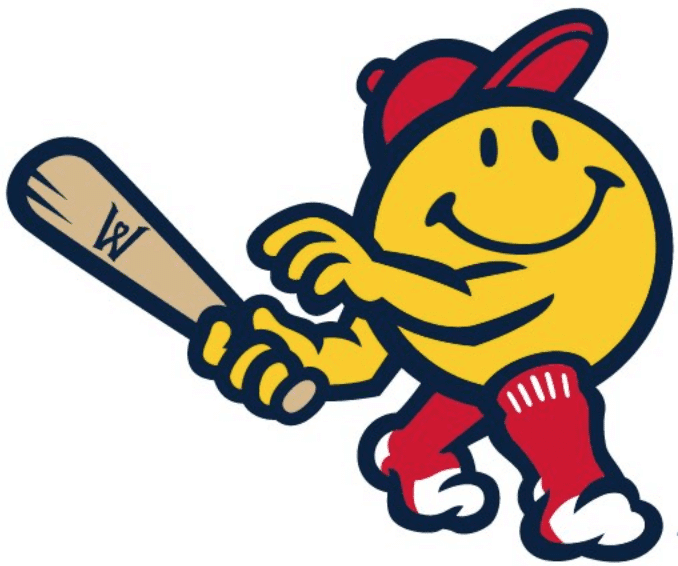 This made me smile: The Triple-A Pawtucket Red Sox are moving to Worcester, Mass., in 2021, and yesterday the team's new name was revealed. Officially, they will be the Worcester Red Sox. But colloquially, they will be the WooSox (much like the Pawtucket team became known as the PawSox). The great minor league writer Ben Hill has all the info on the team's name, logos, and uniforms here.
The thing that particularly interests me is the team's new smiley-faced mascot. It turns out that the ubiquitous smiley face icon was created by a Worcester resident and has become part of the culture of the town. It's nice to see a mascot who isn't snarling or scowling, and I especially love that he's wearing stirrups and sannies — and no shoes! Perfect for a team called the Sox.
The mascot pose is supposedly based on Red Sox stars Ted Williams and David Ortiz: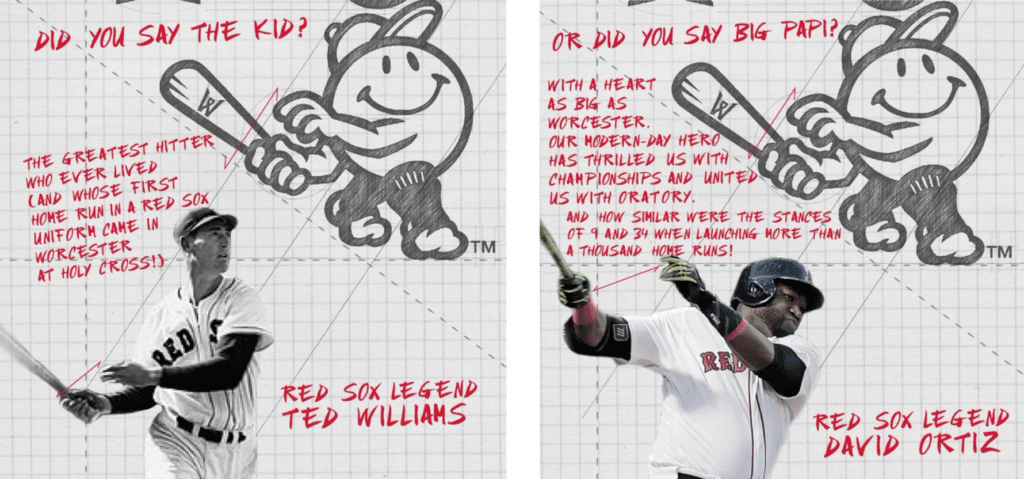 Color me skeptical. I suspect you could find similar similarities in the follow-throughs of countless other left-handed batters (just as countless batters could have been the basis for the MLB logo).
• • • • •
• • • • •
ITEM! New seam ripper colors: As promised, Uni Watch seam rippers are now available in yellow and white, in addition to our previous colors of green, blue, and red. (But green is temporarily out of stock. Will have more soon!) Full ordering info here.
Meanwhile, remember that Uni Watch cufflinks make a classy holiday gift. I've been very pleasantly surprised by how popular these have been so far — there are apparently more French-cuffed Uni Watch readers than I would have guessed!
Also, we still have two — count 'em, two — Uni Watch 20th-anniversary plates still available. You can get one here.
You can see more fine Uni Watch products here. My thanks, as always, for considering our merchandise.
• • • • •
• • • • •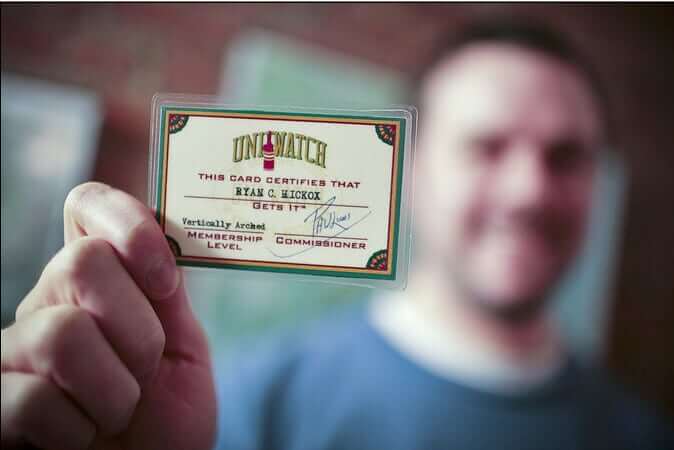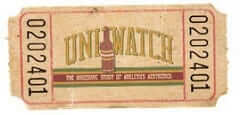 ITEM! New raffle: Today we're going to raffle off another Uni Watch membership that was generously donated by reader David Cline.
This will be a one-day raffle. To enter, send an email to the raffle address by 7pm Eastern today. I'll announce the winner tomorrow. Big thanks to David for sponsoring this raffle.
Meanwhile, if you'd like to order a membership card instead of trying to win one in the raffle, you can do that here.
• • • • •
• • • • •
The Ticker
By Alex Hider

Baseball News: Reader Gary Hunter spotted new Nationals jerseys for sale at the Nats team shop, and noted that the Nike logo on the jerseys appeared to be rendered in black, not navy. Certainly looks darker than the navy lettering on the jersey. … New uniforms for Cambodia, who will wear them in the Southeast Asian Games (from  @LukeBronJames). … Whoa! Check out the chevron hose worn by Harold Hull of NW Missouri State Teachers College in 1941 (from Michael Clary). … Are those 5s or backward 2s? It's hard to tell on the Auckland Tuatara's jerseys. They play in the Australian Baseball League (from Camryn Brown).

NFL News: It appears the Bills will be wearing mono-blue when they visit Dallas on Thanksgiving (from Mike Chamernik). … Rams LB Clay Matthews showed up to Monday Night Football wearing a Los Angeles Lakers hoodie (from Jakob Fox). … The Eagles have a display of helmets throughout team history outside of their stadium (from Sam McKinley).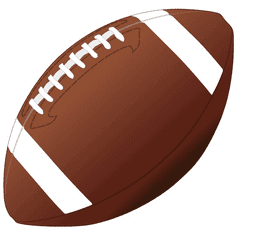 Other Pro Football News: Couple of Grey Cup notes from Wade Heidt: Alberta Premier Jason Kenney wore an "I love Canadian oil & gas" sweatshirt during the coin toss, which some fans found inappropriate. Also, the Winnipeg Blue Bombers won the game, meaning that longtime fan Chris Matthew could finally change out of his shorts and into pants, per a bet that he made during the 2001 CFL season. … Whoops! The Grey Cup itself broke during the Blue Bombers' celebrations yesterday (from Ariana Grandelorian and Sara Klein). … The XFL unveiled its game balls for its inaugural 2020 season. The league logo on the balls will be rendered in team colors, and each team will use its own ball on offense (from William F. Yurasko and Christian M. Zummer).

College and High School Football News: The Oklahoma defense added patch a with the unit's slogan, "Speed D," to its practice jerseys (from Sam McKinley). … The ACC Tracker has been updated for week 13. … Lots of great old pictures in this piece about the Fitchburg/Leominster High School rivalry in Massachusetts, including this shot from 1930 of coaches and players bundling up under hay on the sidelines (from Timmy Donahue).

Hockey News: Two fans at last night's Wild/Rangers game at Madison Square Garden wore frankenjerseys for Mats Zuccarello, who's currently with the Wild but used to play for the Rangers (from Josh Berger).

Pro Hoops News: After months of leaks, the Heat have officially unveiled the newest version of their "Miami Vice" unis — this season, they're light blue (from Mike Chamernik). … A new arena for the WNBA's Atlanta Dream and the Hawks' D League affiliate has opened near the Atlanta airport (from Kary Klismet). … The Canadian Elite Basketball League, which began play with six teams last spring, will expand to 7 teams in 2020 with the addition of the Ottawa BlackJacks (from Wade Heidt). … Cross-listed from the NFL section: LA Rams LB Clay Matthews showed up to Monday Night Football wearing a Lakers hoodie (from Jakob Fox).  

College Hoops News: Georgia Tech and Arkansas played a color-on-color game last night in Atlanta (from Michael Rich). … Ohio State wore grey throwbacks last night (from @tresselball). … San Diego State wore turquoise uniforms for  Native American Heritage Month last night (from @oh_swick). … Lots of purple in Fort Myers' Suncoast Credit Union Arena, as Kansas State and Northwestern — both in Florida for the Fort Myers Tip-Off tournament — warmed up in front of a bunch of empty purple seats (from Alan Saunders). … It's not often you see a basketball coach wearing a visor. That coach is a member of Southern Oregon University's staff (from Nathan Mindeman).

Soccer News: Manchester United paired their black third shirt with white change shorts and socks at Sheffield United on Sunday (from Josh Hinton). … USL League One team Revolution II, the reserve team for the MLS's New England Revolution, unveiled their new crest (also from Josh Hinton). … The Athletic has published a piece about independent kit makers (paywalled) and how they help small clubs develop an identity (from Jon Eidukas). … New first shirt for Irish (League of Ireland Premier Division) team Dundalk. "They also switched back to Umbro from a company called CX+ Sport," says our own Jamie Rathjen.

Grab Bag: Following up on yesterday's Ticker note about Yuma (Ariz.) High School's teams being called the Criminals, Brice Wallace notes that Orofino High School in Idaho uses the team name "Maniacs" because the state mental hospital was once located in the town. … Kary Klismet recently visited the Colorado State University Athletic Hall of Fame, which features lots of great uniform and memorabilia displays, including this gorgeous vintage basketball jersey. More photos here. …  This poster shows every suit worn by Robert DeNiro's character in the movie Casino (from @zadelstein). … A car on display at the Los Angeles Auto Show had a "Saugus Strong" decal on its windshield in honor of those killed at nearby school shooting earlier this month (from Jakob Fox).