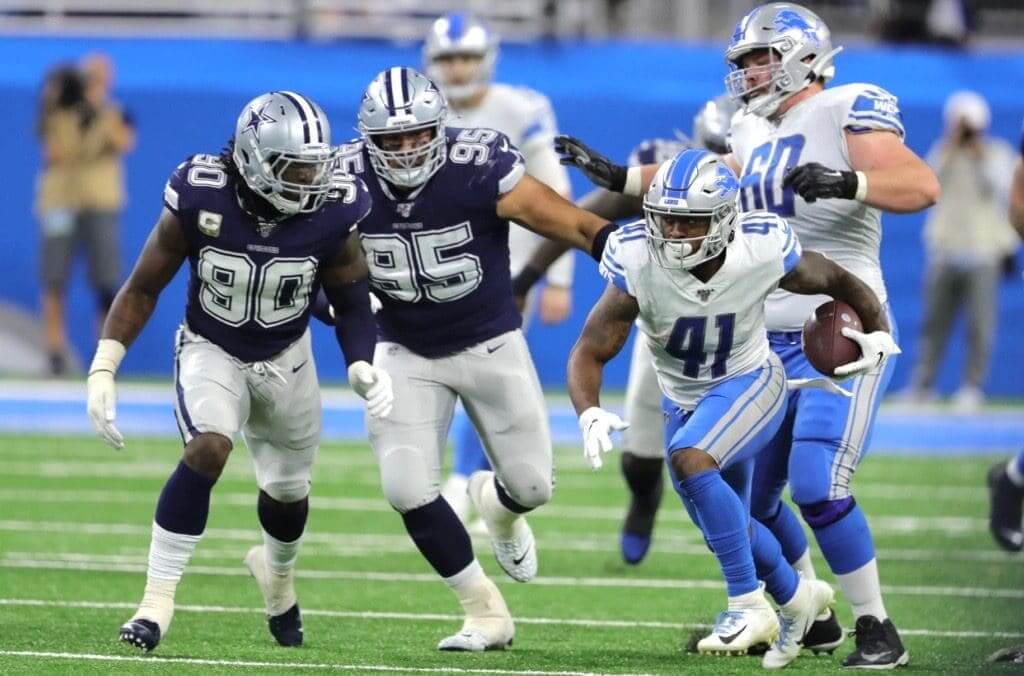 For all photos, click to enlarge
Uni-historic game yesterday in Detroit, as the Lions wore white at home for the first time since — get this — Thanksgiving Day, 1970, when they hosted the Raiders, and only the third time ever (that info courtesy of the mighty Gridiron Uniform Database's excellent "White at Home in the NFL" page).
Wondering about other teams that have gone a long time without wearing white at home? According to the GUD, the longest holdouts are the Vikings (last wore white at home in 1964), Steelers (1969, although they did wear white as the designated home team in Super Bowl XL in 2005), and Seahawks (never!).
Getting back to the Lions, 25 of their players wore a fallen service member's initials on their helmets yesterday (additional info here):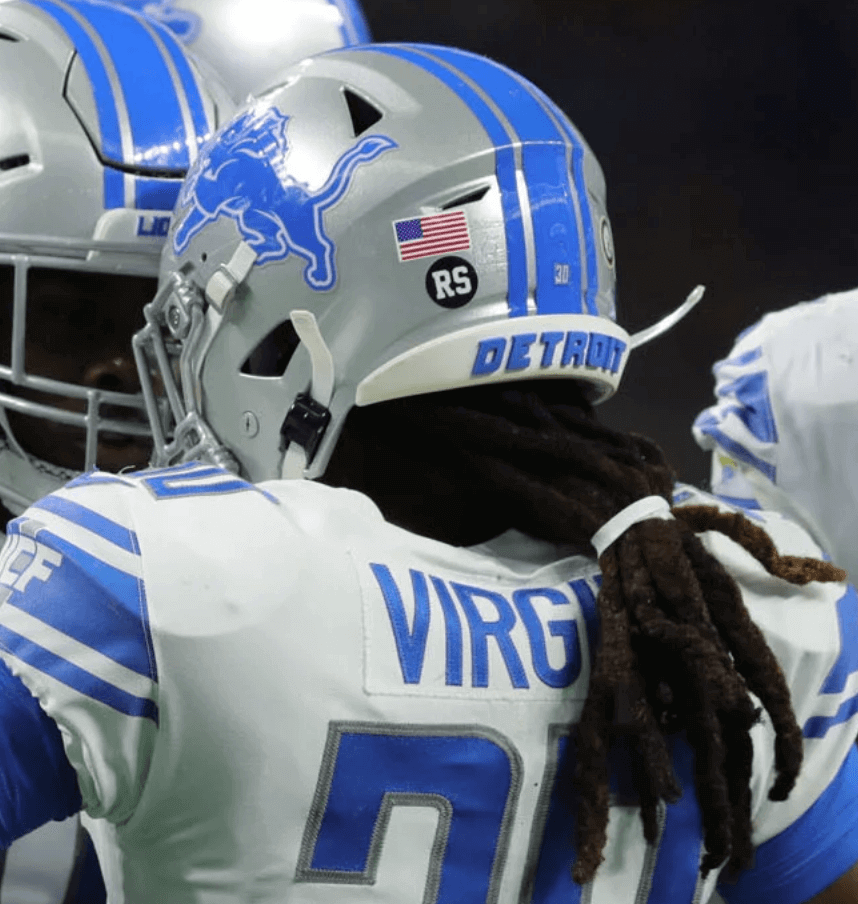 This is similar to what the Lions did three weeks ago, when players wore the initials of cancer victims. In both cases, the team has extended its cause-based messaging beyond the level used by most other NFL teams.
In other news from around the league:
• The Rams also wore fallen military members' initials, although theirs were much harder to read: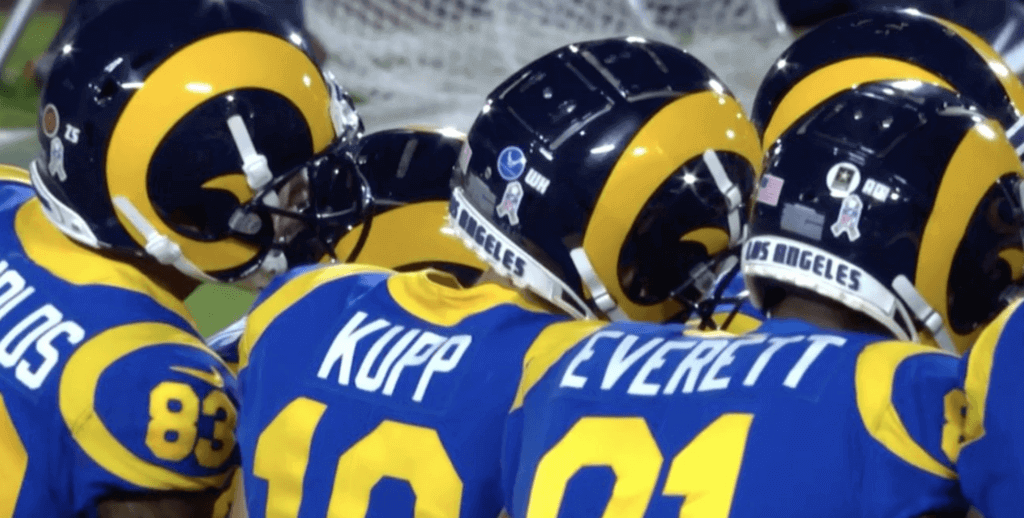 • It was the Bodysuit Bowl down in Tampa, as the Bucs and Saints went mono-red vs. mono-white: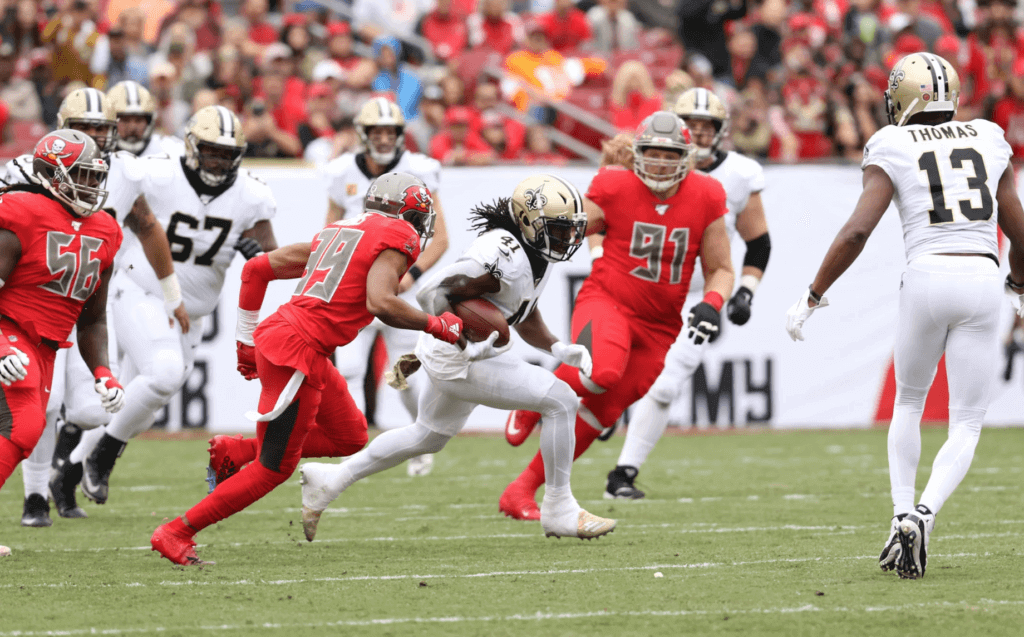 • The Panthers went mono-black: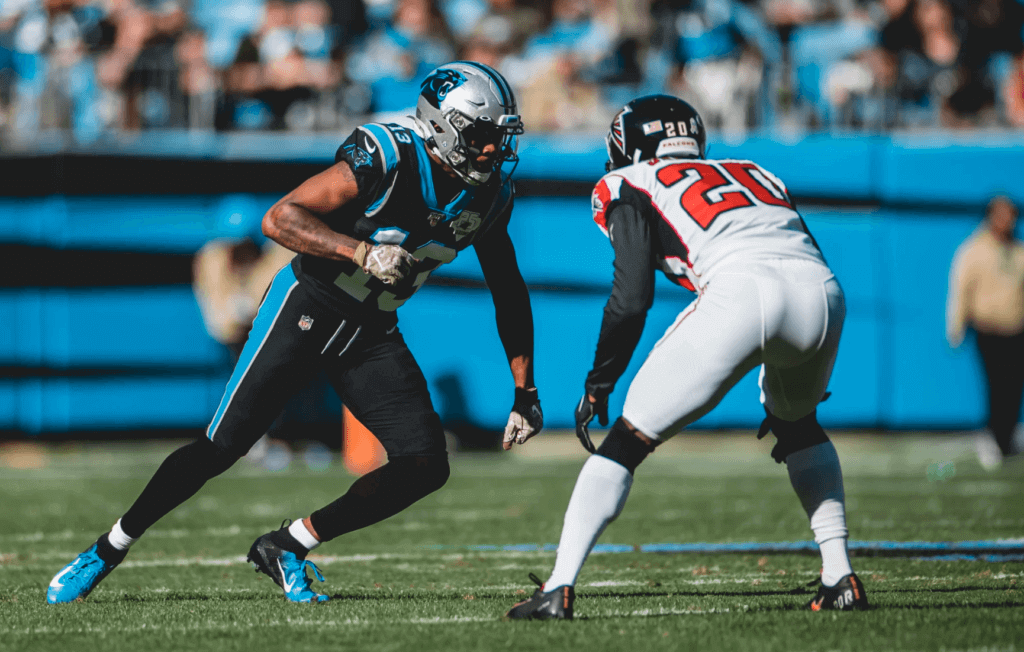 • Who needs fanny packs? At least 18 Ravens — and probably more, I'd be willing to bet — had pockets sewn into their jerseys: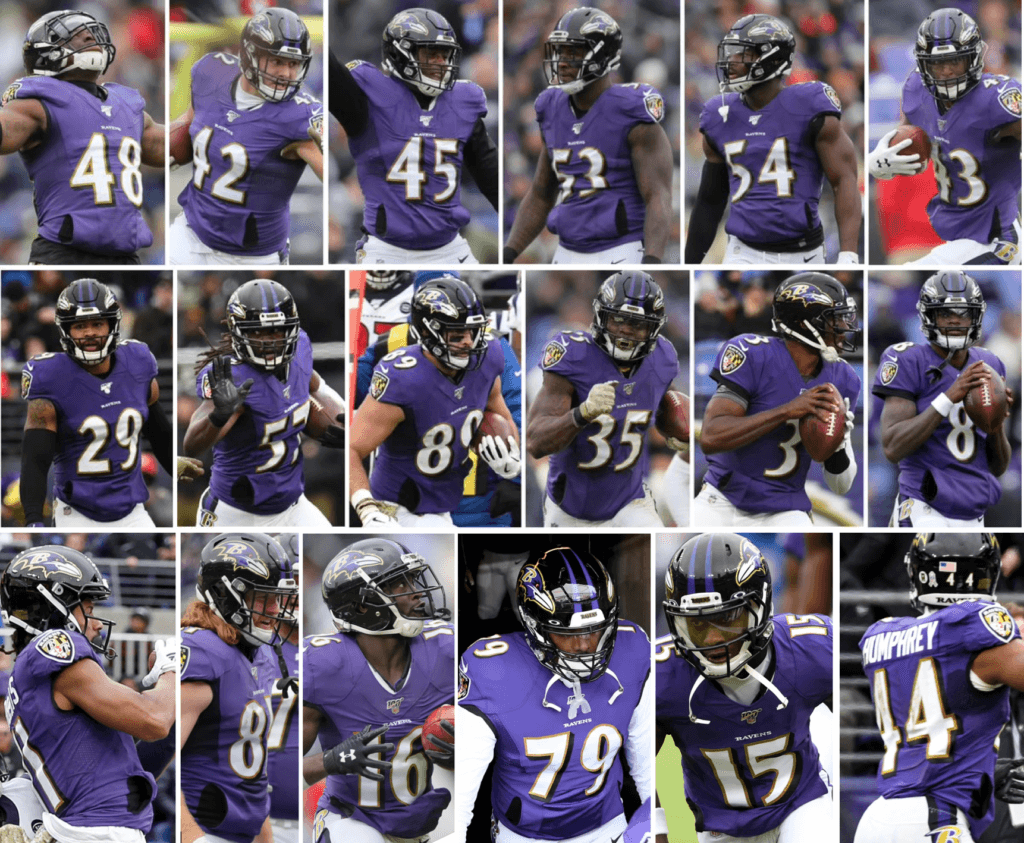 Adding pockets to a jersey isn't unheard of, of course, but it's fairly uncommon in the strap-on pouch era, and I don't think I've ever seen so many players doing it on one team. I've asked the Ravens for more info — stay tuned.
• It's not uncommon for kickers and punters to wear mismatched shoe colors. But Raiders kicker Daniel Carlson has mismatched shoe brands:
Oakland kicker uses two different brands of shoes. I've seen two different shoes before but not two different brands @UniWatch pic.twitter.com/itHrjnzcn1

— Michael Kinney (@mpkinney) November 18, 2019
Some quick photo research reveals that he's been doing this all season long. Last season, however, his footwear was consistent on both feet.
• Instead of wearing a helmet decal for one division of the armed forces, Bears offensive lineman Cody Whitehair engaged in a bit of overkill by wearing decals for all of them: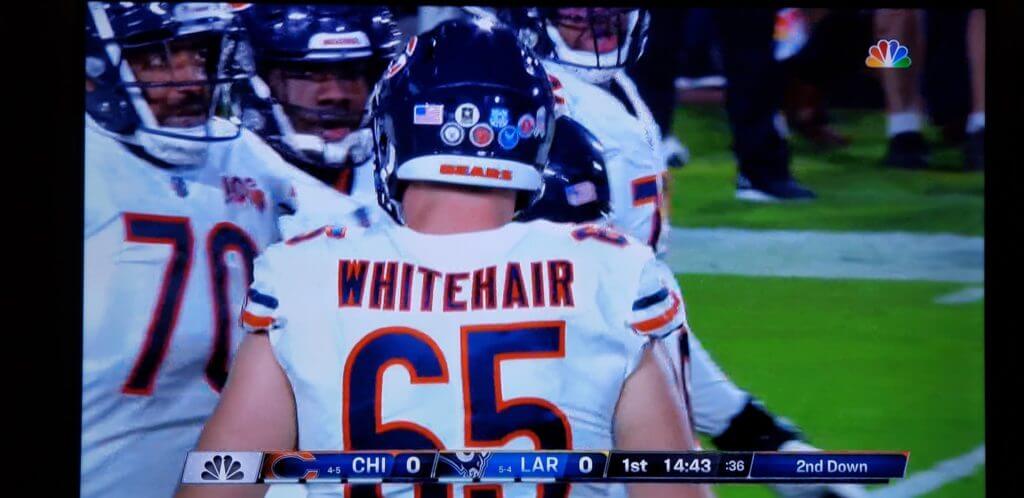 • Only one team wore white at home: the aforementioned Lions.
(My thanks to Jakob Fox and Tim Donahue for their contributions to this section.)
• • • • •
• • • • •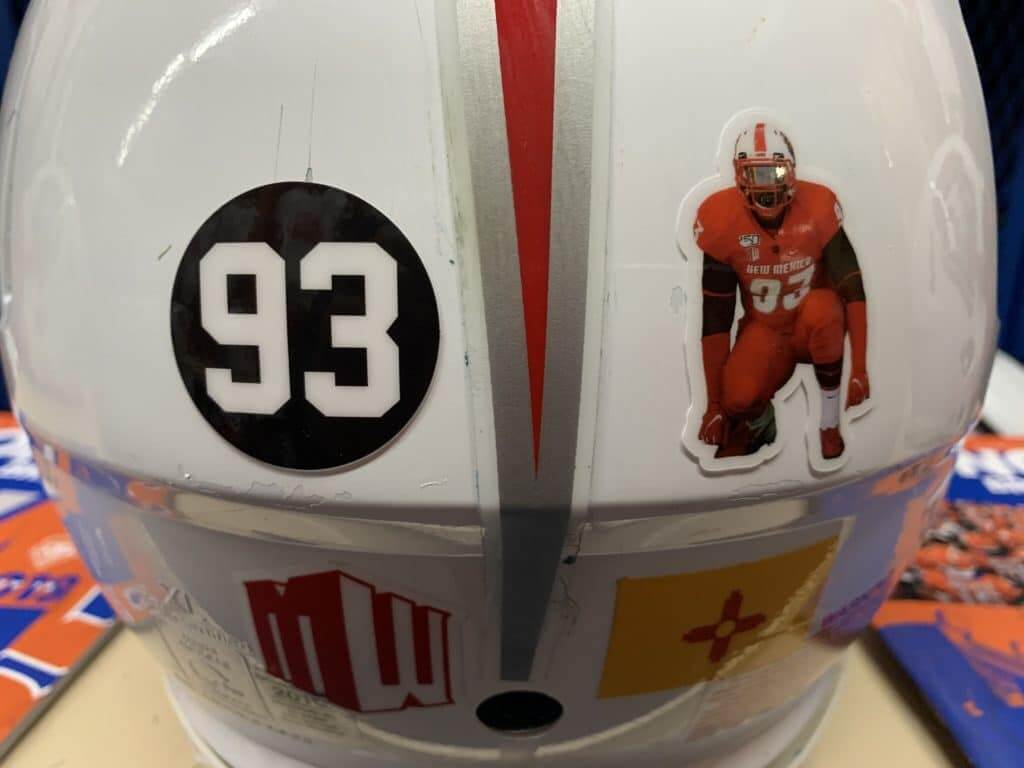 Click to enlarge
A different kind of memorial: New Mexico nose tackle Nahje Flowers died by suicide on Nov. 5, and the team is now honoring him with the two helmet decals shown above. UNM communications czar and longtime Uni Watch reader Frank Mercogliano says they'll wear these decals at least through the end of this season and possibly next season as well.
This is at least the second time that UNM has worn a memorial decal featuring a photo of the deceased. They previously did it for defensive back Markel Byrd, who died in a car crash in 2016. But unlike the Flowers decal, which shows him from the front, the Byrd decal showed him from the back:
I'm not aware of any other school or pro team that has used a straightforward depiction of the deceased as a uniform memorial. Does anyone know of other examples?
• • • • •
• • • • •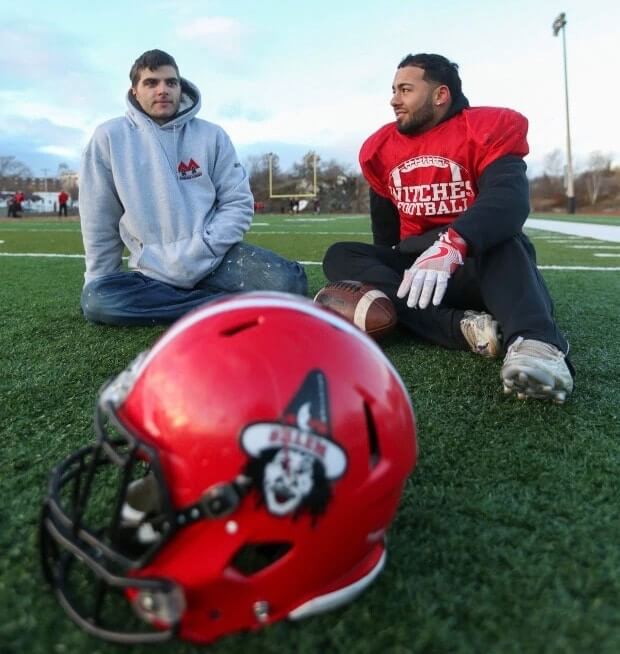 "Well, she turned me into a newt": Our recent discussion of female team names prompted a really interesting note from reader Tim Medeiros, as follows:
I recently moved to Salem, Mass., and of course the high school sports teams are called the Witches. In the past, even during the witch trials, both men and women were considered witches, so the school could have kept the mascot neutral, but I'm happy to report that the school actually went with female representation for all sports! I think it's neat to have sports like football and hockey to have a female mascot and showcase it.
Interesting! I did a bit of digging and found some logos that the school has used: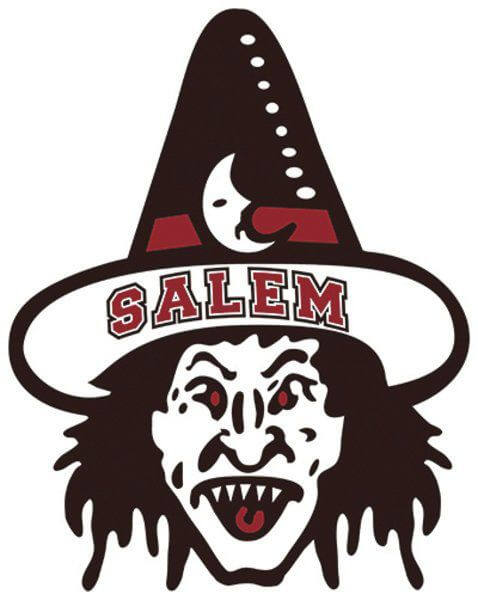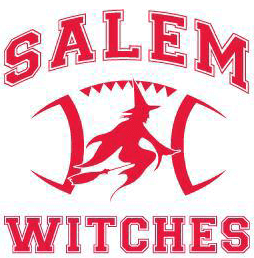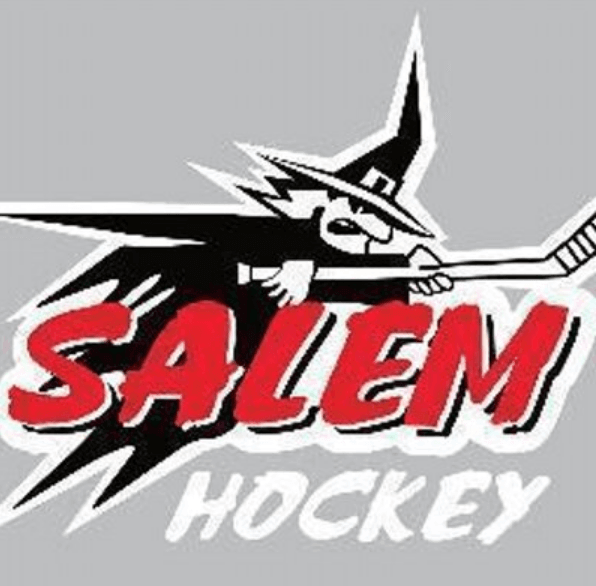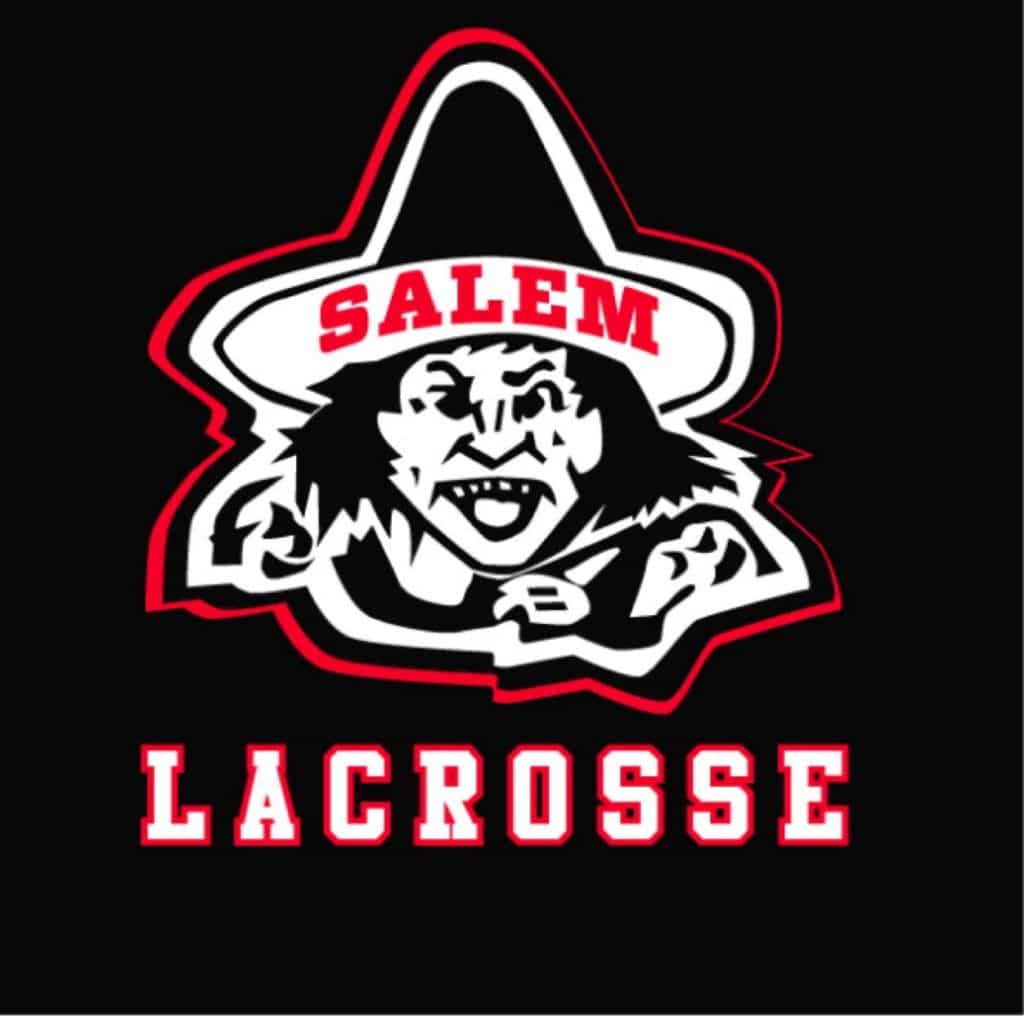 Faaaascinating. I especially like the hockey logo. Big thanks to Tim for bringing this one to my attention.
In addition, the Single-A MiLB team the Fredericksburg Nationals, who already had a secondary logo of George Washington swinging an axe, have now added a logo of his mother, Mary Washington, tossing a ball: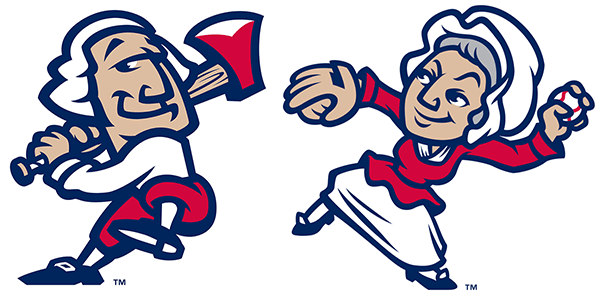 It'll be interesting to see if the players actually wear this female logo on the field as a patch and/or as an alternate cap logo, or if it's just a move to get women (and maybe southpaws) to purchase merch.
• • • • •
• • • • •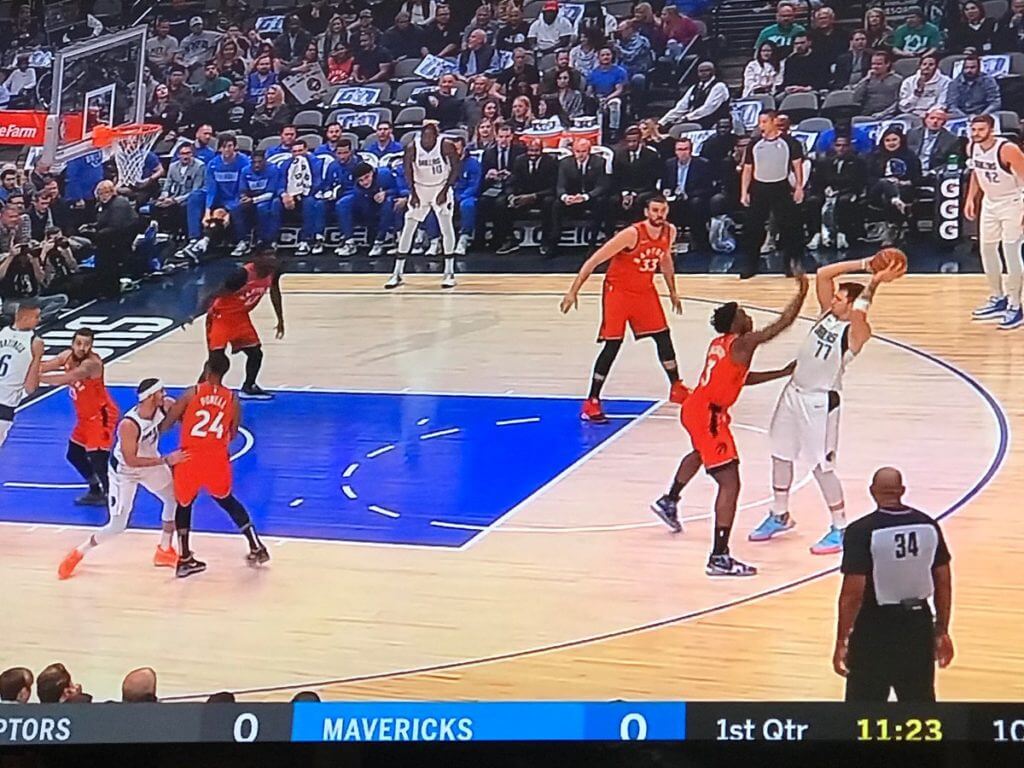 NBA free throw circles, continued: When we began discussing the number of dashes in NBA free throw circles a few weeks ago, the team that got the whole ball rolling was the Mavericks, because their circles had 10 dashes — an unusually high number. But Twitter-er @nomuskies — the guy who started us down this rabbit hole — reports that the Mavs' circles had only six dashes for yesterday's game against the Raptors (shown above). Crazy!
The change was apparently made sometime between the Mavs' previous home game on Nov. 8, when they still had 10 dashes, and yesterday.
When we first began discussing this, I contacted a Mavs media rep and asked him why they were going with 10 dashes. He never responded, so I followed up with him yesterday and asked if my previous inquiry had led to the design change. Got this response: "It had nothing to do with your email. It was something we were working on with the league and I didn't have an answer for you at the time of your email. It was rectified while I was on the road with the team. My apologies for not getting back to you."
So then I asked for more details about why they started the season with 10 dashes and why they changed it to six. He said he'd talk to their VP of operations and get back to me. Stay tuned.
• • • • •
• • • • •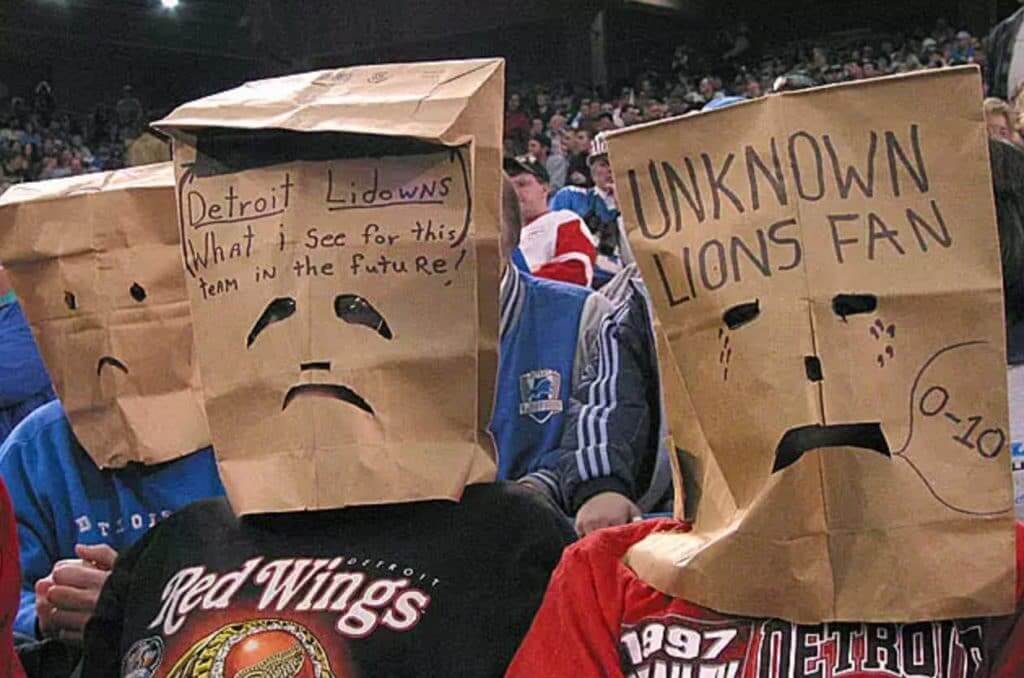 ITEM! New idea in the works: We all know how fans of really bad teams will show up with bags over their heads — a symbol of embarrassment and protest. But what if your team is fine in terms of on-field performance but has really bad uniforms?
Here's a potential answer that I've been considering: a Uni Watch paper bag — a way for the discerning sports aesthete to express embarrassment and protest over a team's on-field look. Now, I'd have no need for such an item myself, because all of my favorite teams currently look pretty good (thanks, Mets, Niners, Giants, Rangers, and Habs!). But if you're a fan of, say, the Hawks, Marlins, Bengals, or any number of other teams, the Uni Watch Paper Bag could be just the thing.
I'm envisioning a head-sized paper bag with the winged stirrup logo and a phrase. The phrase could be insider code, so only other members of the comm-uni-ty would understand it ("My Team Doesn't Get It™," for example), or it could be more uni-versal ("My Team's Uniforms Suck"). I'm also envisioning that the eyeholes would be crying tears — then we could call it the Uni Watch Sad Sack.
What do you think? Would you be interested in such an item? What phrase would be best? Should the paper bag include the words "Uni Watch" anywhere (maybe on the back side), or would that just muddy up the larger message? Should the eyeholes and tears be precut/preprinted, or would it be best to let the user do that because everyone's head shape and eyeball positioning is different? Feel free to offer feedback in today's comments.
Also: I know nothing about sourcing paper bags. There are lots of places on the web, but it's hard to know who's reputable, who's not, etc. If anyone out there works in the bag biz, feel free to be in touch. Thanks.
• • • • •
• • • • •
For all photos, click to enlarge
A perfect fit: Longtime reader/contributor Jim Wooley recently purchased one of our chain-stitched logo patches. A few weeks later, I received a package from him in the mail. It contained the jersey I'm wearing in the photo above, along with a letter:
Dear Paul:

I'm enclosing a vintage hockey jersey. I believe this was worn in the '70s in my hometown of Snow Lake, Manitoba, by the Snow Lake North Stars. I have no idea how I ended up with it. Perhaps one (or more) of my brothers wore it. I also have no idea where the original crest went. It's obviously seen better days — some holes and tears, etc. — but it's still a pretty good jersey and still has the original tag.

I had a local seamstress stitch the Uni Watch logo patch to the jersey, and I think it looks great! You can do with it what you wish. If you want to keep it, great. But if you'd like to pass it on to someone else, that's fine too. I just thought you at least might be interested to see it!

Hope all is well with you. Thanks for keeping us all up to date in the uniform world!

Yours truly,
Jim Wooley
How great is that?! As you can see, it fits me quite well, and I love the backstory, so I'll definitely be keeping it. Thanks so much, Jim!
Jim's note mentioned the original tag — here's a look at that:
As you can see, there's a split in the rear collar. That's one of several rips and tears — some very small, others more significant. I haven't decided yet if I'll get them mended or leave them as they are.
There's a number on the back, but everything about it — its size, its color, and its positioning — seems a bit off, so I'm assuming it's not original:
When we started offering the chain-stitched patches (each of which is made by hand by the great Amy Bengtson), I figured they'd look good on a varsity jacket or a cardigan sweater. It never occurred to me that they could work on a hockey jersey, but Jim has shown otherwise! I guess you could say it's maybe a smidge too small, but it still fits the space quite nicely.
As it happens, I have a blank Minnesota North Stars jersey. Would our patch also work with that? I grabbed a patch, grabbed the jersey, and set the former down on the latter:
Not bad, but the patch looks too small this time. That's because the space between the collar and the belly striping is greater on this jersey than on the one Jim sent me, so the patch can't quite fill the space. Maybe I'll ask Amy to make me a larger one for this jersey!
• • • • •
• • • • •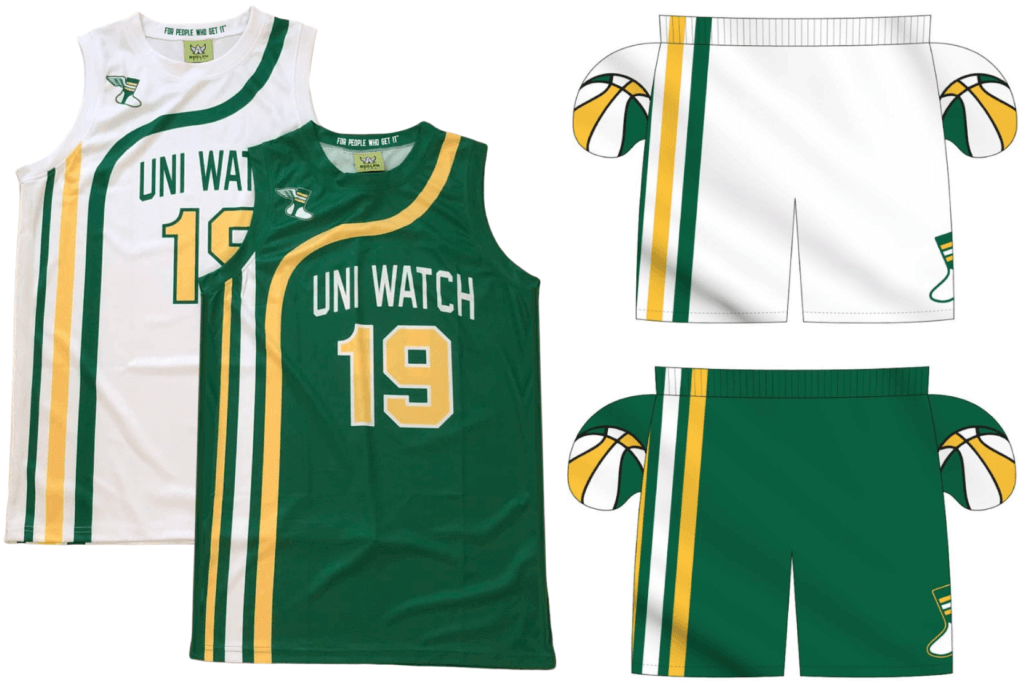 Next-to-next-to-last day: Time's running out for you to get your order in for Uni Watch basketball jerseys and shorts. As always, you can customize the number and NOB on the jerseys. We're taking orders today, tomorrow, and Wednesday for Christmas delivery. Full details here.
While we're at it: In case you missed it last week, Uni Watch cufflinks are now available. I had these made mainly because I like cufflinks myself, but I've been pleasantly surprised by how popular they seem to be, with two dozen pairs already sold in the first few days — nice.
Speaking of which: A few people have said, "What about a matching tie tack?" Our basic enamel pin should function quite nicely in that capacity. Enjoy!
• • • • •
• • • • •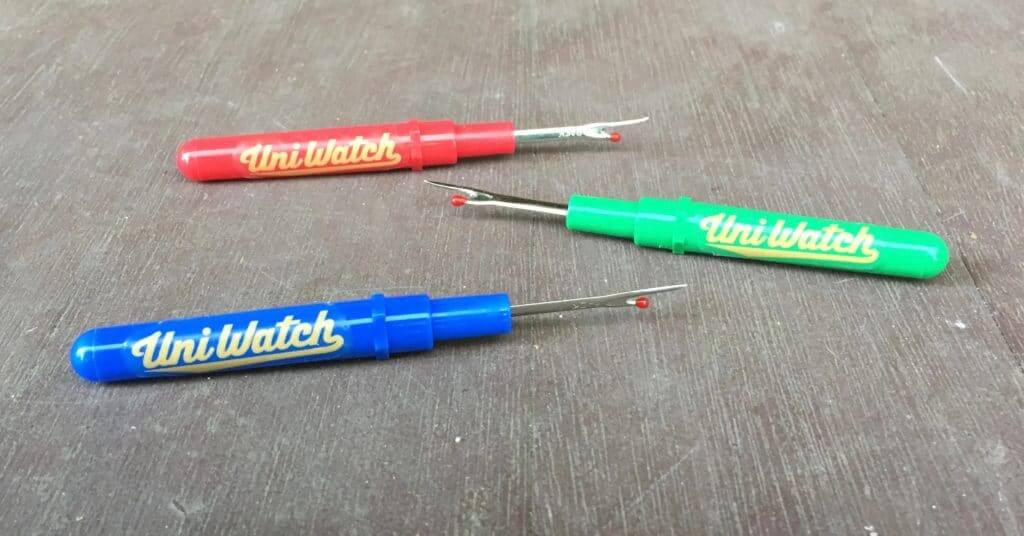 IMPORTANT seam ripper update: While a few seam ripper customers say they've received their rippers with no problem, a larger number of people say their rippers have either arrived damaged or not arrived at all. Clearly, my local postal clerk who advised me that I could mail the rippers in a regular envelope, marked "Non-Machinable," gave me bad advice.
So here's what we're going to do:
1. Anyone whose ripper arrived damaged or didn't arrive at all will get a new one, free of charge. I'll mail the new ones out in small bubble mailers, so there shouldn't be any shipping issues this time. (If you fall into this category and haven't yet told me, please let me know now.)
2. I'm currently sold out. The new inventory is coming from Asia (green and blue rippers are surprisingly difficult to find in America) and is still a few weeks away. As soon as it arrives, I'll send out the replacement rippers.
3. Going forward, I'll use bubble mailers for all new orders — which, unfortunately, means post office will classify the mailing as a package. When you throw in the cost of the bubble mailers, this means to the total charge for one seam ripper plus shipping will be in the $11.50 range (instead of the $7 I had been charging). I had really been hoping to avoid that — I realize it probably seems like a lot for one small item with a decal on it — but the higher shipping cost seems unavoidable.
Sorry for the hassle, and thanks for your patience.
• • • • •
• • • • •
Click to enlarge
Hmmmm: I was walking on West 14th St. in Manhattan on Saturday when I passed this storefront. Note the sign in the window on the left. Can't decide if they were being clever/ironic or oblivious.
• • • • •
• • • • •
Uni Watch girl mascot Caitlin has a favorite blanket. No matter where we put it, she'll curl up on it. pic.twitter.com/ielV84XoHa

— Paul Lukas (@UniWatch) November 18, 2019
Li'l cutie: She's very territorial.
• • • • •
• • • • •
The Ticker
By Jamie Rathjen

Baseball News: We mentioned that the OHL's Erie Otters wore uniforms in support of the minor league baseball Erie Seawolves, but we did not know that the socks looked like stirrups. … Ferdinand Cesarano has been reading two books about John McGraw and the New York Giants: Stealing Games by Maury Klein, and Manager of the Giants by Lou Hernandez. The Klein book includes this passage about the 1911 World Series: "McGraw sprang a surprise on the crowd: the team wore new black uniforms with white belts, a white 'NY' logo intertwined on the left sleeve, white stockings, and black caps with white visors, a throwback to those worn by the 1905 and also the 1899 champions." Both books also refer to the Giants' 1905 World Series uniforms (ellipses in original): "McGraw outfitted his team in stunning new black flannel uniforms with white trim and a large 'NY' across the chest in white. 'I will never forget the impression created in Philadelphia,' he recalled, 'and the thrill that I got personally when the Giants suddenly trotted out of their dugout … I have heard army men say that the snappiest-looking outfit is usually made up of the best fighters. I can well understand that. The psychological effect … was immediately noticeable upon the players. The Athletics in their regular-season uniforms appeared dull alongside our champions." … Craig Clavin tells us that he attended a John Fogerty concert where Fogerty played his song "Centerfield" with a bat-shaped guitar. [I saw him do this way back in 1987! — PL]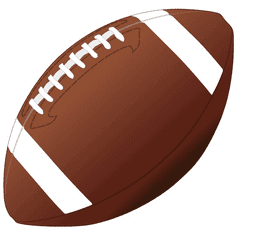 Football News: During his workout on Saturday, Colin Kaepernick wore a shirt bearing the name Kunta Kinte, the main character from the 1970s book and TV miniseries Roots. … The school of the day from Blaise D'Sylva's helmet collections was Miami (Ohio). … The CFL's Saskatchewan Roughriders painted their own logo at midfield yesterday. The logo for the stadium's advertiser is usually there, and it could still be seen bleeding through (from @SteveBCreations). … The Roughriders also wore throwback alternates on the occasion of hosting the CFL's Western final for only the second time since 1976 (from Wade Heidt). … The Bears use compressed lettering for DL Roy Robertson-Harris's lengthy NOB (from Omar Jalife).
You can also see uni tracking from the Canadian college national semifinals, the Mitchell Bowl and the Uteck Bowl, as well as the Canadian Junior Football League championship from Wade in yesterday's comments.

Hockey News: Former NHL winger Wendel Clark, who briefly played for the fisherman-logoed Islanders, described in a radio show (starting at 26:34) how the fisherman crest was so big and stiff that players would have to break it in (from Andreas Papadopoulos). … The WHL's Saskatoon Blades' logo is often called the "Pac-Man logo," says Wade Heidt, so for a promotion they wore jerseys that looked like a Pac-Man maze with a pixelized verison of the logo. … Also in the WHL from Wade: the Regina Pats wore "Experience Regina" jerseys. The jerseys both support a local entrepreneurial board and reference an 11-year-old satirical promotional video for the city. Wade also tells us that the bottom stripes didn't wrap around, but it looks like they did on at least one jersey. … The next two are from Wade: the Canucks wore their 50th-anniversary throwbacks for the first time. … Cross-listed from the baseball section: We mentioned that the OHL's Erie Otters wore uniforms in support of the minor league baseball Erie Seawolves, but we did not know that the socks looked like stirrups. … Back in 1932, the Red Wings and Canadiens both showed up for a game, in red jerseys, forcing the Wings to wear plain white pullovers (from Jerry Wolper).

Basketball News: New throwbacks for the Colorado State women's squad (from Robert Sudar).
.

Soccer News: Interesting observation by weekend colorizer George Chilvers in Saturday's comments: the English Football League earlier this year said it would no longer use a yellow winter ball except when it's actually snowing. That means there are at least three different winter-ball schedules in the UK: the Premier League switches to yellow between the European time changes in October and March; the EFL only uses yellow for snow; and Scotland always uses yellow. … A number of teams qualified for Euro 2020 this weekend, but Austria seemed the most excited, giving the players a somewhat unnecessary celebratory T-shirt — which you can buy, of course. They also wore a new black/cyan second kit at home. … After England wore cap numbers against Montenegro last week, they moved the numbers to the inside of the collar starting yesterday, which was promised but is disappointing.

Grab Bag: With the European competitions in rugby union starting this weekend, here is an overview of many teams' European shirts. … A reader who prefers to remain anonymous works for Gardaworld, which provides armed guards and messengers who transfer cash between banks and businesses. "When I started there, we wore light blue tops," he says. "They looked nice, but most of us felt a little like postmen or some other 'friendlier' entity. That changed when we switched to what is almost an industry-standard black top. Many coworkers feel that we now look sharper and more professional. On a personal level, I feel safer in a black uniform that seems to say, 'We are here for serious business and not to randomly talk to strangers.' It really shows how uniforms can make a difference in real world situations."