Photo source: Colin Martel of PHEW on Facebook; click to enlarge
Photos purporting to show the Avalanche's new Stadium Series uniform began circulating on Tuesday. On Wednesday, the very reputable Icethetics site confirmed their legitimacy (well, technically on Tuesday night, but most of the world, myself included, learned about it on Wednesday), so this is what the Avs will be wearing when they face the Kings on Feb. 15 at the Air Force Academy in Colorado Springs.
Full disclosure: I've known about this one for a couple of weeks but was sworn to secrecy. So when the leaked images began circulating, I couldn't comment on them. But now that Icethetics has confirmed them and lots of other outlets are writing about them, I can't ignore them any longer.
So, the design: As lots of people on social media have already observed, the stylized "A" looks a lot like a bib emanating from the jersey collar (or maybe an upside-down version of the Canucks' famous flying V) — not ideal. But unlike most other Stadium Series jerseys, this one seems to have been designed with the stadium fan in mind. The oversized graphic may not look so great up close, but it might look just right for the fan in the upper deck, right? Or at least I think that's the idea. I'm willing to reserve judgment until we see how it looks on the ice.
It'll be interesting to see whether the Kings' jersey takes a similarly bold approach.
• • • • •
• • • • •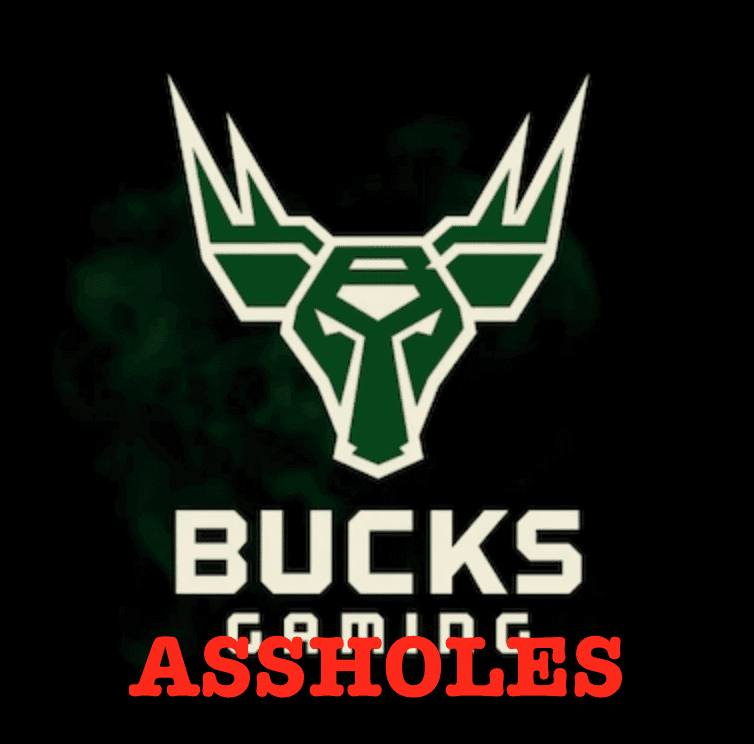 Buck you: A lot of you folks out there are very creative. Teams and coaches recognize that, which is why I'm semi-regularly asked to conduct design contests to create a team's new logo and/or uniform. Whether the team is a small high school or a professional minor league club, my response is always the same: "I'm happy to do it, under one condition: If the design is actually going to be used in the real world as part of your branding, you must provide a fair fee for the winning designer. You don't have to pay me anything for running the contest, but you have to pay the designer."
I do this because it's important to reinforce the point that creative work has value and that creative people whose work is going to be used in the real world deserve to be compensated for that work. Some teams say, "Well, we don't have a budget for that," which basically ends the conversation. Others happily agree to compensate the winning designer (they usually ask me what I think is fair, and I come up with a number based on what sort of team it is and what they want designed), which is how Uni Watch readers have ended up creating new uniforms for the Portland Pickles, Leigh High School, and the Grand Rapids Griffins, among others.
With all that in mind, let's consider the case of Bucks Gaming, which is the e-sports affiliate of the NBA's Milwaukee Bucks. On Monday they invited people to create a new header design for their Twitter page. In exchange, they offered team merch. In other words, the designer's "prize" for the winning designer would actually be advertising for the client.
Designers were not amused, and there was a significant online backlash. The full story, which is worth reading, can be found here.
Now, the depressing and completely unacceptable fact is that Bucks Gaming is hardly the only professional team to run a design contest with no compensation. So why have I chosen to single them out with this post? Because when one designer told them, "Bills can't be paid with merch. Select and pay a designer the proper way," Bucks Gaming responded like so:
Bucks really respect your work man 🙄🙄 pic.twitter.com/jjXKcR5PlU

— Darkmilitia419 (@darkmilitia419) November 13, 2019
What an asshole.
Yeah, I know, it's probably just an intern, or some kid, or some low-level employee, or someone who didn't know better, or someone who got caught up in the heat of the moment, or, or, or….
Fuck these people. Pay designers fairly, and fire whoever sent that tweet. Now.
• • • • •
• • • • •
Click to enlarge
ITEM! Cufflinks now available: I'm happy to report that Uni Watch Cufflinks, which I've previously shown you teaser photos of, are now ready for ordering in our Teespring shop.
I don't mind saying that they look really, really good. I don't usually wear Uni Watch merch (sort of like the band wearing its own T-shirt, right?), but I'll definitely be wearing these. A Uni Watch reader who works as Senior Litigation Counsel at the U.S. Justice Department says he plans to wear them for his argument in federal court next month, which means Uni Watch cufflinks will literally be representing the United States of America — how about that! You can get yours here.
• • • • •
• • • • •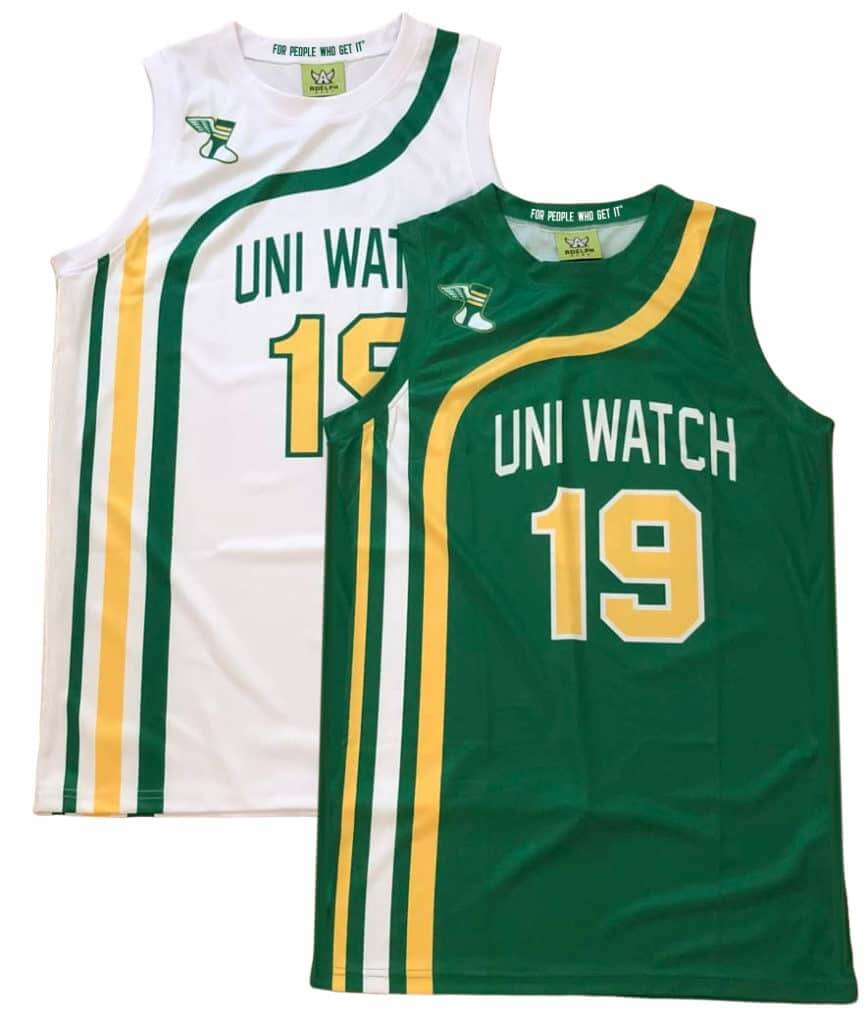 Click to enlarge
SIX DAYS LEFT for hoops gear pre-orders: In case you missed it on Sunday, we're now taking pre-orders on Uni Watch basketball jerseys. You can choose your own number and NOB, and you don't have to have the winged stirrup on the shoulder if you don't want it there.
We also have matching shorts: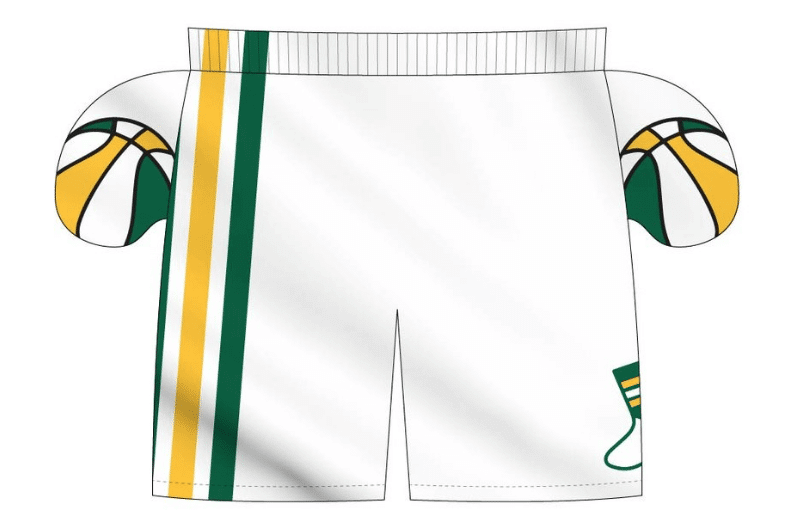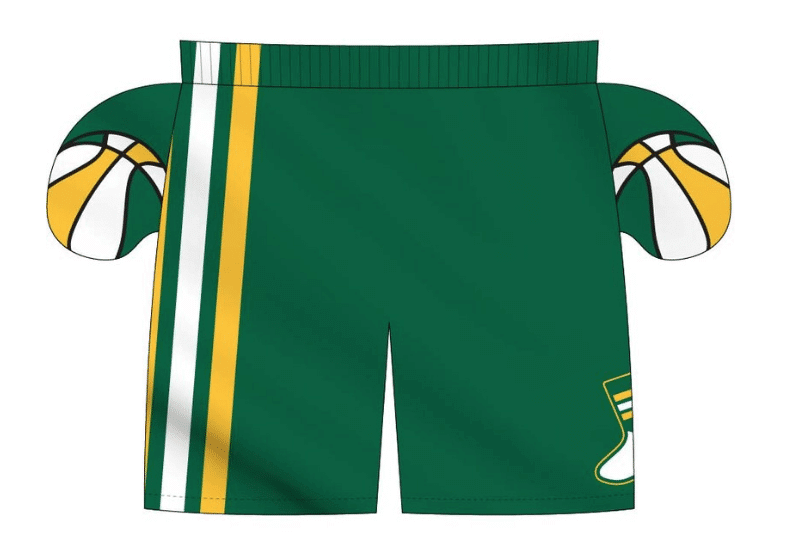 The ABA-style basketball-themed inner pockets are a nice touch, right? I can't take credit for that detail, though — that was Adelph Wear honcho Nathan Haas's idea. He's my partner/collaborator on this project, just as he was with our recent cycling jerseys.
We're taking pre-orders on these through next Wednesday, Nov. 20, for Christmas delivery. It's possible that we'll offer these again in 2020, but for now it's a holiday offering, so move fast if you want to get in on it! Full details here.
Also: The pre-order page doesn't offer an option for international shipping. But if you want that, email Nathan and he should be able to help you out.
• • • • •
• • • • •
IMPORTANT seam ripper update: The good news is that the Uni Watch Seam Rippers have been much more popular than I expected. The bad news is that this means I'm already sold out. I've already ordered new inventory, although it may take several weeks for it to arrive. (The green and blue colors are surprisingly hard to find, especially in America, so I've had to order them from Asia, which takes a while.)
The worst news, though, is that two customers have gotten in touch to tell me that the envelopes with their rippers have arrived looking beat-up, damaged, and with the seam ripper missing, like this (click to enlarge):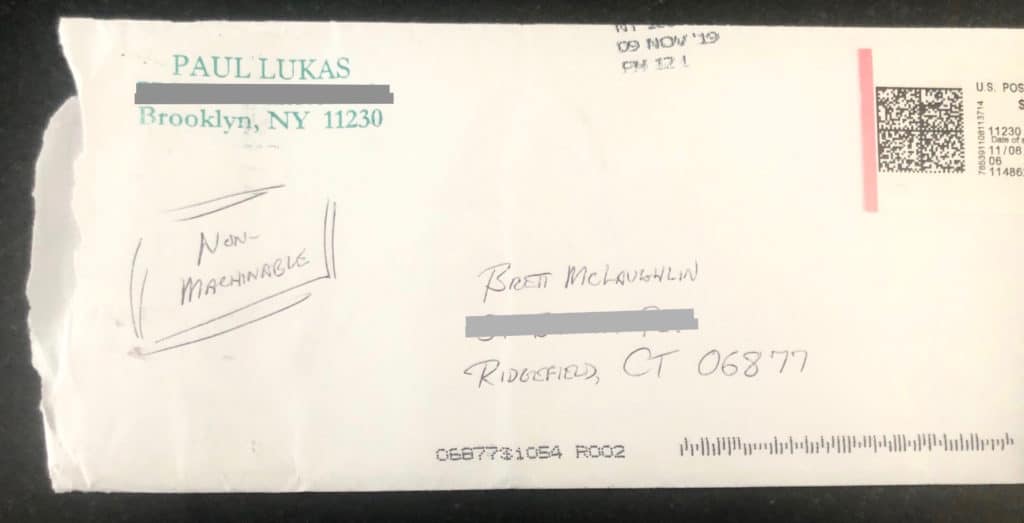 Ugh.
Some quick background: My goal with the rippers was to keep the shipping costs as low as possible. Who wants to buy a small, inexpensive item with a big shipping cost? So I went down to my local post office, where the clerks assured me that I could pack the rippers in a conventional envelope. They suggested that I tape the rippers to a tri-folded letter, so the rippers wouldn't be rattling around. Since the ripper is a rigid object, the letter would be classified as "non-machineable" (i.e., it would have to be handled by hand, not by the postal service's automated machinery), which costs a bit more — 70¢ instead of the usual 55¢. So that's what I did.
But now it appears that at least two of the envelopes were machined — and basically destroyed.
Here's the deal:
1. If you ordered a seam ripper from me, please let me know if you've received it, not received it, or received the envelope in a damaged state. Basically, I need to determine if these two damaged envelopes were aberrations or a chronic problem.
2. If your ripper was lost or damaged, I'll send you a new one (no need for you to pay a second time) once I get the new rippers in stock. That will likely take several more weeks. Sorry about the hassle, and thanks for your patience.
3. If it turns out that the machined envelopes are a chronic problem and not just two isolated incidents, I'll have to start packaging the rippers in little bubble mailers. That means the Postal Service will classify them as packages, not letters, which in turn means that I'll have to start charging $5 for shipping. I'd really like to avoid that, because it will turn a $5.99 ripper into a $10.99 total purchase — but it may be unavoidable.
I think that's it. Man, never a dull moment!
• • • • •
• • • • •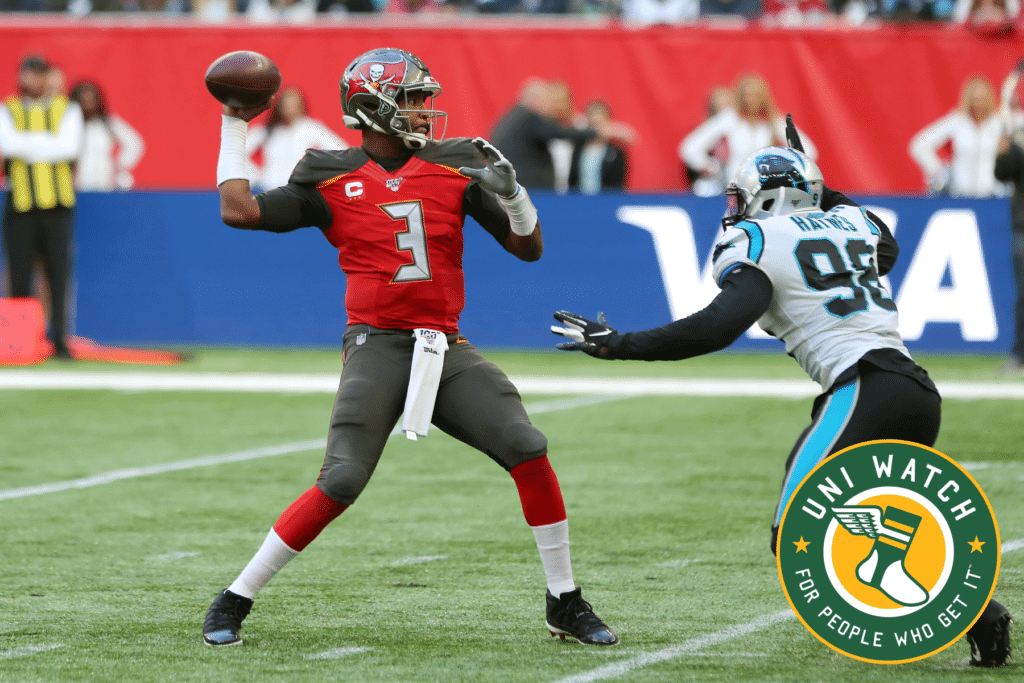 NEXT-TO-LAST DAY for the Bucs-redesign contest: My latest Uni Watch design contest, conducted in conjunction with InsideHook, is to redesign the Tampa Bay Bucs. The deadline for entries is tomorrow, so get crackin'! Full details here.
• • • • •
• • • • •
Click to enlarge
Culinary Corner: My old buddy Sam Sifton, who's currently the food editor of The New York Times but got his start, just like I did, as a columnist at the alt-weekly NYPress back in the 1990s, had an article the other day about a pork chop recipe he's been enjoying. I tried it last night and can confirm that it's really, really good, thanks mainly to a spectacular roux-thickened pan sauce that includes butter, lemon, capers, and more.
Since some of you may have already used up all your NYT clicks for this month, here's a screen shot of the recipe. Enjoy.
• • • • •
• • • • •
The Ticker
By Paul

'Skins Watch: Miami of Ohio wore Myaamia Heritage Center helmets for last night's game against Bowling Green. "The helmets are honoring the Miami Tribe of Oklahoma, which was relocated from their original lands in Ohio, Indiana, and Michigan," explains Timmy Donahue. There's more info about the helmet logo here.

Baseball News: After Cleveland replaced the Chief Wahoo sleeve patch with the 2019 All-Star Game patch last season, the widespread assumption had been that a new logo patch would debut in 2020. But instead they're leaving the sleeve blank, at least for next season (rare non-soccer contribution from Ed Zelaski). … The new minor league team in Wichita is called the Wichita Wind Surge. Here are their inaugural uniforms, which were created by longtime Uni Watch pal/ally Todd Radom. Additional images and info, including lots of quotes from Todd, here and here. … The Erie Otters — that's a hockey team — will wear uniforms with an Erie SeaWolves theme — that's a baseball team — this Saturday (from @_ThatBrentGuy). … Spectacularly well-done article about a New Jersey high school baseball coach who was sued for telling a kid to slide into third base. Great reporting, great writing, great journalism — highly recommended (big thanks to Jason Hillyer).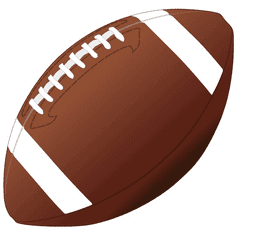 Pro Football News: Here's a Twitter thread with a good rundown of Titans jersey patches. … The Jags have been using camouflage numbers on their practice jerseys (from @MadeByTim). … The Rams also had camo practice numbers, along with fallen service members' names replacing the usual practice jersey NOBs (from Jakob Fox). … A Winnipeg Blue Bombers (CFL) fan vowed 18 years ago to stop wearing long pants until the team won the Grey Cup. With the Bombers currently advancing through the playoffs, he's hoping they win so he can stop wearing shorts (from Sara Klein).

College Football News: Iowa State is going BFBS this week (from Chad Lehman). … Rough Riders alts this weekend for Oklahoma (from Sam McKinley). … Get this: The snowplow vehicles at Michigan's stadium have a winged helmet design (from Brandon Weir). … Homecoming uni this week for Houston (from Ignacio Salazar). … Blaise D'Sylva's latest helmet collection is for Buffalo. … Retro helmet this week for Kansas State (from Nicklaus Wallmeyer). … The player wearing No. 25 for Virginia Tech this week is DB Khalil Ladler (from Andrew Cosentino). … "My wife's hosting a rivalry week potluck at work," says Ray DeBoer, "so we made Michigan State veggie pizza and Michigan fruit pizza. We're both from Illinois, so go Northwestern!"

Hockey News: The Blues wore pregame jerseys with the names of military members as NOBs two nights ago. … New throwback uniforms for NC State's club team (from @PackManSJP). … Cross-listed from the baseball section: The Erie Otters — that's a hockey team — will wear uniforms with an Erie SeaWolves theme — that's a baseball team — this Saturday (from @_ThatBrentGuy). … Devils G Mackenzie Blackwood has been using HC Dinamo Minsk G Jhonas Enroth's glove (from @OlegKvasha).

NBA News: Following up on our recent discussion on the number of dashes in NBA free throw circles, Shawn Sweeney reports that the 76ers are selling a T-shirt that shows a lane with five dashes, even though their actual court design has six. … The Wizards' esports affiliate has a new jersey sponsor advertiser (from Eric Abneri).

College Hoops News: Indiana State had some pretty wild striped uniforms back in 1932-33 (from Marc Viquez). … Iowa and DePaul went color vs. color a few nights ago, with Iowa debuting their new gold alternates (from Kary Klismet). … You probably know that Marquette had great bumblebee uniforms in 1969-70, but did you know they also had bumblebee warmup tops? (From @bullyday.) … Color vs. color is also becoming more common for women's hoops, as seen in last night's LaTech/Memphis game (from Chris Mycoskie). … Syracuse coach Jim Boeheim's suit jacket lining features the number 35. "That's the number he wore when he played, and the number his son Buddy currently wears for the team," notes Jakob Fox.

Soccer News: Russia will not wear its new shirts in upcoming Euro-2020 qualifiers because the sleeve trim has the colors of the Russian flag in the wrong order (from @bryant_rf). … Northern Ireland's 2020 away kit has leaked.

Grab Bag: The town of Newark, Ohio, has a new logo, although for some reason the writer of that article says they're "rocking a new brand." Hard to imagine how an editor was okay with that wording. … New logo for Beavercreek, Ohio, too. … New logo and magazine design for The Atlantic. … The great design podcast 99% Invisible has a new episode about the stories behind ubiquitous symbols like the peace symbol, the smiley face, the "power button" symbol, and more. Highly, highly recommended — check it out here. .. .Subtly updated logo for Warner Bros. (from Judy Adams). … New uniforms for Italian volleyball referees (from Jeremy Brahm).