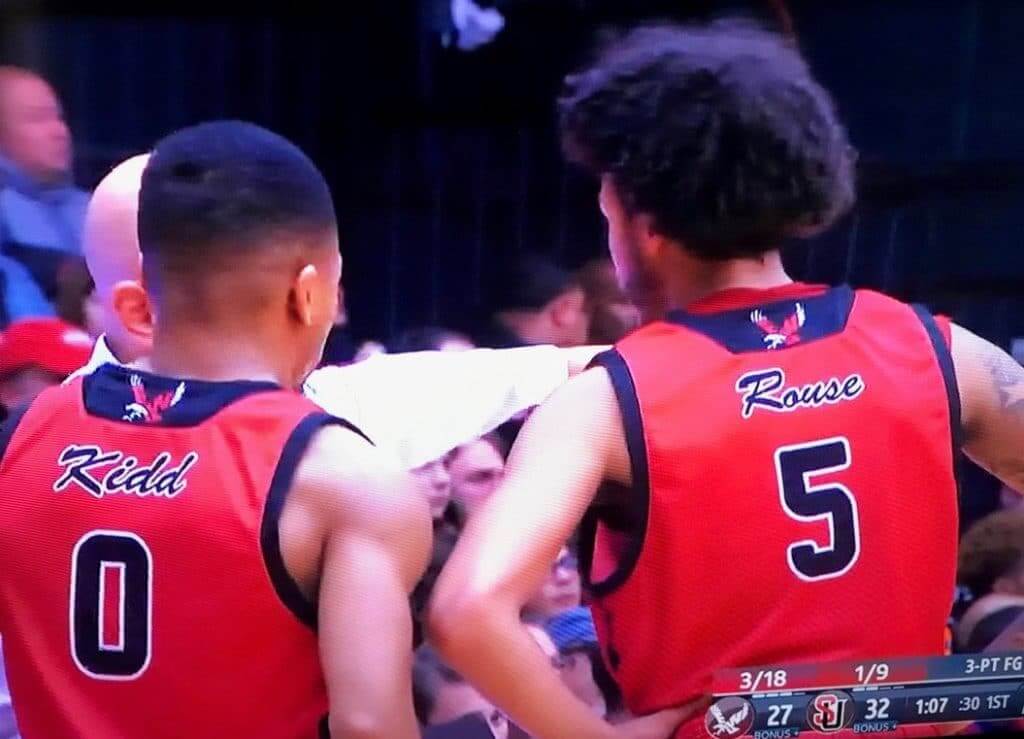 Click to enlarge
Reader Bryan Beban tipped me off yesterday to something interesting: The road uniforms for Eastern Washington — a school that plays in the Big Sky Conference — have script NOBs!
That's a pretty rare thing. Off the top of my head, I can think of only one example — the Memphis Sounds of the old ABA: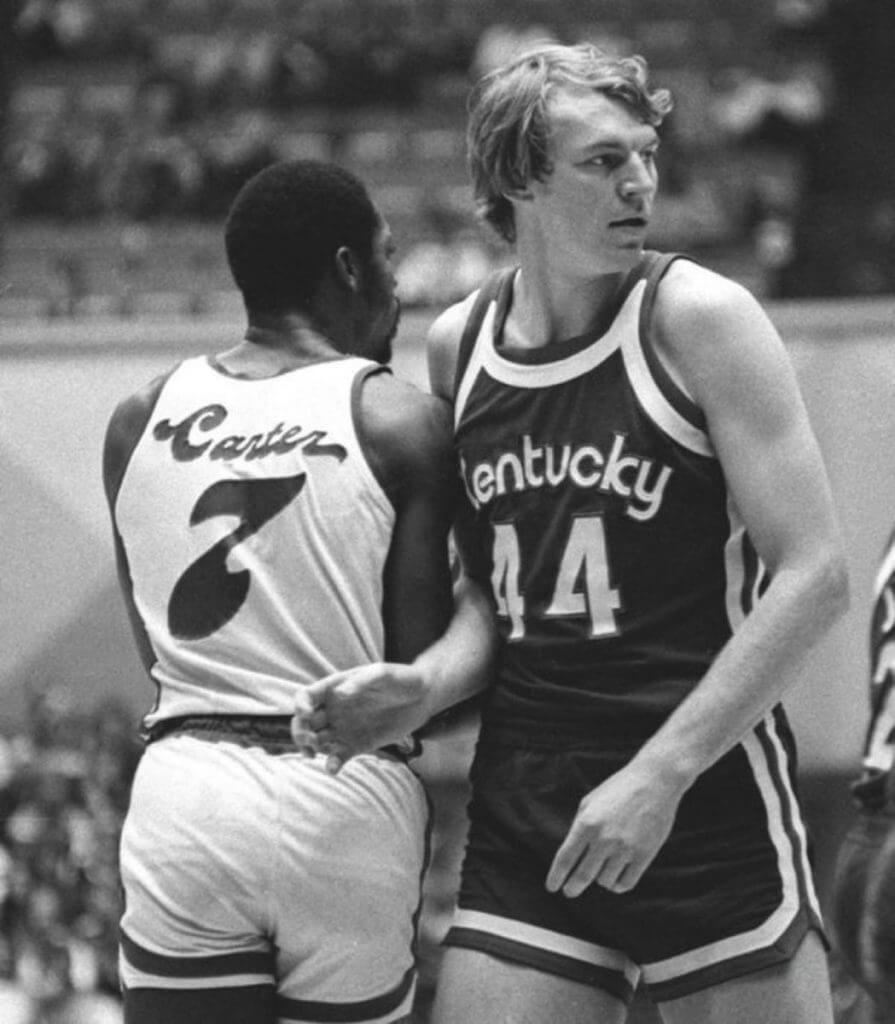 The Grizzlies revived that design as a throwback in 2015, although the NOBs weren't as endearingly thick and loopy as the original ABA versions (click to enlarge):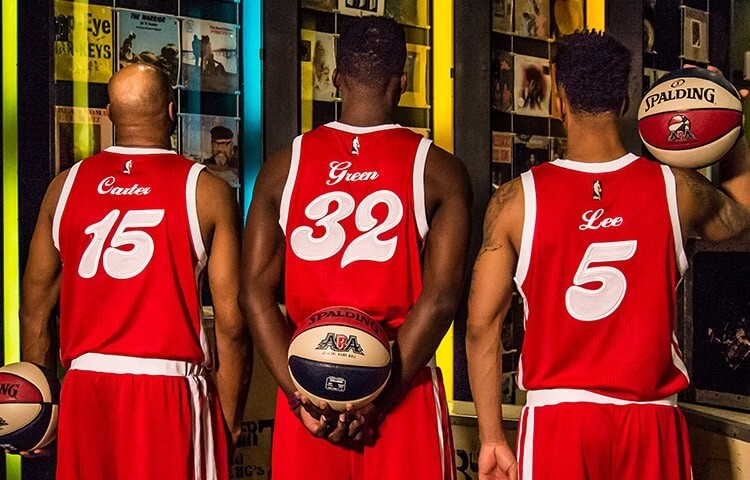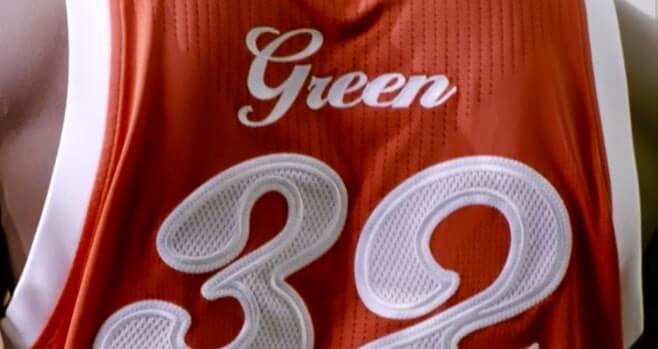 When I put out a call on social media to see if anyone could come up with other examples, David Lundborg said the 1977 Cincinnati hoops team had script NOBs beneath the uni number: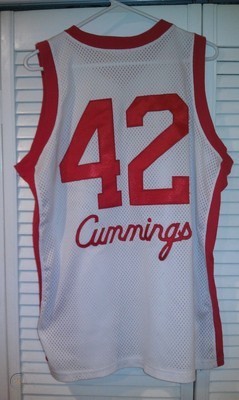 That's from a replica jersey. I couldn't find any game photos to confirm the NOB style, but I did find a shot indicating that the front of the replica is apparently accurate, which means there's a good chance that the back — including the script NOB — is solid as well.
I feel like there have been other script NOBs in college hoops, but I can't recall any specific examples. Anyone..?
Script NOBs, including all of the ones I've just presented, also fall into another rare category: cap/lowercase NOBs. Most NOBs, of course, are all-caps, but cursive lettering isn't well suited to the all-caps format. So if you decide to go the script route with your NOBs, you're probably committing yourself to cap/lowercase as well.
When it comes to non-script cap/lowercase NOBs, the first example that comes to mind is the ABA's Kentucky Colonels (and in a nice bonus, this photo also shows Marvin Barnes's FiNOB):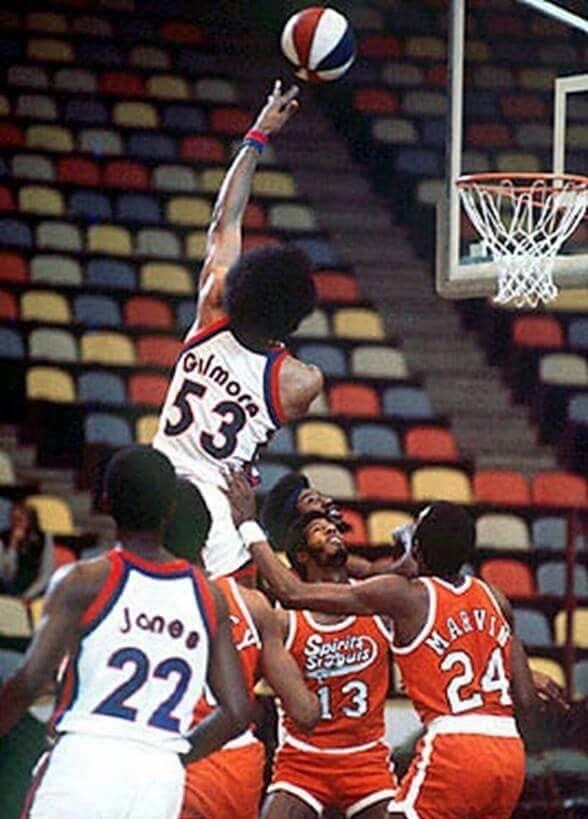 I'm 100% certain that I've seen more basketball jerseys with cap/lowercase NOBs — all from the NCAA ranks, I'm pretty sure — but again, I can't think of any specific examples. Anyone..?
Getting back to Eastern Washington — the school that started us down this rabbit hole — their home uniform appears to have conventional all-caps NOBs, so the script is apparently just for the road reds. As an aside, they also have a spectacular center court logo, as you can see in this highlight clip:
👀 the highlights from tonight's season-opening victory!

The Eags are back in action this Saturday at Seattle U!#GoEags #LetItFly pic.twitter.com/xbqrdIcASH

— EWU MBB (@EWUMBB) November 6, 2019
(My thanks to Bryan Beban for tipping me off to the Eastern Washington script NOBs.)
• • • • •
• • • • •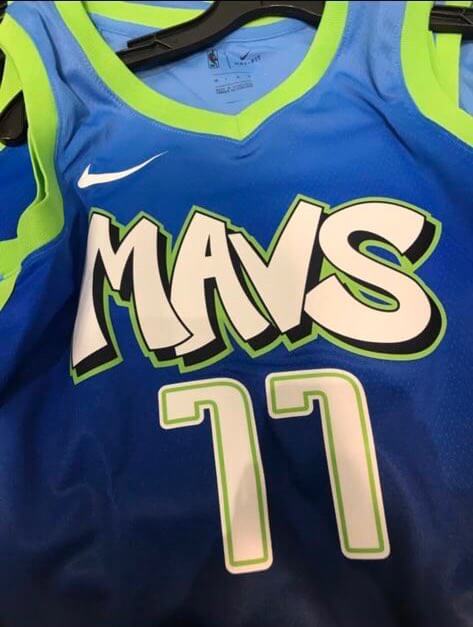 Drip … drip … drip: The Mavs have become the latest NBA team to be victimized by a retail leak, as a photo of their new City alternate began circulating yesterday. The graffiti-themed design looks a lot like the latest Nets alternate, except for the brutal color scheme. At least we can stop saying that the Mavs' uniforms are all boring and characterless. This one's more likely to have so much character that it'll be unwatchable.
• • • • •
• • • • •
Membership update: Can you identify the team that served as the design motif for Christopher Cohen's new membership card? Give yourself a few bonus points if you recognized it as the Colorado Crush, a now-defunct Arena League team that folded in 2008. That's a pretty obscure request — and, thanks to the unusual number font, a very cool-looking membership card!
Christopher's card is part of a new batch of designs that's been added to the membership card gallery. I expect the printed/laminated versions of these cards to ship out in a week or so.
Ordering a membership card is a good way to support Uni Watch (which, frankly, could use your support these days). And remember, a Uni Watch membership card entitles you to a 15% discount on any of the merchandise in our Teespring shop and our Naming Wrongs shop. (If you're an existing member and would like to have the discount code, email me and I'll hook you up.) As always, you can sign up for your own custom-designed card here, you can see all the cards we've designed so far here (more than 2,300 of them!), and you can see how we produce the cards here.
• • • • •
• • • • •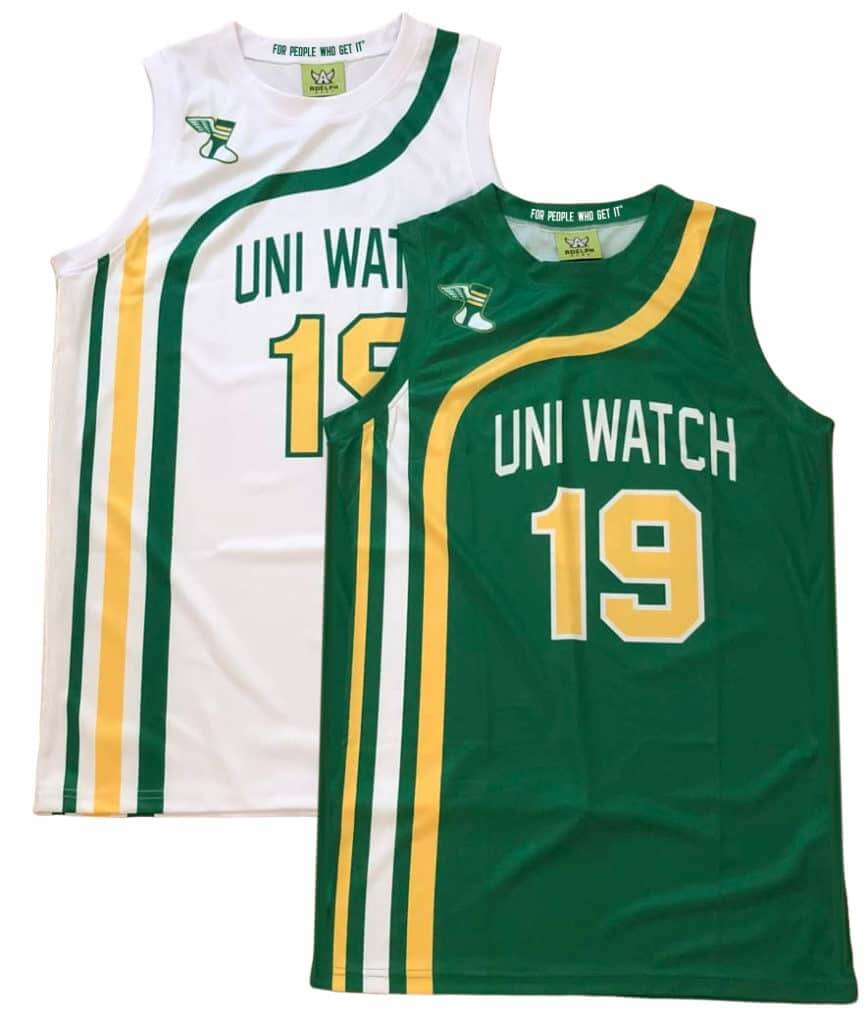 Click to enlarge
Uni Watch hoops gear reminder: In case you missed it on Sunday, we're now taking pre-orders on Uni Watch basketball jerseys. You can choose your own number and NOB, and you don't have to have the winged stirrup on the shoulder if you don't want it there.
We also have matching shorts: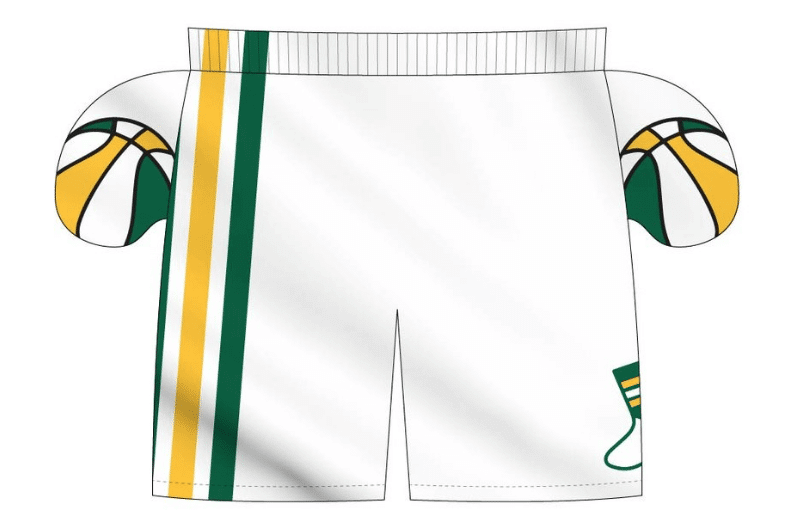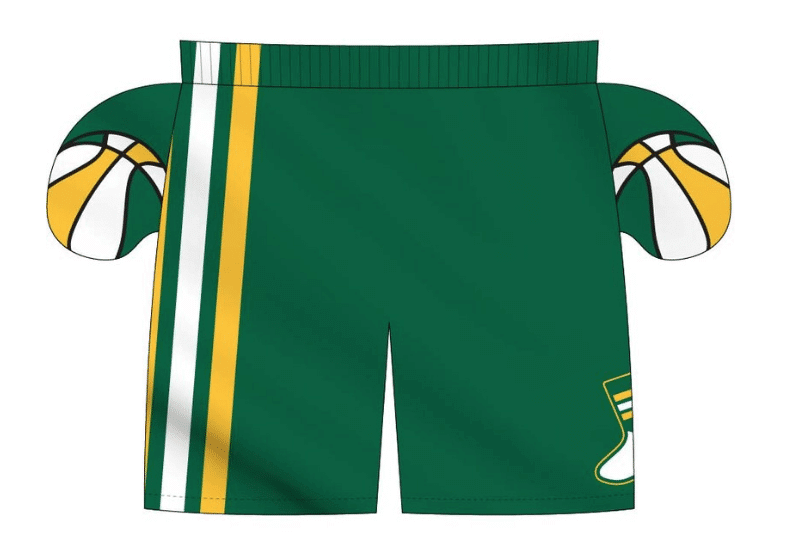 The ABA-style basketball-themed inner pockets are a nice touch, right? I can't take credit for that detail, though — that was Adelph Wear honcho Nathan Haas's idea. He's my partner/collaborator on this project, just as he was with our recent cycling jerseys.
We're taking pre-orders on these through next Wednesday, Nov. 20, for Christmas delivery. It's possible that we'll offer these again in 2020, but for now it's a holiday offering, so move fast if you want to get in on it! Full details here.
Also: The pre-order page doesn't offer an option for international shipping. But if you want that, email Nathan and he should be able to help you out.
• • • • •
• • • • •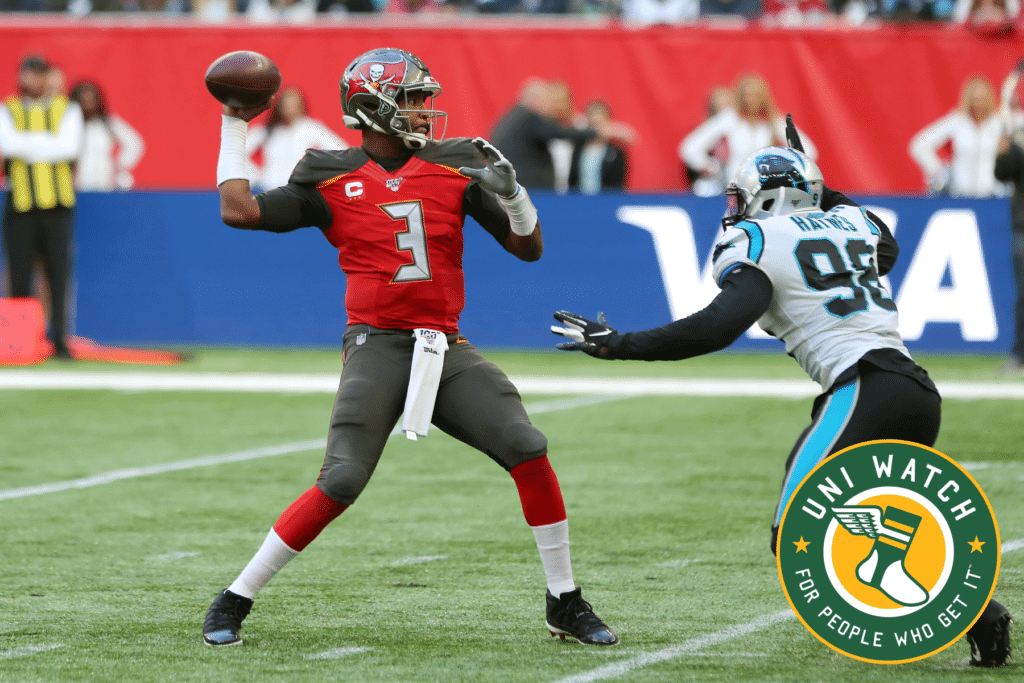 Bucs-redesign contest reminder: My latest Uni Watch design contest, conducted in conjunction with InsideHook, is to redesign the Tampa Bay Bucs. The deadline for entries is this Friday, so get crackin'! Full details here.
• • • • •
• • • • •
The Ticker
By Lloyd Alaban

Baseball News: The Mariners announced a schedule of retro uniform days, including a day where the club will presumably wear throwbacks of the Seattle Steelheads, the city's Negro League club. The M's have also scheduled a Retro Jersey Night, featuring a version of the club's logo from 1981-86 (from Ed Kendrick and Chris Richards). … U. of Minnesota college hoops player Payton Willis has a big tattoo of the Nationals' logo (from Chris Lather).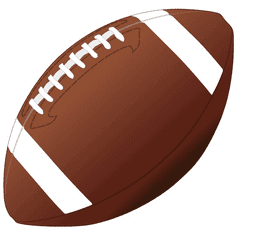 Football News: Here's the Panthers Uni Tracker through week 10. … Ohio went BFBS last night. According to Blaise D'Sylva, Ohio has worn a black helmet at least once each season since 2011. Tuesday was the school's fifth black helmet version (from Taylor Jedrzejek). … Speaking of Blaise, his latest helmet collection is for Bowling Green … Throwbacks this week for Cal, Temple (confirmation from the university here), and Utah (from multiple readers). … The grounds crew at Marshall's stadium carved out "GO HERDS 75" in the snow ahead of the Marshall-Louisiana Tech game this weekend. The "GO HERDS" comes from a fan's sign at a game last month, while the "75" honors the 75 people who died when Marshall's team plane crashed in 1970 (from Brice Wallace). … Here's a look at the pork-centric culinary traditions (paywalled link) surrounding the annual Iowa/Minnesota rivalry game, in which the victor is awarded the "Floyd of Rosedale," a statue of a pig (from Kary Klismet). … Kevin Tiessen's wife made a little Michigan State jersey for a Curious George figurine that Kevin likes to take to Spartans games. … If you look at the start of this 1971 video clip, you can see that the Steelers once had a midfield logo that didn't have the familiar white background (good find by Jerry Wolper).

Hockey News: The Huntsville Havoc of the Southern Professional Hockey League will wear Star Wars-themed sweaters on Friday, designed by reader Tyler Earles. … Here's the jersey the New Jersey Warriors are wearing for their upcoming games. The Warriors are a nonprofit hockey team affiliated with the Devils for veterans who have a 10 percent minimum disability. A bit more info about the team here and here (from Kevin Clark). … The Kings had military-themed pregame jerseys last night and also added American flag decals to their helmets. … It's always fun when UCLA and USC go color vs. color on the football field. But last night their club hockey teams went color vs. color on the ice! (From Jack Harris.)

NBA News: Throwbacks last night for the Kings and Blazers (from @mikegganimal). … The Blazers are asking fans to submit photos for a virtual mosaic in conjunction with the reveal of their new City edition uniform (from Etienne Catalan).

College Hoops News: Color vs. color for last night's Creighton/Michigan game (from Josh Hinton). … Ditto for Oregon and Memphis (also from Josh). … Memphis G Lester Quinones wore his shorts ridiculously high last night. Or if you're a bit more old-school, he wore them just right (from Ben Teaford). … Here's the Veterans Day-themed warmup UNLV men's will wear this weekend (from @MaxMetalFriar). … Texas's new arena will be called the Moody Center (from James Gilbert). … Looks like Washington forwards Jaden McDaniels and Nate Roberts exchanged shoes in this practice photo (from Anthony Edwards). … Cross-listed from the baseball section: Minnesota G Payton Willis has a big tattoo of the Washington Nationals' logo (from Chris Lather). … Cal G Joel Brown has mismatched 1s on the front and back of his home jersey. … Yet another color/color game from last night: Iowa State and Northern Illinois (from Kary Klismet).

Soccer News: From our own Jamie Rathjen and Cort McMurray: The Guardian's soccer cartoonist, David Squires, is back again with a cartoon that pokes fun at the intersection of soccer and Remembrance Day poppies. … From Josh Hinton: New Catalan flag-inspired shirts for Barcelona. … The new USL franchise in Queens, NY, will be called Queensboro FC. … The new NWSL club in Louisville, Ky., has filed a copyright for Proof Louisville FC, and someone has already made an unofficial crest. It's worth noting that new franchises almost always file multiple names before settling on a permanent one. … As always, you can stay up to date with the latest kit info by following Josh's Twitter page. … New uniforms for Switzerland (from Chris Corbaz). … New 120th anniversary uniforms for Uruguayan side Nacional (from Ed Zelaski). … Argentinian team Estudiantes de La Plata celebrated returning to its newly-renovated home stadium after a 14-year hiatus with a hologram of giant lion (the club's mascot), but there's some controversy over whether the display can truly be called a hologram or was just some elaborate computer graphics. An image of the renovated stadium can be found here (from Kary Klismet). … Also from Kary: Jacksonville Armada FC of the National Premier Soccer League (on the fourth tier on the US soccer pyramid) have released renderings of their new proposed stadium. … New Club World Cup kit for Mexican side Monterrey).

Grab Bag: Morgan State athletics will wear an "EC" patch on team jerseys to honor the late Rep. Elijah Cummings who died last month. Morgan State lies within Cummings's district, and he served on the school's board of regents (from Brian Simpkins). … Reebok is the latest brand to unveil a "new" retro look, reverting back to a variation of their previous logo (from James Gilbert). … The Netherlands (the country, not a sports team representing the country) has unveiled a new logo, prompting the author of this Forbes article to wonder, does a country need a logo? (From Kary Klismet.) … A DIY project from reader Kevin Tiessen: "Recently, my wife converted one of my old Michigan State Spartans sweatshirts into leg warmers for our seven-year old daughter." … New uniforms for the New Zealand rugby league team Vodafone Warriors (from EP Conrad). … New logo for the Maadi Mummies of the Cairo American Softball League.