Photo by San Diego Padres; for all photos, click to enlarge
Paul here, making a rare Sunday appearance on the site. Greetings from San Diego, where I arrived yesterday afternoon and attended the Padres' uniform unveiling last night. (If you look closely over Padres first baseman Eric Hosmer's shoulder, you can see my vantage point for the event.)
As unveilings go, this was an interesting one. First, as you can see in the photo shown above, it took place at the ballpark, out on the field, which felt so much better and more appropriate than having it in some sterile conference center, which is how these things are usually handled.
Second, most unveilings have a significant air of mystery or suspense. But in this case, the main storyline — bringing back the brown — was already known well in advance. I don't want to say that the actual design details were afterthoughts, because of course that's not the case, but I'd say that the overall feel last night, even before the new look was revealed, was more celebratory than anticipatory, which is not how it works at most unveilings.
A few other notes to give you a sense of the scene:
• They had cocktails made with bourbon and pineapple juice (brown and gold, get it?). The "Brown Is Back" thing floating on top was made of edible sugar:
• There were brown napkins with a gold Swinging Friar logo:
• The Swinging Friar was also used for the VIP passes:
VIP pass. pic.twitter.com/Jwla7omWYp

— Paul Lukas (@UniWatch) November 10, 2019
• The guy who runs the Padres Uni Tracker Twitter account (sorry, dude, I've already forgotten your name) was there, and he wore one of our Uni Watch brown shirts, which was very cool to see:
• Padres blogger Brady Phelps, who I've been communicating with for many years but had never met before in person, was a great ambassador all night long. At one point he introduced me to former Padres pitcher and Cy Young winner (and former Met!) Randy Jones, who was wearing his original 1973 warmup jacket! I asked if I could take a photo of him, and he smiled and said, "Why don't you get in the photo with me, you asshole?" A real character. Brady took this shot:
As you can see, I wore a brown-ish shirt and a brown cap. It's a little hard to see, but that's my Uni Watch Press Pin on the side of the cap.
• They had a "brown carpet" where fans could have their photos taken with Padres players Eric Hosmer and Manny Machado. Here they are flanking Uni Watch reader Mike Ortman, who won the raffle to be my plus-one at the event (photo by Orlando Ramirez/San Diego Padres):
I really enjoyed meeting Mike and hanging out with him, and I'm pretty sure he had a good time as well.
As for the new uniforms, here's all the info you need to know:
The Design Team
The new uniform set was created by the Padres' in-house design staff — not by Nike, not by Majestic, not by any outside design firm. Some of the logo and typography work was outsourced to Brian Gundell, a Portland-based designer who created the team's 50th-anniversary logo, which was worn last season as a sleeve patch. (He was there last night — very nice guy.)
The Primary Logo
The team's interlocking "SD" logo has been tweaked ever so slightly. The new version had already been used for more than a week as the team's social media avatar. Here's a comparison:
Here is the difference between the old and new Padres avatar. (Dark one is the new one) pic.twitter.com/6a5p3qSQXe

— colecole (@COOK17) October 28, 2019
The Home Uniform
There is one home uniform: white with brown pinstripes; "Padres" arched across the chest in brown outlined by gold; gold trim on the collar and sleeve cuffs; a Swinging Friar sleeve patch (this same patch appears on all of the new jerseys); a brown belt, and a brown cap.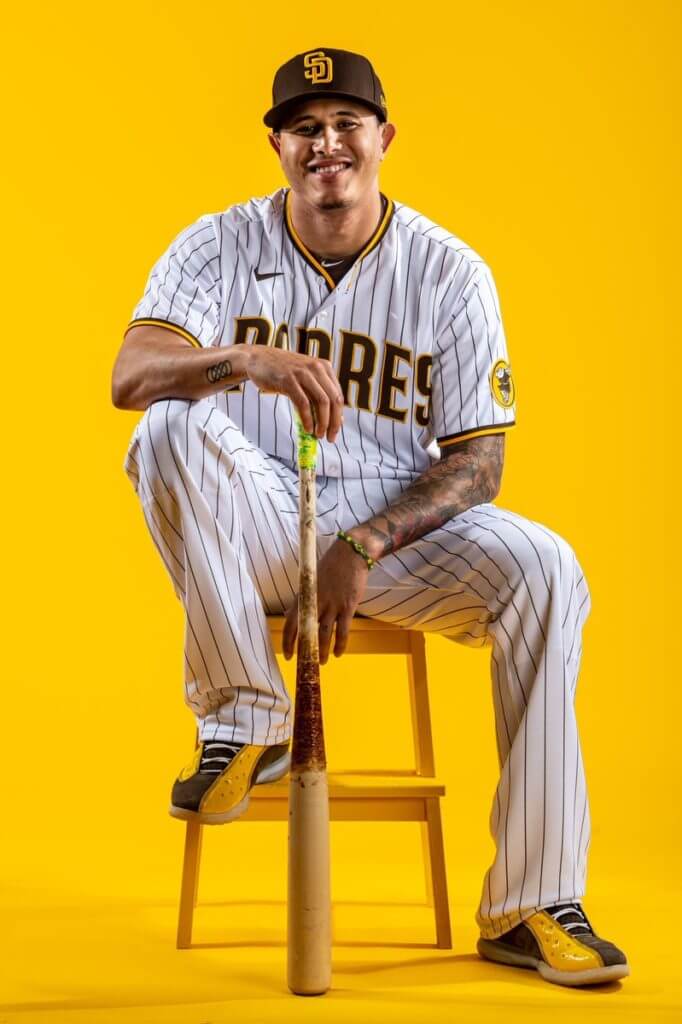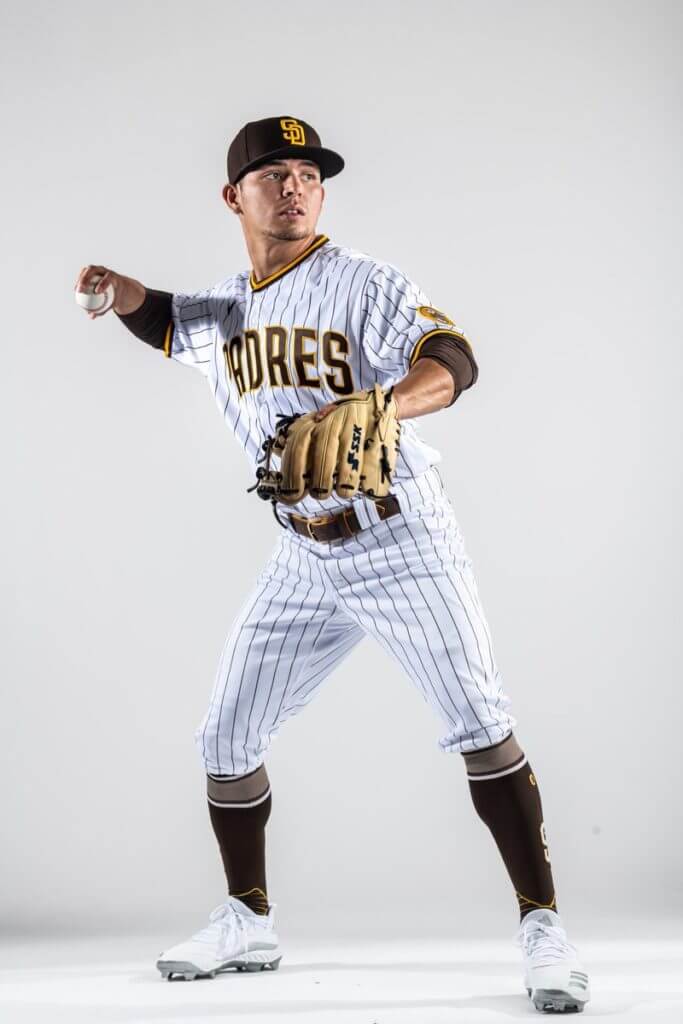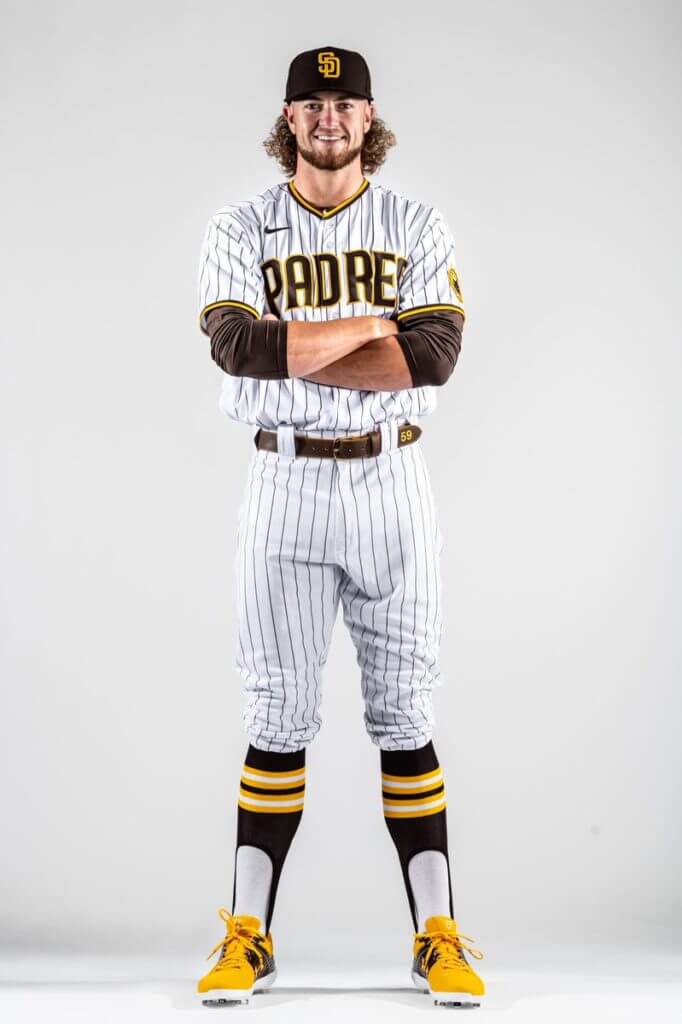 Aside from camouflage designs (more on those in a minute), there is no alternate home uniform.
The Primary Road Uniform
The primary road look features a brown jersey with "San Diego" arched across the chest in gold; tan pants (the Padres are calling this color "sand," but it's a darker, more brown-based sand than the one the team previously used); a brown belt; and the same brown cap used with the home uniform.
The Alternate Road Uniform
The alternate road uni is rendered in pinstriped tan/sand, with "San Diego" arched across the chest in brown. Once again, the same primary cap will be used.
In those photos, which I took myself, the tan/sand looks a bit closer to grey than it actually appears a real life. You can get a better sense of the true color by looking at this promo shot (photo by San Diego Padres/Matt Thomas):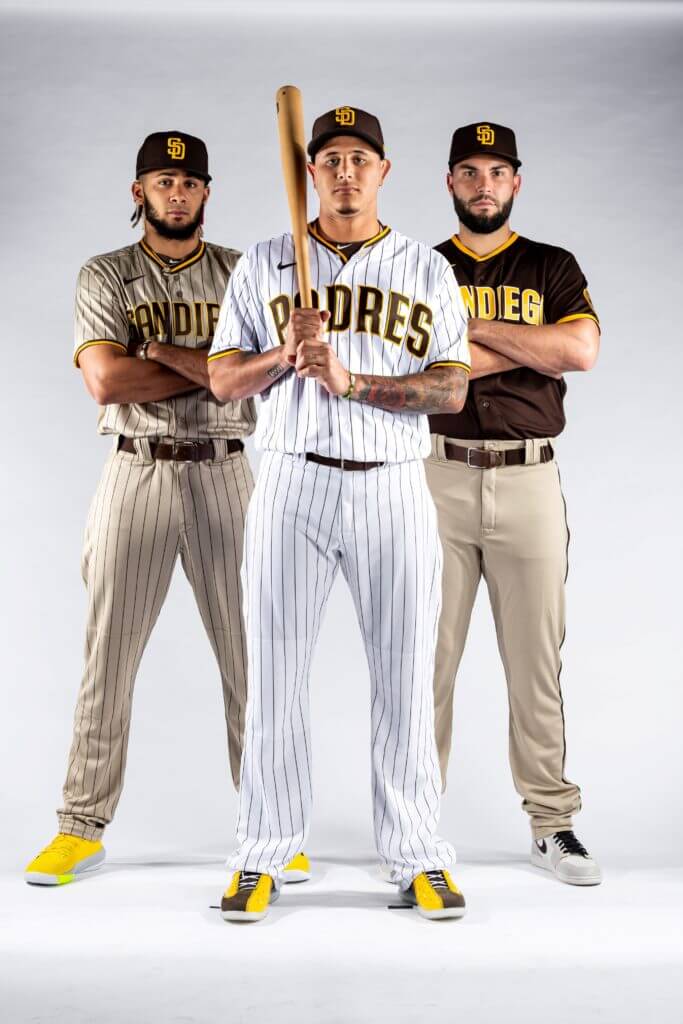 Interestingly, the Padres' initial plan was to go with just the home pinstripes and the primary road uni with the brown jersey, with no road alternate. But fairly late in the process, MLB told them that they had to have some sort of lighter-colored road option, in case the home team is wearing a solid-colored alternate. So the pinstriped tan/sand design, which had been the runner-up choice to be the primary road uni, was taken off the back burner and designated as the alternate.
The Camouflage Alternates
There are two new camouflage alternate home uniforms that were not part of last night's unveiling. These will be revealed at a later date.
The Sleeve Patch
All of the jerseys — including the camouflage designs that haven't yet been released — include a Swinging Friar sleeve patch. When Gundell, the Portland designer, created the 50th-anniversary logo, he did some very minor touch-up work on the Friar, and that's the version that's being used for the new sleeve patch. Here's a comparison — original Friar on the left, new Friar on the right (click to enlarge):
To see the differences, look at the toes, the smile, and the hair, among a few other subtle changes. The "Padres" script on the bat was removed because it mostly looked like an indistinct squiggle except in close-up views.
The Maker's Mark
As you can see in the photos, the Nike logo appears on the upper-right chest of the jersey and above the left rear pocket on the pants. Up until now, it was not clear to me whether it would be embroidered (like the New Era logo on caps), a sewn patch, screened, or what. Having now seen it up close, I can report that it's a small sewn-on patch:
In other words, it should be very seam-rippable. Just sayin'.
———
Those are the basics. Before I get to what I think about all of it, I want to bring in some perspective from Padres chief marketing officer Wayne Partello, who I spoke with by phone on Thursday afternoon (and who, as you can see at right, wore a brown suit with gold buttons and trim for last night's festivities). Here are some excerpts from our conversation:
Uni Watch: What was your goal with this redesign?
Wayne Partello: We did brand research back in 2014, and one thing that was abundantly clear was that there was no clear direction for our brand. In fact, when we used the word "brand" back then, we were mocked for it.
The only consistency in our uniforms over the last 51 years has been our inconsistency. So we really needed to address that. Our fans want a uniform set so that when they turn on the TV, they know it's the Padres. We heard that across the board.
The goal here is that this will be it going forward. We don't want to be one of those franchises that are always changing their brand. We want to build on consistency.
UW: Why the return to brown?
WP: At the end of the day, this was about what the fans wanted, not what ownership liked. Ron [Fowler, the majority owner] has publicly said he's not a fan of the color. But the fans should have a say, and we wanted to give them that say.
We did a lot of fan research. When we laid out all the color schemes, brown and gold was the winner. It wasn't the majority choice, because there were so many options, but it got the most support.
And here's the thing: People who liked blue and white were also pretty okay with brown and gold. But if you liked brown and gold, you hated everything else.
UW: Is it the same shade of brown you've used in the past?
WP: It's darker. The brown had gotten a little soft over the years. We wanted something dark and strong.
UW: You've made some very, very subtle tweaks to your "SD" logo. What was the intention there?
WP: When you looked at our "SD" logos, they were all different. The serifs didn't match, nothing lined up. It was crazy. So we wanted to clean all of that up.
UW: Why did you opt for pinstripes on the home uniform?
WP: It's what the research showed us. Pinstriped outperformed non-pinstriped. It spoke of heritage, it spoke of tradition. It's also a piece of our Padres uniform history — in some good eras of Padres baseball, we wore pinstripes.
UW: I'm surprised there isn't a brown home alternate jersey. Is that something you might add after a year or two?
WP: One of the things we really wanted was a consistent look for our franchise, especially at the beginning of this new chapter. Could there be an alternate jersey at some point in the future? Absolutely. But for now we want to set the bar and establish that consistency.
UW: Is that also why there are no alternate caps, aside from the camouflage?
WP: Yes, exactly. We want to present a consistent look. It's all about consistency.
UW: Why did you opt for a solid-colored road jersey?
WP: It's unique. Every team in baseball wears grey on the road, so we tried sand. When we tested it, there wasn't as much enthusiasm for plain sand over plain sand. When we added pinstripes to the sand, that did better. But sand with the brown jersey did the best.
UW: Why aren't you presenting the new camouflage designs at the unveiling?
WP: I want to let the browns breathe and not distract from that excitement.
———
Okay, so that helps to set the stage. What do I think? I've been saying for years and years that they should go back to brown, so I'm happy about that. As for the individual uniforms, let's go one at a time:
Home: I'm a little surprised they've gone with pinstripes, but I don't mind them. What I do mind — or, more specifically, what I find disappointing — is the chest lettering. It feels too bland, too staid, too similar to the team's recent characterless period. That's apparently what Gundell was asked to create, so I don't blame him (and I should add that the sans serif version of this lettering, which is being used for the NOBs, looks very good), but I think a more significant departure from the previous typography was needed. The great thing about the Padres' bygone brown era was how fun and playful it felt. This chest insignia feels leaden by comparison. Is it an upgrade over what they've been wearing lately? Absolutely. Does it return the franchise to aesthetic respectability? For sure. But I don't think it's as good as it could have been. Grade: B+
Road Primary: Going with a solid-colored jersey as the primary road look isn't unprecedented (the Cubs did it for most of the 1980s), but it's unusual. It's not a bad look, and the tan/sand pants are fine. But if you're making a big point of bringing back a color — brown, in this case — why are you showcasing it more on the road than at home? I would have preferred to see a brown home alternate instead of a brown road jersey. Grade: B+
Road Alternate: Love it. I know some people think pinstripes don't belong on a road uni, but I've never felt that way. I think it can work, and I think it works here. Frankly, I wish this was the primary. Grade: A
———
And there you have it. I want to thank everyone at the Padres for their help, especially Vanessa Dominguez and Wayne Partello. I also want to thank all the Uni Watch readers who contributed to my travel fund and made this trip possible. Hope I delivered on the faith you showed in me!
• • • • •
• • • • •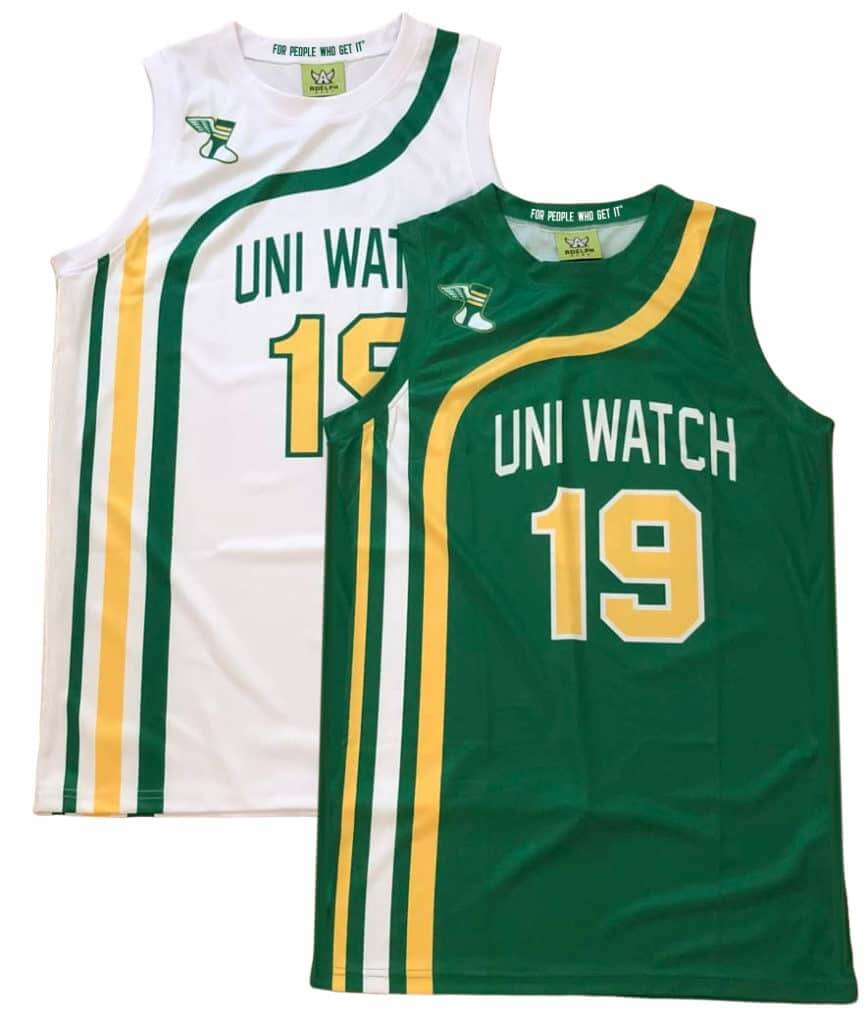 Click to enlarge
ITEM! Uni Watch hoops gear now available: A few weeks ago I showed you the Uni Watch basketball jersey prototypes shown above. I'm happy to announce that they're now available for ordering. You can choose your own number and NOB, and you don't have to have the winged stirrup on the shoulder if you don't want it there.
Also! We now have matching shorts: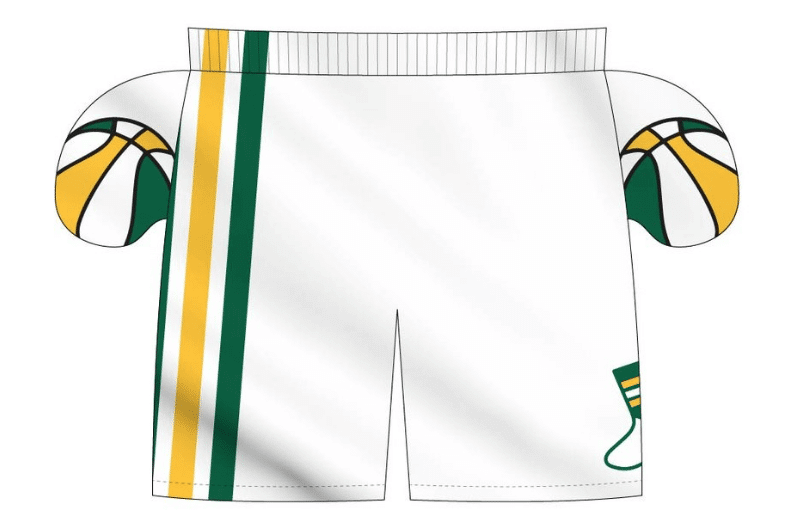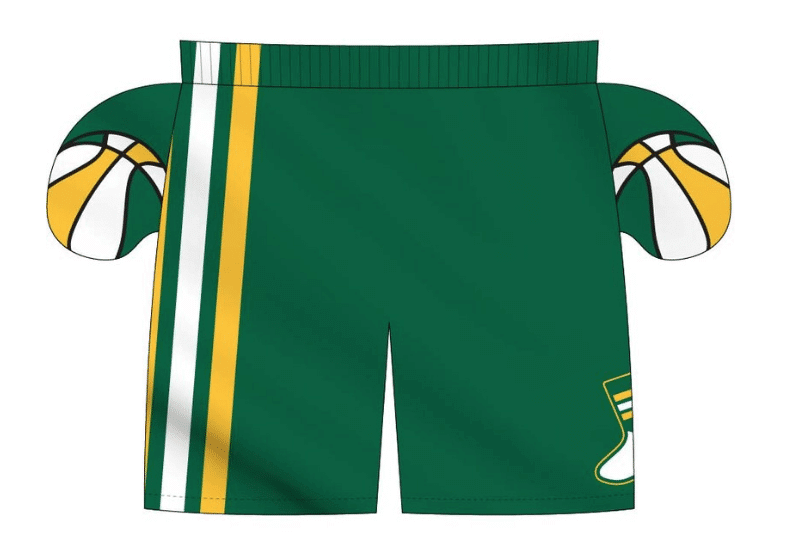 The ABA-style basketball-themed inner pockets are a nice touch, right? I can't take credit for that detail, though — that was Adelph Wear honcho Nathan Haas's idea. He's my partner/collaborator on this project, just as he was with our recent cycling jerseys.
We're taking pre-orders on these for the next 10 days, to ensure Christmas delivery. It's possible that we'll offer these again in 2020, but for now it's a holiday offering, so move fast if you want to get in on it! Full details here.
• • • • •
• • • • •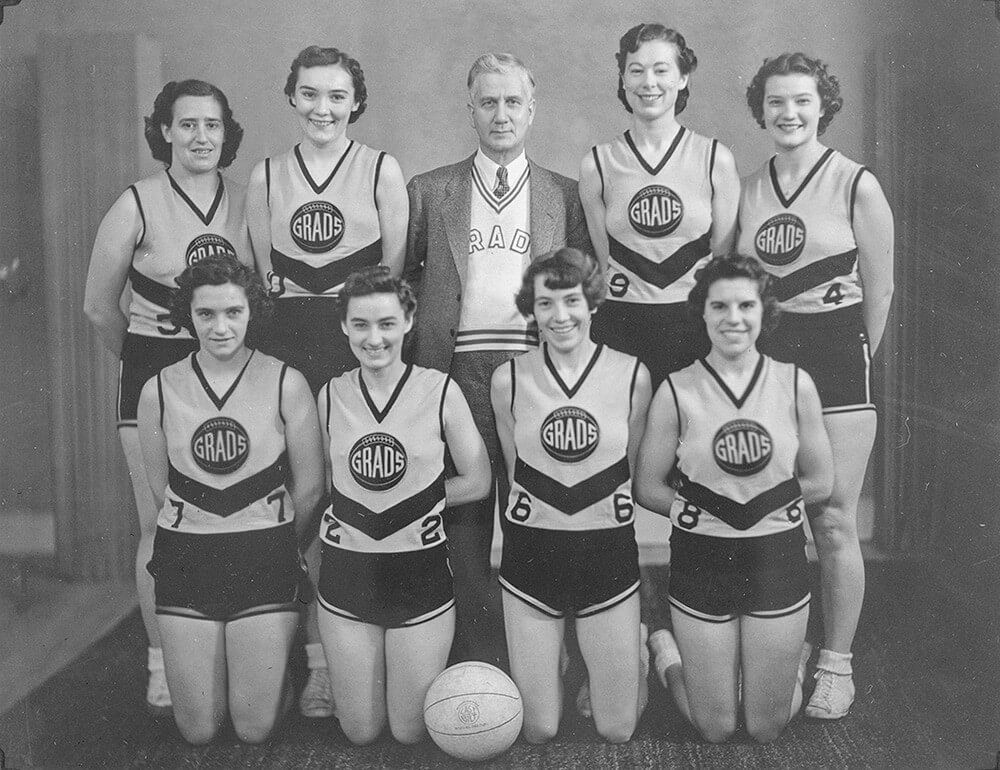 Click to enlarge
Long before the Raptors: Yesterday's Google Doodle showed a bunch of women playing basketball in old-school uniforms. If you clicked on it, you learned that this team was the Edmonton Grads, one of the most successful teams in basketball history. And man, look at those uniforms — love the team name inside the old lace-up basketball shape, love the chevron shape on the lower part of the jersey, love the coach's sweater, love the whole shebang!
The Grads were featured in the Google Doodle because yesterday was the anniversary of their 2017 induction into Canada's Sports Hall of Fame. There's additional info in this video clip:
(My thanks to Craig Brown for pointing this one out to me.)
• • • • •
• • • • •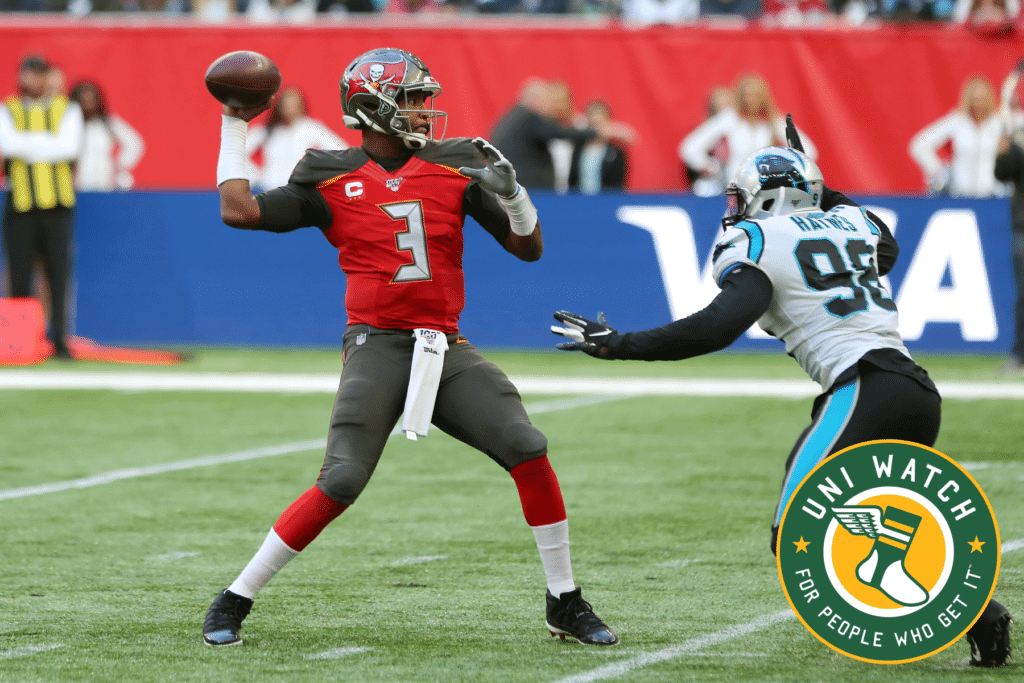 Bucs-redesign contest reminder: My latest Uni Watch design contest, conducted in conjunction with InsideHook, is to redesign the Tampa Bay Bucs. Full details here.
• • • • •
• • • • •
Gift Guide reminder: I'm currently working on my annual Uni Watch Holiday Gift Guide, which will be running on InsideHook. If you know of any interesting or unusual uni/logo-related items — or if you produce such an item yourself — please get in touch.
As usual, no need to tell me about the standard caps and jerseys that everyone already knows about. I'm looking for things a bit more unique. Can do? Thanks!
• • • • •
Sorry, no Ticker today, as Phil had yesterday off and I was busy with San Diego stuff. Thanks for understanding. See you later today at the Uni Watch Party at Wonderland Ocean Pub, where we'll get started at 4pm! — Paul