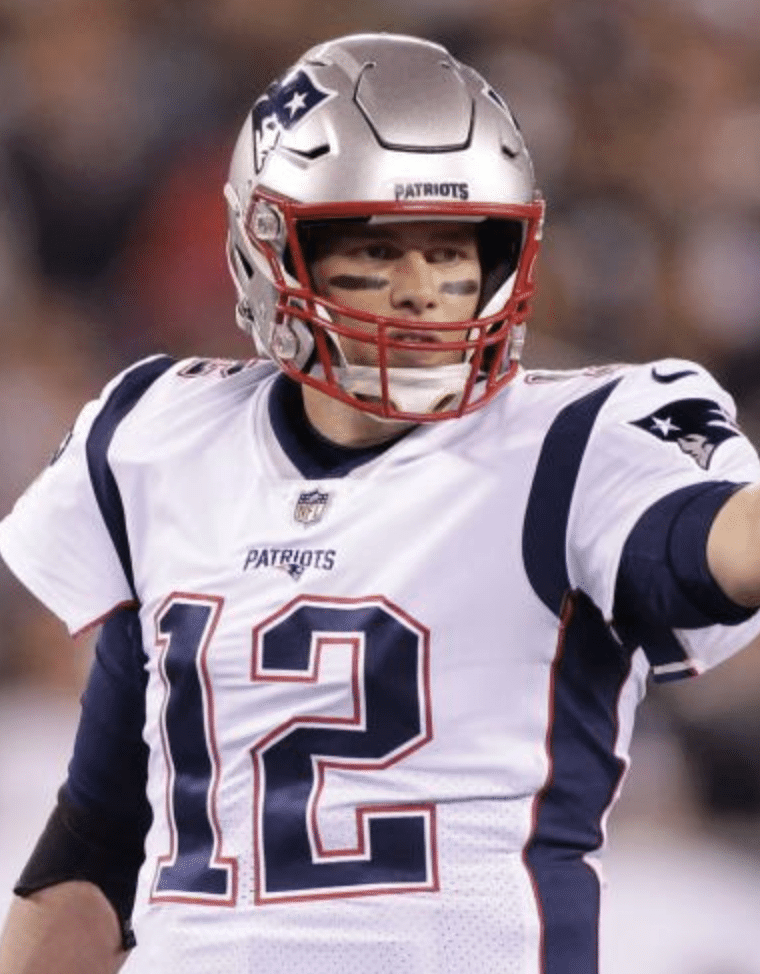 [Editor's Note: Today we have a guest entry from Drew Pelto, whose job entails a lot of uni-related details. I think you're really going to like it. Enjoy. — PL.]
By Drew Pelto
I was recently looking at a 2019 photo of Tom Brady for a work project. And that's when I noticed it: Brady's white jersey didn't include the NFL 100 logo. For most people, this observation would be little more than a uniform-related curiosity. But for me, it had potentially huge implications, because I'm the lead collegiate photo editor at the trading card company Panini.
After I spotted the missing logo in the Brady photo, panic spread through my department. Did we mislabel a batch of old photos in our system? No, these were clearly 2019 images, as 2019 rookies were shown in other photos from the same group. Were the Patriots somehow like the Bears, not having the centennial logo on their collars? No, Brady's blue jersey had the logo. Was it just their white jerseys? No, other New England players had the logo on their jerseys in that same game. Was it just that game? No, the logo has been consistently missing from Brady's white jersey this season. Would our imaging department have to Photoshop the correct logo onto Brady's cards? The jury's still out on that part.
 
The job of photo selection for a card set starts out easily enough: Get the design, get the player list, pick a player's photo that goes with the design, lather-rinse-repeat. It's pretty simple until the special requests and regulations start to pile up. Let's start with football…
 
For active players, we have to use photos that are as recent as possible. So, for example, once the new Jets uniforms debuted in the 2019 preseason, we couldn't use any 2018 photos of them. That's why Dwayne Bowe's first cards with the Browns showed him at the team's jersey uniform unveiling party. And that's why the Brady situation is so tricky: If we use a proper 2019 shot, will the NFL think we picked an old photo?
On multi-player cards, we can't mix eras if the players were teammates. So if Terrell Davis is in a dark blue jersey, we can't pair him with a photo of John Elway from the Orange Crush years. If it's Vance Johnson, we can't use Elway winning a Super Bowl. But if they didn't both wear the same uniform style at any given time, we're in the clear — so Bernie Kosar and Baker Mayfield can be on a card together, or Bucco Bruce-era Vinny Testaverde and Pewter Power Brad Johnson.
 
If a player's socks are too low, our imaging department has to cover any exposed skin. If the player's base layer shirt is exposed and untucked, that has to be fixed as well. I'd bet we won't be permitted to show the shoes worn by Jarvis Landry and Odell Beckham Jr. this past week either.
 
The NBA's ad patches create problems, too. If one is added in the middle of the season, it renders all of that season's pre-ad photos useless to us. Several retired players even have their own regulations: One player doesn't want to be shown wearing Converse shoes, while another player wants to be only shown in Converse shoes; one player doesn't want to be shown wearing a knee brace; one player requests that he not be shown with a Spalding basketball; one player wants his Afro to be neat, while another only wants to be shown bald; at least two request that their teeth not be shown; one player only wants photos from the 1980s due to a late-career weight gain.
The Washington Wizards have a fun one: We can't show them in uniforms with the 1987-1997 "crab hands" Bullets logo. But the pre-'87 "fingers" logo is just fine.
 
Baseball is a whole other beast entirely. We have a deal with the players' union to show players on cards, but we don't have an MLB deal to show their logos. So typically when we pick baseball photos, we try to show something like a player batting with his arm across the front of his body, or a pitch from a side view. That way there isn't a giant, glaring blank spot across their front when our imaging department has to remove the logos. One team can only be shown in road greys, unless we want to remove every pinstripe from their home jersey.
 
While most sports just require approval from the league or the union, NASCAR cards need to be approved by the teams, the sponsors, and the drivers. Sometimes even drivers' family members will chime in (we actually had one wife reject photos of her husband without a hat, and even had a driver's grandmother reject a photo). Sponsors get incredibly selective about things like fading and color distortion, wanting their branding to be 100% accurate and fully visible. If even a part of a logo is covered by a fold in a piece of clothing, the photo might get rejected. If a sponsor patch is missing, it needs to be added in. One photo was rejected over a driver wearing the wrong brand of sunglasses. Some retired drivers want the be shown with only a specific sponsor, even if they won with a different one.
A number of soccer teams, especially in the Premier League, require that they only be shown in their home kits, and that any ball depicted must be the league's official ball. That can be challenging when using photos from friendlies. Rainy games are tough, as teams sometimes reject photos of players looking too wet. Also, no strained expressions or players with tongues out (a few national teams want their players to resemble something almost like marble statues). And only the team's official captain can be shown with a captain's armband, even if someone else wears it for a game.
Backgrounds often have to be blurred as well. No ads for alcohol, tobacco, or gambling, even casino resorts or state lotteries. Soccer teams want all banners in the background to be gone.
 
In college sports, which is my main area, East Carolina prefers that we use their purple or white uniforms instead of their black ones. Oklahoma football requests that we only use their main jerseys with "Sooners" on the front, as opposed to the thick-collared "Oklahoma" alternates. Some schools don't want bowl patches to be shown.
We can use photos from almost any year that a player was at his school. As long as the team didn't change uniform styles and the player didn't change numbers, everything is safe to use (the latter limited us a bit on Braxton Miller a few years back). But sometimes even a small change to a jersey can result in us not being able to use a photo: a slight change to the Miami Hurricanes' sleeve striping prevented us from using a 2014 photo of a player in our 2016 NFL Draft-related sets.
As a kid, I'd often stare at a card that featured an active player in an old uniform and thinking, "Wait, why doesn't this look right?," like the 1992 Mark Duper card with a pre-1986 photo, or several uses of pre-1989 Canucks jerseys on 1990-91 products. Now that I'm the one picking the photos, I can appreciate why we have all these regulations — to avoid cards like that.
———
Paul here. Was that fascinating or what? Big thanks to Drew for sharing his story with us. He in turn would like to thank Susan Chalifoux and Kevin Jairaj for their contributions to the NASCAR and soccer sections of this article.
• • • • •
• • • • •
Click to enlarge
Who wears short shorts? The photo shown above is from Wednesday night's game between New Mexico (in white) and Eastern New Mexico (in dark grey, or whatever they're calling that color). At first glance, Eastern's uniform seems pretty unremarkable. The black-on-grey chest lettering is obviously a mistake, but we've all seen worse. Overall, there's nothing wonderful here, but also nothing too awful.
Until you see the rear view, that is (click to enlarge):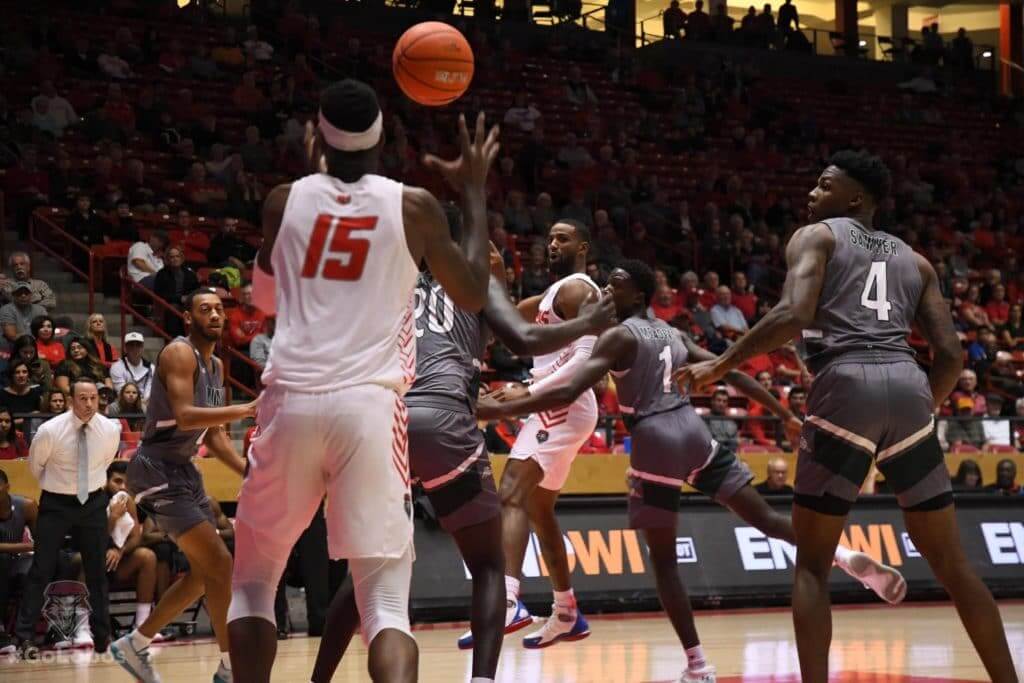 Yowza. For some inexplicable reason, the back of the shorts has white striping that makes it look like the players are wearing short shorts.
Maybe you're thinking, "Okay, but it's probably just that one photo that makes it look that way." Nope — check out these video clips from the game:
Lobos win! #GoLobos pic.twitter.com/ozXs6oLFdk

— Lobo Basketball (@UNMLoboMBB) November 7, 2019
Lobos with the steal and one! #GoLobos pic.twitter.com/AxTfss1s8A

— Lobo Basketball (@UNMLoboMBB) November 7, 2019
It's hard to understand the thinking here. Is this a standard Under Armour template and I've just never noticed before? Bizarre.
(My thanks to Trey Ortega for bringing this one to my attention.)
• • • • •
• • • • •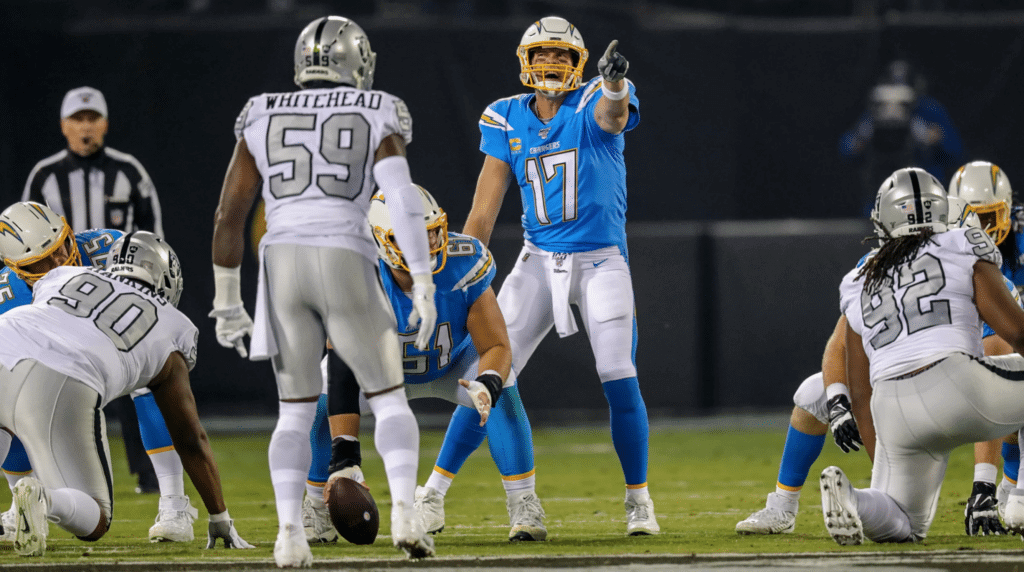 Click to enlarge
Sweet: It was a bit of an AFL flashback last night in Oakland, as the Raiders wore their silver-numbered white throwbacks against the Chargers' powder blues — a good-looking matchup. Lots of additional photos here and here.
According to the Gridiron Uniform Database, this was only the fourth time in Raiders history that the team has worn white at home (with all four instances taking place in the past 11 years). Oddly, two of the three previous times were also against the Chargers.
• • • • •
• • • • •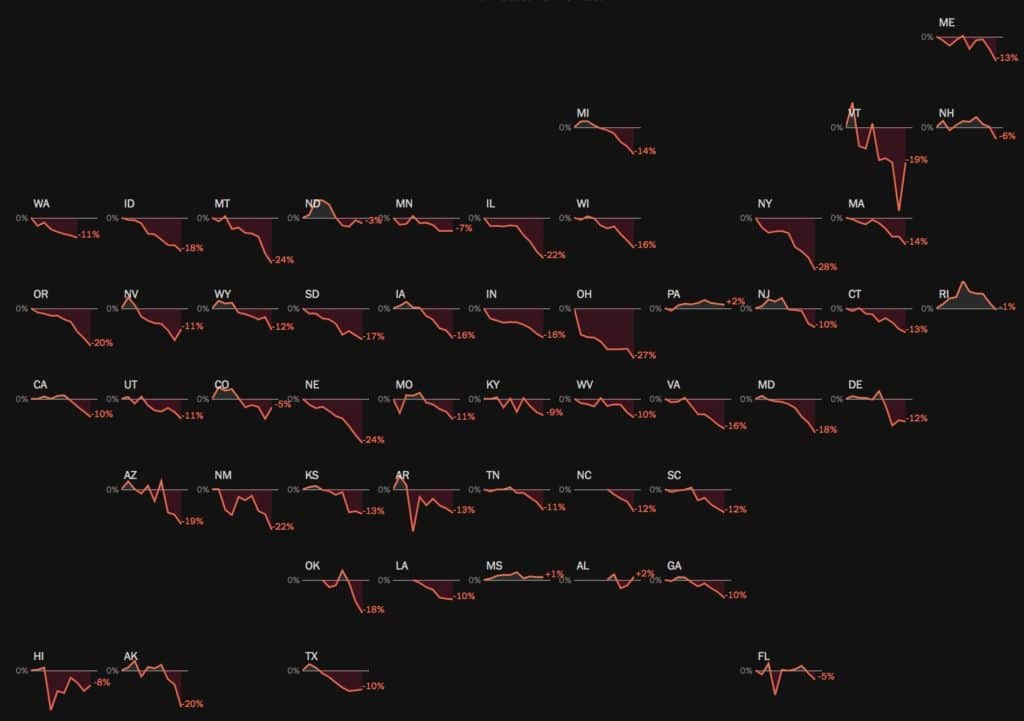 Click to enlarge
Warning signs: The map-based infographic above shows how the change in the high school football participation rate has fallen in almost every state over the past decade — presumably due to concerns about head/brain injuries — including in places you might not expect, like Texas, Florida, and Ohio.
That graphic is one of several faaaascinating bits of info in this New York Times article, which is the start of a series about football's role in America. Recommended reading.
• • • • •
• • • • •
ITEM! Seam ripper update: Uni Watch Seam Rippers, which I initially showed you earlier this week, are now ready for purchase (and as you can see, blue ones are now available in addition to the green and red I previously showed you). Full details here.
• • • • •
• • • • •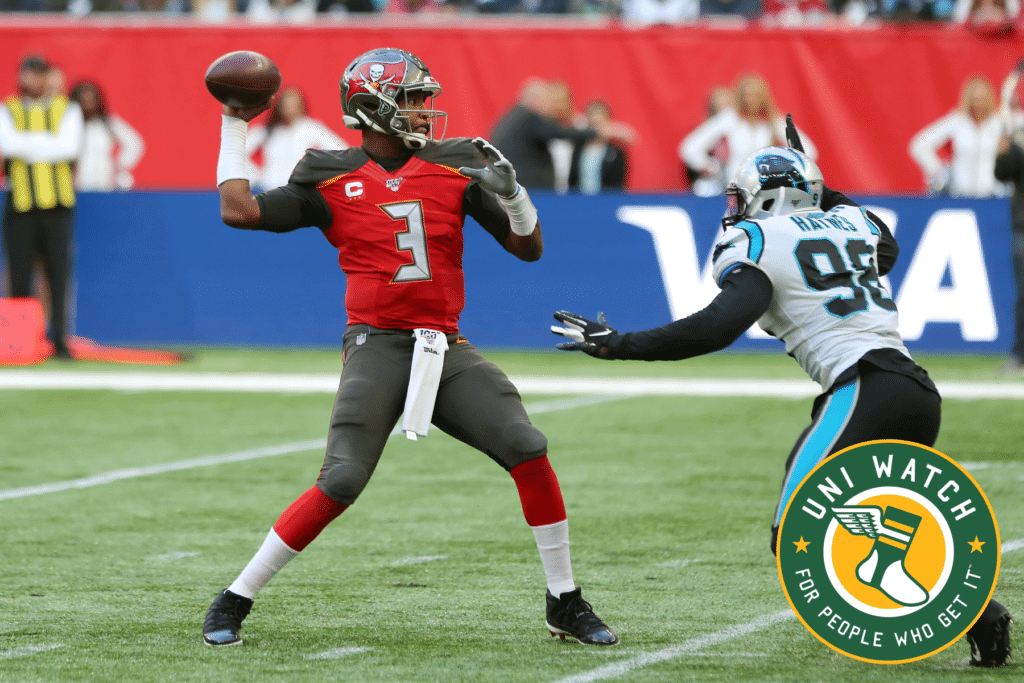 Bucs-redesign contest reminder: My latest Uni Watch design contest, conducted in conjunction with InsideHook, is to redesign the Tampa Bay Bucs. Full details here.
• • • • •
• • • • •
Gift Guide reminder: I'm currently working on my annual Uni Watch Holiday Gift Guide, which will be running on InsideHook. If you know of any interesting or unusual uni/logo-related items — or if you produce such an item yourself — please get in touch.
As usual, no need to tell me about the standard caps and jerseys that everyone already knows about. I'm looking for things a bit more unique. Can do? Thanks!
• • • • •
• • • • •
The Ticker
By Anthony Emerson

Baseball News: The Gwinnett Stripers, Triple-A affiliate of the Braves, unveiled new jerseys and caps yesterday. Another angle here and a launch video here (thanks to Nathan Owens, Jack Daley, David Clemons and everyone else who sent this in).

NFL News: Add Raiders RB Josh Jacobs to the list of players who have their uni number embossed on their thigh pads (from David Landesberg). … The Ravens are wearing white over white this weekend (from Joseph Young). … The Saints are going mono-black against Atlanta (thanks, Phil).

College Football News: For Virginia Tech, Frank Beamer's No. 25 jersey is being given to DB Divine Deablo for the game against Wake Forest (from Andrew Cosentino). … Minnesota is wearing a helmet decal this Saturday that "recognizes the armory on campus" (from Casey Common). … Florida is going white-blue-white against Vanderbilt (thanks, Phil). … Louisville is going black-white-white this weekend (from M. Brinston Berry).

College Hoops News: New uniform set for Liberty men. Each jersey has a different primary mark, or a different location of the primary mark, which is unique to say the least. …

Soccer News: Brazilian side Corinthians wore the Star of David on their kits to honor victims of the Kristallnacht (thanks, Phil). … Celtic wore their charity's logo instead of their betting company sponsor during yesterday's match against Lazio in Italy (from Ed Żelaski). … The following are all from Josh Hinton: French side Angers has not worn their grey away kit since wearing it on the receiving end of a 6-0 thrashing a few months ago. … It's November and we're still getting kit launches. That's Real Sociedad's third kit. Can I just remind everyone they started playing in August? …Contrary to earlier reports, it appears Inter Milan is attempting to stick with Pirelli as primary kit advertiser. Pirelli has been Inter's primary kit advertiser since 1995. … It appears there will be a major kit clash in the forthcoming Copa Sudamericana Final between Ecuador's Independiente de Valle and Argentina's Colón. …

Grab Bag: Major League Rugby has signed an apparel deal with Paladin (from Tim Dunn). … Speaking of MLR, the Glendale Raptors are now the Colorado Raptors, with a slight change in crest (from Sy Hart).
• • • • •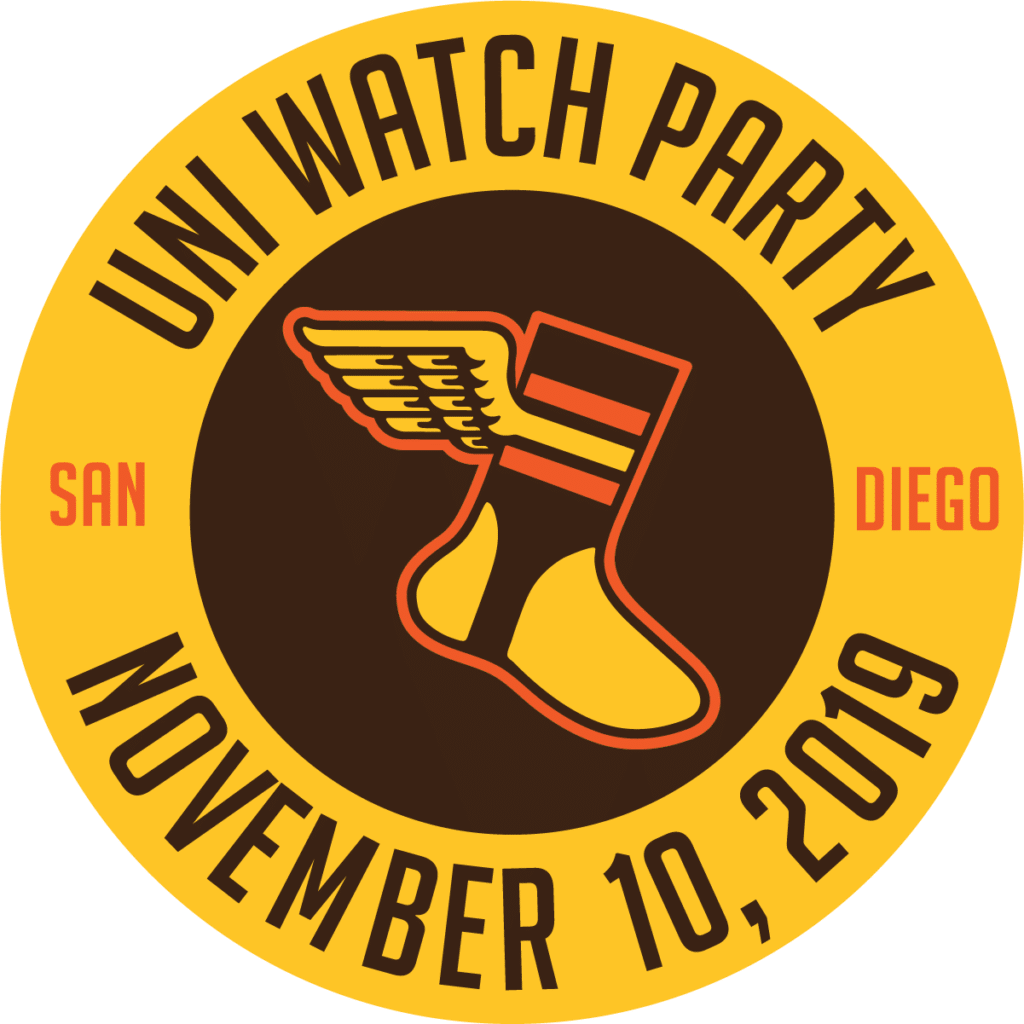 By this time tomorrow, I'll be on my way to San Diego for the Padres' uniform unveiling. The event is supposed to start at 7pm Pacific, so watch my Twitter feed around that time.
Phil will have his usual Saturday post tomorrow, and then I'll have an assessment of the Padres' new threads on Sunday. (Since I'll be on West Coast time, Sunday's and Monday's posts may go live a bit later than usual.)
Also on Sunday, I hope to see many of you at our Uni Watch gathering at the Wonderland Ocean Pub, beginning at 4pm Pacific. Guests will include SportsLogos.net founder Chris Creamer, L.A. Kings equipment guy and Bobcat Athletic founder Bob Halfacre, and the Brandiose guys.
My repeated thanks to everyone who contributed to my travel fund. Should be a great weekend! — Paul