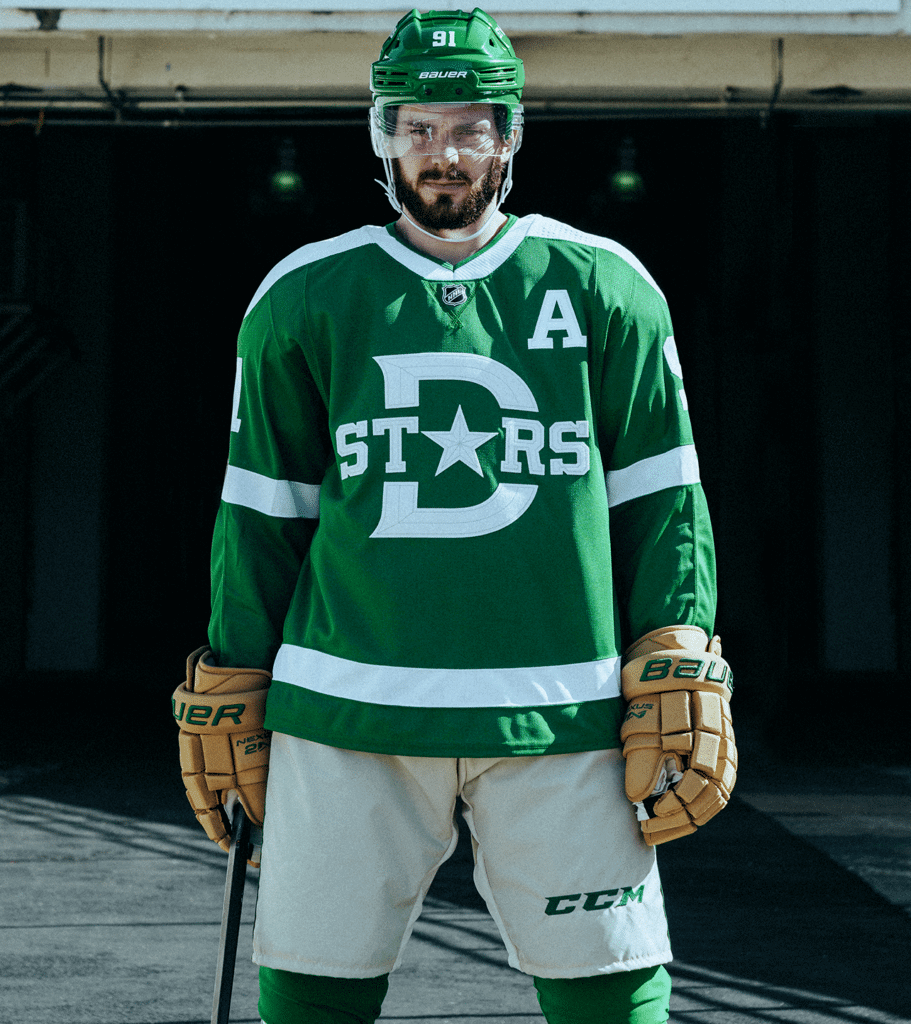 For all photos in this section, click to enlarge
Last weekend the Predators unveiled their 2020 Winter Classic jersey, and now the Stars have revealed their look for the New Year's Day game, which will be played at the Cotton Bowl in Texas.
Before we go any further: Big, big ups to the Stars for showing the entire fucking uniform, including the gloves and helmet, instead of just the jersey (although the URL for their web page showcasing the new uni includes the word "jersey" — sigh). I'm not sure why they chose to show Tyler Seguin walking and standing just outside a hockey rink, instead of showing him on the ice — a seemingly inexplicable choice — but whatever. Here's the full-body shot: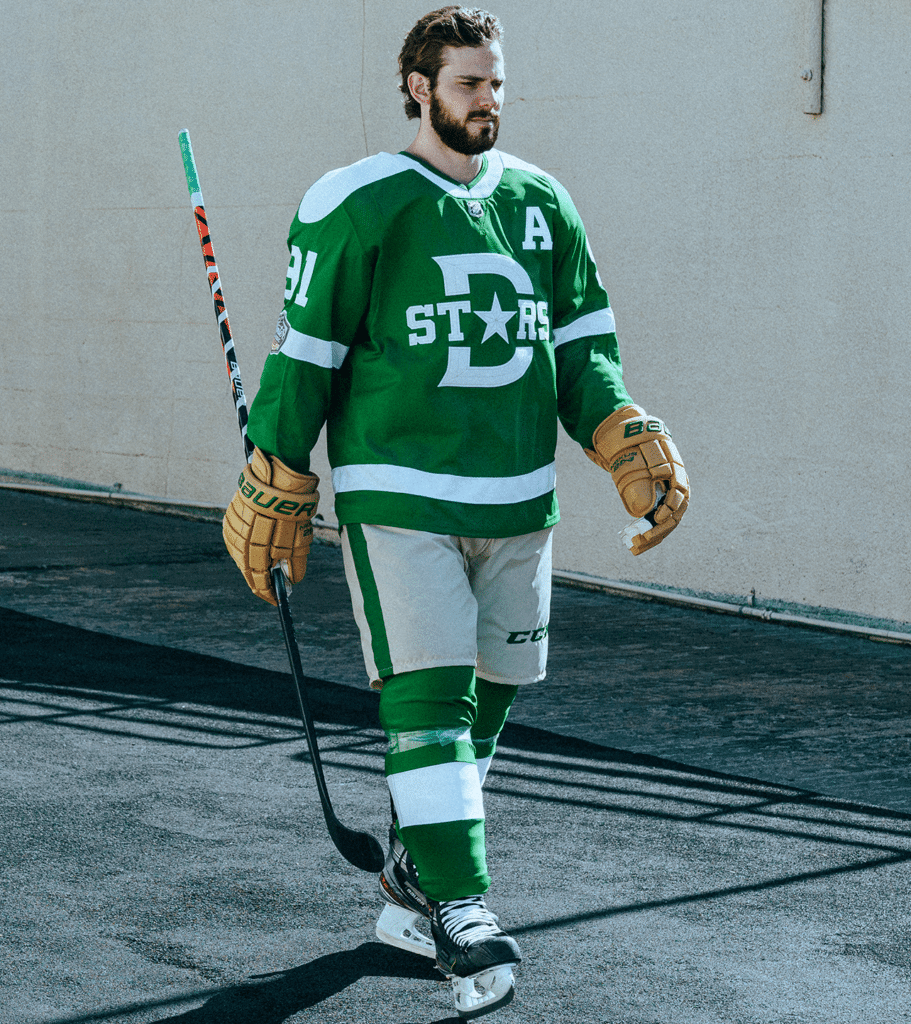 Hot-cha-cha! I'm sure some people will hate the canvas-toned pants, but I love the whole package. I like the Preds' Winter Classic jersey too (so far they've only revealed the jersey, not the full uni, but I have high hopes for the full package), so this should be a very good-looking game.
Let's take a closer look at the Dallas uniform:
• The design was inspired by the old Dallas Texans, who played in the late 1940s. Here are some photos of their uniforms: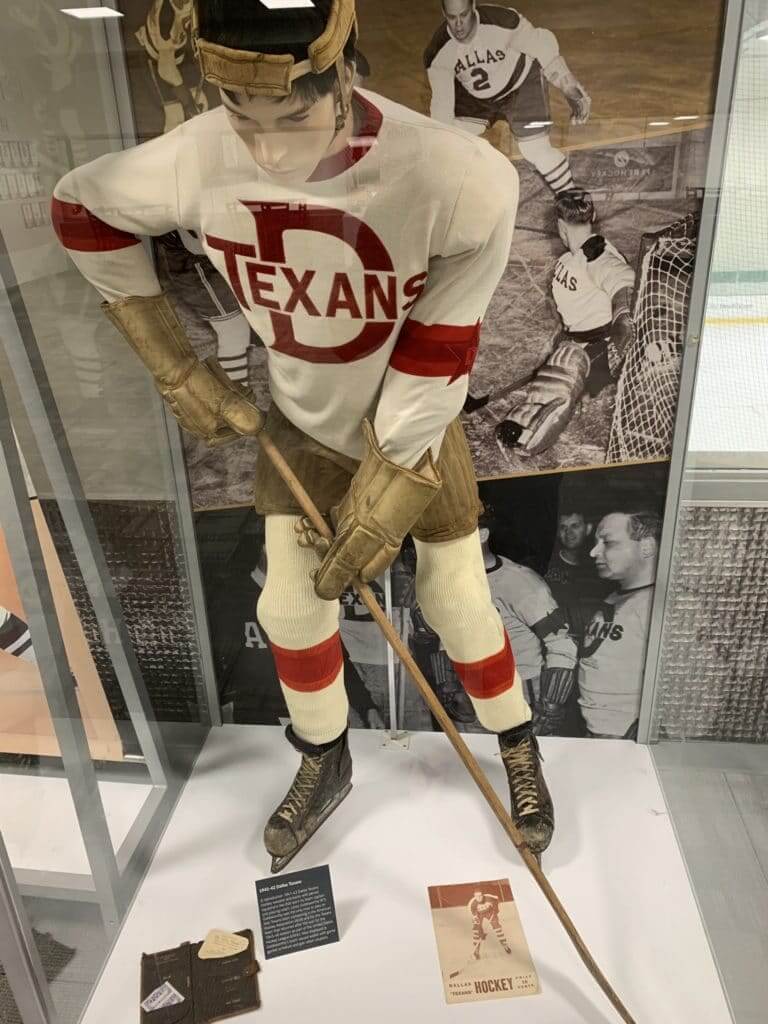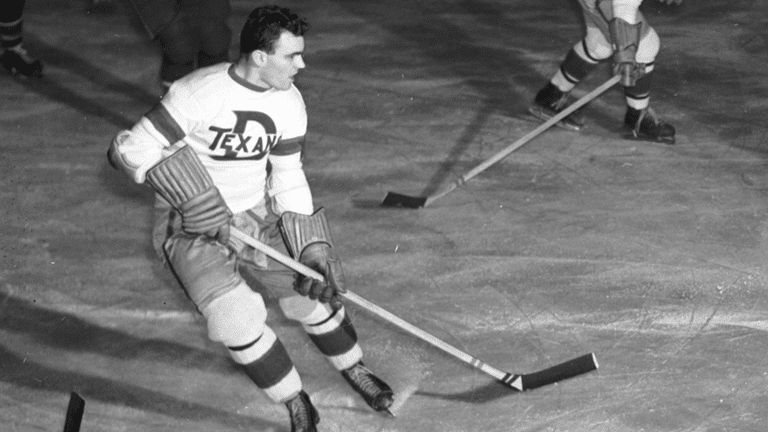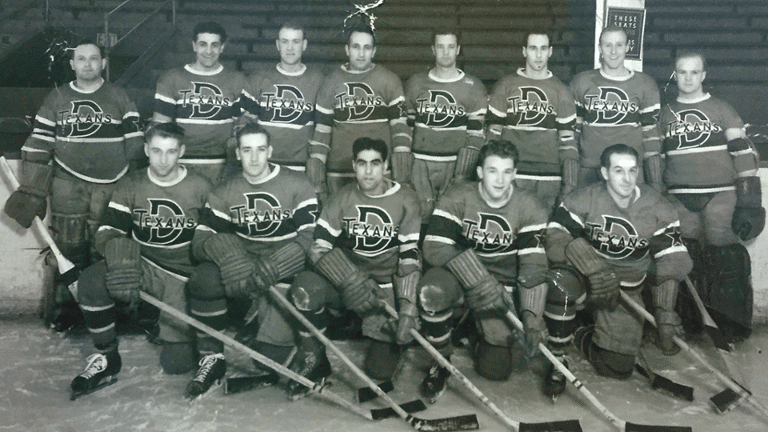 • Same as with the Preds' jersey, all of the jersey graphics here are rendered in felt. You can get a slightly better sense of that in these pics: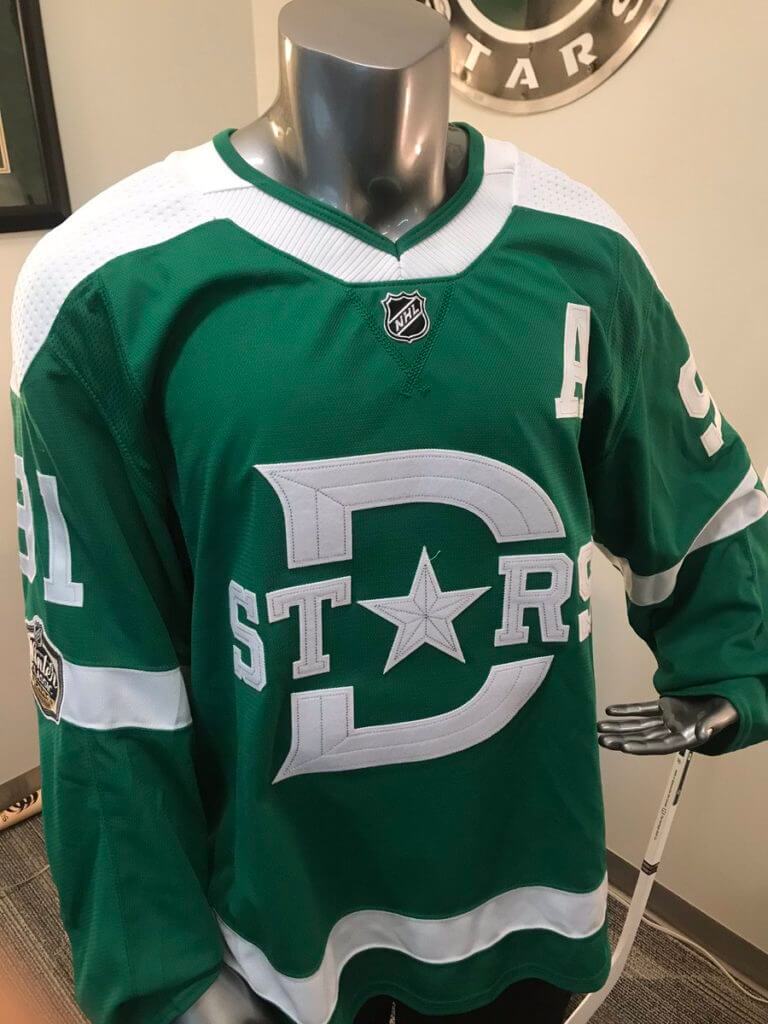 • There's a Winter Classic patch on one sleeve and a Texas patch on the other (in grey, oddly — maybe the only thing about this uniform that makes no sense to me):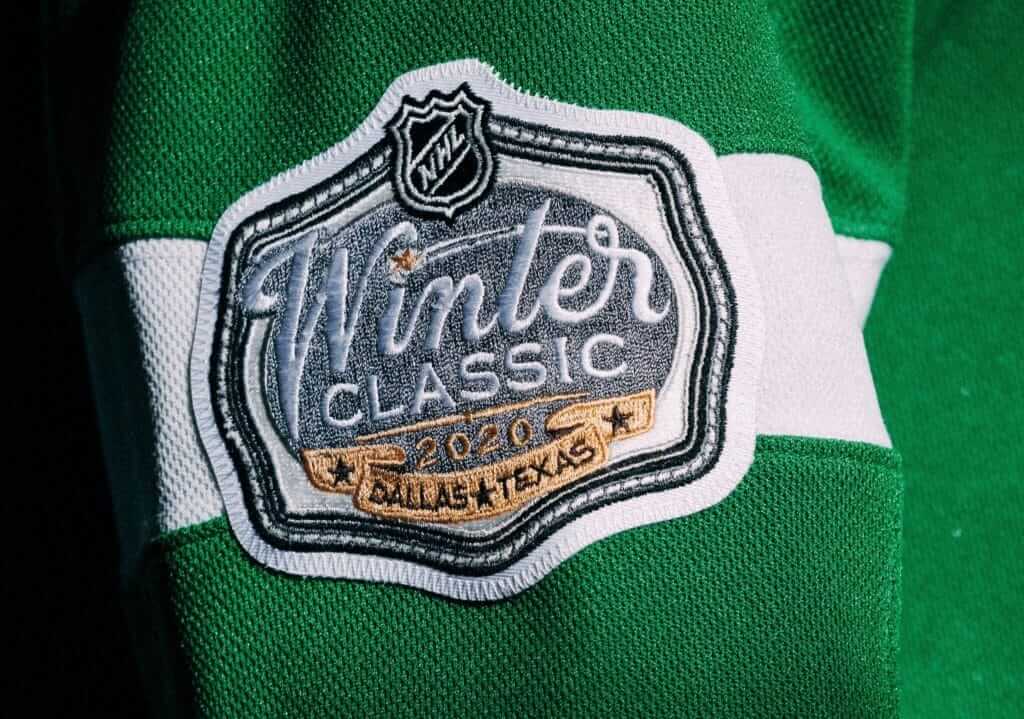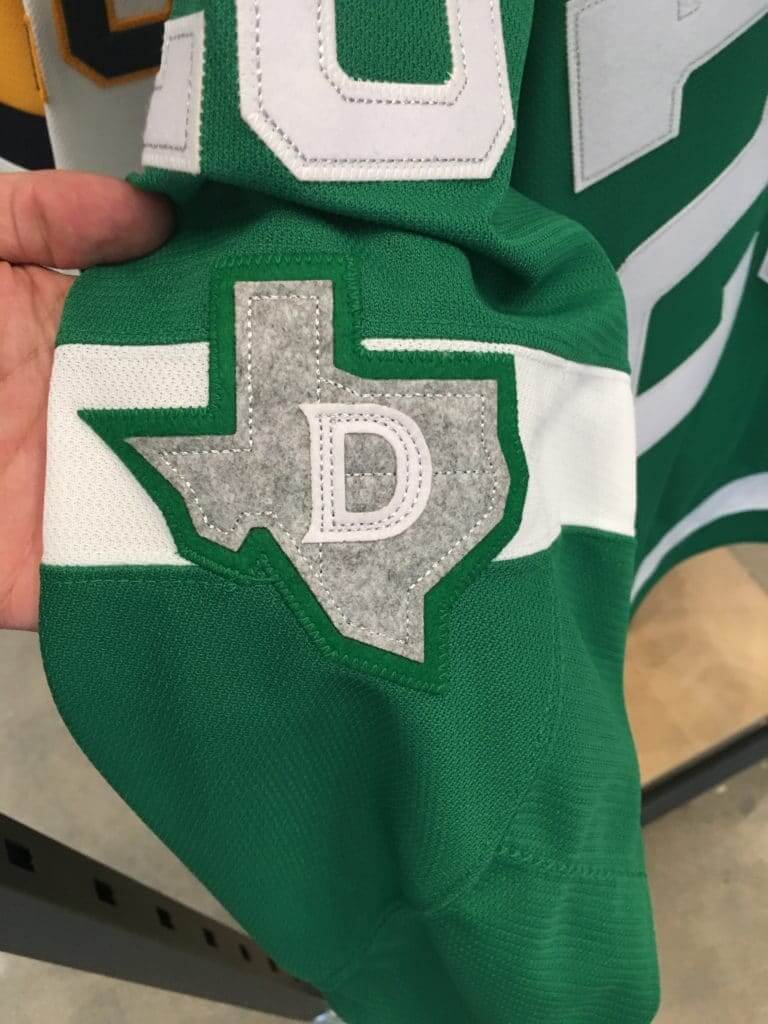 • As you know, Texas state law mandates that any Texas teams launching new uniforms must include the state flag in some manner. In this case, it's on the inner collar: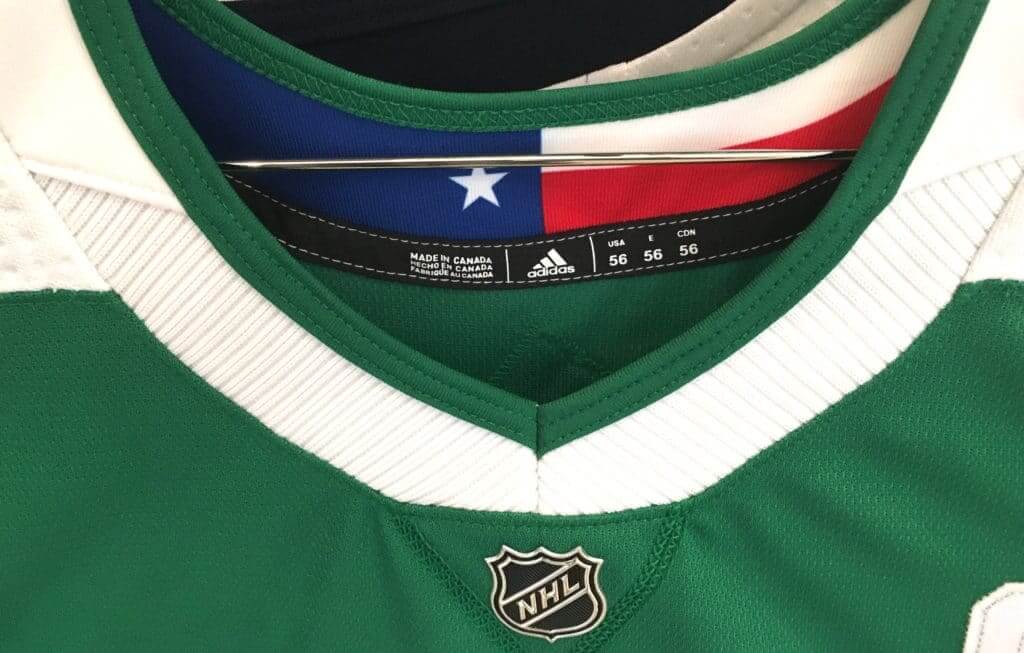 All in all: Very nice!
Now then: Some social media chuckleheads have said that the jersey insignia presents as "STDs" (or maybe "stDs," or whatever). Honestly, that hadn't occurred to me, and I think it's a bit of a stretch, but I agree it's kinda funny.
(My thanks to Kevin Jerpi for the color photo of the Dallas Texans uni.)
• • • • •
• • • • •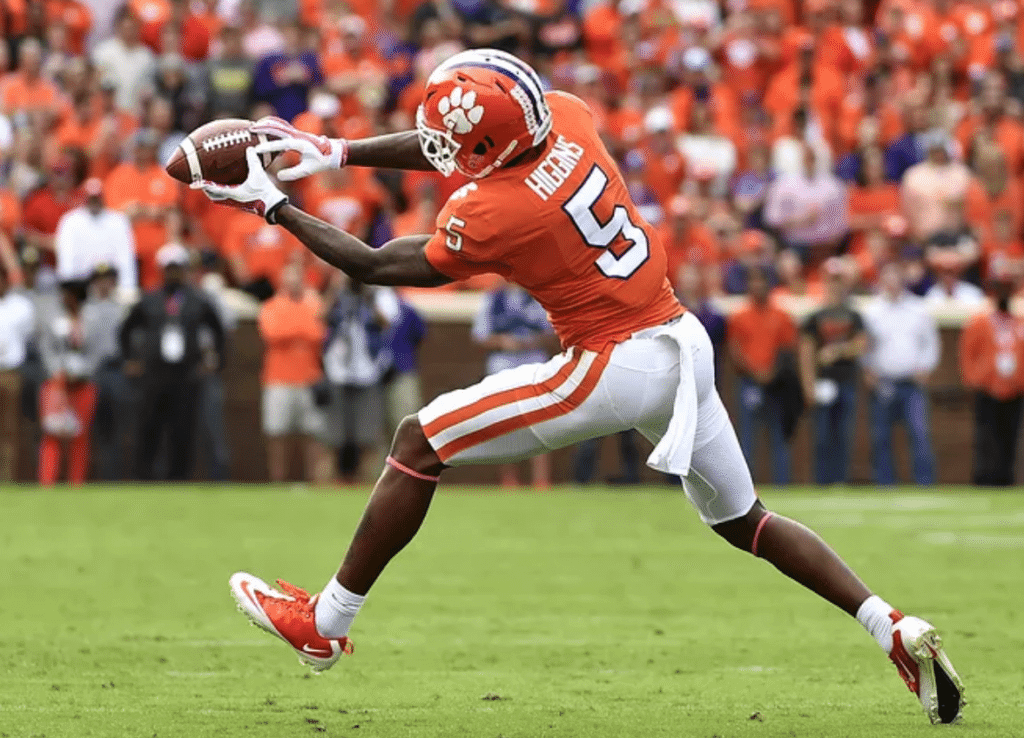 White-hot situation: I received an intriguing note yesterday from longtime reader Benji Boyter, as follows:
For the past few years under head coach Dabo Swinney, Clemson's football team has stuck with the white pants for home and road games, unless the team is "playing for a championship" (in which case they wear orange). Under Dabo's terms, this means the following games:

• A game to clinch the Atlantic Division championship

• The ACC championship game

• The "state championship" game against archrival South Carolina

• Any bowl/playoff game

This presents an interesting situation this Saturday. Wake Forest and Virginia Tech play at 3:30pm, and Clemson plays at NC State at 7:30pm. If Wake loses, that would make Clemson's game against NC State a potential clinching game for the Atlantic Division title. So Clemson fans are waiting with bated breath to see if the equipment managers will be packing both orange and white pants for the game this Saturday.
Faaaascinating. Now, if Wake wins, that would mean that next week's Clemson/Wake game would decide the Atlantic Division title, so Clemson would definitely wear orange pants for that.
• • • • •
• • • • •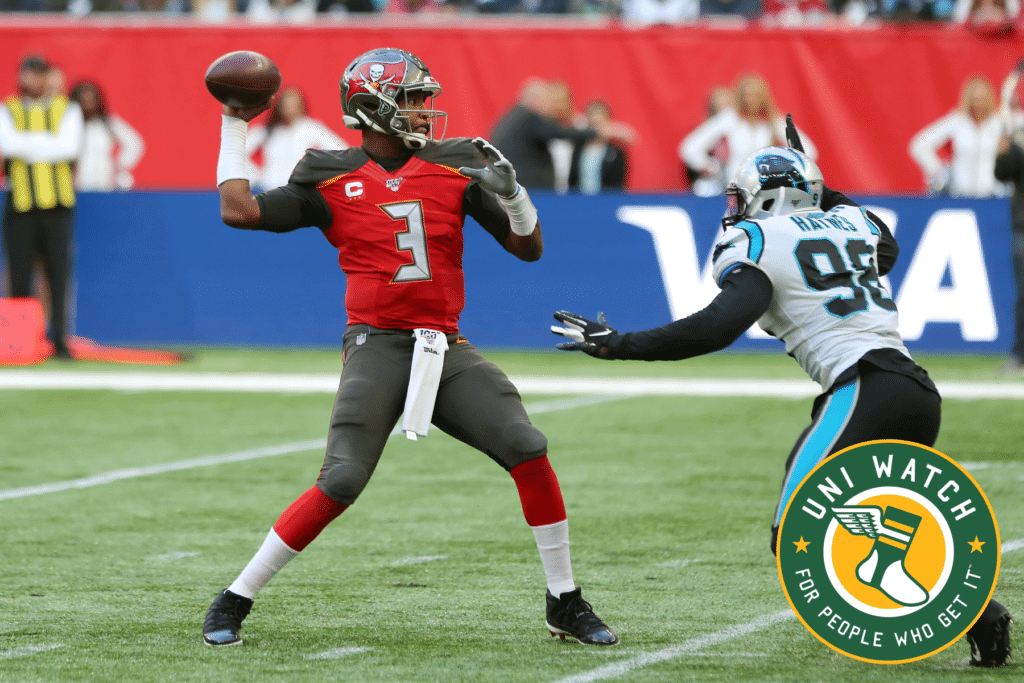 Bucs-redesign contest reminder: My latest Uni Watch design contest, conducted in conjunction with InsideHook, is to redesign the Tampa Bay Bucs. Full details here.
• • • • •
• • • • •
Gift Guide reminder: I'm currently working on my annual Uni Watch Holiday Gift Guide, which will be running on InsideHook. If you know of any interesting or unusual uni/logo-related items — or if you produce such an item yourself — please get in touch.
As usual, no need to tell me about the standard caps and jerseys that everyone already knows about. I'm looking for things a bit more unique. Can do? Thanks!
• • • • •
• • • • •
Click to enlarge
Cufflink update: Yesterday I showed you the new Uni Watch cufflinks. Today I'm showing you how they look on an actual French cuff shirt. Pretty swank!
These should be available in our Teespring shop by early next week.
• • • • •
• • • • •
The Ticker
By Paul

Baseball News: A bunch of Dodgers bloggers discussed whether the team should add an alternate jersey now that Nike is taking over the MLB uniform contract. It's worth noting that next season's uniforms will still have the same Majestic fabric and tailoring, so don't expect a Nike-fied sea change, whether for the Dodgers or for anyone else. … More info about the Brewers' new look keeps emerging. Scroll through the responses to that tweet for lots of analysis — mostly negative — of what appears to be the new primary logo.

NFL News: The Raiders will wear their white throwback alternates at home against the Chargers tonight. … The Packers will reportedly have a new throwback uni next season. … I was so busy writing about the college logo helmet decals in Monday night's Cowboys/Giants game that I neglected to mention that Dallas QB Dak Prescott had pockets sewn into his jersey (from Yogi Combs). … Browns QB Baker Mayfield says he shaved off his horseshoe mustache after Sunday's game because he didn't deserve to wear it. … Giants RB Saquon Barkley has a new personal logo. … With the Chiefs and Chargers playing each other in Mexico City a week from this Sunday, U.S. Secretary of Agriculture Sonny Perdue wore a USDA football jersey at a promotional event in Mexico (from Spencer Chase).

College Football News: Ticket stub maven Russ Havens has put together a nice assortment of college football rivalry game stubs. … This is odd: Fans at this weekend's Oklahoma game will receive a giveaway cap with a Velcro American flag patch that can be removed to reveal an OU logo (from Kevin Burns). … Blaise D'Sylva's latest helmet collection is for Princeton. … Here's this week's uni combo for Iowa State. … Baylor head coach Matt Rhule got a lot of attention yesterday for wearing what appeared to be a vintage Starter jacket (from several readers). … Our own Jamie Rathjen, a proud UVA grad, always passes along his alma mater's uni combo each week. Here's the latest. … New helmet in the works for Fresno State (from Jared Buccola). … New script helmets for Miami of Ohio.

Hockey News: The Canucks wore their original stick-in-rink design as a throwback for Tuesday night's pregame skate. In a period-appropriate move, the jerseys were NNOB (from Wade Heidt). … The AHL's Colorado Eagles went a little bonkers with the stars/stripes on Tuesday night (from Derek May). … You know what really makes a good blackout jersey? If you're the Lehigh Valley Phantoms, your answer to that question is a big, honking blue ad patch (from Darian Somers). … Whoa, check out these throwbacks that Canisius is wearing to mark the school's 150th anniversary (from Joseph Pitirri). … G Erik Portillo, who plays for the Dubuque Fighting Saints, has pads/gear designed to look like a suit of armor (from several readers).

College Hoops News: Minor uni changes this season for Wisconsin. … Ohio State added a John Havlicek memorial patch last night (from @WesAndHammy). … UNC PG Cole Anthony wore glasses during last night's pregame shootaround. Additional info here (from James Gilbert). … Also from James: UNC women's C Janelle Bailey is is changing from No. 44 to No. 30 in support of injured teammate Jaelynn Murray. … With Syracuse women's player Tiana Mangakahia undergoing breast cancer treatment, the men's team wore T-shirts in support of her. … No photo, but Virginia G Tomas Woldetensae has "B. Woldetensae" as his NOB. "It's apparently because he has 'two last names,' but I'm not sure what the other last name is," says our own Jamie Rathjen.

Soccer News: Scotland's new kit has leaked. … The new Wales home kit is now available at retail, confirming previous leaks (from Josh Hinton). … FC Cincinnati has opened its new training center. "Inexplicably, the the building contains a misdesigned version of the team's secondary logo," says Will Hughes. "The crown should be over the second C, not the first C. Even worse, this logo has only been utilized since last November, and we already have our first case of inconsistency." … The English sixth-tier team AFC Telford United will support the LGBT+ community by wearing a rainbow-accented shirt on Nov. 16 (from our own Jamie Rathjen). … New home kit for Japan (from Sean Flynn). … And here's Japan's keeper's shirt. … Manchester City had to put defender Kyle Walker in goal last night because their regular keeper was injured and his backup was sent off. Walker wore the backup's keeper jersey but his regular shorts and socks (from Josh Hinton).

Grab Bag: The U. of Washington's women's volleyball jerseys have little cutouts on the rear shoulders. Not sure if that's for ventilation, freedom of motion, or both (from Scott Kaplan). … New logo and slogan for Kroger supermarkets. … With Under Armour undergoing executive turmoil and a federal investigation, people at the U. of Maryland's athletic department — which has basically hitched its wagon to the company — are getting antsy (WaPo link) (from Tom Turner). … Here's a video showing the history of F1 racing's on-screen graphics (from Jeremy Brahm). … Female athletes say they're pushed to lose dangerous amounts of weight when they join Nike's training program (NYT link).
• • • • •
Our latest raffle winner is Gil Nuemann, who won himself an item of his choice from Vintage Brand and has chosen this 1978 Nebraska/Oklahoma ticket stub canvas. Congrats to him, and thanks to VB for sponsoring this raffle. — Paul