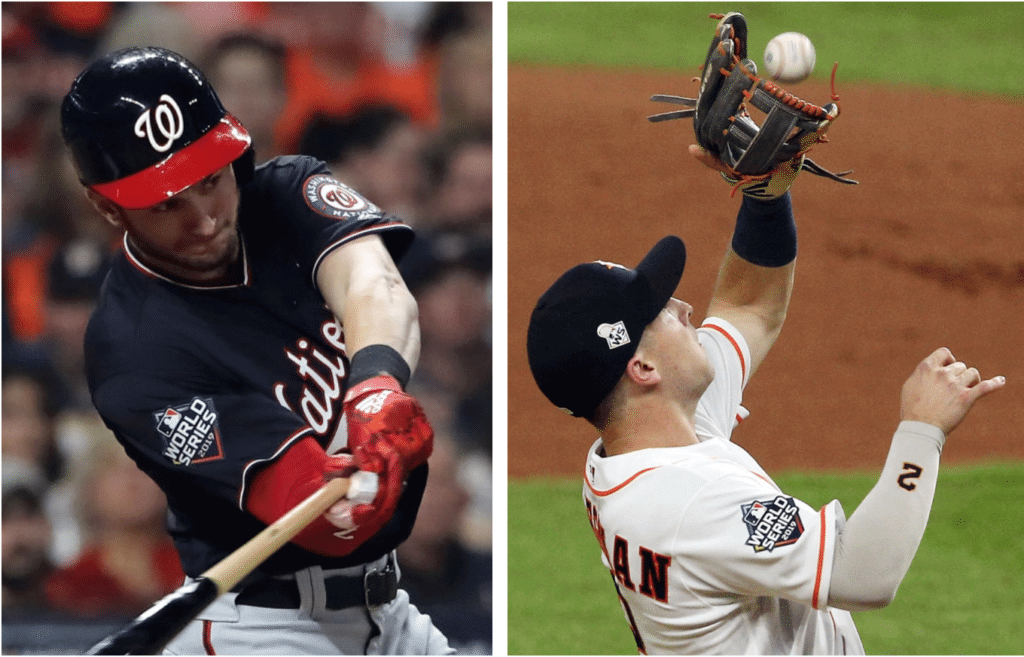 Surprising development at last night's World Series opener, as the Nats and 'Stros both went without the MLB 150 patch on their right sleeves. Yes, I realize the World Series patch was added to that sleeve, but so what? The 150 patch shared space with lots of right-sleeve patches this season, so why not include it for the Series? Or to put it another way, why would you scrap the celebration of your big anniversary from your season-capping showcase event?
Interestingly, SportsLogos.net's Chris Creamer said way back in February, when the 150 patch was unveiled, that it wouldn't be worn in the postseason. But that turned out not to be true — most teams did wear it in the playoffs (although teams with a memorial patch did not). It's not like I have any great love for this patch design, but it feels really weird to omit it from the World Series. Makes no sense!
In case you're wondering, the MLB centennial patch was indeed worn during the 1969 World Series. As for 1994's 125th-anniversary patch, there was no World Series that year, so we'll never know.
In other news from last night's game:
• Here's a good look at the "EC" memorial patch that the umpires added for ump Eric Cooper, who died over the weekend. Interesting that MLB couldn't manage (or didn't bother) to match the specs of the "JM" patch that the umps have been wearing all season for Jim McKean:
Nothing matches — the white border, the type weight, even the patch size! It's like they got a cheap Chinese knockoff patch. Come on, people — this shouldn't be that hard.
• Speaking of the umps' patches, take a look at this photo and see if you notice anything (click to enlarge):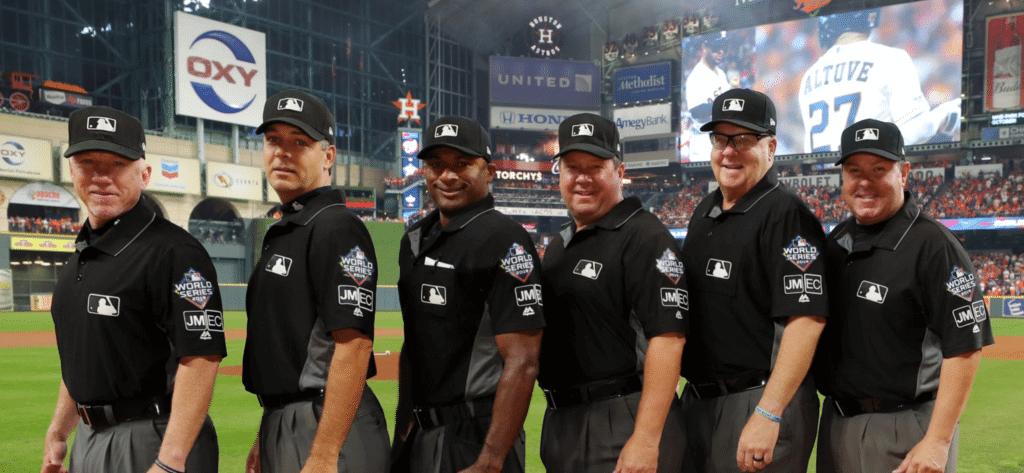 As you can see there, all of the umps had their patches nicely centered on their sleeves, except for one. The exception was plate ump Alan Porter (third from left), whose sleeve looked like the Cooper memorial patch had been added to it at the last minute. Here's a better view of his patch arrangement: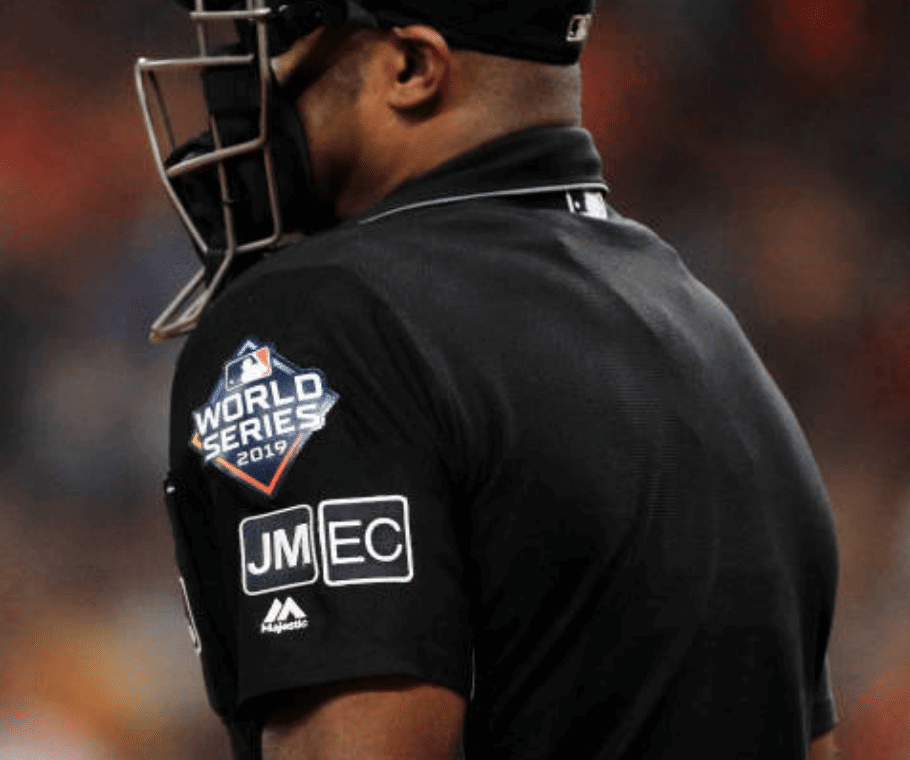 • Fox made an early-game color readjustment to their score bug:
@UniWatch @sportslogosnet @506sports Fox broadcast updates colors in score bug after top of the first to better represent uniform choices pic.twitter.com/mGaGzNVUT2

— Oliver Crown Williams (@ocw5000) October 23, 2019
• The Nationals' navy alternate jerseys are now on an eight-game postseason winning streak. Impressive!
I think that's it. Pretty uni-uneventful game, really.
• • • • •
• • • • •
'Stros memories: Speaking of the Astros, from their early-1960s inception through the 1980s, they were one of the most visually innovative teams in sports history (as evidenced by, among many other things, the "Spacette" usher's uniform drawing shown at right; click to enlarge).
I've written a fair amount about the Astros over the years. If you want to brush up on their uni-related history, here are some good places to start:
• This article includes lots of info on the uniforms worn by the team's staff — the Spacettes, the spacesuit-clad groundskeepers (known as the "Earthmen"), and a lot more — with links to dozens of original drawings. Great, great stuff.
• This article is a good primer on the basics of the Astros' tequila sunrise uniforms.
• After you read that piece, this article has the previously untold story of how the tequila sunrise design was created, as told by the designers who created it. Definitely one of the best Uni Watch articles ever!
(My thanks to Tom O'Grady for reminding me about the first article on this list, which I had forgotten about.)
• • • • •
• • • • •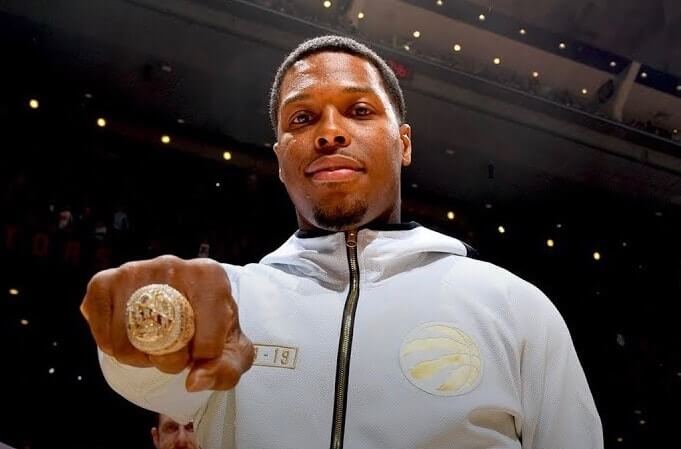 Bling thing: The Raptors received what the team is claiming to be the largest championship rings in NBA history prior to last night's season opener. Here's a closer look:
A historic ring for a historic accomplishment. #WeTheNorth pic.twitter.com/IZdkXQTj4B

— Toronto Raptors (@Raptors) October 22, 2019
And here's a better look at the Raptors' gold-trimmed courtside gear (click to enlarge):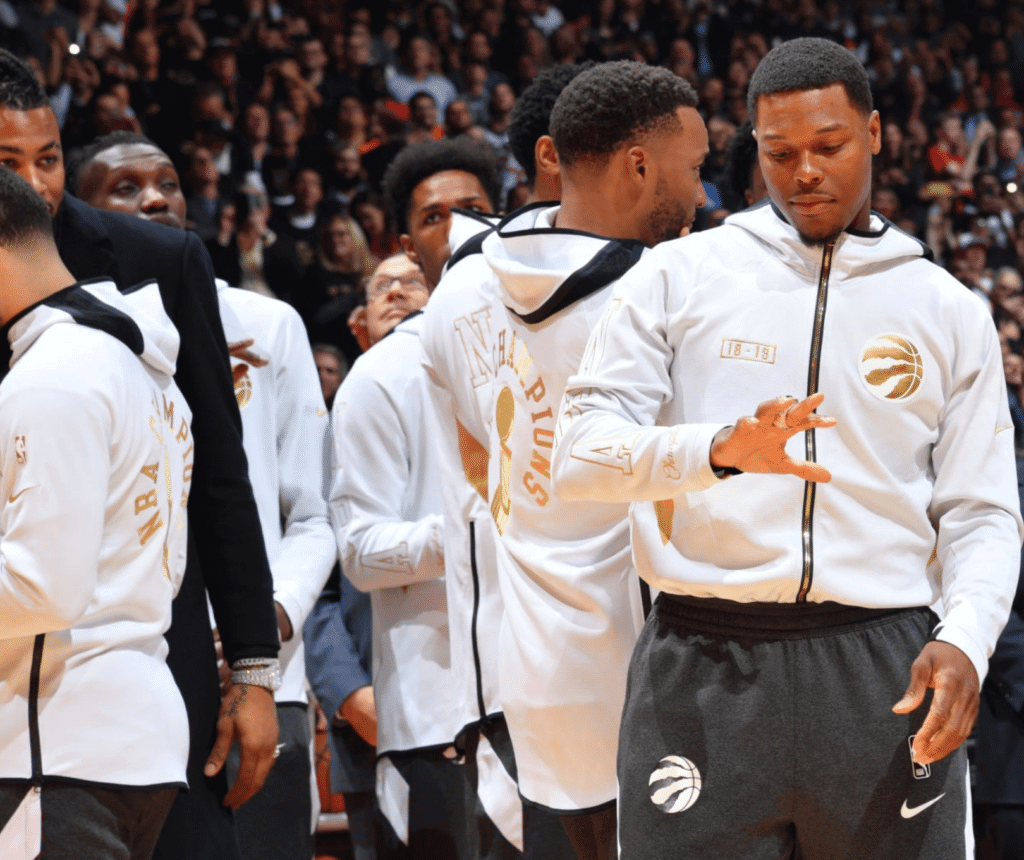 Another note from that game: Raptors point guard Kyle Lowry, who grew up in North Philadelphia, wore sneakers emblazoned with "North Philly," in the style of the Raptors' "We the North" alternate jerseys: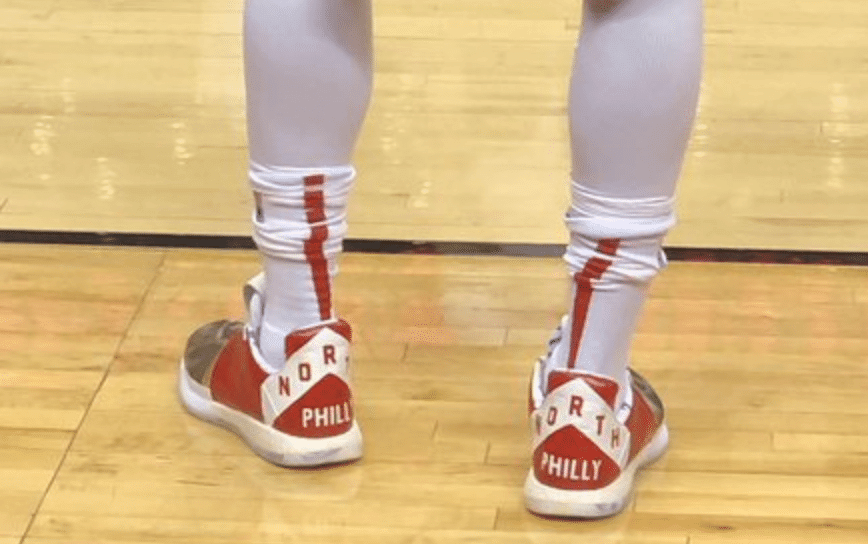 Meanwhile, if you haven't yet checked out my NBA Season Preview with all the new looks for the new season, it's available here.
(Thanks to Michael Barakan for the Lowry sneaker item.)
• • • • •
• • • • •
Click to enlarge
Brown tees now available: In the end, I decided to go with the white-wing and the yellow-wing versions of the logo on the brown shirt, because why not? Here's where you can order them — white-wing logo and yellow-wing logo.
There will also be a sublimated version. It will have the yellow-wing logo, contrasting collar and sleeve cuffs, and a sleeve patch. I need another day to get that one launched. Thanks for your patience!
Thanks also to Scott M.X. Turner for his great work on this design.
• • • • •
• • • • •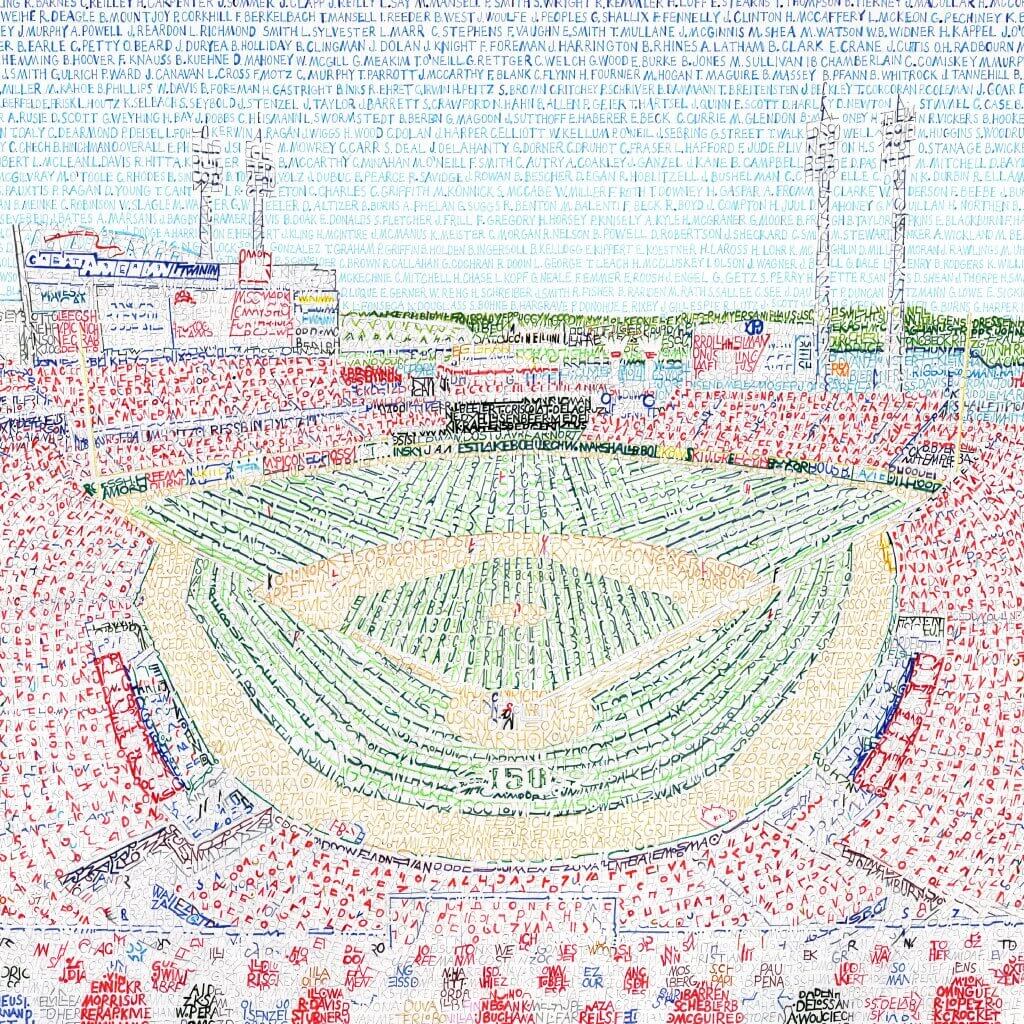 Click to enlarge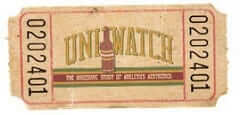 LAST CALL for the Art of Words raffle: Today is the final day to enter the raffle for an Art of Words print (like the one of the Reds ballpark shown above). The winner will get to choose any print from the Art of Words website. To enter, send an email to the raffle address by 8pm Eastern today. One entry per person. I'll announce the winner tomorrow.
• • • • •
• • • • •
The Ticker
By Lloyd Alaban

NFL News: The 49ers confirmed that they'll wear their all-white throwbacks on Sunday against the Panthers, something they had hinted at earlier in the week (from multiple readers). … As for the Panthers, according to Panthers Uni Tracker, they will wear their silver pants with their black jerseys for the first time since 2017. … Colts owner Jim Irsay tweeted that the team will wear their Color Rash uniforms on Sunday (from Scott Johnston).

College Football News: TCU will wear black alternates against Texas on Saturday (from multiple readers). … Utah is also going mono-black (from Nicole Pena). … Pitt is giving away a Mt. Rushmore-themed figurine at Saturday's game (from @AlRega727). … Helmet history days roll on with Blaise D'Sylva. Here's his Rice collection. … Oklahoma's Sooner Schooner is being sidelined for the rest of the season after it overturned during Saturday's game against West Virginia (from Kary Klismet).

Hockey News: A great-looking mask worn by former Blues G Ed Staniowski is up for auction (from @mrmichael21). … Here are the sweaters and goalie mask to be worn by the Regina Pats of the WHL in the league's Prairie Classic on Sunday (from Wade Heidt).

NBA News: A few Pelicans players were seen using Raptors towels at last night's game (from Johnny Rockford). … The condiment dispensers at the Blazers' home arena have a very artistic Portlander feel to them (from James Gilbert). … For the latest in NBA uniform assignments, head over to Etienne Catalan's Twitter feed. … NBA on TNT made a slight change to their score bug for opening night last night. The font is sharper and the TNT logo is smaller. Old version on the left, new version on the right (from Josh Hinton). … Clippers owner Steve Ballmer tore the elbow of his dress shirt last night.

Soccer News: From Josh Hinton: The Belgium Euro 2020 primary kit has leaked. … The second leg of the Copa Libertadores semifinal between River Plate and Boca Juniors last night was delayed due to confetti on the pitch. … Gross: River Plate will have a 70th anniversary shirt this season — not because it's the club's birthday, but because it's the 70th birthday of their kit supplier, Adidas. … Atletico Madrid is continuing to wear a Save the Children's charity ad on the back of their shirts in Champions League competition. However, they do not wear it in La Liga matches, even though La Liga permits back of shirt ads. … Braga of Portugal will wear a one-off Pinktober ad for their Europa League match on Thursday against Turkish club Besiktas since their current gambling-related ad is banned in Turkey. … Brazilian club EC Bahia have added black oil-like blotches to their kit to raise awareness for the recent oil spills in the region. … New primary, secondary, and goalkeeper shirts for Botafogo. … New winter ball for La Liga. … As usual, you can check out Josh's Twitter feed for more kit-related news. … "German team Borussia Dortmund usually has two yellow shirts: one for use in league games and a 'third shirt' used in place of the first shirt everywhere else," says our own Jamie Rathjen. "However, this year the third shirt is black on the shoulders and sleeves, so it can't be worn for Dortmund's Champions League game tonight against Inter Milan and the first shirt is making an appearance instead." … Tris Wykes spotted a New Hampshire high school soccer player wearing a soft arm cast covered in duct tape, of all things.

Grab Bag: Argentine men's club volleyball team Bolivar Volley has added two stars to their logo for their two championships (one silver, one gold) last year (from Jeremy Brahm). … Also from Jeremy: New uniforms for the Polish men's volleyball club team Asseco Resovia Rzeszow. … Golfer Jason Day wore a Tiger Woods-branded Nike vest during the Japan Skins game (from Robert Gorman). … Knitters around the world are recreating a sweater worn by a girl who survived the Holocaust by living in a sewer (from @walbergLines). … Pizza Hut is testing a meatless sausage pizza that comes in a round pizza box with a green logo.