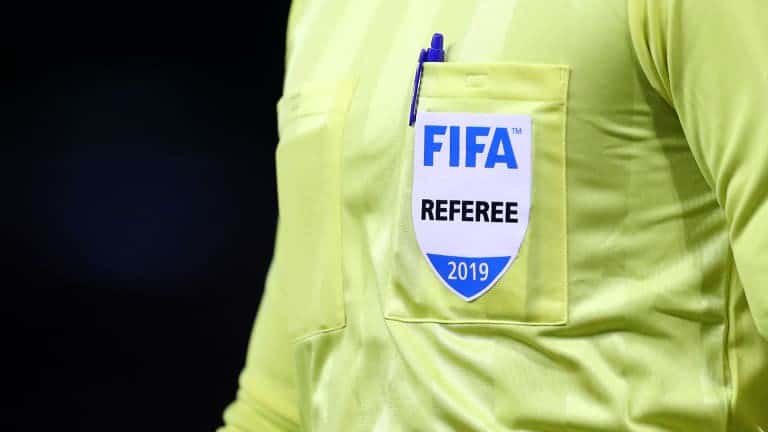 [Editor's Note: Today we have a guest entry from our own Jamie Rathjen, who's going to delve into the topic of soccer officials' patches. Enjoy. — PL]
By Jamie Rathjen
Soccer is played throughout the world, with each country developing its own peculiar habits and protocols. Case in point: the identifying patches worn by officials. The wide scope of officials' patches represents an overlooked corner of the uni-verse, one primarily built on federation and confederation logos that are less frequently worn than team logos.
Before we start looking at individual countries, let's start with this: Officials who are qualified to officiate games involving national teams or in continent-level club competitions wear a FIFA patch (shown above). Officials wearing the FIFA patch wear it all the time, even during domestic games, and generally in place of any national patch. To earn the FIFA patch, officials are nominated for FIFA's list of international officials by their country and must pass fitness tests.
Now let's look at country-specific patch treatments, beginning with the U.S. Officials who are members of the Professional Referees Organization, which supplies many officials for MLS, the USL, and the NWSL, wear the organization's logo. Non-PRO officials wear a a U.S. Soccer officials' patch. In the NWSL, officials wear a league logo patch — it perpetually looks like it's about to fall off — but not in the other two leagues.
In major European leagues, officials primarily wear the crest of their country's federation, instead of the logo of the league. Countries that follow this practice include Germany (shown below), Spain, Italy, the Netherlands, and Belgium.
But there are some countries where officials do wear the league's logo on the chest, including Sweden (on the left in that picture, along with the logo of the referees' association) and Australia (in both the A-League and W-League).
In England, an official can potentially wear two or even three different crests. In the Premier League, for example, the league logo is worn, as well as the FIFA patch, if applicable, for a double-patched look:
In competitions run by the English Football League, the EFL logo is worn instead, while officials in the FA Cup and Women's Super League wear the Football Association crest:
Scotland is one of the few countries where referees wear a "Referee" label if they are not wearing the FIFA patch. Same goes for Japan — with the word "Referee" usually printed in English, interestingly. Switzerland labels referees in the country's three major official languages — "Schiedsrichter" in German, "Arbitre" in French, and "Arbitro" in Italian — as well as in English.
Officials in almost every country that I looked at for this piece wear ads, primarily on the sleeve, but countries that go particularly overboard in this regard include Brazil and Mexico (shown below).
At international level, every official in matches involving national teams or in continent-level club competitions wears the FIFA patch. Confederation-specific patches are worn in South America, for example, but officials in Europe wear only the small UEFA "Respect" sleeve patch.
While ads aren't generally worn when national teams are involved, for some reason they appeared at this summer's Copa América, even though the competition's regulations specifically prohibit ads. Does anyone know more about that?
• • • • •
• • • • •
Press pin registry reminder: In case you missed it on Wednesday, I've created a spreadsheet registry for the Uni Watch press pins. Since they were produced in a numbered edition of 200 and sold out almost immediately, some people might want to trade for a specific numbered pin. So if you purchased one, you can enter your name, your email address or Twitter handle, and any notes or comments, including whether you're willing to trade or sell your pin.
Here's how it works:
• If you've purchased a pin and would like to enter it on this registry, go to the registry and enter your info on the line that corresponds to your pin's number. (Be sure to use the number shown in the "Pin Number" column, not the spreadsheet's line number column. Those two columns are consistently one number apart, so it's an easy mistake to make — be careful!)
• If you're a big fan of, say, the number 73 and see that the person who has pin No. 73 is willing to trade, go ahead and email that person and see if you can strike a deal. (Obviously, shipping arrangements, postage charges, and so on are up to the two traders — work it out amongst yourselves.)
• I suppose people who missed out on purchasing a pin could also use this registry as a way to buy one ("I'll give you 20 bucks for pin No. 53!"). Personally, I find that notion less appealing — I'd rather encourage trading, not selling. But if it happens, so be it.
• Participation is completely voluntary. If you purchased a pin but would rather not enter your name on the spreadsheet, that's fine.
• I realize there are privacy issues about sharing email addresses on publicly viewable documents. If you're willing to enter your name but would rather not list your email address, that's fine. (You may also want to consider creating a new email address just for this spreadsheet. It's certainly easy enough with Gmail and many other services, and that way you won't be giving away your primary address.) You can also enter your Twitter handle and let people DM you via Twitter.
• Obviously, this project will only work if everyone behaves and nobody fucks with the spreadsheet. So: Please behave and don't fuck with the spreadsheet. Thanks.
Again, the spreadsheet registry is here. Enjoy.
• • • • •
• • • • •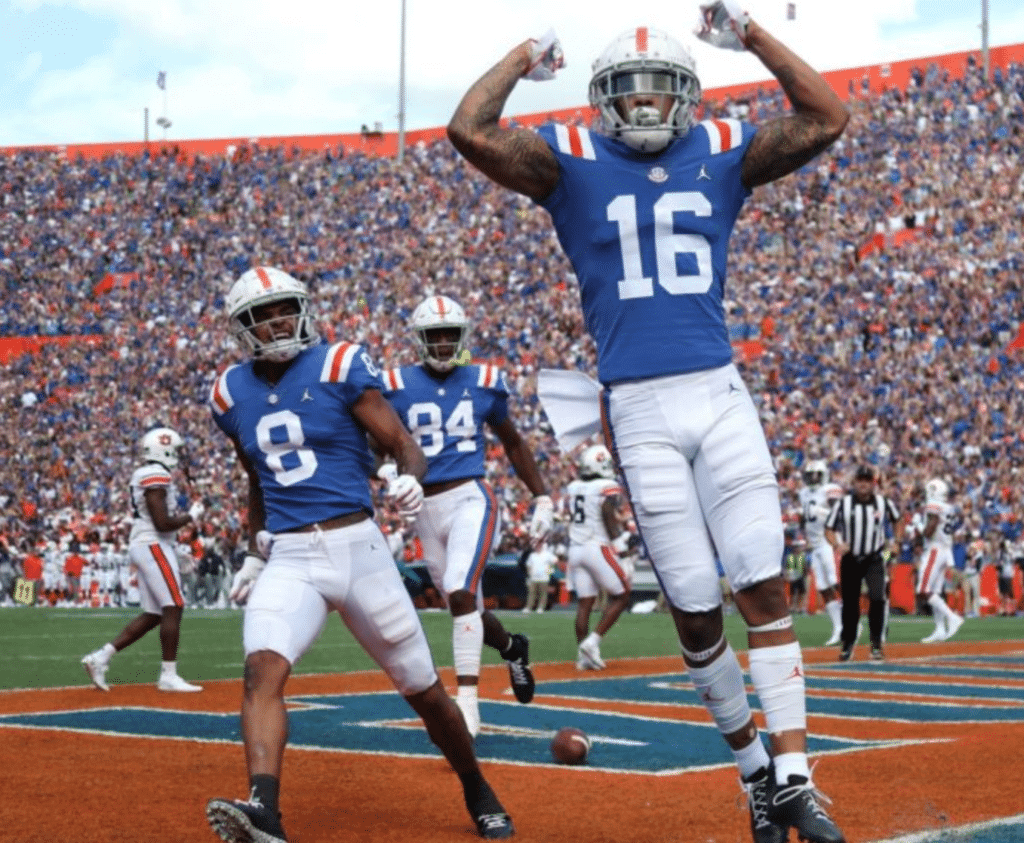 Membership update: It's always interesting when a new uniform makes its on-field debut and then we immediately get a membership card request for it. That's the case with Eric Juergens's new card, which is based on throwbacks that Florida wore two weekends ago against Auburn.
Eric's card is one of several that have been added to the membership card gallery, as we continue to work our way through all the orders that have resulted in the wake of the most recent unpleasantness.
Ordering a membership card is a good way to support Uni Watch (which, frankly, could use your support these days). And remember, a Uni Watch membership card entitles you to a 15% discount on any of the merchandise in our Teespring shop and our Naming Wrongs shop. (If you're an existing member and would like to have the discount code, email me and I'll hook you up.) As always, you can sign up for your own custom-designed card here, you can see all the cards we've designed so far here (more than 2,300 of them!), and you can see how we produce the cards here.
• • • • •
• • • • •
The Ticker
By Alex Hider

Baseball News: The Nats might be 7-0 while wearing navy jerseys this postseason, but they're also working against history — of the last eight teams to sweep an LCS, only one has gone on to win the World Series (from John Odell). … With Washington back in the World Series, it's worth taking a trip down memory lane to the city's last ballpark that hosted the Fall Classic (from @OlegKvasha). … At least one Nats fan took a creative approach to update his Bryce Harper jersey (from Josh Claywell). … Jason Snell wrote a piece about each network's playoff graphics packages. … For a 1970 Cubs/Chisox charity game, the Cubs wore their home whites and the Sox donned their road greys — even though the game was played at Comiskey Park (from Bob Gassel).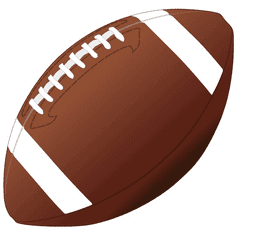 NFL News: Rams numerology from Jakob Fox: "Jalen Ramsey is officially No. 20 for the Rams, Troy Hill is changing to the newly vacant 22. This will be Hill's third number for the Rams — he started with 32, then changed to 20 this offseason, and now he will be 22. I assume Ramsey made a deal with him to get 20. Meanwhile, new Rams Austin Corbett and Kenny Young will be 63 and 41, respectively." … In a related item, here's a time-lapse video showing how a designer Photoshopped Ramsey into a Rams uni (from Jeff Perilman).

College Football News: Oklahoma will wear their crimson and cream alternates this weekend (from Sam McKinley). … Arizona will wear mid-'90s "Desert Swarm"-era throwback jerseys on Nov. 2 for their homecoming game (from Rocky De La Rosa). … Illinois will wear its GFGS alternates this weekend for homecoming. … Iowa State will wear red helmets and white jerseys and pants on Saturday (from Chad Lehman). … Uni shenanigans are afoot with Duke and Virginia. They'll be unveiling the uniforms for their Saturday matchup tonight at 7pm ET.

Hockey News: Blues G Jordan Binnington's new mask pays tribute to one of his favorite players from his childhood — former Leafs G Curtis Joseph (from Mike Chamernik). … A player for the Hillsborough High School (New Jersey) hockey team produced a uniform reveal video for his team (from Fred Versaci). … Last night's Oilers/Flyers game featured a lot of orange (from Jake Yergs).

College Hoops News: Arizona State's basketball arena has a new corporate name (from James Gilbert and @ThatRodneyGuy). … Here's what Auburn will be wearing for the 2019-2020 season (from Clint Richardson). … New white and blue uniforms for Tulane. The green and black unis will be unchanged from last season.

Soccer News: Couple of notes from Ed Żelaski: Minneapolis City SC of the NPSL have new home and away jerseys. … New uniforms for Georgian club FC Dinamo Tbilisi, who switched from Adidas to Puma. … According to Denis Hurley, Bayer Leverkusen of the German Bundesliga alternated between red and black home kits between 2013 and 2016, using the previous year's home as the new away in each case. That practice stopped briefly following a manufacturer switch, but the club is back to alternated red and black jerseys.

Grab Bag: Team Canada has new red and white uniform tops for the 2019 Mixed Curling Championships (from Wade Heidt). … German volleyball club United Volleys Frankfurt has new uniforms for the CEV Cup, the second-Tier European competition (from Ed Żelaski). … More volleyball from Ed: Ohio University is doing Pinktober on Friday.