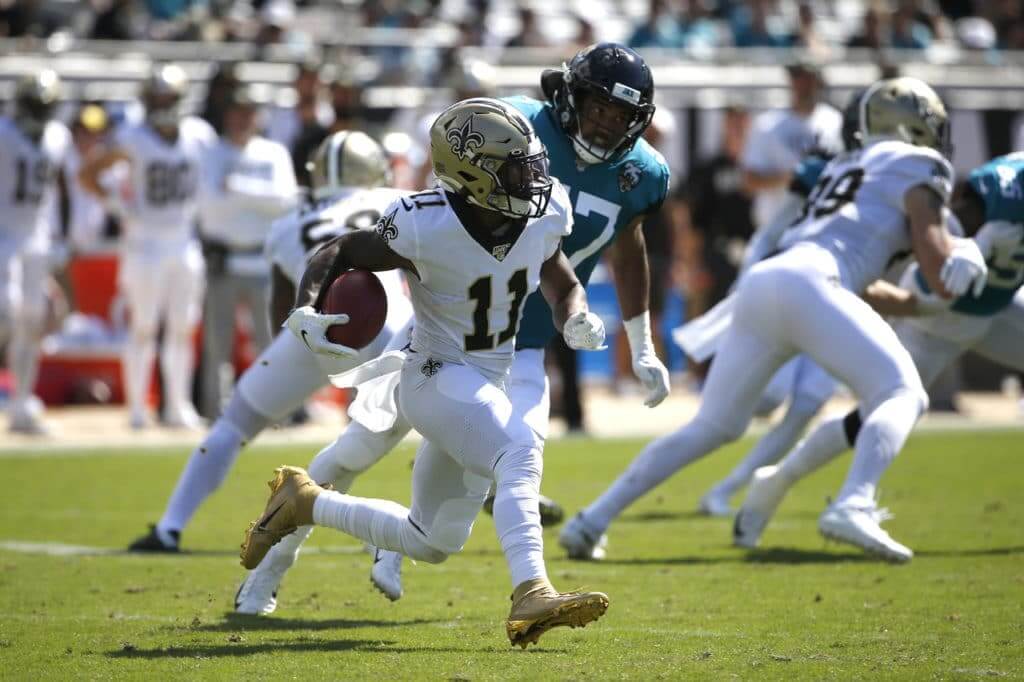 Click to enlarge
Good morning! Very unusual move yesterday by the Saints, who wore their primary white jerseys in Jacksonville and paired them with a new, previously unseen set of white pants! The Saints sometimes go mono-white with their Color Rash uni, of course, but it's much rarer to see them wearing mono-white with their primary white jersey. How rare? According to the Gridiron Uniform Database, the last time they went mono-white in a non-Rash context was 1975!
In case you're wondering: Yes, there's plenty of precedent for NFL teams coming up with new pants designs with little or no warning. When Washington brought back the yellow pants in 2010, that move came out of nowhere. Ditto for the Ravens' infamous gold pants, which debuted late in the 2015 season.
In other news from around the league yesterday:
• Brutal-looking game in Arizona, as the Cardinals wore their black alternates against the Falcons, creating a matchup of two of the league's most clownish looks. The Cards didn't help matters by adding a garishly large, bow tie-shaped memorial patch for owner Bill Bidwill (they had worn a memorial decal):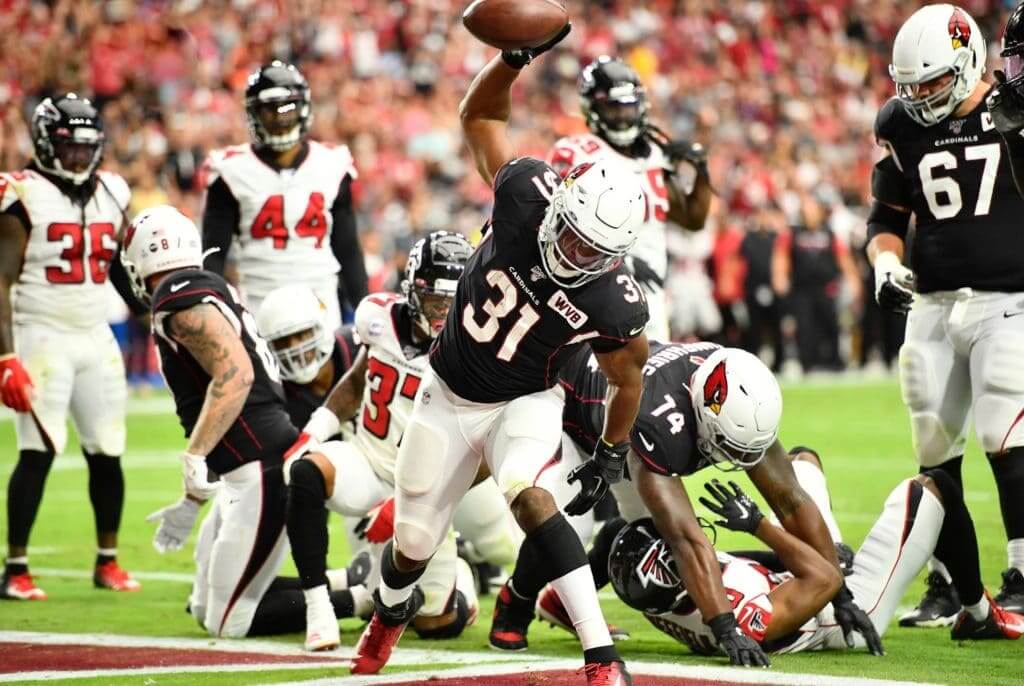 The new patch looked particularly ridiculous on Cards wide receiver Larry Fitzgerald, who now looks like a European hockey player or something like that: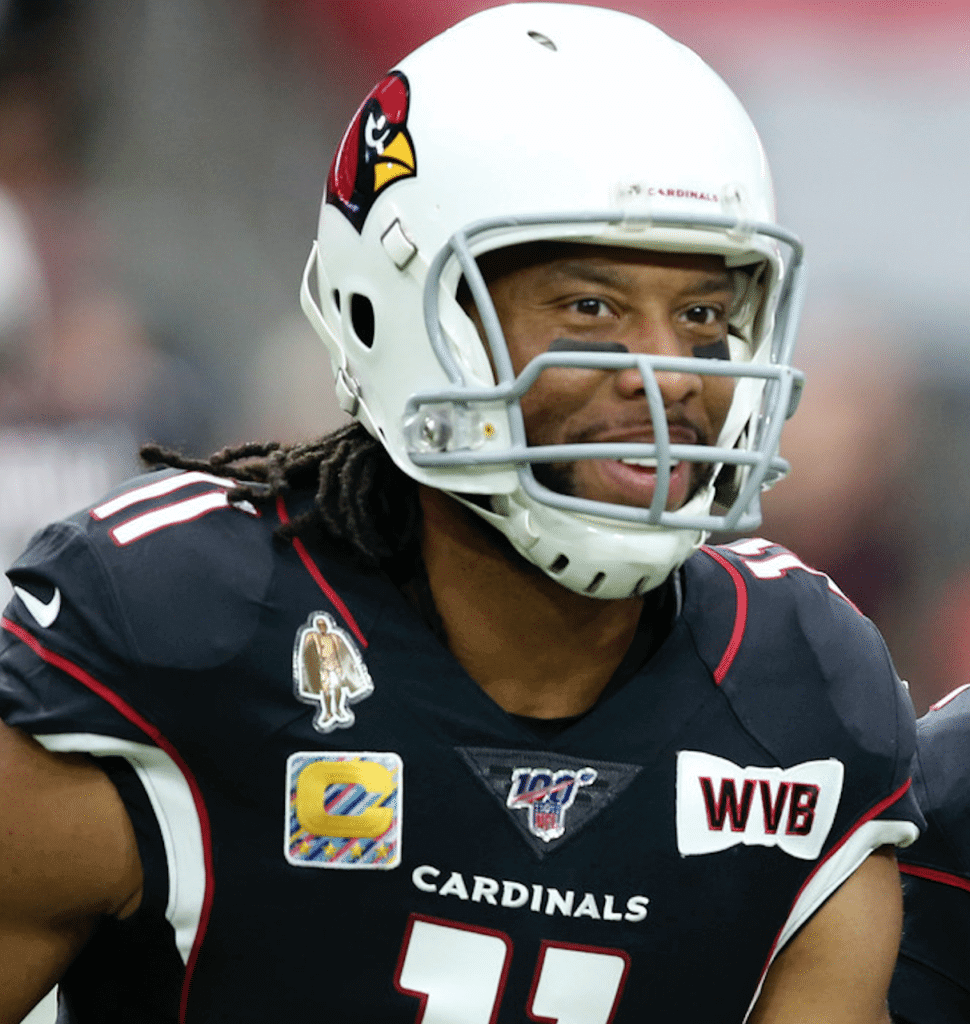 • The Jets wore mono-white at home (with plain white socks to boot) against the Cowboys — the first time the Jets have worn that combo with their new uni set: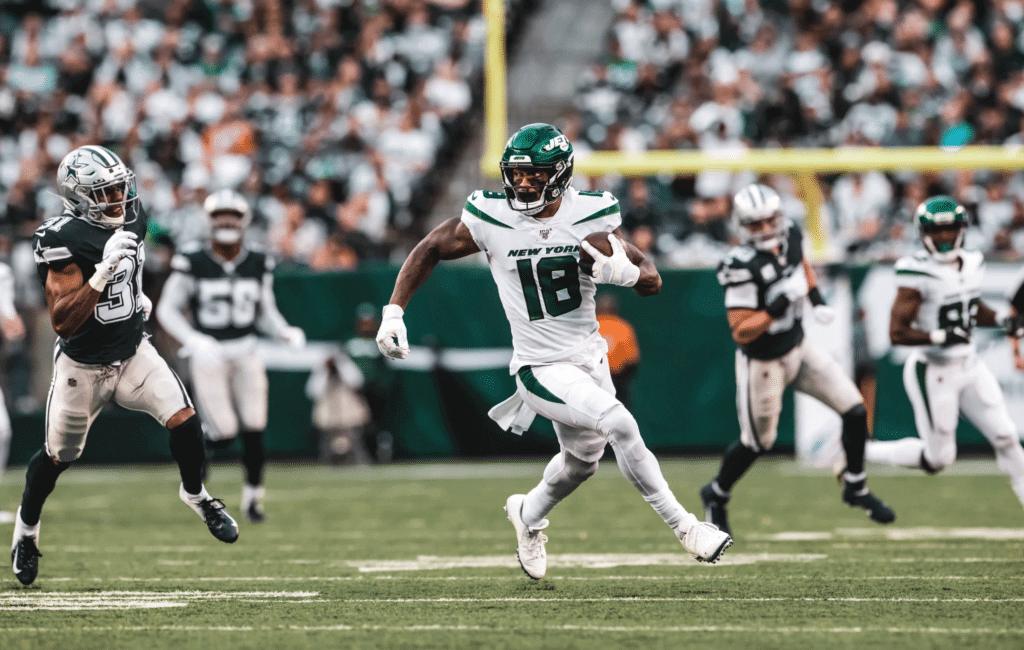 • In that same game, one of the officials was missing a stripe on his black cap:
@UniWatch inconsistent stripes on officials hats in DAL v NYJ. pic.twitter.com/Uk9KuItlrh

— mbrenner53 (@mbrenner53) October 13, 2019
• The Broncos wore their navy alternates:
• You're not going to believe this, but here goes: Everyone knows I hate purple and also hate the Bengals' uniforms, but I think the matchup those two teams put on the field yesterday looked pretty good! I don't love either of these uni combos on their own, but I like the way they collide when facing each other: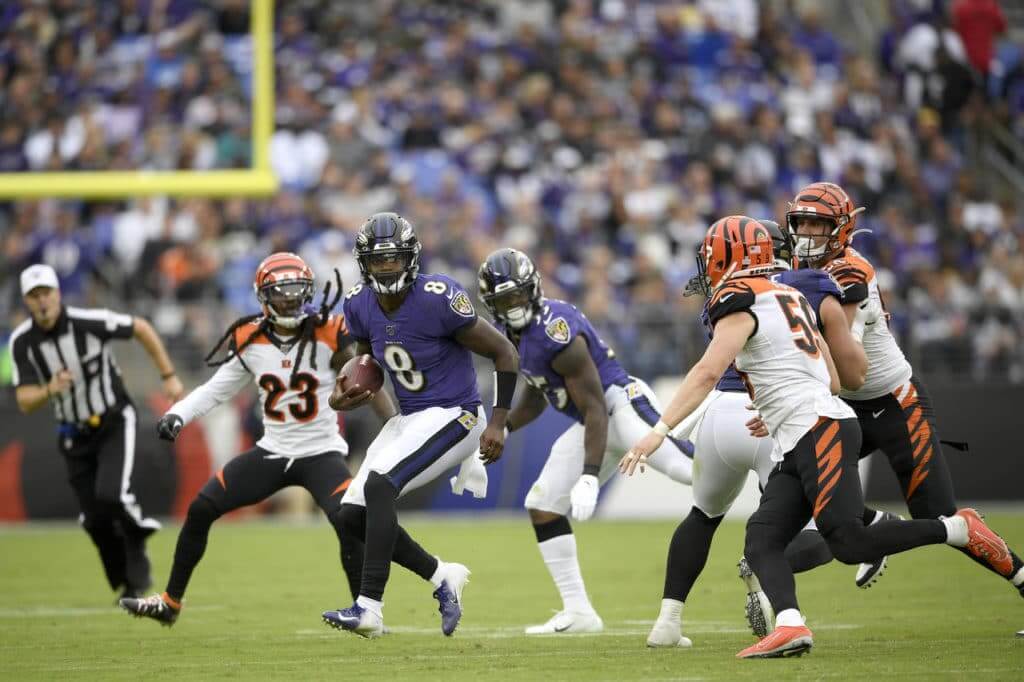 • With the Panthers and Bucs playing in London, Carolina decided to award a captaincy patch to defensive lineman Efe Obada, who grew up in the UK and played for the London Warriors in 2014:
⭐️ Efe Obada was named honorary captain for his homecoming game in London. He was presented with a new jersey including the "C" patch (right) after pregame warmups (left)#KeepPounding
👀 @UniWatch @PhilHecken pic.twitter.com/v8SHs6pd2D

— Panthers Uniform Tracker (@PanthersUnis) October 13, 2019
• Speaking of the Panthers, the London game took place in soccer team Tottenham Hotspur's stadium, so Carolina quarterback Kyle Allen wore a Spurs cap during pregame activities (sorry about the quality of this photo but it's the best I could find):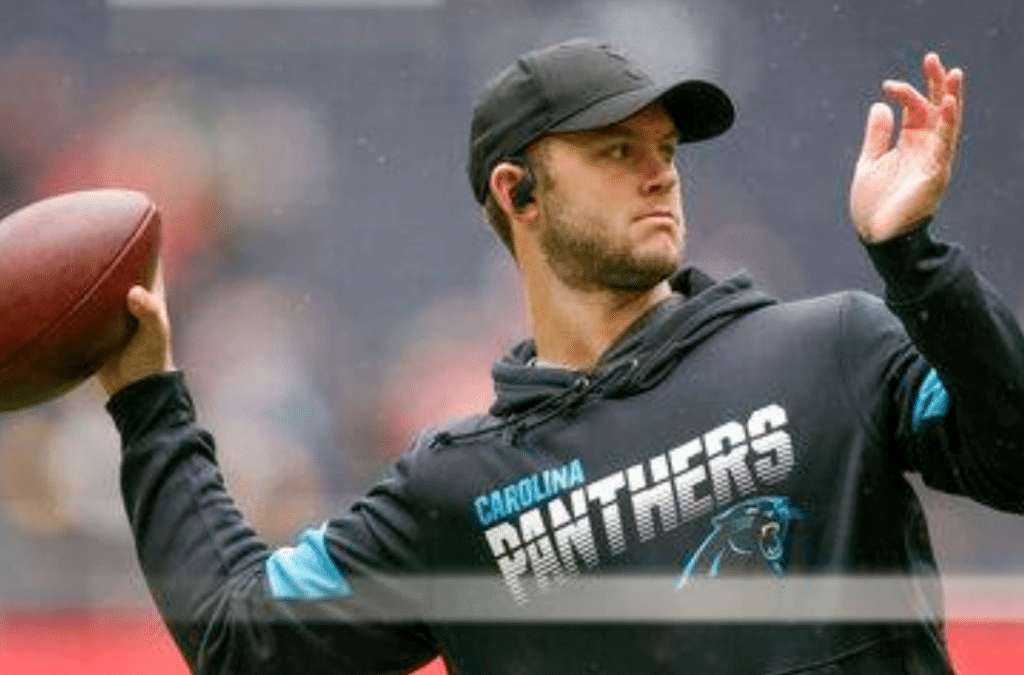 • Seahawks defensive lineman Jadeveon Clowney had part of his nose bumper panel fall off and get lodged against his visor:
@UniWatch Clowney's bumper fell into his shield pic.twitter.com/h0DLIrU7Du

— Ben Greaby (@CenterFieldSpts) October 14, 2019
• Three teams wore white at home: the aforementioned Jets, along with the Rams and Dolphins. (That Dolphins game was a missed opportunity to re-create the look of Super Bowl VII, as Miami could have worn their throwbacks and Washington could have gone with the yellow pants.)
———
Best-looking game of the week? Steelers/Chargers (well, except when Steelers linebacker Vince Williams and his pink socks were on the field). Worst-looking: Definitely that Cards/Falcons debacle.
(My thanks to our own Jamie Rathjen for the Kyle Allen item.)
• • • • •
• • • • •
Press pin update: Remember the limited-edition Uni Watch Press Pin that I announced and launched last Friday? As of this morning, there are only seven of the pins remaining. So if you want one, move fast. Update: The press pin is now SOLD OUT.
If I had realized that this item would be so popular, I would have made more than 200 of them. I can't really go back and make more now, because each of the existing pins are numbered "1/200," "2/200," and so on, so it wouldn't make sense — and wouldn't be fair to the people who've purchased the pin — to make another batch of them.
However! The success of this product and of our basic logo pin (which is still very much available — plenty of inventory on that one!) has convinced me that pins are a good new frontier of Uni Watch creative projects. As one reader told me, "They're fun to collect — and they don't take up space!"
I'll have more to say about a new pin project soon. Stay tuned.
• • • • •
• • • • •
Click to enlarge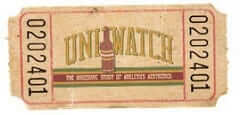 ITEM! New cap raffle: We recent mentioned in the Ticker that there's a new line of NHL Carhartt caps. And now Carhartt and '47 are giving away free caps to three lucky Uni Watch readers.
This is a two-day raffle. To enter, send an email with you shipping address and your choice of any hat from this page (be sure to keep scrolling down to see all of the options — the page will keep filling as you keep scrolling) to the raffle address by 8pm Eastern tomorrow, Oct. 15. I'll announce the winner on Wednesday.
Meanwhile, the winner of Friday's one-day Naming Wrongs T-shirt raffle is Dan Whaland. Congrats to him, and my repeated thanks to the anonymous benefactor who sponsored that raffle.
• • • • •
• • • • •
Membership update: If you want to see something really great, click on the image of Scott Tannen's new membership card so you can really appreciate all the fine details. The contrast-colored stitching, the little anchor pattern — our card designer, Scott M.X. Turner, did a really tremendous job with this one. (The design, of course, is based on Vanderbilt's football jersey.)
Scott's card is one of several that have been added to the membership card gallery. We've had a big spike in orders since the latest unpleasantness (thank you!), so don't worry if you don't see your card in the gallery yet — we now have a bit of a backlog, but I think we'll be caught up by the end of this week.
Ordering a membership card is a good way to support Uni Watch (which, frankly, could use your support these days). And remember, a Uni Watch membership card entitles you to a 15% discount on any of the merchandise in our Teespring shop and our Naming Wrongs shop. (If you're an existing member and would like to have the discount code, email me and I'll hook you up.) As always, you can sign up for your own custom-designed card here, you can see all the cards we've designed so far here (more than 2,300 of them!), and you can see how we produce the cards here.
• • • • •
• • • • •
Click to enlarge — it's worth a closer look
What, no Psoriasis Trail?: The Tugboat Captain and I spent the weekend on a much-needed weekend road trip through New Jersey and eastern Pennsylvania. There were lots of good stops along the way, but the most enjoyable one, on several levels, was a hike we took through a forested area in Pennsylvania. The plot of land is stewarded by a nearby hospital, so they've named all of the trails after medical terms.
As you can see above, this makes for what I'm pretty sure are history's best trail markers ever. In addition to the ones shown on those signs, there were also the Punctured Lung Trail, the Coronary Trail, the Stress Test Trail, and the Mood Disorder Trail, along several others (you can see the full assortment here).
As far as we could tell, the trail names didn't bear any relation to the trails themselves (i.e., you'd be no more likely to suffer a broken clavicle on the Broken Clavicle Trail than on the Concussion Trail). It all felt random and hilarious, like an absurdist theme park from The Simpsons or something.
During the drive home, we tried to think up other good trail names they could use if they expanded their territory (or that we could use ourselves if we ever get to run things there). Among our favorites:
• The Bunion Trail
• The Hysterectomy Trail
• The Low T Trail
• The Whooping Cough Trail
• The Hypochondria Trail (sort of meta)
• The Gout Trail
• The Ruptured Spleen Trail
• The Yeast Infection Trail
• The Shingles Trail
Plus there were probably several more good ones (and quite a few bad ones) that I'm forgetting. We also thought it would be good to have a few shorter/easier trails for kids — the Sniffles Trail, the Skinned Knee Trail, and so on.
I hope to have more to say about the rest of the trip later this week.
• • • • •
• • • • •
The Ticker
By Jamie Rathjen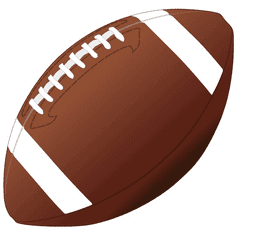 Football News: Left over from Saturday: Boise State wore script "Broncos" helmets for what David Augusto says is the first time since 2001. … Injured Kentucky quarterback Terry Wilson wore a No. 22 jersey on the sidelines in memory of one of his predecessors in the position, Jared Lorenzen (from Josh Hinton). … You can see some Canadian college uni tracking from Wade Heidt in yesterday's comments. … Blaise D'Sylva's school of the day for yesterday from his helmet collections was UAB. … Clint Richardson's former high school, Hazel Green (Ala.), wore pink jerseys.

Hockey News: Junior hockey teams that wore pink accents this weekend included the OHL's Flint Firebirds and the WHL's Everett Silvertips (from Wade Heidt). … Wade also tells us that the Saskatchewan Junior Hockey League's La Ronge Ice Wolves, whose colors are teal, black, and white, have teal pants. That's something that the Sharks, who have only ever worn black pants, haven't done. … New alternates for Northern Michigan (from Jerry Nitzh). … Since 2015, the Staples Center has had a "most sold out performances" banner for musician Taylor Swift. Kings fans apparently think it put a curse on their team, so it's being covered up for their games. … Former soccer keeper Petr Čech, who recently made his debut as a pro hockey player for the Guildford Phoenix of the NIHL, is wearing a mask that pays tribute to his former soccer teams, Chelsea and Arsenal.

Basketball News: The Celtics' Turkish center, Enes Kanter, who is publicly critical of his home country's president and cannot travel outside of the U.S. safely as a result, wrote "freedom" on his sneakers yesterday (from James Gilbert). … Reader Robert Anderson noticed what he calls faint "red stitching" on the blue portion of the Wizards' red jerseys — not the armhole piping, but it looks like it's underneath the blue.

Soccer News: Several European sports newspapers are reporting — which means you should take this with a grain of salt — that Cristiano Ronaldo's first club, Sporting Clube de Portugal, are open to selling him their stadium's naming rights. An enterprising person had already updated the Sporting CP Wikipedia page yesterday (from Kaden Jacobs). … West Ham United's women's team wore their pink shirts for the first time — with claret shorts and socks. … Florida's women's team wore mono-pink. … No picture, but Ed Żelaski tells us that an unidentified Kazakhstan player suffered a shirt tear in their European Championship qualifier against Belgium yesterday. … San Marino — an otherwise sky blue and white team — wore unexplained maroon clash shorts for yesterday's Euro qualifier against Scotland. … The U.S. men's national team played a CONCACAF Nations League game at D.C. United's Audi Field on Friday, so of course some visible Adidas logos on pictures of DCU players were covered up (from Geoff Holm). … Cross-listed from the hockey section: Former Arsenal and Chelsea keeper Petr Čech, who recently made his debut as a pro hockey player for the Guildford Phoenix of the NIHL, is wearing a mask that pays tribute to his former soccer teams.

Grab Bag: Women's college teams outside of soccer that wore pink this weekend included Colorado State volleyball and American, James Madison, Maryland, Penn State, and UConn (goalies as well) field hockey. The Big Ten Network TV graphics also played along with Penn State. … Reader Eric Bangeman's son's rugby union club wore Pinktober socks. … New kits to go with a new crest, which we had yesterday, for Australian Football League team Port Adelaide. … A United Airlines plane has a throwback livery that was originally for the airline's 85th anniversary in 2011. You can see more pictures here (from Joshua Tretakoff).
• • • • •
It's that time of the year again: I'm attending the first day of the Puppy Bowl taping today, and then I have a meeting after that, so I won't be checking the site very much. Please play nice while I'm away. Thanks. — Paul