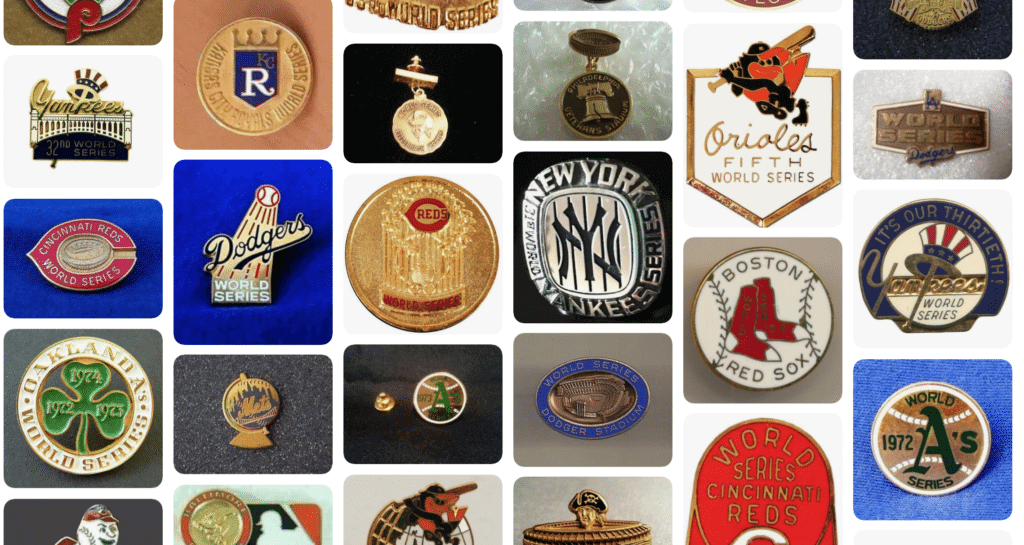 The National League Championship Series begins tonight, with the American League following tomorrow. Soon it'll be time for the World Series, which means it will also be time for a special little corner of athletics aesthetics to make its annual appearance: World Series press pins.
World Series press pins date back to 1911. The story goes that friends of New York Giants manager John McGraw were were overcrowding the press box. The newly formed Baseball Writers of America decided that admittance would be limited to credentialed members of the press, so some sort of visual identifier was needed — a pin. Early versions of the pins included ribbons, but bright enamel pins with clever, colorful designs soon became the norm, with both teams participating in the Series producing their own designs each year.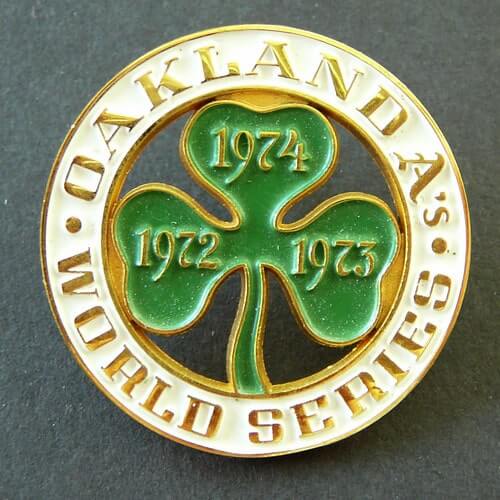 Over the years, the pins have become their own little category of memorabilia. They're now distributed to VIPs as well as to media members, but they're still produced in very limited quantities, so they're highly prized among collectors.
On at least one occasion, press pins have even been worn during a game. A's outfielder Reggie Jackson wore the team's 1974 pin (shown at right) on the waistband of his pants during Game Three of the '74 Series, and NBC's TV broadcasters even picked up on it, as you can see here:
Anyway: I love creating Uni Watch versions of classic sports collectibles — pennants, gumball helmets, and so on. When our enamel pin turned out to be a much bigger success that I expected (it's sold over 200 units in less than three months), that got me thinking: Could we do a Uni Watch press pin?
I decided to talk to longtime Uni Watch pal/ally Todd Radom, who's a big press pin fan (he has a nice collection of them) and is also, of course, a great designer. He liked the idea, so we had a few back-and-forths, a bit of brainstorming, and eventually came up with a new product that I'm proud to show you today — behold the first Uni Watch press pin (for all the photos that follow, you can click to enlarge):
Pretty sweet, right? I really like it. It's nice that this pin, unlike the other one we've been selling, includes the words "Uni Watch."
As for the other wording, we've had a BFBS T-shirt with "BFBS" on the back, an ugly sweater T-shirt with "Ugly Sweater" on the back, and so on, so I thought our press pin should say, "Press Pin." Now, you may be thinking to yourself, "Er, I'm not a member of the press." But you are! All of you who scrutinize the uni-verse are essentially part of the Uni Watch media enterprise, whether you send in your Ticker submissions or even just raise uni awareness by discussing uniforms with your friends. You've all helped make Uni Watch what it is today, and you're all fully deserving of wearing a Uni Watch press pin.
A few things you need to know about this project:
1. The pin measures 1″ across. It has a standard butterfly clutch on the back, just like our other pin.
2. Unlike our other pin, which is soft enamel, this one is hard enamel. That means the surface is flat, not ridged/textured. I like both styles, but I wanted to go with hard enamel for this design.
3. We have produced this pin in a numbered edition of 200. Each pin has a unique number laser-etched on the back: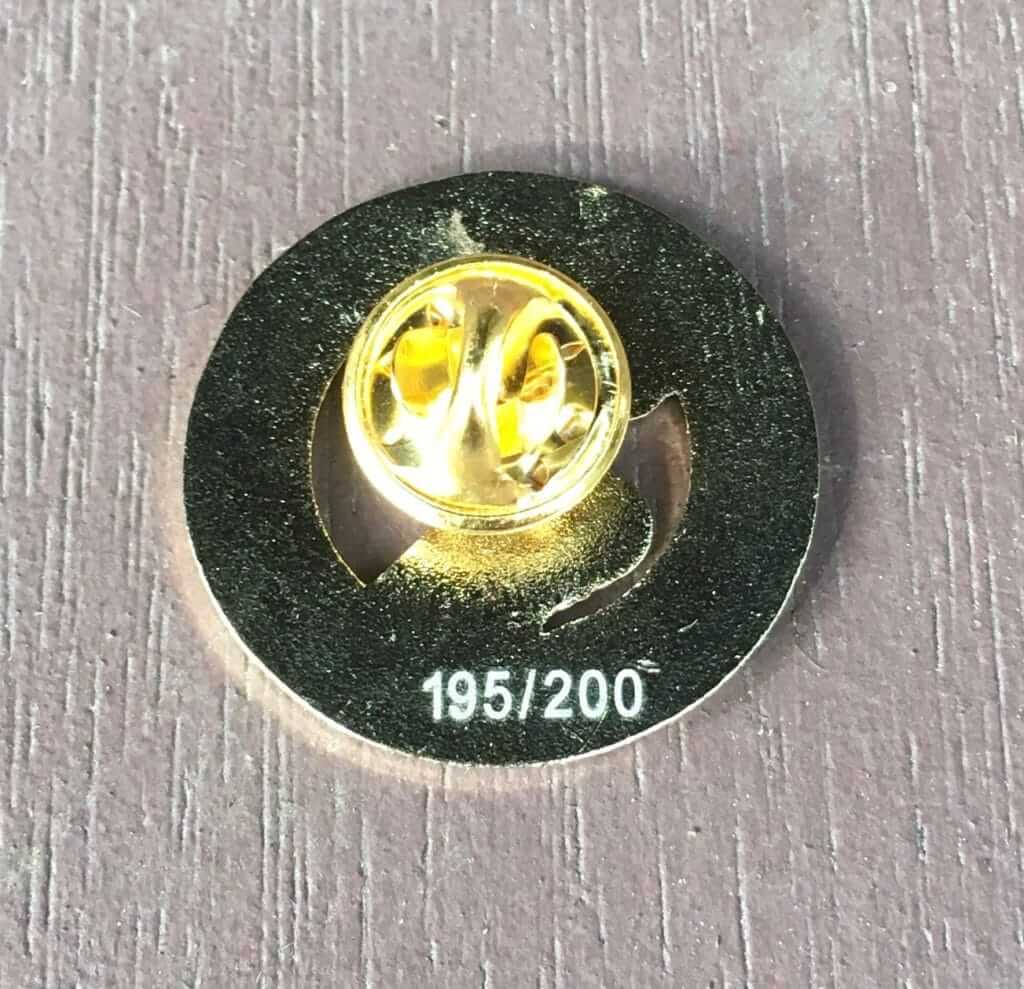 When I received the 200 pins from the manufacturer, I took out 10 for myself and 10 for Todd (those were all chosen at random — I didn't hunt for pin No. 1 or anything like that) and then sent the remaining 180 pins to Teespring, where they are now available.
4. These are priced at $13.99. That's more than our other pin ($8.99), for a variety of reasons: Hard enamel costs more than soft enamel; the cutout areas of the design increased the cost; having the numbers etched onto the back increased the cost; and since Todd and I are splitting the profits, I wanted the project to be worthwhile for both of us. I think it's worth it!
5. Just as new World Series press pins are produced each year, Todd and I plan to create a new Uni Watch press pin each October, right around the time of the World Series. They won't all necessarily have "Press Pin" printed on them (maybe next year's will simply have "Press," just like lots of the Series pins have had), and we won't necessarily limit the production to 200 pins (if this year's is popular, we'll consider doing a larger run next year), but we like the idea of creating an annual ritual around this project.
Frankly, it kills me to know we'll have to wait another whole year before we can do another one of these. I have lots of design ideas, and it's my nature to pursue things somewhat obsessively once they get under my skin (you should have seen how I threw myself into the gumball project once the idea took shape in my head), but maybe the long wait will teach me something about patience, or discipline, or something similarly unfun.
For now, though, I'm very happy with this new pin. And look — it fits right in with these real World Series pins from Todd's collection:
Doesn't that look nice?
Again, the new pin is available here. Enjoy.
• • • • •
• • • • •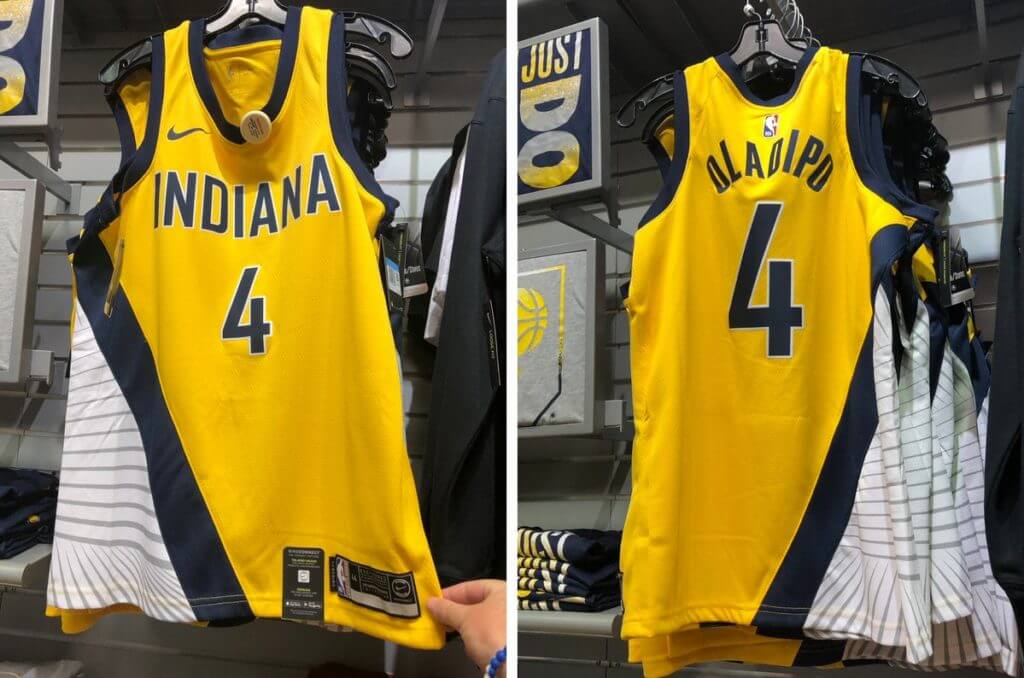 Photos by @Shae_Orr94: click to enlarge
Yet another NBA retail leak: Judging by the photos shown above, which began circulating yesterday afternoon, the Pacers are planning a new alternate that mixes their old FloJo design with some elements of their current "We Grow Basketball" branding.
This isn't really a throwback or even a fauxback. Maybe a Floback? A Flauxback?
Update: They've now been officially announced.
• • • • •
• • • • •
Electric football update: Yesterday I showed you the custom electric football figurines that Uni Watch contributor Gene Sanny painted for the opening sequence of last night's Giants/Patriots game. In case you missed it (or just want to see it again), the resulting video production is embedded above. Big congrats to Gene — enjoy the moment, buddy!
• • • • •
• • • • •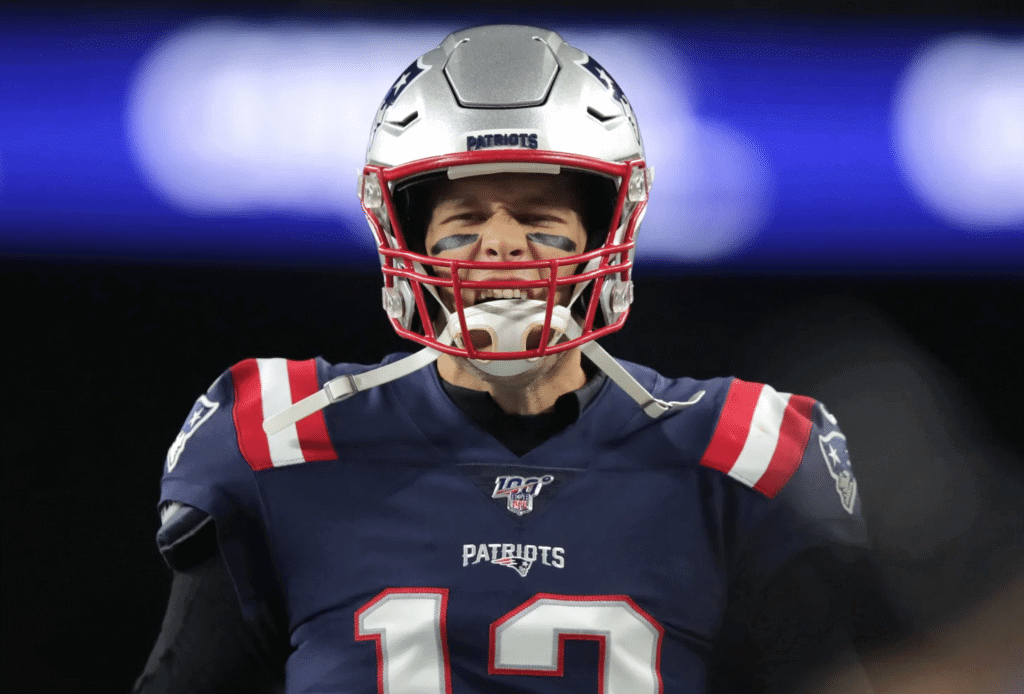 Click to enlarge
And speaking of that Giants/Pats game: Patriots quarterback Tom Brady did something last night that he hadn't previously done all season long: He wore a jersey rendered in Nike's current tailoring template and with the NFL 100 logo on the collar. All of his previous jerseys this season have either been the old, outdated template (Weeks 1, 2, 3) or didn't have the centennial logo (Weeks 4, 5).
Here's a week-by-week look at Brady's collar stylings so far this season (click to enlarge):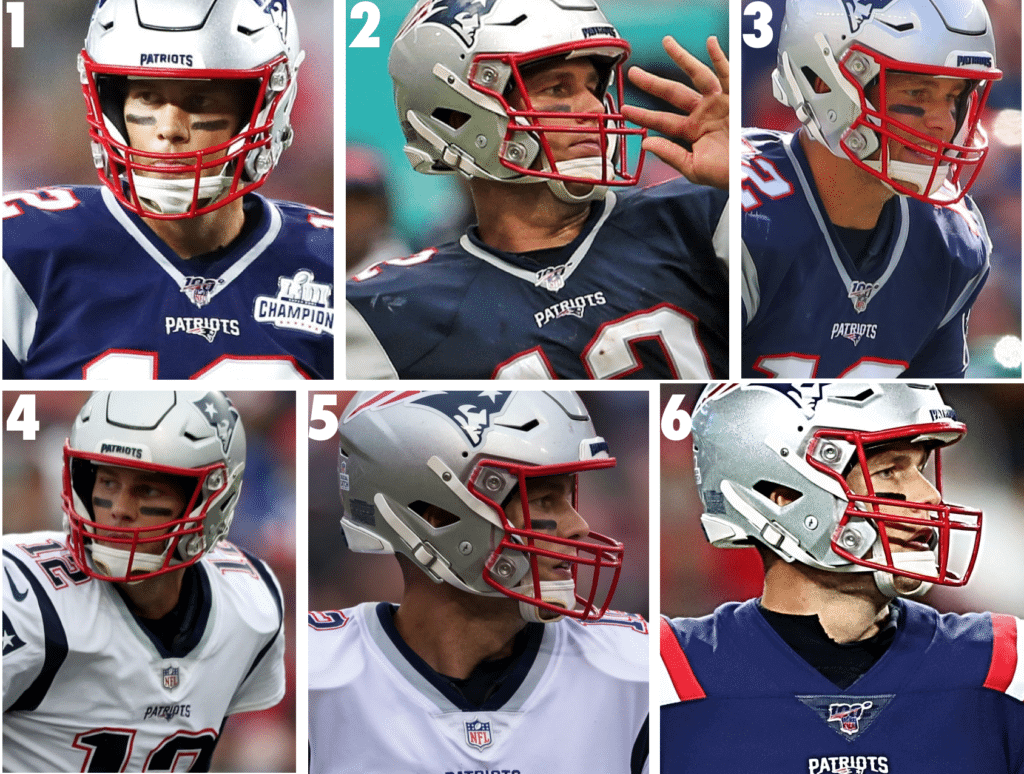 • • • • •
• • • • •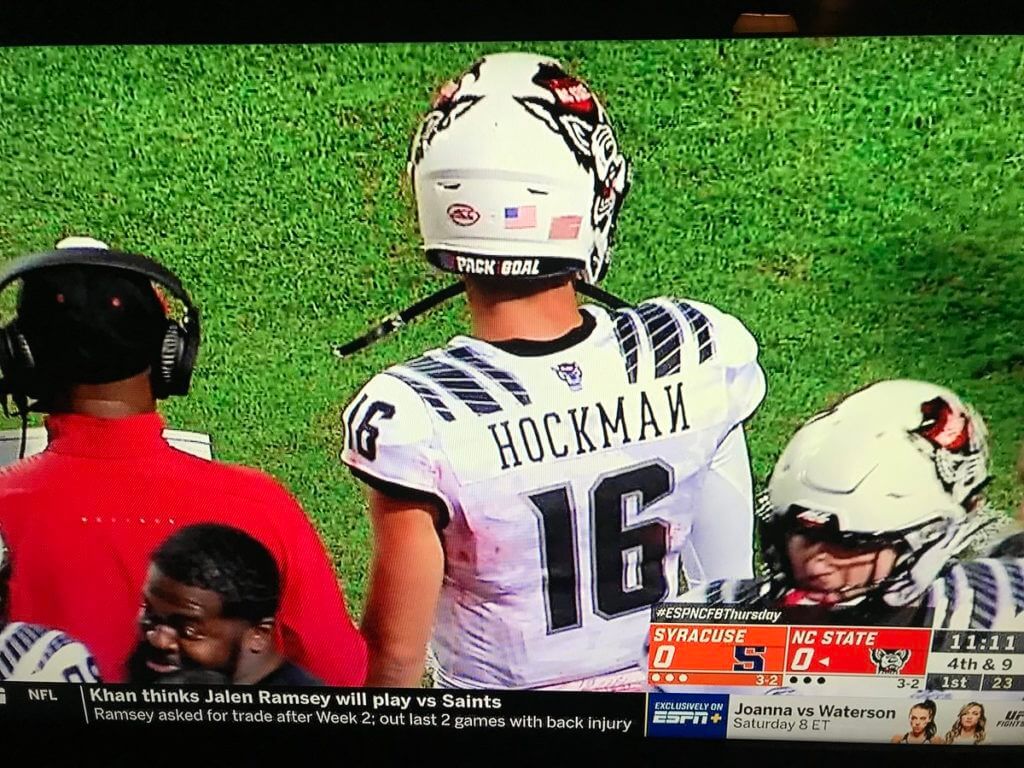 Screen shot by Dean Dease; click to enlarge
Oopsie: NC State quarterback Bailey Hockman was victimized by a classic NOB glitch last night, as someone applied his N backwards. It's sort of endearing, maybe even comforting, to see how all of Big Uni's multi-jillion-dollar machinations are ultimately dependent upon — and can be undone by — the lowest-paid grunt who sews on the letters.
• • • • •
• • • • •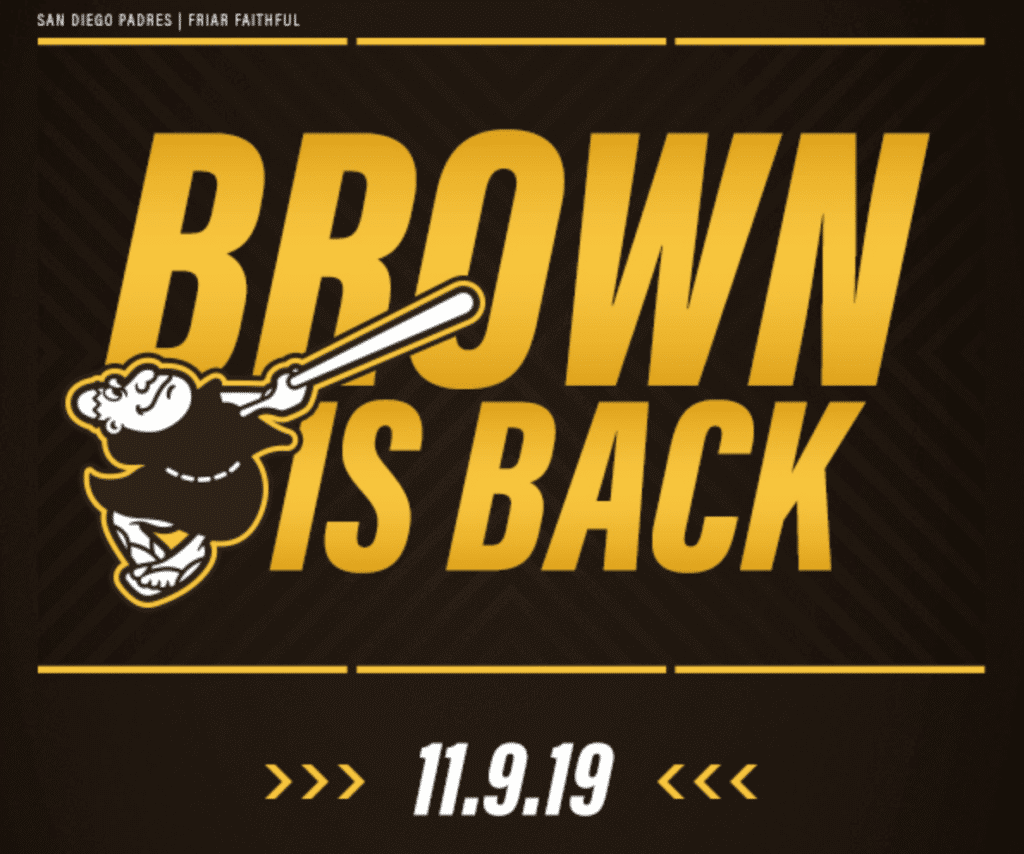 I hear San Diego is nice in November: Got a nice note yesterday from the Padres, inviting me to the unveiling of their new brown-centric uni set on Nov. 9.
Frankly, I'm usually happy to cover uni unveilings remotely. I can often work more effectively by watching the video stream of the event and looking at photos being posted online instead of dealing with the hectic scrum of the unveiling scene.
But some unveilings are worth being on hand for in person, and the Padres going back to brown is definitely one of them. So I think I'll ask my Sports Illustrated editor if I can fly out to — oh, right, I don't work for SI anymore. Hmmm.
If any sports, design, culture, or general-interest editors are reading: Would you like me to send me to San Diego so I can cover this event for you? If so, please get in touch. Thanks.
• • • • •
• • • • •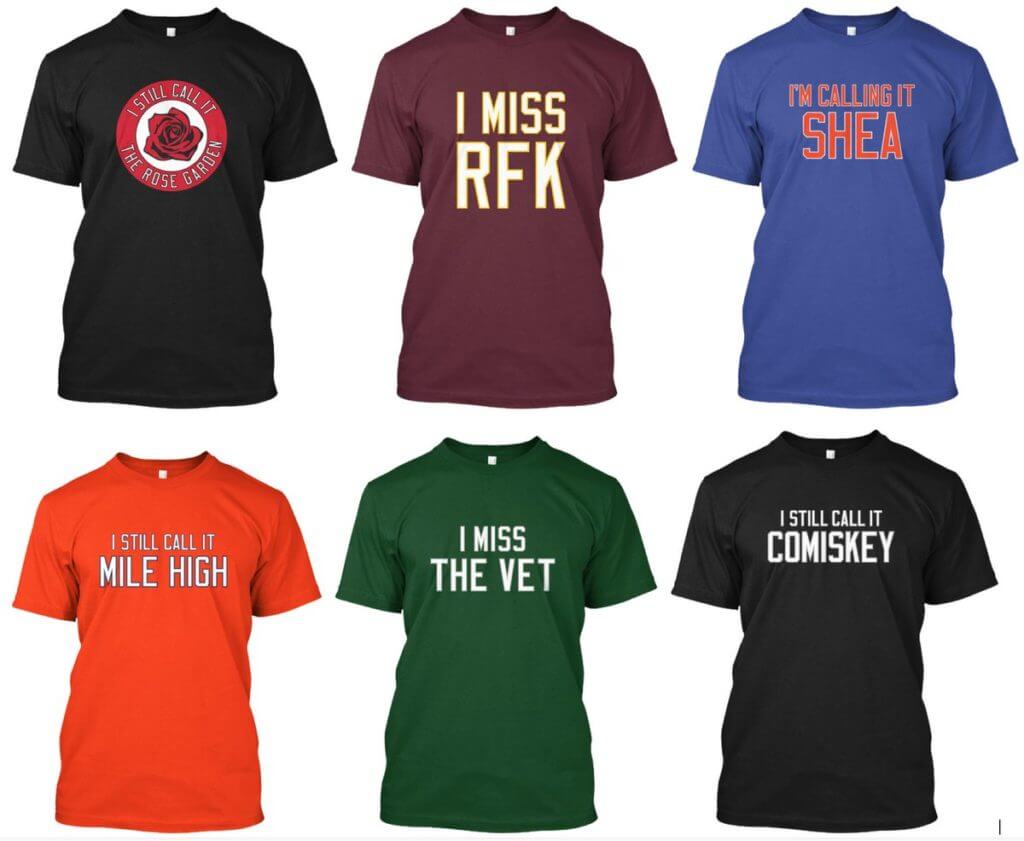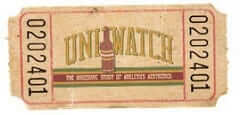 ITEM! One-day Naming Wrongs raffle: An anonymous benefactor has generously offered to pay for a Naming Wrongs T-shirt that I can raffle off.
This will be a one-day raffle. To enter, send an email with your name, shipping address and choice of T-shirt design and size (anything from the the Naming Wrong shop is eligible) to the raffle address by 8pm Eastern tonight. One entry per person. I'll announce the winner on Monday.
Meanwhile, the winner of this week's Vintage Brand raffle is Christopher LaBella. Congrats to him, and thanks to all who entered.
• • • • •
• • • • •
The Ticker
By Anthony Emerson

Baseball News: Oriole Park has taken down a vinyl welcome sign as they begin to repaint the brick original (from Matthew Mallen). … To follow up on our champagne celebration conversation from a few days ago, reader David Dahl wrote in: "The last few years the Cubs radio broadcasts have had a live read (the announcer simply reading an ad during the game) calling a sponsoring liquor store chain 'the official champagne provider of the Chicago Cubs.'" Wow. … Here's an article about how doubleheaders work behind the scenes at Yankee Stadium (from @brianspeaksnow). … Great article about a former seamstress for the Astros and Colt .45s who's now 101 years old (from Ignacio Salazar).

NFL News: According to the Gridiron Uniform Database, the Browns and Broncos will be going color-against-color in Week 9, with Cleveland in their Color Rash unis (from Trey Volk). … The score bug for last night's Giants/Pats game was really inconsistent, with the Patriots' color alternating between red and blue (from multiple readers).

College Football News: Conference USA's championship now has a presenting advertiser (from @ThatRodneyGuy). … Louisville is going black-white-black tomorrow (from M. Brinston Berry). … Maryland is going flag-red-red on the road against Purdue this weekend (from Matt Shevin). … UNLV is going silver-white-white against Vandy. … Southeastern is going white-yellow-white against UIW (from Brody McDaniel). … Wisconsin has revealed their latest Camp Randall renovation plan (from Brian Kerhin).

Hockey News: Here's what Hurricanes G James Reimer's pads and gloves will look like this season (from Oleg Kvasha). … Also posted in the soccer section: Former Arsenal and Chelsea keeper Petr Čech is starting on his post-football career by becoming a part-time goalie with the Guildford Phoenix of Britain's NIHL, whose jerseys are based on an old Thrashers template and whose logo is an obvious Flames ripoff (from Charles Garnsey). … New sweaters for the ECHL's Utah Grizzlies (from Brian Prutch). … New logo for the 2020 Stadium Series game between the Kings and Avs. … Canucks LW Micheal Ferland was wearing pants with the old stick-in-rink logo, while his teammates were wearing the new one (from Wade Heidt).

Hoops News: New unis for Iowa women (from Jay Wright). … New unis for South Dakota State men (from Nick Hartness). … New court design for Syracuse (from multiple readers).

Soccer News: Hallelujah: Chevrolet is "highly unlikely" to renew their shirt advertisement deal with Manchester United, and the club is currently in discussions for a new shirt advert for when the contract expires in 2021. … Sigh: LAFC will have the first sleeve advertiser in MLS history. More details here (from Ed Żelaski and Josh Hinton). … Also from Ed: Hertha Berlin will release a special shirt honoring the fall of the Berlin Wall sometime today. It will be worn on Nov. 9. … One more from Ed: Ukrainian side Shakhtar Donetsk are coming out with their own fashion line. … Cross-posted from the hockey section: Former Arsenal and Chelsea keeper Petr Čech is starting on his post-football career by becoming a part-time goalie with the Guildford Phoenix of Britain's NIHL, whose jerseys are based on an old Thrashers template and whose logo is an obvious Flames ripoff (from Charles Garnsey). … Uhlsport have some quasi-Adidas stripes on the shoulders of Iran's kits (from Josh Hinton). … Bleacher Report posted a few mock-ups of what international kits would look like if they took their design cues from national flags (from @TheSportzBucket).

Grab Bag: New logo and identity for the World Fencing Championships (from James Gilbert).