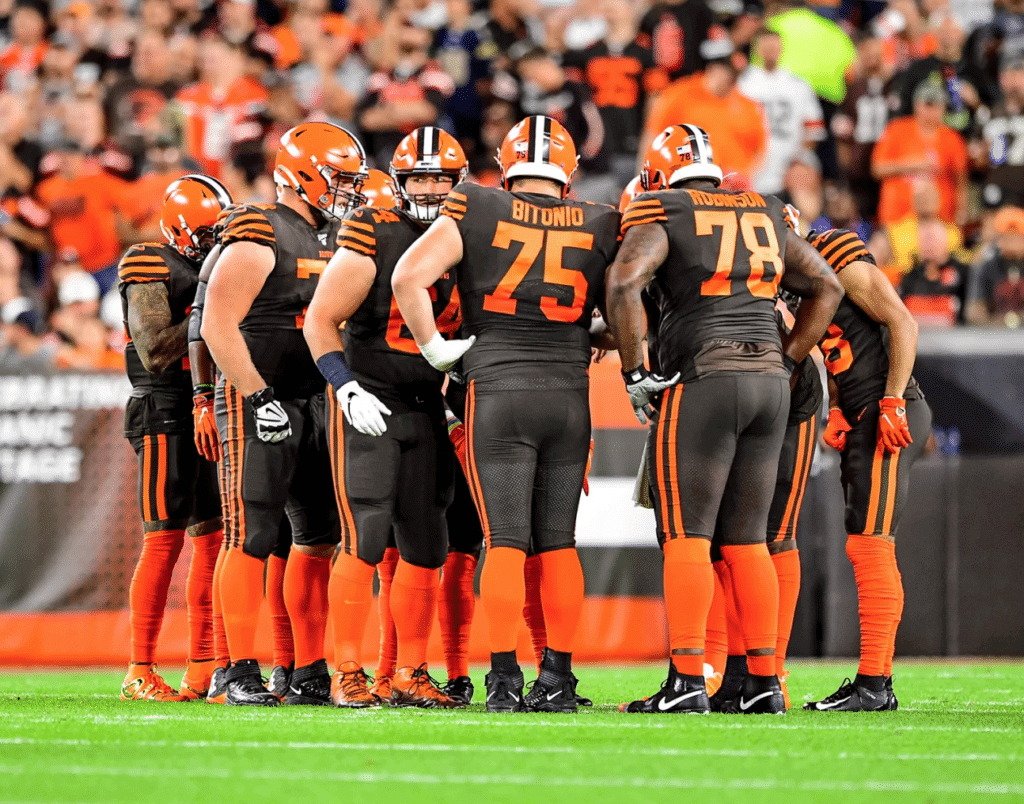 Click to enlarge
Happy autumn! The Browns wore their mono-turd combo with orange socks last night — definitely an improvement over the brown socks, although not enough to make this a good uniform, at least in my view: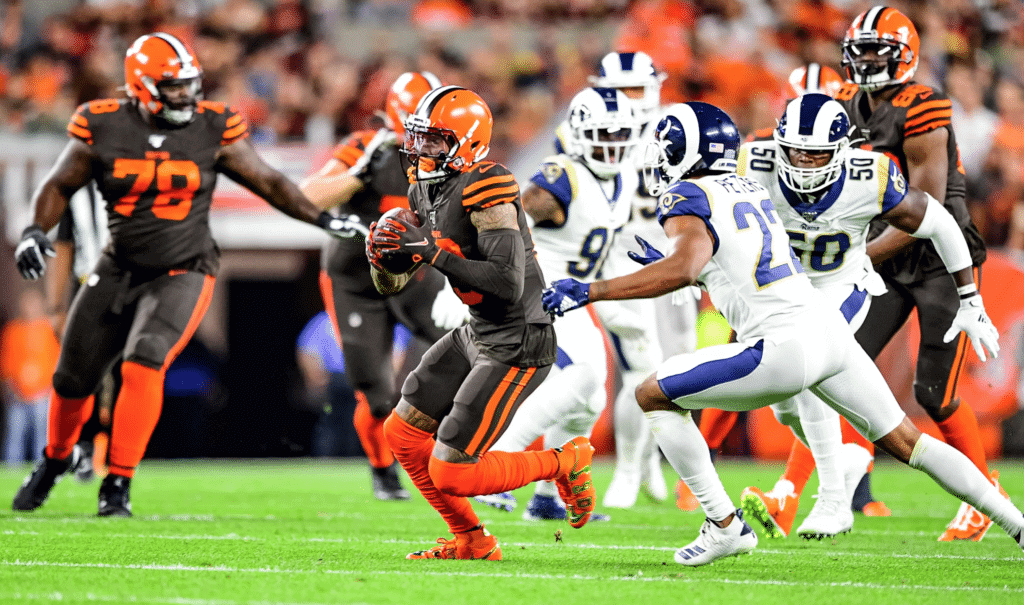 Still, baby steps, right?
In other developments from around the league yesterday:
• The Packers wore their throwbacks. Inexplicably, they are still wearing the green facemasks, even though navy or grey would make more sense. I've asked them about this many times — no response (click to enlarge):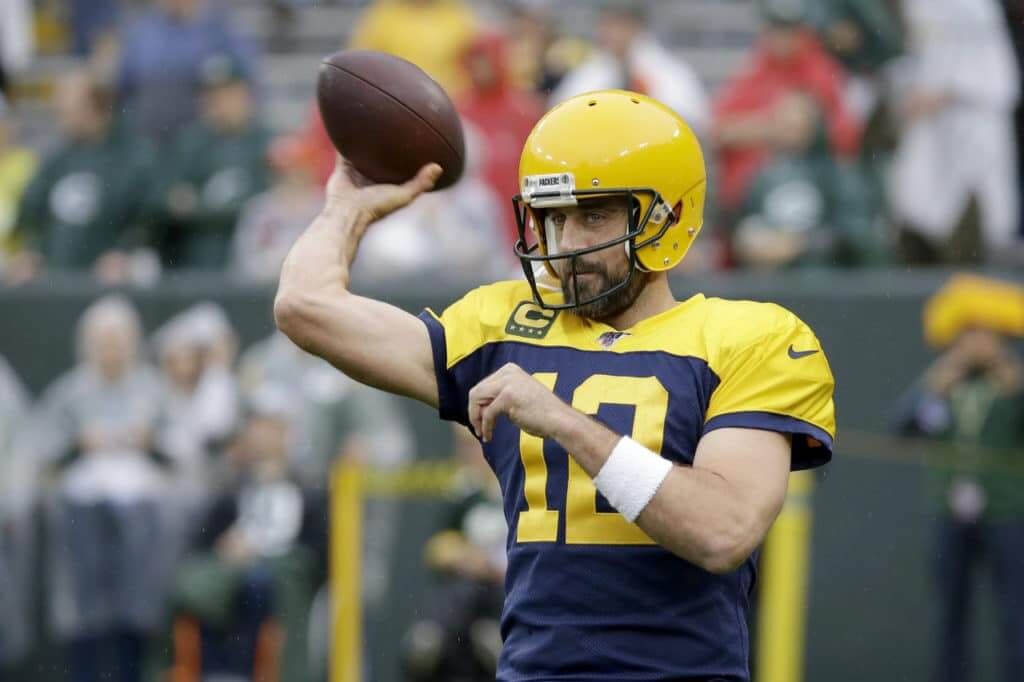 • Tough-looking game in Dallas, as the Dolphins and Cowboys went mono-aqua vs. mono-white: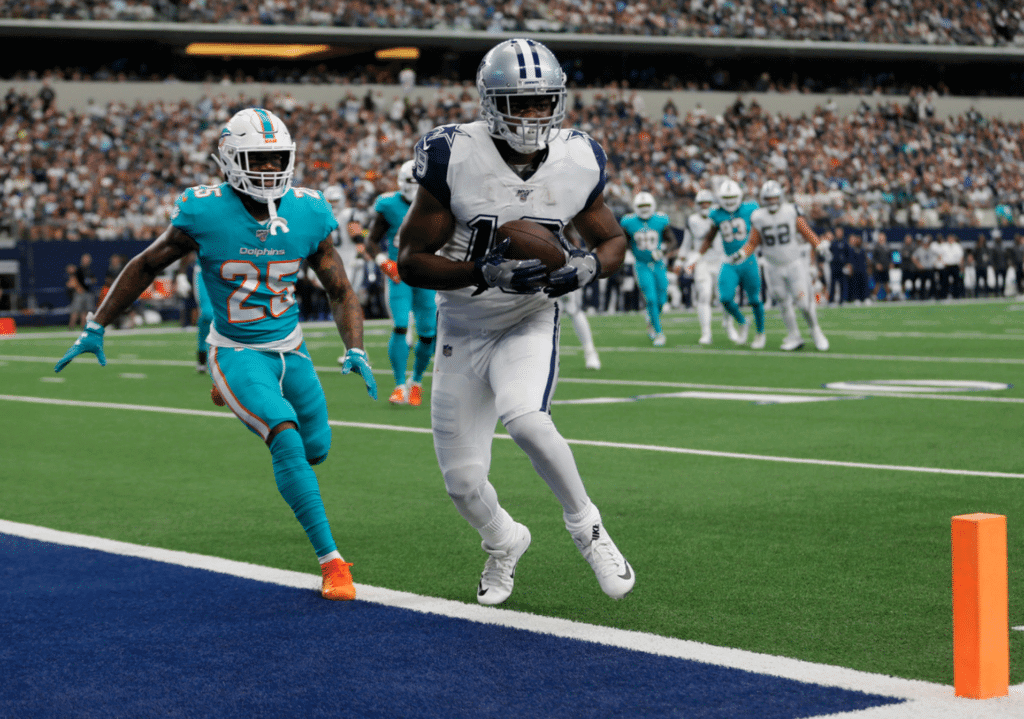 • The Jets went white-over-green — the first time we've seen their new set in that configuration. Their best combo so far, methinks, even with the dreaded leotard effect: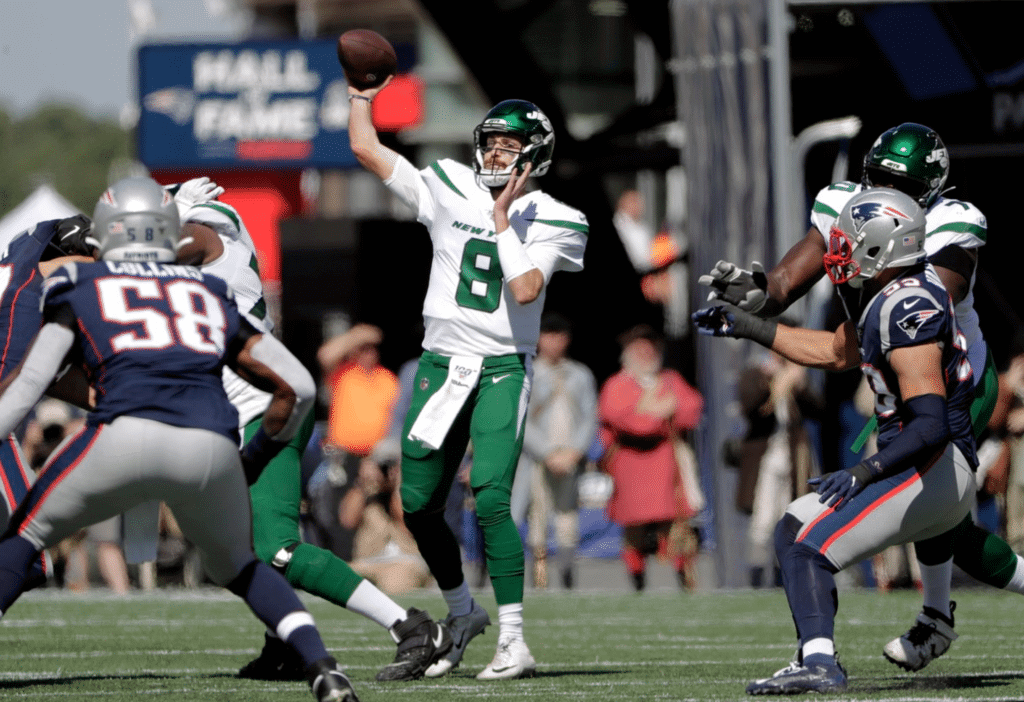 • The Saints wore their gorgeous Color Rash mono-whites: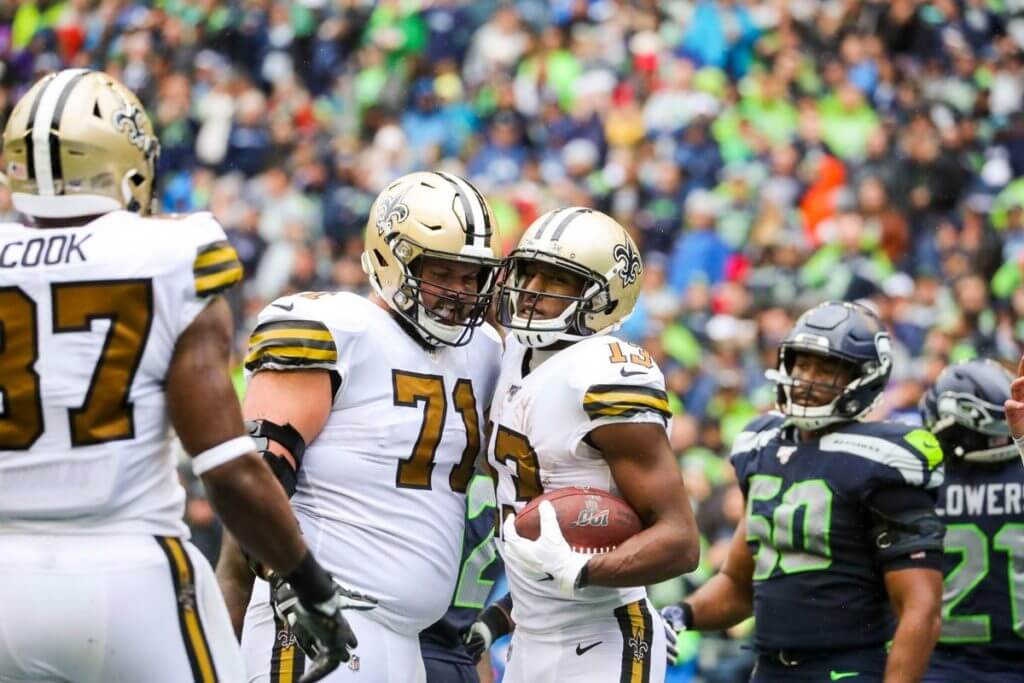 • The Chiefs had a throwback field design for their home opener (and legendary groundskeeper George Toma fully approved):
• The Browns painted/patterned their Dawg Pound seats to match their helmet stripe (they used to be solid-orange):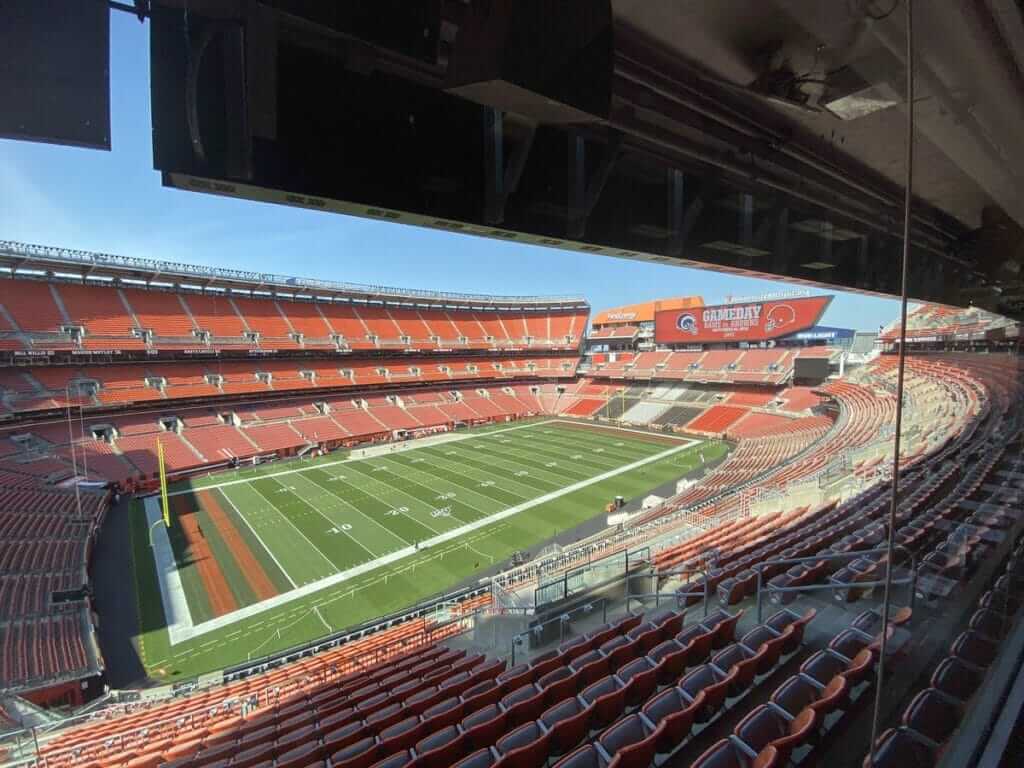 • After the Rams beat the Browns last night, Rams linebacker Clay Matthews wore his father's old Browns jersey:
Clay Matthews puts on his dads jersey after the Rams win. pic.twitter.com/17yggxLlro

— Lindsey Thiry (@LindseyThiry) September 23, 2019
• Seahawks defensive lineman Ziggy Ansah wore three different shoes during Seattle's game against the Saints:
@UniWatch
Ziggy Ansah wearing his 3rd pair of shoes this game

Lime green
white
lime green/blue combo#NOvsSEA #SaintsGameDay #Seahawks #SEAHAWKSNATION #WhoDatNation #WhoDat pic.twitter.com/KXSNRfMRkS

— (@NFL_Journal) September 22, 2019
• Something — I'm not sure what — was going on with Broncos quarterback Joe Flacco's helmet:
@UniWatch wire coming out from Flacco's helmet pic.twitter.com/gMOy7fIXMN

— Ryan Walters (@RyanWalt525) September 22, 2019
• Three teams wore white at home: the aforementioned Cowboys, along with the Bills and Chargers.
———
As for my weekly picks for the best- and worst-looking games of the week, you can find those over at SI.com.
• • • • •
• • • • •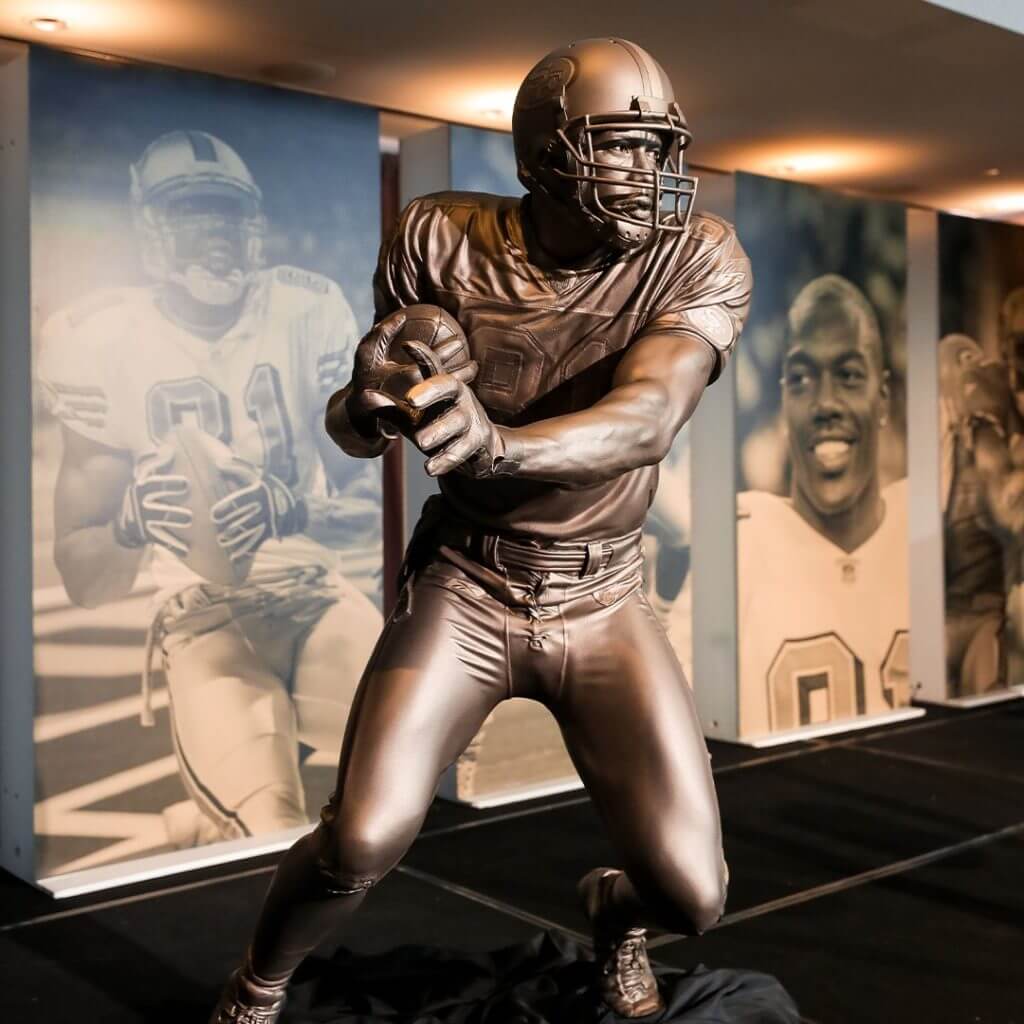 Click to enlarge
Oops: The 49ers made a surprising mistake when inducting former wideout Terrell Owens into the Niners Hall of Fame on Saturday. As you can see in the photo above, the helmet striping on his statue is the old-school red-white-red pattern — not the black-red-black that the team wore during Owens' tenure as a Niner. Here's a comparison: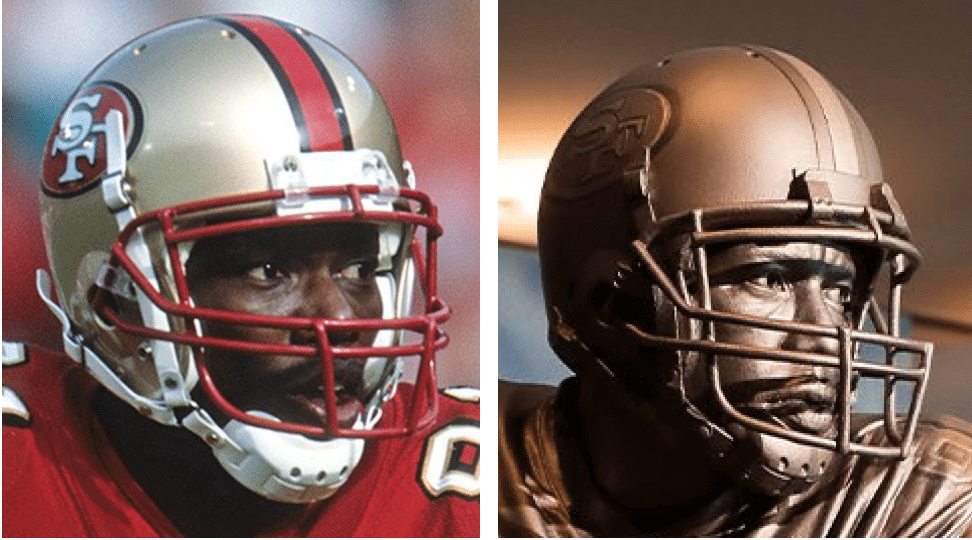 Even worse, if you scroll back up to the first photo, you can see that they have an action shot showing the proper helmet right behind the statue. Ugh.
According to the Gridiron Uniform Database, the 49ers did wear the helmet shown on the statue one time as a throwback during Owens' time with the team, in 2002. But if that's what the statue is supposed to be showing, then the jersey and pants are wrong.
Come on, Niners — be better than this!
(My thanks to Samuel Lam and Taylor Eigsti for bringing this one to my attention.)
• • • • •
• • • • •
Click to enlarge
Gumball helmet update: The first round of Uni Watch gumball helmets should ship out today, so those of you who've ordered them should watch your mailboxes. I don't mind saying that I'm really happy with the way this project has turned out, and I'm excited for those of you who will be receiving these items!
In case you missed it last week, here's how I made the gumball helmets. Full details on how to order them, and how many I still have available, can be found here. Thanks.
• • • • •
• • • • •
ITEM! Additional patch incentives: In case you haven't figured it out by now, I'm still sitting on a fairly large supply of Uni Watch 20th-Anniversary Patches. On Friday I announced that I was reducing the price to only $3.99 (and immediately sold 10 patches — thank you!). Now I've decided to add something else to the mix.
So: While supplies last, I will throw in a free anniversary patch for anyone who orders a Uni Watch membership card or a Uni Watch gumball helmet.
Not a bad deal, right? Okay — end of sales pitch.
• • • • •
• • • • •
The Ticker
By Jamie Rathjen

Baseball News: The Reds' season-long throwback program finally came to an end yesterday as they wore their 1999 design (from Christopher Schleuter). … Cardinals OF Harrison Bader had his helmet logo coming off yesterday (from multiple readers).
.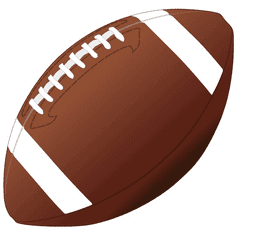 Football News: A Chiefs superfan/season ticket holder known as the "puppet lady" brings puppets wearing the Chiefs' and the opponent's helmet to most home games (from Steve Sher and the multiple readers who replied to him). … Left over from Saturday: New white jerseys for Troy (from Clint Richardson). … In The Citadel and Charleston Southern's matchup, one Charleston Southern player was missing a helmet number, while a Citadel player was wearing what looks like soccer socks (from @willchitty4). … Reader Paul Ricciardi tells us that Division II West Chester looks just a bit like LSU, especially because LSU wore purple this weekend. … Yesterday's school of the day from Blaise D'Sylva's helmet collection was Maryland. … Alex Kalscheur sent us the BFBS uniforms for his high school, Mount Horeb (Wis.) HS. … You can see Canadian college uni tracking from Wade Heidt in yesterday's comments.

Hockey News: Some items from the opening week of major junior hockey from Wade Heidt: the OHL's Barrie Colts have new 25th-anniversary jerseys, as well as a new white jersey. … Some WHL teams that have made changes for the major junior leagues' new jersey template include the Calgary Hitmen (white), who removed most of their black accents compared to last year, and the Moose Jaw Warriors, who have a new shoulder patch/helmet decal. … Now to Junior A with Wade: last week, we had the Saskatchewan Junior Hockey League Estevan Bruins' white jerseys with white pants. They have a yellow-on-yellow version as well. … Alabama's club team memorialized a fallen Tuscaloosa police officer by wearing blue tape on their socks this weekend (from Griffin Smith).

Soccer News: New third kit for English Championship team Millwall and a third shirt for Premier League Aston Villa. … Scottish team Livingston have a "Spaghettihad" hashtag on the back of their shirts below the numbers, in reference to their stadium's advertiser, which is an Italian restaurant chain, as well as Manchester City's stadium advertiser. They're not, however, the first team to wear a hashtag. … Staying in Scotland, Rangers wore black armbands on Thursday in memory of former player Fernando Ricksen, who passed away last week. … A player on Northern Irish team Institute recently wore a blood shirt that had no name, number, ad, crest, or sleeve patches (from Denis Hurley). … The top tier in Wales — excluding the teams that play in England — was renamed to Cymru Premier from the Welsh Premier League, and has a new logo.

Grab Bag: A Japanese rugby union fan known as Bak-san is wearing the jerseys of all 20 Rugby World Cup teams painted onto his body, starting with Argentina, Japan, and Namibia (from @ohhhsourry). … Speaking of the Rugby World Cup, you'd think maroon/white vs. red/white would be a color clash, but apparently not. … As in previous editions of the Rugby World Cup, teams that have won the tournament before — Australia, England, New Zealand, and South Africa — wear a sleeve decal. … The AVP Pro Beach Volleyball Tour, the primary American competition in the sport, has a new ball (from Jeremy Brahm). … India's field hockey teams wear cap numbers below the crest, prefixed with "M" for men and "W" for women, though as not every player has one it's unclear how they're assigned.
• • • • •
• • • • •
What Paul did last night yesterday: I've been saying for weeks now that it's stupid to waste a gorgeous September Sunday watching football. That's why I spent mine in the local emergency room, which is where I landed after a bike accident that happened around noontime yesterday.
The short version: I swerved to avoid a car door that was opening directly in my path, lost my balance, clipped the side-view mirror of the next parked car with my right arm (ripping the mirror right off of the car), and then crashed into the back of the next parked car after that. Was worried about my arm, which swelled up pretty badly (it's the same one I broke seven years ago, so I was concerned about a repeat performance), but the X-rays were negative. Ended up with a black eye and a lot of stitches on my temple and nose, which at the end of the day is no big deal. I won't be winning any beauty contests this week, but that was also the case last week, so there you go.
It could've been a lot worse. I was wearing my helmet, there were several good samaritans who came to my assistance, the EMTs were great, and my bike came out unscathed. I plan to take it on my daily ride in Prospect Park today, just like any other day.
Even the guy who doored me was super-nice about everything. That doesn't excuse what he did, of course, but at least he wasn't a jerk. I told him what I'll now tell all of you: Please-please-please learn to do the Dutch Reach. It's a simple, tech-free maneuver that can save cyclists' lives.
However you spent your Sunday, hope it had less drama than mine! — Paul