Greetings!! It's good to be back after my August break. Big thanks to Phil and the rest of the Uni Watch team for keeping the site running smoothly during my annual month-long break from blogging.
Today is the day after Labor Day, which by longstanding custom is the day when we present the annual Uni Watch NFL Season Preview. This year, for the first time, it is appearing under the Sports Illustrated banner. You can check it out here.
Also, in case you missed the College Football Season Preview last week, that's available here.
Meanwhile, here's some of what I was doing over the past month, along with some announcements, reminders, and recent developments (forgive the redundancies on some of these, but I'm assuming there are some readers who didn't pay close attention to the site during August):
1. I took a vacation: The Tugboat Captain and I spent 10 days in Ireland. I'll have a full travelogue shortly, but here's a very abridged version:
2. I appeared on a quiz show: On Aug. 21, I guest-wrote an appeared on a uni-themed episode of the app-driven trivia game HQ Sports. You can see the episode here (and there's lots of additional info about my appearance on the show here):
3. We now have a Uni Watch pennant: We've partnered with the great Oxford Pennant to create the first-ever Uni Watch pennant! Not sure why I never thought of doing this before — it's a natural. And man does it look great (click to enlarge):
You can order the pennant here.
4. We also have a new mini-helmet: As you may recall, back in 2017 I teamed up with Rocker T Collectibles to create a Uni Watch mini-helmet. We've now collaborated on a new design, and I love how it's turned out (for all of these pics, you can click to enlarge):
You can order this mini-helmet here. For an extra charge, you can also opt to have it autographed by me and/or Phil (the extra $$ is for the additional shipping to send the item to us before sending it to you). Phil will be using a gold Sharpie, while I'll be using silver, because I've always liked silver better than gold.
Meanwhile, if you missed out on that earlier mini-helmet from 2017 and want us to bring it back, let me know. If there's enough demand, I'll ask Rocker T about making it available again.
5. We also have a new camouflage shirt: Tired of all the lame-o teams dressing their players in camouflage clown costumes? So am I (click to enlarge):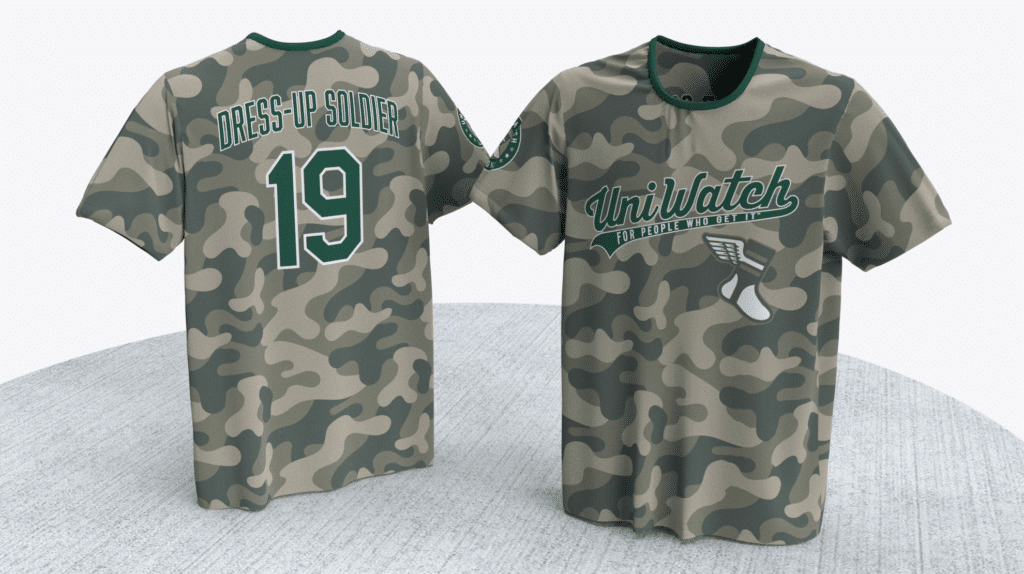 The "Dress-Up Soldier" NOB and the G.I. Joke sleeve patch offer a pointed critique of the sports world's use of camouflage uniforms. All profits from the sale of this item will be donated to the Peace Corps. You can order it here.
6. A reader wore his Uni Watch pin on TV: Uni Watch reader Jared Adkins co-hosts "Friday Football Frenzy" — a high school football highlights show — on Fox 4 in Ft. Meyers, Fla. For last Friday's segment, he wore his Uni Watch pin on his tie! Check it out:
Jared is one of many Uni Watch readers who've shared photos of how they're wearing their pins. You can see a full gallery here. If you want to show how you're wearing your pin, please send me a photo. If you don't have a pin yet, you can order one here.
7. It's time for a new round of Question Time: It's been eight months since our last installment of Question Time, the "Ask Me Anything"-style segment where you get to submit questions to me. If you'd like to submit a question for the next installment, send it here (please note that this is not the usual Uni Watch email address). One question per person. Questions can be about uniforms, sports, or anything else — nothing is out of bounds, although I reserve the right to not answer questions that are too personal. Thanks!
8. Labor Day recap: Yesterday I noted that MLB uses its uniforms to acknowledge lots of other holidays, but not Labor Day, so I asked readers to suggest some good ways to honor the holiday on MLB uniforms. Readers posted lots of good ideas in the comments — worth checking out.
• • • • •
• • • • •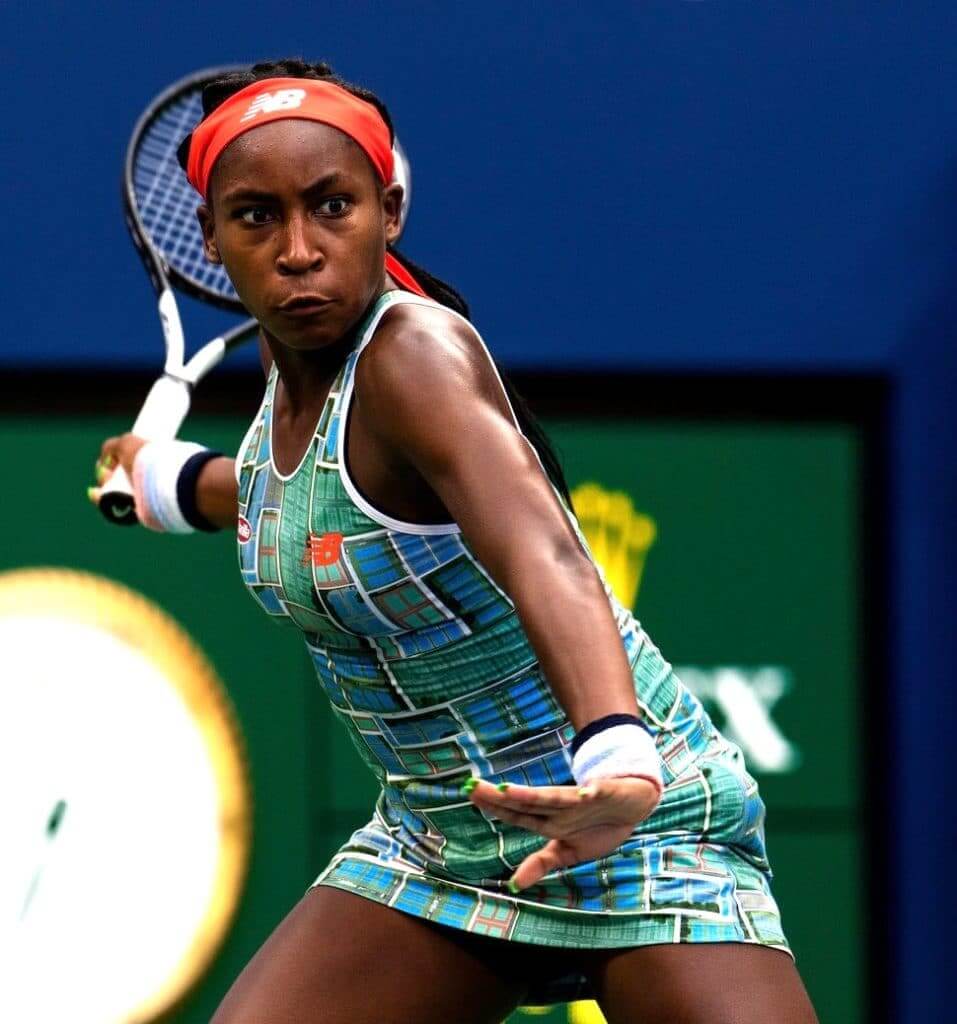 Click to enlarge
Court date: At first glance, Coco Gauff's U.S. Open dress looks like an abstract pattern. Take a closer look, though, and it turns out that all those rectangles are aerial photos of public tennis courts in New York City.
I like that — a tennis dress that's about tennis courts. And public courts at that. Nice! You can learn more about the dress here (NYT link).
• • • • •
• • • • •
Sorry, no Ticker today, because the entire Uni Watch staff had the day off. We'll get back to full-length content tomorrow. Until then, enjoy the NFL preview! — Paul