[Editor's Note: Paul is on his annual August break from site. Deputy editor Phil Hecken is in charge from now through the end of the month, although Paul may be popping up here occasionally.]
By Phil Hecken
Follow @PhilHecken

Yesterday, Adidas unveiled seven new uniforms for seven NCAA football teams, what they're deeming the "2019 collection of strategy uniforms for College Football's 2019-2020 season." Four of these uniforms have been further dedicated as "Selfless" uniforms, the purpose of which is to "unite players, fans and communities throughout the season with the common thread of tackling obstacles both on and off the field." Hoo boy.
There's a lot to get to, and I'm not going to show all the images Adidas provided, but I will link to a flickr set so you can see additional images if you want. We'll start with the four schools in the "Selfless" category:
• • •
Miami Hurricanes
Remember last year when Miami introduced their Parley uniforms (scroll down), which are made from repurposed and upcycled ocean materials? Well, they're doing it again, only this time, instead of the uniforms being in green and orange, they're white (and they're also doing the underwater photography thing again). These unis are really plain, featuring white, stripeless pants, and the only color will be on the white helmet (with traditional "U" and green/orange/green striping). Numbers are a new font, in green with a slight pattern (akin to the original Toronto Blue Jays numbering):
The pitch:
DESIGN: A wave print design is used within the numbering, fusing Miami's signature dark green with the adidas EQT green colorway that has become synonymous with adidas x Parley.
TYPOGRAPHY: Custom-made typography is inspired by the same lettering used for the Orange Bowl, which takes place in the University's backyard.
COLORWAY: The white base of the jersey eliminates the use of toxic color dyes and materials.Orange color accents are used to resemble the beak and feet of Miami's Ibis mascot.
The Hurricanes will wear this uniform against the University of Virginia on Sat., Oct. 11, at Miami's Hard Rock Stadium
• • •
Arizona State Sun Devils
Like Miami, these are predominately white uniforms, featuring a white helmet, white jersey featuring almost entirely maroon elements — numbers are a custom font and the shoulders feature a pretty cool visage of the Arizona State flag.
Pants are white with a maroon stripe, and the helmet is also white with a single maroon stripe, and two ASU pitchfork logos on the sides.
The Pitch:
TYPOGRAPHY: Custom-made typography utilizes block lettering, using less material.
SLEEVE DESIGN: Designs resemble ASU's state flag, and give a nod to the 80+ solar panels on campus.
COLORWAY: To eliminate toxic dyes, the base of the uniform utilizes a white colorway.
The release did not mention when this uniform will be worn.
• • •
Georgia Tech Yellow Jackets
The Ramblin' Wreck will be getting gray uniforms for this promotion. These unis will "honor the kids that are fighting illness at Children's Healthcare of Atlanta," and …
The design highlights Georgia Tech's long-standing relationship with Children's and the annual "Cape Day" campaign where patients wear capes to showcase their inner superhero .Georgia Tech fans are also encouraged to wear capes to show the kids at Children's support on October 4 on Cape Day.
The design gimmick on these unis, as you can see from the image above (and below), the pattern on the jerseys and pants (and gloves) is a gold hexagon (which I guess is supposed to mimic the hives of yellow jackets).
The pattern is on the pants "stripe" as well as the shoulder caps of the uni. The team will wear it's normal solid gold helmets with this uniform.
The Pitch:
COLORWAY: The onyx gray uniform, a first for Georgia Tech, features sleek hexagon patterns with metallic Tech gold accents.
DESIGN: Hexagonal graphics are used within the typography and sleeve-cap accents, as a metaphor towards the Atlanta's community.
DESIGN: A Children's "Cape Day" crest is featured on the back neck of the jersey, paying homage to an annual Atlanta tradition that honors the superhero kids fighting illness every day.
The team will wear this uniform on October 5 against UNC at Bobby Dodd Stadium.
• • •
Mississippi State Bulldogs
The Bulldogs are getting a mostly black uniform, with a maroon helmet, and an interesting striping pattern on the sleeve caps and pants. If you look closely (closeup below), the white and maroon center stripes are surrounded by a metallic stripe, which features a circuit board pattern that is also "color shifting" (depending on how the light hits it):
The gimmick here is the link to the T.K. Martin Center which provides "assistive technology for individuals to participate in educational, vocational and leisure activities."
The Pitch:
COLORWAY: The uniforms are inspired by Mississippi State's original silhouette, with a black base colorway to accentuate the uniform's metallic accents.
TECH: The jersey features a body-mapping design, using a ribbed, knit pattern on the chest and shoulder pads to produce a refined fit, while knit engineered mesh channels feature Climacool technology to provide enhanced breathability and cooling zones.
DESIGN: Iridescent, color-shifting stripes are throughout the sleeves and pants, paying homage to the T.K. Martin logo. Exhibiting assistive technology through design, graphics replicating a computer's circuit board are placed within the striping.
The release did not say when these unis will be worn.
• • •
Louisville Cardinals
Like Miami and ASU, The Ville's new uni is primarily white. The helmet is solid white with just a black image of the Cardinal logo on the sides, the jersey is solid white (with tv numbers on the sleeve caps) and the pants are white with a thick black stripe down the sides.
The hook here is boxing. Or rather, their tenuous relationship to Muhammad Ali:
From the boxing ring to the football field, the 2019 adidas x University of Louisville alternate uniforms take inspiration from one of the best boxers in U.S. history. Always hitting the turf with nimble, quick and strategic movements, the Cardinals' often resemble history's most renowned and respected boxers —which is showcased throughout the design of the 2019 alternate uniforms.
OK then. The only red (cardinal) on the uniform will be the cleats and the gloves — which are supposed to resemble boxing gloves (no, really).
The pitch:
TYPOGRAPHY: The crest features a new, curved and arched typography.
DESIGN: The pants feature a black stripe down the lateral side, inspired by a boxer's shorts.
COLORWAY: The jerseys feature a white and black colorway, inspired by a boxer's famed pre-match robe.
GLOVES: The jerseys are paired with red gloves, giving the allusion of boxing gloves.
The team will wear these unis on October 5, against Boston College, at Cardinal Stadium.
• • •
Indiana Hoosiers
The Hoosiers will have a new helmet logo (supposedly inspired by the font on an early football uni) on a nice crimson satin dome, and will have red jerseys over white pants. The shoulder caps on these will feature the "barber pole" (or is it "candy cane") pattern made famous by the 1970s Bobby Knight hoops squad's warmup pants, only rather than being crimson and cream, it's light and dark crimson.
It's tough to see (and on the field it will be impossible), but the white pants also feature the candy stripe pattern — rendered entirely in white:
The Pitch:
DESIGN: The uniforms feature a candy-stripe graphic throughout –which were originally inspired by Indiana's 1930s swim team and seen again in the 1970s, when Bobby Knight's Basketball team sported them in their warm-ups.
TYPOGRAPHY: The IU wordmark font was inspired by one of the first football uniforms worn by the university.
The team will wear these unis against Rutgers on October 12th, in Memorial Stadium.
• • •
Nebraska Cornhuskers
The blackshirts are back. Apparently, this is what every Husker fan has been waiting for. The team will have white hats with a black stripe, black jerseys — and solid white pants. The jerseys will not only be black, but they will feature a skull and crossbones…wearing a white football helmet with a red stripe, in contrast to the lid the team will wear:
There's actually lots of red on this jersey (relatively speaking, compared to the mostly two-color unis of the other "strategy" schools): TV numbers, NOB, patch, the facemask on the helmet the skull and crossbones is wearing. The plain white pants will have a red "N" as well.
The Pitch:
COLORWAY: Uniforms use a black base with traditional red and white accents.
DESIGN: Personifying the players' relentless attitude, a skull-and-crossbones logo sits on the jersey's sleeve cap
The release did not mention when these unis would be worn.
• • •
Well, there you have it. Seven new uniforms. Enjoy.
Your thoughts?
I'm pleased to introduce a new feature here on Uni Watch — the Premier League Uni Roundup. Now, I'm not a soccer guy, but Josh Hinton is, so (at least for the remainder of August), each Monday or Tuesday we'll have the weekly kit matchup for the Premier League (once I return to weekends, Paul will likely continue the feature). Ready for Week 2? Here we go. Here's your…
• • • • •
Premier League Kit Roundup
By Josh Hinton
Hello all fellow Uni-Watchers! I am excited to start this new uniform tracking project – much thanks to Paul and Phil for letting me do this! I will be rating each matchup in the English Premier League based on a ten-point scale. Each matchup starts at a five and, based on the aesthetics (lovely/horrendous kits, clashes, the way kits complement each other, etc.) will receive a final rating out of ten with one being very poor and ten being perfect.
Week Two (8/17-8/19)
• • •
Arsenal 2-1 Burnley

Not a bad start to week two, as Arsenal broke out their beautiful Adidas home strip and Burnley debuted their new third kits. Love this Arsenal strip – easily one of the best kits in the league. Burnley's third kit introduces an interesting dark green color scheme, but the shorts seemed out of place; too dark to be the same shade as the shirt, but not dark enough to compliment the kit. Burnley should have stuck with the same shade of green as is featured on the shirt, or a lighter color shorts (sky blue, white, or light grey would pair well). 7/10
• • •
Aston Villa 1-2 Bournemouth

Bournemouth's garish third kit could be a lot worse, but I really thought we were past the NFNS (neon for neon's sake) trend; this needs to stop. They rarely look decent, and never look good. Aston Villa sport their popular home strip, which is classy, but not enough to save this matchup. 2.5/10
• • •
Brighton 1-1 West Ham

A subpar Brighton home strip paired with West Ham's decent, but awkward looking (with an unnecessary sky-blue chest and shoulder pattern) home kit did not make for a great matchup at the Amex. 3.5/10
• • •
Everton 1-0 Watford

From afar, Everton's home kit isn't bad, but the chest pattern looks much better on paper and in the graphics than on the pitch. By contrast, Watford's busy Juventus-esque home kit doesn't feel right, but at least it complements the Everton strip. 4/10
• • •
Norwich 3-1 Newcastle

Norwich's lovely home strip is the latest to fall victim to The Newcastle Effect, as the thick vertical stripes of the Magpies, paired with red numbers and a sky-blue sponsor logo, kills the potential aesthetic look of this matchup, with Norwich goal celebrations being the exception. Both kits cancel each other out in terms of rating. 5/10
• • •
Southampton 1-2 Liverpool

Aside from the bizarre black shoulder block on the Saints' home strip, and the sky-blue sponsor logo, Southampton's home strip isn't all that bad. While it doesn't have the Stoke beauty to it (15/16, 16/17, 17/18, 19/20) it isn't awful. Liverpool's change kit is busy, but not awful; it looks much better on the pitch than in the press release. 4/10
• • •
Man City 2-2 Tottenham

This was far and away the kit matchup of the week – Spurs sport a lovely navy away strip which compliments a beautiful Man City home strip. I could pick out little things to critique, but this would be petty. Very good-looking match! 9/10
• • •
Sheffield United vs Crystal Palace

Brutal home debut for the Blades' return to the Premier League, as they paired their subpar home kits (see Stoke home strips above on how to properly put together a red and white striped kit) with a garish Palace away strip, which isn't awful but did not pair well at all with the Sheffield United home strip. Interesting development in the second half, as Sheffield United's goalkeeper wore a baseball cap (uncommon but allowed). 2/10
• • •
Chelsea vs Leicester

Interesting first home match for Christian Pulisic, at least from an aesthetic standpoint: the Foxes debuted their new pink change kits (based on Germany's 2018 World Cup home kit; Adidas then created a set of teamwear templates based on the design). Leicester lose points for the teamwear and for the fact that several Leicester players were without their Premier League sleeve badges. While I am not a huge fan of those Leicester kits up close, it made for a good-looking match from afar. 7/10
• • •
Wolves vs Man United

Beautiful match out of Molineux, as Man United had to wear their change socks, complimenting the shorts and red shirt while pairing well with Wolves' classy old gold and black kits. Not much else to say here. 9/10
• • • • •
Thanks Josh! Hope everyone likes this new feature!
Collector's Corner
By Brinke Guthrie
Follow @brinkeguthrie
I've always liked these "minimalist" Cubs scorecard designs. This one is from a 1965 game with the Phillies…just 15 cents! What is this type of design called? Anyone know? It's quite unique to the Cubs and I don't think I've ever seen it done with any other team's scorecards or yearbooks. Now for the rest of the week:
======
• Here we have a custom-made Cowboys helmet buggy done up in the original white/navy color scheme.
• NFL Game Plan was the greatest NFL board game (IMO) of the 1970s.
• These 1970s Tasco NFL binoculars
• Simple clean design for this 1980s (I am guessing) Bengals jacket made by Stahl-Urban. The ad says 1970s but we all know that's in error.
• "Wait 'Til This Year," proclaims this 1970s Atlanta Braves bumper sticker.
• One more 1970s MLB bumper sticker, this time for the Angels. For some reason, it's done up in the non-Angels colors of orange and blue.
• This seller is asking quite a bit for this nice looking set of nine NFL single bar helmet stickers!
• Here's a nice looking Broncos sweater of unknown vintage- the maker is simply "Brandon." I like the thick bold striping.
• This 1970s Packers sweatshirt looks like a Sears design to me- the Etsy seller says it's from "Varsity House."
• Very cool design to this 1970s Buffalo Bills poster! Nice one for the Chiefs, too.
Got an item to include on Collector's Corner? Send any submissions to uniwatchcollectorscorner@gmail.com!

Kreindler's Korner
I had the distinct pleasure of featuring the wonderful artwork of artist Graig Kriendler on two occasions over the summer and fall of 2017, and more recently, in August of 2018.
For those who don't wish to click the links, Graig paints baseball heroes (and regular guys) from the past, and is an immense talent.
Occasionally, I will be featuring his work on Uni Watch.
Here's today's offering (click to enlarge):
• • •
Title: "Ray Brown, 1938" (color study)
Subject: Ray Brown, 1938
Medium: Oil on linen mounted to board
Size: 5" x 7"

If there was one pitcher the Homestead Grays could rely on in the 1930s and '40s, it was Raymond Brown. He was known as their "Sunday Pitcher," designated for mound duty in order to draw a large crowd for the ballclub. Known as one of the great stars of the Negro National League with a wide array of pitches (most notably a wicked curve), he led the Grays to an astonishing eight pennants in a nine-year span.

Here he is pictured mid-career with the club in 1937. Perhaps that year was most notable for him off the field, when he married Ethel Posey – the daughter of the team's owner, Cumberland – in early June. That winter though, it was back to business as usual, as his 12 wins led the Leopardos de Santa Clara to the title in the Cuban Winter League.

In 1938 he was mentioned with a group black players who were all of major league caliber in a wire sent to the Pittsburgh Pirates by the Pittsburgh Courier. The other four players were Josh Gibson, Buck Leonard, Cool Papa Bell and Satchel Paige.

This is one of 200+ paintings of mine that will be on display at the Negro Leagues Baseball Museum in the spring of 2020.
• • •
Thanks, Graig! You can (and should!) follow Graig on Twitter.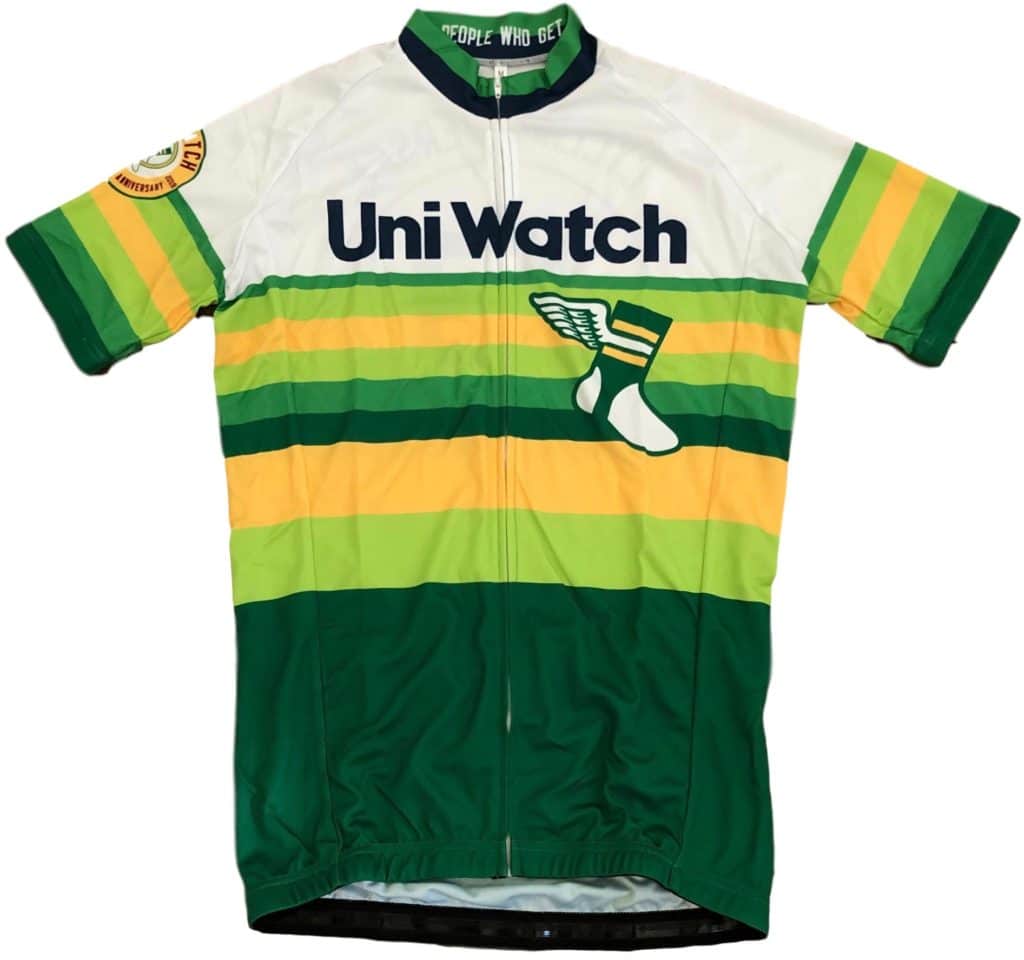 And now a few words from Paul: Hi again. Some quick reminders for today:
1. Cycling jersey reminder: In case you missed it last week, we're now taking pre-orders on the first-ever Uni Watch cycling jersey, which you can get with your choice of number and NOB. The pre-order window will close next Wednesday, Aug. 28, so move fast. Full details here.
2. Anniversary patch price drop reminder: In case you missed it yesterday, the Uni Watch 20th-Anniversary Patch, which was originally priced at $9.99, can now be yours for only $6.99. Full ordering details here.
3. HQ Sports reminder: I'm going to be appearing on the app-driven live sports trivia show HQ Sports (part of the larger HQ Trivia empire) tomorrow, 8pm Eastern. It's going to be a uniform-themed game, and I've been involved in writing the questions. Should be fun!
4. Camouflage shirt reminder: In case you missed it last Friday, we now have a Uni Watch camouflage shirt available. Check this out (click to enlarge):
Not bad, right? Full details here.
That's it for today. Again, I'm not reading the comments this month, so if you have a question about any of this, feel free to email me.
Now back to Phil with the rest of today's content.
The Ticker
By Anthony Emerson

Baseball News: MLB.com speculates about which number each team will retire next (thanks, Phil). … Also from Phil, Mariners P Sam Tuivailala will wear Moana-themed cleats for Player's Weekend. … A Nielsen analysis says MLB sleeve ads would be more valuable than NBA jersey ads (from @HitTheGlass). … Tigers P Edwin Jackson has been writing "CB" on his cap in recent weeks for Curt Bailus, a friend of his personal coach Kevin Visser, who passed away recently from multiple myeloma (from Mike Chamernik). … The Iowa Cubs, Triple-A affiliates of the Chicago Cubs, will pinkwash their unis on August 23 (from @00obstructedviews). … The Akron RubberDucks, Double-A affiliates of Cleveland, threw it back to their Aeros days last night. They paired the throwback jersey with the current RubberDucks cap (from @davelb87). … Lots of uni goodness in this season 3 screenshot from Cheers (from Adam Vitcavage). … The Bowie Baysox are becoming the Crab Cakes as part of a Maryland themed promotion. They'll also give away "Bay-Socks" (from Andrew Cosentino).

NFL News: A user of the /r/nfl subreddit put together a chart of each current NFL team's primary logos for the 100 seasons of the league (from Jeff Perilman). … The NFL100 logo has even made its way onto the players' towels. … You can briefly see Jaguars RB Leonard Fournette still using his LSU pads in this Twitter video (from Zach Freese). … The Panthers are going mono-white for their second pre-season game. … If you want to spend $7,500 on a Swarovski crystal Browns helmet, you can! It's even on sale from the original $10,000. A bargain, I tell you (from @DDberry24).

College/High School Football News:  Here's an analysis of Oregon's new unis (from @ricknogers). … The second group of Virginia players to get their uni numbers has been revealed (thanks, Jamie). … New road unis for Oklahoma Baptist.

Hockey News: A poster included in yesterday's edition of The Calgary Star featured the Flames' 40th anniversary logo. … Sharks G Aaron Dell will have some pretty cool pads for this coming season (from Nathan Hogue and Clint Dickinson). … The Hurricanes will wear their Whalers throwbacks on January 11, and will go white at home — the way hockey should be — on October 12, according to their website. … The OHL's London Knights revealed their new uniforms yesterday (from Wade Heidt and James Beattie). … Also from Wade, the WHL's Regina Pats have announced an outdoor game in Regina for the same weekend as the NHL's Heritage Classic, to be held in the same stadium. The logo for the WHL event is here. … KHL team Jokerit have revealed their new unis (from David Kemper). … New pads for Wisconsin goalies (from Garrett Van Auken). … Here's a Q&A with Golden Knights owner Bill Foley: Vegas' third jerseys are coming (from The Athletic), so it's paywalled (from Thomas Roddy).

NBA News: When there's good news there's always bad news. The good news is the Boston Celtics are looking to dump GE as the advertiser on their unis. The bad news is now they're looking for a new advertiser for their jerseys (from Phil).

College/High School Hoops News: South Carolina revealed a whole bunch of minute details to their new unis in this Twitter thread (from Joel Mathwig and Andy Assaley). … The very last words of this article reveal that Kentucky freshman walk-on Riley Welch will wear no. 13 (from Josh Hinton).

Soccer News: Tottenham's still-technically-unreleased third kits are now on sale at Nike stores in the US. Can someone please tell me the logic behind waiting so fucking long to release third kits? Spurs have already played two matches! (from multiple readers). … Aston Villa's still-unreleased third kits have been leaked. … New kits for Russian side Torpedo Moscow. The tartan pattern to honor William Hopper, a Scotsman organized the first soccer match in Moscow (from Ed Żelaski). … Argentine side Quilmes have revealed their new kits, inspired by Tottenham Hotspur kits from the early 1980s (from Gabriel Hurl). … The following are all from Josh Hinton: Spain's Euro 2020 away kits have been leaked to FootyHeadlines. … PSG's still-not-officially-unveiled third kit has been leaked once again. … New Barcelona signing Antoine Griezmann would like to wear his trademark No. 7, but cannot because he's already been registered as No. 17. He had to register as No. 17 as former Barça player Philippe Coutinho had been registered at No. 7, even though he's subsequently left the club. … Italy loves to add badges to teams' kits. They already add the Scudetto to the kits of Serie A champions and the Coccarda to the kits of Coppa Italia champions, and now Serie A is adding a badge to the kit of the top scorer of the previous season. … You can catch the rest of Josh's contributions on his Twitter account.

Grab Bag: If you live in New York State, you can vote on the state's new license plate design (from David Jaffe). … The Chicago Tribune thought their Brannock device article deserved its own alert. We agree! (from Nicole Haase). … The man who launched the original leather motorcycle jacket has died at age 94 (from Tom Turner).