[Editor's Note: Paul is on his annual August break from site. Deputy editor Phil Hecken is in charge from now through the end of the month, although Paul may be popping up here occasionally.]
By Phil Hecken, with Bud Parks
Follow @PhilHecken

You guys know I love uniform concepts, tweaks and redesigns, so when reader Bud Parks told me he'd come up with tweaks for all 30 MLB teams, I couldn't wait to see what he'd created. Turns out he's got some minor tweaks — but some of these really seem to work (others, maybe not so much), but each of them are well thought out and certainly worth consideration. We'll tackle the American League today, and the National League another time. Here's Bud:
• • • • •
American League Uniform and Cap Concepts
By Bud Parks
Disclaimers:
***all credit goes to Chris Creamer of sportslogos.net for the creation of the uniform templates and some logo templates I used. Thanks Chris!
***the top row is what the team currently uses as their set. The bottom row are my edits. A number of teams have made changes to their repertoire since I worked on them, so the top row may be outdated every so often. Sorry!
***alternates labeled "weekend" = Friday and Saturday, but not Sunday. Alternates worn on Saturday and/or Sunday are labelled accordingly
***"Whenever" means exactly that. sometimes 'whenever' means pretty often, like the Pirates black alternate, other times whenever can mean 2 or 3 times a season
***Contrary to what this site usually preaches, I really appreciate color on the diamond so every team has at least one alternate jersey. Even the Yankees!
————————
AMERICAN LEAGUE EAST
• • •
Baltimore Orioles

As primarily an O's fan myself, I've been relatively pleased with all of the incremental changes the team has made of the past 10 or so years; making the sleeve trim a bit more interesting, adding a killer sleeve patch, adding and then fixing the Baltimore script, etc. So maybe I got a little carried away with this one, but I think the results turned out well. First off, I've always preferred the older Orioles script from the early 90s, I think it has more character and fits in just fine with the current Baltimore script. Secondly, the road jersey could benefit from a little bit of a darker tone, so the lettering colors get flipped from what they currently are (I've also designed a black version of the sleeve patch to better match). The orange alt I think suffers quite a bit from the sleeve trim not matching the lettering colors, so that gets updated and my new alt sleeve patch is added as well. The black alt gets updated from saying Orioles to Baltimore, since that's what it should've been all along, but especially now that more and more teams are wearing alternate jerseys at home with the city or state name and the world hasn't ended. And finally, the hats. This is not a vendetta against the cartoon bird, in fact I like him just fine. He just ended up being the odd logo out; I've always preferred the O's hat logo and have always wanted them to have a B hat of some kind, which works great as a road hat. The O's logo I've created matches the older script, with the apostrophe sort of being carved out of the larger swoop the O had back then.
• • •
Boston Red Sox

When the Red Sox won the the World Series in 2004, they had only two jerseys; one of them had ONLY placket trim, and the other had ONLY sleeve trim. I thought that was kind of a fun, unique quirk for them so I decided to bring it back and preserve the idea on their current red and navy alts as well. Add the sleeve patch from the road jersey to the other three, introduce a red hat to wear on weekends, and there's your set.
• • •
New York Yankees

As very much NOT a Yankees fan, it took every ounce of me not to screw with their home pins just out of spite. But their road jersey has always felt kinda blah to me. I guess it's unique, but it's never been well designed enough to be interesting. A gray, pinless version of their home whites similar to the throwback they wore a few years ago seems like the right call to me; still instantly recognizable, different enough to stand out, but much more within their overall aesthetic. Add in a gray brimmed cap for fun, and a navy alt to wear admittedly sparingly, which is basically their current BP threads.
• • •
Tampa Bay Rays

My instinct told me to scrap their set altogether and just bring back their previous green look with a few minor adjustments, but if they're gonna stay with the navy/baby blue look, there are definite improvements to be made. When I was working on these, the stingray sleeve patch was still missing from their alt softball tops, so I'm at least glad they made that change on their own this season. They experiment so often with baby blue caps in Spring Training that adding a baby-brimmed cap seems like they should've done something like it years ago. And finally, they have a pretty good Tampa Bay script in their style guide but it's not used anywhere on their uniform. Switch out their gray and navy jerseys to utilize it, and the result I think is pretty dramatic.
• • •
Toronto Blue Jays

The Blue Jays are mostly perfect, but I've always preferred the original Jays logo with the lighter blues and the baseball behind it. Updating the current Jays logo to these specifications is pretty easy, and the result I think looks pretty great. Replace the Jays logo on the lower half of the jersey with numbers, add a sleeve patch of their current primary logo with the team name and ball, and a red-brimmed hat for home Sundays, and that's all that needs to be done in my opinion.
————————
AMERICAN LEAGUE CENTRAL
• • •
Chicago White Sox

The current Sox logo has always been interesting to me, but it's unbalanced/doesn't fit very well on a hat. The old Black Sox logo, however, has always been gorgeous to me. The introduction of their batterman for Spring Training in their current colors I think has also worked really well and deserves the promotion to an official alternate hat. The socks look a bit like football socks, but I tried to come up with something that splits up the top of the sock and the bottom of the pant and still look ok while keeping most of the sock, you know, white. Added the Northwestern stripe as a nod to their University neighbor.
• • •
Cleveland Indians

A frequent hot-button topic, the Indians were my first team in tee-ball and my grandparents from Erie are huge Tribe fans, so the controversy around Wahoo has always made me a bit sad. I understand both sides of the argument, but I think there's a compromise to be made, and one that does not involve the super-horrible block C, which I think is the most boring, uninspired logo in all of sports. A few people have tried their hand at the Caveman C with a feather, so this is my attempt; but not only do I bring back the C, but the Caveman script onto the jerseys as well. Also making a return is the triple color trim from the early 90s, as well as the silver outlining that was used in the mid-00s which I always had a major soft spot for and was very sad to see them retreat away from them in the early 2010s. The primary logo crest finds its way onto the uniform as a sleeve patch, and is one of my creations during this project I'm most proud of.
• • •
Detroit Tigers

You'd think the two different Ds from a couple years ago would set off all sorts of alarms within my OCD, but in reality I loved that quirk about them, and the current D is too thin when blown up to the proportions needed on their jerseys today. So not only should they bring it back on their home jersey, but all their other jersey(s) as well! I still like and preserved the orange/white double-outline their current road gray uses on the wordmark, and the occasional navy alt at home and orange alt on the road would be a good way to get the attention of some fans who might be otherwise bored with what they're currently trotting out day-in and day-out.
• • •
Kansas City Royals

It's easy to see why the Royals took their World Series championship celebratory gold jerseys and decided to make them a permanent alt, but there's not really a good reason why they need both it and their regular home jersey. The solution to me is to combine aspects of both jerseys into a single home offering, and mimic some of its qualities on a royal blue alt. A distinct lack of gold trim on the road jersey is intentional, not because it wouldn't work, but because sometimes it's ok to have a somewhat distinct look between home and road duds, a la Montreal Canadiens. I suspect a lot of people will mourn the loss of the baby blue alt, since the Royals were a main player in making that 80s trend so popular, but to me, the gold is a better secondary/trim color for them, and they don't need two. And of course, I think it goes without saying that their BP cap from a few years ago needs to be their everyday look.
• • •
Minnesota Twins

All of the gold the Twins have added in the past few years, however, makes no sense to me and doesn't work for them at all. Having two almost-identical hats where one logo is outlined in gold and the other has no outline is the definition of overkill (the Twins just this year have started wearing their all-navy, outline-less hat for road games instead of their basically defunct red-brimmed road cap), so it's best to just eliminate the gold altogether, clean some trim up, and simplify all available options. I hated the lowercase M cap from the 90s when it was around, but now that it's gone I realize just how much I miss it. Bring it back as the road cap, please and thank you.
————————
AMERICAN LEAGUE WEST
• • •
Houston Astros

I actually really liked their previous black-ish/brick red from their NL days, but now that they have a championship to celebrate in their current colors, I'm sure they are mostly here to stay. That doesn't mean they couldn't improve upon what they have though. The most pressing issue: the squatchee doesn't match the brim of their current-road hat. I own a lot of hats (over 400), but I have specifically avoided buying hats that have this exact issue; it drives me bonkers. The next thing needing fixed is to give the wordmark some pizzazz, a name like Astros deserves to have a little flare, so I tried to create and homage to their original shooting star jersey but tried to make it a little more visually balanced. Swap the home and road hat uses, nix the orange jersey altogether, make the tequila sunrise motif a little more subdued on the navy alt (which I will concede is kind of the opposite of the point of the tequila sunrise in the first place), and suddenly they're a lot more interesting looking without compromising their current overall aesthetic.
• • •
LA Angels (of Anaheim)

A more involved tweak, I really like the current A logo but it's used way too much on too many places on their uniform. It's also bothered me that the Angels' primary color for so long has been the color of what most would consider to be the opposite of angels. A more involved use of navy blue like from their California Angels days would go a long way in fixing things, as well as a commitment to silver for a trim color. I decided to create a secondary logo that can be used as their cap logo and added into their left sleeve patch, so the primary A logo can still be a part of their chest wordmark and not be repeated anywhere else on the jersey. Why replace their current A on the hat? So they can finally bring a long-overdue return to the cap-top halo from their earliest years. A piece of uniform innovation that is so unique to them and can't possibly be copied by anyone else, they deserve to showcase it every game possible; and also a feature that exempts them from my prior gripe about squatchees not matching brims. I know that they've recently dropped the "of Anaheim" in their official name, but I also kind of like that their road uniform has both "LA" and "Anaheim" on different parts of it.
• • •
Oakland Athletics

So I think we can all agree that Oakland's current alt kelly green threads are exponentially better than their darker green options, yes? So then let's just make it permanent. I like that it's sort of unique to them that they present their logo two completely different ways on their home and road hat, but I still think the home hat could benefit from a little yellow to drive home the idea, so they should use their current road hat logo styling on the home hat with white outlined in yellow, and flip it on the road hat so it's yellow outlined in white. Their BFBS attempts from the early 00s were on the right track, but they never quite got the lettering colors to be what they should've been the first time around. The final change is returning the sleeve patch to the proper white elephant instead of their current green, since his color is the entire point of why he became their mascot in the first place.
• • •
Seattle Mariners

I have a confession: the Mariners' compass logo, by itself, is my favorite logo in all of sports. I own just about every hat they've ever come out with that has it, and have pined for years for them to make an on-field offering of it ever since their silver-brimmed beauties from the mid-90s. Nothing against their current S logo, but this is my project and I get to do what I want. I have a few compass hats where it has a thin white outline, and I think that really helps sharpen the edges and make the shape pop. Add in some sleeve trim, update the colors of the lettering/numbers of the teal alt, fix the number font on the navy alt, drop the fauxback, and you have maybe my favorite uniform set in all of baseball.
• • •
Texas Rangers

It's been said many times on this site that the Rangers can't decide if they're a primarily blue or primarily red team, and indeed they've swayed back and forth between the two over the course of their history, with today's team seemingly waffling the most. But I say that maybe it's time to lean into this indecision, and own both colors as equally and garishly as possible. I like the idea of returning to a vest option for them for a couple reasons; the first being that vests were a pretty common sartorial choice of ACTUAL Texas Rangers, and the second that it allows the team to move their Texas flag sleeve patch to their chest (albeit in a slightly smaller form). Why over their chests? Because they're deep in the HEART of Texas, don'cha know! Cheesy? Probably. But somehow I feel it'd be a detail that Texans might just absolutely love. (And no, I'm not advocating that the team wear different-colored sleeves on the home and road jerseys, only illustrating thru the template that they could wear one color OR the other at different times).
• • • • •
Thanks, Bud! Well readers, what's your verdict on Bud's tweaks?
Guess The Game…
from the scoreboard
The game has returned! At least for a trial basis, but I got a lot of positive response to its return, so we'll see how long we keep this one going.
Today's scoreboard comes from reader "ojai67".
The premise of the game (GTGFTS) is simple: I'll post a scoreboard and you guys simply identify the game depicted. In the past, I don't know if I've ever completely stumped you (some are easier than others).
Pretty cool one today — it's a shutout but it's not a no hitter. So how will this game end up? And when did it take place?
Here's the Scoreboard. In the comments below, try to identify the game (date & location, as well as final score). If anything noteworthy occurred during the game, please add that in (and if you were AT the game, well bonus points for you!):
If you guys like this, please continue sending these in! You're welcome to send me any scoreboard photos (with answers please), and I'll keep running them.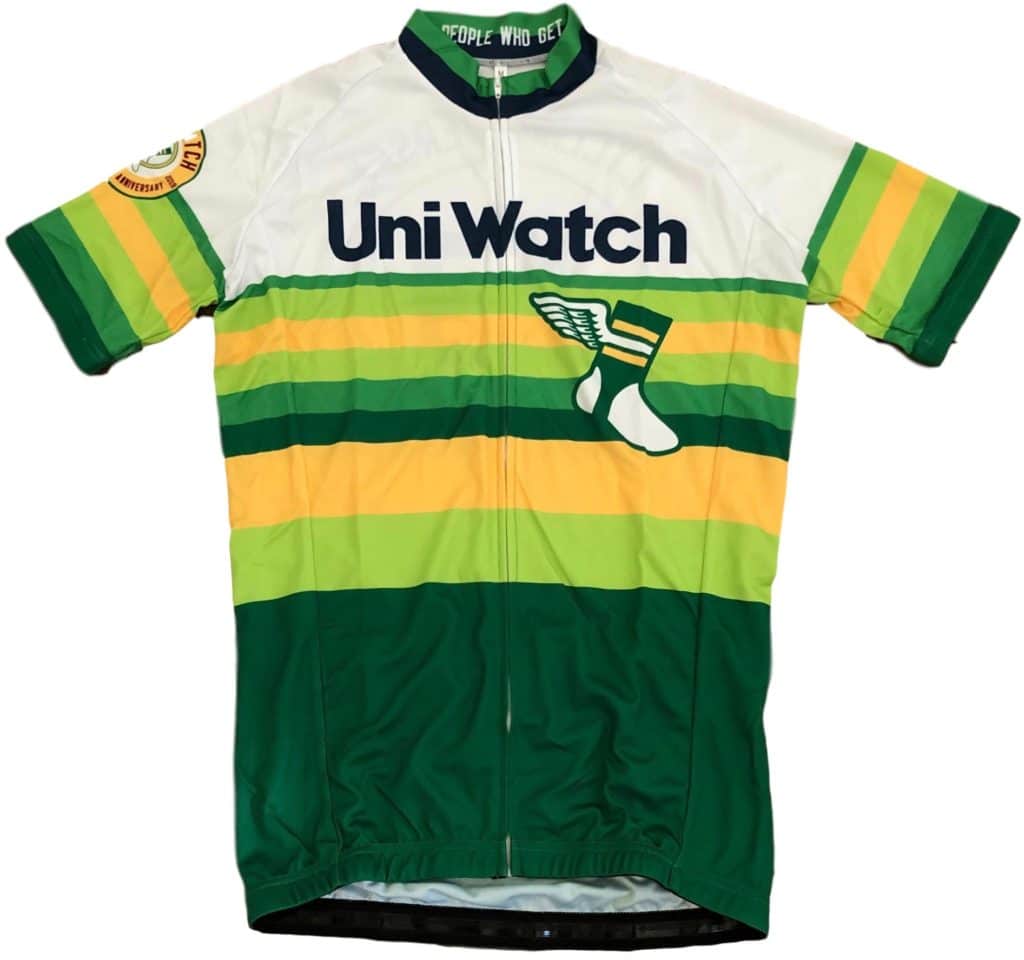 And now our daily check-in from Paul: Hi again. Some quick reminders and announcements:
1. Cycling jersey reminder: In case you missed it yesterday, we're now taking pre-orders on the first-ever Uni Watch cycling jersey, which you can get with your choice of number and NOB. Full details here.
2. Anniversary patch price drop reminder: In case you missed it yesterday, the Uni Watch 20th-Anniversary Patch, which was originally priced at $9.99, can now be yours for only $6.99. Full ordering details here.
3. HQ Sports reminder: I'm going to be appearing on the app-driven live sports trivia show HQ Sports (part of the larger HQ Trivia empire) next Wednesday, Aug. 21, 8pm Eastern. It's going to be a uniform-themed game, and I've been involved in writing the questions. Should be fun!
4. Raffle results: Our latest raffle winner is Ted Lieberman, who's won himself an item of his choice from the Vintage Brand website. Congrats to him, and thanks to VB for once again sponsoring a raffle.
5. ITEM! New shirt launch: I've been wanting to do a camouflage Uni Watch shirt for years, and Teespring's new sublimation capabilities have finally made that possible. Check this out (click to enlarge):
Not bad, right? It's hard to see in that mock-up, but there's a custom sleeve-patch graphic on the right sleeve:
I'm proud to announce that 100% of Uni Watch's profits on this shirt will be donated to the Peace Corps. Big thanks to Jimmy Nutini and Bryan Molloy for their assistance with the design.
Just for efficiency's sake, let's nip a few issues in the bud:
This shirt is disrespectful to the military!
Actually, no, it's not. You know what's disrespectful to the military? Dressing able-bodied young athletes in camouflage clown costumes in a cynical attempt to sell merchandise. This shirt takes aim at that practice (just like our BFBS shirt is a critique of black alternate uniforms and our flag-themed "Pandering" shirt is a critique of stars/stripes uniforms).
But the phrase "G.I. Joke" on the sleeve patch makes fun of the military!
No it doesn't. I've called camouflage sports uniforms "G.I. Joke" for many years now. The term refers to the camo clown costumes, not to the military.
Yeah, but not everybody knows that. If I wear this shirt out and about, people who don't know about Uni Watch might see it and get pissed off about it.
If someone says something to you about the shirt and you end up having a conversation about it, that doesn't strike me as such a bad thing. But if you want to avoid that, no problemo — don't buy the shirt.
You'd probably sell a lot more of them if you toned down the message.
Maybe. But maxing out the sales numbers isn't my goal here. My goal, as usual, is to have a satisfying creative project that expresses a point of view. This shirt says exactly what I want to say, in exactly the way I want to say it. If it sells a lot, that's great; if not, that's fine too. Either way, I'm pleased with it.
That's it for today. Again, I'm not reading the comments this month, so if you have a question about any of this, feel free to email me.
Now back to Phil with the rest of today's content.
Final Griffins Jersey Design Contest Reminder
LAST DAY TO ENTER THE CONTEST!!!
Deadline 11:00 pm (EDT) TONIGHT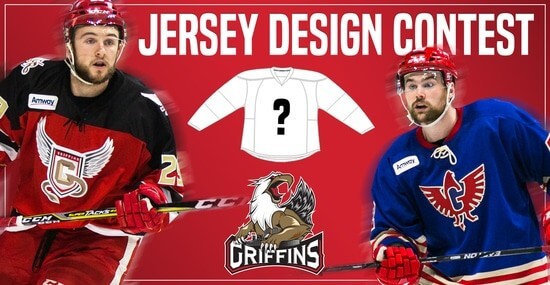 In case you missed it, Uni Watch is again partnering with the Grand Rapids Griffins to allow readers to design an alternate jersey to be worn this upcoming season.
As before, the winner will receive a personalized jersey, tickets to the game when the jerseys will be worn (February 22, 2020), and public recognition at the game.
The jersey is going to be worn on the Griffins' 90's Night (with either red or black pants and red gloves/helmets), so for this contest, the team is looking for a "90's inspired jersey."
The deadline for submissions for this contest is TODAY Friday, August 16th, 2019, 11:00 pm EDT.
All the details are spelled out in detail here, so be sure to read that.
Good luck to all who submit!
The Ticker
By Anthony Emerson

'Skins Watch: Here's a good article about the use of Native mascots in Oklahoma (from Justin C. Cliburn and Paul Deaver).
.
.

Baseball News: A collection of jerseys worn in films and TV series like The Natural, Major League, Moneyball and The Bronx is Burning among other are up for auction right now. If one of you even THINKS about bidding for that Hatteberg jersey, so help me! (thanks, Paul). … Cubs P Cole Hamels did not have permission to wear David Montgomery's memorial patch, saying "I'll take the fine. I don't care. David meant a lot to me." (from Michael Paolucci). … Speaking of, the Cubs wore royal blue on the road against the Phillies' powder blue throwbacks (from multiple readers). … Dodgers RF Cody Bellinger went high-cuffed for perhaps the first time in his career last night — and so did a lot of other Dodgers. … The Greensboro GrassHoppers, Class-A affiliate of the Pirates, wore "Woodstock" jerseys last night (from Scott M. Trembly). … Damon Hirschensohn came across this awesome Rawlings MLB golf ball set on eBay, giving me another thing to bid on. … During last evening's Mets/Braves game, a throw from Amed Rosario broke the leather and went through Pete Alonzo's glove (from Mike Chamernik).

NFL News: The Texans have added their logo to the back of their jersey (from Jason Triplett). … Pats CB Stephon Gilmore always wears long sleeves, no matter the weather (from Timothy Medeiros). … Everyone knows Joe Thiesmann is allowing Dwayne Haskins to wear no. 7 for Washington. But did you know that when the season kicks off, Haskins will join Theismann as the only no. 7s to ever play for Washington, an 87-year-old franchise? (from @ThatreOfMySoul). … Scott Mitchell, the former Lions and Dolphins QB, has a somewhat odd personal logo. … Looks like the Packers are using lower case letters on their jerseys (from Don Schauf).

College/High School Football News: West Virginia displayed four potential uni combos yesterday, including one with the old white jersey. … The Frisco Bowl has a, ahem, delicious new corporate sponsor (from Andrew Cosentino). … Also from Andrew, Virginia Tech will have orange cleats and jerseys this year. … UNC's Equipment Twitter account gave us a sneak peek of the CFB150 patch on the Heels' unis (from James Gilbert). … So has Iowa (from @libertyhawkeye).

Hockey News: The Sabres will unveil their 50th anniversary logo today, and the royal blue unis will make their return in the 2020-21 season (from multiple readers). … The Hurricanes appear to be teasing a new sweater with this brief Twitter video (from Scott M. Trembly and Christopher Kirby). … A trademark filing has given the indication that Seattle's AHL affiliate will be named the Palm Springs Firebirds (from Nicklaus Wallmeyer). … We might've seen this before, but here are a selection of some rejected inaugural season logos for the Avalanche (from Jeff Brown). … The Blackhawks will wear their 2019 Winter Classic unis three times in the forthcoming season (from @2ndCityHockey). … Cincinnati's arena is getting a new corporate sponsor because the old corporate sponsor isn't renewing its naming rights deal (thanks, Alex).

NBA News: Someone ran into Larry Brown at the airport, and the legendary coach is still using his mid-aughts Pistons NBA Finals luggage tag (from Adam Vitcavage).
.

College/High School Hoops News: New court for Pitt (from Gabriel Doman). … Loyola Marymount has a new court.
.

Soccer News: The Scottish Professional Football League is looking for a new corporate title sponsor (thanks, Jamie). … Club América's Israel García wore no. 187 during a match against Atlanta United in the Campeones Cup on Thursday (from Jeremy Brahm). … Speaking of the Club América/Atlanta match: frankenjerseys have made it to soccer. Great (from Michael Zoid). … More Liga MX: here's how amazing Liga MX kits would look without ads (from Ed Żelaski). … One more from Ed: Omaha's USL team has more names under consideration. … Manchester United's season started last Sunday, but David De Gea and Adidas are still revealing his keeper kits (from Griffin T. Smith).

Grab Bag: Duluth, Mn., has a new flag (from Brian Kerhin and Mike Menner). … Both England and Australia wore red numbers and NOBs during their Ashes test match in support of a charity started by a former England player (thanks, Jamie). … The kits referees will wear at next month's Rugby World Cup have been revealed (from Eric Bangerman). … Here's a fun little article about slightly fixing college sports logos, with GIFs comparing them before and after (from @doncheech). … UNC's field hockey goalies have black/anthracite uniforms (from James Gilbert).