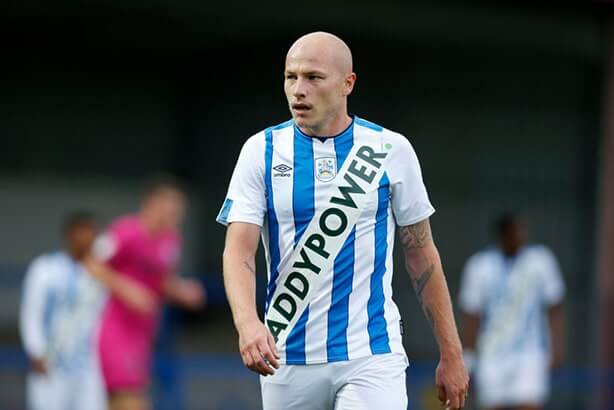 I don't follow soccer, so I don't usually write about it either (and on the rare occasions that I do write about it, I almost invariably get something wrong or stumble into some sort of factual error), but there's something going on in the UK that's very interesting.
It began last Wednesday, when Huddersfield Town A.F.C., which was recently relegated from the English Premier League to the Championship, announced its new kit (shown above). Instead of having a traditional chest-positioned jersey sponsorship ad, it had a garish sash-styled ad for the Irish betting website Paddy Power.
Many people (including our own Jamie Rathjen) suspected that it was likely some sort of prank or hoax, but Huddersfield did indeed wear the kit for a preseason friendly last Wednesday. Then, on Friday, they announced that Paddy Power was "unsponsoring" Huddersfield this season, and that the team's new kit will actually be ad-free. It was announced as part of a marketing campaign by Paddy Power, called "Save Our Shirts." In other words, they're actually paying to not have an ad on the team's shirt. (There's some good analysis of why they're still getting decent bang for their marketing buck — er, pound — here.)
"Save Our Shirts" gained further momentum in the last couple of days, as two more teams — the Welsh club Newport County and Scottish side Motherwell F.C. — have also unveiled ad-free kits that are "unsponsored" by Paddy Power, and reports indicate that more teams may follow.
Some people (again, including Jamie) have said that Paddy Power's goals here are more marketing-driven than altruistic, and that the betting site cares more about the attention it's getting for the "Save Our Shirts" campaign than about the purity of ad-free soccer shirts.
I imagine that's true. But if we have to have betting websites with marketing campaigns, I'd much rather have a campaign like "Save Our Shirts" than a campaign centered around ads on soccer shirts. Paddy Power's goals here may be self-serving, but all marketing endeavors are self-serving — that's the nature of corporate marketing. A self-serving campaign that results in ad-free soccer kits seems like a far superior option compared to the alternative.
Moreover, "Save Our Shirts" has already prompted some interesting tropes on social media. As you may recall, when the NBA announced that they'd be adding advertisement patches, people began posting speculative mock-ups of how the various NBA teams might look with certain ad patches. But the "unsponsoring" news is inspiring people to post mock-ups of how British soccer teams might look without shirt ads. If "Save Our Shirts" gets fans thinking about the possibilities of an ad-free soccer uni-verse — or maybe even pushing for their own favorite teams to go "unsponsored" — that's a really good thing. Imagine if it gets NBA fans to do likewise. And the timing is good, in light of the recent MLB news.
That isn't to say you can't take a more jaundiced view of the culture that's at work here. That's what David Squires, the soccer cartoonist for The Guardian, has done with this absolutely brilliant bit of work. Can't recommend this highly enough (for each horizontal row of panels, you can click to enlarge):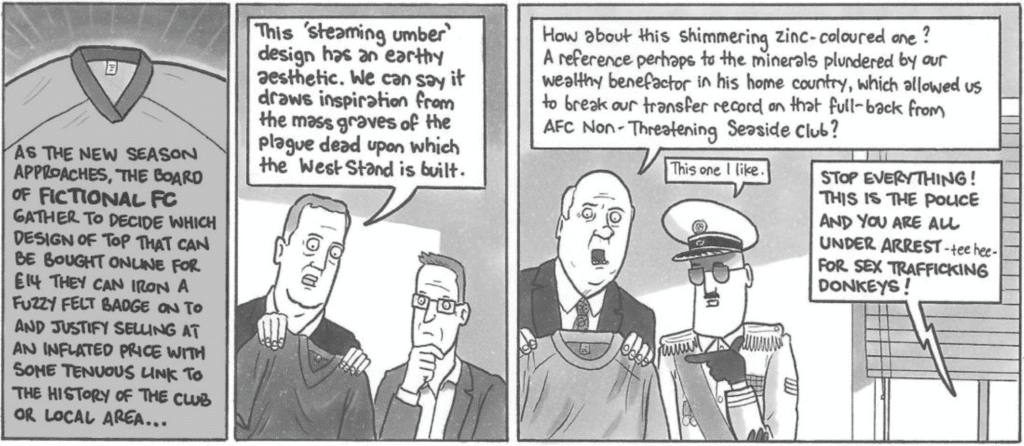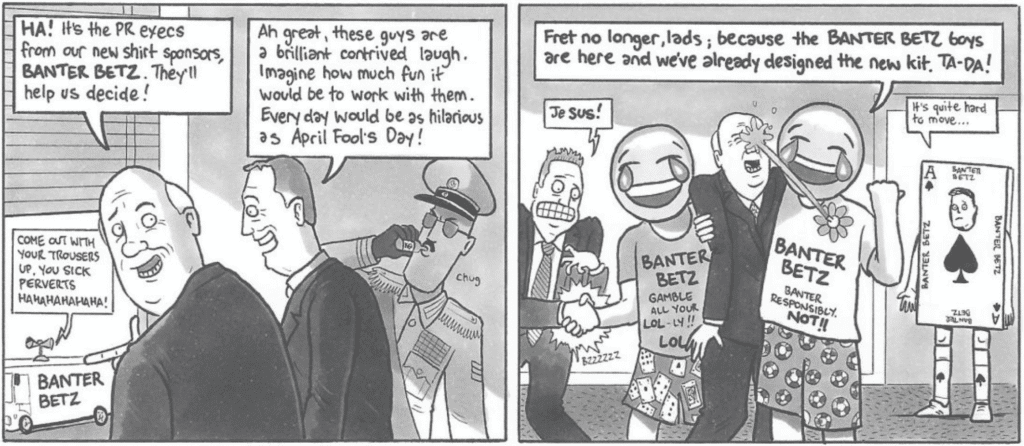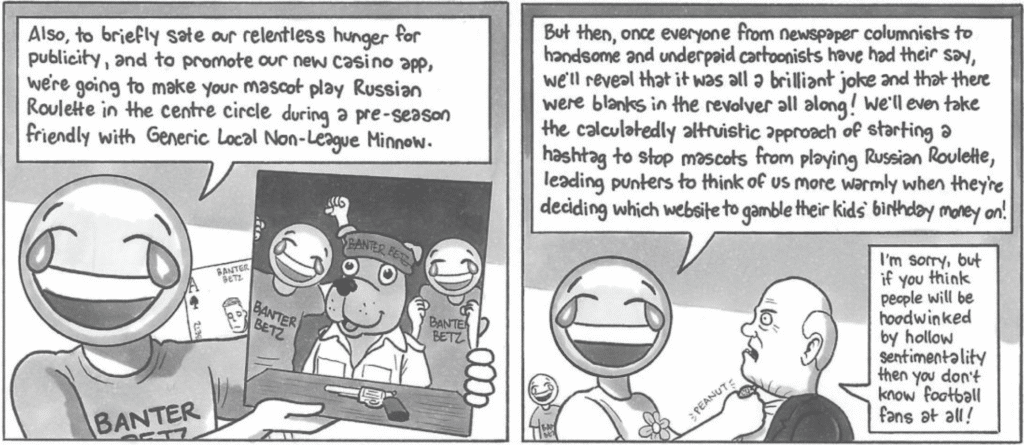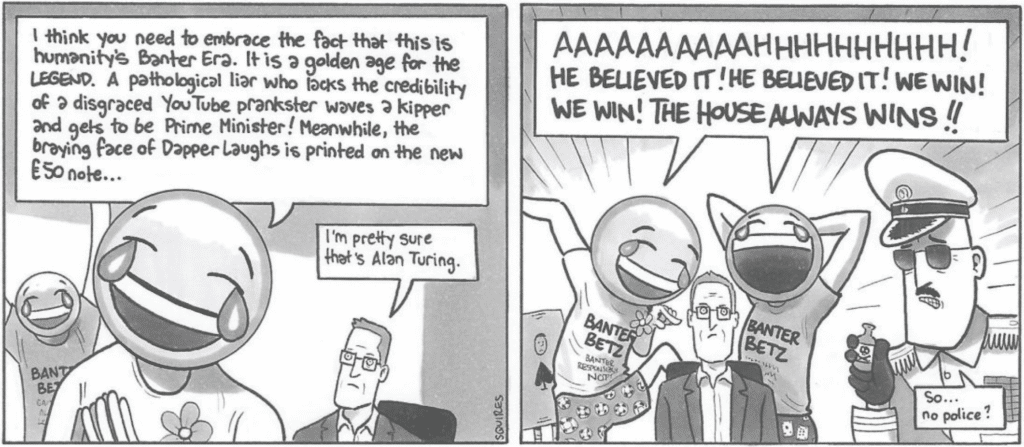 Okay, now you can all tell me about the inevitable factual errors I made in this entry!
(My thanks to Paddy Fleming for bringing the awesome Squires cartoon to my attention.)
• • • • •
• • • • •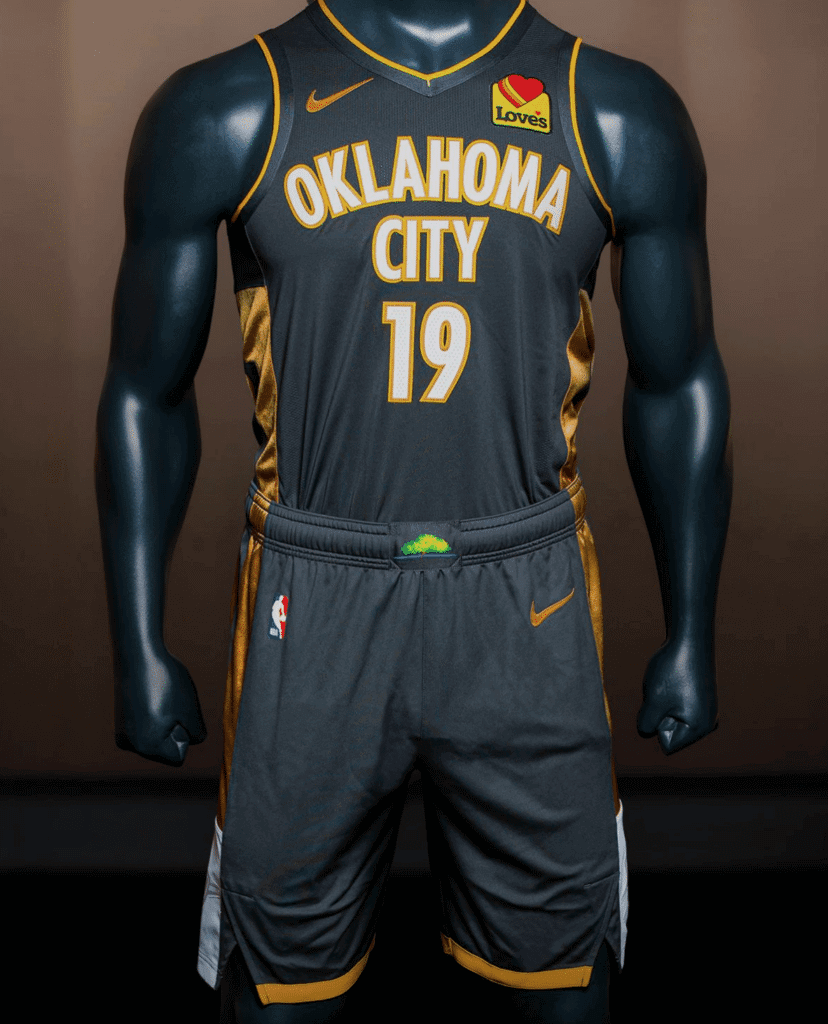 Click to enlarge
New Thunder uni: The Thunder released a new City uniform this morning. It pays tribute to people affected by the 1995 federal building bombing and was created in conjunction with the Oklahoma City National Memorial & Museum. This uniform will replace last season's City uni, which was the Native American-themed design. Additional pics and info are available here, here, and here.
In addition, the Thunder released their new orange Statement alternate. This design had previously leaked, so it's less of a surprise (click to enlarge):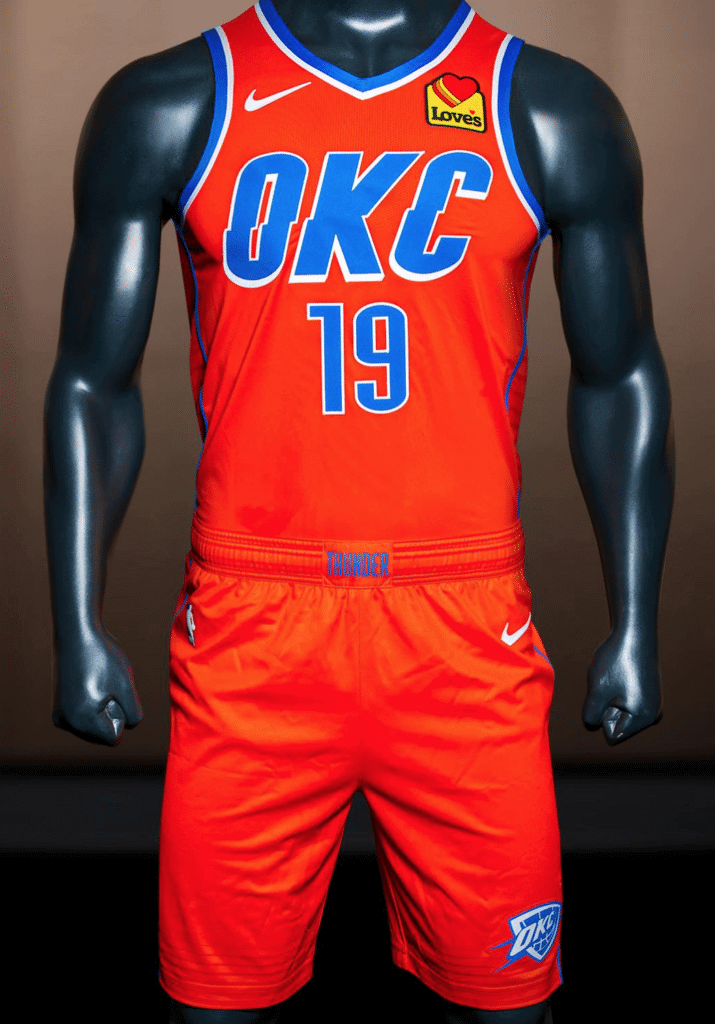 The team also confirmed that it's flipping the chest insignias on its blue and white primary uniforms. The blue set will now have "Thunder" and the white uni will have "Oklahoma City," instead of the other way around (click to slightly enlarge):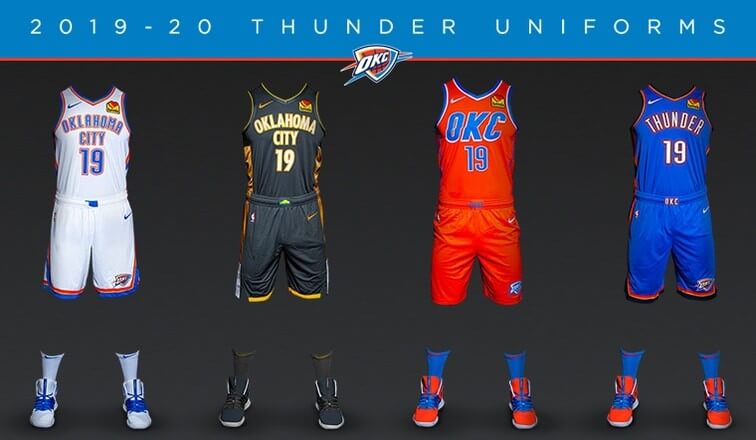 A press release says that the white and blue uniforms will both be worn at home and on the road in 2019-20.
(My thanks to Sam Thomas and Nick Crain for the early-morning heads-up on this one.)
• • • • •
• • • • •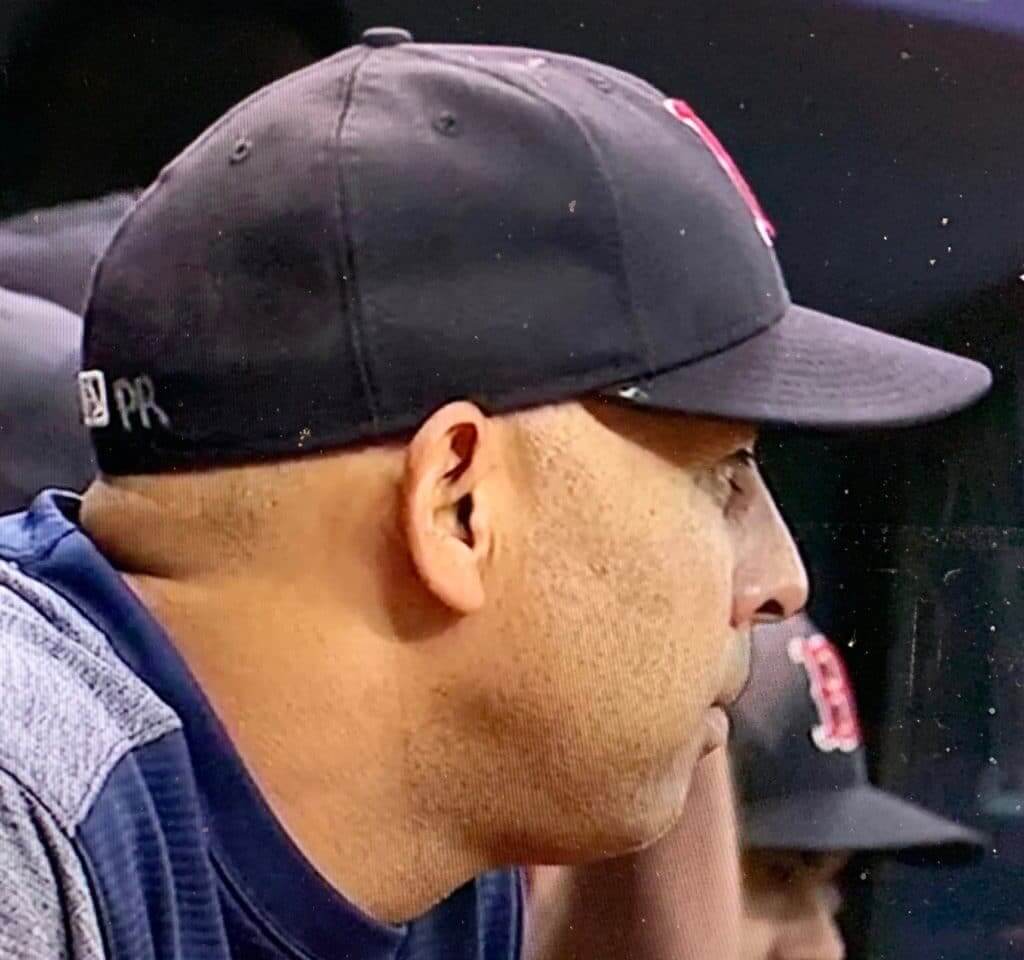 Click to enlarge
Check your head: We appear to be hitting a peak period of MLB cap messaging. There were lots of players inscribing memorials on their caps for Angels pitcher Tyler Skaggs when he recently passed away; then there was Marlins pitcher Jordan Yamamoto, who is from Hawaii, adding the Hawaiian phrase "Kū Kia'i Mauna" to his cap on Sunday, in support of people protesting against the building of a telescope on Mauna Kea; and last night, as you can see above, Red Sox manager Alex Cora, who is from Puerto Rico, added a "PR" inscription to his cap, presumably a reference to the protests currently roiling the island.
Cap inscriptions aren't new, of course, but they seem to wax and wane, and we're definitely in a waxing phase at the moment. I wrote more about this topic, including some historical background, last year, when the A's added two sets of initials to their caps after two players' moms died. That piece is worth revisiting if you're interested in cap inscriptions.
(My thanks to @TweeterTBNL for letting me know about Cora's cap.)
• • • • •
• • • • •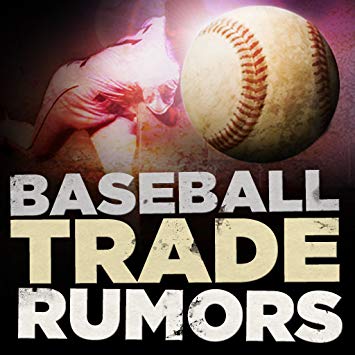 The uni implications of baseball trades: With the MLB trade deadline fast approaching, ESPN ran a good story about what it's like to get traded. It includes a good section about uniforms, as follows:
Although Fanatics, the apparel company that bought MLB uni-maker Majestic a couple of years ago, is technically responsible for cranking out new uniforms once a player gets traded, it takes time for fresh jerseys to get shipped from the company's production facility in Easton, Pennsylvania.

Enter the seamstress.

The Washington Nationals used to be like most teams in that they used a local contractor to come in and sew numbers and letters on a temporary jersey whenever a trade went down (once the official shirt arrives, the temp becomes a backup). But a couple of years ago, when Washington was looking for a new seamstress, the Melnick brothers took matters into their own hands.

"We just Googled: 'Learn how to sew D.C.,'" says Greg Melnick, who along with bro Andrew helps keep the Nationals Park clubhouses running smoothly (Greg is the visitors assistant; Andrew handles the home side). After a quick one-hour class in the capital's Adams Morgan neighborhood, the siblings were off and running.

Aided by a Brother 6000 sewing machine they ordered online and that lives in the equipment room at Nationals Park, the bearded and brawny 30-somethings are responsible for crafting new jerseys any time a player joins the home or visiting team while in D.C. If Washington finalizes a deal while on the road (like in 2017 when the Sean Doolittle trade went down while the team was in Anaheim), the host club handles production. That means that whenever a team travels, whether it's deadline time or not, they have to schlep a giant trunk filled with blank jerseys of all sizes (typically low 40s to mid 50s), not to mention all the letters, numbers, punctuation marks and accents. For the Melnicks, it's a labor of love.

"I really enjoy it," says Andrew, who estimates that he has sewn about 100 jerseys (including call-ups and special occasion one-offs) during his tenure as Washington's co-seamster. Thanks to all the reps, his production time has dropped from three hours on his first endeavor (Matt Wieters, 2017) to about an hour these days. His proudest accomplishment? The one-off he recently made for Patrick Corbin, who wore No. 45 to honor late friend Tyler Skaggs. "That was pretty special."
Interesting! I don't think I've ever seen the term "seamster" before. Good stuff!
• • • • •
• • • • •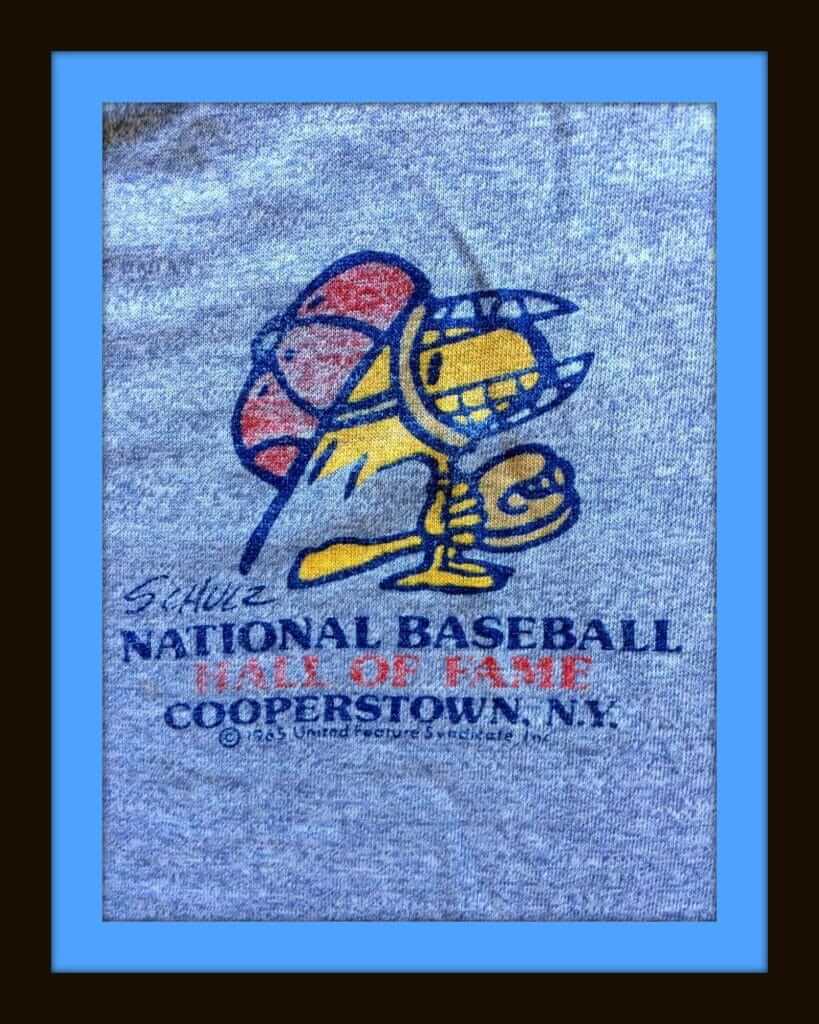 Click to enlarge
Collector's Corner
By Brinke Guthrie
Since we just had the Baseball Hall of Fame induction ceremonies two days ago in Cooperstown, how about this 1960s-1970s Peanuts Hall of Fame shirt featuring Woodstock behind the plate? Woody had a rep as being a light hitter (which will happen when you weigh less than a pound), but he was a savvy receiver, knew how to handle a pitching staff, and had a cannon for a right arm wing. Here's a better look at the shirt's graphics from a different website.
Now for the rest of this week's picks:
• We have a first-ever sighting for Collector's Corner: this 1960s NFL cap — made of red leather! Now that's gonna keep your noggin cool on a hot summer day, eh? The cap includes the Falcons helmet, so oldest it could be is from 1966 (the Saints started a year later).
• Another first-time item on CC; a pair of 1970s Bobby Orr hockey suspenders. ("Extra Long 42.")
• Here we have a 1990s San Diego Chargers nylon/fleece shell pullover by Champion. Had one of these for the Cowboys, and boy was it comfortable. Just can't say enough good things about the Pro Line stuff that Champion, Russell and Apex cranked out in the 1990s. Affordable, distinctive, and no cookie-cutter looks like we get from Nike. (Now, some of the 1990s stuff went too far. Pro Player and Zubaz, looking at you.)
• Here's a set of seven 1970s NFL helmet buggies from Sportoys.
• Portland Trailblazers fans will be all over this 1970s bobblehead, still in its sealed bag.
• This lot of three 1970s NFL smoked-glass beer steins, covered with NFL helmets of the period, looks to be in good shape.
• The seller of this Houston Oilers snapback cap says it's from the 1970s or '80s. I'm going to say it's a bit later than that, given the NFL Pro Line logo shown. In any case, a rather avant-garde font used in the front, no?
• This set of six NFL team pens were made by Faber Castell, and it also included an entry form on the back for the "$33,000 All-Star Family Sweepstakes! Void where prohibited." (Where would they "prohibit" such a thing? Did you ever run into that circumstance?) Given that the deadline to enter was 12/31/1981, we'll date these pens as early-1980s, not 1970s as the seller posted.
• Rawlings was the maker for this 1970s Kenny Anderson Bengals jersey, available at Sears, of course.
• The seller of this 1970s-1980s St. Louis Blues glass calls it "Rare!" and "HTF!" (that's "hard to find"). Both claims are HTB (hard to believe), but it's still a very nice glass.
• • • • •
• • • • •
Click to enlarge
Good-looking brews: The Rhode Island beer Narragansett began showing up here in NYC in 2011. Since then I've seen it in cans and on tap (and have also written a short article about an amusing glitch on their packaging), but never in bottles. I didn't even know it came in bottles until last Friday, when we had dinner at a local restaurant and got this handsome long-neck. That's a good-looking package design!
Two nights later, we were on the boardwalk in Rockaway and saw people drinking this:
I love that can design! Really nice. It's actually a wraparound decal, not a printed can (small brewery, limited run, etc.), but it's still really nice.
• • • • •
• • • • •
IMPORTANT plate update: As I've been mentioning for a few days now, we're taking pre-orders on the Uni Watch 20th-Anniversary Plate. What I neglected to mention is that we'll only be taking pre-orders up through the end of this week. We'll probably have a very small supply of additional plates available, but not many. So if you want to get in on this one, move fast. Full details here.
• • • • •
• • • • •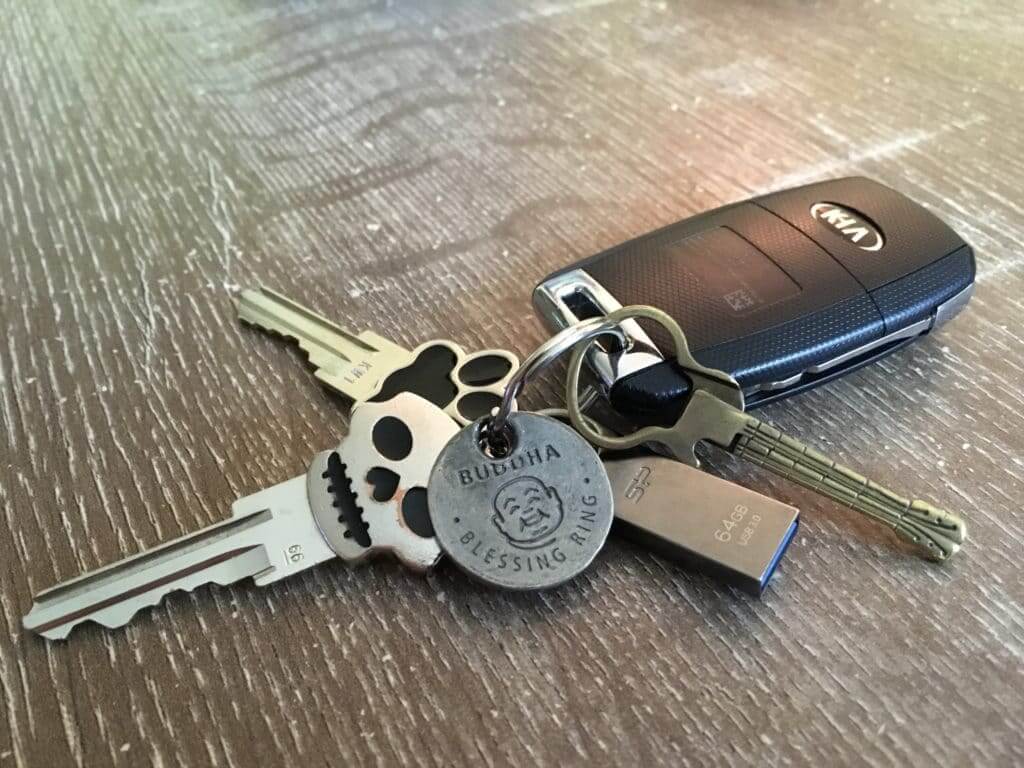 Click to enlarge
KRC update: The latest installment of Key Ring Chronicles was written by Uni Watch reader and recent Atlanta uni-versary party organizer Jason Von Stein. It's about a little metal guitar on his key ring. Check it out here.
• • • • •
• • • • •
The Ticker
By Alex Hider

Baseball News: The Korean Baseball Organization held its annual All-Star game on Sunday, and a bunch of players came dressed in costume (from Matt). … ICYMI: Here are all the new Hall of Fame inductee plaques (from Kary Klismet). … The Ogden Raptors, the Dodgers' rookie ball affiliate, wore "O-Town" NOBs when they wore their Expos-inspired fauxbacks earlier this year (from Brice Wallace). … The Richmond Flying Squirrels, the Giants' Double-A affiliate, played a "what if" night as the Hush Puppies — one of their potential team names when the franchise was started (from Nicklaus Wallmeyer). … The Long Island Ducks of the unaffiliated Atlantic League are celebrating their 20th season — but their commemorative logo incorrectly refers to it as the team's 20th anniversary (from Adam Fritzen). … New logo for the Arizona Fall League (from Steve Sher). … Anyone know the story behind this photo of Wade Boggs wearing Nationals gear? It comes from this Facebook post (from David Polakoff). … This 1953 Braves team portrait, shot during spring training of that year, shows some players wearing "B" caps and some wearing "M" caps. "The team's move from Boston to Milwaukee was officially announced on March 18, 1953," explains John Moore, so the photo must have been taken right around that time, and they apparently didn't have a full set of the new "M" caps.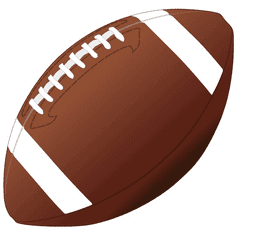 Pro Football News: The Orlando Apollos were a league-best 7-1 when the AAF folded halfway through its only season, so the team got coach Steve Spurrier a championship ring. Hopefully, they paid their players first (from @34inXXIII).

College Football News: The field numbers at Oregon's Autzen Stadium will now match the team's jersey number font (from @samuel101ts). … New end zone padding at Alabama's Bryant-Denny Stadium (from Griffin T. Smith). … It looks like the CFB 150 patch will run onto Ole Miss' shoulder stripes (also from Griffin T. Smith). … Howard unveiled their 2019 uniform set yesterday (from Kary Klismet). … Here's a look inside LSU's new locker room. … This is one of the options for Florida Atlantic's set this season. … Rutgers's stadium name has a new corporate advertiser (from James Gilbert).

Hockey News: The Golden Knights' practice arena has a new red line design, which is based on the sublimated element from the jersey crest. Seems likely that their home rink will get the same treatment (from Trayton Miller). … The Sabres will wear their 50th-season patch on the left shoulder (from Mike Monaghan). … New sweaters for the University of North Dakota (from Greg Enkers). … Mats Zuccarello went from the Stars to the Wild this offseason, and Rangers G Henrik Lundqvist shot a video of him wearing his Stars helmet with his Wild practice sweater (from Benjamin Kassel). … Devils Backbone Brewery is holding a design contest for the label of its new Capitals-themed beer (from @OlegKvasha).

Basketball News: Here's a good article about Ben Barnes, a graphic designer behind numerous sports logos and the Jazz's new identity (from @akaggie). … There are unconfirmed reports that the Grizzlies will wear Vancouver-era throwbacks this season (from Kary Klismet). … Max Strus, a two-way signing for the Celtics, will wear No. 28 (from Etienne Catalan). … Maryland has unveiled their new uniforms for the 2019-2020 season (from Slotter).

Soccer News: What a NOB — West Ham's women's team has signed F Jacynta Galabadaarachchi. That's 16 letters! Unfortunately, she'll be wearing No. 15 (from Chris Cruz). … Real Madrid's third jersey for next season has reportedly leaked (from Josh Hinton). … Portugese club Benfica added a US flag patch for their trip to America (from Mike D.). … One player for Cleveland SC of National Premier Soccer League wore a jersey without a badge because his usual jersey was lost (he's third from the left on the top row) (from Ed Zelaski). … New kits for Clemson's women's team (from @ClemsonUniforms). … Here's a site that shows logos, uniforms, mascots and more for Japanese soccer teams (from Jeremy Brahm). … For a roundup of more kit unveilings from smaller clubs and leagues, check out the Twitter feeds from Josh Hinton and Ed Zelaski.

Grab Bag: The NAIA Bethel University (Tennessee) Wildcats have a new set of logos (from Kary Klismet). … Here's a video of the mascot of the 2020 Summer Olympics in Tokyo performing all of the Olympic sports (from Jeremy Brahm). … This listicle recaps all the sneakers that have been released to honor the 50th anniversary of Apollo 11 (from Brinke). … In a related item, here's a great video on the seamstress behind the Apollo 11 spacesuits (from Miles Cliatt). … Something Marc Mayntz didn't mention in his excellent Apollo mission patch review over the weekend: The Apollo 11 patch shows the sunshine coming from the wrong direction, something astronaut Michael Collins has acknowledged (from Brice Wallace). … Matthew Wolfram notes that the "9" on the California Route 92 West sign near the San Mateo Bridge in the Bay Area is a bit cockeyed.
• • • • •
• • • • •
Click to enlarge

What Paul did last night: I had a doctor's appointment in Manhattan yesterday afternoon. After that, I went to a library so I could use their wifi and get some work done, and then I went to a bookstore to see the great Oakland artist and writer Jenny Odell (she's the one on the left in the photo above), who was talking about her new book, How to Do Nothing: Resisting the Attention Economy, which is about pushing back against the relentless demands that the internet places on our lives (and seems related to my friend Rob Walker's new book, The Art of Noticing).
Odell is a bit of a genius. She's done soooooo many really brilliant art projects, and her New York Times interactive piece about a bizarre series of interconnected businesses is my favorite piece of journalism in the past year. I met her very briefly in 2011, when we were both part of Pop-Up Magazine's sports-themed production, but I hadn't seen her since then and was excited to hear her do her thing. Unfortunately, the person who was running the show and asking her questions — comedian/actor Aparna Nancherla — did a pretty bad job, so the event wasn't as interesting as I had hoped.
The main reason I'm bothering to mention any of this is that on my way out of the bookstore I noticed this:
Arrrgh! Look at that big, honking apostrophe catastrophe — can you fucking believe it? That book was published last month, by Atlantic Monthly Press. I was sort of caught up in the wave of people exiting the Odell event, so it wasn't logistically feasible for me to stop and grab the book to see who the jacket designer was. But the designer isn't the only one at fault here — how many editors and sales/marketing people signed off on that cover design? Ugh, ugh, ugh!