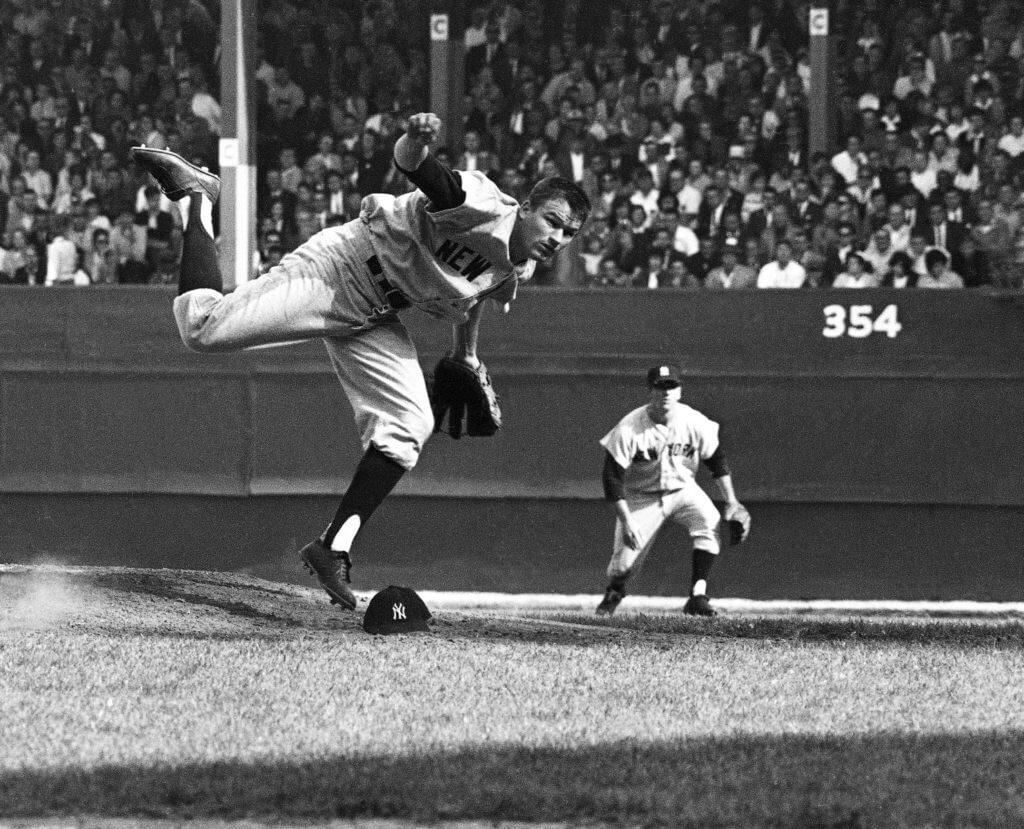 Click to enlarge
Word came down last night that former MLB pitcher and best-selling author Jim Bouton had died at the age of 80. As you can see in the photo above, which is from the 1964 World Series, he had a uni-related quirk: His hat often fell off as he delivered a pitch.
You can see a video sequence of his cap flying off here:
His hat even fell off when he pitched at the Yankees' Old-Timer's Day in 1998: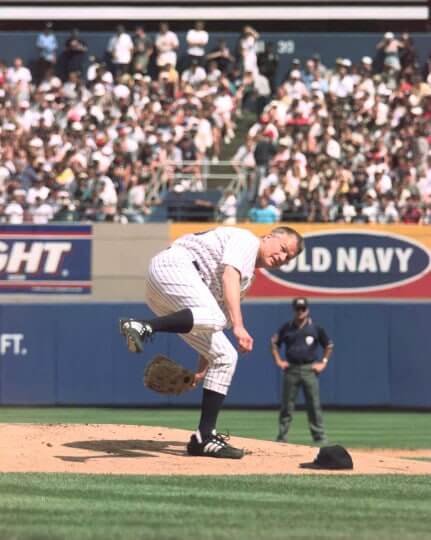 Bouton was best known as the author of Ball Four, which was published in 1970 and was essentially a diary of his 1969 season — a season he split between the Seattle Pilots and the Houston Astros (with a brief minor league demotion along the way). Nearly half a century after its publication, it is almost certainly still the best and most important baseball book ever written. It is also one of two or three books that have had the biggest impact on me.
When people think about Ball Four, they don't tend to think about uniforms, but the book has a surprisingly large number of uni-related discussions. Here are some of them:
1. First and foremost, there's the bit about Frank Robinson and his stirrups, which I've quoted many, many times over the years. Here it is once more:
It has become the fashion — I don't know how it started, possibly with Frank Robinson — to have long, long stirrups with a lot of white showing. The higher your stirrups, the cooler you are. Your legs look long and cool instead of dumpy and hot. The way to make your stirrups longest, or what are called high-cuts, is to slice the stirrup and sew in some extra material.
For many years I had to take that description on faith. Eventually, the internet made it easy to find late-'60s photos of Robinson, which confirmed Bouton's account. (But Bouton didn't mention that Robinson's stirrups had created a huge controversy, leading to an American League rule change, in 1967. Full details on that here.)
2. During spring training, Bouton had this to say:
Uniform-measuring day. This is always a waste. They measure everybody carefully and the uniforms arrive three sizes too big. Part of the reason is that everybody is wearing tight-fitting uniforms these days. [Yankees first baseman Joe] Pepitone refuses to take the field if his uniform isn't skintight. [Yankees infielder] Phil Linz used to say that he didn't know why, but he could run faster in tight pants. And I understand that Dick Stuart, old Dr. Strangeglove, would smooth his uniform carefully, adjust his cap, tighten his belt, and say, "I can add 20 points to my average if I know I look bitchin' out there."
3. Also from spring training:
The higher your [uniform] number, the worse chance they think you have of making the club. The year I was given 56 was the year I made the club. Toward the end of spring training, Big Pete Sheehy, the No. 1 Yankee clubhouse man, said, "Listen, I got a better number for you. I can give you 27." I told him I'd keep 56 because I wanted it to remind me of how close I was to not making the club. I still wear 56. I'm still close to not making the club.
4. On Opening Day:
There was a lot of grousing about the [Pilots'] uniforms. It isn't only that they don't fit (no baseball uniforms fit, possibly because you are carefully measured for them). It's that they're so gaudy. I guess because we're the Pilots, we have to have captain's uniforms. They have stripes on the sleeves, scrambled eggs on the peak of the cap and blue socks with yellow stripes. Also there are blue and yellow stripes down the sides of the pants. We look like goddam clowns.
Here's a shot of Bouton in his Pilots road uni, so you can see for yourself (click to slightly enlarge):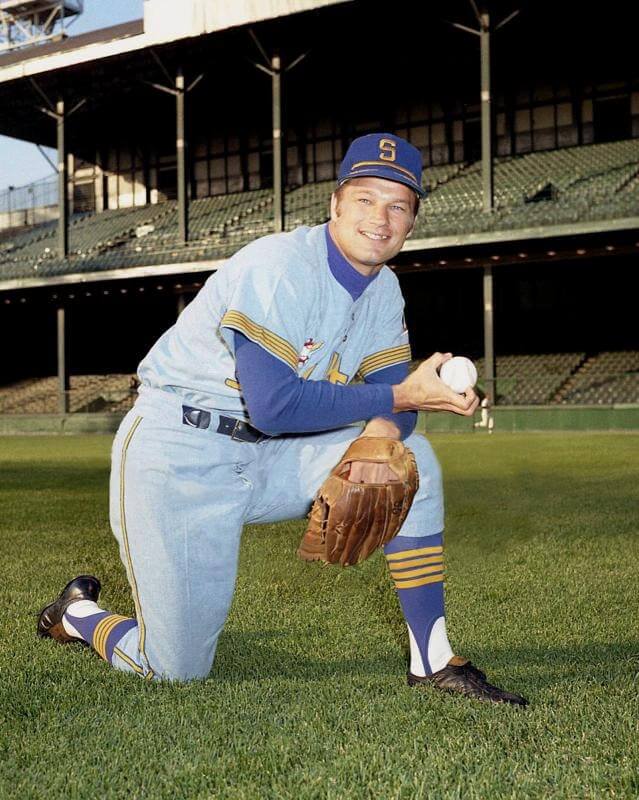 5. Talking about one of his Pilots teammates, pitcher Dick Baney:
[Baney] took his uniform to a tailor and had it made so form-fitting that the whole thing looks like it was painted on. He says this is important and the reason he did poorly his first time out was that "I looked down at myself and I looked like a clown. I figured if I look like a clown, I must be pitching like a clown, and so I did."
6. At the start of a series against the Yankees:
The first thing I felt when the Yankees showed up at the park today was embarrassment. That's because our uniforms look so silly with that technicolor gingerbread all over them. The Yankee uniforms, even their gray traveling uniforms, are beautiful in their simplicity. [Teammate] John O'Donoghue said that when [former Yankee] Johnny Blanchard was traded to Kansas City, he refused to come out of the dugout wearing that green and gold uniform. I would guess it's the only feeling I've ever had in common with Blanchard.
7. A funny story involving Bouton's teammate Mike Marshall, (who would later go on to become the first reliever to win the Cy Young Award):
Mike Marshall was sitting against the fence in the bullpen watching the ballgame. In order to get close to the fence, he turned his cap around backward and used the leather band to protect his head from the cold steel. Without saying a word, [bullpen coach] Eddie O'Brien lifted the hat off his head and put it back on him peak-front. "I don't want Joe [Schultz, the manager] getting on me because you guys are wearing your hats backward," he said.

With that, Marshall took his hat off, slammed it on the ground, and said, "How's that? I don't have it on wrong now, do I?"
8. When the Pilots were scheduled for their first nationally televised appearance on the NBC Game of the Week:
[Pilots first baseman] Don Mincher was worried about appearing on national television. "My mother's going to watch this ballgame in Alabama," he said, "and she's going to notice first thing that I'm not using the batting helmet with the earflap on it. And tonight she's going to be on the telephone, guaranteed, asking me why I'm not wearing my earflap."
9. Then there's this bit, about Braves outfielder Rico Carty:
Note about Rico Carty. He doesn't trust banks. He also doesn't trust the clubhouse valuables box. So that big lump you see in his back pocket during games is his wallet.
In 2006, I was working on an ESPN piece about baseball pants pockets and tried to find a photo that showed Carty's wallet bulge. If you squint, you can sorta-kinda see it here and maybe here, but I couldn't really find definitive visual evidence of it, so I got in touch with Bouton to ask him about it. He gave me a quote and then told me something really interesting (I'm paraphrasing here): "I've told and re-told the stories from Ball Four so many times over the years that I don't really remember most of those incidents anymore. I just remember telling the stories." I thought that was a pretty self-aware thing to say, and a good insight into how memory works (or doesn't work) over time.
That was the only time I ever spoke with Bouton. Talking to him was a thrill, because Ball Four completely changed my life. I stumbled upon it sort of by accident in 1976, when I was 12 (we were spending the weekend at my parents' best friends' house, and they had a copy on the bookshelf in the guest room where I was sleeping). At the time, I had no idea that it had been a best-seller, that it was the first real tell-all book about baseball, that the commissioner had tried to ban it, or that it had essentially gotten Bouton blackballed out of the game. I only knew that it presented baseball in a way I'd never experienced before, full of cursing, sex, drinking, amphetamines, doctoring the ball, and lots of other stuff that blew my 12-year-old mind.
It was also very, very funny, and very well-written. It would be stretching things to say Ball Four inspired me to become a writer, but it definitely opened my eyes, probably for the first time, to the expressive and creative possibilities of straightforward narrative storytelling. It remains a huge influence on me to this day.
Ball Four wasn't perfect, and neither was Bouton. Sometime around 1997, my then-girlfriend began reading the book and said to me, "You know who really loves Jim Bouton? Jim Bouton." It was a fair comment. In 1983, 13 years after Ball Four was published, Bouton's ex-wife and Mike Marshall's ex-wife collaborated on a book of their own, so fans could see what it was like to be the spouse of a big leaguer. It would be fair to say that the book, which I read while I was in college and still very much in thrall to Ball Four, was not flattering to either player. A good reality check.
Still, Ball Four remains a landmark, both in my life and in the annals of sports literature. If you haven't already read it, get yourself a copy — you'll thank me later. Meanwhile, we can honor Bouton today by grabbing a bag of Big League Chew, which he helped create. R.I.P.
• • • • •
• • • • •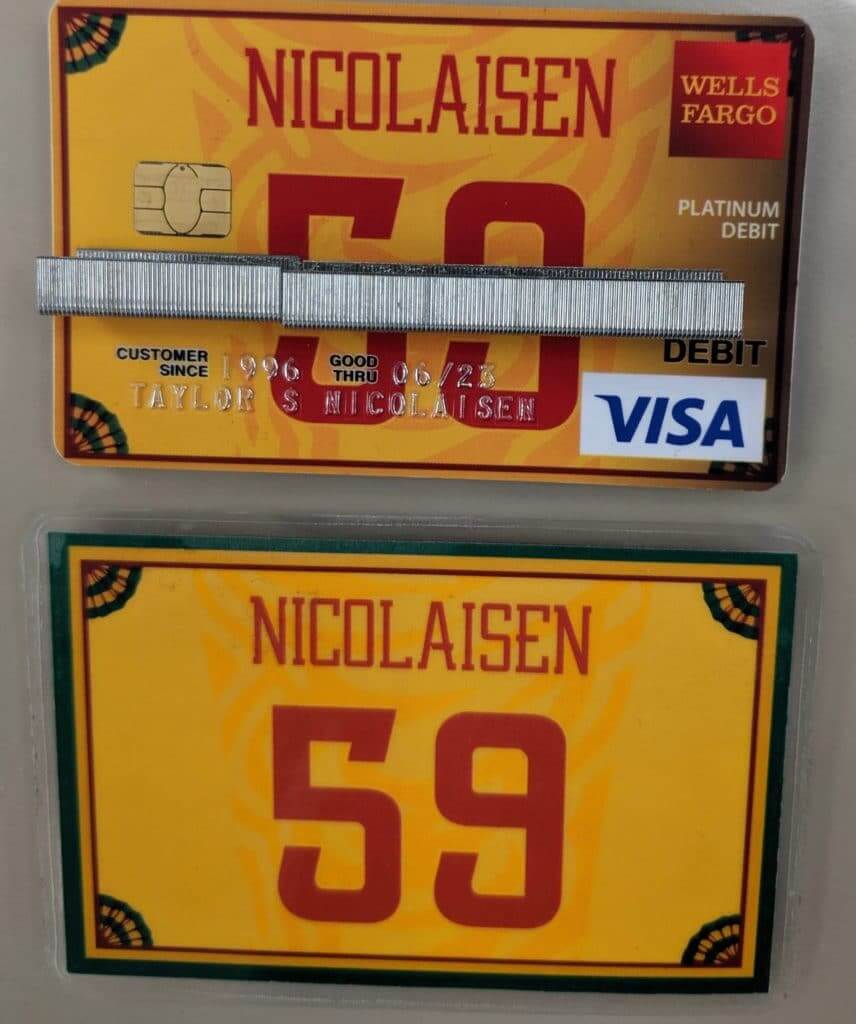 Click to enlarge
A card on a card: You know how many banks will now let you customize your credit card with a photo or whatever? Reader Taylor Nicolaisen decided to use his new Iowa State-themed Uni Watch membership card as the custom look for his Visa debit card.
"I'm looking forward to lots of perplexed looks, a few knowing Cyclones fans, and hopefully one person who Gets It™ sharing a look with me," he says.
• • • • •
• • • • •
Uni-versary patch reminder: In case you haven't seen, the Uni Watch 20th-anniversary logo is now available as an embroidered patch. The patch was made for us by Stitches, the same shop that does all the sewing for the Mets, Yankees, and Islanders. It measures four inches across and is suitable for sewing onto a jersey or jacket, or just for displaying.
The price is $9.99, plus $1 for shipping (or $2 for shipping outside the USA). To order, send payment to me via Venmo (use @Paul-Lukas-2 as the payee), Zelle (plukas64@gmail.com), or Cash App (plukas64@gmail.com). If you want to use Apple Pay or a paper check, or if you're outside the USA and can only use PayPal, shoot me a note and I'll fill you in.
Once you send payment, be sure to send me your shipping address so I can send the patch on its way to you. Thanks!
• • • • •
• • • • •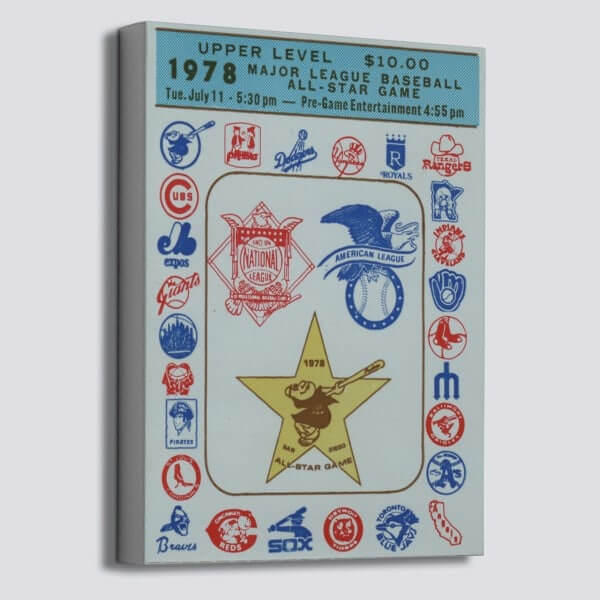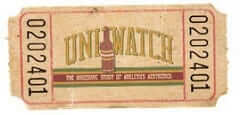 LAST CALL for this week's raffle: Our friends at Vintage Brand are once again letting a lucky Uni Watch reader choose anything from their broad range of retro-minded offerings (including this groovy 1978 MLB All-Star Game canvas).
To enter, send an email to the raffle address by 8pm Eastern tonight. One entry per person. I'll announce the winner tomorrow. Good luck!
• • • • •
• • • • •

Going, going…: Today's also the next-to-last day to enter the Bengals-redesign contest that I'm running in conjunction with Sports Illustrated. Full details here.
• • • • •
• • • • •
The Ticker
By Alex Hider

Baseball News: Here's a great breakdown of the various tweaks the Phillies' jersey script has undergone through the years (from Gary Mattox and Wayne Terry). … The White Sox will install MLB's first foul pole-to-foul pole safety net in time for the team's next home game on July 22. … At least one baseball writer tweeted that the ink on the 2019 All-Star Game programs was causing issues at airport security (from Matt Burgess). … The Braves are giving away a miniature Hank Aaron jersey with a stand on Aug. 1 (from Joel Mendelson). … According to a fan vote, the Albuquerque Isotopes' Copa de la Diversión nickname, the Mariachis, is the best among all of MiLB's alternate Latin identities (from Nicklaus Wallmeyer). … Back in 1917, as America was entering World War I, the White Sox performed military drills on the field (from Bob Gassel). … Hunter Hook found a complete set of these 1998 National League collector's baseballs. … Check out the uniforms worn by the Lake Shore Stone Company, a team that played in 1915 near Milwaukee (from Scott Rogers). … Pretty cool throwbacks for the Wisconsin Woodchucks of the Northwoods League. … Players in the Triple-A All-Star Game wore Ronald McDonald House Charities jersey patches (from Niko Goutakolis). … The New York Post created a back-page illustration that depicted Mets skipper Mickey Callaway in a jersey that the team hasn't worn since 2011 (from Brendan Dircks). … The Sydney Blue Sox, an Australian team, will wear 1990s Sydney Blues throwbacks for Sunday games this year (from Dave Raglin).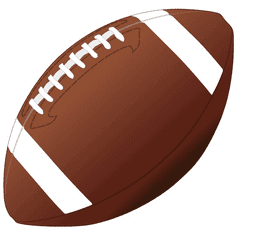 Football News: Reader Benji King spotted an NFC logo on this ambulance that's been repurposed as an embroidery business in Star Valley, Wyo. … Neat move by Penn State, which made its 2019 schedule poster in such a way that it can be folded up into a model helmet (thanks to all who shared). … The University of Washington officially unveiled its new uniforms yesterday. The designs confirm earlier leaks (from Tyler Keefe). … New jerseys for the Cincinnati Bearcats. It appears the pants and helmet are unchanged (from Joe Owen). … You may have seen the news item about the alligator that was found swimming in a Chicago park on Tuesday. Well, someone made a logo for the gator, based on the University of Florida's logo (from Scott G.).

Basketball News: Michael Jordan's first Bulls jersey — the one he held up at his first contract signing in 1984 — is going up for auction, with a minimum initial bid of $15,000 (from Jordan Cutler). … Celtics C Tacko Fall tried to enter a summer league game while still wearing his warmup top (from Kary Klismet). … With the NBA in the throes of free agency, visit Etienne Catalan's Twitter page for the latest on new NBA number assignments. … New floor for the West Virginia Mountaineers (from Drew Ward). … New home, away and alternate uniforms for NAIA Lincoln College in Illinois. … Here's a gallery showing how NBA team logos looked in old 16-bit video games.

Soccer News: Bayern Munich's away and third jerseys have reportedly leaked (from Josh Hinton). … New away shirt for Crystal Palace. … Aston Villa's women's soccer team is changing its name from Aston Villa Ladies to Aston Villa Women (from our own Jamie Rathjen). … Also from Jamie: Scottish Championship team Queen of the South has a new tartan second jersey. … US women's soccer star Rose Lavelle's grade school near Cincinnati shared a photo of her as an 8-year-old wearing a Mia Hamm jersey (from Kary Klismet). … Also from Kary: USWNT's Denver natives, Lindsey Horan and Mallory Pugh, have been painted on the side of a Denver building. … Former president Barack Obama tweeted a photo of himself with a personalized UWWNT jersey yesterday (from James Gilbert). … Lazio's third kit has apparently leaked. … For a roundup of more kit unveilings from smaller clubs and leagues, check out the Twitter feeds from Josh Hinton and Ed Zelaski.

Grab Bag: Japan's Rugby World Cup jerseys are made of different materials, depending on the player's position (from Eric Bangeman). … New logos for Elmira College in New York (from Kary Klismet and The Goal Net). … Hurley High School in Wisconsin has chosen the Northstars as its new team name, replacing Midgets.
• • • • •
Rough times in New Orleans this week. To all our readers in southern Louisiana, including membership card designer Scott M.X. Turner, take care and be safe. — Paul