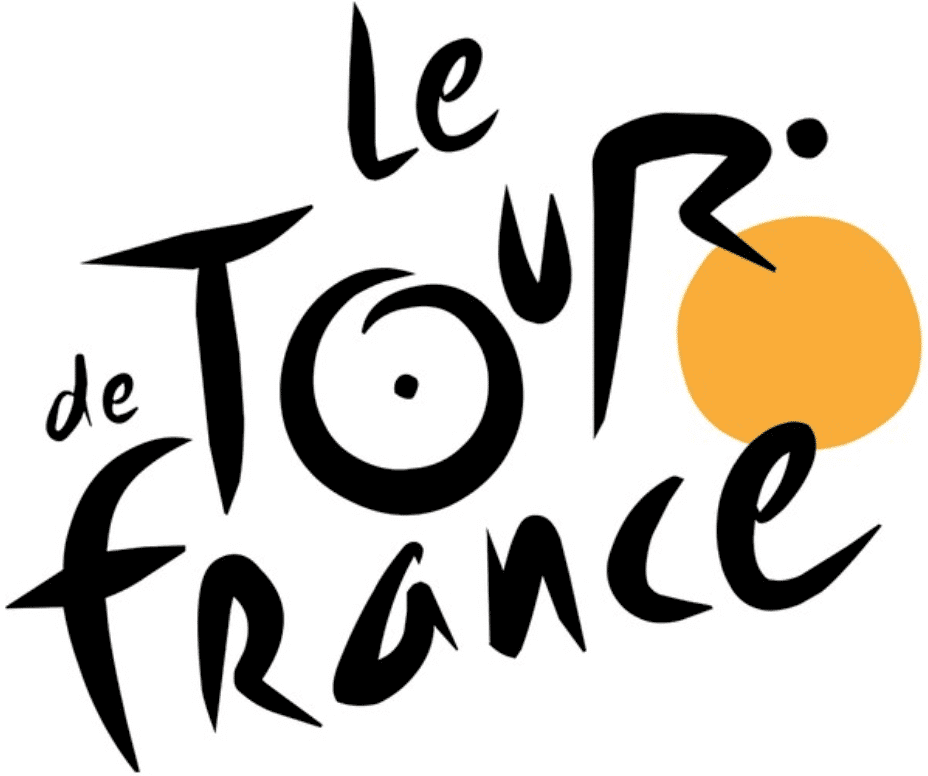 Although I bike for at least an hour almost every day (I like to say that it's my gym and my shrink rolled into one), I'm not really a biker guy — I'm just a guy who bikes. I've never owned a pair of biker shorts, I don't have the funny shoes that snap into the funny little pedals, and I don't know anything about the Tour de France except that this year's edition gets underway on Saturday (and frankly, I wouldn't even have known that unless a few readers had recently brought it to my attention).
Fortunately, Andrew Schmidt knows a lot more about cycling than I do, and he's put together a kit-by-kit review of this year's Tour de France attire. Ready? Here we go (for most of the photos, you can click to enlarge).
2019 Tour de France Preview
By Andrew Schmidt
AG2R La Mondiale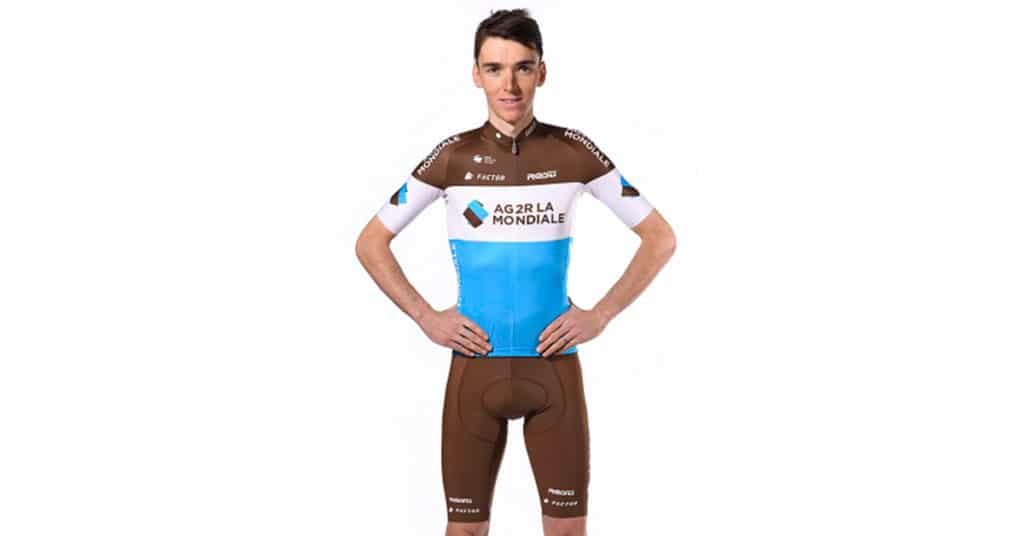 With a color scheme all their own, AG2R leave even the most ardent cycling fans shaking their heads. Aside from French cycling fans trying to support the local team, don't expect to see anyone wearing or supporting this kit.
Grade: D
---
Astana Pro Team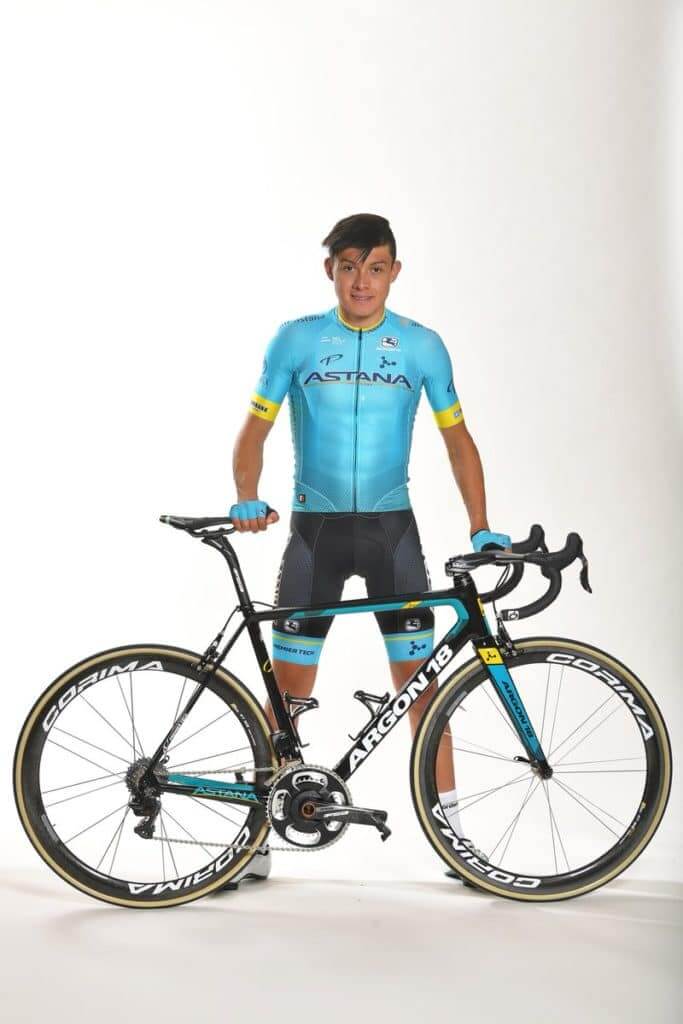 A team literally sponsored by Kazakhstan (well, technically a coalition of state-owned companies, but close enough). The bright blue jersey with yellow accents beautifully reflects the Kazakh flag in all the right ways. Only the fade to black bib shorts hurts the kit as a whole, making the jersey notably better than the overall kit.
Grade : A-
---
Bahrain Merida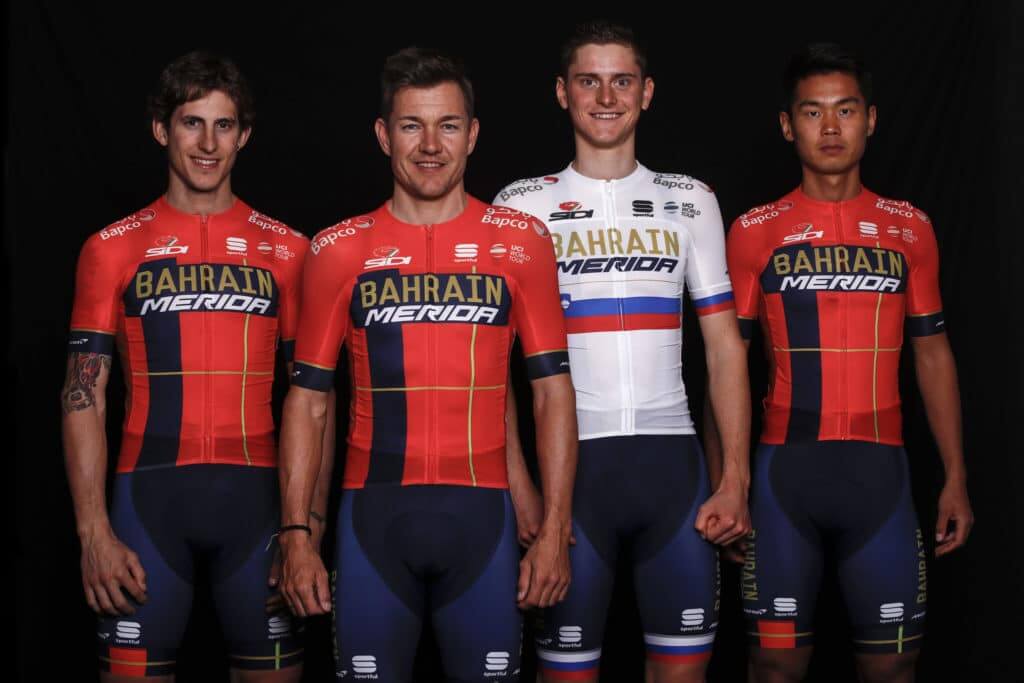 This kit shows what a good accent color can do. The gold on the lettering, gloves, and helmet take a nice uniform and elevate it to another level. Bonus points for the navy bib shorts.
Grade: A-
---
Bora-Hansgrohe
With arguably the best secondary color in the pro peloton, this German squad adds a descending green to a strong black base. While I love the look, I can admit that it doesn't quite stack up to the sharpest kits we'll see in France this summer.
Grade: B+
---
Deceuninck-Quick Step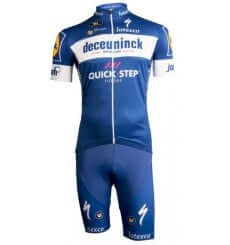 A straightforward cycling jersey with virtually no frills. The blue jersey with white stripe across the chest is clean and eye-pleasing. Special mention to the "LiBL" sleeve logo that adds a nice yellow accent to the kit. This is how you do plain and simple.
Grade: B+
---
Dimension Data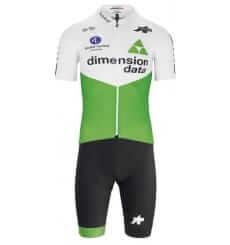 Do you ever get the feeling that something's just missing? This jersey gives me that feeling. The white upper and green torso are pleasing, but a touch more black would help. I know the team already has black shorts and a black stripe down the side, but something as simple as a black collar would elevate this jersey so much in my eyes.
Grade: B
---
EF Education First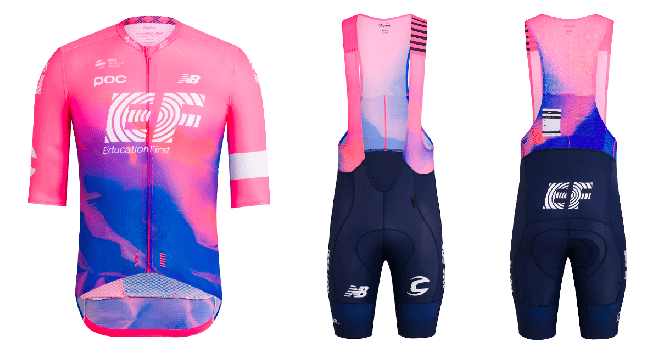 If there was ever a Jersey by millennials for millennials, this is it. With a bright pink kit that has a massive purple swirl in it, this is easily the loudest kit in the pro peloton. The only objectively good thing is the flat white used for the sponsors on the jersey. I love it but understand if most people hate it. My only split grade.
Grade: A+ and F-
---
Groupama FDJ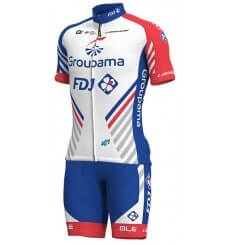 With one red sleeve and one blue sleeve on a white jersey, this is a clean look that I should like. The colors work well, but having two primary sponsors' logos just doesn't work for me. Cycling jerseys should have one coherent center logo, period.
Grade: B
---
Lotto Soudal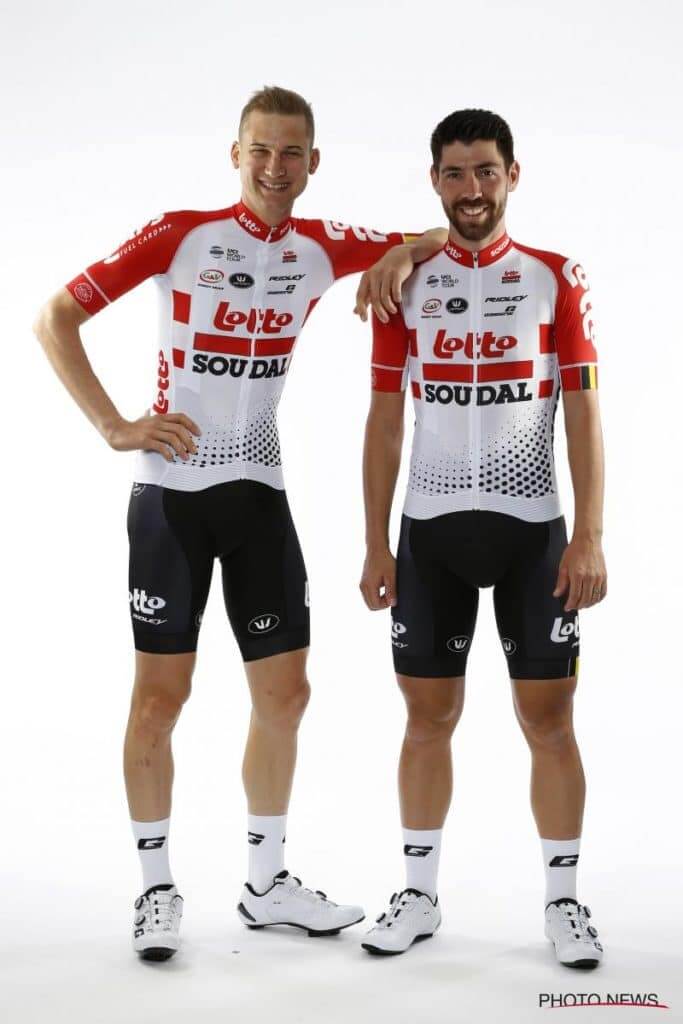 With bright red shoulders and sleeves on a white jersey, this jersey is begging to be clean, classic, and beautiful. They even show Groupama how to work two logos together. Unfortunately, the jersey suffers badly from too many sponsor logos that stand out in a bad way. I also have no idea what to call the black dots at the bottom of the jersey. If a cycling jersey can be "muddy" with design features, this is it.
Grade: B-
---
Jumbo Visma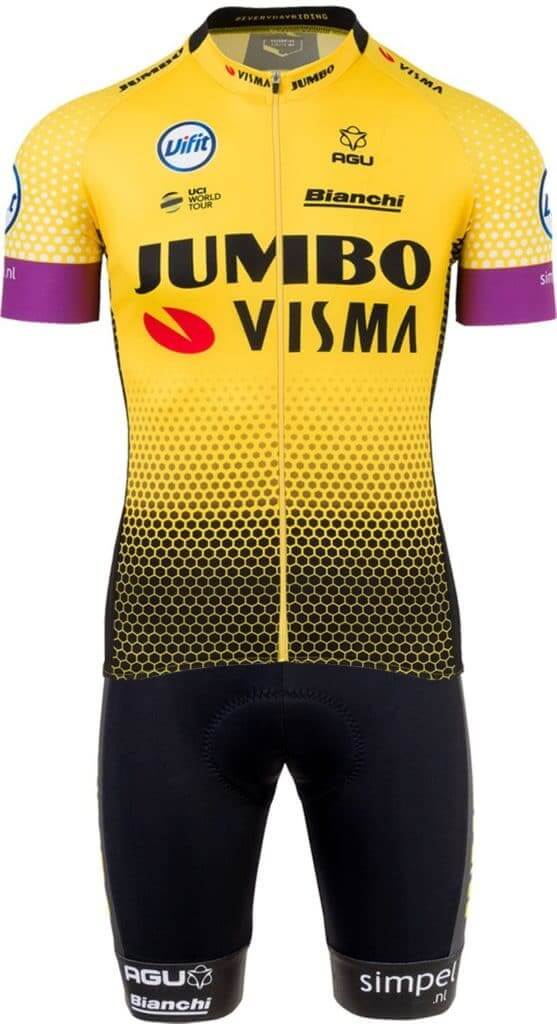 Another jersey caught trying to do too much. The yellow and black look as good as they always seem to do together. But the purple trim on the sleeves, uneven gradient and white "Vifit" sleeve logo all hurt this jersey. Nice at a distance and an eyesore up close.
Grade: B-
---
Michelton Scott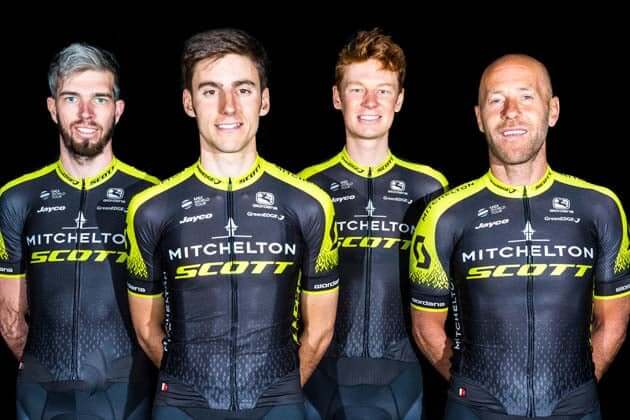 Almost looking like the Lotto Soudal jersey with a negative color filter applied, Michelton Scott rocks neon-yellow shoulders and sleeves against a black base. With a color combination that truly belongs to endurance athletics alone, the Australian squad has a standout look all their own. Big bonus points for having sponsor logos that blend into the jersey instead of standing out against it.
Grade: A+
---
Movistar Team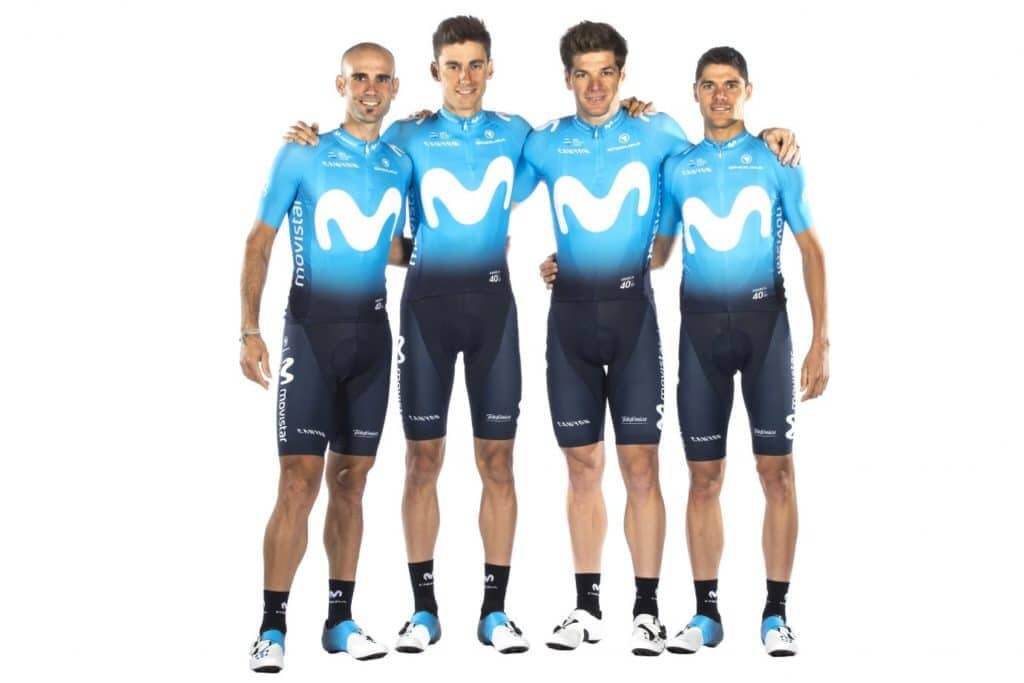 One of the first teams to use a gradient kit, and Movistar still does it better than anyone else. With a light blue that transitions to a navy bottom and bib shorts, this squad still seems to be showing everyone else how it's supposed to be done. A clean, modern look that also benefits from having all sponsor logos in an eye-pleasing white accent color.
Grade: A
---
Team Katusha-Alpecin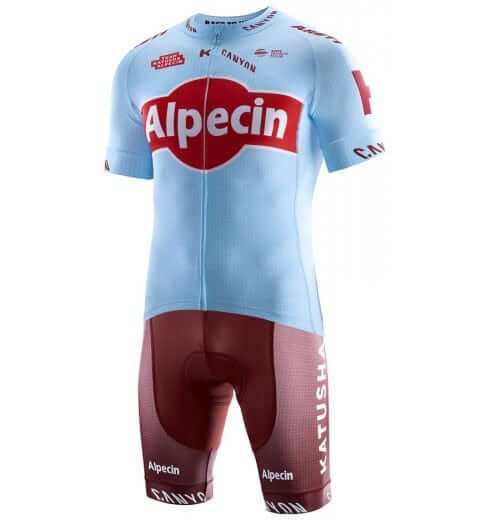 Sporting light-blue jerseys with a maroon logo plastered across the chest, this jersey ends up looking like a light-blue loaf of bread. The maroon bib shorts do help a little — but just a little.
Grade: D
---
Team Ineos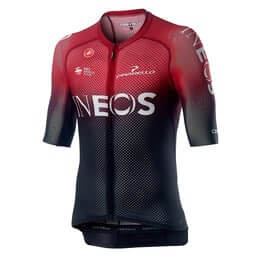 A case study in how keeping up with modern trends can go wrong. Team Ineos uses a jersey that starts out dark red and then fades way too quickly into black. The red is too dark, the gradient happens too fast, it just doesn't work, and it's such a sad departure from the gorgeous kits this team had as Team Sky.
Grade: C-
---
Team Sunweb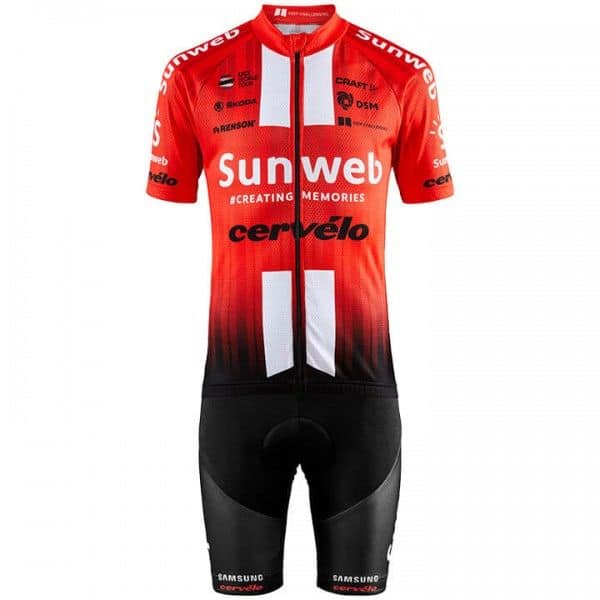 A jersey that starts bright red and slowly fades to black, this is what I think Ineos was going for. The chest logo and pair of racing stripes down the middle complete a nice, clean look. Nothing to complain about, but nothing to get excited about either.
Grade: B
---
Team CCC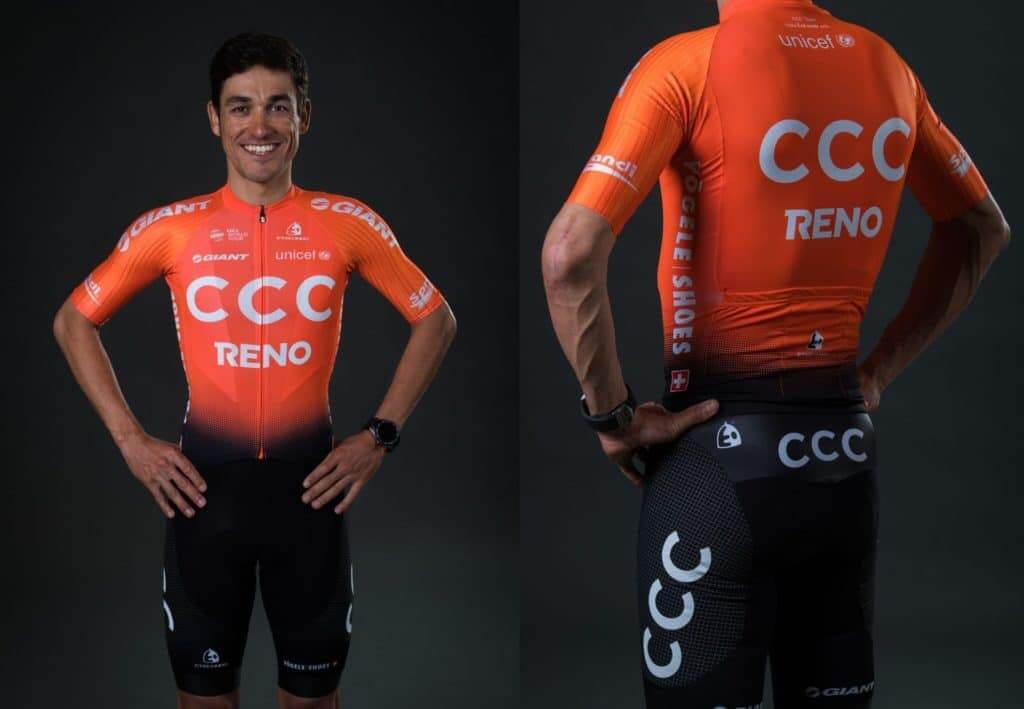 This is how a cycling kit should look: clean, distinct, and with sponsor logos that marry into and improve the jersey instead of just being plastered on.
Grade: A
---
Trek Segafredo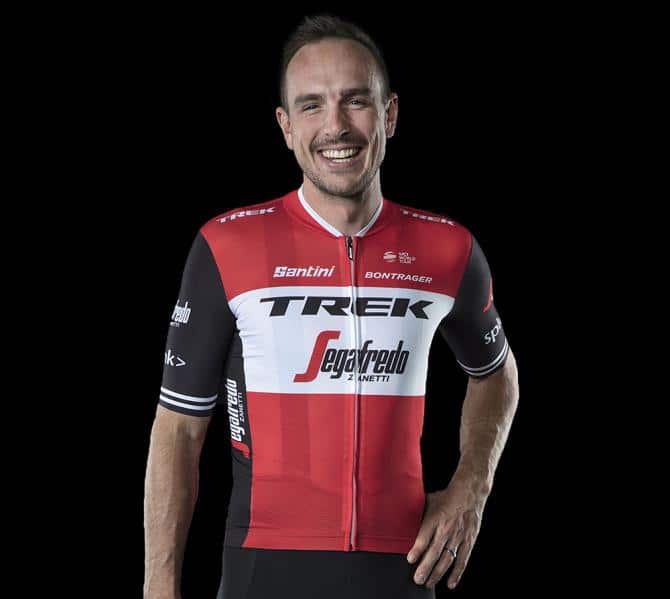 The 1970s called and said they want their jersey back. With a red jersey, a massive white stripe for the Trek logo, and black bib shorts, this kit is dull, generic, and dated. Some fans would call it classic, but I call it boring. [
Naturally, this is the one I like best. — PL
]
Grade: C+
---
UAE Team Emirates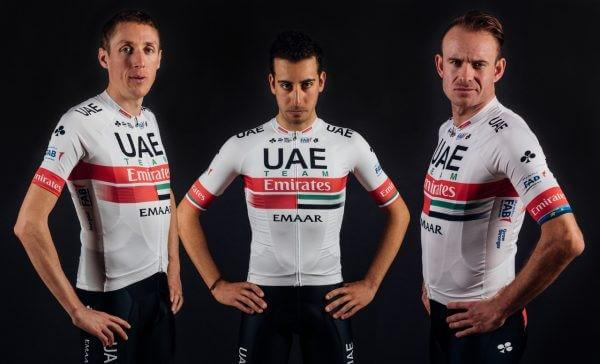 Someone from Team Emirates needs to call Astana to learn how to work a flag into a uniform. With a plain white jersey, black sleeves and a touch of the UAE flag, this jersey simply fails to stand out. Making the flag bigger and more prominent would be a big improvement.
Grade: C
---
Arkea Samsic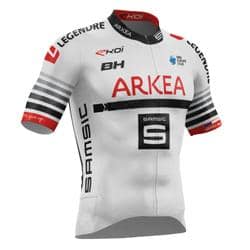 Simply a cleaner version of the Team Emirates kit. The jersey is white with black stripes on the sleeves. Sponsor logos blend better into this kit than most, but that's not enough to save it.
Grade: C+
---
Cofidis Solution Credits
Can bad bib shorts ruin a kit? Cofidis seems intent on trying to answer that question with red bib shorts that awkwardly fade into black. The white jersey that fades to red isn't bad, but the sunburst motif is. This kit looks more like a bad college football uniform than a fun cycling kit.
Grade: D
---
Total Direct Energie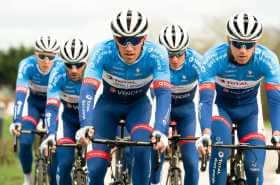 I don't know where to begin with this one. The team uses two tones of blue separated by an oddly shaped chest stripe. The blues don't completely clash, but they certainly don't mesh well either. I don't think this kit is catching anyone's eye this summer.
Grade: C
---
Wanty Gobert Cycling Team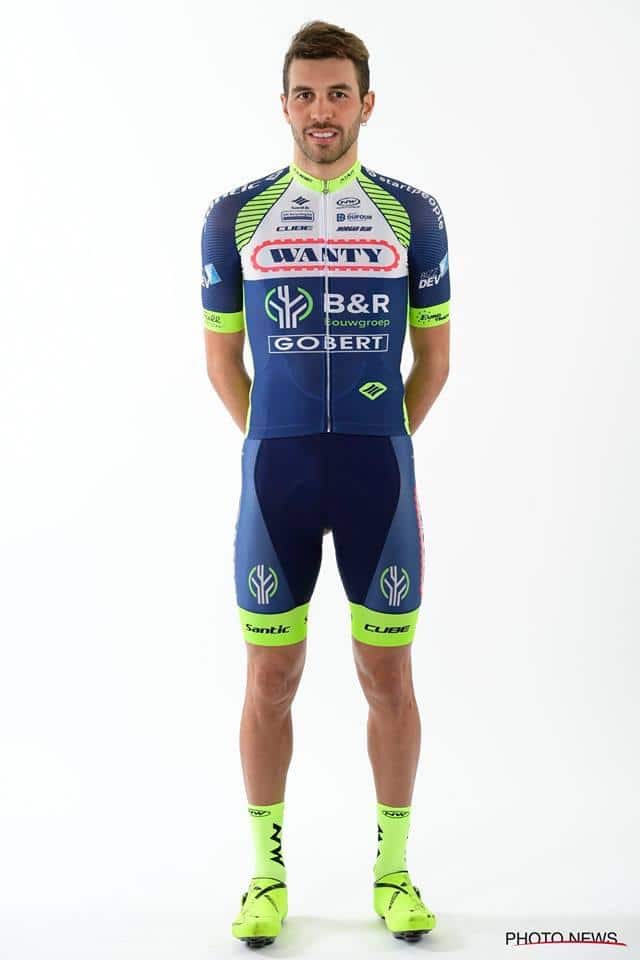 I want to love this jersey so badly. The neon collar and trim go great with the dark blue at the bottom. I could live without the white chest, but the template is still amongst my favorites of all the teams in this race. Without the logos, I would buy this jersey in a heartbeat, but it looks like 50 different sponsors beat me to it.
Grade: B-
• • • • •
• • • • •
Remembering Tyler: Lots of memorials last night for Angels pitcher Tyler Skaggs, who died earlier this week. The Angels added a "45" chest patch and hung Skaggs's jersey in their dugout. Starter Jose Suarez had two inscriptions on his cap — "RIP 45" with a cross on one side and Skaggs's initials on the other side.
The Angels were playing last night in Texas, where the Rangers put No. 45 behind the mound in the Angels' number font — a very nice gesture.
As for other teams:
• Nationals pitcher Patrick Corbin, who originally came up through the Angels' farm system with Skaggs and remained a close friend of his, changed his uni number from 46 to 45 and inscribed Skaggs's uni number on the mound.
• Corbin's teammate Adam Eaton wrote Skaggs's uniform number on his cleats.
• Cleveland starter Trevor Bauer wrote "TS45" on his cap.
• Rays pitcher Jose Alvarado, who wrote "T.S. RIP" on his cap on Monday, still had the memorial inscription yesterday.
I'm sure there were other Skaggs memorials that I missed. Feel free to post them in today's comments.
• • • • •

• • • • •
Bengals contest reminder:
In case you missed it last week, I'm teaming up with
Sports Illustrated
for a Bengals-redesign contest.
Full details here
.
• • • • •
• • • • •
The Ticker
By Lloyd Alaban

Baseball News:  The A's wore their regular (not Kelly) green jerseys at home for the first time this season last night against the Twins (from Jakob Fox). … The Potomac Nationals, Single-A affiliate of the Nationals, will wear these jerseys for their upcoming Ghostbusters Night this weekend. … Red Sox C Christian Vazquez had a weird white splotch on his batting helmet last night. Probably rosin (from Abe Gobel). … Padres 1B Eric Hosmer wore the wrong cap (note the MLB 150 patch) last night (from David Perlberg). … Orioles P Asher Wojciechowski started last night. His 13-letter NOB is the longest in Orioles history (from Will Shoken). … Rapper and Cleveland native Kid Cudi helped design a special-edition Indians cap for this year's All-Star Game (from Jason Hillyer). … The Fresno Grizzlies will wear these uniforms for Independence Day (from Joe Giza). … The Thunder Bay Border Cats of the Northwoods League wore these white uniforms on Canada Day (from Will Scheibler). … The White Sox apologized after including a photo of Emmett Till, a boy who was lynched in Mississippi in 1955, in a video montage of "famous Chicagoans" (from Denver Gregg). … We recently held a contest to redesign the Portland Pickles of the West Coast League. Here's Kevin McLaughlin's winning jersey in real life.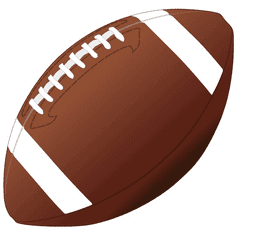 Football News:  Check out this detail-heavy map of the college football world from 1939 (from @asgardpress). … The Bears have announced this season's bobblehead giveaways (from Griffin Smith). … Here are the jersey numbers issued to this season's Auburn freshmen (from Clint Richardson). … Here's what the CFB 150 patch looks like on Southern Illinois's home jerseys (from @mrmichael21). … Former WR and Canadian Football Hall of Famer Milt Stegall played his entire CFL career with the Winnipeg Blue Bombers. He is now a TSN analyst for CFL telecasts. During a weather delay yesterday, Stegall put on the jersey of Winnipeg's arch-rival, the Saskatchewan Roughriders. … UNC will have Carolina blue 22-yard line hash marks on their field next season to honor College Football Hall of Famer Charlie Justice, who wore No. 22 when he played for the Tar Heels (from James Gilbert). … The Pro Football Hall of Fame will give a gold jacket and ring to the family of late Denver Broncos owner Pat Bowlen. Bowlen had been elected but not yet inducted at the time of his death last month (from Kary Klismet). … Here's an inside look at last night's Adidas/Huskies uniform cruise (from @thA_Pandabear).

Hockey News:  New Rangers F Artemi Panarin will wear No. 10 with the club (from Alan Kreit). … From that same Rangers press conference: F Amanda Kessel from the Metropolitan Riveters of the National Women's Hockey League was named an official ambassador to the newly-created Junior Rangers Girls Hockey program. She was given a custom Rangers sweater to mark the event. Notice the difference between Panarin's and Kessel's NOBs: Panarin's is vertically arched (like the Rangers' actual sweaters) while Kessel's is radially arched (from Brandon Weir).

Basketball News: Looks like the NBA may be making some super-subtle tweaks to its logo. … A few items from Etienne Catalan: C Mitchell Robinson will wear No. 23 with the Knicks. … A couple of Pistons have new jersey numbers. SG Deividas Sirvydis will wear No. 37 with the club, and Louis King will wear No. 12. … F Al-Farouq Aminu will wear No. 2 with the Magic. …  SG Adam Mokoka will wear No. 20 with the Bulls. … Magic SF/SG Terrence Ross will switch from No. 31 to No. 8. … The Pacers are keeping their arena's corporate-advertised name even though the advertiser's naming-rights deal has expired (from James Gilbert). … In this photo at least, it looks like the Lakers' Summer League jerseys don't have advertisers on them (from @HitTheGlass). … Here are Kentucky men's numbers for the upcoming season (from Josh Hinton).

Soccer News: The US women's national team wore blue socks instead of red with their red strip yesterday against England (from multiple readers). … A Mexican player in last night's Gold Cup semifinal got a cut on his scalp, so he put on a swimming cap. … A few items from @clash_kit (aka Josh Hinton): The Mexico men's national team wore white kits against Haiti in their CONCACAF Gold Cup match last night. … New kits for English side Bristol City. … New third shirts for English club AFC Wimbledon. … New kits for English club York City. … New home kits for Northern Irish side Linfield. … New home shirt and second shirt for English club Stevenage. … New Aston Villa kits and training shirts. … New shirts for Bologna FC 1909 in Italy. … New kits Blackburn Rovers. … New kits for Welsh side Swansea City AFC. … New shirts for UD Las Palmas of Spain. … New kits for French side Guingamp. … AS Monaco had their new home shirt leak. … New home (navy), second (white), and third (red) shirts for French club Bordeaux. … New kits for German club SV Darmstadt 98 (in white). … Their league-mates, Hamburger SV, have had additional photos of their new home shirt leaked. … New home and second kits for Valencia. … New kits for Spartak Moscow. … New shirts for Australian club Melbourne Victory. … New uniforms for Japanese club Gamba Osaka. … Items from Ed Zelaski: New kits for Standard Liege of Belgium … Celtic's kits didn't make it through customs, so they're wearing an unusual uni combo for their match against St. Gallen. … New kits for Hajduk Split. … New kits for Bordeaux. … Here's a teaser of Germany's BSG Chemie Leipzig's new home shirt. … New training tops for Manchester United. … From our own Jamie Rathjen: "Scottish team Livingston have silently switched to Nike from a company called FBT. As far as I'm aware, nothing has been said or revealed, but they've been wearing Nike stuff at their preseason camp for the past week."

Grab Bag: New uniforms for Dayton women's volleyball (from Eric Farrell).