Three weeks ago I announced a design contest to create new uniforms for the Leigh High School Longhorns girls' basketball team in San Jose. Today we're ready to announce the winner.
"This was a tough decision," says Bobby Williams, the team's coach, who commissioned the contest. "We received over 30 entries. I wanted to let the coaching staff have some input on choosing the winning design [Uni Watch did not participate in the judging — PL]. We narrowed it down to a few finalists and then we fought a lot over who should win."
Before we get to the winning design, here are the runners-up that Bobby liked best (for most of these, you can click to enlarge):
Runner-Up: Diego Yanez-Laguna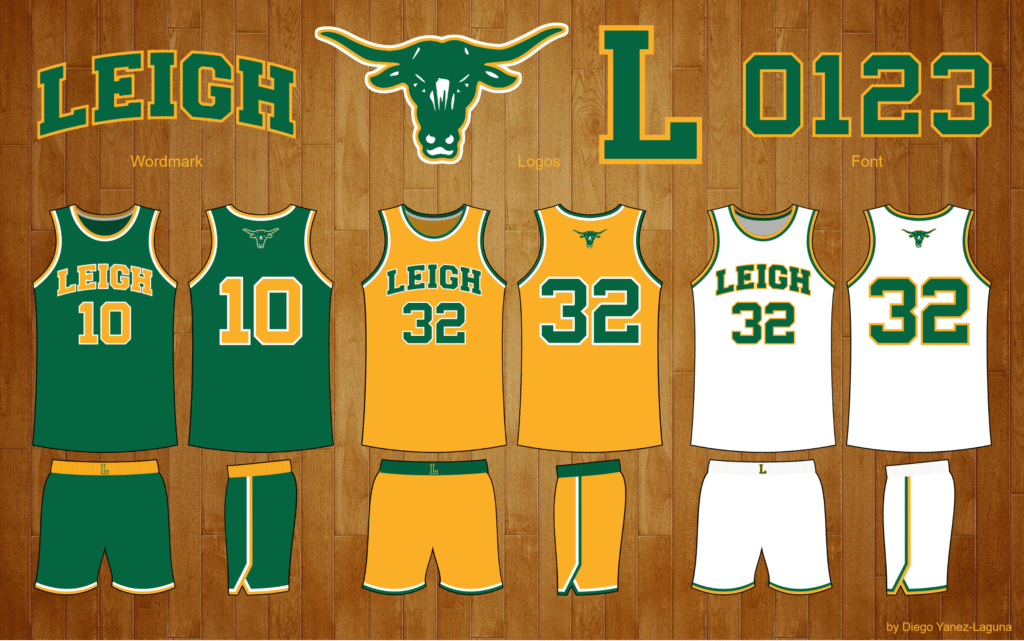 ---
Runner-Up: Colin Eadie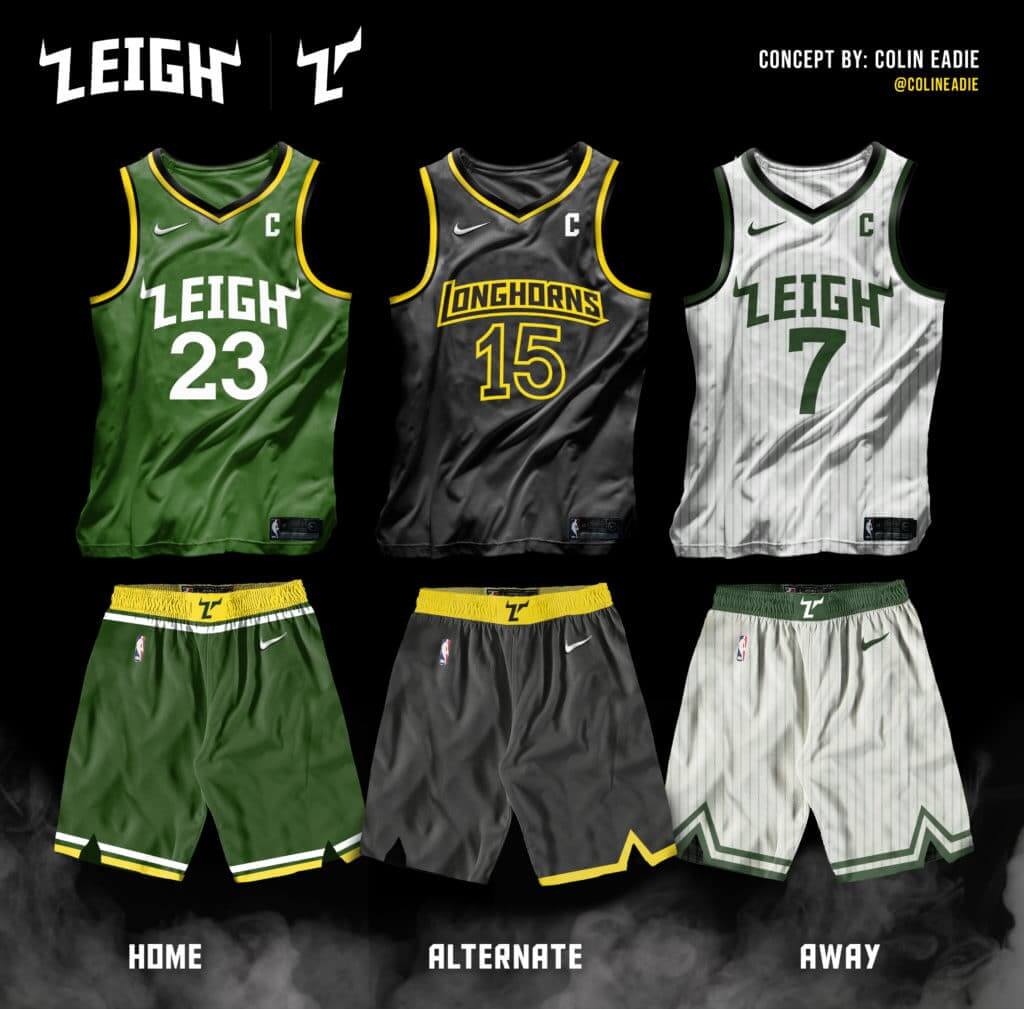 ---
Runner-Up: Ron Verrecchio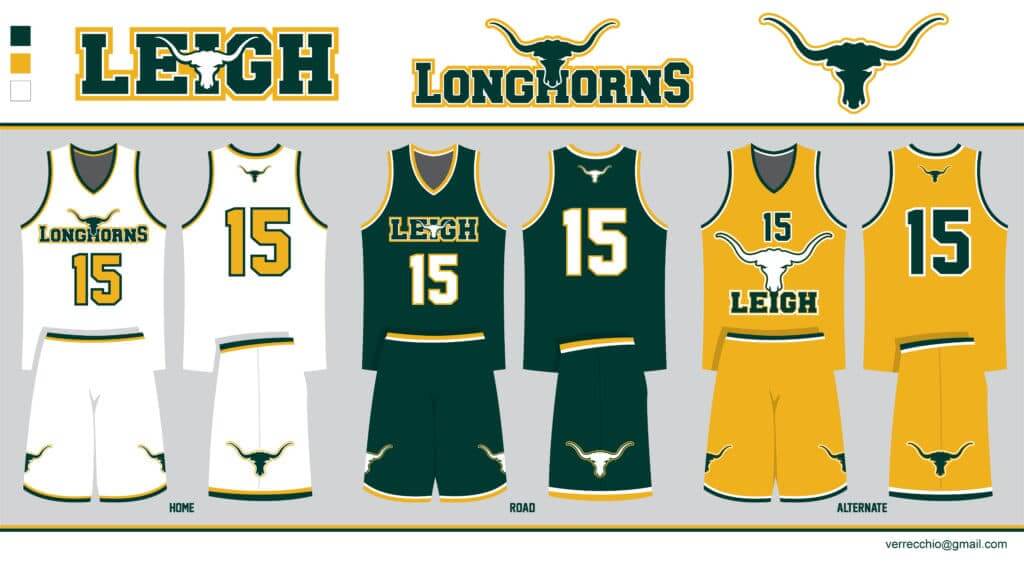 ---
Runner-Up: Clifford Baxter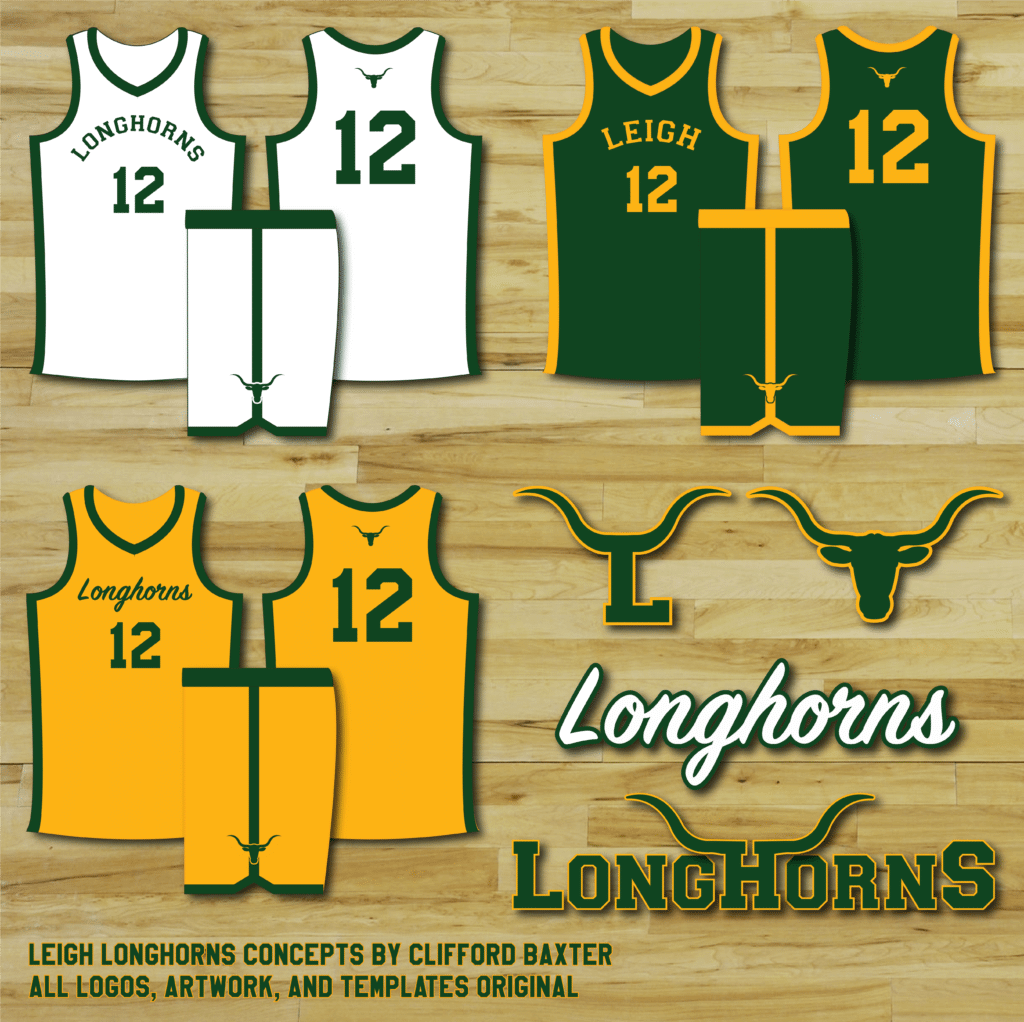 ---
Runner-Up: Brady Ivie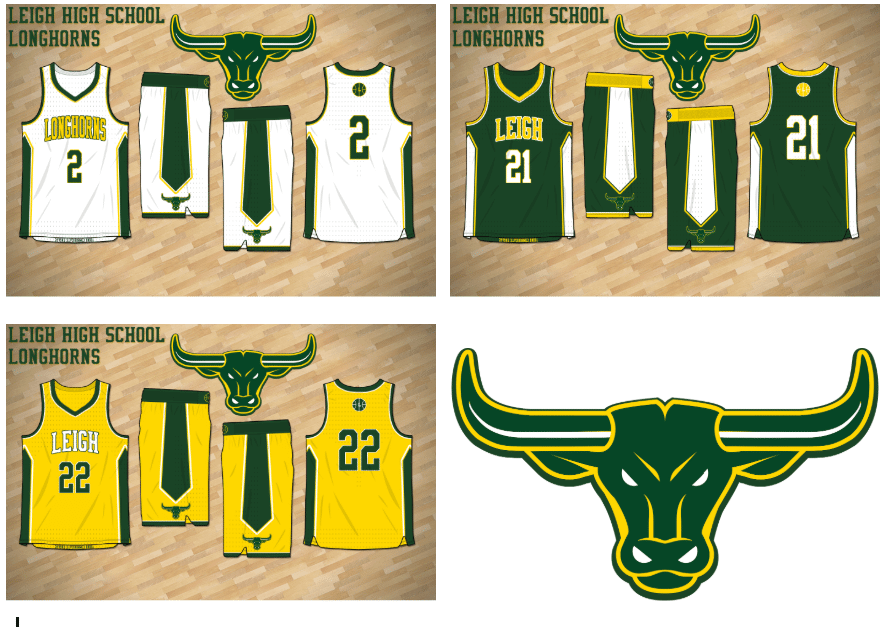 ---
Runner-Up: Trayton Miller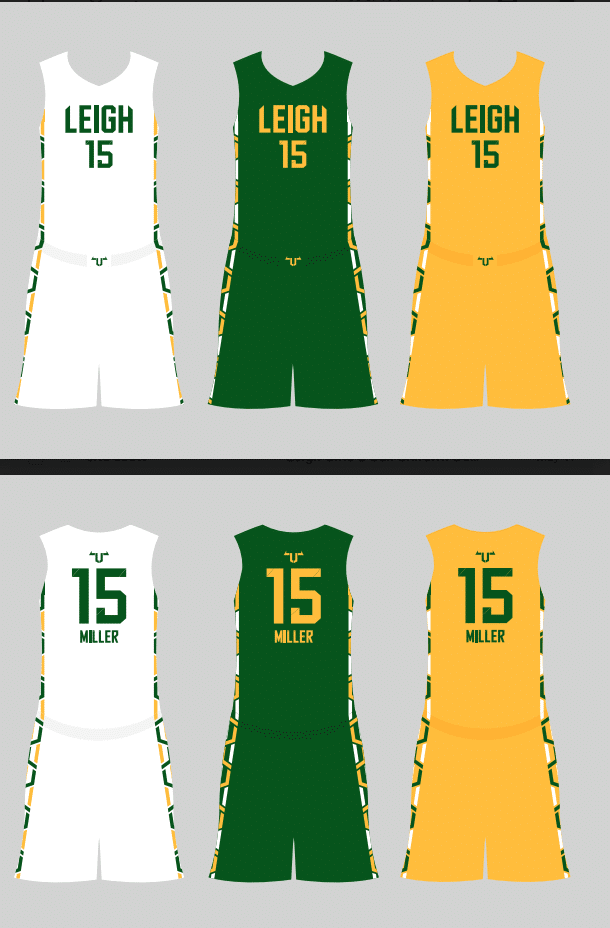 ---
And now, here's our winner …
Winner: Lee Traylor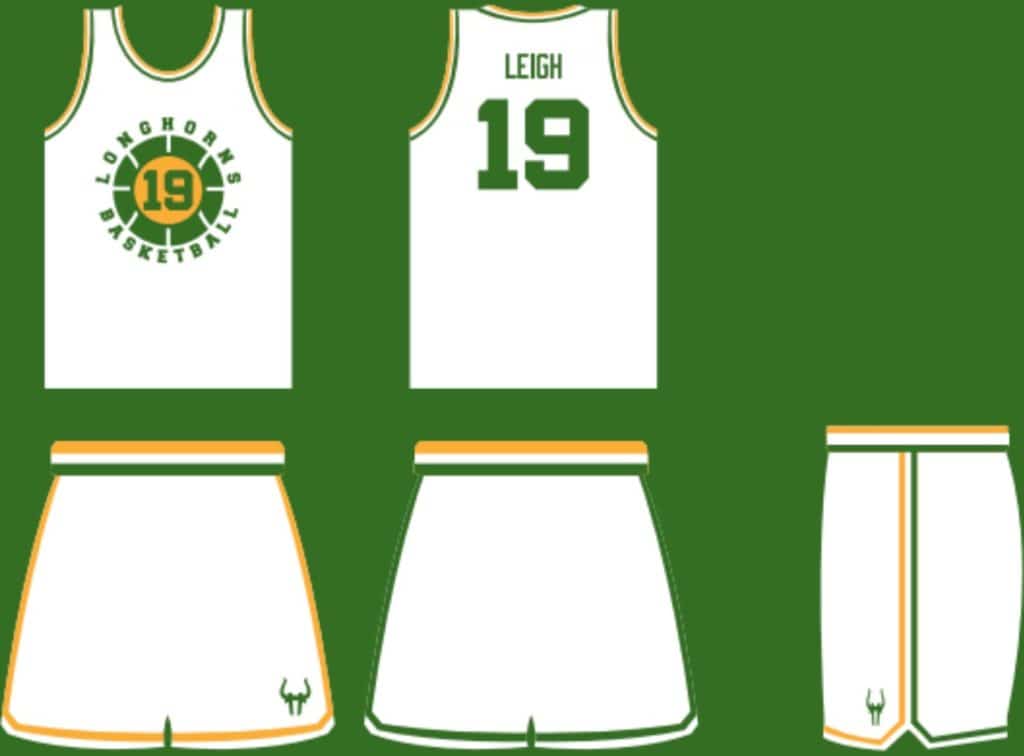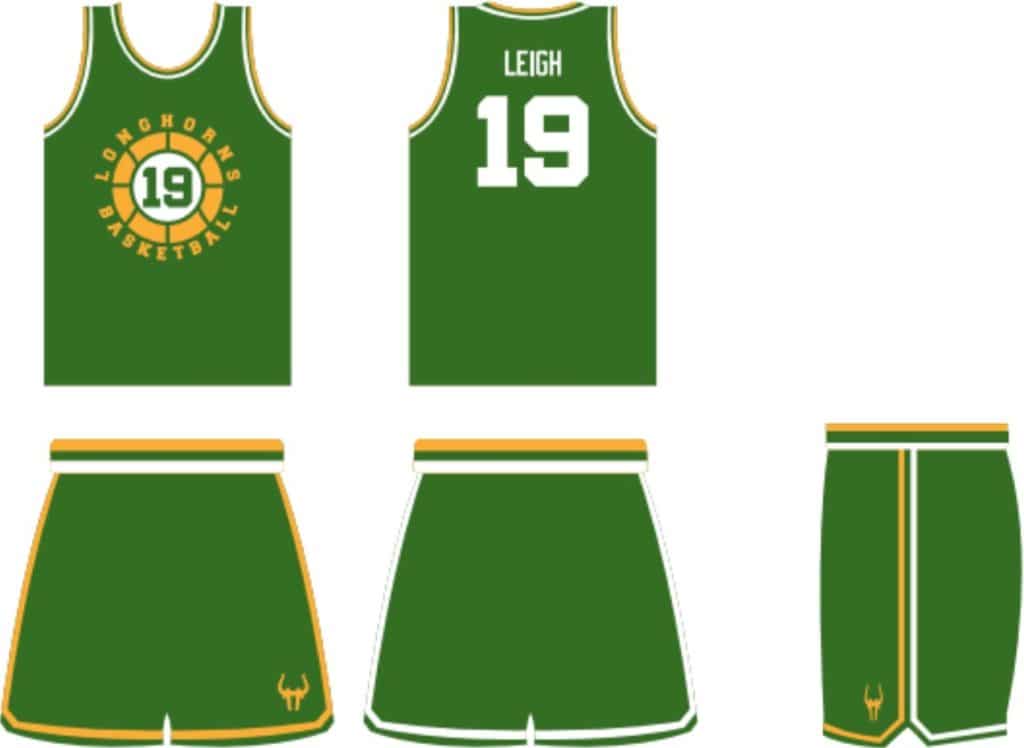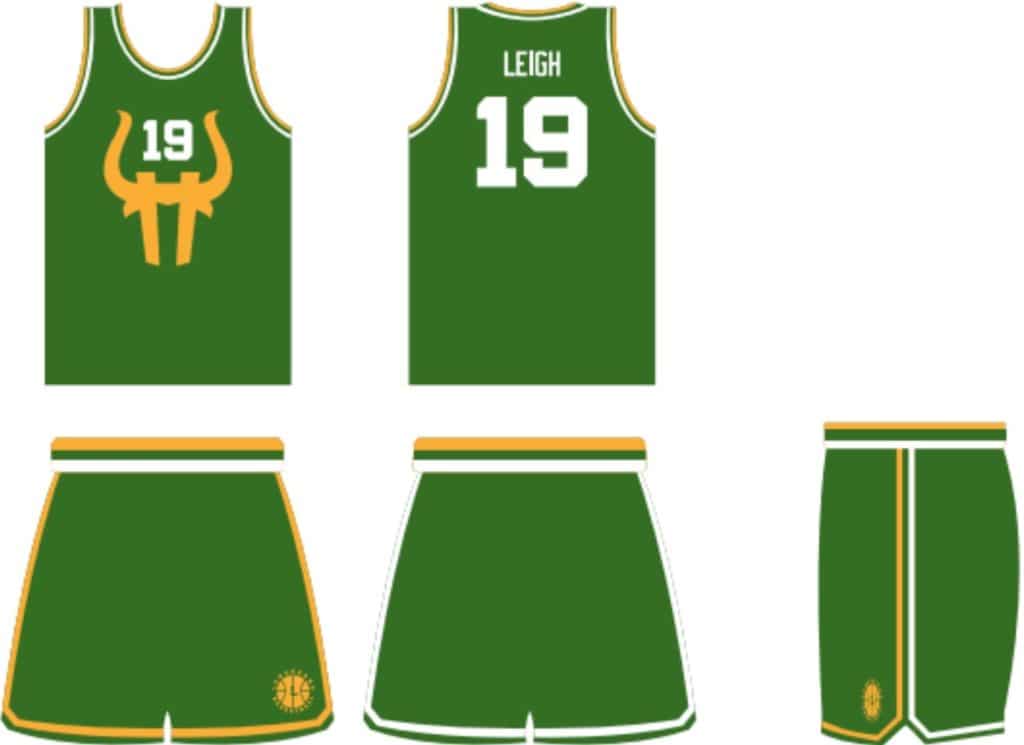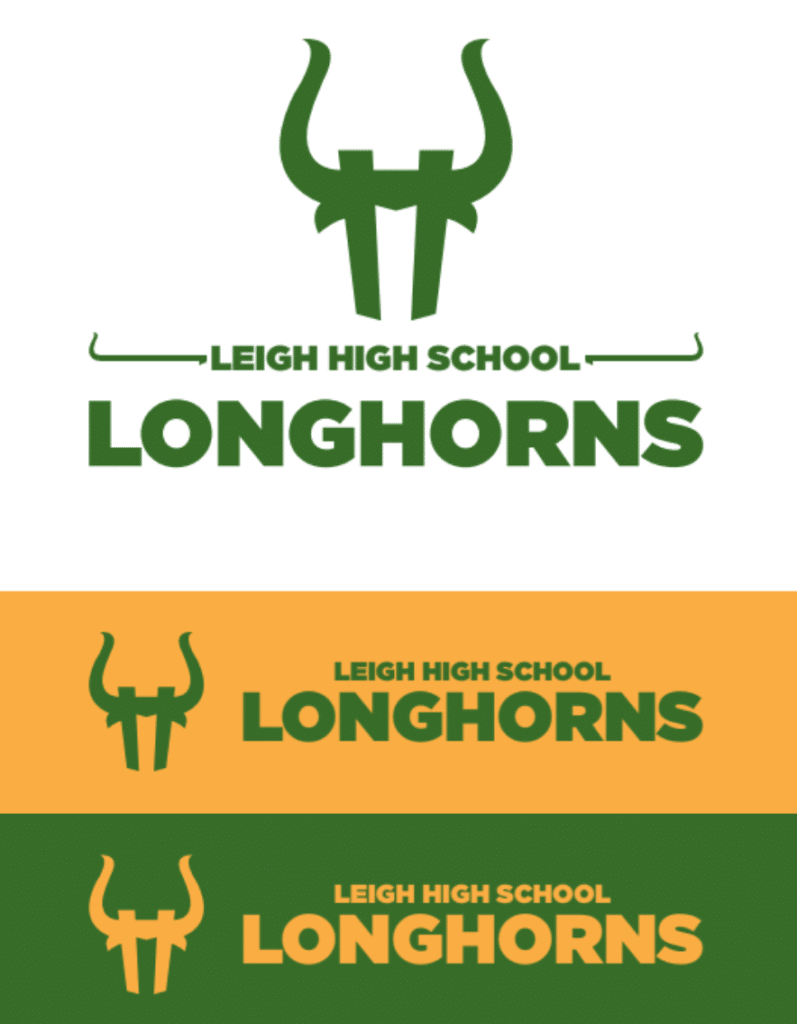 ———
"I think Lee's design really ticked all the boxes we wanted," says Bobby. "And I absolutely loved his minimalist design take on our longhorn logo."
Lee has won himself $375 for his efforts, and Bobby is a very happy client: "Thanks for hosting this competition — it was amazing to see all of the designs, and the whole experience was more than I could have hoped for."
• • • • •
• • • • •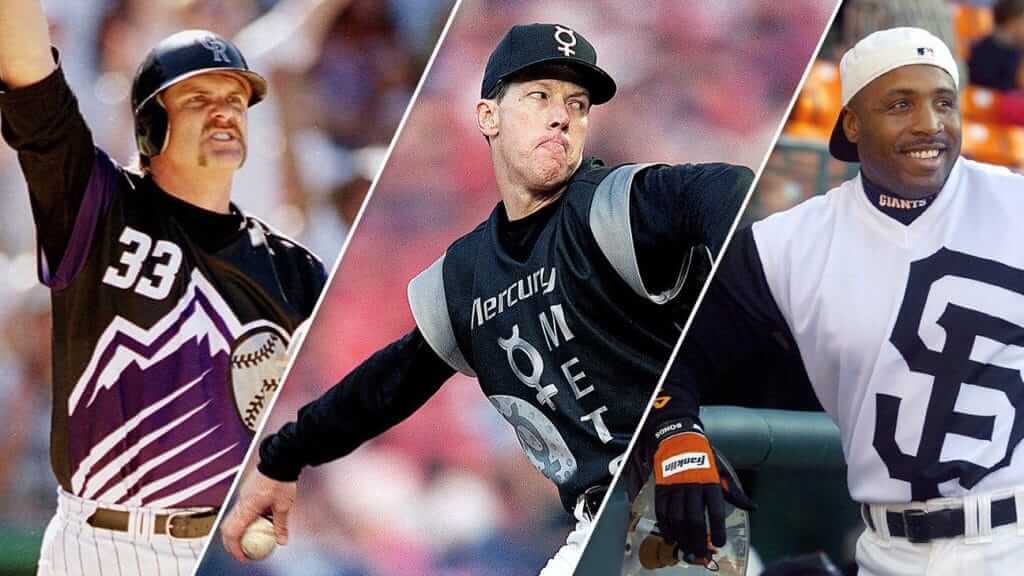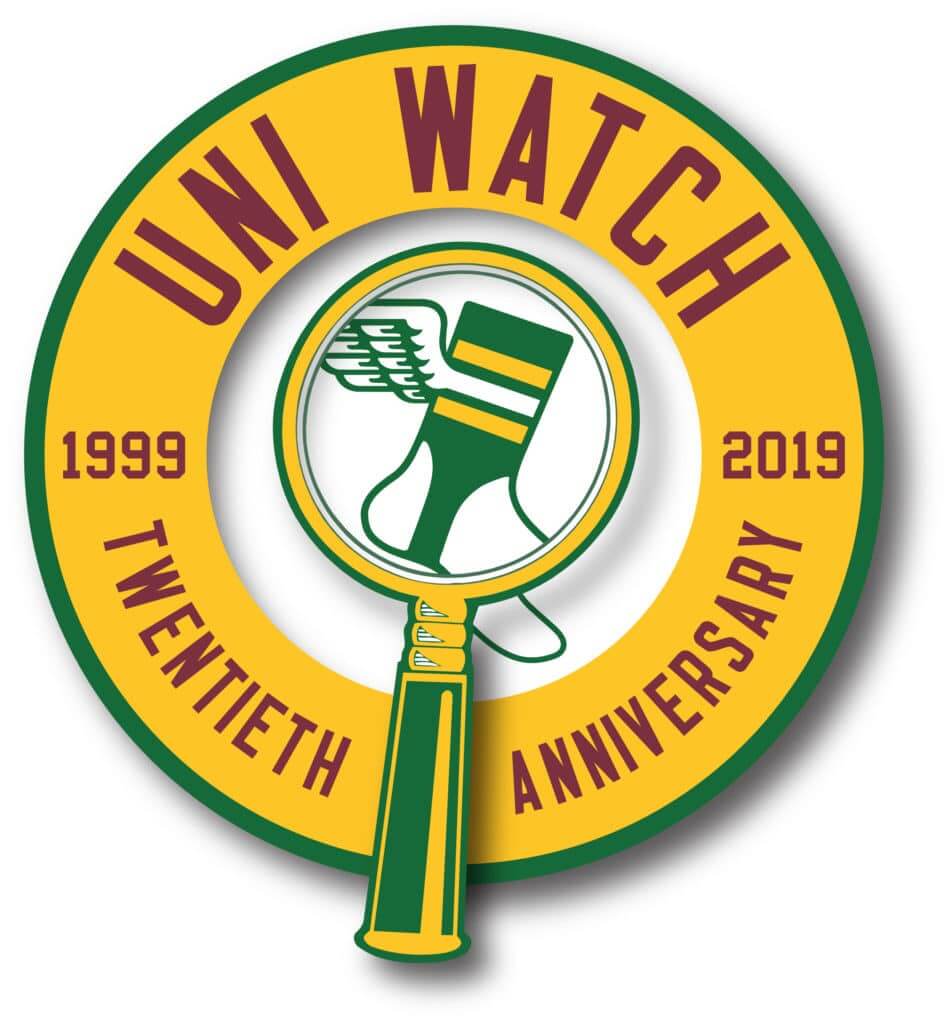 ITEM! Big uni-versary announcement: As I hope you all know by now, Uni Watch's 20th anniversary was on Sunday (in case you missed it, here's the post I wrote for the occasion). But 2019 also marks the 20-year milestone for another notable moment in the uni-verse's history: MLB's infamous "Turn Ahead the Clock Program," which launched on June 26, 1999, with an Angels/A's game.
When we did the month-by-month designs for the Uni Watch T-Shirt Club in 2015, I thought about doing a TATC design, but there was really no good way to do it with a screen-printed shirt. But Teespring has really upped its sublimation game lately (as seen via our Tequila Sunrise Deluxe shirts and hoodies, plus the 2019 Purp Walk shirt), so it recently occurred to me that we could now do a TATC shirt — a perfect way to mark the 20th uni-versary of both Uni Watch and the TATC program.
I was lucky to have the assistance of Teespring designer Jimmy Nutini. Check out what we came up with (click to enlarge):
Pretty good, right? It was Jimmy's idea to combine the TATC program's oversized logo trope with the fadeaway gradation lines that were originally used on the Phillies' TATC jersey — a great combination that really captures the spirit of the TATC silliness. Note that we also have the Uni Watch 20th-anniversary logo printed on the right sleeve as a "patch" (not an actual embroidered patch, obviously).
And here's the back, which matches the original TATC style, complete with a vertically stacked NOB (click to enlarge):
My original plan was to launch this on June 26, to coincide with the anniversary of the first TATC game. But then it occurred to me that people might want to wear it to the Uni Watch parties that are taking place on June 29, so I've decided to make it available now. You can order it here.
(Meanwhile, you can also get T-shirts with our anniversary logo, in green, gold, and various shades of grey, charcoal, black, white, and so on, along with anniversary logo stickers. Embroidered patches should be available in a week or two. My thanks, as always, for considering our products.)
I'm super-grateful to Jimmy for making this happen — hope you agree that it's a really fun addition to the uni-versary celebration.
• • • • •
• • • • •
ITEM! Satellite party update: Meet JohnMark Fisher. As you can see, he likes hot dogs (no capers, but we'll forgive that for now) and also likes hats with excellent NBA logos. He's also a card-carrrying Uni Watch reader, a geographer for the U.S. Census Bureau, and the holder of a master's degree in geographic information systems and cartography, all of which makes him the perfect person to be the Uni Watch 20th-anniversary satellite party coordinator — which, by happy coincidence, is precisely the position for which he volunteered and was promptly hired yesterday.
Here's the deal: We're going to have a uni-versary party here in Brooklyn, at the 773 Lounge, on June 29, 2-6pm. A few non-NYC-area readers have expressed interest in organizing their own satellite parties in their respective cities for that same afternoon, and I like the idea of having a network of simultaneous Uni Watch celebrations taking place (which perhaps we can even link via Skype or Facebook Live or some such). JohnMark will be the point person for keeping track of all these parties, and he may even put his cartographic skills to good use by creating an interactive map showing all the party locations (which will be pretty fucking embarrassing if there are only one or two satellite parties, but I'm trying to stay optimistic here).
So:
• If you want to host a Uni Watch satellite party in your city on June 29 and have an idea of where you'll be doing it, email JohnMark and give him the details.
• If you want to attend a Uni Watch party in your city on June 29, assuming someone else organizes one, email JohnMark, so we can have a sense of how much interest there is in a given area. (If a bunch of people in a given city are interested in attending but nobody has stepped up to organize a gathering, JohnMark may write back to you all to say, "People — come on, one of you step up and organize something!")
JohnMark will compile the information onto a spreadsheet (and possibly a map!), which I'll share here on the site shortly.
I want to mention that this is another great testament to the Uni Watch community. Not only is JohnMark volunteering his time (as did several other readers — I had several good candidates to choose from!), which is a very community-minded gesture, but he's doing so to help organize these satellite parties, which are also community-minded gestures. As I mentioned on Sunday, Uni Watch's 20th anniversary belongs to all of us, not just to me, which is a big part of why I like the idea of having lots of simultaneous parties, not just the one in Brooklyn. Community!
• • • • •
• • • • •
And speaking of the Uni Watch community…: Check out what happened yesterday in Vancouver:
Impromptu Uni Watch meeting on a street corner in downtown Vancouver. I was recognized by awesome contributor Wade Heidt – turns out we work in the same building!@UniWatch pic.twitter.com/KgQUlYhGIn

— Wafflebored (@wafflebored) May 30, 2019
How did Wade even recognize the notoriously reclusive Wafflebored? You may recall that back in February we ran a photo of WB wearing his own DIY'd Uni Watch hockey jersey, which we then auctioned off. Wade apparently committed that photo to memory.
• • • • •
• • • • •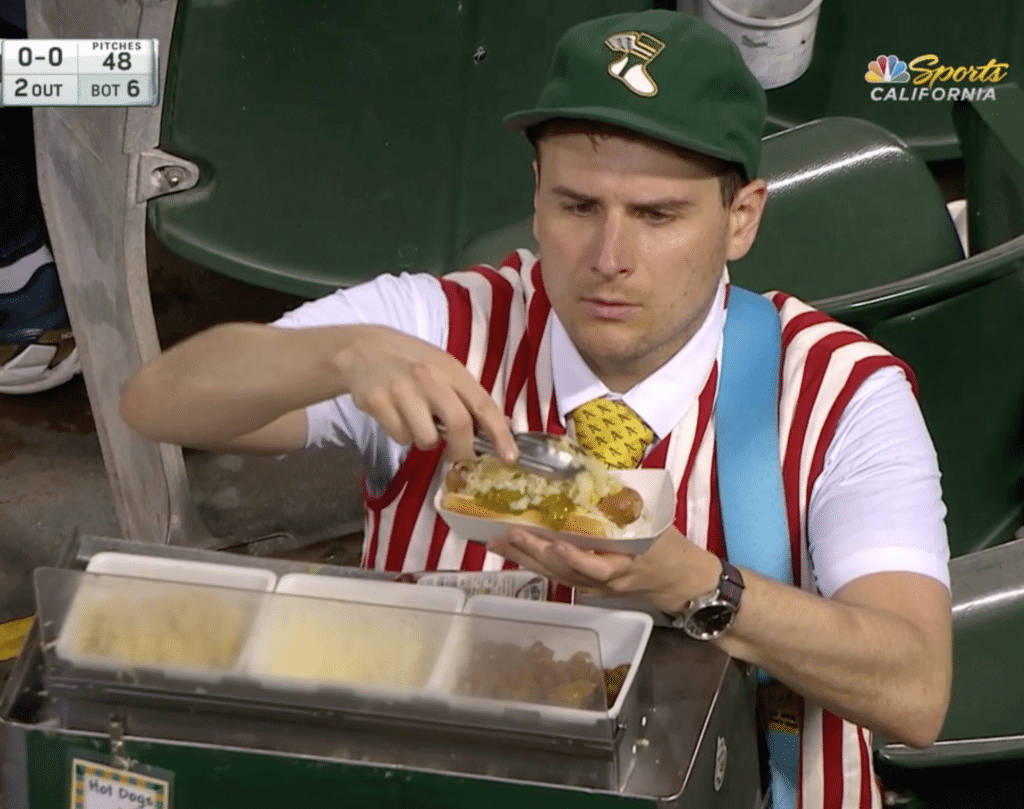 ITEM! Condiment update: I checked in yesterday with ace A's vendor Hal the Hot Dog Guy (who, in case you somehow missed it earlier this month, is the subject of one of the greatest blog entries in Uni Watch history) to see how the caper crusades are going. He responded with the following:
I still got 'em. Most people are just mystified that I have capers, and I would say I serve them maybe on two to three sales a game. I do have about five or 10 people a game ask me if I have them, but I those are just people who read the article and are keeping me honest (so you got people out there making sure I'm keeping my word to you). I would say that Jim [Hal's fellow vendor] and I are eating an equal amount of them on the stadium pretzels we snag once in a while.

I think the caper crusade is going to be a marathon and not a sprint.
Whoa — capers on a pretzel? How do they even stay on? I've asked for a photo. Stay tuned!
• • • • •
• • • • •
The Ticker
By Anthony Matthew Emerson

Baseball News: Good news out of Seattle, where the Mariners announced that they'll be wearing Pilots throwbacks on June 22 (from @Ea_zy_E). … The Cardinals and Cubs will play in London in 2020. Wonder if they'll both wear their home uniforms, as the Yanks and Red Sox will be doing next month. … The Memorial Day remembrance poppy was still on some Angels players' jackets yesterday (from Jakob Fox). … Also from Jakob, the Angels are the only team whose flag at Oracle Park does not feature their city's name. Perhaps they couldn't decide between Los Angeles and Anaheim. … Former MLB player Matt Antonelli has posted a new video discussing the MLB jerseys he kept from his playing days (from Lucan Denfield). … Aaron Phipps found some awesome vintage MLB wrapping paper at a thrift store. Looks to be c. 1990. … Beautiful mismatch of uni eras at the annual Hall of Fame Classic in Cooperstown (from Mike Chamernik). … The Orioles appear to have used an upside-down 2 instead of a 5 in this graphic (from Andrew Cosentino). … Actor Wayne Knight went with a BFBS replica jersey whilst throwing out the first pitch at Dodger Stadium the other night. All I can say is "NEWMAN!" (from @EvilEmpireFan). … I've never seen a beer can repurposed into a candle before, let alone one with the tequila sunrise motif (from @CDud1970). … Did you know that Jimmy Dean, the sausage company, once made baseball cards? I didn't. They only had the MLBPA license, so the airbrushers had a lot of work (from @Jimbollini). … A bit late for Purple Amnesty Day, but Washington softball went mono-purple for yesterday's game against Arizona (from Griffin T. Smith). … Interesting ump jerseys for the NJCAA World Series (from @MRedcross). … Joe Holloman sends along this fun letterhead from the Detroit Clowns, a sort of pre-Globetrotters novelty baseball team that wore Spalding-manufactured clown suits. Look at that letterhead! More info here. … Adrian Bischoff sends along this absolutely stunning 1930s Mexican baseball jersey for the "Electricitas."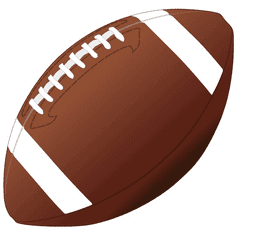 Football News: The CFL's Toronto Argonauts added "We The North" uni patches to support the Toronto Raptors in the NBA Finals. Both teams are owned by Maple Leaf Sports and Entertainment (from many readers). … The Argos also showed off their new white pants (from Wade Heidt). … Pitt released an odd promo image for this fall's game against Penn State, featuring Pitt's new unis with a 2018 ACC Championship Game patch, which is most certainly not going to be on their new unis (from Doug Keklak).

Hockey News: The Las Vegas Metropolitan Police's hockey team have some decent unis with a pretty awesome crest (from @MaxMetalFriar). … The AHL season is literally half a year away but the Ontario Reign have already announced their Pink the Rink date (from Jack Wade).

NBA News: The official version of the NBA Finals logo includes a YouTube TV ad, which has crept onto the baseline (from Chris Dougherty and @AVKingJames). … Cross-listed from the football section: The CFL's Toronto Argonauts added "We The North" uni patches to support the Raptors in the NBA Finals. Both teams are owned by Maple Leaf Sports and Entertainment (from many readers). … Uber driver indicators were replaced with Raptors logos in Toronto yesterday (from @samuel101ts). … Counterfeit Warriors gear was showing up in spades ahead of the NBA Finals (thanks, Brinke). … The Raptors gave away these T-shirts featuring every logo in franchise history to every fan at Game 1 last night (from Austin John and Jakob Fox). … ABC/ESPN was using gold Raptors and Warriors logos on their score bug last night (from Andrew Cosentino).

Soccer News: Nottingham Forest have unveiled their commemorative jersey for the 40th anniversary of their European Cup victory. No ads, except for the maker's mark (from Ed Żelaski). … Liverpool uploaded a brief video of the embroidery process for their kits' Champions League Final lettering (from Moe Khan). … A Norwegian Air jet with an image of Tottenham legend Gary Lineker on the tail was spotted at the Madrid airport ahead of Spurs' appearance in Champions League Final in Madrid (from Griffin T. Smith). … The SheBelieves Cup and Women's International Champions Cup both have title advertisers now (thanks, Jamie).

Grab Bag: Here's an equipment brand breakdown for the Premier Lacrosse League's Atlas LC squad. … Speaking of the PLL, the league's logos have been applied to the turf at Gillette Stadium ahead of the inaugural match (from @PhillyPartTwo). … Brazilian men's volleyball club Taubate has added a third star to their crest. The bottom two represent Cup wins and the large one represents their first league title (from Jeremy Brahm). … The font on England's new cricket unis has changed since they were revealed a short while ago (from @Stumpy7780). … This summer, Hershey's is replacing its logo on the individual pieces of their chocolate bars with emojis, for some reason (from Jason Hillyer). … John Lennon's tracksuit is up for auction, with an opening bid at a cool $35,000 (from Tommy Turner). … Here's a whole bunch of retro Metro Boston Transit Authority logos (from Mark Tang).