Click to enlarge
The Cincinnati Reds have worn five different uniforms over the past five days (as shown above, left to right, top to bottom): home whites, 1902 throwbacks, 1911 throwbacks, red alternates, and road greys.
By coincidence, those have also been the first five days — and first five games — in the big league career of rookie outfielder Nick Senzel, who happens to be the player shown in all five photos above. He was called up from the minors and activated on Friday and has now undergone a wardrobe change for each succeeding game.
It's unusual enough for a team to wear five different uniforms in five different games (Oregon football notwithstanding, can anyone find any other instances, in any sport?), but Senzel's streak of wearing five different combos in as many days at the start of his career must surely be a record, right? I have no idea how we'd document that, but it's hard to imagine anyone else notching this distinction.
And Senzel's streak could continue today, because the Reds sometimes wear their red alternate jersey with with their grey road pants. According to SportsLogos.net's handy uni tracker, they've done that twice so far this season. If they do it again for tonight's game in Oakland, that would extend Senzel's streak to six uni combos (but only five jerseys) in six games.
I find myself really wanting this streak to continue. I would never wish injury or demotion on any player (well, maybe demotion for a few), but imagine if Senzel extends his streak tonight and gets injured during the game, or if he gets sent back down to the minors after the game — he'd have a chance to keep the streak intact at a later date! The Reds have two home alternate uniforms that he hasn't yet worn (Spanish language and olive drab), plus they have 13 more throwbacks still in the hopper.
There's also the outside chance that Senzel could be traded to another team, which would offer another way to breathe new life into the streak. Again, I don't wish that fate upon him — but if it does happen, it would make for a great story, right?
Update: Longtime reader and Pirates uni tracker Jerry Wolper just posted the following comment: "In 1977, the Pirates wore their nine different jersey/pants combos in the first nine games. … Dale Berra came up late that year, and wore different jersey/pants combos in his first seven appearances. So Senzel still has some work to do." Yowza!
(My thanks to Brenden Maxwell for bringing Senzel's streak to my attention.)
• • • • •
• • • • •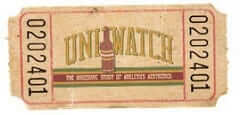 ITEM! Yet another one-day raffle: The Tugboat Captain and I bumped into reader John Flaherty at the recent WFMU Record Fair. After introducing himself, he pulled out his wallet, handed me $25, and told me to raffle off a membership with his compliments. How great is that?
So today we're doing the John Flaherty Raffle. To enter, send an email to the raffle address by 8pm Eastern tonight. One entry per person. I'll announce the winner tomorrow. Good luck, and let's hear it for John for sponsoring today's membership giveaway!
• • • • •
• • • • •
Mascot update: Trying times here at Uni Watch HQ, as Uni Watch girl mascot Caitlin hasn't been feeling well. Just last week we were celebrating her birthday and saying she seemed as kittenish as ever. But a few days later she began limping, shying away from being touched, and being unable to jump up on the sofa, the bed, or any of her other favorite spots. (I gently lifted her up on the sofa before taking the photo shown above.)
The vet gave her a thorough examination on Friday and says it may be arthritis, so we've been giving her anti-inflammatories, but that doesn't seem to have helped much, at least judging by her symptoms, so we may bring her back for an ultrasound and/or X-rays. It's heartbreaking to know she's in discomfort (loving someone or something is hard!), so please think good thoughts for her. Thanks.
• • • • •
• • • • •
Membership update: Another bunch of new designs has been added to the membership card gallery, including Mark Cartman's card, shown at right, which is based on the Maple Leafs' St. Pats throwbacks. Nice, right? I really like this one (but of course I'm partial to anything green).
Ordering a membership card is a good way to support Uni Watch (which, quite frankly, could use your support these days). And remember, a Uni Watch membership card entitles you to a 15% discount on any of the merchandise in our Teespring shop and our Naming Wrongs shop. (If you're an existing member and would like to have the discount code, email me.) As always, you can sign up for your own custom-designed card here, you can see all the cards we've designed so far here, and you can see how we produce the cards here.
• • • • •
• • • • •
The Ticker
By Paul

'Skins Watch: A controversy over the team name "Redskins" used by an Idaho high school led to a student walkout earlier this week (from @BradIvL).
.

Baseball News: Some Yankees caps for sale at Yankee Stadium have the Israeli flag on the side. It's not clear, at least to me, if the Yanks sell caps with any other foreign flags (from Blake Fox). … Interesting article about how Mets INF/OF Jeff McNeil, who's currently second in the bigs in hitting, uses an unusual knobless bat. … The Rochester Red Wings will become the Rochester Hustlers on May 25 (from @ddddwhite9). … Police-appreciation uniforms for Lamar softball. … New "Honor and Serve Day" uniforms for Illinois baseball. … The Double-A Eastern League revealed its All-Star jerseys. … New logo for the Saranac Lake Surge — formerly the Old Orchard Beach Surge — in the Empire Professional Baseball League (from John Cerone). … The auction house Leland's is selling what it claims to be a Mets prototype road jersey from 1961. I'd need to know a lot more about its provenance before believing that that's what it really is (from Steven Presser). … In attempt to make their ballpark more friendly to kids with nut allergies, the Hartford Yard Goats have become the nation's first team to ban peanuts (including Cracker Jack, which includes peanuts) from their stadium. They've also changed a key line of "Take Me Out to the Ballgame" from "Buy me some peanuts and Cracker Jack" to "Buy me a hot dog and Yard Goats cap." Additional info here. … When the Braves wear their navy alternate road jersey, they usually pair it with pants that have navy piping. But last night they wore the navy jerseys with their standard grey road pants with red/navy piping. Interestingly, the MLB Style Guide shows the red/navy piping as the proper pant pairing with that jersey, but they hadn't worn it that way until last night (from Mitchell Barbee, Joseph Newell, and Zach Mauldin). … We had previously shown the new can design for Union Craft Brewing's Eddie Murray-themed beer a few days ago, but Andrew Cosentino took the perfect photo of it. … Oh baby, look at Gary Carter and Rusty Staub in these commemorative Expos 20th-anniversary uniforms! Hot-cha-cha (from @DavesMetsDugout). … Latest one-day food-based MiLB makeover: The State College Spikes will become the Happy Valley Grilled Stickies on Aug. 9. … After Reds 2B Derek Dietrich wore a beekeeper's costume on Monday, he donned a tool belt last night when the lights went out in Oakland (from our own Alex Hider). … Winthrop's cap has a really enormous "W" logo! (From James Gilbert.) … Roger Clemens recently played in a Texas alumni game and wore a Red Bosox alternate jersey. "I don't believe he ever wore a red jersey as a player for the Sox," says Cork Gaines. … The Chiba Lotte Marines will wear Hawaiian-themed jerseys for 12 games this summer (from Jeremy Brahm).

NFL News: A Mexican company has started making luchadore-style figurines of NFL players (from Brady Phelps). … Here's the best look we've had so far of the Bears' centennial patch (from Thomas Juettner). … Good video clip on TCU's equipment staff (from Ben Armstrong). … Here's a rarity: two FNOBs and one FIOB together in one shot (from Collin Waples).

College Football News: Here's how the CFB 150 patch looks on a Kansas State jersey (from @JOFA_3). … Boise State is getting new blue turf, and it appears to be even bluer than the old turf (from Tyler Keefe).

Hockey News: Latest clever upcycled product from our friends at Tokens & Icons: They've turned game-used stick blades into beer flight trays. Nice! … Entertaining piece about the NHL's obsession with hair (from Alan Kreit). … This is nice: Bruins players remembering their first pairs of skates (from Tris Wykes).

Soccer News: Red Star Belgrade's new shirt may have leaked (from Ed Zelaski). … Liverpool had to get a one-off goalie shirt for yesterday's Champions League semifinal against Barcelona, because all their goalie kits would clash with Barcelona and/or the officials (from our own Jamie Rathjen). … New kits for Detroit City FC (from Ryan Keberly).

Grab Bag: Following up on an item that appeared in the Ticker a few days ago, Guinness's decision to deny a world record to British nurse because she ran the London Marathon in scrubs instead of a nurse's dress has been overturned. … More ad creep: If you want to buy or replenish a fare pass for Philadelphia's mass transit system, you now have to wait through a pre-roll ad, which, aside from being super-annoying, could lead you to miss your train. Douchebags. … New logo for the Arizona city of Wilcox. … Pro golfer John Daly will be permitted to use a cart in next week's PGA Championship tourney. … LIU Brooklyn and LIU Post are merging their athletic programs, and LIU Brooklyn alums are not happy about losing their "Blackbirds" team name (from John, who didn't give his last name). … A notable NYC chef has created a new beachhead for advertising by creating a special menu oriented around Arizona Iced Tea (NYT link) and even adding a neon sign with the product's trademarked slogan. Cringe-inducing key quote from a culinary talent agent: "[It's] a great idea to monetize the menu experience." Gross. … New logo for Caterpillar (from Tom Currie). … Here's a look at the logo evolution of Google, Microsoft, and Apple. … A lot of people don't like Cal Poly's new logo. Additional info here.
• • • • •
[adrotate group="2″]
• • • • •
Click to enlarge

What Paul did last night: Way back in 1997, when my book came out, it received a smart, analytical review in The Nation by a guy I'd never heard of named Rob Walker. At the bottom of the review was a little bio line: "Rob Walker is an editor at SmartMoney." I remember thinking, who the fuck works at SmartMoney, which was a personal finance mag (now defunct), and moonlights at The Nation, which is a socialist mag? This Rob Walker guy sounded interesting, if somewhat weird.
I got in touch with Rob later that week. We met up for a beer and quickly hit it off. Twenty-two years later, he's one of my best friends and someone for whom I have the utmost respect both personally and professional. Simply put, I'm a huge Rob Walker fan.
Rob has a new book that just came out yesterday, called The Art of Noticing, and last night I attended a book-release event here in Brooklyn, which consisted of Rob being interviewed by Lifehacker.com editor-in-chief Melissa Kirsch (who's basically his boss, because Rob recently started writing a column for Lifehacker). It was a great time, with lots of interesting info about how to be better at being present and noticing things in a world that's constantly trying to distract us with advertising, electronic gadgetry, and so on.
The book consists of 131 short exercises for improving your ability to notice things: imagine what someone is thinking, give five compliments, describe the night sky, make a one-minute video about a place, etc. I'm proud to say that one of the tips comes from me:
I don't know if I've ever spelled out that tip — "Ask how something got that way" — in quite those words here on Uni Watch, but I'd like to think it's implicit in most of what we discuss here, right?
Anyway: The Art of Noticing is a great read — highly recommended. And you can learn more about Rob's work here.