Click to enlarge
So that was a fun night, at least for me. Maybe not so much for Jets fans who were hoping for a better uniform design than this one turned out to be. Here's my take on the new uni set, which I wrote for Sports Illustrated.
Additional notes from the unveiling:
• So the leak turned out to be legit! It's still not clear to be where it came from or where it was originally posted. Does anyone know?
• Unveilings often have someone talking about the uniforms' "storytelling" aspects, which I find cringeworthy and embarrassing. There was none of that last night, though — they simply brought out the players wearing the uniforms, the players preened a bit while we all took photos, and that was that.
• As far as I can tell, the words "Color Rush" do not appear in any of the press releases. It's not clear to me if the mono-black alternate will fill that role, or maybe the mono-green combo, or if there's another design still to be unveiled at a later date.
• I wrote a good portion of my SI piece in advance, based on the leak and hoping it was real. I also did a phone interview yesterday afternoon with Jets prexy Neil Glat, which was helpful. Once the players had all come out in the new uniforms and I'd gotten enough photos, I went over to a table in the corner of the room with my laptop, banged out the rest of the story in about 30 or 40 minutes, and sent it to my SI editor.
• SI also sent a photographer, the very wonderful Taylor Ballantyne, who was great to work with. You can see her pics here.
• SportsLogos.net's Chris Creamer came down from Canada for the event, and he enlisted uniform designer/historian Todd Radom to serve as his photographer. The three of us had a great time hanging out during and after the event (and Chris was sitting next to me, banging out his own story for his own website, as I wrote my story).
• There were six open bars with a lot of booze (including green cocktails). I couldn't drink too much, natch, since I was working, but I did have a coupla beers. Thanks, Jets!
• The hors d'oeuvres were awful, except for some little lamb skewer thingies, which were excellent.
• The unveiling took place at an event space on Broadway, so it was fitting that Broadway Joe was in attendance.
• I wore my Uni Watch cap and lots of green/yellow clothing. I figured all the green would be appropriate for a Jets event, right?
• A guy named Mike Vernon approached me, said he was a Uni Watch reader, and chatted with me for a few minutes. Mike, if you're reading this, it was great to meet you!
• They sent us home with giveaway tote bags, which contained a mini-helmet, a T-shirt, a cap, and a small bottle of whisky. I'm keeping the whisky; the rest, along with my press pass, will end up in this year's year-end raffle.
I'm sure there are other details I'm forgetting, but that's enough for now. It was a busy night, I didn't get home until 1am, and then I woke up early-ish to write this entry, so I'm a bit frazzled. Gonna take it easy this morning, and then Chris C. is coming over in the afternoon to check out the new Uni Watch HQ. If you have questions about last night's proceedings, feel free to ask in today's comments, and I'll do my best to answer.
• • • • •
• • • • •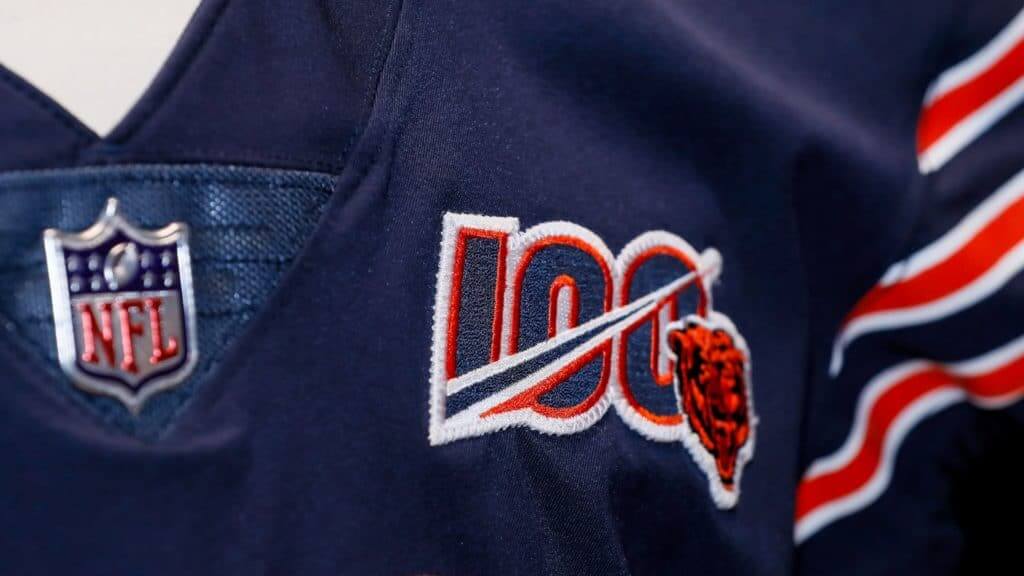 Click to enlarge
And speaking of the NFL…: We had been told that the Bears would have some sort of uni announcement this week. It turned out to be an announcement of another announcement, as the Bears said that they'll unveil a new "classic" jersey on June 7. Additional info here.
Details:
• The Bears will have four jerseys this season: primary navy and white, orange alternate, and the new one that's being unveiled in June.
• The Monsters of the Midway throwback will not be worn in 2019. (Too bad, because I loved it.) It's not clear, at least to me, if it's being mothballed for just one season or for the foreseeable future.
• All four jerseys will carry the Bears centennial patch, as shown in the photo above. I had thought they'd only wear it on the jersey collar, much like the other teams will be wearing the league centennial logo on their collars. And actually, if you look at that Vikings photo I just linked to, it doesn't show the part of the jersey where a patch would normally go. Is it possible that the non-Bears teams will be wearing the centennial mark on their collars and as a chest patch? Hmmmm.
• • • • •
• • • • •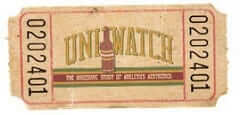 ITEM! Yet another one-day raffle: I really appreciate how people are purchasing memberships for me to give away. Our latest benefactor is reader Steven Fidrych, who bought several cards for himself (including a replacement for his original card, which he got way back in 2007!) plus one for me to raffle off.
To enter this raffle, send an email to the raffle address by 10pm Eastern tonight. One entry per person, as always. I'll announce the winner on Monday. We'll have yet another one of these one-day membership raffles next week.
Meanwhile, a bunch of new designs have been added to the membership card gallery (including Steven Fidrych's excellent Chargers-themed card shown at right).
If you'd like to order a card instead of (or in addition to) trying to win one in the raffle, that's a good way to support Uni Watch (which, quite frankly, could use your support these days). And remember, a Uni Watch membership card entitles you to a 15% discount on any of the merchandise in our Teespring shop and our Naming Wrongs shop. (If you're an existing member and would like to have the discount code, email me.) As always, you can sign up for your own custom-designed card here, you can see all the cards we've designed so far here, and you can see how we produce the cards here.
• • • • •
• • • • •

ITEM! Cap update: Our Uni Watch Classic Cap has been a big hit since we introduced it last spring. But the caps have caused some bookkeeping hassles for Ebbets Field Flannels, which has been selling the caps for us, so as of now they're no longer selling them. EFF will still manufacture the caps, but the caps will now be stocked here at Uni Watch HQ and I'll handle the orders myself.
The good news (for you) is that I will probably be able to lower the price a bit from the $49 that EFF has been charging. The bad news (for me) is that I have to stock up on cardboard mailers, buy some storage bins for the various cap sizes, and figure out where I'm going to keep all of that stuff in a small NYC apartment. Plus I'll have to start making a lot more trips to the post office (or hire a shipping intern). But I'll figure it out.
EFF had 85 caps in stock that I had already paid for, so they're shipping those to me. I hope to receive them in a few days, and I've also looked into getting some cardboard mailers. Once everything's ready, I'll let you know. Until then, the cap is temporarily unavailable. Thanks for your patience!
• • • • •
• • • • •
The Ticker
By Alex Hider

Baseball News: The Orioles added a black memorial bow to Frank Robinson's retired No. 20 sign at Camden Yards (from Marcus Hall ). … Wahoo is still hanging around: When the Indians re-signed manager Terry Francona on Wednesday, the team's email to fans opened with a picture of him in a Wahoo cap (form Greg Winson). … Speaking of the Indians, P Trevor Bauer was wearing an undershirt with his personal logo last night (from Brian M. Waltz). … Mets broadcaster Gary Cohen went the extra mile on Opening Day, wearing a team-colored tie, but Tigers broadcaster Craig Monroe may have one-upped him with an orange blazer (from Shane Shockey and Brandon Veale). … Speaking of the Mets, someone spotted a fan at the game in a full uniform, complete with stirrups (we'll give him a pass for wearing them wrong) (from @OlegKvasha). … More Mets: The team was selling the wrong blue jersey at its team shop on Opening Day (from Ryan Brown). … The New Orleans Baby Cakes grounds crew made this awesome opening day art out of colored stones (from Matt Bessette). … This is a good piece on Bob Hope's attempt to keep the Senators in Washington in the late 1960s (from Max Weintraub). … Naked hot dogs — sort of uni-related, right? Monday was $1 hot dog night in Pittsburgh, and the ballpark ran out of buns (from Joe Werner). … North Myrtle Beach High School (South Carolina) is poaching the Brewers logo (from RH).

Pro Football News: In honor of the Jets unveiling, USA Today listed a number of teams they feel need a uni overhaul (from Kary Klismet). … New number assignments for the 49ers (from Brinke). … All teams in the Arena Football League will have new uniforms for this upcoming season, with the unveiling to take place on April 8. Reports indicate that the league is dropping Under Armour in favor of Phenom Elite (from Mike Chamernik and Jacob Bogage).

Hockey News: Senators G Joey Daccord made his first start last night, and wore the same pads he wore this season at Arizona State (from Rich Sports Talk and Simon Williams). … The Predators warmed up in their white sweaters last night at home but ended up wearing yellow for the game itself (from Patrick Johnston).

Basketball News: Hawks G Trae Young has his own Icee-themed shoes. For those who don't know, Icees are the equivalent of a Slush Puppy or a Slurpee (from Mike Chamernik). … New Spurs F Donatas Motiejunas will wear No. 28, and new Sixers PF Greg Monroe will wear No. 55 (from Etienne Catalan). … The Canadian Elite Basketball League, a new six-team pro league, unveiled the championship trophy for its inaugural season yesterday (from Wade Heidt). … We have our first look at Auburn's jerseys with the Final Four patch (from Clint Richardson). … Interesting note from Mike Chamernik, who writes: "Here's something I don't think we knew (but should have figured): When an NBA team adds a uniform ad patch, the players on the team need new headshot photos, even if the switch is done during the middle of the season. The Thunder added a patch a few weeks ago. Nerlens Noel's headshot from the beginning of this season (it must be from then because Noel is in his first season with OKC), and here's his updated pic with the uni ad." Odd that they didn't just Photoshop the ad into the image, no?

Soccer News: Here's an in-depth piece on soccer kit mashups — essentially, whenever a team wears a non-standard uniform combination (from our own Jamie Rathjen). … Could the Chicago Fire be in for a complete rebrand next season? (From Josh Hinton and @bryant_rf). … The seven teams in the new Canadian Premier League unveiled their inaugural kits last night (from Gabriel Hurl and Wade Heidt).

Grab Bag: The NN Running Team, the world's first professional road running team, has a new uniform for 2018 (from Jonathon Bean). … The Twitter account for the 2020 Olympics in Tokyo tweeted photos of the games' mascot, Miraitowa, playing all the sports the game will host (from Jeremy Brahm). … If we didn't have proof that Paul was in New York last night, I'd be inclined to think he was in Utah with a license plate like this! (From Warren Junium).