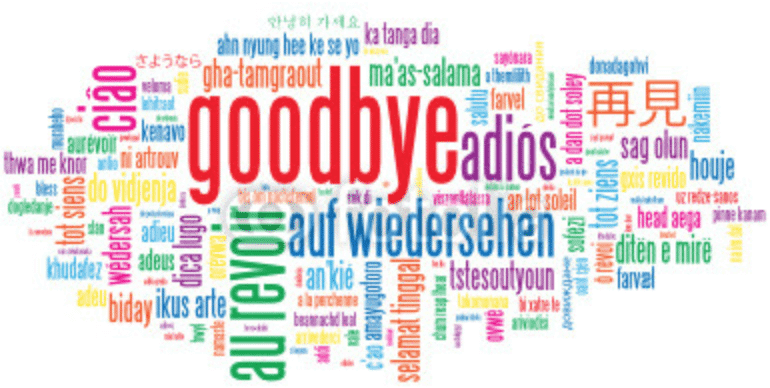 Nearly 15 years after my first ESPN column appeared, today is my final day with the company. They were nice enough to let me do one last column — a roundup of my favorite ESPN pieces. Some date back more than a decade, while others are just from last year, but all were really fun to work on, and it was also fun to rediscover them as I worked on this farewell piece. You can check it out here.
Starting tomorrow, my income will go way, way down (and I'll have to buy a new laptop, ugh). This website will become my primary source of income. If you have the means and the inclination, please consider ordering a membership card or offering support in other ways. The site and I could use it. Thanks.
It's still not clear whether the Uni Watch column will end up moving to another media outlet. For now, as I recently announced, my annual MLB Season Preview will be appearing on SI.com (probably on March 25 or 26), and I have some other irons in the fire. I'll keep you apprised of additional news as it develops.
• • • • •
• • • • •
• • • • •
• • • • •
Click to enlarge
NFL 100 update: For a while now we've been wondering how that crummy centennial logo would look on NFL jerseys this season. And now, thanks to a tweet from the Vikings, we know. It turns out that the anniversary mark will be incorporated into the league logo that already appears at the base of the collar.
That's not a bad solution. In fact, I think it's pretty good — it avoids patch clutter, and the logo doesn't look as bad in miniature (sort of like how bad jersey designs make good Uni Watch membership cards). I wonder if they'll also use the centennial mark in place of the NFL logo patch on the pants and the NFL logo decal on the helmets. Probably yes, right?
Remember, I've already reported that the Bears won't be wearing the NFL 100 mark because they have their own version of the centennial logo, and now we know where they'll presumably be wearing it.
(My thanks to Simon Tekie for bringing this photo to my attention.)
• • • • •
• • • • •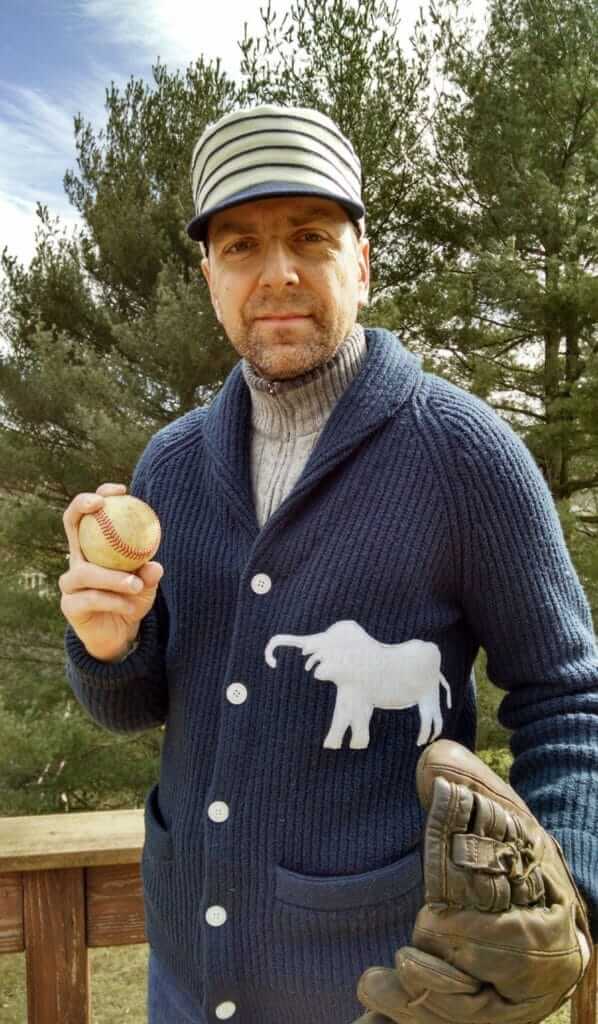 Click to enlarge
Too good for the Ticker: Reader Alex Chermeteff is ready for Opening Day with his Philadelphia A's sweater. "I bought the shawl collar sweater and switched out the brown buttons for white ones," he says. "I made a cardboard template of the white elephant off the team's 1909-12 sweater and used premium felt for the elephant."
How nice is that? Play ball!
• • • • •
• • • • •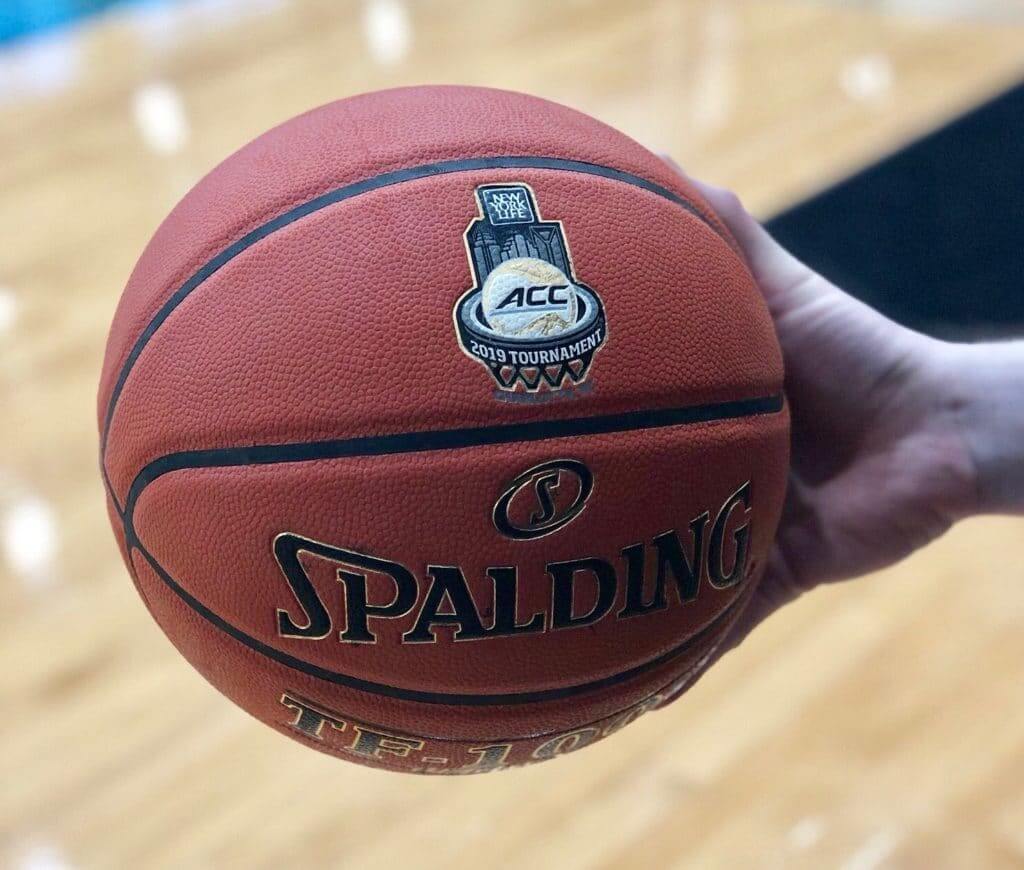 Click to enlarge
Oh, for fuck's sake: UNC tweeted a photo yesterday, showing the 2019 ACC Tournament basketball — which for some reason includes an ad for an insurance company. Sigh.
(Blame James Gilbert for this one.)
• • • • •
• • • • •
Click to enlarge
Wafflebored reminder: In case you missed it on Wednesday, we're auctioning off another one-of-a-kind Uni Watch jersey made by the awesome Wafflebored. Full details, including a rear-view photo, the jersey's measurements, how to bid on it, and more, can be found here.
• • • • •
• • • • •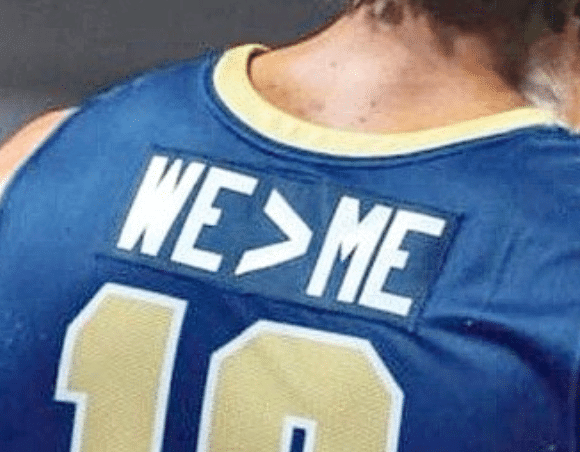 Some thoughts about "we": Tim Marchman, who writes for the Gizmodo Media Group (which includes Deadspin, Splinter, Jezebel, The Root, etc.), posted a really excellent piece yesterday about the use of the word "we" by journalists (and also "us" and "our"), and how it's almost always bogus. The piece is long, but I reallyreallyreally recommend reading it. Sooooo much good stuff. Here's one very good paragraph:
"We" is useful [for writers], depending on who's using it and why, for any number of purposes. Writers use it, among other things, to attribute their own beliefs to others, whether to make them seem more widely-held than they are or to make it seem more understandable that they hold them; to closely circumscribe a group comprising the right-thinking and respectable and leave those who disagree with them outside it; to claim that their failure to do or notice something was shared by all; to construct a straw consensus for the purpose of assailing it; to deflect blame from them or their institution to Society as such; and to elevate particular concerns to the level of universal ones, obviating the distinction between the individual and the collective. When someone uses it, you can presume they're wrong, or lying.
Referring to various media outlets' use of "we," Marchman continues, rather brilliantly and hilariously:
Just over the last while, I've learned, to my surprise, and among many other things, that I tend not to think of Aretha Franklin as an artist of bravado and nerve and daring; that I am Julia Salazar, and that if I dislike her, I also made her; that I assign greater meaning to college football than it is equipped to handle and impart skills and powers to its leaders that are greater than they deserve, and always have; and that I await Marvel movies not simply because they're all I have left, but because I am the one I have been waiting for.
I'm guilty of having used "we" from time to time. It's a handy (and coercive) way of stacking the deck, a way to amplify my voice and make it sound like many voices, a way to leverage additional power by changing the writer/reader equation from one-on-one to many-on-one. It's sneaky, and I've definitely been aware of it on several occasions when I've done it.
But I think "we" can have value in certain situations. Uni Watch is a community — For People Who Get It™ and all that. "We" really are a like-minded group, at least to the extent that "we" care about uniforms, even if "we" often disagree regarding "our" specific uniform tastes.
Anyway, it's all good food for thought. I — speaking only for myself, but hoping many of you will agree — strongly recommend Marchman's piece.
• • • • •
• • • • •
The Ticker
By Paul

'Skins Watch: The last high school in Maine to call its teams the Indians is dropping the team name (from our own Anthony Emerson). … A non-binding student resolution to replace the Chief Iliniwek with an otter named Alma Otter as the U. of Illinois's mascot was voted down earlier this week (from Mike Chamernik).

Baseball News: Today is Diamondbacks Night for the NHL's Arizona Coyotes. The team will wear "peyote coyote" throwbacks during pregame warmups, with throwback D-back design touches (from Ted Jones). … The New Hampshire Fisher Cats are set to unveil a big new scoreboard. … The Reading Fightin Phils will become the Reading Pretzels for one game this season. … Here's another article about the Rochester Red Wings' Deaf Culture Day promotion, complete with their American Sign Language jersey (from @benk). … Speaking of the Red Wings, they'll have hockey-themed jerseys later this year. … Mets P Noah Syndergaard had some bun/ponytail action going on during yesterday's Grapefruit League start. He often wears it that way during workouts or off the field but usually lets his hair fly free when he's on the mound. … Here's a rare sight: Cardinals 1B Keith Hernandez wearing an earflapped helmet. He went flapless for most of his career (good spot by Scott Unes). … Always an interesting look when the U. of Florida softball team wears white stirrups over white sannies (from @904craftbeerdad). … I mentioned the other day that Dick Armstrong, who I interviewed back in January, had died. Here's his obituary.

NFL News: Media outlets are Photoshopping newly acquired Jets RB Le'Veon Bell into a Jets uni, but of course he'll never wear that design because the Jets are unveiling their new set on April 4 (from many readers). … NBC and CBS are swapping Super Bowls. … Looks like WR Odell Beckham Jr. will wear No. 13 with the Browns.

Hockey News: The Ducks are issuing a Ryan Getzlaf bobblehead with a mash-up jersey that's half original home whites and half current alternate jersey — "which itself is essentially a mash-up of all the Ducks prior jerseys," notes Chris Cruz. … Cross-listed from the baseball section: Today is Arizona Diamondbacks Night for the Coyotes. They'll wear "peyote coyote" throwbacks during pregame warmups, with throwback D-back design touches (from Ted Jones). … The Pixies played Madison Square Garden earlier this week, and MSG's management gave them personalized Rangers jerseys. But they misspelled Black Francis's NOB, and all of the NOBs should have been vertically arched, not radially (from Denis Costello). … Cross-listed from the baseball section: MiLB's Rochester Red Wings will wear hockey-themed unis later this year. … Autism-awareness jerseys later this month for the ECHL's Tulsa Oilers.

NBA News: The design for James Harden's latest signature sneaker is supposedly inspired by the Rockets' throwback uniforms. … The D League's Texas Legends use the logo of their NBA affiliate, the Mavericks, as the circle at the top of the key. "Never seen a logo in that spot before," says Mike Chamernik. … Here's how Wish is capitalizing on their jersey sponsorship advertising deal with the Lakers. … Here's rare footage of Michael Jordan and the rest of the Bulls wearing a pinstripe-sleeved warmup top, which was apparently worn only during the preseason. … Pistons G Langston Galloway wore "Grand Theft Auto: Motor City"-themed sneakers last night (from @SpartanSwagga).

College Hoops News: Attention sneakerheads: Michigan State players explained their footwear choices (from Colin Dilworth). … Here's our first look at Kansas's postseason uniform (from Sam Wescott). … Colgate has some really big uni numbers (from Eric Kohli). … For reasons that aren't clear, at least to me, Missouri G Ronnie Suggs switched from his regular No. 3 to a NNOB No. 21 jersey yesterday (from Kate Sutter). … Northwestern and Illinois went purple vs. orange last night (from Dustin Long). … Virginia Tech and Miami went grey vs. black yesterday (screen shot by @5th_Factor). … Speaking of VaTech, their student-managers put a court in tape on the carpet floor of their hotel (from Andrew Cosentino).

Soccer News: New kits for Vlora City FC (from Ed Zelaski). … The next three items are from Josh Hinton: Here's why Atlético Madrid wore socks that didn't match the rest of their kit against Juventus. … Here's the breakdown of kit manufacturers for all 32 teams in the 2019 Copa Libertadores. … Here's a look back at the 1986 World Cup home kits. … Cercle Brugge is changing outfitters, from Erima to Kappa (Ed Zelaski again). … Remember when FC Dallas recently pranked their players by pretending to release a new taco-themed jersey? The team is now offering a ticket deal that includes a T-shirt of a taco design (from John Florry). … New diversity-themed jersey for VfL Wolfsburg (Ed Zelaski yet again). … "Both of Tuesday's Scottish Cup quarterfinal replays were uni-notable," says our own Jamie Rathjen. "Heart of Midlothian and Partick Thistle both changed to avoid a clash, to white (from maroon) and dark blue (from yellow/red/black), respectively. And Rangers wore black armbands in memory of former defender Eric Caldow, who passed away recently." … New uniforms for the Portland Thorns (from George Rafael). … Bayern Munich MF Leon Goretzka wore the wrong jersey in a Champions League match against Liverpool yesterday (from Anthony Genna and @mpcross).

Grab Bag: It was bound to happen eventually: Budweiser-branded meat. Yes, really. … The e-commerce firm Alibaba has won a trademark dispute with the cryptocurrency Alibabacoin. … Dick's Sporting Goods is no longer selling Reebok apparel (thanks, Brinke). … New gold-trimmed shoes for the Players Championship for golfer Rory McElroy (from David Sperino). … Reader Tony Bruno's been traveling in Costa Rica, where he spotted ads on the airport X-ray bins. "You would have been proud, I grabbed the only one I saw that was blank," he says. … A new exhibit at the Museum of the City of New York documents the history of bicycling in NYC. Additional info here. … Check out out: a car with bumper stickers from failed presidential campaigns (from Tony Lombardo). … The Richmond Tigers Aussie football club has released a team-centric version of Monopoly, in which players can purchase players and stadiums connected with the club (from Graham Clayton). … Really interesting article about how boxing ring corners and dressing rooms are assigned (from Jason Hillyer). … New helmet design for F1 driver Daniel Ricciardo.