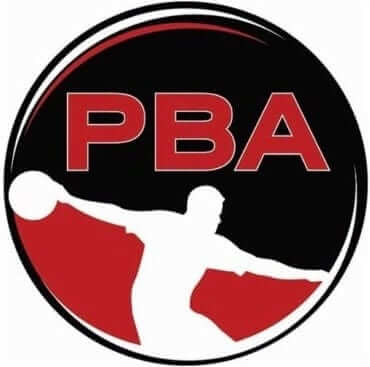 The logo for the Pro Bowlers Association, shown at right, depicts a bowler silhouetted in white against a black background. Just as with Jerry Dior's classic MLB logo, the silhouetted figure is cleverly positioned so that he could be either left-handed or right-handed, depending on whether you're looking at him from the front or the back. Either way, the silhouetted figure is the very picture of proper bowling form — a model of pin-bashing perfection.
Just one problem: The best bowler in the world doesn't bowl that way.
In case you didn't know (and let's face it, you probably didn't), the best bowler in the world is a 35-year-old Australian named Jason Belmonte. Over the past decade, he has been by far the most dominant player on the PBA tour, at one point racking up three consecutive Player of the Year awards. But he looks nothing like the silhouetted figure on the PBA logo. He bowls like this:
Weird, right? Belmonte uses what's called the two-handed shovel technique. He's not the only pro bowler to deliver the ball this way, but his runaway success has made him the standard-bearer for this style. I've seen him dozens of times on TV (yes, I watch televised bowling), but it still looks so weird to me. It's sort of a like a golfer using a belly putter instead of a conventional putter, except Belmonte bowls this way for every single shot — even when picking up spares.
Belmonte, like all PBA bowlers, wears a PBA logo patch on his right sleeve. Or to put it another way, he wears a logo showing a bowler who bowls nothing like he does. The conflict between the two is captured nicely in this shot (click to enlarge):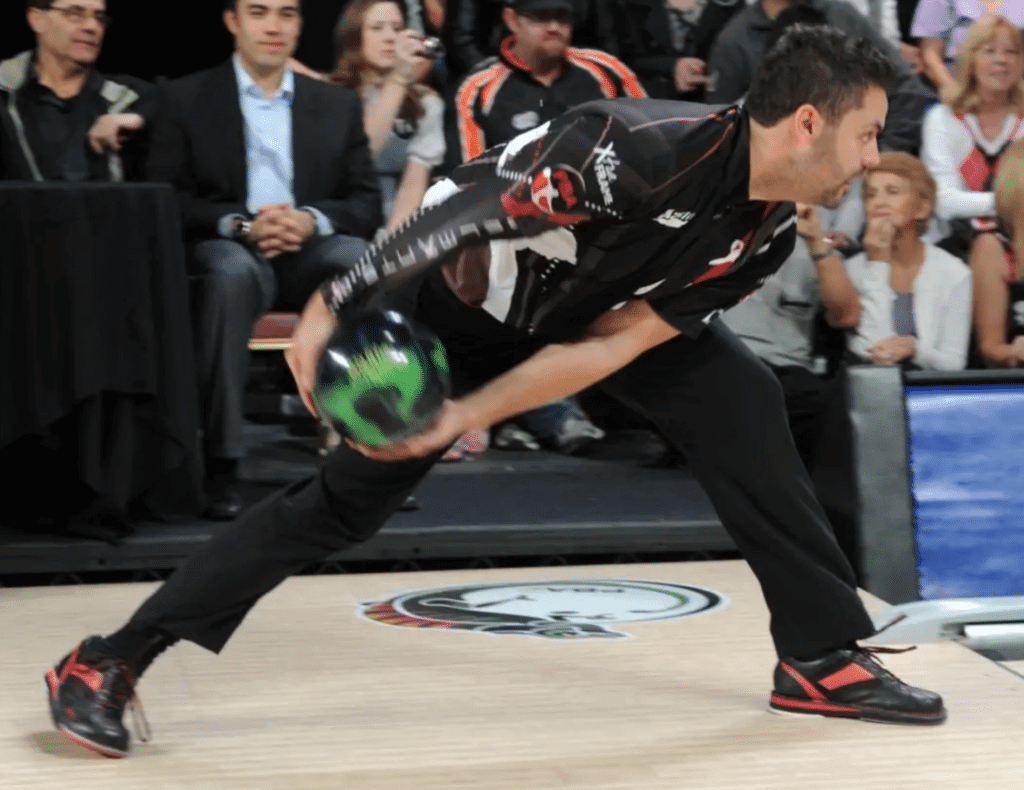 This wouldn't matter so much if Belmonte were just, you know, any old bowler. But to repeat, at present he is the best bowler in the world, and there are reportedly a lot more two-handed up-and-comers in the pipeline. So Belmonte's style is probably the future, and the style shown on the logo is likely to become the past. All of which makes you think the PBA will soon need a new logo.
Are there any other leagues whose logos are so out of step with their best player? I know people sometimes complain about how the NBA logo clearly shows a white guy wearing short-shorts and should be upgraded to something more contemporary, but the difference between the existing logo and a current player isn't as radical as the difference between the PBA logo silhouette and Belmonte.
As it happens, Belmonte has his own silhouette logo, which shows him doing his two-handed delivery. You can see it on his chest in this next shot (click to enlarge):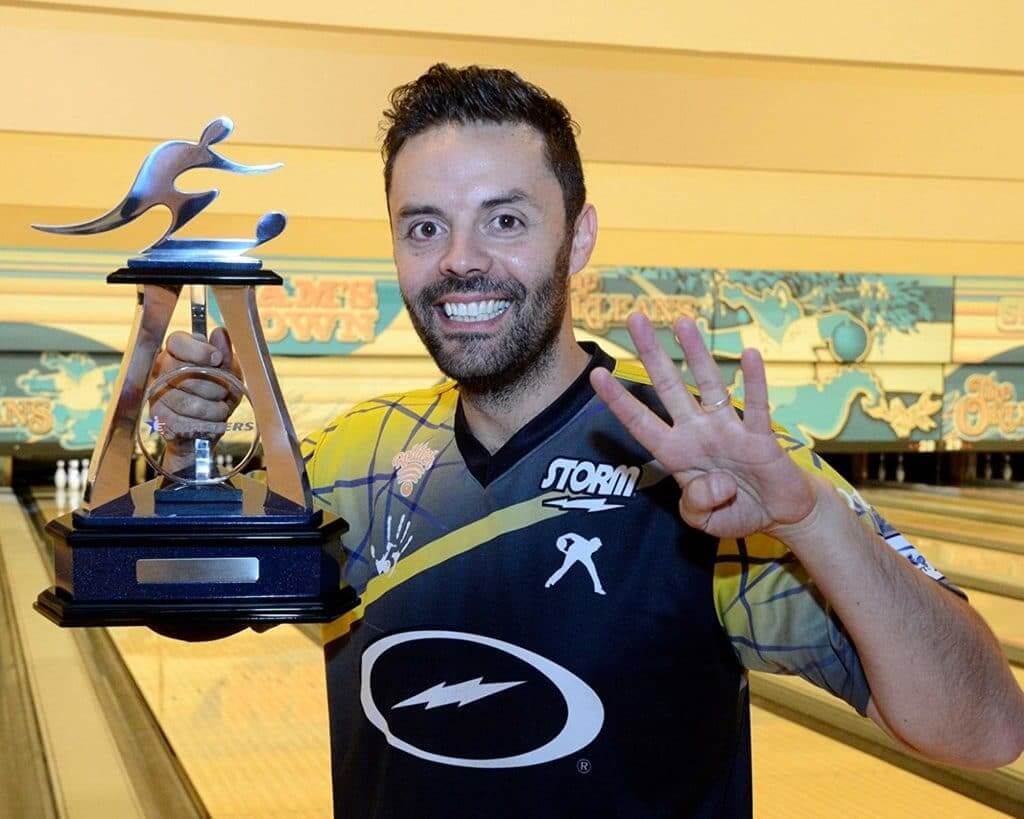 Could that, or something like it, be the PBA logo of the future? Given the extent to which bowling is struggling to maintain an audience and a participation base these days, that might not be the worst idea.
Leaving aside the issue of the logo, there's also the larger question of the aesthetics of Belmonte's style. Two and a half years ago I did a blog entry that explored the question of whether shooting basketball free throws underhanded, like Rick Barry used to do, is unaesthetic, and I think it's worth asking the same thing about Belmonte's bowling style. It's certainly interesting, because there's a certain novelty to it, at least for now. But I find it lacks the grace and fluidity of the more classic bowling style as depicted on the PBA logo. If everyone bowled like Belmonte, would I want to watch that on TV? I'm not so sure. Hmmmmm.
• • • • •
• • • • •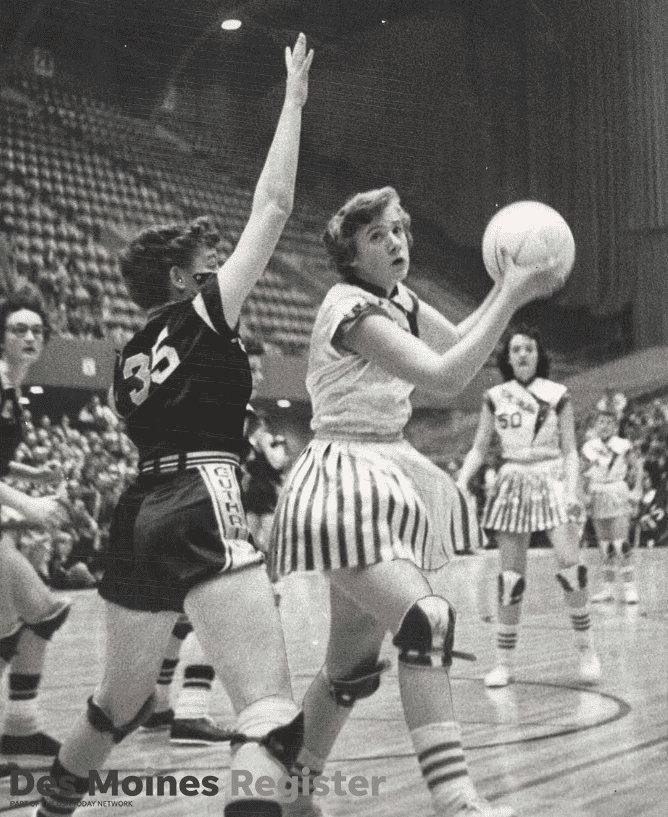 Click to enlarge
Too good for the Ticker: Chris Williams pointed me toward this amazing photo yesterday. The Twitter-er who posted it describes it like so: "From 1956: All-state forward Karen Anderson of Blakesburg makes a move in the post during a 6-on-6 Iowa girls' state basketball first-round game against Guthrie Center."
Leaving aside Blakesburg's amazing uniforms (not just the skirts but the jerseys and the knee pads!), I'd never heard of six-on-six basketball, but it was apparently a thing for women and girls at one time, and in 2009 there was even a musical production called Six-on-Six: The Musical, celebrating sport's popularity in Iowa, so there you go.
• • • • •
• • • • •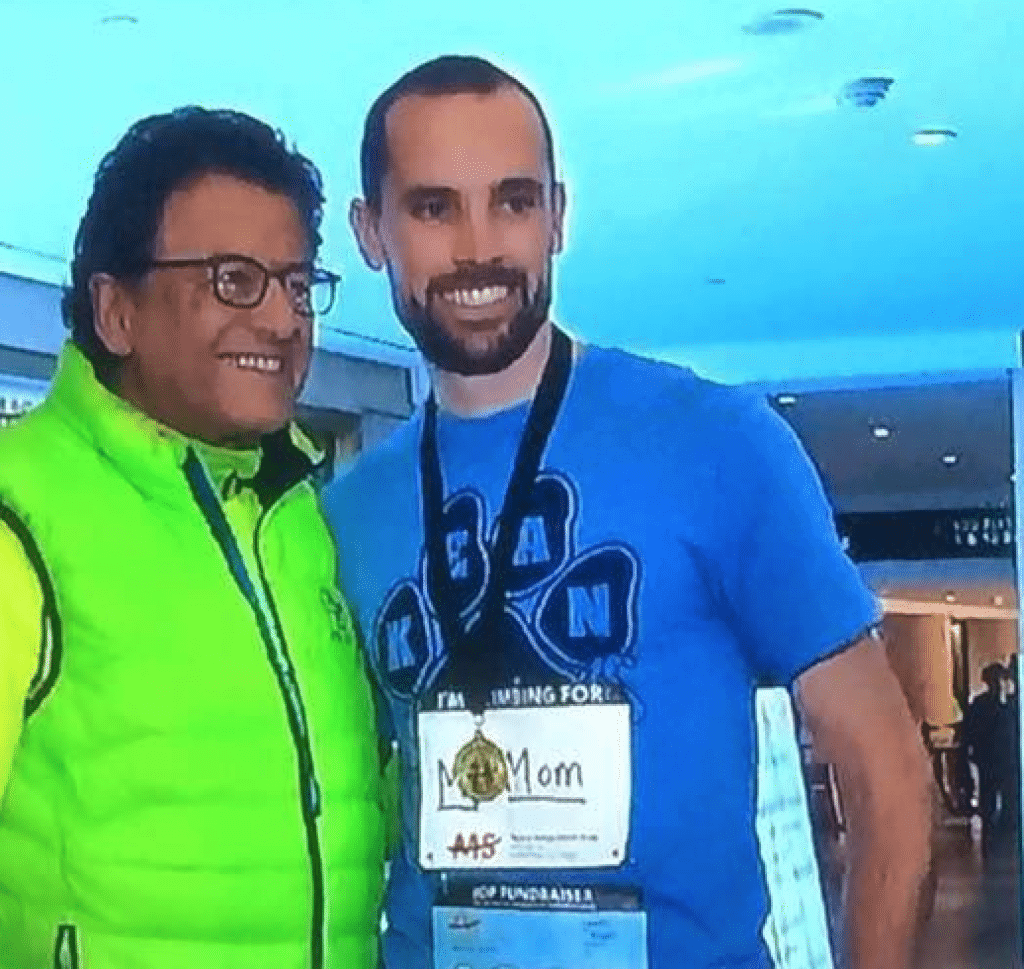 A good cause: The guy on the right in the photo shown above is Uni Watch reader Jon McCue, who is the defending champion of Climb to the Top — a 5K race up 66 flights of stairs in Manhattan. It's a fundraiser for fighting MS, which Jon's mom is afflicted with (as is a good friend of mine).
This year's Climb to the Top is on Sunday, and Jon will be wearing a Uni Watch T-shirt! If you want to donate to help support him, you can do so here. Thanks for your consideration.
• • • • •
• • • • •
The Ticker
By Yianni Varonis

Baseball News: The Phillies are finalizing a deal with OF Bryce Harper. This is what he'll look like in uniform with his new team. The news also means that MLB The Show 19 can finally unveil its cover. … … Down toward the bottom of this article is the news that Giants P Chris Stratton is particularly bummed that Harper didn't sign with the Giants because Stratton, who wears No. 34 — the same number as Harper — was hoping to sell his number to Harper (from our own Brinke Guthrie). … The Lakewood BlueClaws will give away bobbleheads of Phillies 2B Scott Kingery for "Wizards and Wands Night" (from John Cerone). … The Athletics have released the latest iteration of their proposed stadium design. … According to this article, a prospect with a lower jersey number is a positive sign for his career (WaPo link) (from David Goodfriend). … The Charlotte Knights will wear commemorative uniforms to honor the 50th anniversary of the Charlotte Hornets' Southern League championship (from Josh Claywell). … Also from Josh: The Louisville Bats will hold a press conference on March 7 to unveil the temporary name change and companion uniforms the team will have this season. … Grey, script "Alabama" jerseys are returning for the Crimson Tide in 2019 (from Hayden Kay). … Because of the spring training sleeve patch, the Orioles are wearing their Frank Robinson memorial patch on the upper chest. It will move to the sleeve for the regular season (from Marcus Hall).

Pro Football News: With broadcaster Jason Witten announcing his return to the Cowboys yesterday, he will presumably reclaim his Walter Payton Man of the Year jersey patch, which is worn by all active players who've won the award. … A Virginia high school is changing its name from Robert E. Lee to Staunton. It also has a new team name, Storm, which was apparently inspired by a quote that Patriots QB Tom Brady posted online (from multiple readers). … The Colts' stadium, which is currently being used for the NFL combine, has that crummy NFL centennial logo at midfield. It's not clear if this is just for the combine or if it's for the upcoming season (from Cino Commisso). … The Indoor Football League will officially be tracking its teams' uniform combinations this year.

College Football News: More than a decade ago, an Iowan purchased an Iowa State vanity plate that reads: "BPURDY." Now her car keeps being mistaken for that of current Iowa State QB Brock Purdy's (from Griffin Smith). … Idaho WR Collin Sather passed away from cancer this week. The Vandals basketball team remembered him with a black uniform stripe last night (from Dan Hunt).

Hockey News: G Keith Kinkaid was recently traded from the Devils to the Blue Jackets. Reader Mike Engle notes that Kinkaid has been wearing his Team USA mask, presumably because it matches the Blue Jackets' color scheme and isn't from a rival. It also works out that the Blue Jackets are named for the Civil War's Union soldiers. … The Tulsa Oilers will wear autism-awareness sweaters and auction them off for charity. … The Adirondack Thunder will also wear sweaters that it will auction-off for charity, a purple set to benefit the fight vs. cancer (from Mike Lucia). … The Huntsville Havoc will wear three different Disney's The Mighty Ducks-themed uniforms that it will auction off as well (from Tyler Earles).

Basketball News: The Erie BayHawks have new uniforms inspired by the Battle of Lake Erie during the War of 1812 (from @GobertOrGoHome and @_SlippinJimmy). … Cross-listed from the NCAA football section: Idaho football WR Collin Sather passed away from cancer this week. The Vandals basketball team remembered him with a black uniform stripe last night (from Dan Hunt). … Utah State will give 1,500 fans free bacon before its upcoming game vs. Nevada (from multiple readers). … Yesterday's Ticker had an item about DII school IUP forgetting to bring their uniforms for a game against Edinboro and having to wear old Edinboro road unis instead, but Paul couldn't find a photo that showed the resulting Edinboro-vs.-Edinboro matchup. He's now come up with this.

Soccer News: Puma will now be the kit manufacturer for English club Manchester City. … English sixth-tier club York City revealed a 1970s-era fauxback that will be worn for the last home game of the season, which will also be the last at that stadium (from our own Jamie Rathjen). … Perhaps in part because the Columbus Crew was saved, the team is bringing back its original mascot, Crew Cat (from John Flory). … New away kit for New Mexico United (from Josh Hinton).

Grab Bag: Southern Illinois University unveiled a new athletics logo in a video featuring the evolution of each of its previous logos (from multiple readers). … Blue Ridge Community College has a new logo to celebrate its 50th birthday (from Jake Patterson). … Reader Kevin Vautour shared four Boston Police Department patches featuring Patriots, Red Sox, and Bruins logos. … On Sunday, NASCAR driver Kurt Busch will commemorate the 20th anniversary of his Southwest Series championship with a throwback paint design on his car (from Christopher Hickey). … Someone is selling a Dale Earnhardt-themed truck, inside and out. … There are several ways that an office's environment and design can impact a person's mental health. … Alaska Airlines bought Virgin America in 2016 and has now redesigned the cabins of the acquired fleet. … Can you really get rich by "investing" in sneakers? Maybe, but it's risky (from Jason Hillyer). … A federal judge has blocked prosecutors' efforts to strip the Mongols motorcycle gang of their trademark (from Jack Wade).
• • • • •
• • • • •

What Paul did last night: I've written before about my friend Daisy, who makes really interesting clothing, like this bread tag jacket that I showcased on the site two years ago. I saw her last night (we're both fans of the band Susquehanna Industrial Tool & Die Co., which plays at Otto's Shrunken Head on the last Thursday of every month), and she was wearing her latest creation — an outfit ingeniously accessorized with coffee stirrers. Check this out (for all pics, you can click to enlarge):
Isn't that fantastic? She sewed the stirrers onto ribbons and then sewed the ribbons onto the clothing. But then she found that the stirrers waved around too much, so she glued a little bead onto the bottom of each one to weigh it down — incredible! I really should have shot a bit of video so you could see how they swayed when she moved. Great, great concept and execution.