Click to enlarge
The basketball team shown above is from Cathedral High School in Los Angeles. As you can see, their front-jersey design is very no-frills — no chest lettering, huge chest numbers. The wishbone-C on everyone's left shoulder is for "Cathedral," and three players also have a block-C on the right shoulder because they're captains.
Look on the back of the jersey, however, and things get a bit more interesting (click to enlarge):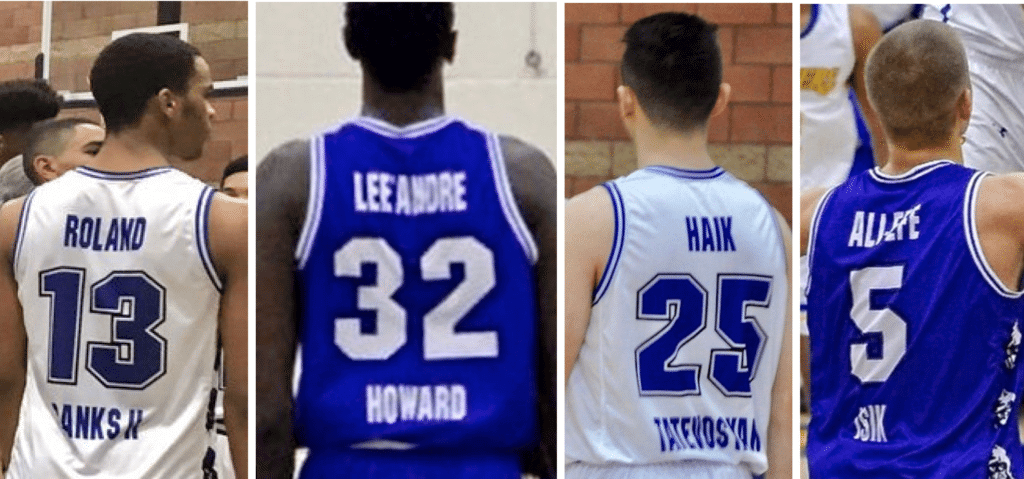 Intriguing, right? It's rare enough to see an entire team going FNOB (that's full name on back) — and a high school team at that! — but it's even weirder to see them putting the players' first names above the number and their surnames below. Not sure I've ever seen that design format before.
I wanted to know more, so I got in touch with Cathedral coach William Middlebrooks. We spoke on the phone yesterday. Here's how our conversation went:
Uni Watch: A lot of high school teams don't put the players' last names on the jersey, but you have their first names and last names. How long have you been doing it?
William Middlebrooks: I've been putting last names on jerseys for 10 years. This year is the first time I added the first name.
UW: What was the thinking behind that? How'd you decide to do it?


WM: You want to keep kids engaged, so I'm always looking for things that can do that. I try to stay, you know, relevant. When you talk to kids, deal with them every day, you just come up with different ideas that will inspire them, and this was one of those ideas. I figured nobody else was doing it, so let's do it.
UW: Having the first name above the number and the last name below the number — was that your design concept?


WM: Yeah. I designed the entire uniform.
UW: We often hear coaches say that they don't want the players' last names on the jerseys because they want to emphasize the team, not the individual. You know, the whole "Play for the name on the front of the jersey, not the back of the jersey" thing.
WM: Yeah, I don't believe in that at all. In the market — I'm in the elite basketball market, whether it's high school or travel ball. I understand the importance of the kids having their own brand, which is equally as important as any team, school, or what have you. I think if you overlook that, then you miss where sports in general have gone. Everything we do, every decision we make, is based on what's in the best interests of the kids.
UW: How have your players responded to having their full names on the jerseys?
WM: Oh, they were excited. I mean, the whole community was excited, not just the kids. The parents, the fans, alumni, administration — everyone loved it.
UW: What about players or coaches on opposing teams — have they reacted to it in any way?
WM: Sometimes they ask who designed our uniforms. I tell 'em me!
UW: Speaking of which, let's talk about the front of your uniform. You don't have your school name, you don't have your team name — you just have a big number. Why is that?
WM: Well, the school's logo is there…
UW: You mean on the shoulder area.
WM: Right. And it's purposely on the left-hand side, which is over the heart. We're a school that's about brotherhood, and it's about Cathedral being in your heart, and that's why it's on that side. Then the number's big, and that's just a design thing — nothing deeper than that. No real thought beyond that. Then, because we're the Phantoms, we have our phantom-head logo on one side of the jersey and a word logo on one side of the shorts. So the school is definitely represented, just in a different way.
———
This is the second highly unusual high school basketball NOB style we've examined in recent weeks. The first was from McEachern High School in Georgia, which uses a motivational "WE>ME" slogan instead of the players' names. It's interesting that while McEachern's coach has chosen to emphasize the team over the individual, Cathedral's coach explicitly rejects that approach. So there are your old-school and new-school approaches to sports in a nutshell — two different philosophies, both manifested on unusual uniforms.
As long as we're here: How many other examples are there of a team going FNOB for its entire roster? I can think of only two:
• The Oakland Raiders, then in the AFL, went FNOB for part of 1960 and all of 1961. This is shown in the Gridiron Uniform Database, but photos are rare. There's this shot (which actually shows one guy with a conventional surname-only NOB; additional info here) and this shot, and nothing else that I'm aware of. (Update: There's also this shot, from Nov. 27, 1960.)
• The WHA's Alberta Oilers — forerunners of today's Edmonton Oilers — began their inaugural 1972-73 season by wearing PNOB (that's province name on back), but later in the season they switched to team-wide FNOB. Here's a color shot of a gamer, showing their odd typeface and rounded-corner nameplate.
Are there other team-wide FNOB examples that I'm overlooking?
(Big thanks to Twtter-er @ezbutton11, who brought the Cathedral uniforms to my attention.)
• • • • •
• • • • •
No Big Whoop
[Editor's Note: Last week the Double-A Portland Sea Dogs announced that they would play a game this season as the Maine Whoopie Pies. Ticker assistant Anthony Emerson, who compiles the Tickers that appear on Saturdays, lives in Portland and has some thoughts on this matter. Enjoy. — PL]
By Anthony Emerson
As a Maine native and diehard baseball fan, I was so excited for MiLB's food promotion to finally come for my hometown Portland Sea Dogs. And now that it's happening, here's what I think:
Terrible. Awful. Sucks.
Maine has so many great foods, and they focused on a sugary-sweet, largely inedible, dry pastry? A pastry so sugary you need to brush your teeth after you eat it?
Yeah, the whoopie pie is the "official state treat" (not to be confused with the official state dessert, which is blueberry pie), but come on. The Maine Lobster Rolls would be so much better! Or the Maine Blueberries, or even the Maine Potatoes! I'd argue that all of those things are more associated with Maine, at least by us Mainers, than the whoopie pie.
And don'e even get me started on the logos. Compare the Whoopie Pies logo to the Pizza Rats logos. Or the Plates logo. Or the Pork Rolls logo. The Whoopie Pies logo looks slapped together and incomplete, like an undergrad design student submitted it and got a C+ (although I will admit I quite like the secondary logo that shows the outline of Maine in the form of a whoopie pie).
I should also note that while all the news accounts say that the team will be called the Maine Whoopie Pies, the actual jerseys say Portland Whoopie Pies, which aren't even a thing. The whole project seems inconsistent and misconceived.
My disappointment knows no bounds.
• • • • •
• • • • •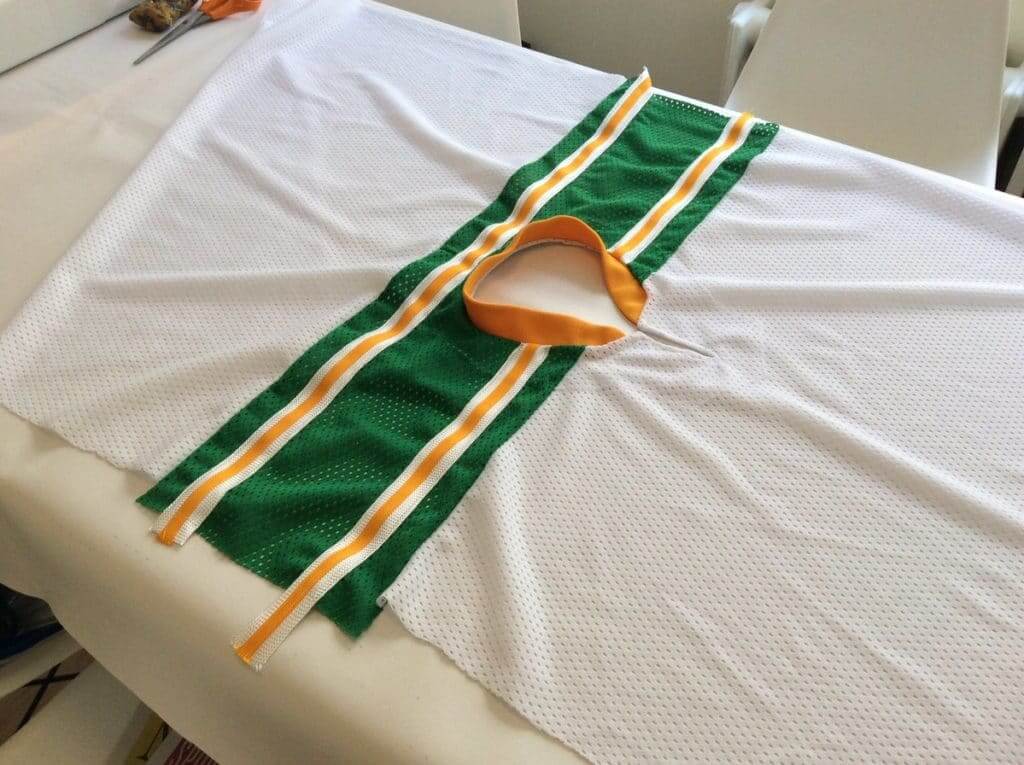 Click to enlarge
I spy with my little eye: Hmmmm, what have we here? Why, it's the latest DIY project by our friend Wafflebored. Savvy readers can probably guess where this one is headed. More info soon — stay tuned.
• • • • •
• • • • •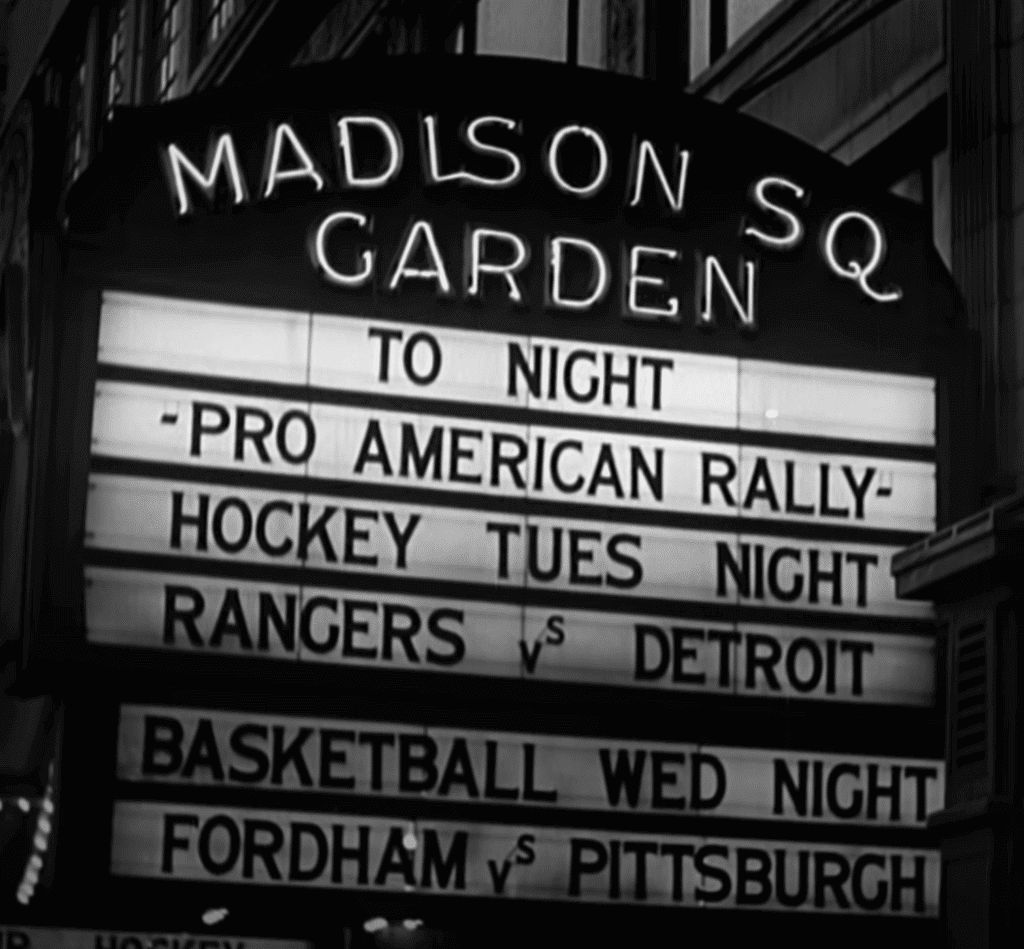 It can happen here — and it already did: The marquee shown above was photographed at Madison Square Garden in Manhattan on Monday, Feb. 20, 1939 — almost exactly 80 years ago. As you can see, there was a Rangers/Red Wings game coming up the next day (the Rangers won), and a Fordham/Pitt college hoops game the day after that (Pitt won).
But the real story is the event at the top of the marquee — "Pro American Rally." It was actually a Nazi rally, held by the German American Bund. Nearly three years before America entered World War II, 20,000 New Yorkers showed up and gave Nazi salutes while Bund leader Fritz Julius Kuhn railed against the "Jewish-controlled press" and demanded a "white, Gentile-ruled United States." The backdrop behind him featured a huge portrait of George Washington flanked by swastikas.
This event has largely disappeared from New York City history, and even from American history. I'd heard mention of it now and then but didn't really come to grips with it until I learned about the recently released short movie A Night at the Garden, which has been nominated for Best Documentary Short at the upcoming Oscars. You can see the entire film — it's only seven minutes long and consists entirely of footage from the rally — here:
And then the next night, the Rangers played the Red Wings.
Want to learn more? There's a really excellent Q&A with the director here.
(My thanks to Jerry Wolper for the Pitt/Fordham newspaper clipping.)
• • • • •
• • • • •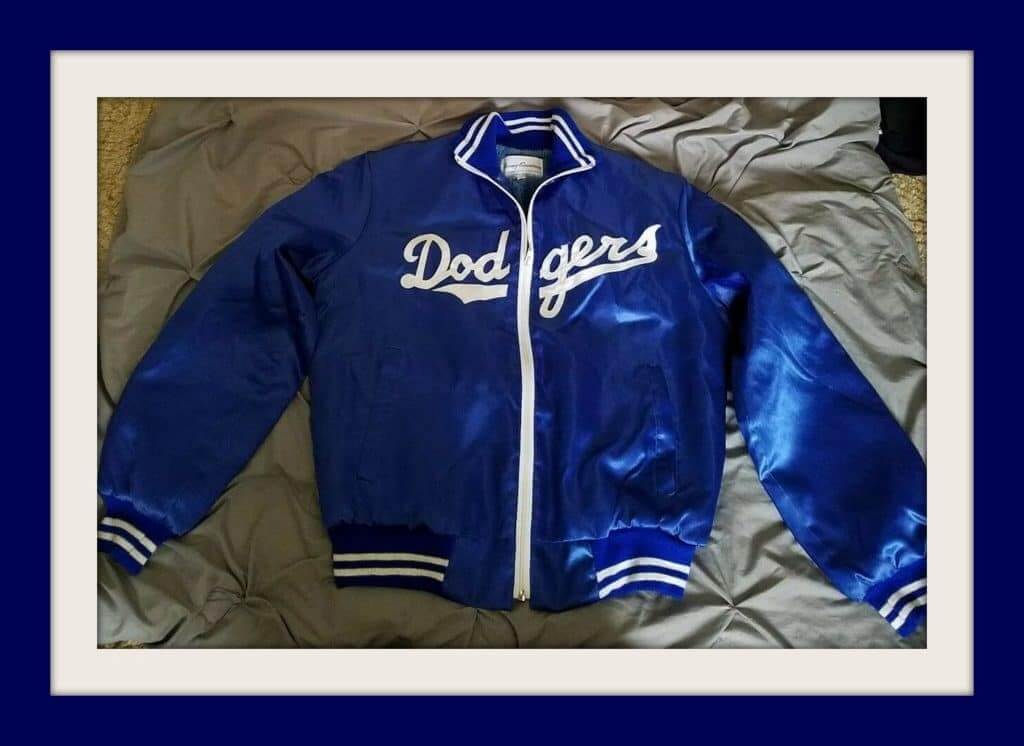 Click to enlarge
Collector's Corner
By Brinke Guthrie
This Dodgers jacket has the classic satin styling of the 1970s with the white zipper front. Can't you see LaSorda stuffed into one of these, maybe with LASORDA lettering on the back? It also has a tag inside that reads "Danny Goodman Los Angeles Dodgers." And who was Danny Goodman, you ask? A local vendor that whipped up jackets for the team before MLB got with the marketing plan and signed up big companies like Starter, perhaps? Turns out Mr. Goodman was a true baseball marketing genius in every sense of the word — read all about it here! That article mentions that Goodman "provided replica Dodger satin jackets for sale. A very popular item among Dodger fans," so this must be one of those. More on Mr. Goodman here from 1981.
Now for the rest of this week's picks:
• Remember the 3D cards you'd get in a box of cereal? This 1970s card is for running back Ken Willard of the Niners — and Paul says it was this very card that made him a 49ers fan! (It's true. Reached into a box of Corn Flakes, pulled out that card, been a Niners fan ever since. — PL]
• This 1960s NFL poster from SI is billed as a "Baltimore Colts poster," and that's clearly Ray Berry on the right. But that's just as clearly a Chicago Bear on the left.
• Rather stern-looking San Francisco Giants ballplayer standing inside the Stick on this 1970s pennant.
• Here's a nice-looking 1970s Big Red Machine road jersey replica. I always liked how there was white after the red sleeve stripe, not gray.
• Lots of NFL logos to love on this 1970s sleeping bag.
• Nice-looking 1970s youth Franklin Dolphins helmet, though they missed on that shade of green.
• Here we are with a pair of 1970s Buffalo Sabres drinking glasses — team logo on one side and a pair of crossed sticks on the other.
• This set of 1970s Slurpee NFL helmet cups includes the Giants' terrific "disco NY."
• An eBayer from the Great White North is offering this 1970s NFL logo towel, although he doesn't mention the key detail of how big it is.
• This white NFL helmet bank includes the words "Helmet Bank" underneath the shield, just so you wouldn't forget what it was for!
Seen an item on eBay that would be good for Collector's Corner? Send any submissions here.
• • • • •
• • • • •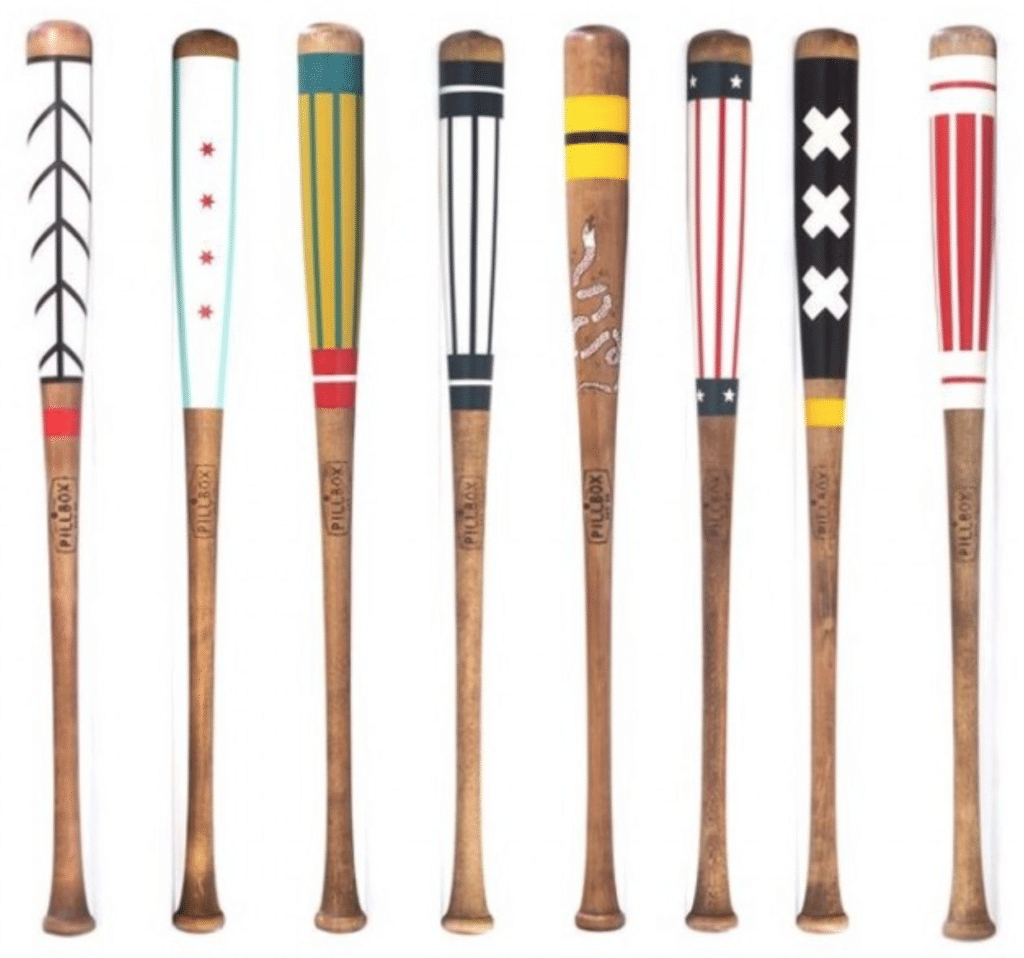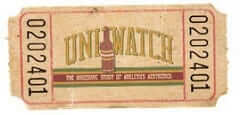 Raffle reminder: In case you missed it on Monday, the Pillbox Bat Co., which has been advertising with us for quite a while now, is now offering a free item from their website for a lucky Uni Watch reader. In addition to beautifully painted bats like the ones shown above, they also have a variety of pennants, apparel, leather goods, and more, so the winner will have a lot of options to choose from.
To enter, send an email to the raffle address by this Thursday, Feb. 14, 7pm Eastern. One entry per person. I'll announce the winner on Friday. Good luck!
• • • • •
• • • • •
The Ticker
By Alex Hider

Baseball News: Reader Nick Lineback has noticed that the Rays appear to have added their devil ray logo as a sleeve patch to their navy and light-blue jerseys. In 2017, those sleeves were blank; last year they had the Rays' 20th-anniversary patch; this year they'll have the logo patch. "I can confirm that this is a change for 2019," says Paul. … A sign of things to come: The manager for the Biloxi Shuckers, the Double-A affiliate for the Brewers, was wearing a Brewers pullover with a Jordan logo during an interview yesterday (from Nicole Haase). … There are two new baseball-themed LGBTQ bars in Washington, DC: "A League of Her Own" and "Pitchers" (from Mike Rosenberg). … Oklahoma has added both crimson and cream jersey options to its rotation (from JK). … Lots of new uniforms for Washington State (from College Sports Design). … UNC Wilmington's softball team has a wild pattern on their jerseys (from Mike Lucia). … Lots of uni talk in this episode of the Tater Tots podcast. … The Nippon Ham Fighters appear to have an embroidered logo appliqué on their batting helmets, just like the Cubs (from David Browning and Jeremy Brahm).

Hockey News: Next season, the Flyers will have a new scoreboard with moving, expanding, and contracting elements (from Michael MPH). … When Canadiens C Jean Beliveau scored his 500th goal, and the club presented him with a No. 500 jersey — or maybe it's three separate jerseys creating a composite 500 (from Jerry Wolper). … The Greenville Swamp Rabbits of the ECHL will wear Black Panther uniforms on Feb. 17 (from Mike Lucia).

Basketball News: Cross-listed from the hockey section: Next season, the Sixers will have a new scoreboard with moving, expanding, and contracting elements (from Michael MPH). … Reader JohnMark Fisher was cutting Brussels sprouts recently and said the color reminded him of the old '80s and '90s Bucks unis — I see where he's coming from! … Raptors SF Malcolm Miller will continue wear No. 13 in his new stint with the team, just as he did last season (from Etienne Catalan). … Also from Etienne: G Shelvin Mack will wear No. 6 with his new team, the Hornets. … Tulane will wear green Mardi Gras uniforms with purple and gold trim for their next four games (one of which is on the road). … Here's a good oral history of the Hornets' original uniform set (from Tom O'Grady).

Soccer News: FC Cincinnati unveiled the jerseys they'll wear for for their inaugural season yesterday: blue, white and keeper. Will Hughes was at the unveiling at Cincinnati's Music Hall and took a bunch of photos. But here's a weird wrinkle: The team didn't have enough time to get authentic-quality jerseys manufactured, so they'll be wearing replica-quality jerseys instead. … April Fool's came early for FC Dallas: They set up hidden cameras and tricked a few players into thinking that they'd be stuck wearing awful jerseys (from Eric Hodges). … The MASL's Baltimore Blast plays home matches at Towson University's arena, so they have a Towson sleeve patch (from John Cannon).

Grab Bag: Yesterday, Paul shared a photo of a cat-shaped paper clip. That prompted Mike Styczen to share a photo of a pig-shaped paper clip that his friend uses at his restaurants in Calgary. … The New York Times had a pretty sad clue in its crossword puzzle yesterday (from Max). … Gymnasts at Cortland State (NCAA D-III) wear uni-numbers! I don't think that's standard practice in NCAA gymnastics, is it? (From David Petroff.) … Here's the new paint scheme for cars on Formula 1's Williams Martini Racing team (from James Gilbert). … Reader Ryan sent along a photo of the awesome Super Bowl helmet cookies his wife made. Note the grey facemask on the Rams helmet! … Travis Holland notes that more and more college lacrosse teams are adding sleeve stripes to their jerseys. … After several disappointing earnings reports, Under Armour has bounced back with its latest quarterly report (from Tom Turner).