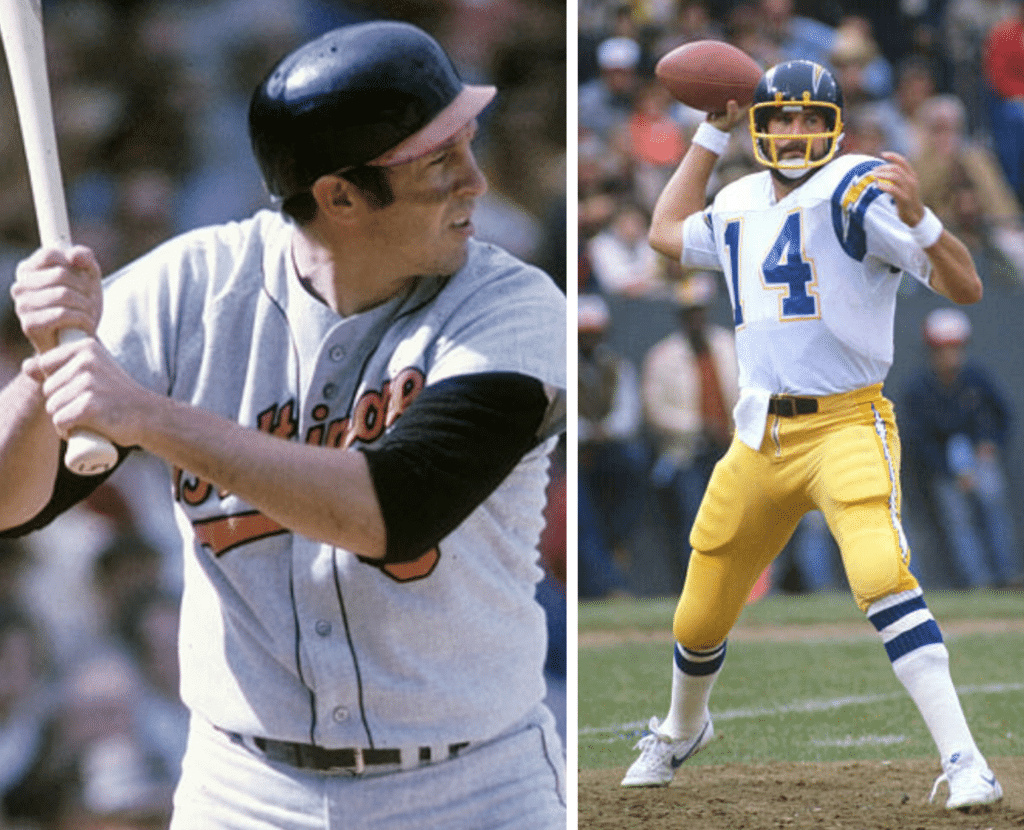 I was talking with a friend a few weeks ago about football. We agreed that whatever else you might think of Tom Brady, he looks like a quarterback. His posture, his body proportions, the way he stands tall in the pocket — there's a physical charisma to him. He looks like the dictionary definition of the word quarterback, straight out of central casting.
When I was a kid in the 1970s, I felt similarly about Cowboys quarterback Roger Staubach, who looked exactly what I imagined a quarterback should look like — his passing motion, the nimble way he dropped back to pass, the whole package. I hated the Cowboys, and so I resented Staubach's seeming visual perfection even as I admired it. (I imagine many people feel similarly about Brady.)
Later on, in the 1980s, I developed a similar visual affinity for Randall Cunningham when he was with the Eagles. I even loved his shoulder pads and, if you can believe this, his thigh pads, all of which looked Just Right.
By contrast, I remember when Dan Fouts was tearing up the league during the Chargers' Air Coryell period. The numbers didn't lie — Fouts was a devastatingly effective quarterback. But something about him didn't feel right to me. His proportions were all wrong, his movements lacked fluidity and grace — it was all visually unsatisfying. He may have been a great quarterback, but he didn't look the part, at least to me. I remember being puzzled by his success — how could he be so good when he didn't look good? (Obviously, I'd make a terrible scout.)
I didn't realize it at the time, but in all of these cases I was applying athletics aesthetics at the most basic level, by critiquing the look of the athlete himself.
I was thinking about all of this the other day when I was doing photo research for my Frank Robinson eulogy entry. As I clicked my way through various Robinson pics, I also came across lots of shots of Brooks Robinson. And there's no getting around it: Brooksie often did not photograph well.
Let me pause here and acknowledge that Brooks Robinson is a Hall of Famer, and deservedly so. He played in the bigs for over 20 years, was the American League's MVP in 1964 (when he hit .317 and knocked in a whopping 118 runs), hit a respectable .267 for his career, and was, pretty much by universal acclaim, the greatest-fielding third baseman ever, a status reinforced by the 16 consecutive gold gloves he won from 1960 through 1975. In other words, Brooks Robinson was, by any reasonable measure, a world-class athlete.
But he often didn't look like one, at least at the plate. Let's start with this photo — look how his hands are separated (!):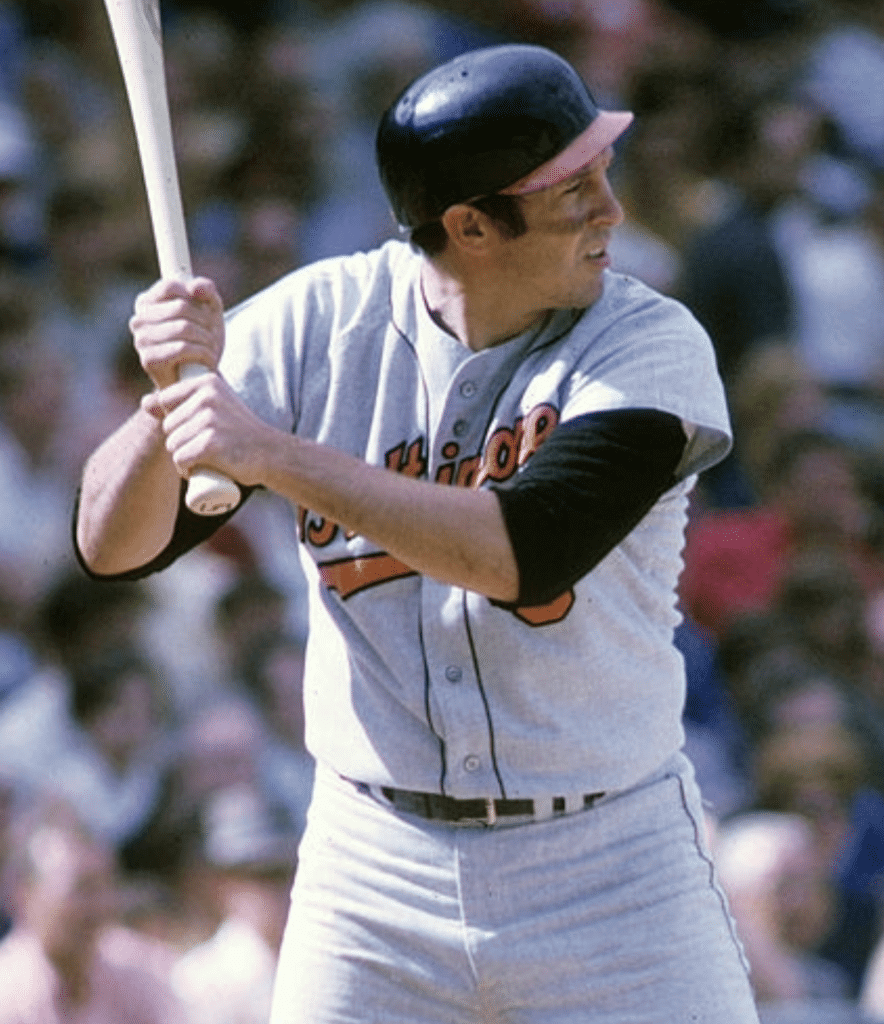 The snub-nosed helmet brim — which he started using after he began wearing an earflapped helmet, because the intersection of the brim and flap cut down on his peripheral vision — just adds to the rinky-dink feeling. Like, get this guy a real helmet and show him how his hands are supposed to go!
Even in a posed shot, Robinson didn't exactly look like a guy who'd strike fear into a pitcher's heart. He looked more like a guy who'd never held a bat in his hands before (as an aside, this shot provides a great view of the Star-Spangled Banner sesquicentennial patch that the Orioles wore in 1964; click to enlarge):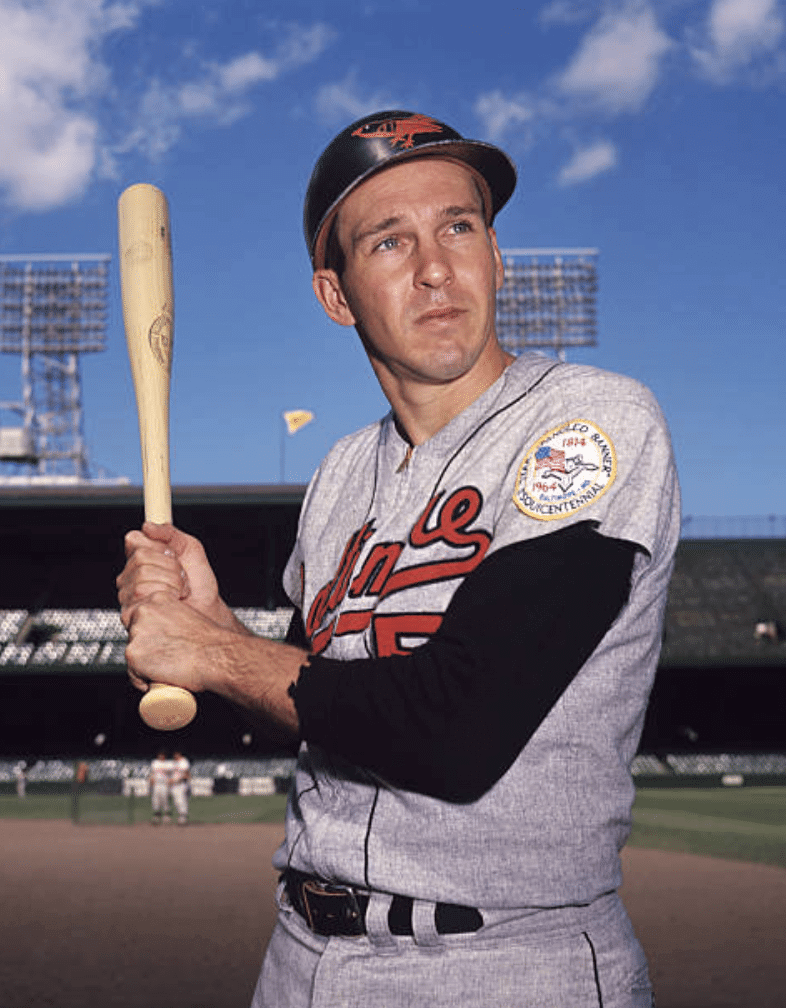 There's also a surprisingly large number of shots in which Robinson looks off-balance after swinging the bat, as if his bat were too heavy or something. Check these out: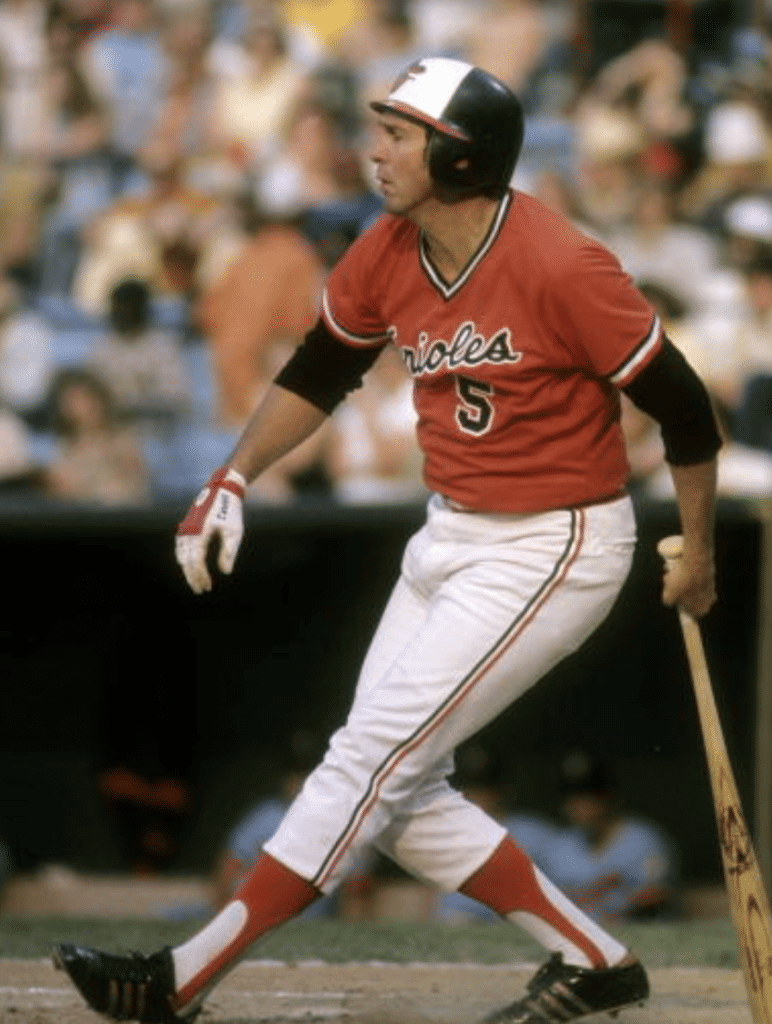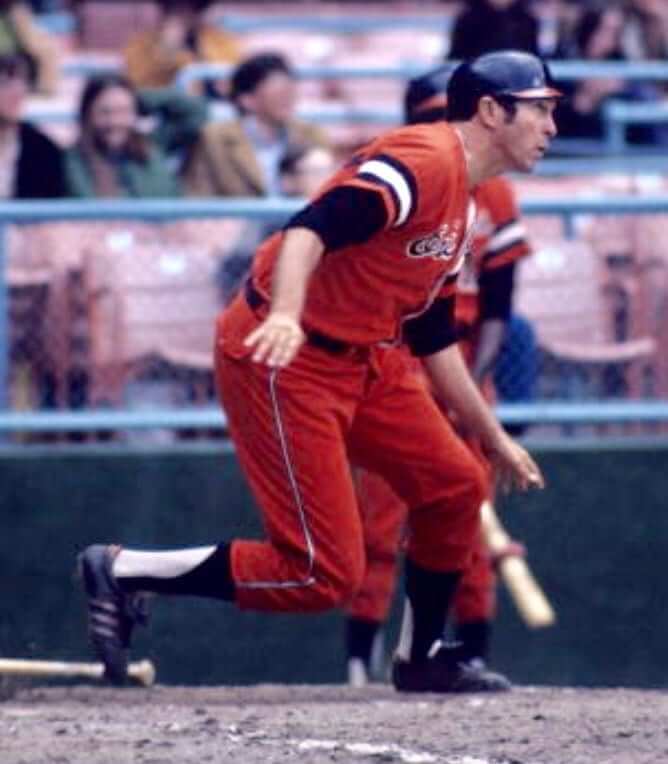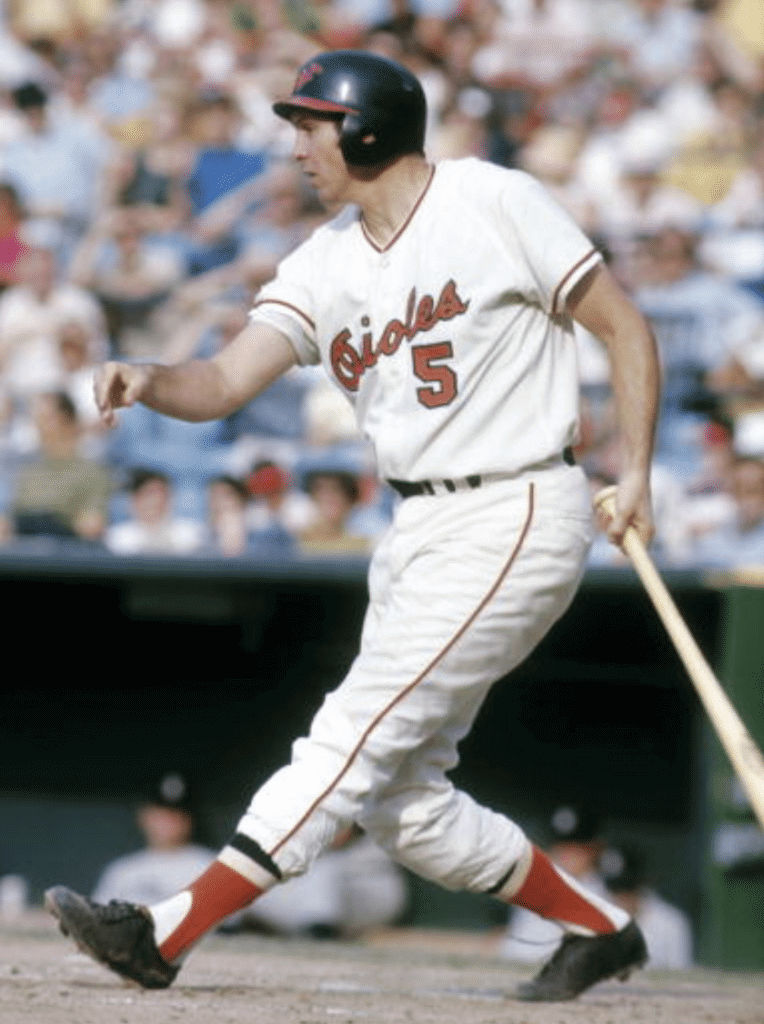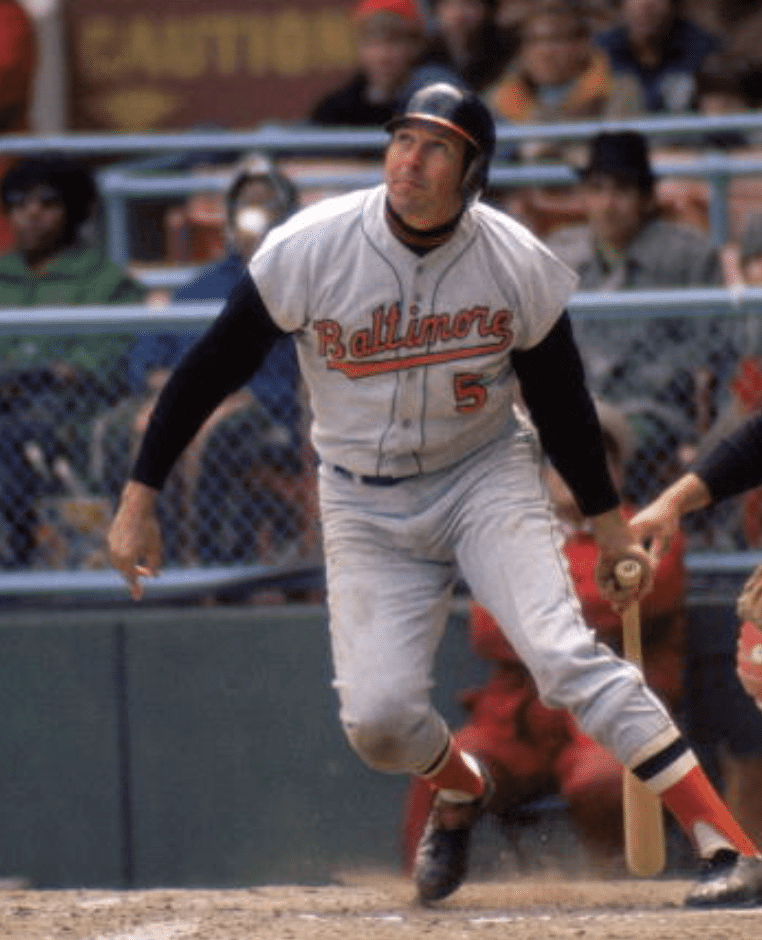 And there's more where those came from. In a lot of these shots, Robinson doesn't look like a Hall of Famer. He looks more like someone's dad trying to fit in at fantasy camp.
I realize some of this probably sounds petty or mean, so please believe me when I say I don't mean any of it as a criticism of Robinson (who, again, was by any reasonable measure a world-class athlete [and from what I've heard is also a decent guy]). If anything, this is a good reminder that aesthetics can be deceiving and that there's more to competing than just looking the part.
And of course it's worth remembering that there's one place where Robinson very much did look the part — at the hot corner. In the interests of equal time, here are some shots of him doing what he did best: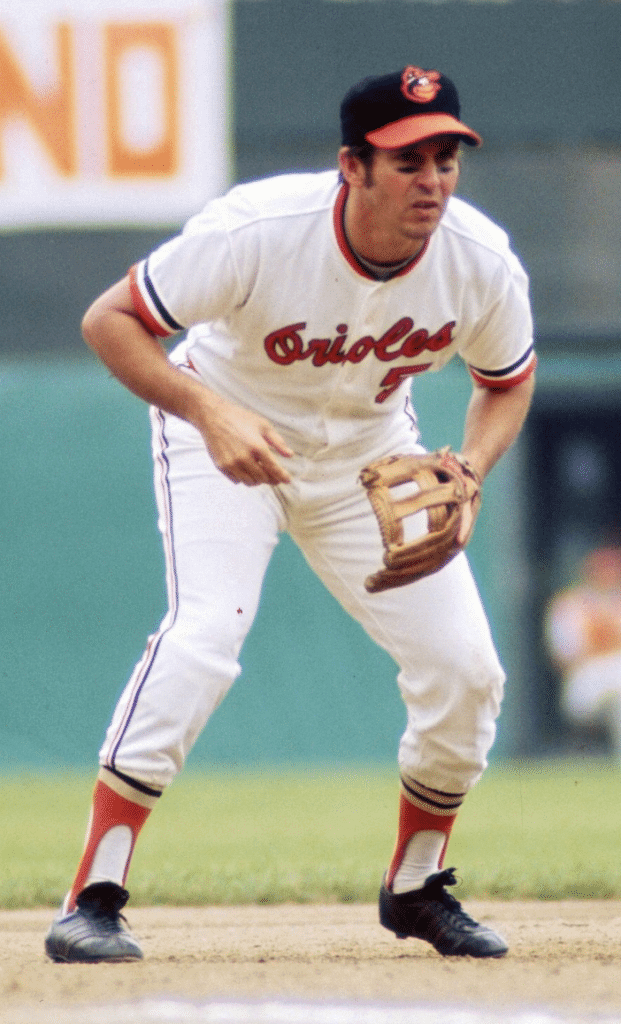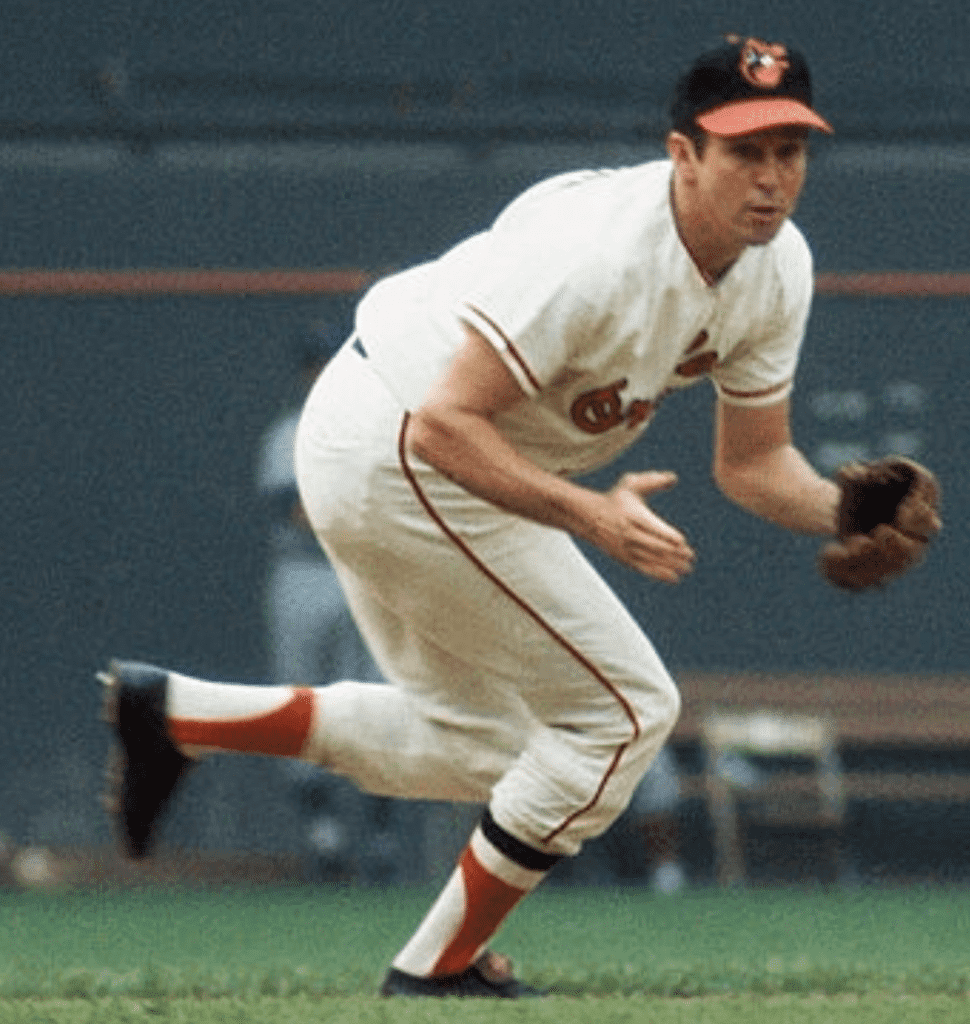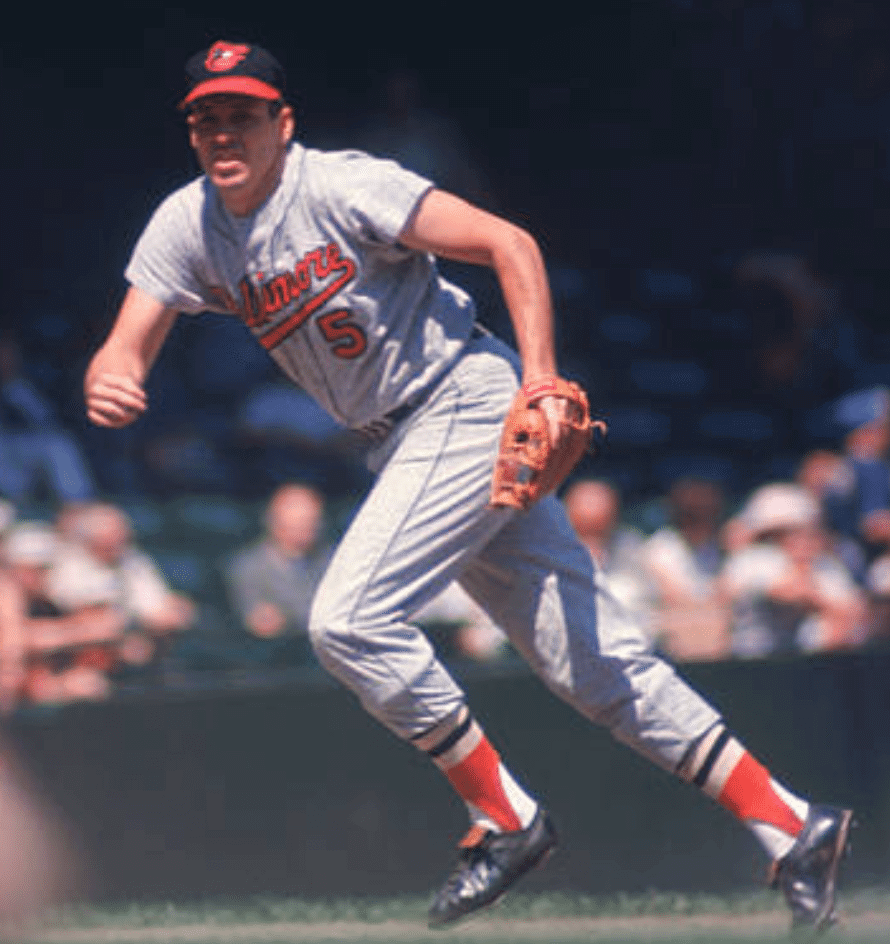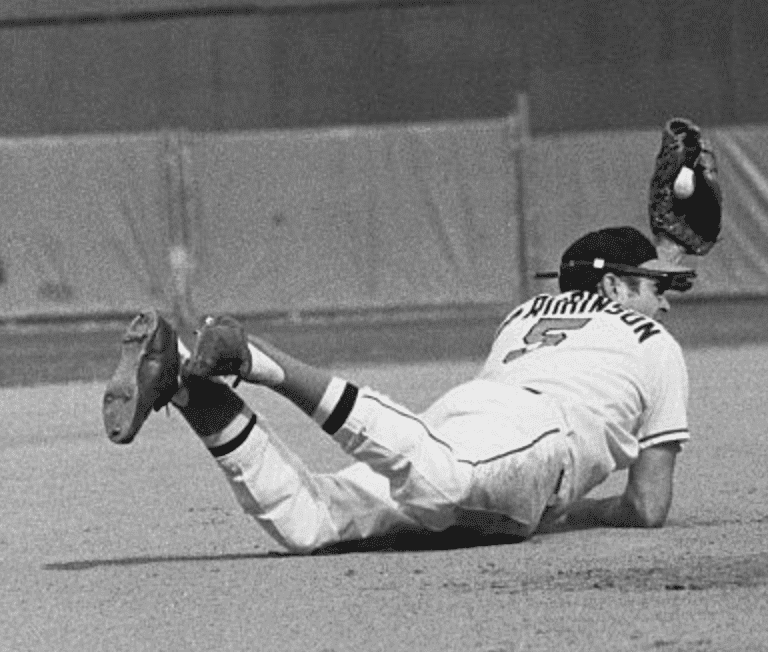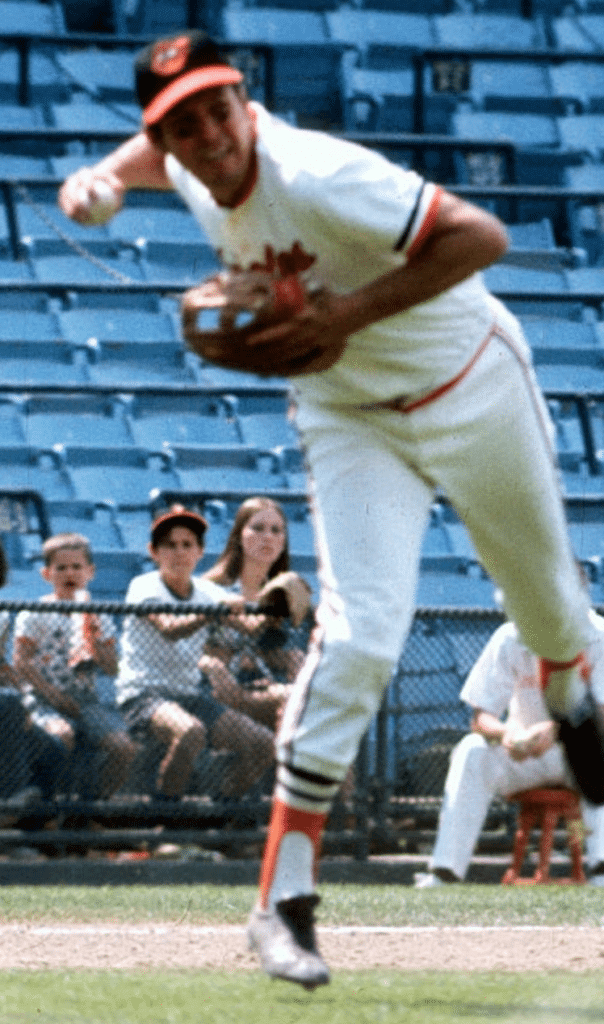 It's like night and day from the photos of him at the plate, right?
"Looking the part" can work both ways, of course. When I was a kid, I always thought Dodgers catcher Steve Yeager looked like a great hitter at the plate — his stance, his swing, his broad shoulders, the whole package. But again, the numbers don't lie: He was a terrible hitter. That always puzzled me, just like I was puzzled by Fouts's success. Just shows that looks can be deceiving, whether you look the part or you don't.
I think this is an interesting topic that goes beyond the issue of our personal aesthetic tastes. Ultimately, of course, we want the athletes we root for to be successful — that's the bottom line. But we also mythologize them, and we readily buy into other people mythologizing them. As kids, we stand in front of the mirror and imitate their motions. We want them to look the part.
Or at least I did (and on some level I still do). And I'm pretty sure I'm not the only one. What about you? Are there any players, in any sport, who either looked the part or didn't, at least by your standards? Did their look correlate with on-field success? Did that matter to you?
Feel free to post your responses in today's comments — should be an interesting discussion.
• • • • •
• • • • •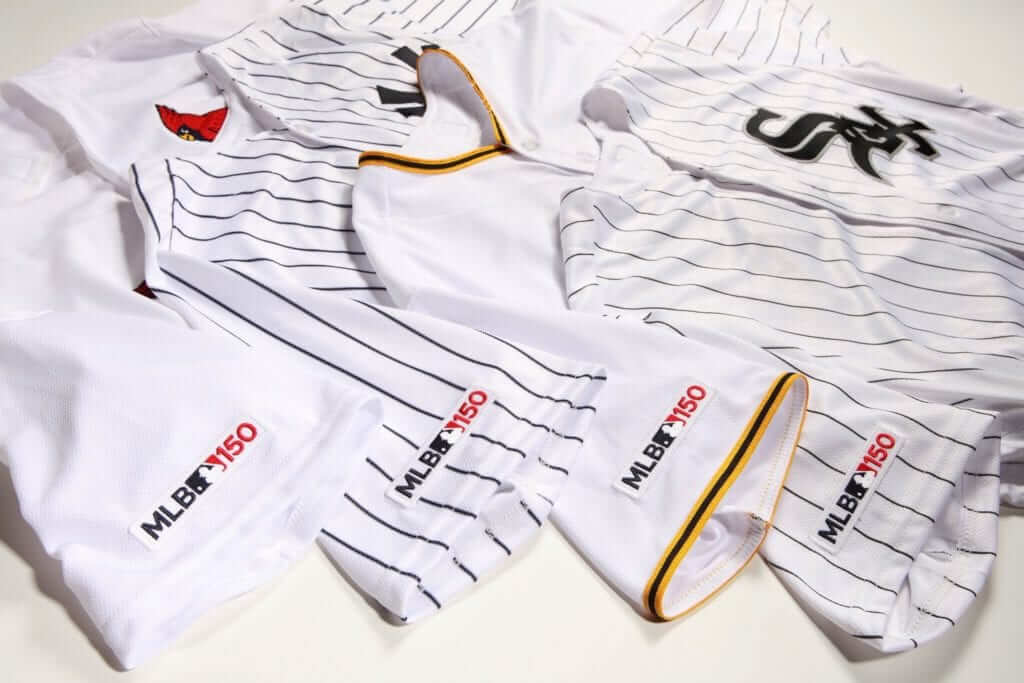 Photos from from Eric Fischer of Sports Business Journal; click to enlarge
ITEM! MLB 150 patch update: Two weeks after the Twins inadvertently leaked MLB's 150th-anniversary patch, we now have another photo showing how the patch wil look on several other teams' jerseys. This confirms that the patch will have the same red/white/blue color scheme for every team, and will not be team-colored like the MLB logos that appear on jerseys, caps, and pants.
As previously reported, the patch will appear on jerseys for the entire season, and will be on caps for Opening Day. We now have our first look at the caps: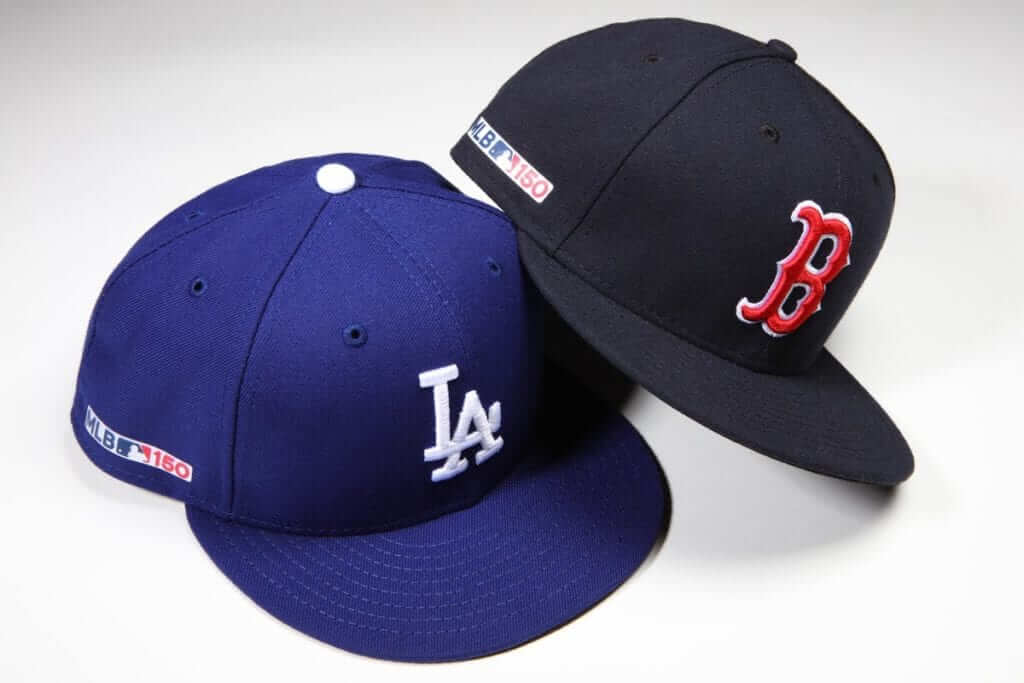 (My thanks to @NYYDJ2 for bringing these photos to my attention.)
• • • • •
• • • • •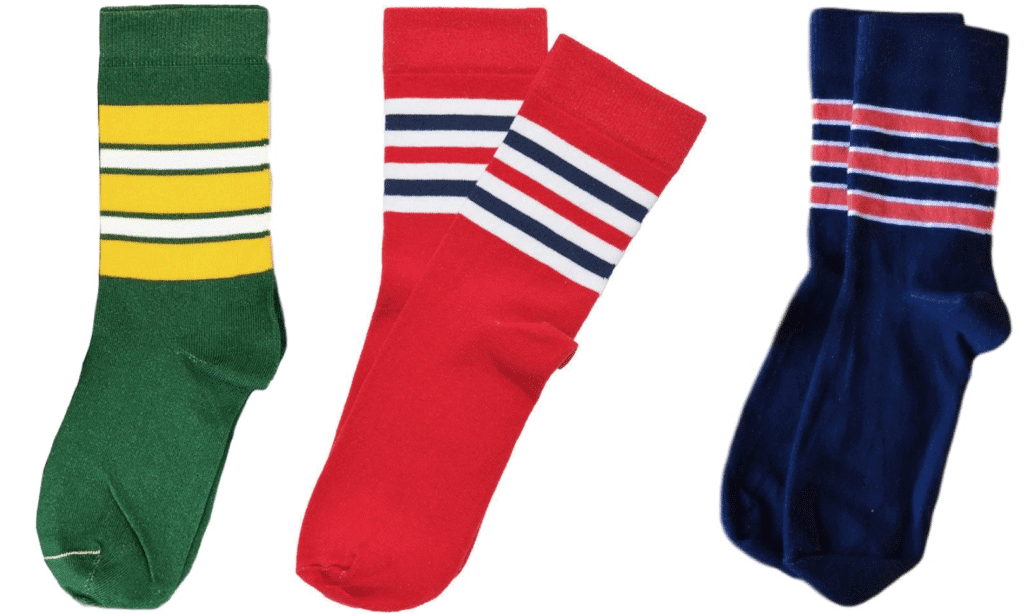 ITEM! StripeRite update/poll: The next batch of StripeRite socks will be a sort of "greatest hits" edition, as we plan to revive the Green Bay, St. Louis, and Chicago designs shown above, all of which were very popular the first time around.
In addition, we'll add one new design to this batch. We've narrowed it down to two choices — Cleveland and Harlem: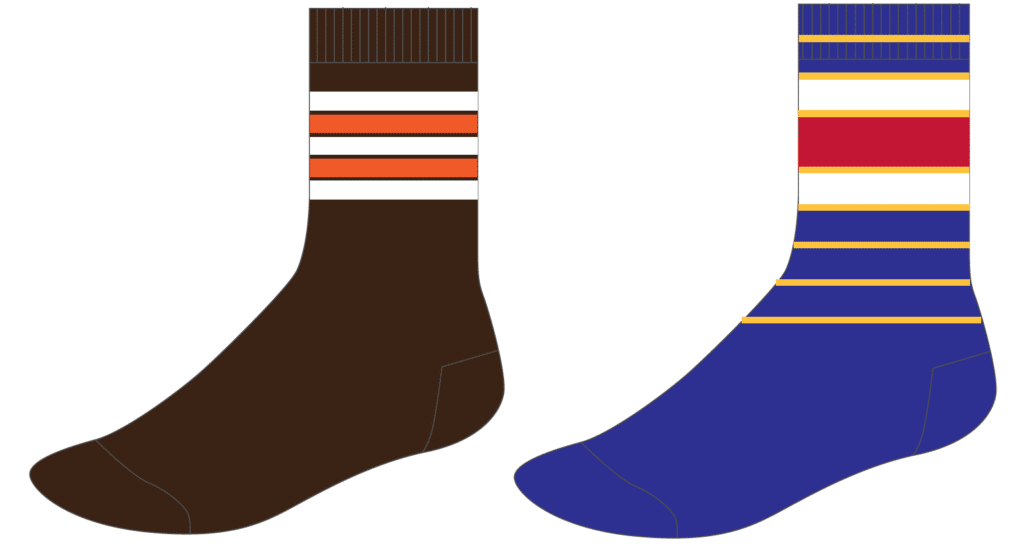 If you're a potential StripeRite customer, please let us know which design you'd be more interested in purchasing:
[totalpoll id="106823″]
Thanks for your input — we appreciate it.
• • • • •
• • • • •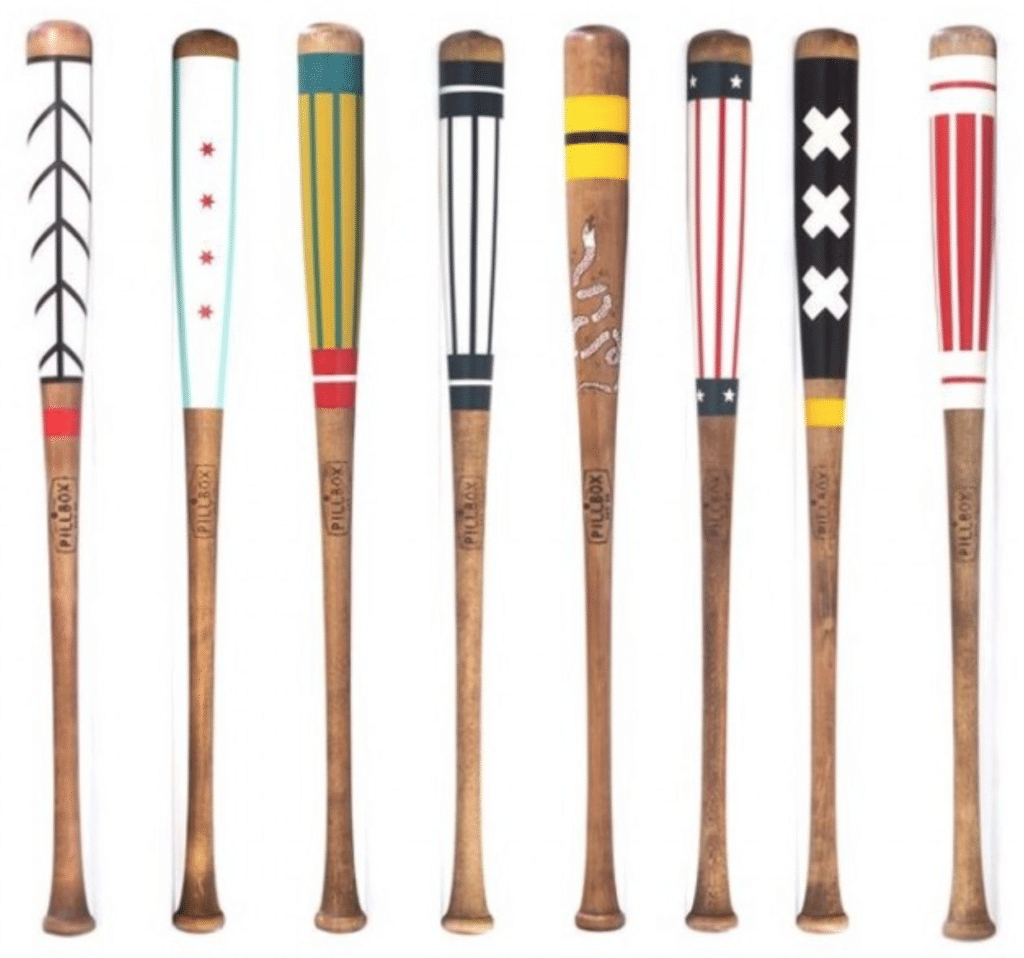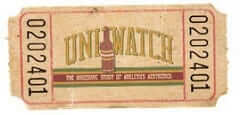 ITEM! Yet another raffle: The Pillbox Bat Co., which has been advertising with us for quite a while now, is now offering a free item from their website for a lucky Uni Watch reader. In addition to beautifully painted bats like the ones shown above, they also have a variety of pennants, apparel, leather goods, and more, so the winner will have a lot of options to choose from.
To enter, send an email to the raffle address by this Thursday, Feb. 14, 7pm Eastern. One entry per person. I'll announce the winner on Friday. Good luck!
• • • • •
• • • • •
Click to enlarge
Clip job: There are all sorts of weird paper clip designs out there. The one shown in the photo above was recently given to me by the Tugboat Captain, who found it amongst some early-1930s documents she was researching. I know the manufacturer didn't intend for it to look like a cat, but of course that's how I see it. Meow!
• • • • •
• • • • •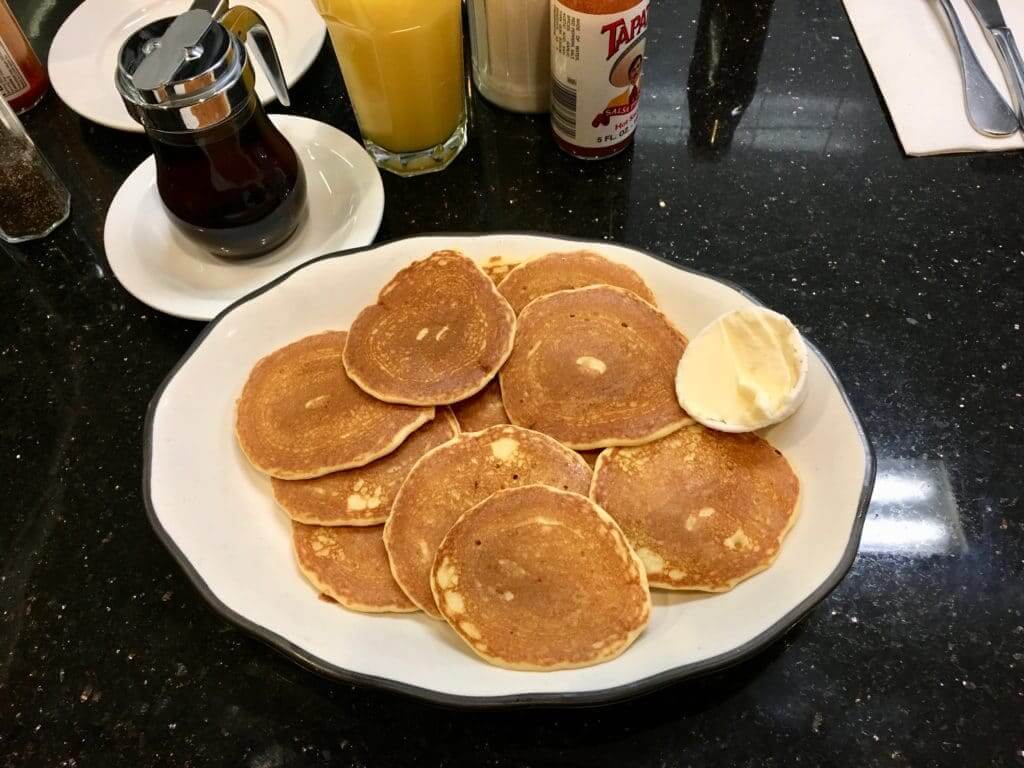 Silver-licious: Silver dollar pancakes don't show up on menus that often. So if I see them listed, as I did when having breakfast at a Brooklyn diner on Saturday, I almost always order them. I love how bountiful and festive they seem, sort of like there's an implied exclamation point. Silver dollar pancakes!
As you can see, the silver dollar 'cakes I had on Saturday were significantly larger than actual silver dollars. They always are. So how did the name come about? Did they used to be smaller back in the day, and then they succumbed to portion creep, like so many other restaurant foods? Shouldn't the guys in the kitchen have a silver dollar taped to the wall for visual reference or something?
Speaking of the guys in the kitchen: I sometimes wonder if short-order cooks hate having to make silver dollar pancakes. So many little things to deal with, instead of one or two big things. I realize they can probably flip them several at a time, and I also realize I shouldn't feel bad about ordering something that is, after all, listed on the menu. But still, I wonder — when the order arrives in the kitchen, do they cringe and say, "Ah, jeez, not those goddamn silver dollars again"? Can anyone with professional griddle experience weigh in on this?
As long as we're talking pancakes: So many menus have a regular order of 'cakes and then a smaller order, the latter of which is often called a "short stack." Now, I love the idea of ordering a "stack" — it's a very appealing and appetizing word. I'll have the stack! But the full-size order is rarely if ever called a full stack or a tall stack or a blown stack or even just a regular old stack. It's just a standard order of pancakes. Why must I get the smaller order if I want to use the word "stack"? Very frustrating!
When I have my own diner, which should happen any day now, the full order of pancakes will be called the stack, plus we'll have a jumbo-sized option called the giant stack, and of course there'll be the short stack. Also, our silver dollar pancakes — which will come in a pile, not a stack — will truly be silver dollar-sized (and if they're not, the customer will get a real silver dollar!). Oh, but nobody will order any of these pancakes anyway because we'll also have waffles on the menu and everyone knows waffles are better than pancakes, especially when I'm making them because I add all sorts of delicious secret ingredients but that's another story for another day, the end.
• • • • •
• • • • •
The Ticker
By Jamie Rathjen

Baseball News: Here's some great color footage of the Yankees' 1941 spring training camp. Jarring to see someone other than Babe Ruth wearing No. 3, which hadn't yet been retired. Scroll down to the tweet's comments to see who wore that and other numbers (from Gil Neumann). … For the second day in a row — the tweet mentioned in yesterday's Ticker was deleted — a softball tournament hosted by Northern Iowa was played indoors on the UNI-Dome's football field because of the weather (from Aris Theofanopoulous). … The cap that rapper Travis Scott wore backwards at the Grammys last night was a custom Astros design (from Ignacio Salazar). … Here's more about all those throwbacks the Reds will be wearing this season (from Sean Thesing).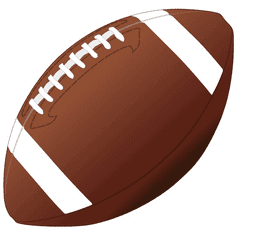 Football News: The Alliance of American Football's Memphis Express revealed a white jersey, which makes them the first team in the league to have more than one and contradicts what Paul was told in November, which was that each team would only have one uniform even though half of the AAF teams wear dark colors (from multiple readers).

Hockey News: A few days ago we had Wisconsin throwbacks in the Ticker for the retirement of women's team coach Mark Johnson's No. 10; the women wore their throwbacks during warmups and all wore "Johnson" NOBs and No. 10 (from Chad Jorgensen). … The QMJHL played a second outdoor game in Saint-Tite, Que., this weekend, which was color-vs.-color between the Québec Remparts and Shawinigan Cataractes (from Wade Heidt). … Also from Wade: The OHL's Owen Sound Attack wore teal jerseys because a building in downtown Owen Sound was donated to a local nonprofit. … Somewhere in this article (WaPo link), it's mentioned that Lester Patrick, an early-20th-century defenseman and the grandfather of Capitals president Dick, and his brother were responsible for player numbering in hockey (from Ted Floss). … In 2017, the Federal Hockey League's Carolina Thunderbirds wore Veterans Day jerseys with an odd McNOB treatment. That font is called Vanilla Whale (really), and the lowercase letters all have those lines above and below the letterforms (from Matt Campbell and Andrew Sterlachini). … The ECHL's Newfoundland Growlers wore Iron Man uniforms yesterday (from Mike Lucia). … New alternates yesterday for the Bridgeport Sound Tigers (from Pech Zearce).

Basketball News: This video shows the Vikings' stadium, which hosts the Final Four this year, being set up for basketball for a tournament in November (from Joel Mathwig). … Iowa's women wore pink alternates with special NOBs yesterday (from Jake Binggeli). … Syracuse's men wore new white alternates with "'Cuse" on the front. … The D League's Canton Charge lost their luggage during a trip to Oshkosh, Wisc., so they wore generic practice uniforms against the Wisconsin Herd (from multiple readers). … New Pelicans F Jason Smith wears No. 14, while new Pacers G Wesley Matthews wears No. 23 (from Etienne Catalan).

Soccer News: German team Werder Bremen wore 120th-anniversary shirts with this season's green shorts and white socks, perhaps attempting to set a record for most shades of green in one kit (from Christopher Jones). … Italian team Chievo Verona recently wore last season's first kit, which is almost, but not exactly, the same as this season's (from Josh Hinton). … The next three are also from Josh: the USL Championship's Louisville City wore training kits for their last two preseason games because manufacturing issues have prevented this season's kits from being revealed yet. … New second shirt for Minnesota United. … Three new kits for USL League One's Chattanooga Red Wolves, including a look at the league's sleeve patch. … New first shirt for Scottish women's team Glasgow City. … Premier League officials and most of the league's teams wore black armbands in memory of striker Emiliano Sala, as did teams in the English Football League. Cardiff City wore daffodils again and at least one team in England's Women's Super League participated as well.

Grab Bag: Some Australian Football League players, at least on the women's side, wear long sleeves to protect against sunburn, including a few on Brisbane's women's team; it is also worth noting that Brisbane's women have a white clash guernsey, but the men do not appear to have worn white in several years (from @torak). … NASCAR driver Corey LaJoie's car for next week's Daytona 500 has his face on the hood (from James Gilbert). … New presidential candidate Sen. Amy Klobuchar revealed her campaign logo and it's blue, which according to an article we had in the Ticker a few days ago is a color that 2020 female presidential candidates have not been using (from @VerbDC). … Carmel High Scholl in Indiana has won 33 consecutive state championships in girls' swimming, so they made jerseys with No. 33 on them and wore them on the podium (from Derek Linn).