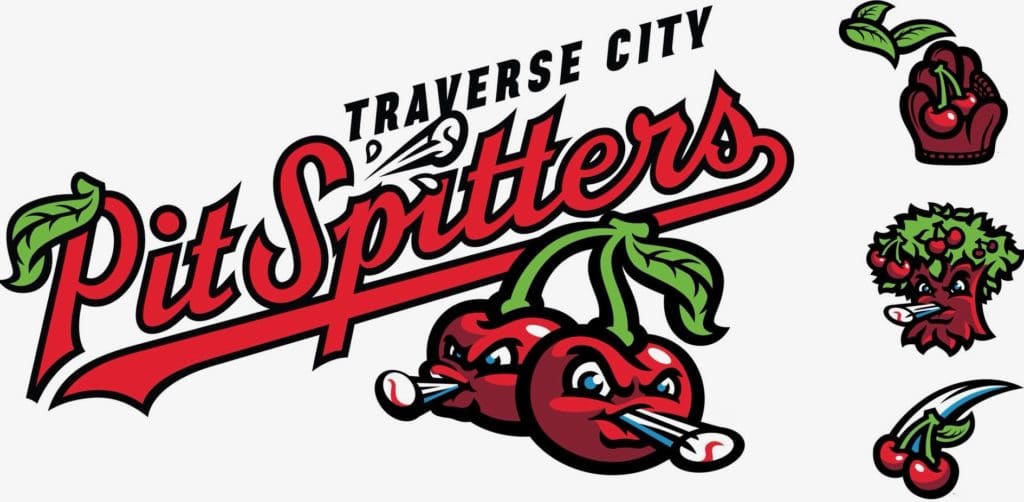 Click to enlarge
The area around Traverse City, Mich., is known as the Cherry Capital of America (the local airport is even called Cherry Capital Airport), which explains yesterday's announcement that the town's new baseball team, slated to play in the college summer/wood-bat Northwoods League, will be called the Traverse City Pit Spitters.
On some level, this is just another boilerplate Brandiose treatment (furrowed-brow mascot, overly thick black lines — check and double-check), but I really like this one. For one thing, pit-spitting is actually a thing in northern Michigan (additional info here and here). For another, I love how the secondary logo shown at top-right uses a baseball glove and some cherry leaves to simulate Michigan's lower and upper peninsulas. Michiganders often refer to the Lower Peninsula as "the Mitten," so depicting it as a baseball glove is a clever move. And I'm a fan of just about anything that acknowledges the U.P., which is the most inconspicuous and underappreciated part of the lower 48 states.
I'd like all of this even more if the mascots were more smile-y and less furrowed-brow-y. Still, this is a Brandiose package I can get behind.
• • • • •
• • • • •
Click to enlarge
New ESPN column: My annual Uni Watch Super Bowl Preview will be published today, with lots of uni-related tidbits about this Sunday's big game (including the fact that the Rams will be wearing the same uniform they wore in the Super Bowl in the 1978 movie Heaven Can Wait, as shown above). Link coming soon. Update: My editor just told me that publication has been pushed back to tomorrow. Sorry for the false alarm.
• • • • •
• • • • •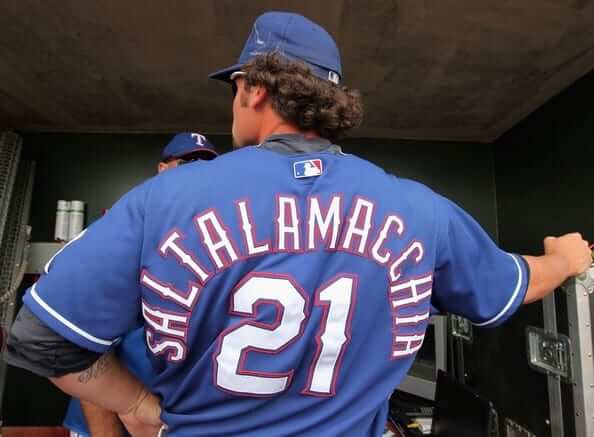 Going out on top: Journeyman catcher Jarrod Saltalamacchia has retired. When he debuted with the Braves in 2007, his 14-letter surname set the record for the longest NOB in MLB history. Twelve years later, he still holds that record.
Salty played for seven teams during his MLB career (none of which, happily, was the Yankees). You can see how all seven of those teams squeezed his name onto the back of a jersey in this Uni Watch post from 2017.
This gives me an excuse to once again post the photo of former A's farmhand Eric Stuckenschneider's spring training nameplate. Stucky would have beaten Salty by two letters, but he never made it to the bigs (click to enlarge; R.I.P., Tucker):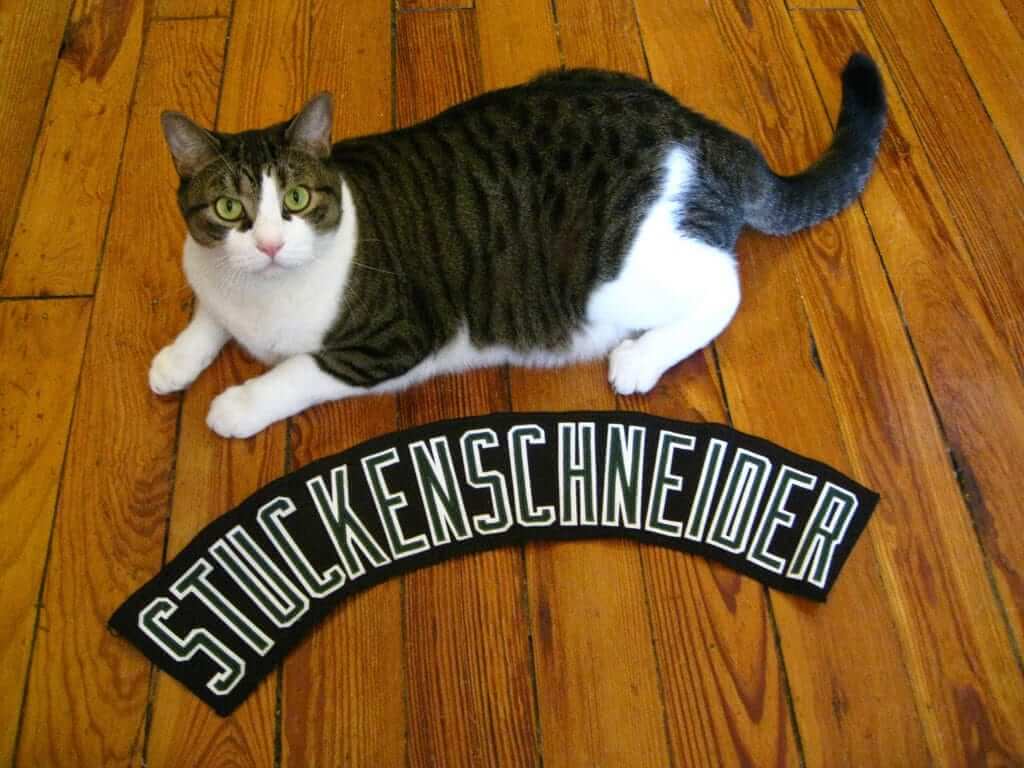 • • • • •
• • • • •
Click to enlarge
Winter (Olympics) wonderland: Reader Steven Marks visited the Lake Placid Olympic Museum earlier this month and photographed a bunch of cool stuff (including the 1952 Team USA jacket shown above).
One of the more interesting displays was this set of wings, which Olympic torch bearers wore in 1980 (click to enlarge):
You can see all of Steven's photos here.
• • • • •
• • • • •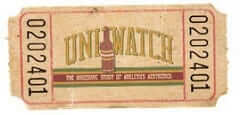 Raffle reminder: The good folks at Vintage Brand are using the week leading up to the Super Bowl to run another raffle. The lucky winner will get to choose any item from the Vintage Brand site (like the cool Rams canvas shown above, for example).
To enter, send an email to the raffle address by this Thursday, Jan. 31, 7pm Eastern. One entry per person. I'll announce the winner on Friday. Good luck!
• • • • •
• • • • •
The Ticker
By Lloyd Alaban

Baseball News: The Rangers posted a cryptic tweet of two people poring over colored fabric swatches. Could there be a uniform overhaul in the works? (From Jay Burnam.) … Mets P Noah Syndergaard has a pinstriped Mets bathrobe, complete with his number on it (from Jason Criss). … @BSmile found this gif of Pirates SS Honus Wagner in a sharp-looking sweater. … The Fresno Grizzlies, Triple-A affiliate of the Nationals, have a new look (from multiple readers). … Last week, we ran a Ticker item that showed a collage of minor league hats forming the alphabet. Every letter was accounted for except "U" and "X." Well, now we have all 26 letters (from Malcolm McMillan)! … New uniforms for Gonzaga (from multiple readers). … New unis for Youngstown State. … Cal baseball has raised batting helmet logos decals (from Gilbert Lee). … The Richmond Flying Squirrels, Double-A affiliate of the Giants, will wear cat-themed jerseys for a game in April. Fans will get to vote on which cat will be on the jersey, with proceeds from going to the Richmond SPCA (from Aryn Keen). … The Reading Fightin Phils, Double-A affiliate of the Phillies, will become the Reading Pretzels for select games this season. … Here's an old photo of the late Rodney Dangerfield in a full Mets uni, next to fellow actor Paul Newman (from Matthew Wilemski). … Ted Bundy is wearing a Mariners T-shirt in this screenshot from the Netflix documentary Conversations with a Killer: The Ted Bundy Tapes (from Ian Irwin). … New uniforms for Arizona softball. … New uniforms for the Japanese team Chunichi Dragons (from Graveyard Baseball). … Here's some old video footage of Mariners P Matt Young wearing No. 1.

NFL/CFL News: Randy's Donuts in Inglewood, Calif., painted their famous donut-shaped sign in Rams blue and yellow ahead of the team's appearance in the Super Bowl. Too bad about the Nike logo (from Andy Garms). … Thanks to Richard Stover, who sent us this picture of a Patriots-themed buoy he took near Scituate and Marshfield, Mass. … According to this tweet, the NFL is considering allowing teams to use tinted visors in-game for the 2019 season (from @WolfeNorthwest). … Looks like the Chiefs may be modifying their Lamar Hunt perma-memorial patch to do double duty as a 60th-season patch next season (from Todd Engle). … This vintage Saints pennant features a haloed Saint — a mascot trope that the team has rarely used (from Russell Goutierez). … Here's a rare shot of Broncos RB Floyd Little wearing the team's 1966 uniform. Little was drafted in '67, so he never wore that uniform in a regular season game, but the team re-used its '66 unis in the '67 preseason. … An artist has developed a series of NBA City Edition-inspired NFL jersey concepts (from Taylor Brandine). … A buddy of Bill Schaefer came across this ad featuring the Saints' black helmet. He says that other papers had the same ad so it was likely a nationwide campaign. … Gregg Elkin found these CFL stickers in a set of Legos he gave to his son. … Here's a Media Day shot of former Giants TE Howard Cross — the only Giant to play for both the 1990 and 2000 NFC Championship teams — in a gorgeous varsity jacket (from Mike Colvin). … The AAF has been holding scrimmages, which have provided us with our first look at how the league's uniforms look on the field.

Hockey News: Reader Greg Enright sent us this article about the Penguins changing from double-blue to black and gold in the middle of the 1979-80 season. There are lots of neat little details, including the Bruins protesting the move and the Pens ordering their new unis from the Bruins pro shop. … Speaking of the Pens: Former C and current owner Mario Lemieux wore a gold, logo-accurate jersey for his fantasy camp (from Jared Grubbs). … The Kootenay Ice of the Western Hockey League are moving to Winnipeg to become the Winnipeg Ice. Their logo will remain the same — including the hidden "ice" lettering on the left side of the logo (from multiple readers). … Here's a "How It's Made" segment about the production of goalie masks (from Wayne Jones).

NBA News: Nets PG Shabazz Napier made a three-pointer with one-and-a-half shoes last night (from Chris Chmura). … The uniforms for the Rising Stars game during All-Star weekend in Charlotte will be based on the Carolina Cougars' 1970s unis — which, in case you've forgotten, looked like this and this (from Chris Marsicano). … Cross-listed from the football section: An artist has developed a series of NBA City Edition-inspired NFL jersey concepts (from Taylor Brandine). … Lincoln Prep High School in Kansas City, Mo., is poaching the Warriors' logo (from Ryan Atkinson).

College Hoops News: Here are retail shots of Kansas men's new uniforms (from Across the State Line). … Here's a new state-flag-themed uniform for Nevada men's. … If you're a follower of Kentucky men's basketball, you've probably noticed some of the players wearing bright, mismatched, multi-colored sneakers. Here's the story behind them (from Josh Hinton). … Maryland wore red at home against Northwestern last night, and the cheerleaders wore Spider-Man-themed uniforms (from Matt Shevin). … Jeff Flynn found this misspelled Pitt jersey worn by former G Trey Ziegler. … @run_100mi Michigan players have a bump between their shoulder blades. Luke Aaron says it's a GPS tracker. … Mississippi State G Nick Weatherspoon is blaming the team's shooting troubles on Nike balls. State uses an Adidas ball for home games but has to use other balls when playing on the road against a Nike- or Under Armour-outfitted team (from Joey Harvey).

Soccer News: New kits for the Portland Timbers (from Jason Schwanz). … It looks like Atlanta United D Franco Escobar has leaked the club's new shirt. The caption reads, "If we're talking about perfection…" in Spanish (from Austin Perry). … The new USL Championship franchise set to play in the Oakland area has filed a trademark for "East Bay Tempo FC" (from Josh Hinton).

Grab Bag: Nike is being accused of "insulting Islam" by releasing an Air Max shoe logo that looks like "Allah" in Arabic (from J. Max Weintraub). … Washed Up Goalie showed us this beautiful letterman sweater from the early 1970s. … An increasing number of curling teams are wearing helmets (from Ted Arnold).