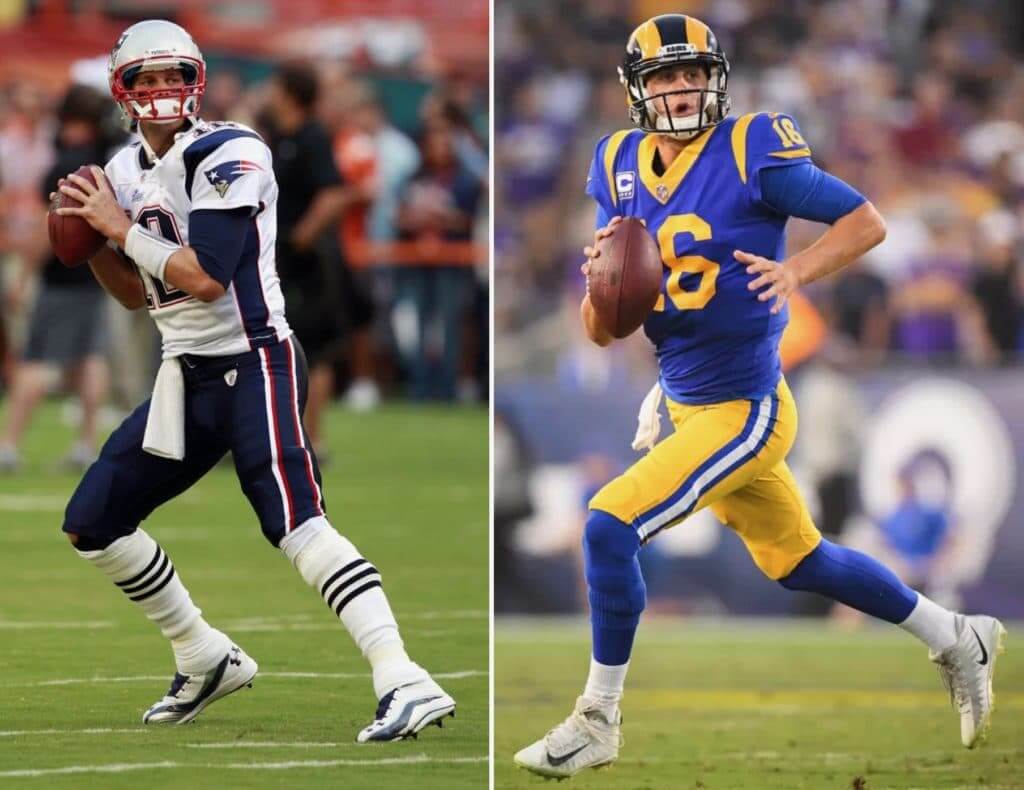 Well, we won't get to find out how they would've fit a fourth patch onto Drew Brees's jersey, nor will we have a Blank Bumper Bowl, both of which would have been interesting.
But on the plus side, the Super Bowl will continue its run of never having had a mono-black team (a narrow escape), and the Rams have already announced that they'll wear throwbacks for the big game, becoming the second team ever to do so. (The first such team, of course, was San Francisco in Supe XXIX.)
Personally, I was rooting for a Rams/Chiefs matchup, which would have looked great (especially if the Chiefs wore their red pants), but at least we'll have the Pats' striped socks, which are always a welcome element on the field.
Lots of people are already complaining about how the Rams' helmets don't match the shade of blue on their jerseys, "this just proves that the one-shell rule is stupid," blah-blah-blah. For the umpteenth time, people, the helmet and jersey didn't match back in the day either: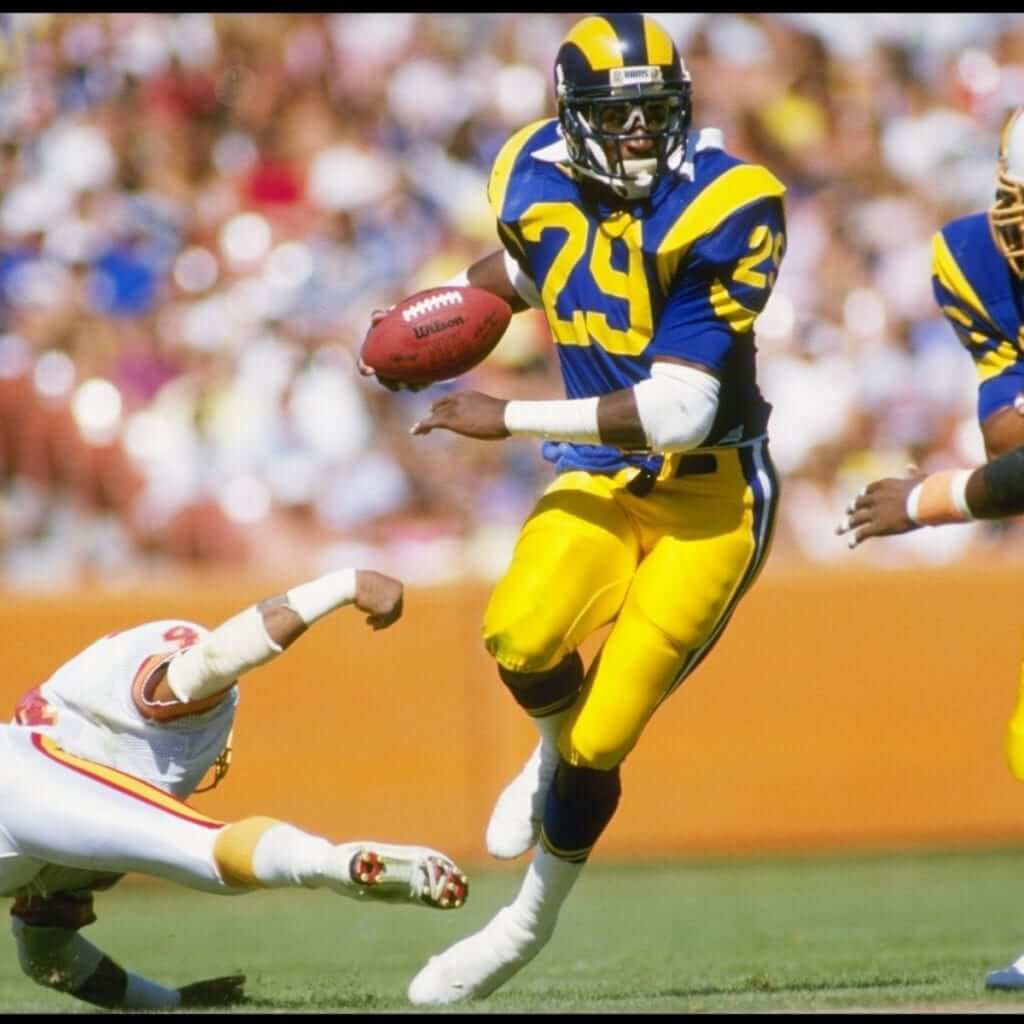 This will be the second time that the Rams and Pats have met in the Super Bowl. The first time — Supe XXXVI, in 2002 — looked like this: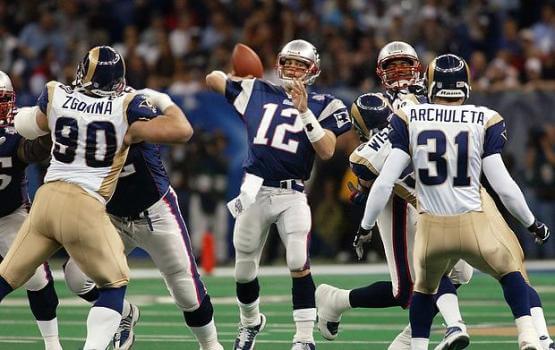 Ugh, I'd forgotten that the Rams used to have gold side panels on those jerseys. They got rid of them, thankfully, the following season. (Also: It is a sobering thought to realize that Pats quarterback Tom Brady played in that game while Rams quarterback Jared Goff was busy being seven years old.)
Meanwhile: As per his annual custom, reader Jay Braiman has come up with the definitive list of trivia pertaining to this year's two Super Bowl teams. Take it away, Jay:
The Rams will be the second team to wear a throwback uniform in the Super Bowl, after the 49ers in Super Bowl XXIX. They'll also be the second team after those 49ers to appear in the Super Bowl wearing one uniform design, then appear in a different design, and then appear again in the first design, although both of the times the Rams wore the first design they wore white jerseys (XIV and XXXIV); this will be the Rams' first appearance in blue jerseys of any design.

The Rams are the second team to have both represented two different cities in the Super Bowl and returned representing the city they first represented. The first such team was the Oakland-L.A.-Oakland Raiders.

This is the first Super Bowl rematch in which one team is using the same uniform design it wore the first time, and the other is using a different design. It's also the first Super Bowl rematch in which one team is representing a different city, and this is the first time that consecutive Super Bowls have been rematches.

The 17-year rematch gap (XXXVI–LIII) ties a record with the Steelers/Cowboys rematch in Super Bowl XXX 17 years after they met in Super Bowl XIII. Also, the Patriots are the first team to have Super Bowl rematches against three different teams (Giants, Eagles, Rams); they lost the first two.

This will be the first Super Bowl matchup of blue pants vs. yellow pants, and the 16th time that neither team will wear white pants (including the Rams/Patriots meeting in SB XXXVI). The Patriots are 2-4 in Super Bowls against teams wearing non-white pants, having beaten the Rams and Seahawks and lost to the Bears, Packers and Giants (twice). The Rams are 0-2 against teams wearing non-white pants (Steelers, Patriots).

[Update: Longtime reader/proofreader Jerry Wolper points out that the claim that this is the first blue/yellow pants matchup is inaccurate, since the Seahawks and Steelers wore those pants colors in Super Bowl XL. — PL]

This will be the eighth Super Bowl in which one team wears blue jerseys and the other has blue numerals on its white jerseys. Although not always the same shade (e.g., Colts/Bears in SB XLI), blue is the only color family to have appeared this way in Super Bowl games (i.e., there has never been, red jerseys vs. red numerals, black jerseys vs. black numerals, etc.).

This is the sixth consecutive year that both teams have mirror-image helmet decals (extending last year's record), and that neither team has letters of the alphabet in its helmet decals (ditto). The Patriots are 5-1 in Super Bowls against teams without letters in their helmet logos (the one loss was to the Eagles last year) and 0-4 against teams with letters.

This is the third consecutive year, and the seventh time overall, that neither team's helmet has center striping. The Patriots have been involved in six of those seven. The only one they weren't involved in was Super Bowl IV (Chiefs/Vikings).

This is the 13th Super Bowl, the fourth involving the Rams, and the fourth involving the Patriots (second involving both) between one team whose helmet decal is its primary logo, and one whose helmet decal is not its primary logo.* The former have dominated the latter, winning 10 of the 12 games.

(*According to SportsLogos.net, during the relevant time periods, the Rams', Eagles' and Bengals' helmet designs were the respective teams' primary logos. However, this statistic refers to the decal, specifically, not the whole helmet. The statistic also does not count the Seahawks (1-2), whose primary logo and helmet decals differ only in execution, or the Giants (4-1), whose logo and decals differ only in color.)

The Patriots are 3-1 in Super Bowls against teams whose helmet shell and facemask are the same color (such as the Rams currently have), including their win over the Rams in Super Bowl XXXVI. Overall, teams whose helmet shell and facemask are different colors have a 10-14 record against teams whose helmet shell and facemask are the same color.

Teams with custom numeral fonts (like the Patriots) are 8-6 against teams with standard block or varsity numerals (like the Rams). The Patriots are actually on both sides of this equation — 0-1 with block-against-custom (Bears, SB XX) and 1-3 with custom-against-block. The Rams have also worn both block and custom numerals in Super Bowls, going 1-0 with block-against-custom (Titans, SB XXXIV), no record with the opposite.
How awesome is that? I think we can all agree that there is no place else where you'll find that level of deep uni-based trivia!
And then there's this:
Okay, so that's pretty funny. Todd Gurley apparently liked it so much that he ran it on his own Instagram.
(My thanks to Mike Chamernik for that Gurley embed, and doubleplusthanks to Jay Braiman for his annual mother lode of Super Bowl info.)
• • • • •
• • • • •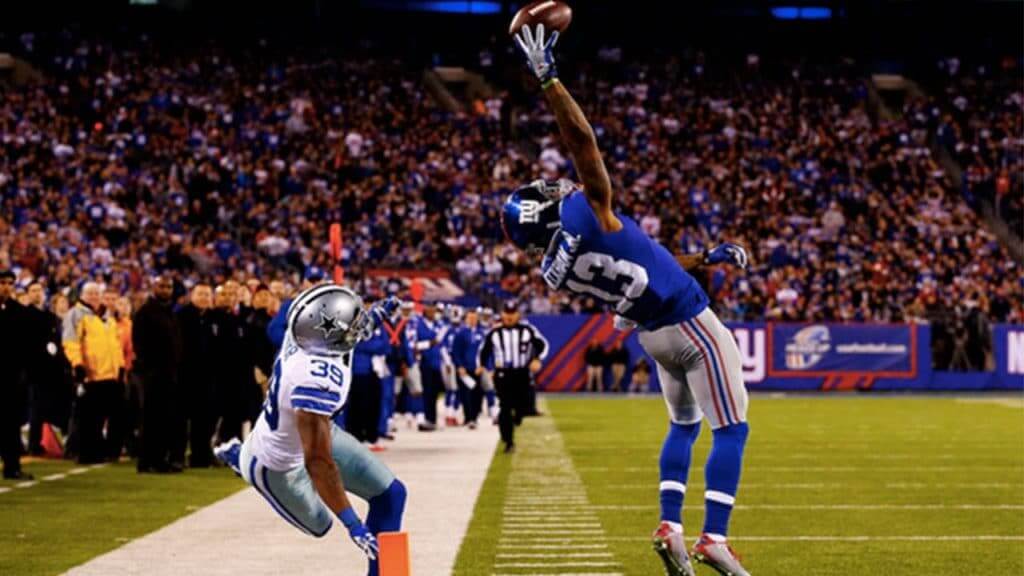 A glove story: I've been saying for years now that the most significant and underappreciated football development over the past several decades is the rise of super-sticky gloves, which are now worn by players at almost every position and have led to countless one-handed receptions that would have been impossible a generation ago.
Now The New York Times has run an article about modern NFL gloves, which the article describes as "probably the most significant performance-related football equipment innovation since the advent of the cleat." The article also includes lots of good historical background and interesting scientific info about how the gloves help to trap a moving ball — recommended reading.
We generally take for granted that gloves are permissible in football. They appeared sort of organically, much like batting gloves in baseball, and apparently nobody objected or said that they ought to be disallowed. Nowadays gloves are specifically allowed in the NFL (Rule 5, Section 4, Article 4, Item 8 of the league rulebook states that "players may wear gloves with a tackified surface if such tacky substance does not adhere to the football or otherwise cause handling problems for players"), but imagine if someone had said, "Nope, not allowed" — it would be a very different game today.
Given that quarterbacks often wear gloves these days, it seems like just a matter of time before ball-throwing players in other sports begin experimenting with gloves. What will happen, for example, if a baseball shortstop wants to wear a glove on his throwing hand –will that be allowed? What about a baseball pitcher? What about an NBA player? And how might the introduction of gloves change those sports, just as they've changed football?
All good food for thought.
• • • • •
• • • • •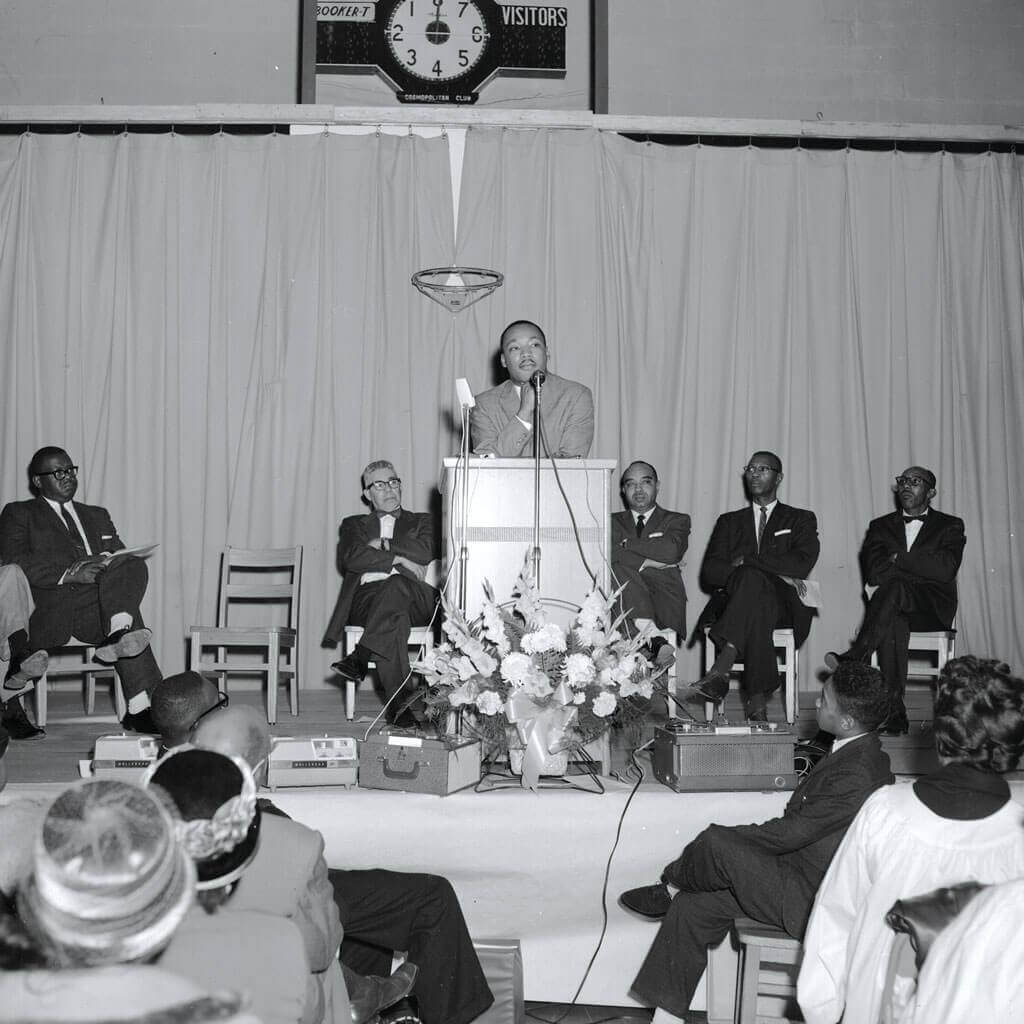 Click to enlarge
Hoop dreams: Today is Martin Luther King Jr. Day — the day when we celebrate the life of history's greatest American. With that in mind, reader Gerry Dincher found this 1962 photo of King giving a speech — an early version of his famous "I have a dream" speech — at the gymnasium of Booker T. Washington High School in Rocky Mount, N.C. I love that they let the basketball hoop stick out through the curtains, and it looks like the old scoreboard was a beauty.
King would have turned 90 this year. It's incredible to think he was only 39 — 39! –when he was assassinated in 1968 (or to put it another way, paraphrasing the great Tom Lehrer, when King was my age, he'd been dead for 15 years). Think how much more he could have accomplished, and how different the world might be. What a waste.
The full story of the Rocky Mount gymnasium speech, including an audio excerpt from it, is available here.
• • • • •
• • • • •
Fun with Post-its: There's a very large ad at the South Station Red Line stop in Boston. A few days ago Uni Watch reader Justine DeCotis noticed that the ad frame was empty, which had prompted someone to leave a Post-it message. Let's take a closer look:
I swear it wasn't me.
• • • • •
• • • • •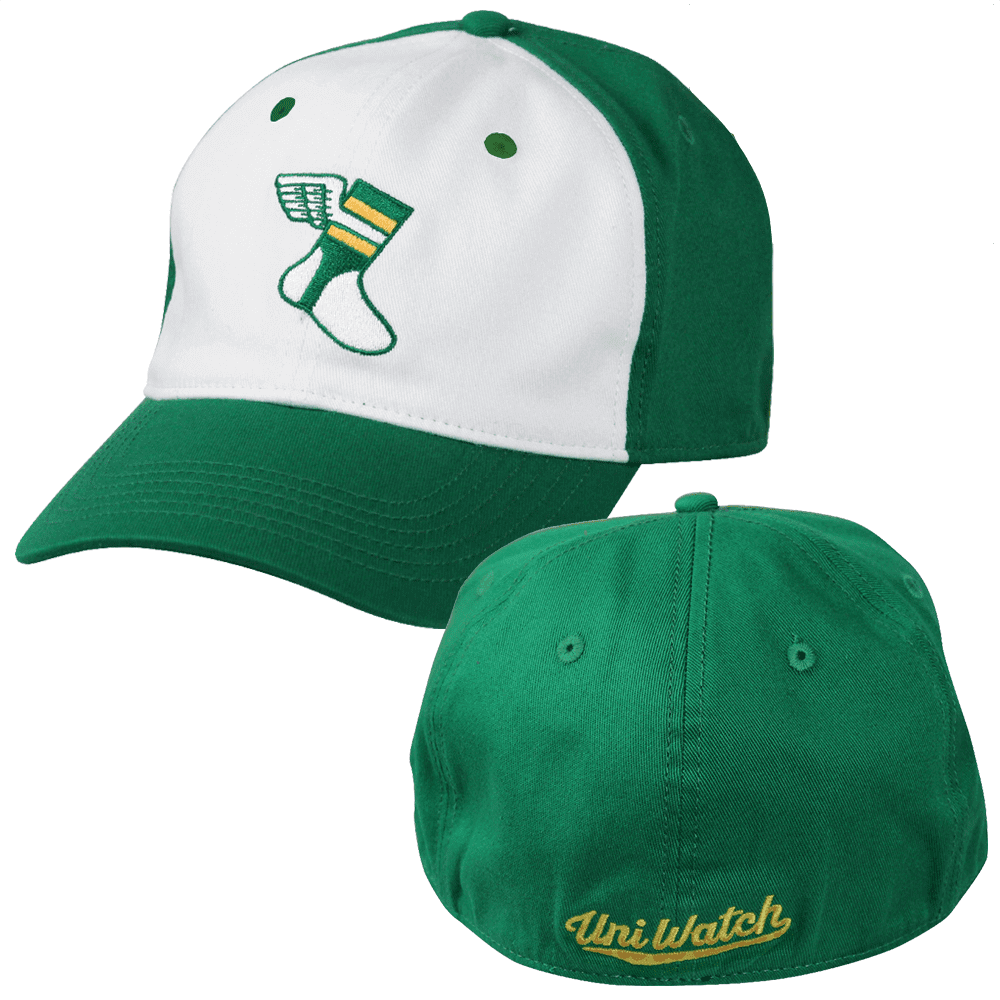 ITEM! Your input is requested: When I ordered the inventory for the flex-fit Uni Watch Alternate Cap, I misjudged the size breakdown. We sold out of the L/XL last month, but we still have 94 left of the S/M caps (which, with the flex-fit factor, are roughly the equivalent of sizes 6-3/4 through 7-1/8).
For logistical reasons not worth explaining here, my supplier will not be able to do the fulfillment on this remaining inventory. I figured I could try to sell and ship them myself at a cut-rate price, so I asked my supplier to just ship them to me. Unfortunately, the supplier is based in California, so the shipping is expensive — around $100 via UPS Ground.
Now I'm wondering if it's worth it to have all the caps shipped to me if there isn't enough demand for them. Like, if I can only sell, say, 25 of the caps, maybe I should only have that many of them shipped to me, so I can cut down on that one-time shipping fee. Or maybe we've sold all the S/M caps we're going to sell and I should just have my supplier donate the remaining stock to charity.
All of which leads to the following question: If I sold these S/M caps for, say, $10.99, plus $4 shipping, how many people would be interested? Would you want to buy one? Would you even pre-order one? If so, please make your voice heard here:
[totalpoll id="105809″]
Thanks — I appreciate your input.
• • • • •
• • • • •
Membership update: I've always said that the worst uniforms make the best membership cards, and it's hard to find a better example of that than Tyler Goldberg's new card (which is based on, of course, the Mets' BFBS alternates). That's one of several new designs that have been added to the membership card gallery. I'll expect to get the latest batch of printed/laminated cards in the mail toward the end of this week.
I have four slots open in the current batch. So the next four people who sign up will get their cards pretty quickly.
Ordering a membership card is a good way to support Uni Watch (which, quite frankly, could use your support these days). And remember, a Uni Watch membership card entitles you to a 15% discount on any of the merchandise in our Teespring shop. (If you're an existing member and would like to have the discount code, email me.) As always, you can sign up for your own custom-designed card here, you can see all the cards we've designed so far here, and you can see how we produce the cards here.
• • • • •
• • • • •
The Ticker
By Jamie Rathjen

Baseball News: This picture appears to show Dodgers infielder Manny Machado wearing an Orioles uniform, but with No. 8, his number with the Dodgers. Machado wore No. 13 with the Orioles (from Mark Lackinger). … Here's a great shot of Kansas City Chiefs QB Patrick Mahomes shagging flies in a Mets uniform during the 2000 World Series, when he was five years old. His father, Pat Mahomes, was a Mets pitcher at the time. … Speaking of the Mets, they've decided not to do a Mercury Mets "throwahead" game this season, even though it's the 20th anniversary of that game.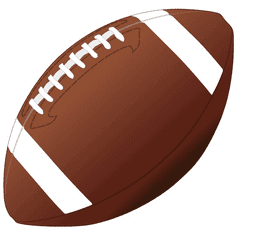 Football News: Reprinted from yesterday's comments: this weekend's college East-West Shrine Game was color-vs.-color, with players wearing their team's helmets, and also includes a few Canadian university players who have to play American football for one game (from Wade Heidt). … Cross-listed from the baseball section: Here's a great shot of Chiefs QB Patrick Mahomes shagging flies in a New York Mets uniform during the 2000 World Series, when he was five years old. His father, Pat Mahomes, was a Mets pitcher at the time.

Hockey News: Reprinted from yesterday's comments, when we mentioned the WHL Edmonton Oil Kings' Don Cherry-themed uniforms: Goalie Todd Scott had a matching mask (from Wade Heidt). … The next three are also from Wade: The OHL's Niagara IceDogs wore Pinktober-in-January uniforms. … New Portland Winterhawks (WHL) G Joel Hofer was wearing his old Swift Current Broncos pads. … The Canadian Women's Hockey League All-Star Game was purple-vs.-gold. … German teams Schwenniger Wild Wings and Düsseldorfer EG played a blue-vs.-teal matchup, made possible because Düsseldorf are one of two teams in the Deutsche Eishockey Liga without a white jersey this season (from @MSinBOS). … The NWHL's Boston Pride wear vertical sock stripes this season (from Amy Beth Marantino). … Reader Mike Guterman tells us that Maple Leafs winger Zach Hyman, who is Jewish, autographed this jersey in both English and Hebrew.

Basketball News: North Carolina players are wearing Pinktober-in-January sneakers tonight (from James Gilbert). … Uni Watch NBA player-numbering correspondent Etienne Catalan has started a website cataloging every jersey worn by every NBA player this season. He also reports that Pacers G/F Stephan Hicks will wear No. 17.

Soccer News: Swedish team AIK released a solid black shirt – black is a team color – to be worn during preseason, as they also did last year (from Ed Żelaski). … Some players on Costa Rican team Alajuelense (red and black stripes) wear completely different ads from one another (from Ryan Burns). … The UEFA Champions League revealed its ball for the knockout stages, which is orange. … In the Scottish Cup, second-tier Inverness CT (black) and fifth-tier East Kilbride both changed because East Kilbride's two shirts, which are blue/gold and white/red halves, would both clash with Inverness's blue/red halves. … Mexican team Atlas debuted a highlighter-colored third kit against white-clad opponents UNAM; their colors are red and black. … Brazilian team Cruzeiro released their second shirt; the team's crest is simply the Southern Cross.

Grab Bag: Japanese sports club Tokyo Verdy, which has begun expanding from soccer into other sports, is planning a 50th-anniversary redesign, including new uniforms for its teams. In the included picture you can see men's and women's soccer, basketball, baseball, field hockey, and judo (from Jeremy Brahm). … The NLL's New England Black Wolves wore fifth-anniversary uniforms (from Wade Heidt). … Apparel designer Gabriela Hearst says her clothing is for powerful women (WaPo link): "I just want to give [them] uniforms for their lives so they feel comfortable in their power. I don't want them to waste too much time thinking of what they're wearing."