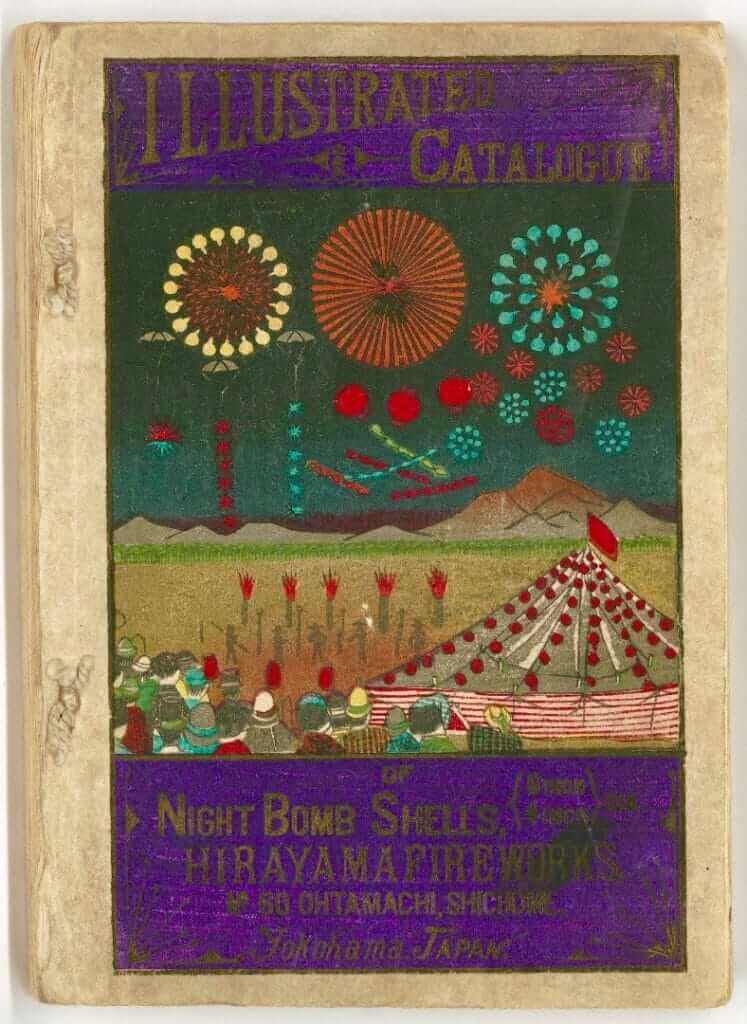 For all images, click to enlarge
Happy 2019! I got home from Cincinnati yesterday evening. As midnight approached last night, there were lots of fireworks going off here in New York (including right here in our small Brooklyn neighborhood, which seriously spooked Uni Watch girl mascot Caitlin, poor little thing), and there's a good chance that you saw plenty of fireworks too, either on TV or in person. All of which makes this the perfect day for me to share something very special that I recently encountered.
As most of you probably know by now, I love vintage catalogs, I recently came across one that deserves a closer look — a late-1800s catalog from a Japanese fireworks company. Or as the company, Hirayama Fireworks, called it, an "Illustrated Catalogue of Night Bomb Shells."
The key word there is Illustrated. As explained in the catalog's introductory text (which is in English because this catalog was for the export market), "The illustrations in this new catalogue are inserted merely for the purpose of giving a rough representation of the fireworks, which include many newfangled pieces, it being impossible for an artist to represent the brilliancy and grandeur of the effect produced at the time of the explosion."
Think about that for a second. If you were an illustrator, how would you depict fireworks? More specifically, how would you depict various kinds of fireworks for potential customers?


If you were the illustrator for Hirayama Fireworks, you'd do it like this: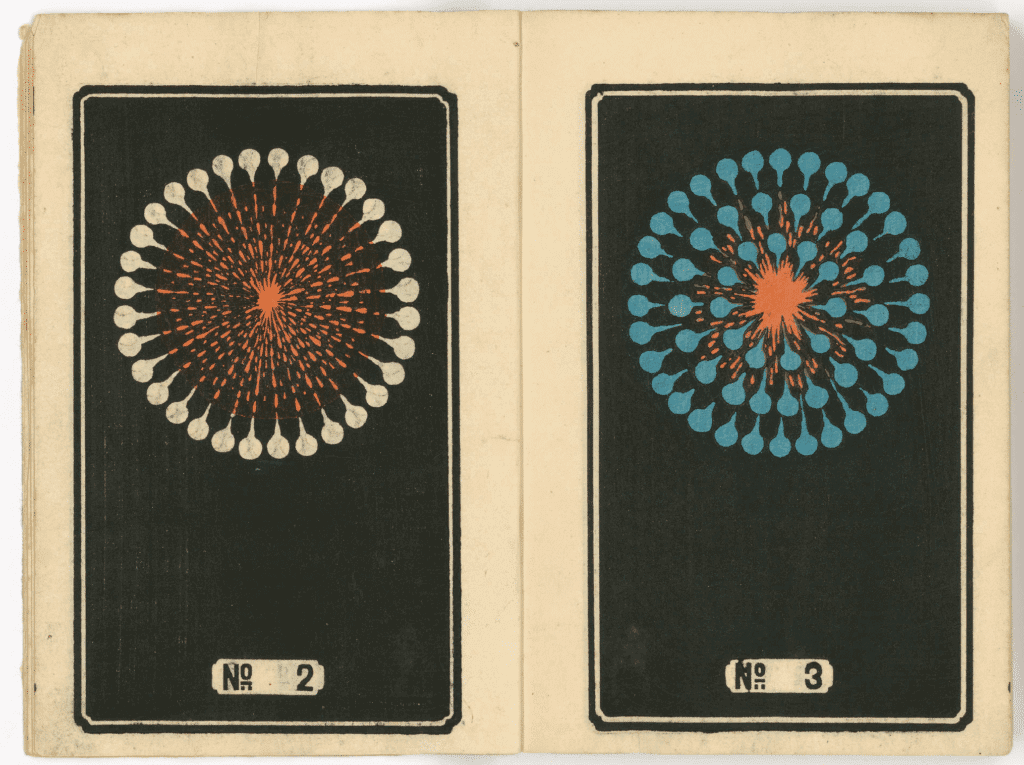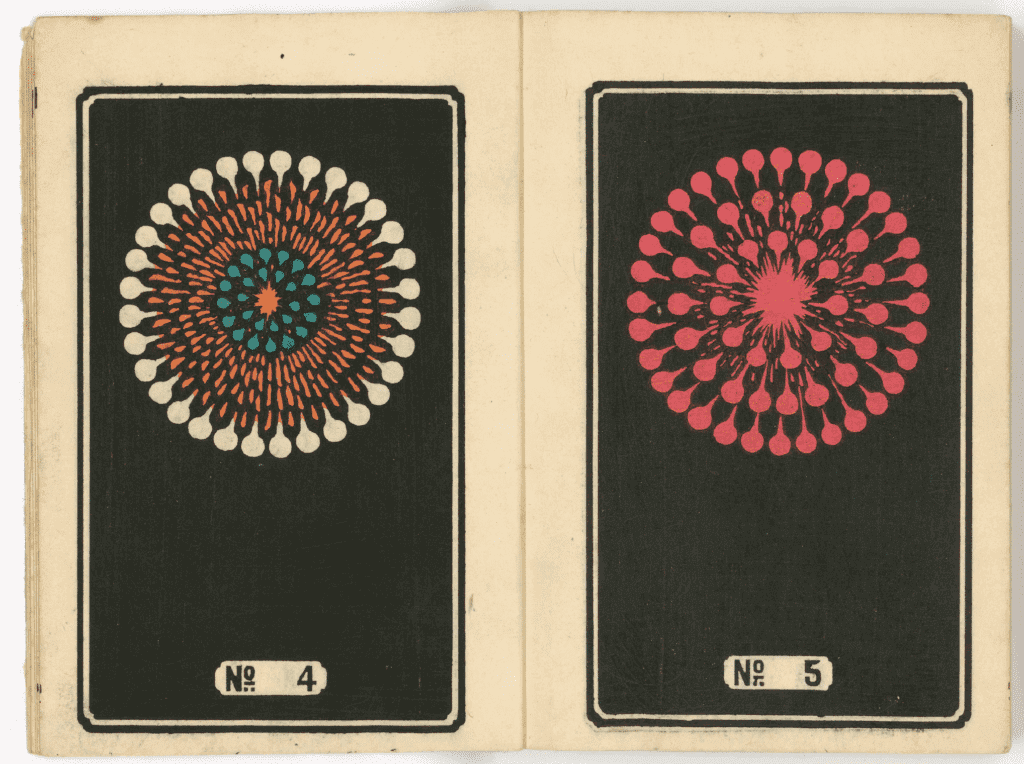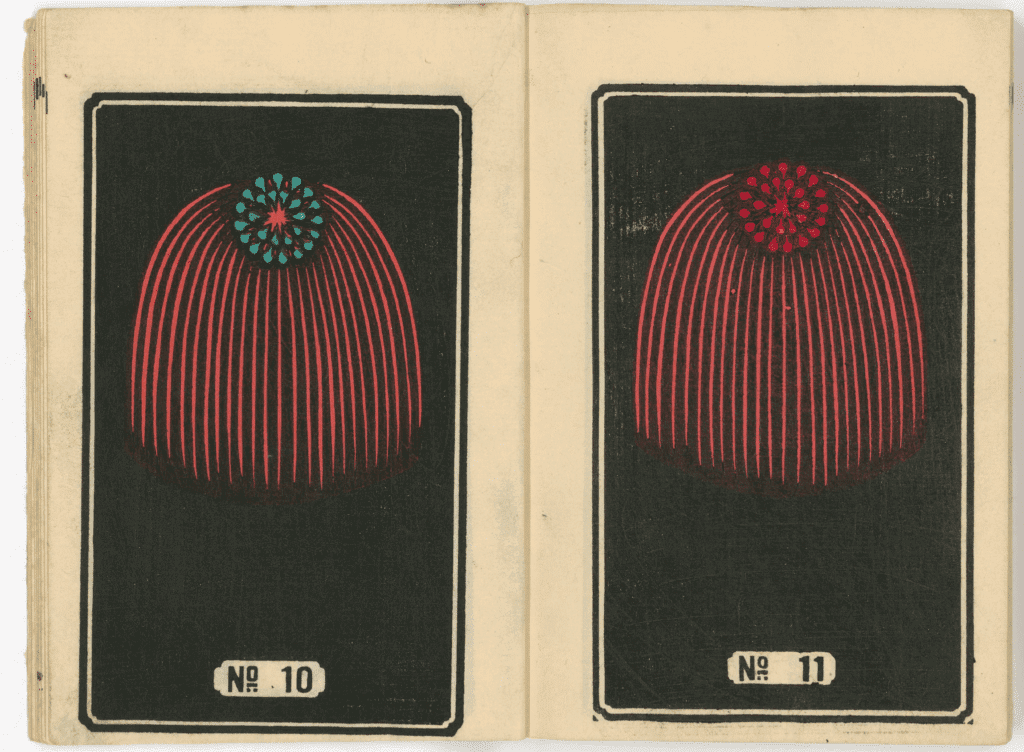 Isn't that awesome? I love how geometric they are, and how stark they are against the black background. I even love the little number plates at bottom of each page the decorative border. No descriptive text, not even a name for each design — just a gorgeous image and a stock number. It all feels Just Right, and on some level it all feels very Uni Watch.
There are also some illustrations that depict lots of little bursts, instead of one big burst: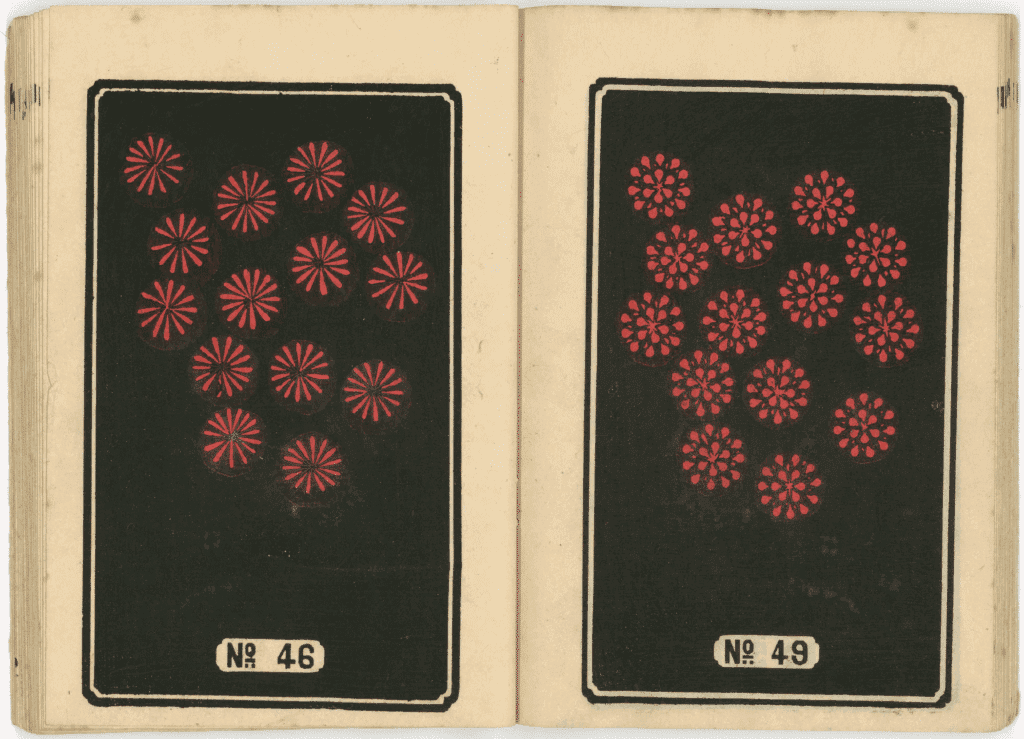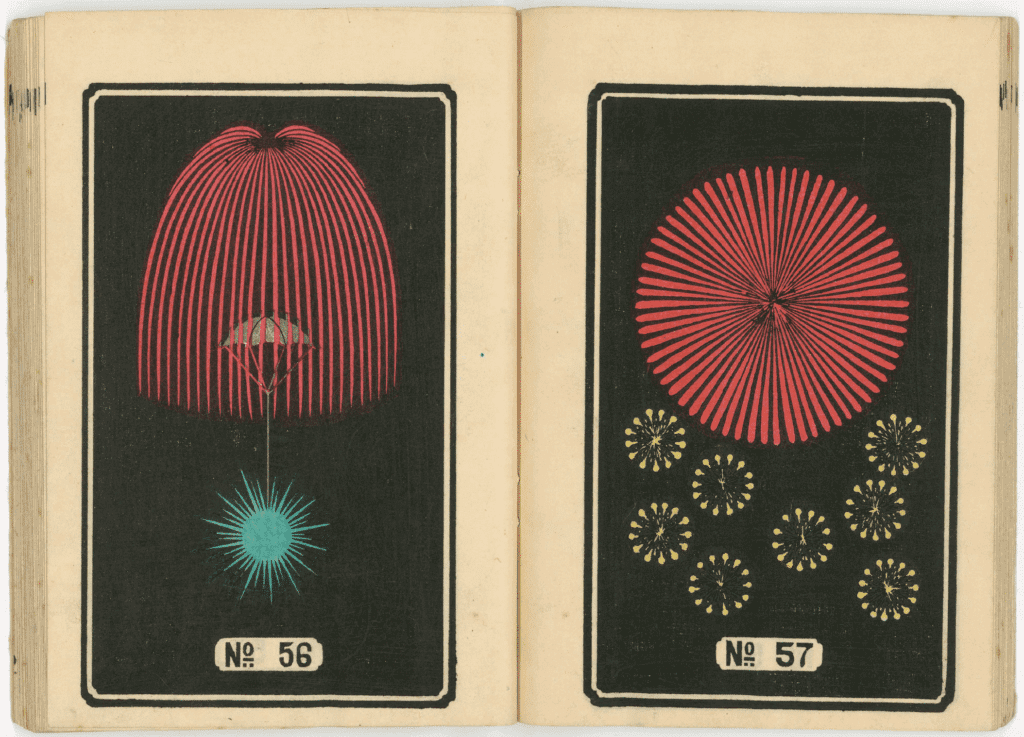 And some of the designs seem more abstract, as seen on the left side of these next three spreads: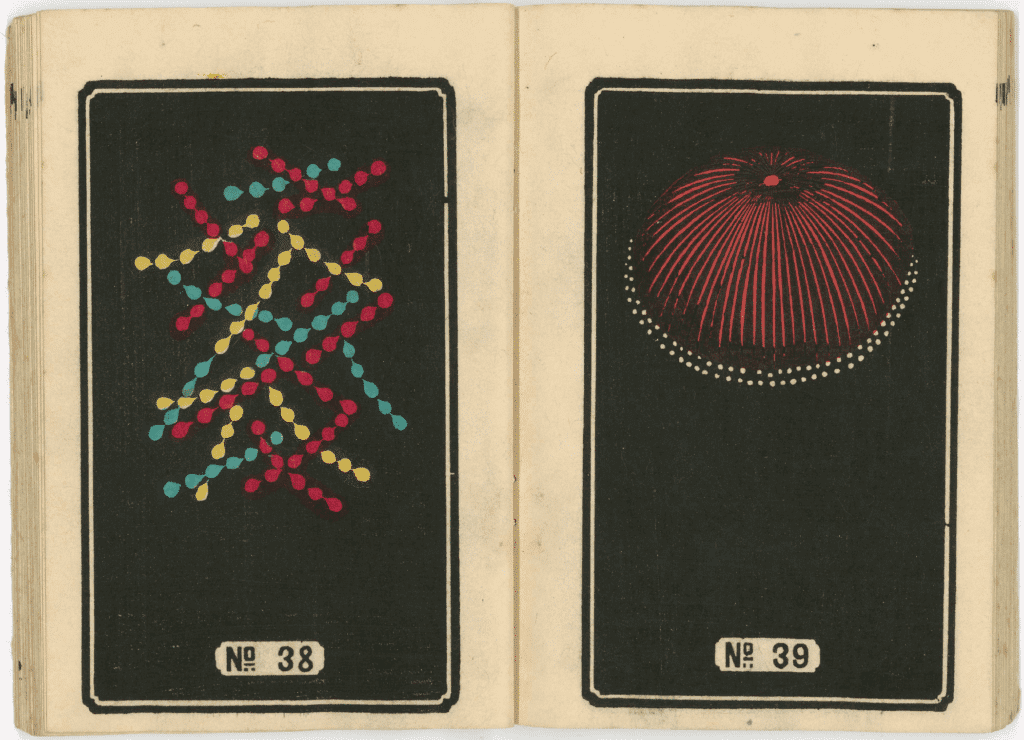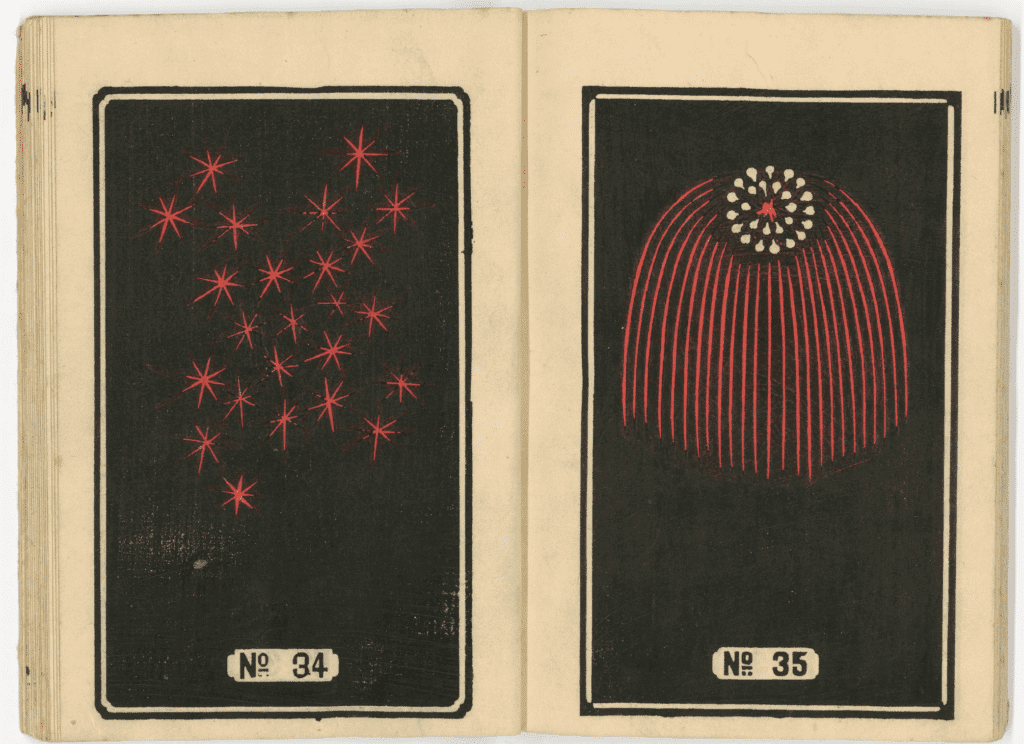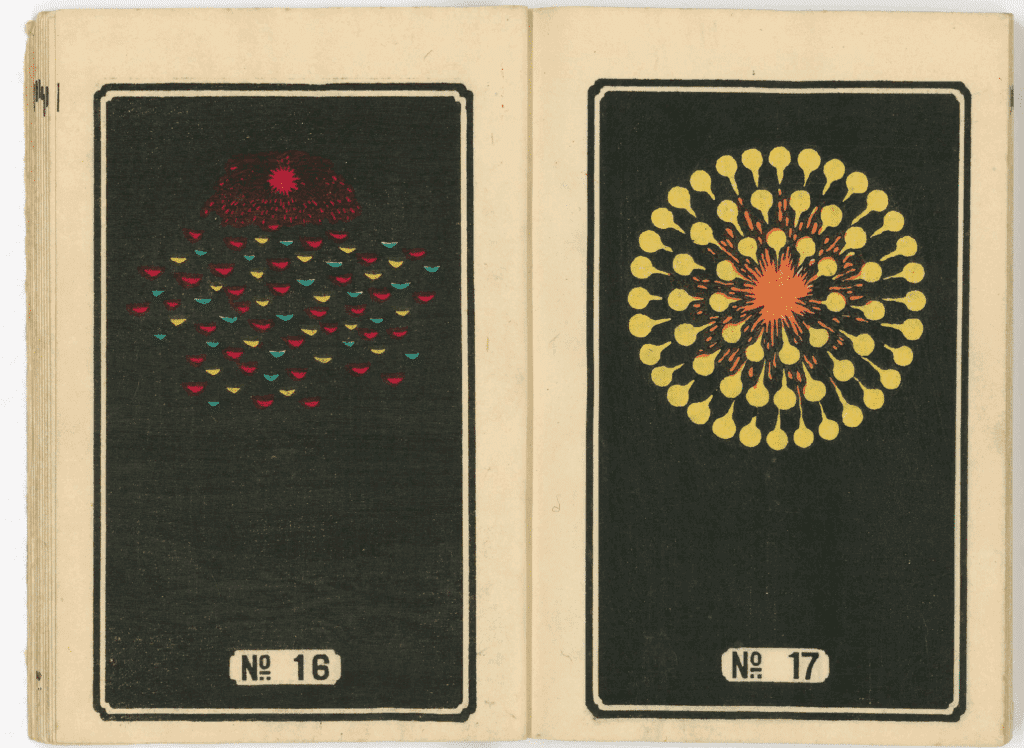 The back cover offers a helpful diagram for lighting the fireworks, although it seems like the numbers might be out of order: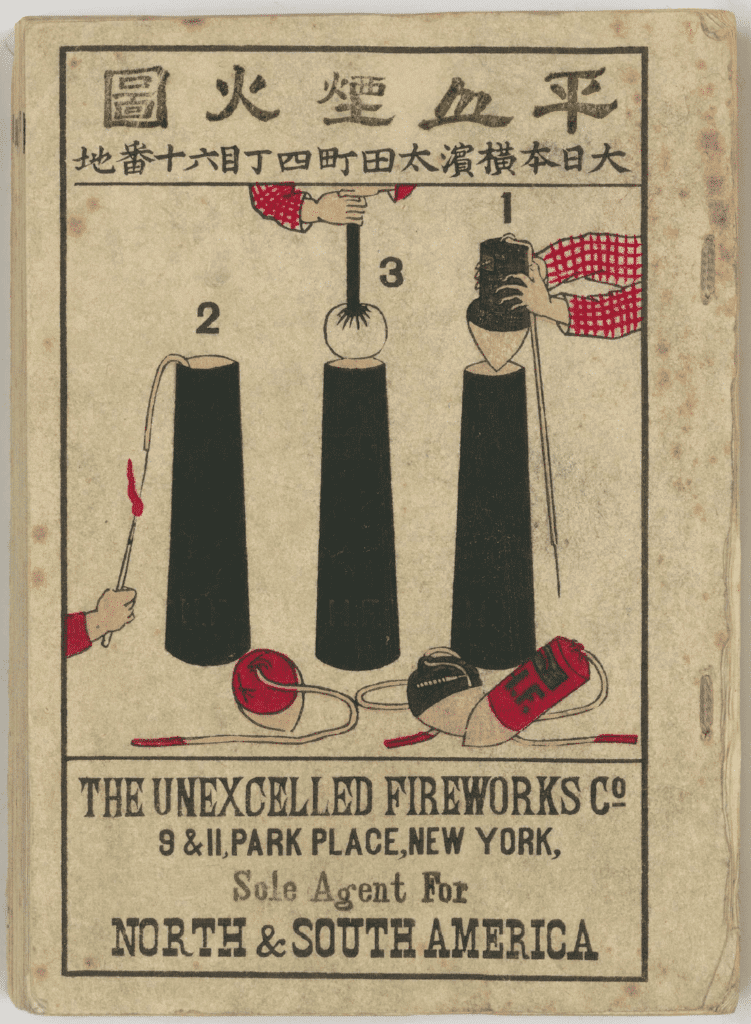 You can see the entire catalog in the PDF reader below (I've never embedded a PDF before — a fun thing to learn how to do!):
Want more? There are five more Hirayama Fireworks catalogs, a Hirayama instruction manual, and another company's catalog archived on this page. (If your browser offers to translate the page, go ahead and do it — it's helpful.) Most of the other catalogs feature "daytime fireworks" along with the night bombshells. The translated text on the web page explains daytime fireworks like so:
As its name suggests, fireworks that will be raised at noon, not in the evening, were the mechanisms that make-ups such as dolls jumped out when they exploded. A powder and a fuse were attached to the outer skin packed with design objects made of washi paper etc. When the ignition occurred, the outer skin was released into the air and its contents were released. … [Y]ou can see from the colorful illustrations what the contents of "day fireworks" made of paper and other materials were like.
Judging by the illustrations, these daytime fireworks sent festive items like parasols and parachutes into the air, along with little dolls or sculptures of animals (including some bizarro scenes, like a cat riding a fish):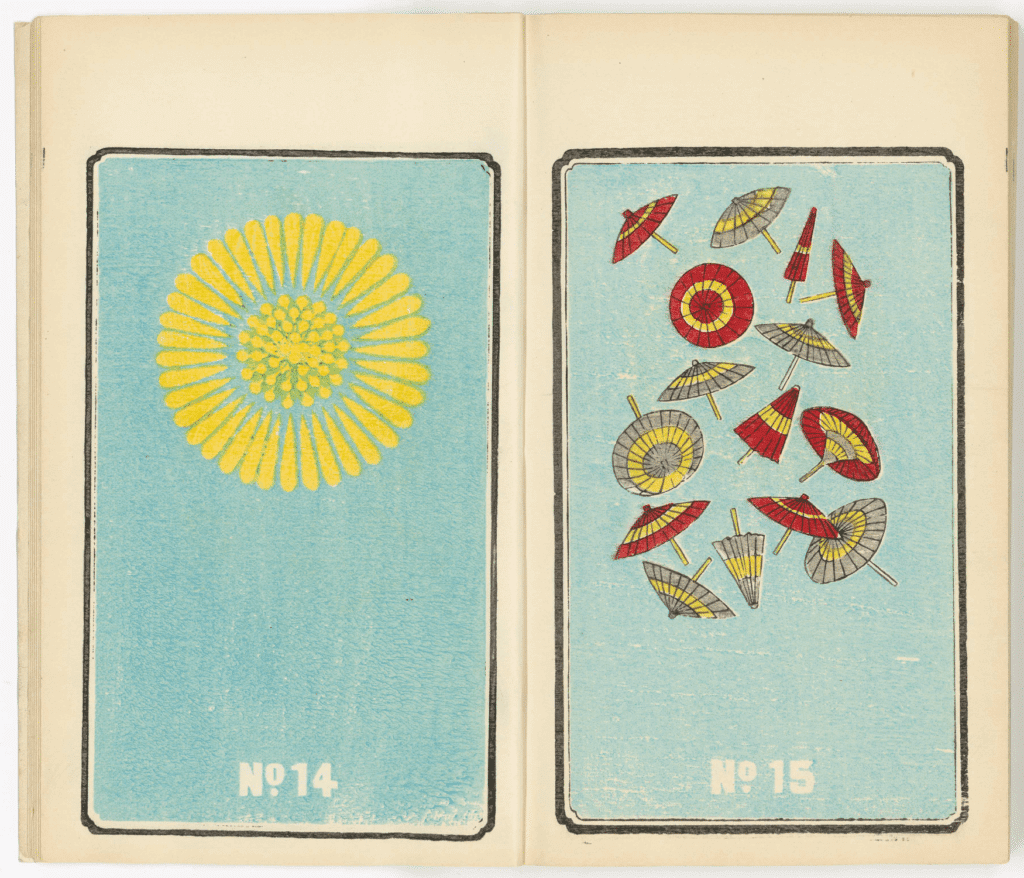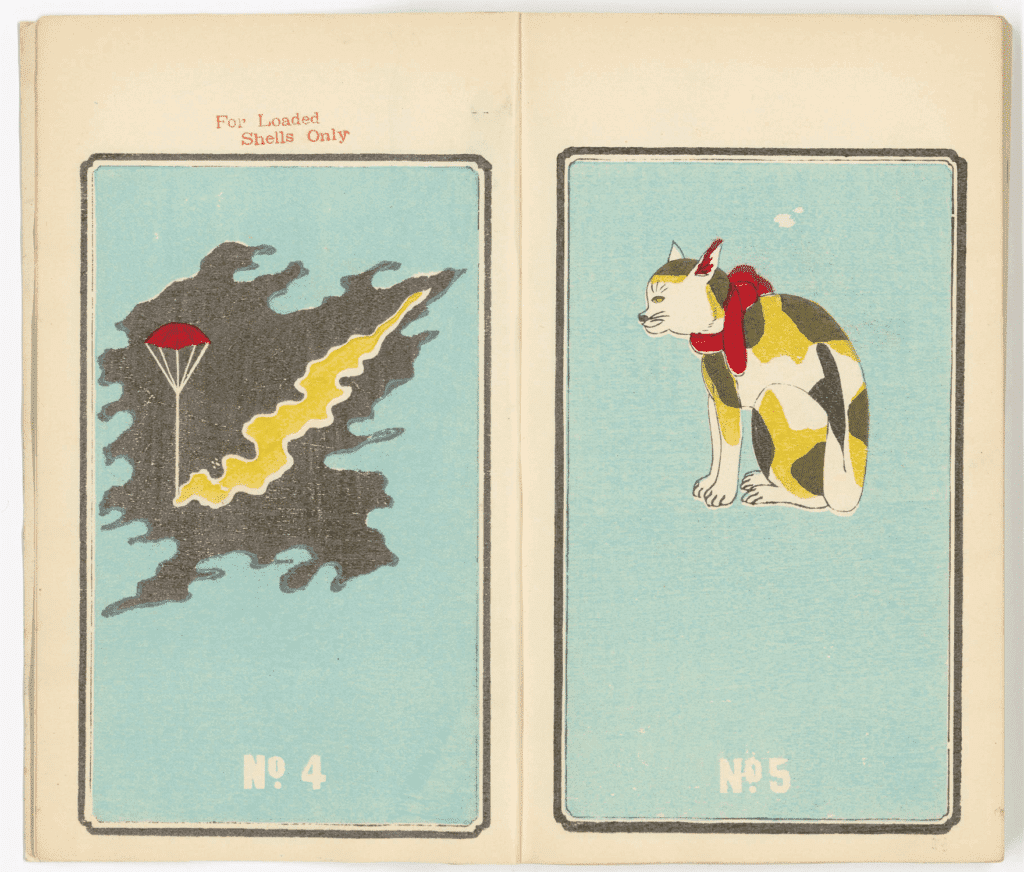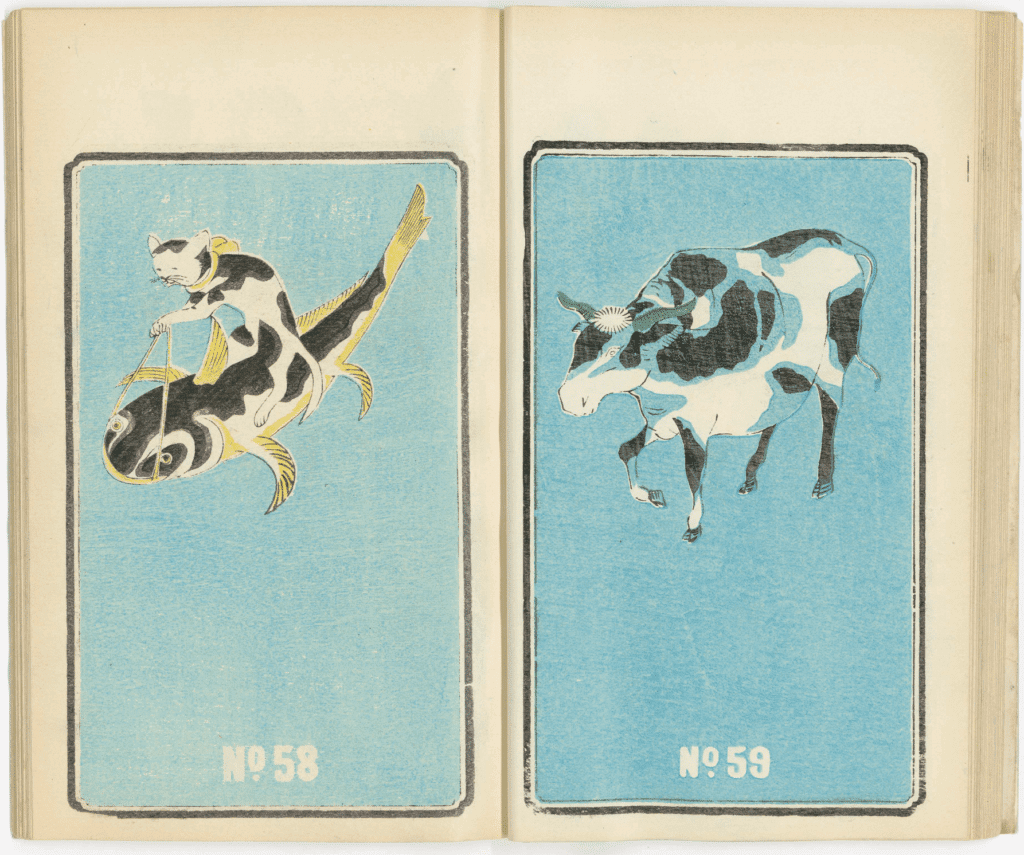 These are nice, but they lack the geometry of the nighttime illustrations and don't feel as uniform-y, so I won't dwell on them here. But all of the other catalogs are worth exploring. If you want to download them, go to this page, scroll down a bit, click on one of the catalog covers, and then click on the PDF link.
That seems like a good way to kick off the new year, no? Sorry, no sub-ledes or Ticker today, since I was traveling for most of yesterday and the rest of the Uni Watch team had the day off. Enjoy the Rose Bowl, or the Winter Classic, or whatever you're doing today, and I'll see you back here with more traditional uni-related content tomorrow.
(Mega-thanks to the Tugboat Captain, who sent me down this rabbit hole when she spotted this page.)