For all photos, click to enlarge
Great turnout at yesterday's Uni Watch gathering in Cincinnati, as about 30 people showed up. About two dozen of them are shown above — lovely folks, one and all. Here are some of them, and what they wore for the occasion (with apologies for the bad lighting in some of the shots — tough conditions!):
• Alex Hider has been writing Tickers and occasional ledes for the site for several years now. Along the way, he's become a good friend, and it was a treat to finally meet him in person. He wore a 1997 Deion Sanders Reds jersey, complete with the shortened sleeves and the high-positioned sleeve patches (and a Uni Watch cap!):
• Patrick O'Neill has been a Uni Watch reader/contributor for over a decade. He recently purchased one of our chain-stitched logo patches, which he got sewn onto a windbreaker — plus he had the Uni Watch script printed onto the back:
• Alan Topolski wore one of my favorite items of the day — a Seattle Pilots knockoff jersey that for some reason came with a totally bogus and totally awesome chest logo. Check this out:
Naturally, I love the striped socks!
• Back in 2011, I did a blog entry about a guy named Adam Walter, who'd recently gotten a full wraparound tattoo of a Northwestern strip on his right shin. Yesterday I got to meet the tattoo in person:
Adam also wore a very cool Cincinnati Cyclones jersey (with an infinite regression!):
• Longtime reader Frank Bitzer has been bugging me to visit Cincinnati for many years now (and in a bizarre Uni Watch connection, he also dated Collector's Corner columnist Brinke Guthrie's sister when they were all in high school). He showed up with his sons, Griffin and Quinn, and Griffin's girlfriend, Maddy Kunkel:
• Gary Moore wore a beautiful game-worn 1974 White Sox road jersey (over a Uni Watch T-shirt!), along with an Everett Aquasox cap:
• Chris Cole wore something you won't often see — a Bengals hockey jersey (actually a blank Flyers jersey with a Bengals crest that he got his mom to sew onto the front):
• I confess that I don't know what jersey Jared Pike was wearing, but it was a looker (plus he gave me a very nice Purdue cap — thanks, Jared!). Update: Our own Jamie Rathjen informs me that it's a 2016-17 Crystal Palace design:
• Here's Alex again, this time with K.C. Kless (in the Cavs jersey) and Ryan Garry (in the Reds cap):
• And here's K.C. again, this time with the Tugboat Captain, who enjoyed her first out-of-town Uni Watch party:
• I got a kick out of Will Hughes and his T-shirt:
There were lots of other people who I didn't get photos of, including Jason and Allson Hillyer (who drove down from Columbus); David and Jillian Sonny and their birthday boy, Dylan (who turned four yesterday); Tristan and Rob White; Graham Gray; Kia Cummins; Chris Cole; and probably a few others I'm forgetting. You can see more photos over on the Uni Watch Facebook page.
Another Cincy guy who I really wanted to meet was C. Trent Rosecrans, who was contributing Ticker items way back in the Page 2 days, before this blog existed. He later went on to become the Reds beat reporter for The Cincinnati Enquirer and now has that same job for The Athletic. He couldn't make it to the party but we met up with him later on in the evening. Smart guy, thoughtful guy, charming guy. And he wore a Tokyo Kyojin cap, too:
Major, major thanks to all these folks for making me feel so welcome in their town. I'll be flying home today and will have more to say about my Cincinnati visit soon.
(Doubleplusthanks to Frank Bitzer and David Sonny for going above and beyond in various ways yesterday. Greatly appreciated.)
• • • • •
• • • • •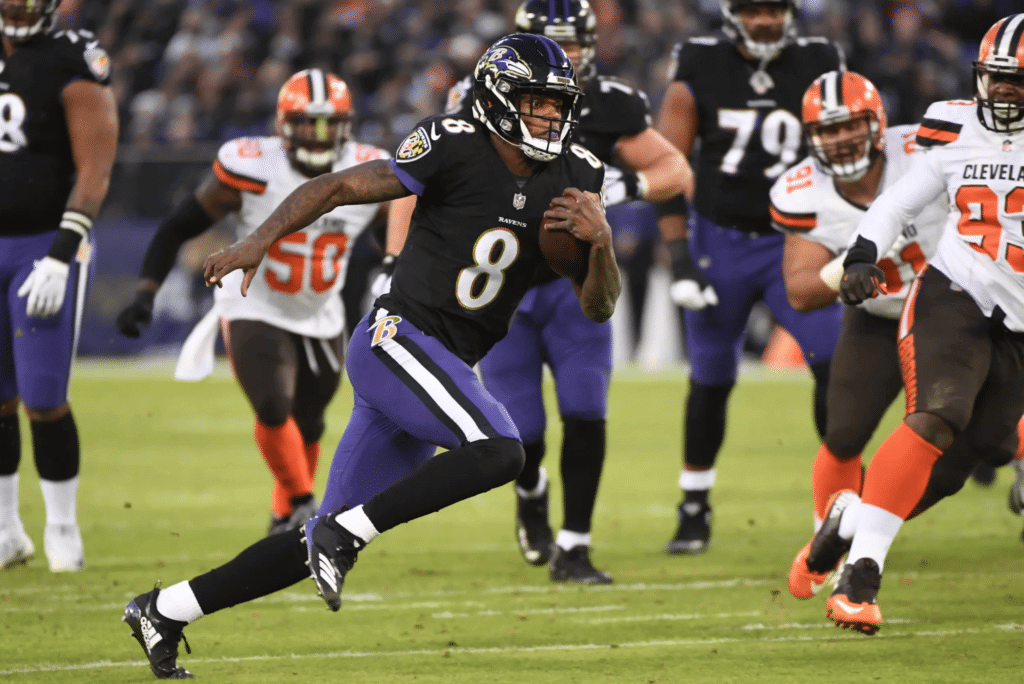 For all photos in this section, click to enlarge
Monday Morning Uni Watch: Over the years, we've seen the Ravens wear their black alternate jersey with black pants and with white pants, but I'm pretty sure yesterday was the first time they paired the black top with purple pants. Lots of additional photos here.
In other news from around the league yesterday:
• All season long, people have been asking me if the 'Skins have officially retired their yellow pants or just opted not to wear them. I've said all along that their official wardrobe has not changed, and they demonstrated that yesterday by finally breaking out the gold britches for the first time this season: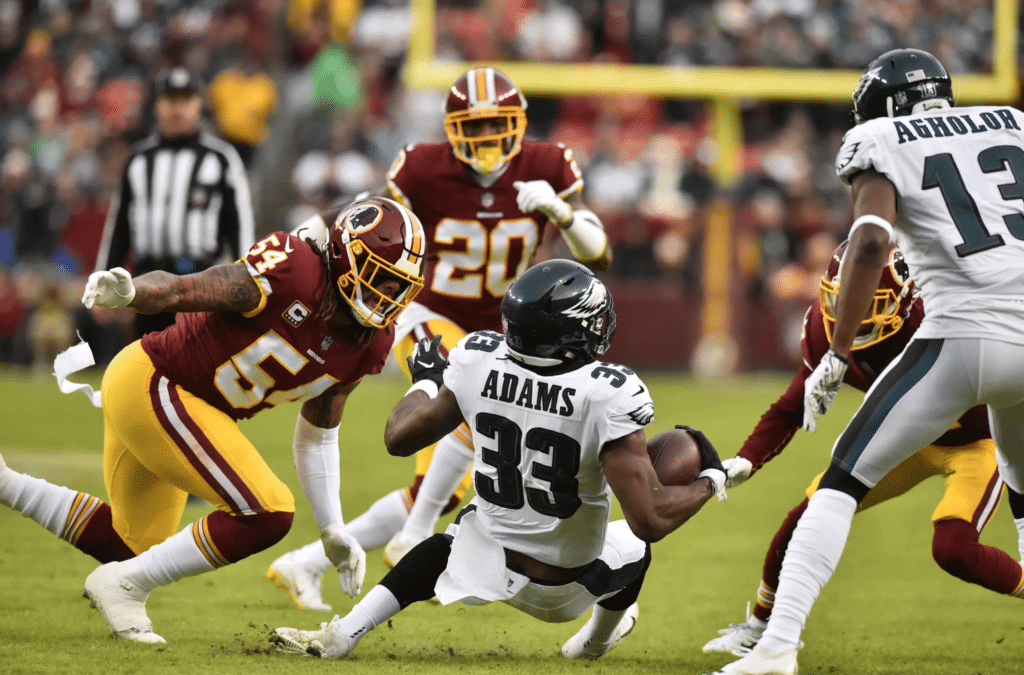 Update: Reader/commenter Rich Loup has some interesting analysis on why Washington may have worn those pants yesterday:
Regarding Washington's mustard pants, they've long been a favorite of team president Bruce Allen (son of late 'Skins coach George Allen), who just survived a power struggle in the front office [WaPo link]. Washington hired Brian Lafemina from the NFL office in March to run Washington's business ops, and there was some thought in Washington that Allen would be on his way out.

The 'Skins wore burgundy jerseys and white pants all season at home instead of the mustard pants they wore in previous seasons. But Lafemina and three of his staffers were fired the day after Christmas, and perhaps not coincidentally, the 'Skins show up in mustard pants Sunday. I don't think that's a coincidence.
• The Rams wore their throwbacks: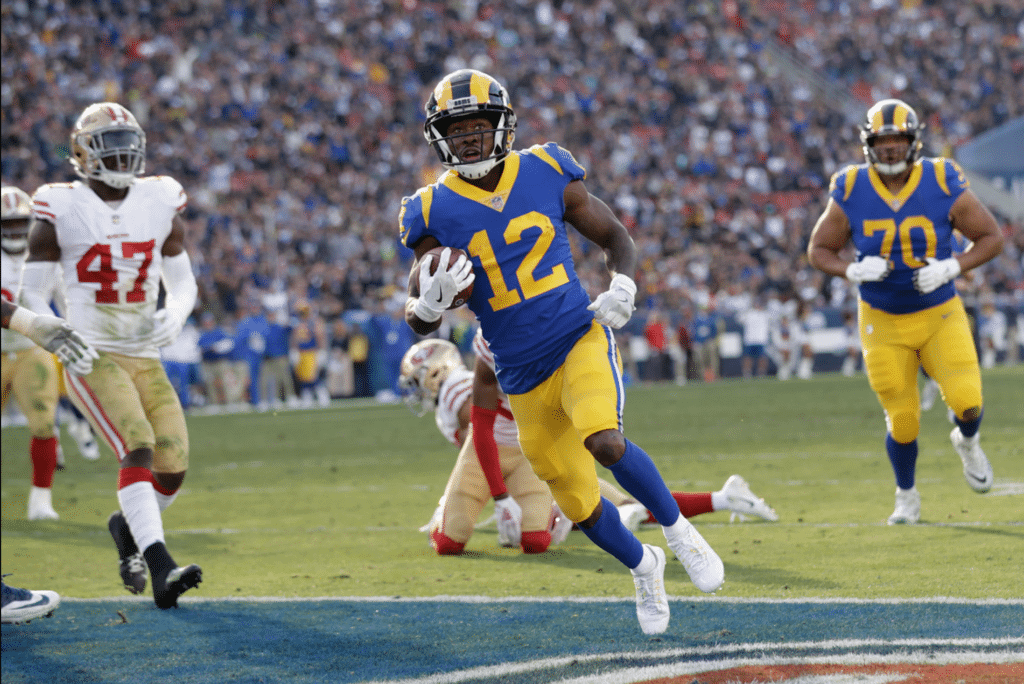 • The Saints once again went mono-black. It's disappointing to think they could go with this look all the way through the Super Bowl: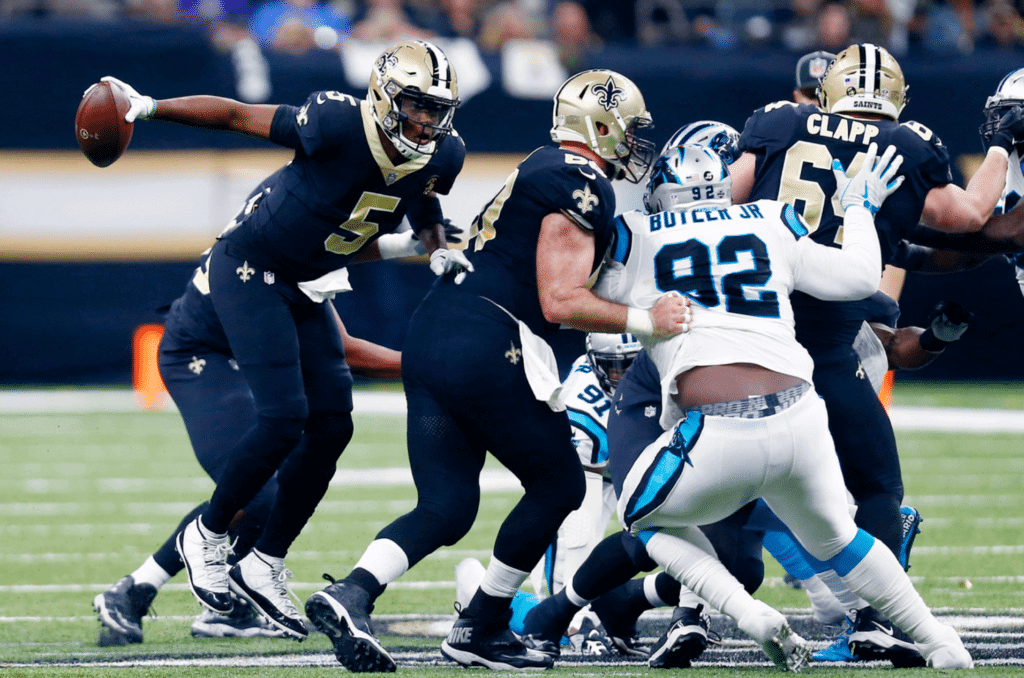 • The Bills went mono-blue: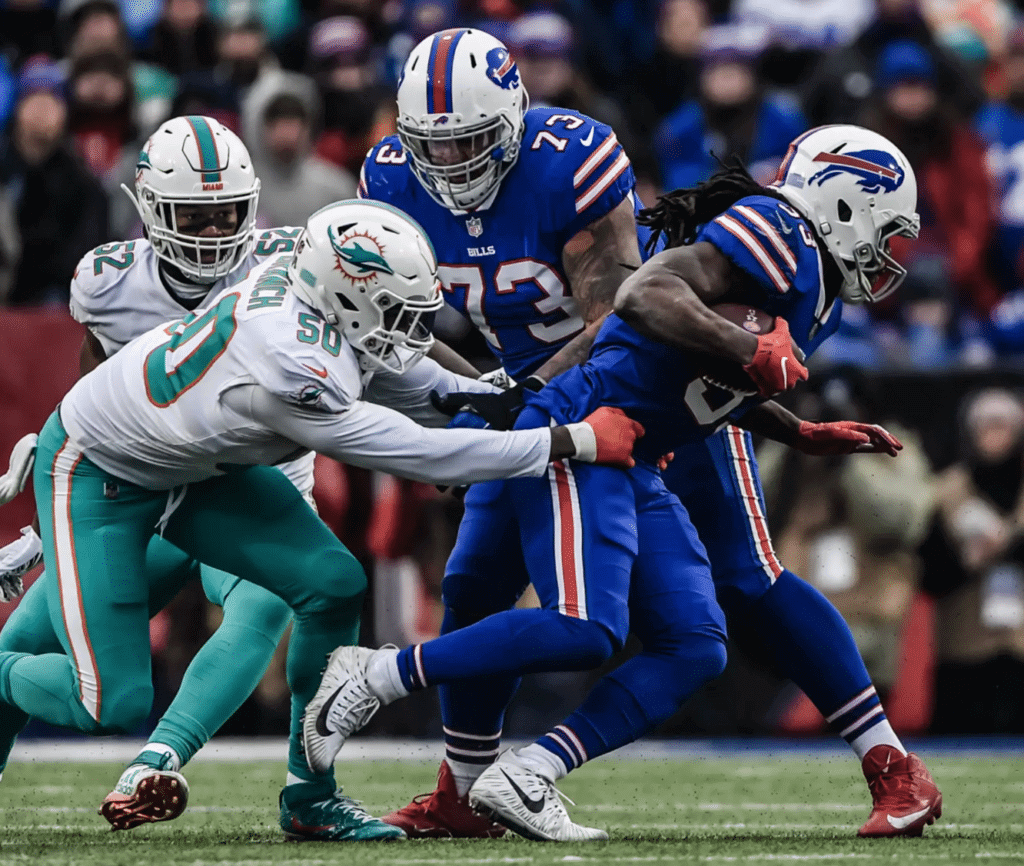 • Let's thank the Chiefs and Raiders for providing such an eye-pleasing game: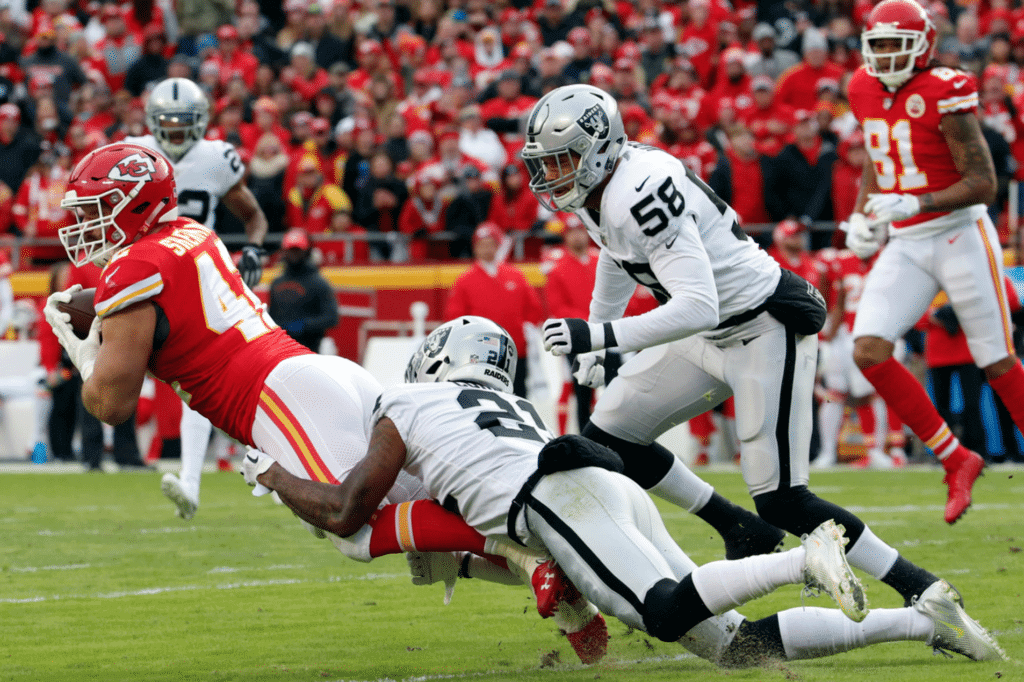 And that's a wrap for the 2018 regular season. Next up: Wild Card weekend.
• • • • •
• • • • •
Membership update: If you made a New Year's resolution back in January to finally get a Uni Watch membership card already, today is the last day for you to make good on that promise. Or maybe you want to a get a jump on your 2019 resolution. Or maybe you don't care about resolutions but you just want to help support Uni Watch (like Jay Jones, whose new card, shown at right, is based on the 1973 Atlanta Apollos). You can do any or all of those things by signing up here.
Remember, a Uni Watch membership card entitles you to a 15% discount on any of the merchandise in our Teespring shop. (If you're an existing member and would like to have the discount code, email me.) As always, you can sign up for your own custom-designed card here, you can see all the cards we've designed so far here, and you can see how we produce the cards here.
• • • • •
• • • • •
The Ticker
By Jamie Rathjen

College Football News: Virginia backup kicker A.J. Mejia wore No. 28 for the Belk Bowl, instead of his usual No. 95, to honor a high school teammate who passed away recently. Mejia didn't appear in the game, but he's in the lower left corner of this picture. … Pitt added No. 79 memorial patches for OG Bill Fralic for the Sun Bowl (from @CoachsWifeASU and Mark Lancia). … Kentucky's helmets for the Citrus Bowl will be chrome (from Josh Hinton).

Hockey News: Canada wore black at the world juniors against the Czech Republic, something they seem to do at least once in every tournament (from Wade Heidt). … The ECHL's Reading Royals wore Flyers-themed uniforms Saturday, including one shoulder patch of the AHL Lehigh Valley Phantoms' logo (from @RealJesseLee). … Reader Kevin Vautour sent us this team picture of the 1946-47 Bruins, and had quite a lot to tell us about it; the player wearing No. 18 is actually winger Eddie Barry.

Basketball News: Stephen F. Austin wore memorial ribbons yesterday for former school president Baker Pattillo (from Chris Mycoskie).

Soccer News: There were two blue-vs.-blue matchups in Scotland, between the Premiership's Dundee (darker) and St. Johnstone (lighter) and the Championship's Ross County (darker) and Inverness CT (lighter). … Mildly interesting color-related stat: as both of Arsenal's clash shirts this season are different shades of blue, that means they've gone two consecutive seasons without wearing yellow for the first time since 1965-66 and 1966-67. … Australian women's team Perth Glory gave a full debut this week to 17-year-old midfielder Jacynta Galabadaarachchi, who wears her entire 17-letter NOB.

Grab Bag: NLL items from Wade Heidt, reprinted from yesterday's comments: The Rochester Knighthawks are celebrating their 25th season and introduced black uniforms, which they've apparently worn in the past. Their opponents, the expansion Philadelphia Wings, wore their white uniforms for the first time. New England and Saskatchewan also went color-vs.-color. … English rugby union team Harlequins hosted their annual year-end Premiership game at Twickenham Stadium called the Big Game yesterday. They always wear a special kit, which is usually black (and this year, also reflective), and forced opponents Wasps to change as well.
• • • • •
And that's another year in the books. Thanks for coming along for the ride. See you in 2019. Peace. — Paul