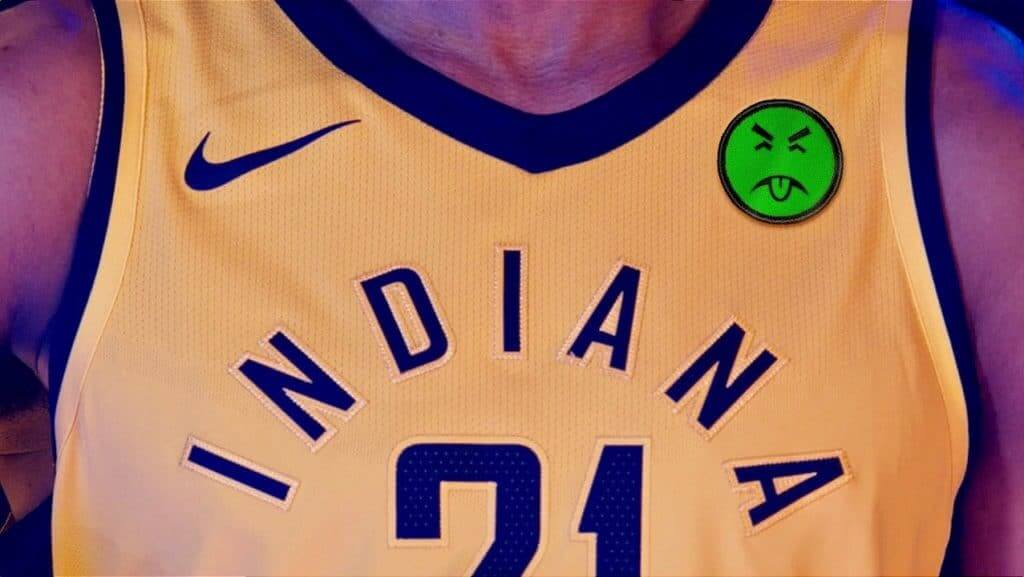 Last month I wrote about how the Pacers and Thunder were the final two NBA teams with ad-free uniforms. In that piece, I mentioned that Pacers exec Todd Taylor had told me he expected the team to add an ad patch "at some point this season."
That point has now arrived, as the Pacers announced that they are selling space on their jersey to a new advertiser. As per our usual protocol, I will neither name the advertiser nor show the patch, but these images should give you the basic idea: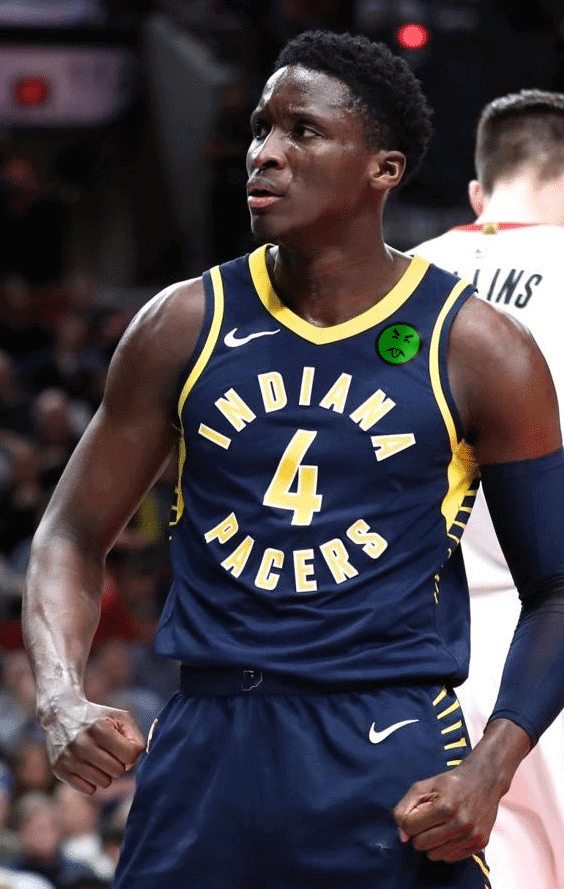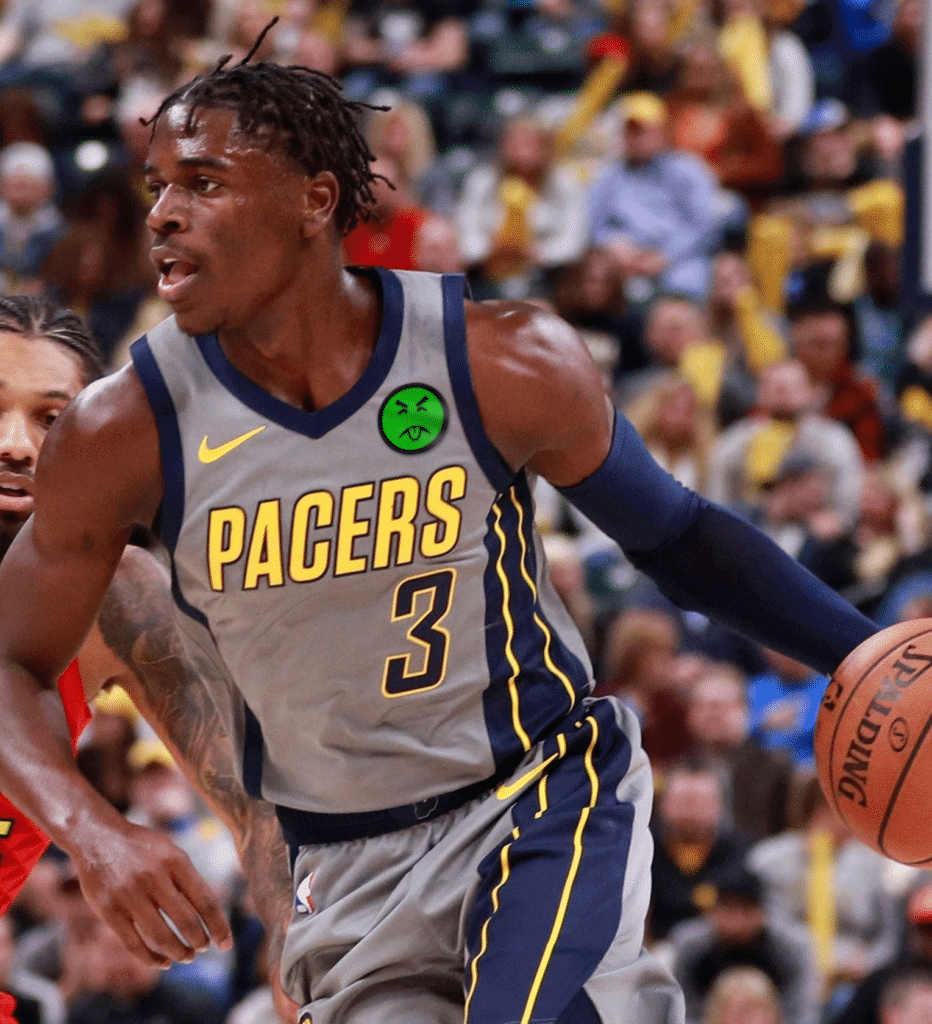 There is now only one remaining ad-free team: the Thunder. As for the 29 ad-clad teams, here's how the ad virus has spread:
• Seventeen teams were wearing ad patches at the start of the 2017-18 season.
• Four more teams got on board during the 2017-18 season.
• Another three announced ad patch deals during the 2018 offseason.
• One team joined the club during the 2018 preseason.
• And the Pacers are the fourth team to add an ad during the 2018-19 season.
As for the lone remaining holdout, the Thunder have played it very close to the vest on this topic. When I asked them about it last month, they simply said, "Currently we have no plans for a patch." But of course that could change at any time. (I followed up with them yesterday — no response.) So beginning with tonight's Thunder/Kings game, treat every OKC game like it's the last time we'll ever see an ad-free NBA uniform — because it very well could be.
(My continued thanks to Nic Schultz for his Photoshoppery.)
• • • • •
• • • • •
Winter wonderland: You like snow games? Check out this footage from Nov. 13, 1976, when North Texas hosted Florida State. No shoveled yard lines, no first down line projected onto the field — just a blanket of white! Magnificent.
(Big thanks to Clay Harvey for this one.)
• • • • •
• • • • •
Raffle reminder: In case you missed it last Friday, our annual year-end raffle, featuring dozens of cool items (including the Noah Syndergaard T-shirt shown above), is now underway. Full details here.
• • • • •
• • • • •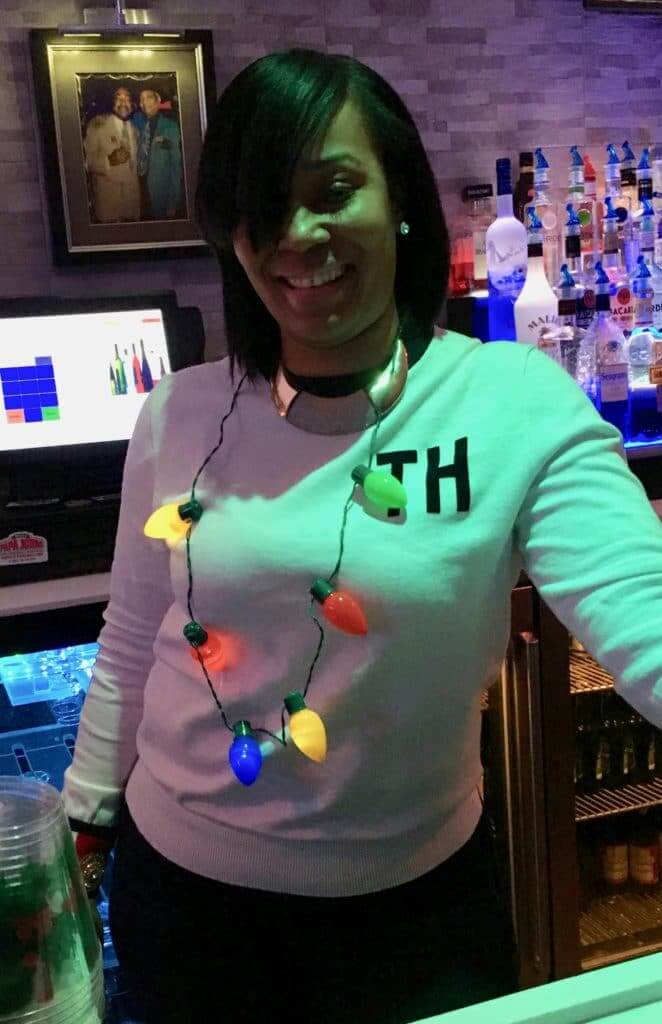 Click to enlarge
Holiday uniforms: Last week, as you may recall, our favorite local barmaid, the lovely Lily, was done up in many shades of red. Last night she wore a necklace of Christmas lights — nice! But we liked the sweater worn by her boss, Sherwin, even more. Check this out: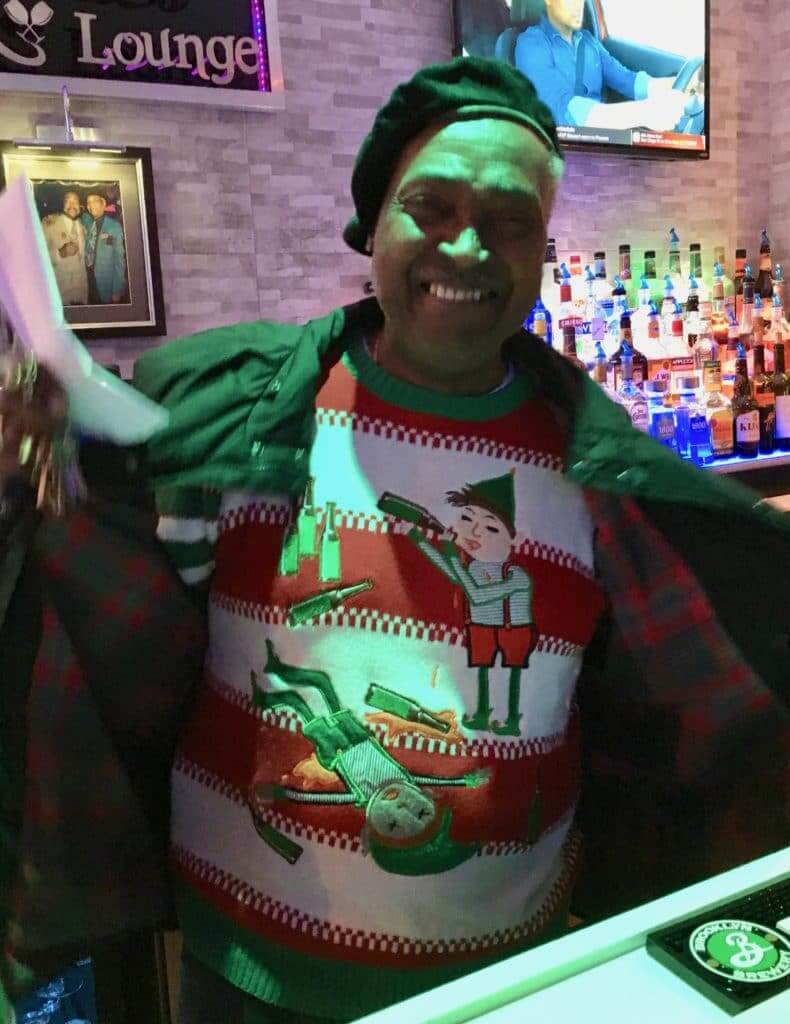 We need to get a team to wear a jersey based on that design, pronto.
• • • • •
• • • • •
The Ticker
By Paul

'Skins Watch: Skowhegan High School in Maine — the last school in the state that calls its teams the Indians — will have a public forum in January to consider changing the team name (from John Dankosky). … Canada's sixth-largest city, Mississauga, is eliminating indigenous-themed mascots and imagery from its sports facilities (from Mike Styzcen and @ohhhsourry). … Also from Mike: The NHL has pulled some team-branded totem poles from stores after they were described as "blatant cultural appropriation," among other things.

Baseball News: Check out Jay Johnstone's batting helmet during his brief late-'70s stint with the Yankees. The logo looks engorged and that number on the brim looks sloppy. Johnstone also appears to be wearing a windbreaker under his jerseys, so that shot could be from a spring training game (from Eric Hoey). … The Twins will retire Joe Mauer's No. 7, although they haven't yet said when the ceremony will take place (from Mike Chamernik). … New 10th-anniversary logo for the Richmond Flying Squirrels (from Tom Turner). … Phillies skipper Gabe Kapler has switched uniform numbers, from 22 to 19, because 22 will now be worn by new free agent signing Andrew McCutchen (from Blake Fox). … C Wilson Ramos, who wore No. 40 with his last three teams — the Nats, Rays, and Phils — will continue to wear that number for the Mets.

NFL News: At the conclusion of Monday night's Panthers/Saints game, Saints coach Sean Payton tossed his visor to a fan in the stands — who promptly tossed it back (from Mike Chamernik). … Good news out of Miami, where Dolphins CEO Tom Garfinkel announced that the Fins have received permission from the NFL to wear their throwbacks for this Sunday's game against the Jags, which will mark the third time in four weeks — and the third consecutive home game — that they've gone retro. Old-school script in the end zones, too. They were originally slated to go mono-aqua for this game, so this is a huge upgrade (from @troy_erva). … The lifestyle brand Vineyard Vines has opened an NFL-themed pop-up shop (from Tom Turner). … The NHL's L.A. Kings wore Chargers-inspired jerseys for last night's pregame skate (from @19Lak11). … Under a court agreement announced yesterday, President Trump's charitable foundation will be dissolved and its assets will be sold off, including an autographed Tim Tebow Broncos helmet.

College Football News: Here's a weird trend: Dads who accompany their kids to college campuses on recruiting visits are suiting up in full uniform (thanks, Phil). … Here's how the Belk Bowl patch looks on UVA's jersey (from our own proud UVA alum Jamie Rathjen). … Man, the jersey patches for the Holiday Bowl are completely enormous (from Braden Erickson). … Under Armour is really pushing it with some of these Notre Dame gear promos. "Black for the grip"? Seriously? Couldn't any other color grip just as well? (Thanks, Phil.)

Hockey News: The Tri City Americans (WHL) will have New Year's Eve uniforms next Monday (thanks, Phil). … The Spokane Chiefs are having a St. Patrick's Day jersey design contest (from Michael Brantner). … The Rangers wore white at home last night against the Ducks. And speaking of the Ducks, recently acquired G Chad Johnson was still wearing his Blues mask (from Alan Kreit and Chris Cruz, respectively). … Cross-listed from the NFL section: The Kings wore L.A. Chargers-inspired jerseys for last night's pregame skate (from @19Lak11). … The Flyers held a Police and Fire Night promotion last night, with group-sales attendees receiving this patch (from Jeff Taylor).

NBA News: Here's a look at the evolution of the Magic's logo (thanks, Phil). … If you've been waiting for boxer briefs based on NBA shorts, today's your lucky day.

College Hoops News: Buffalo's starting five last night wore Nos. 1, 2, 3, 4, and 5 (from Michael Alper). … Here's a weird one: The women's team for DIII Aurora University wore blue last night — except for one player wearing grey. "Refs let her play but issued an administrative technical," says Dan Pfeifer.

Soccer News: "A Dutch court ordered Barcelona winger Rafinha to pay a 1 million euro fine if he doesn't wear Adidas boots," says our own Jamie Rathjen. "He thought his deal with Adidas ended in the summer and switched to a different company, but apparently it actually hadn't ended and Adidas sued him for a breach of contract. However, he's also out for the season with a torn ACL, so there's not much he can do about it." … Polish side Widzew Łódź is letting supporters pick next year's home jersey (from Ed Zelaski). … German 3. Liga team Energie Cottbus just sold the naming rights to their stadium, but the company decided not to put their name on the stadium, which is keeping its ad-free name of Stadion der Freundschaft for at least the next few years. "This is one of a few recent examples of the practice in Germany," says our own Jamie Rathjen.

Grab Bag: New cycling kits and bikes for the second-tier Italian racing team Bardiani CSF-Selle Italia Guerciotti. … There is apparently a shortage of police uniforms in Kenya. … New Smokey Bear-themed license plate design for the state of Oregon (from Russell Wlson [but presumably not that Russell Wilson]).
• • • • •
On a personal note,
I'd like to thank everyone who responded to
yesterday's post
with kind and thoughtful comments, emails, and tweets (with doubleplusthanks to those who went the extra mile by
donating to the site
). Means a lot to have such an outpouring of support during difficult times, really. Thank you. —
Paul