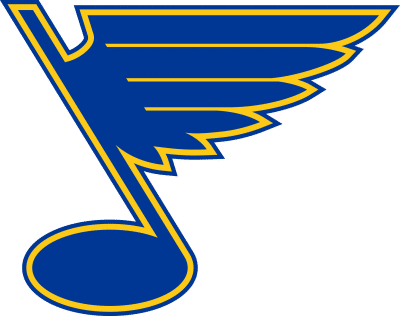 You probably know about the gonzo trumpet-themed uniforms that the Blues were going to wear until GM/coach Mike Keenan supposedly nixed them (although that story may be apocryphal). You might also be familiar with the original prototype jerseys that were worn by Blues execs Lynn Patrick and Sid Salomon III when the team's NHL franchise was awarded in 1965 (here's a color shot of the white jersey).
But it turns out that there's another prototype Blues design floating around out there — one that I hadn't known about until the Twitter account @STLBlueshistory recently posted something about it.
Let's start with this: On Nov. 27, 1983, The St. Louis Post-Dispatch published an item about Blues then-owner Harry Ornest and his wife, Ruth: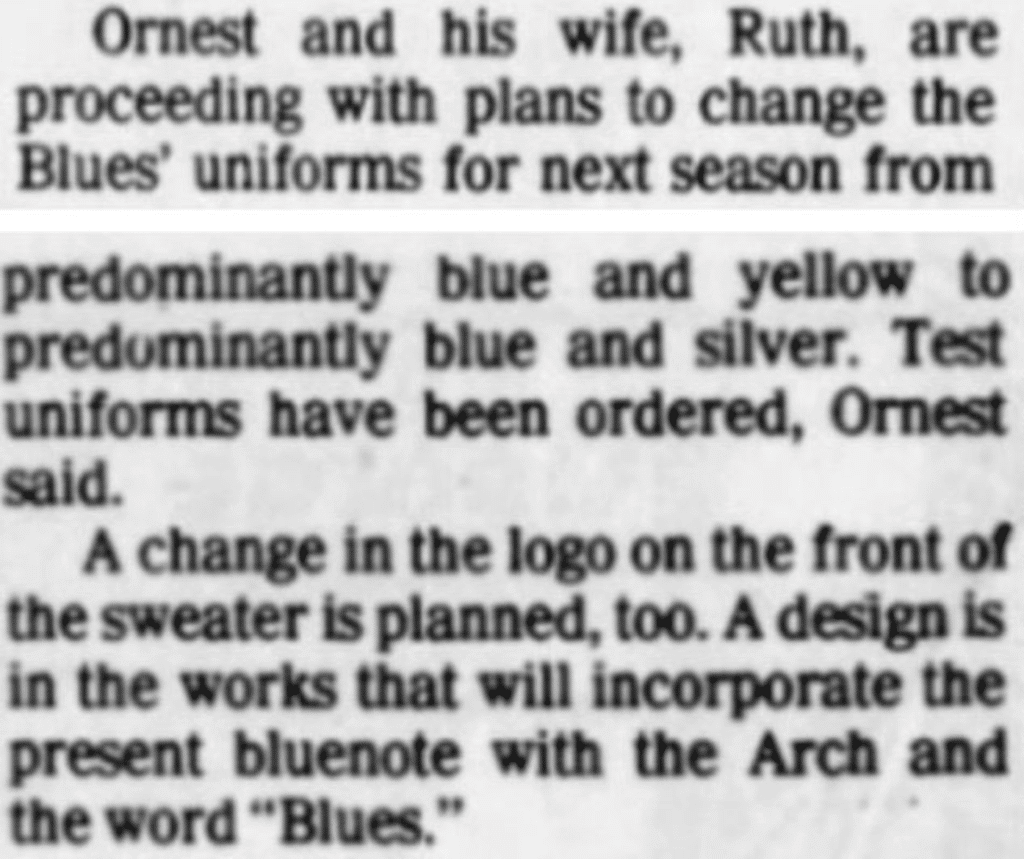 Okay — a blue/silver color scheme with a design that includes the blue note and the Gateway Arch. What might that look like?
This: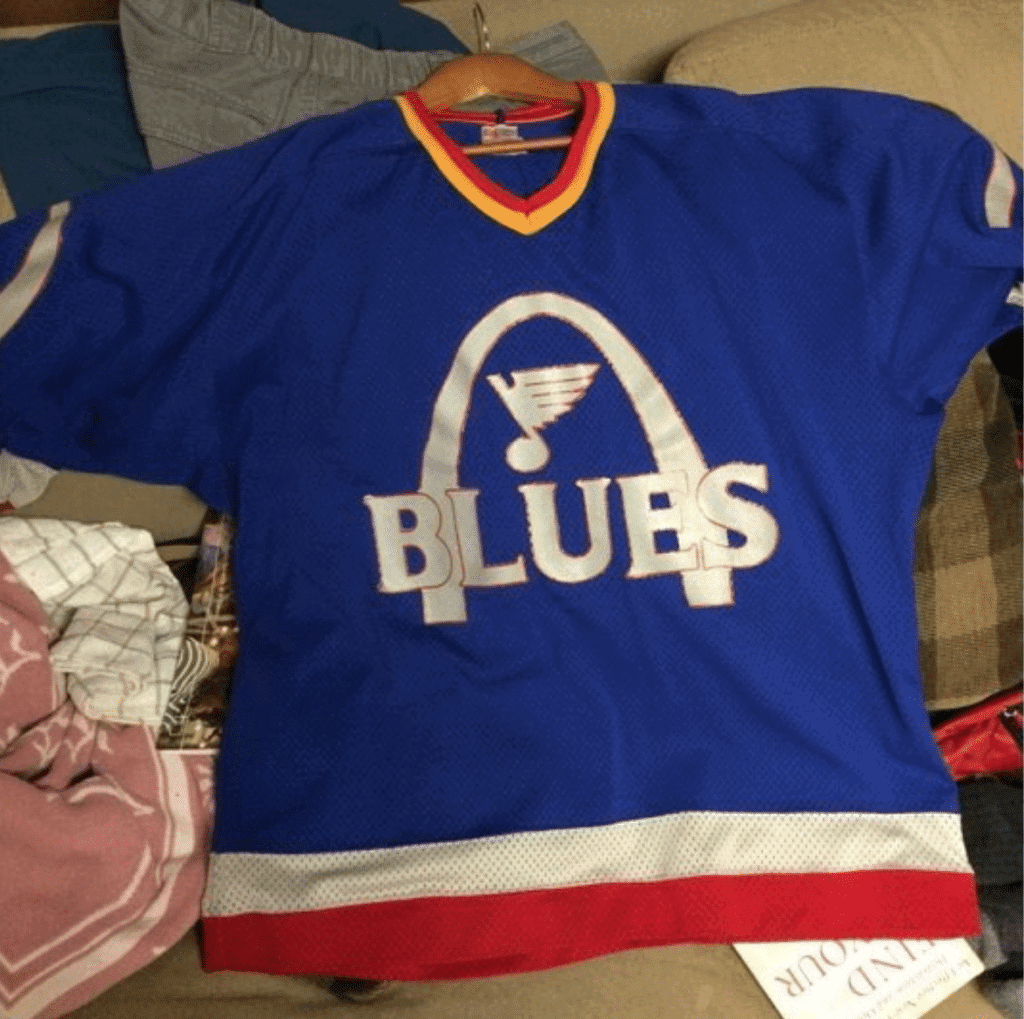 I suppose you could say that the design is vaguely similar to the one that the Blues eventually launched as an alternate uniform in 2008, although I suspect that's more of a coincidence than a direct lineage: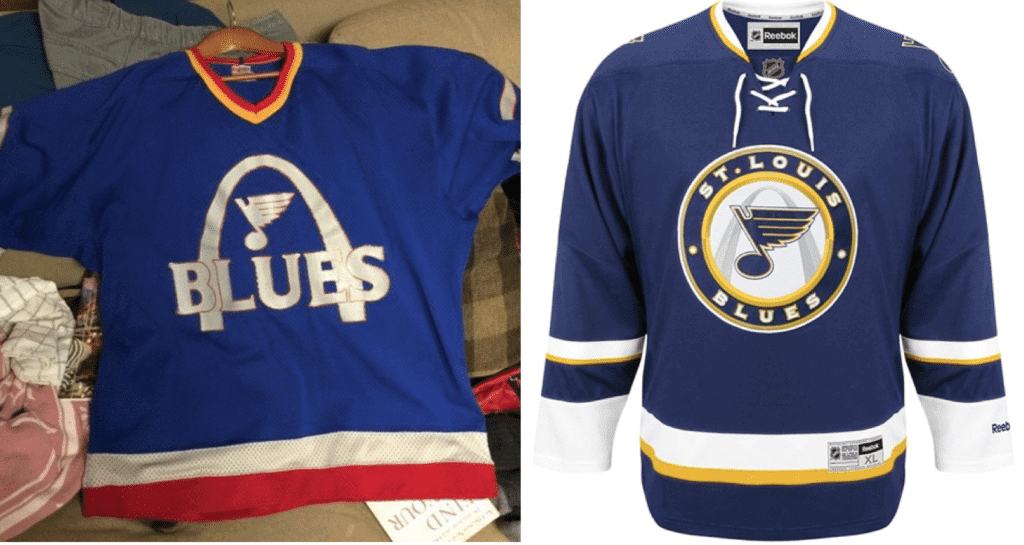 The 1983 prototype was made by Liebe, the venerable St. Louis-based outfitter that still does lettering for many pro sports jerseys. And they still have the original sketch for the jersey stencil (click to enlarge):
According to @STLBlueshistory, the jersey never made it onto the ice because the silver color caused production problems. After that, Liebe stopped working with the Ornests.
I'd never seen or heard about any of this. Was I just asleep at the switch, or is this a genuine surprise to you serious hockey people out there? Either way, interesting stuff!
(My thanks to @mrmichael21 for bringing @STLBlueshistory's tweet to my attention.)
• • • • •
• • • • •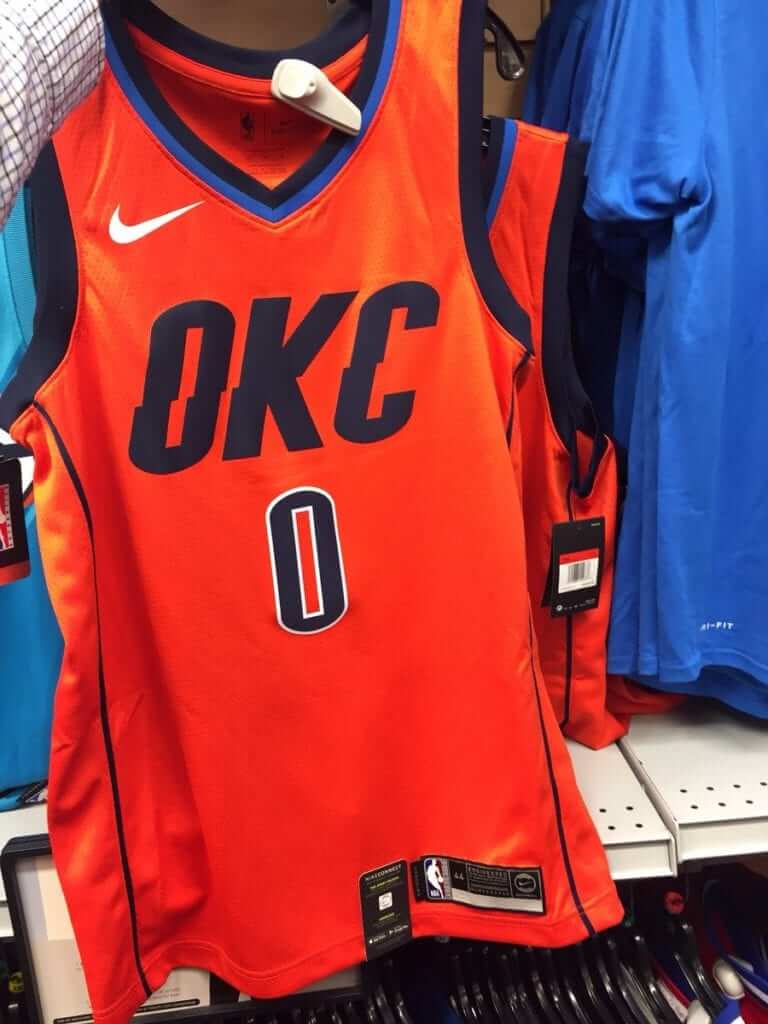 NBA and Nike give everyone a new round of leaks for Christmas The Thunder's new "Earned" jersey (aka the Participation Trophy jersey) leaked yesterday, the first of what will presumably be a flood of similar leaks. According to this Thunder blog, the plan was for the team to debut this uniform on Christmas Day, but the opposing team — the Rockets — will be wearing red that day, so instead the OKC uni will debut on Dec. 30.
• • • • •
• • • • •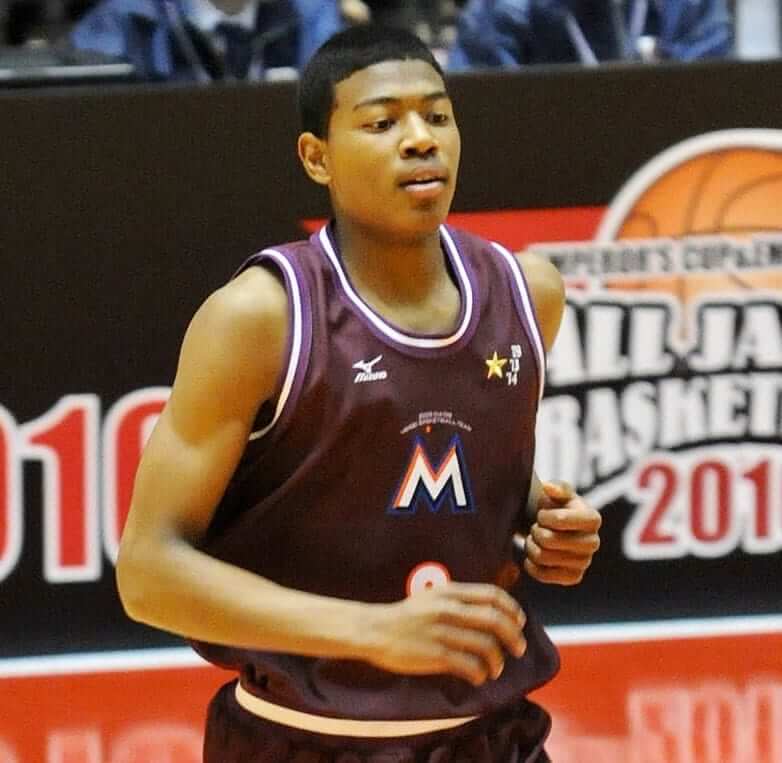 Click to enlarge
That's a long way from Miami: As you may be aware, Gonzaga forward Rui Hachimura grew up in Japan, where he attended Meisei High School. His Wikipedia page has a photo of him in his Meisei uniform, which inexplicably features a variation on the Miami Marlins' now-mothballed logo (the colors are slightly different).
What an odd logo choice! I did some quick photo research and found the white uniform version (click to enlarge):
Even weirder, I couldn't find any evidence of the school's baseball team wearing the Marlins-style logo. Instead, I found this:
Very strange!
(Big thanks to Gabriel Luis Manga for this one.)
• • • • •
• • • • •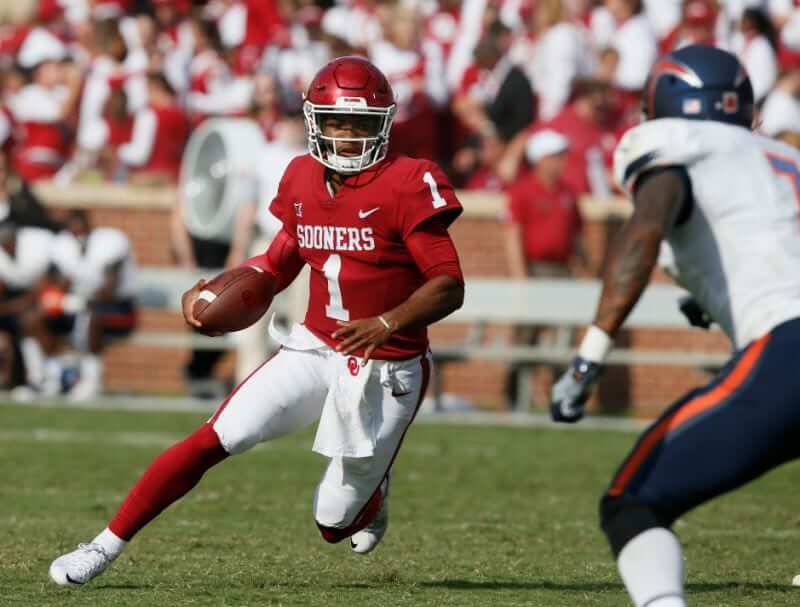 The one (1) and only: Oklahoma quarterback Kyler Murray was named the AP's College Player of the Year yesterday. According to Tulsa World beat writer Eric Bailey, if Murray follows that up by winning the Heisman Trophy on Saturday, he would be the first Heisman winner ever to wear No. 1.
Last year's AP winner was also an Oklahoma quarterback: Baker Mayfield. He went on to win the Heisman, becoming the first Heisman honoree to wear No. 6 (which doesn't have quite the same ring as being the first No. 1, eh?). When's the last time two consecutive Heisman winners wore numbers that had never been Heisman-honored before?
(My thanks to Devon Kuckenbecker for bringing Bailey's tweet to my attention.)
• • • • •
• • • • •
Click to enlarge
Making book(s): Yesterday I wrote about the new Andy Warhol exhibit at the Whitney, which I attended last Sunday. In the gift shop, I was particularly amused by one of the items available for sale: a "book" of 192 $1 bills bound in a hardcover case — a riff on Warhol's 192 One Dollar Bills painting. At the gift shop, the bound bills were priced at $384 (i.e., double their face value), and produced in a numbered edition of 192 "copies" (they're not truly copies because they're real bills and therefore have unique serial numbers). It's all very clever, very pleasing, and very Warholian.

I noticed that the book was published by an operation called Catalog Press, which I'd never heard of before. Great name, though — I love catalogs! Fun logo, too. So when I got home I looked up their website.
It turns out that Catalog Press is the personal imprint of a 26-year-old artist/designer named Ben Denzer, who's been creating all sorts of interesting things since he was a little boy growing up in Kansas City. For Catalog Press, he's made a series of very clever limited-edition "books." Some of them, like the book of dollar bills, consist of small, ordinary objects bound together into a book cover: 30 napkins from the Plaza Hotel, 20 packets of Splenda, 200 fortune cookie fortunes (that's my favorite), 20 slices of American cheese (here's a good article about how a copy of that book was acquired by the University of Michigan library), and 15 paperback books (very meta). Others are more traditional printed books but are unconventional in other ways, like a flip book of photos of a flip book of photos of a flip book of photos of a flip book (meta again, and quite brilliant) and a short essay printed with one word per page with each word in a different typeface. Very good stuff!
Catalog Press is just one of Denzer's creative projects (you can see some of the others here). He seems like someone worth knowing, so I shot him a note. Heard back almost immediately — turns out he now lives in NYC, so we're going to get together for a beer after the holidays. Can't wait!
• • • • •
• • • • •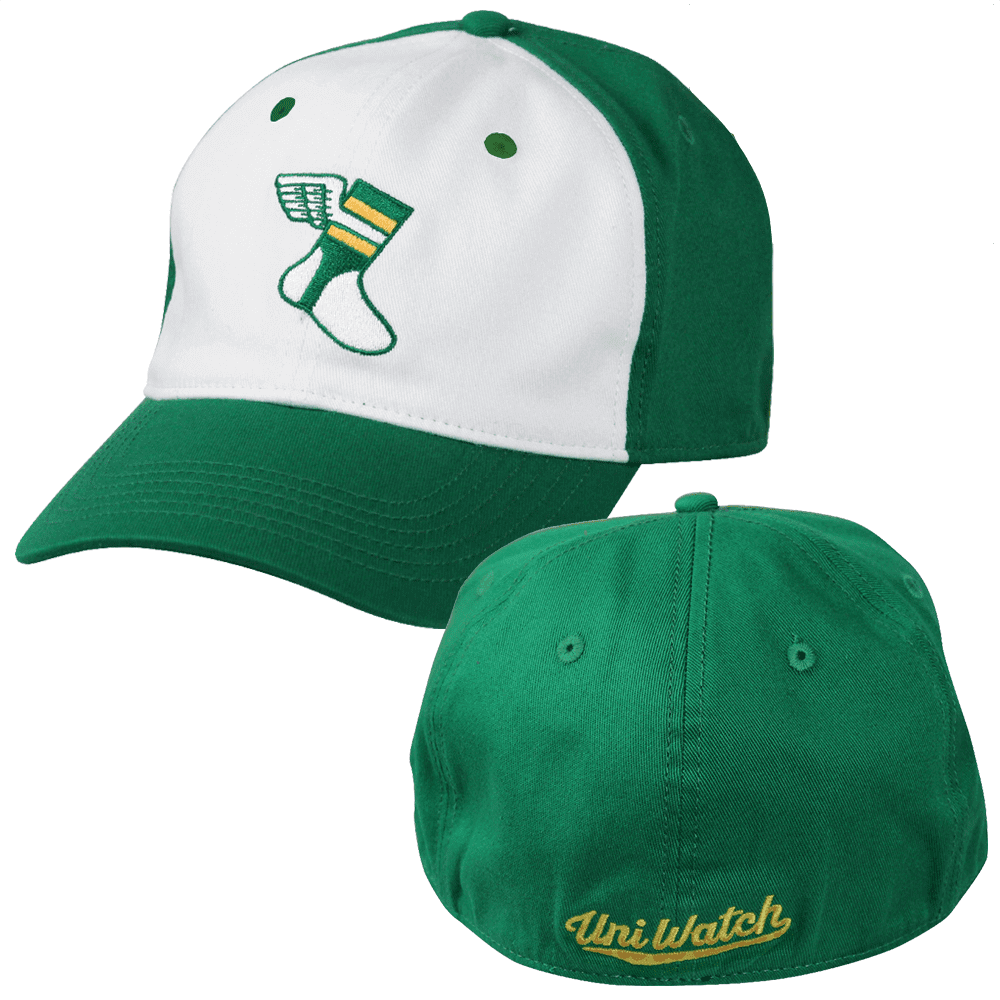 News flash: People like cheap stuff that sounds cheap: In the week leading up to Cyber Monday, we reduced the price of our flex-fit Uni Watch Alternate Cap from $24.99 to $19.99. It worked — we sold a bunch of caps. Huzzah!
After Cyber Monday, we restored the price to $24.99. Sales pretty much went dead. Boo!
So then we offered free shipping, which was almost the same thing as bringing the price back to $19.99. Sales remained v-e-r-y slow. Double-boo!
Conclusion: People respond more to a low price point than to free shipping. So we're gonna go back to that. As of today, the price is back down to $19.99. But you do have to pay for shipping. It's more or less the same thing as $24.99 and free shipping, but it feels better to see that $19.99 price point, right? Or something like that. (And no, we can't do the lower price and free shipping. Sorry.)
Incidentally, we're now down to only about 20 of the L/XL caps. So if you want one, move fast. Order yours here.
Meanwhile: All of our fine Uni Watch products, including a few that you may have forgotten about, are listed on this one handy page.
• • • • •
• • • • •
The Ticker
By Yianni Varonis

Baseball News: The Athletic has ranked every MLB uniform from worst to first. Here is part one, and here is part two (both paywalled). … The Double-A Mobile BayBears, who will be moving to Madison, Ala., unveiled a farewell logo.

Football News: The Browns donated a large sum of money to help a local school district provide uniforms to students who chronically miss class because they lack the appropriate attire. … Notre Dame will unveil its College Football Playoff uniform today. … Update: They've now unveiled it. … The College Football Hall of Fame has a display honoring the service academies with mannequins half-dressed in military formals, half-dressed in football uniforms (from James Gilbert). … Each week this season South Carolina released a video unveiling the uniform the team would be wearing. This article compiled each video and ranks them. … We already have the AAF and the XFL in the works, and now yet another new football league, called the FFL, plans to launch.

Hockey News: Blue Jackets HC John Tortorella looked like he was on an NFL sideline last night, coaching his team's game in a hoodie (from Alan Kreit). … Wisconsin has unveiled a new third jersey (from local reporter Todd Milewski and Garrett Van Auken). … The Atlanta Gladiators of the ECHL will pay tribute to the city's professional hockey history with a new alternate uniform. … The Kings wore Lakers-themed warmup jerseys last night. … Here's a review of the new book about the Islanders' fisherman logo. That book was also featured in Paul's recent holiday gift guide.

NBA News: The latest NBA2K 2019 patch will automatically add new uniforms and shoes and improve players' likenesses, including more authentic faces as well as updates to their hair and tattoos.

College Hoops News: The logo for the 2020 Final Four in Atlanta was unveiled. … A few years ago, Paul wrote about the trend of some college basketball players rolling their waistbands. Catering to that trend, an apparel company created basketball shorts with waistbands meant to be rolled. … Both Iowa/Iowa State basketball games were color (or non-white)-vs.-color, as Iowa wore black at home for the women's game and grey at home for the men's game (from our own Jamie Rathjen). … This video tribute to Utah's 1944 national championship team features actors dressed in era-appropriate uniforms (from @B_handy). … Fairfield wore throwbacks last night (from Mark Nemec).

Soccer News: Barcelona's new home kit featuring an anomalous checkerboard pattern may have leaked, and fan response has been mixed. … The United Soccer League's newest expansion team, Hartford Athletic, unveiled its crest yesterday (from multiple readers). … It was announced that North Texas Soccer Club would be the team name of FC Dallas' USL League One affiliate (from Josh Hinton). … This article discusses gambling advertising during soccer matches, including the fact that 60 percent of teams in England's top two tiers have gambling company shirt sponsors. Could that be changing? (From Kevin Fox.) … THere's a rumor that the Seattle Sounders may have a pink and black away kit in the works (from Markus Kamp).

Grab Bag: Here's an in-depth and thoughtful opinion on why the Amtrak station in Philadelphia shouldn't replace its mod flipboard sign with a digital version (from William Yurasko). … Here is a look at what high-end collectors wore at this year's Fall Art and Design Fair in New York (NYT link). … Luxury brand Balmain has modernized its logo for the first time in nearly 70 years. … The Google logo went dark on Wednesday in honor of President George H.W. Bush. … The U.S. Army Futures Command, which was created this year with the aim of modernizing the Army, has a new shoulder patch. This article does a nice job of detailing the design elements. … Teachers at an Pennsylvania middle school unearthed a box containing an authentic World War I uniform that had been tucked away behind the auditorium. … The Colorado Mammoth, of the National Lacrosse League, introduced their "Lacrosse Out Cancer" uniforms (from Zeke Perez Jr.). … More lacrosse: New orange jerseys for the New England Black Wolves (from Pat Gregoire).
• • • • •
• • • • •
Click to enlarge

What Paul did last night: My friend Carrie and I went out to a Caribbean joint last night for some jerk chicken, and then we went to the Brooklyn Museum, which is open late on Thursday nights (with free admission to boot). We wanted to see a big exhibit that recently opened there, called Soul of a Nation: Art in the Age of Black Power, which looks at African American art from 1963 through 1983.
It's fucking awesome. My favorite piece was the Malcolm X portrait shown above (called Black Prince), by Wadsworth Jarrell. If you take a closer look, you can see that it's comprised of lettering, much like the sports calligrams by artist Dan Duffy. The exhibit had a similar (and similarly awesome) portrait of Angela Davis.
There were also lots of collages, photographs, illustrations, and sculptures. Here are a few that I particularly liked (for all of these, you can click to enlarge):
You can see several dozen more pics here. The show, which I wholeheartedly recommend, is on view at the Brooklyn Museum through Feb. 3.
• • • • •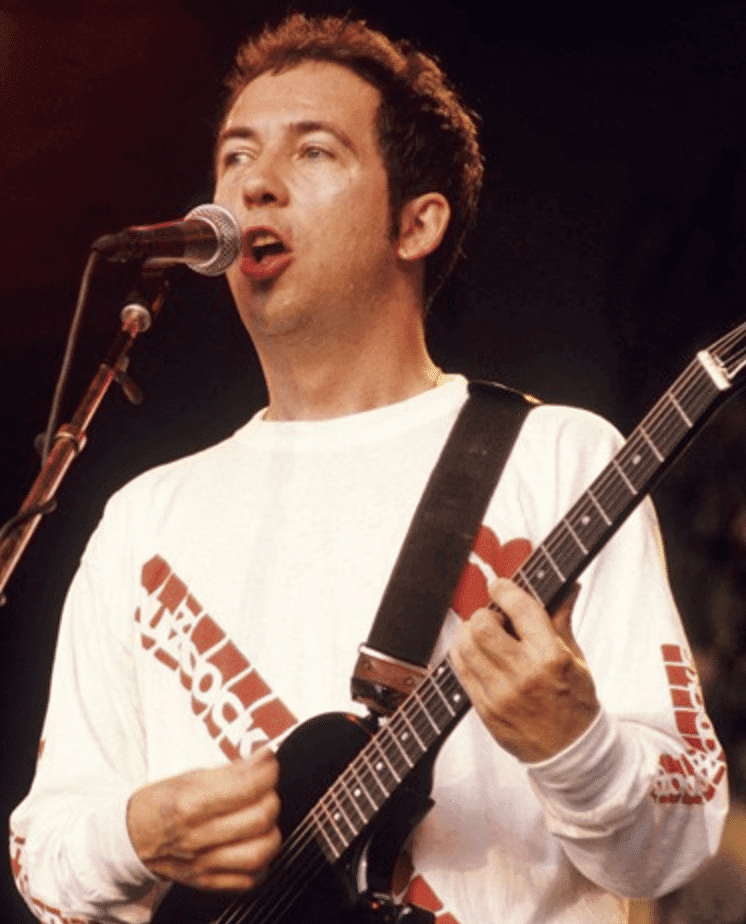 Something's gone wrong again: Word came down yesterday that Pete Shelley, frontman of the seminal UK pop-punk band the Buzzcocks, had died of an apparent heart attack at the age of 63. I don't know much about Shelley except that he and his mates made some of the catchiest, most infectious rock music of the late '70s. None of the music he made after that was particularly notable, at least to my ears, but the Buzzcocks' early work still holds up four decades later.
I saw the Buzzcocks once, in the late 1980s. They were already past their prime and settling into the grind of being an oldies act, with little of the raw urgency you can hear in their early recordings, but the tunes were still great. Here are two of my favorites. R.I.P.