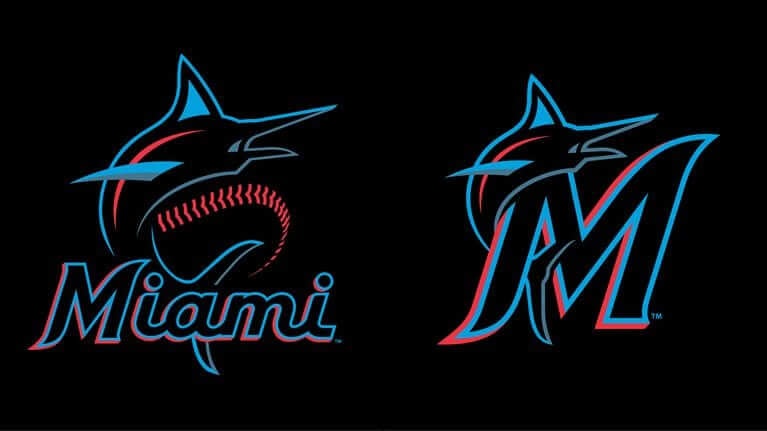 Click to enlarge
After weeks of teases and rumors, the Marlins finally made it official yesterday, unveiling their new primary and secondary logos. Naturally, they came with an annoying slogan, cringe-inducing color names, and a video that's straight out of a trying-too-hard tourism campaign, but let's try to ignore all of that and focus on the designs. Are they any good?
Honestly: I can't decide. As various leaks have been circulating over the past few weeks, I've had trouble feeling strongly one way or the other about this one. Here's a catalog of my thoughts, with the caveat that any of this could change once we see how everything is deployed on the uniforms:
• I don't love the colors, which remind me too much of Lite Brite.
• I'm grateful that the script, which I assume will be used on the road jersey, is so straightforward — no beveling, no extraneous flourishes, and so on. But is it too straightforward? Too plain?
• I like the baseball stitching.
• It really bugs me that the marlin doesn't have an eye. Come on, don't make him blind!
Here's how the secondary logo looks on a cap:
#OurColores pic.twitter.com/jGb7pTuJWy

— BitcoinRabbitHole (@Firefighter_) November 15, 2018
Could be worse. But again, I'd like to see the full uniform package. Also, it's worth noting that I hated the Marlins' current set when it was unveiled in 2012, but it has grown on me over the years. I'm not exactly sorry to see it go, but I'm not necessarily saying, "Good riddance!" either.
As for the full uniforms, you will get to see them before I do, because they're slated to be revealed at 9am Eastern today, but I'm going to be behind the wheel of a car at that point, and for a good chunk of the day (more on that at the end of today's entry), so I'll miss out on the unveiling. But the jerseys have already leaked:
#Marlins jerseys with the new logo. #OurColores pic.twitter.com/pRt5JtQLn4

— SoFlaMarlins (@SoFlaMarlins) November 16, 2018
New Miami Marlins jerseys: pic.twitter.com/Wfp0WUwS6C

— Fitteds and Flannels (@FittedsFlannels) November 16, 2018
Marlins new home jersey, via https://t.co/JQmlDbbPOx. pic.twitter.com/dIp1mbz8yU

— Paul Lukas (@UniWatch) November 16, 2018
Interesting that they're going with "Miami," rather than "Marlins," on the home jersey.
I'd still like to see the whole uniform on a human being. Our own Alex Hider is monitoring the unveiling situation and will add some links to the new uniforms once they've been revealed.
Update: Alex here. As Paul promised, you can see the Marlins' newly unveiled uniforms.
The team initially teased their new black jerseys around 8 a.m. ET in a tweet, and later officially revealed all the new threads in a hype video. There doesn't appear to be any surprises.
Good morning. Ready? #OurColores pic.twitter.com/qWzXWiOvjV

— Miami Marlins (@Marlins) November 16, 2018
All of our work and hustle is for the city across our chest. #OurColores pic.twitter.com/xFlzCJKPCj

— Miami Marlins (@Marlins) November 16, 2018
Finally, here's what MLB.com has to say about the Marlins' new look.
• • • • •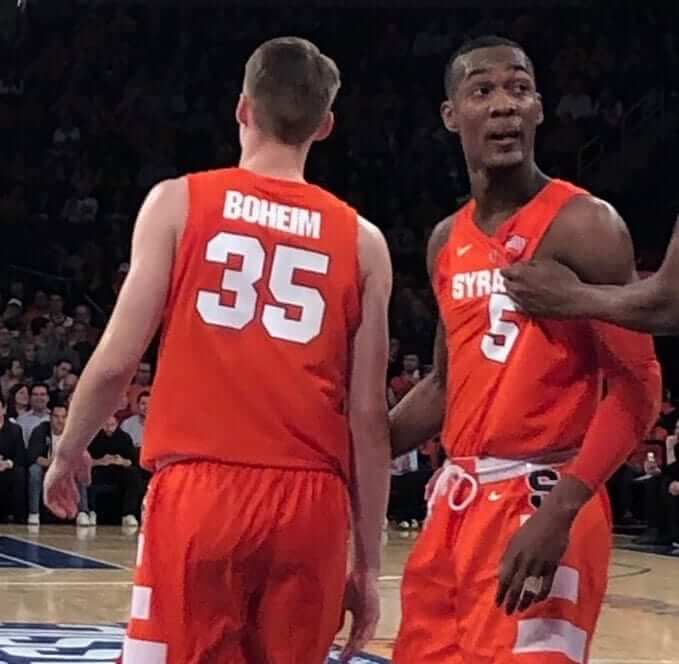 • • • • •
Nobody is immune: Jersey typo for the ages last night at Madison Square Garden, as Syracuse coach Jim Boeheim's son Buddy Boeheim, of all people, had his name misspelled on his NOB for the game against UConn. Coach couldn't have been happy about that, but I guess it just goes to show that it really can happen to anyone.
• • • • •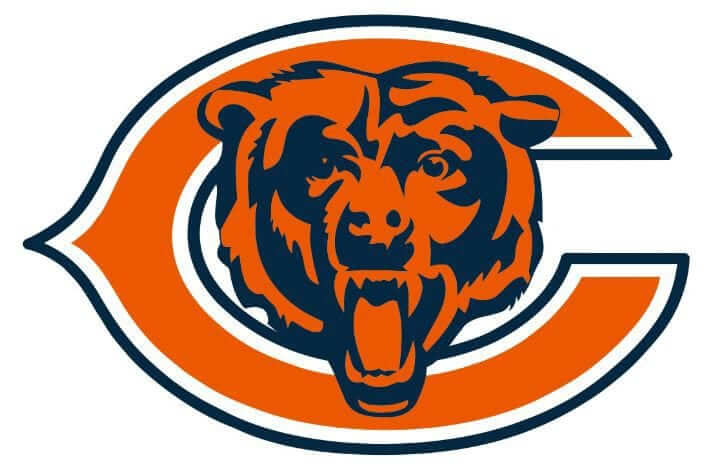 • • • • •
NFL centennial update: As you may recall, several weeks ago the NFL unveiled that crummy logo to mark the league's 100th anniversary in 2019. About two weeks after that, I followed up with this exclusive report:
A little birdie now tells me that [the centennial logo] will not be worn as a conventional jersey patch next season. Instead, it will replace the NFL logo at the base of the collar.

The exception to this rule, according to my source, is the Bears. They're celebrating their own centennial next season, so they'll keep the standard NFL logo on their collar and wear a centennial patch. It's not yet clear if that patch will be strictly Bears-themed or if it'll somehow incorporate part of the NFL centennial mark. Stay tuned.
That situation came into sharper focus yesterday, as the Bears unveiled their own centennial logo, which is modeled on the NFL version (click to enlarge):

Ay-yi-yi. What's the point of the diagonal stripe if there's no football at the end of it? They've somehow managed to make the original version even worse.
In addition, Bears exec George McCaskey said some sort of throwback is in the works:
George McCaskey says the #Bears are working on a classic uniform for 2019 and are not ready to reveal the details. They will unveil them next year. @PhilHecken @UniWatch

— Zack Pearson (@Zack_Pearson) November 15, 2018
It's not yet clear if this uniform will be a one- or two-game alternate or if it will be the primary design for the centennial season. I'm assuming the former. Either way, I'm hoping it turns out to be this design (but I'm not holding my breath):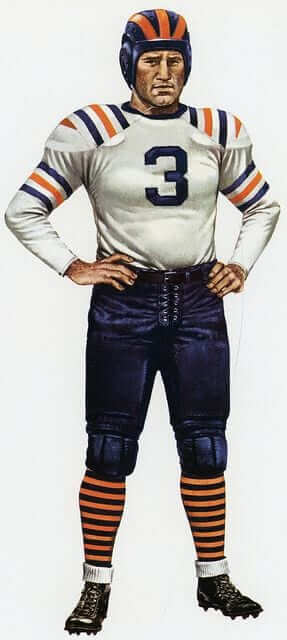 • • • • •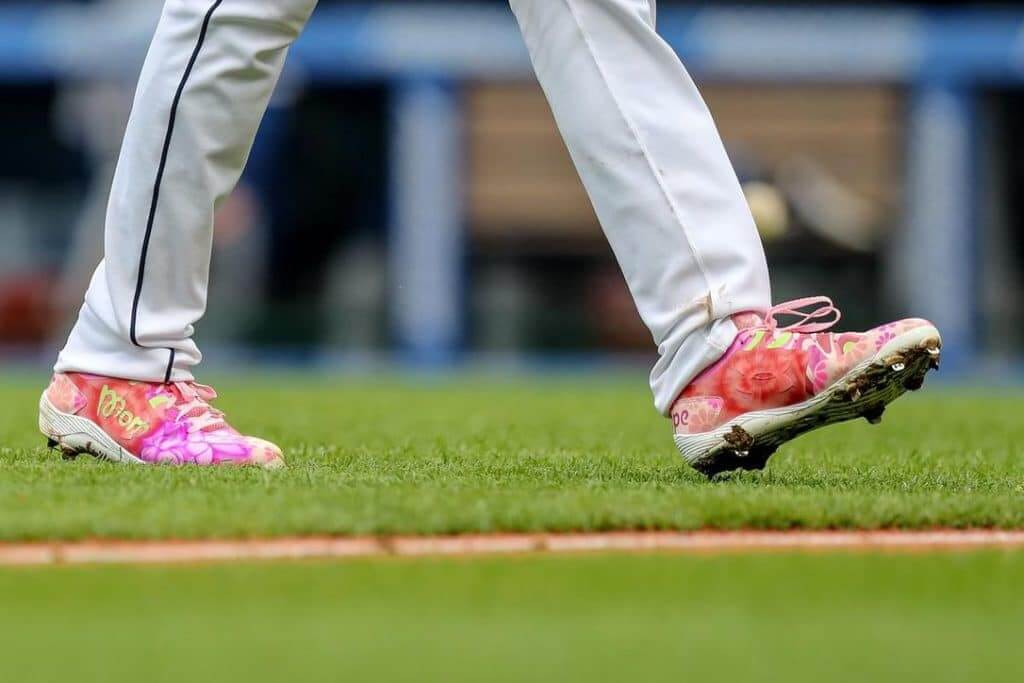 • • • • •
New MLB footwear rules: MLB yesterday became the latest league to throw in the towel regarding the policing of shoe colors. The new rules, which were which were developed by MLB and the players' union, will allow players to wear shoes in "any of the following colors, in any proportion: (i) black, white, and gray; (ii) any colors displayed on the player's uniform (and certain variations thereof); and (iii) any additional colors designated by the player's club." So no more designated team shoe colors.
Frankly, I'm surprised they didn't do this sooner. Most players just wear whatever they want anyway (or whatever their shoe companies give them), and policing it has become a losing game of whac-a-mole for MLB, especially since a monetary fine isn't much of a disincentive for gazillionaire athletes.
Honestly, I don't think it'll make thaaaaat big a difference, since so many players were already ignoring the rules. Still, it'll be interesting to see if any A's players stick with white, just because it was such an unusual distinction.
(My thanks to @HollarDollar for bringing this to my attention.)
• • • • •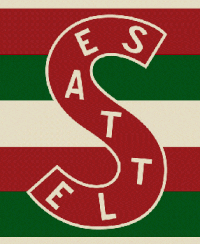 • • • • •
ITEM! New design contest: ESPN.com's hockey editor has asked me to have a design contest for the potential new NHL franchise in Seattle, so that's what we're going to do! Here's the skinny:
• Your entry must include a team name, a primary logo, full home and road uniforms (jerseys, pants, socks, helmets), and an inaugural-season logo that can be worn as a patch. If you like, you can also include secondary logos, an alternate uniform, and a center ice design, but those aren't required.
• You can draw upon Seattle's rich hockey history or start from scratch. Up to you!
• Your designs can be created in any digital or analog medium (Illustrator, Photoshop, crayon, whatever) and can be submitted in any standard digital format (JPG, PDF, TIFF, etc.). You can also create a video presentation, upload it to YouTube, and submit the YouTube link as your entry.
• The files you submit should be named after yourself (PaulLukas.jpg, for example). If you're submitting multiple files, please either number them (PaulLukas1.jpg, PaulLukas2.jpg, etc.) or use some other designation (PaulLukas-homeuni.jpg, PaulLukas-logo.jpg, etc.). Files that don't follow this format will not be considered.
• In keeping with longstanding Uni Watch chromatic policy, entries with even a hint of purple will not be considered.
• Email your entry to Uni Watch HQ (note that this address is just for contest submissions — please don't use the usual Uni Watch email address). If you have more than one concept, feel free to enter as many times as you like.
• Deadline: Monday, Nov. 26, 7 p.m. ET.
The best entries will be showcased in one of upcoming ESPN columns. Good luck!
• • • • •
• • • • •
The Ticker
By Paul

'Skins Watch: Nintendo, responding to negative feedback from gamers, is removing Native American character designs from the video game Super Smash Bros. Ultimate (from our own Yianni Varonis). … Also from Yianni: There's a guy in Fargo, N.D., who may have been the model for the University of North Dakota's old Fighting Sioux logo. … Students at McGill University have voted in a non-binding resolution to change the school's "Redmen" team name, a move that increases pressure on the school to change the name (from Eric Furniss).

Baseball News: I'm not 100% positive about this, but I'm pretty sure Rays P Blake Snell, who was named the American League's 2018 Cy Young Award winner on Wednesday, is the first Cy Young recipient ever to wear a single-digit number. … In a related item, a Rays fan had promised to get the team's logo shaved into his head if Snell won the award, and now the team is trying to hold him to that. … The Nationals unveiled a new spring training uniform yesterday. People really seem to like the cap, and I have to agree — it's a keeper. … Astros 3B Alex Bregman has his own pair of 'Stros cowboy boots (from @SteveinLC). … Speaking of the Astros, check out this Oyo 'Stros bullpen buggy. … The Mariners' stadium name will now be an ad for T-Mobile. Alas, we won't be doing an "I Still Call It Safeco" shirt, because we only do shirts that honor non-corporate names, not corporate names like Safeco (from Dean Richard). … New alternate logos and jerseys for the El Paso Chihuahuas (from @ferndog03). … New 80th-anniversary logo for the Roberto Clemente Baseball League in Puerto Rico (from Ignacio Salazar). … New uniforms for the Nashville Sounds.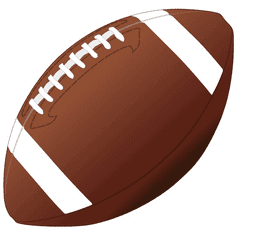 Pro Football News: The CFL is adding an extra official to watch for illegal hits on the quarterback. … The Ravens will wear their black alternates this Sunday (from Andrew Cosentino). … NFL Fortnite skins are no longer available for download. … The CFL's Hamilton Tiger Cats have added a yellow helmet stripe for the playoffs (from @RaoneCat). … The Lions practiced in the snow yesterday, with coach Matt Patricia wearing shorts (thanks, Brinke). … The Packers wore their mono-white alternates last night. … Houston coach Major Applewhite got in a tussle with one of his players last night over a sideline jacket (from Jason Hillyer).

College Football News: Here are this week's uni combos for UNC, Duke, Arizona State, West Virginia (an unusual look for them), Temple, Stony Brook, Utah State, and Virginia (from James Gilbert, Rex Henry, Ethan Dimitroff, Paul Palmer, and our own Jamie Rathjen). … Here's another look at the pinstriped Notre Dame uniforms costumes that the Irish will be wearing this weekend (from Jason Kurtz). … The player wearing No. 25 for Virginia Tech this week will be RB Steven Peoples (Andrew Cosentino again). … Northwestern State went with a new helmet design last night. … Wisconsin has a skid steer emblazoned with Bucky Badger at Camp Randall Stadium (from Calvin Bruce).

Hockey News: Fun story about how Bruins equipment manager Keith Robinson fit Jakob Forsbacka Karlsson's NOB onto his jersey (from @tservo42 and Barry Rubinstein). … New 918 Night jerseys — that's Tulsa's area code — for the Tulsa Oilers (from Mike Iles). … The Devils will wear camouflage jerseys with stencil-font numbers for Military Appreciation Day this Saturday. … Meanwhile, the Penguins' camo warm-up tops feature the skating penguin wearing military-style dog tags (from Jerry Wolper). … The WHL's Vancouver Giants will wear 1946 Vancouver White Spots throwbacks today and Sunday (from Wade Heidt). … The Penguins wore their new alternate uniforms for the first time last night (from Noah Kastroll).

College Hoops News: Cincinnati has added the school's bicentennial logo above the NOB. "Disappointingly, I couldn't find anything released by the school saying they were going to do it," says David Hall. "I just noticed when I was at the game Tuesday."

Soccer News: The airline Emirates, which sponsors advertises on AC Milan's jersey, has a new marketing campaign, so of course that meant AC Milan had to get a new kit with the new slogan (from Josh Hinton). … England midfielder Jesse Lingard wore No. 14 last night. "That's a change from their usual 1-11 non-tournament jersey numbering," says @trequartbeasta. "This was because it was a charity match for Wayne Rooney, who wore No. 10 off the bench."

Grab Bag: The logo for the 2023 Rugby World Cup has been revealed. … New 50th-anniversary logo for Dover International Speedway (from Brian Chesnick). … New bicentennial logo for the Maine town of Kennebunk. … Awesome new uniforms for Miami track and cross-country (from Jason Lefkowitz). … Belmont University is changing its interlocking-"BU" logo following a trademark disput with Baylor. … Reprinted from last night's comments: Remember my recent piece about the disproportionate number of littered Newport cigarette packs I was encountering? That phenomenon may soon be changing, because the FDA has proposed banning menthol cigarettes. … The UCI — that's the governing body of cycling — has reintroduced rules regarding sock height (from Roger Faso). … Coleman Mullins scored this very cool-looking set of vintage lawn darts at an estate sale. "So excited about all the dangerous stuff we'll undoubtedly do with them this summer!" he says.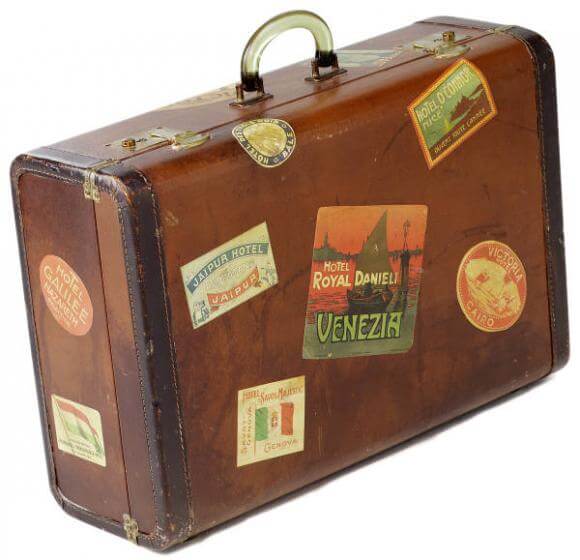 • • • • •
By the time most of you read this, the Tugboat Captain and I, along with our friend Carrie, will be on the highway and heading to Virginia, where we'll be attending this year's edition of the annual oyster roast that I attended last year. Full report to follow! Please play nice while I'm on the road today.
I also want to wish a happy birthday to our "Collector's Corner" columnist Brinke Guthrie, who's celebrating another trip around the sun today. Hope you get everything you wish for when you blow out the candles, buddy!