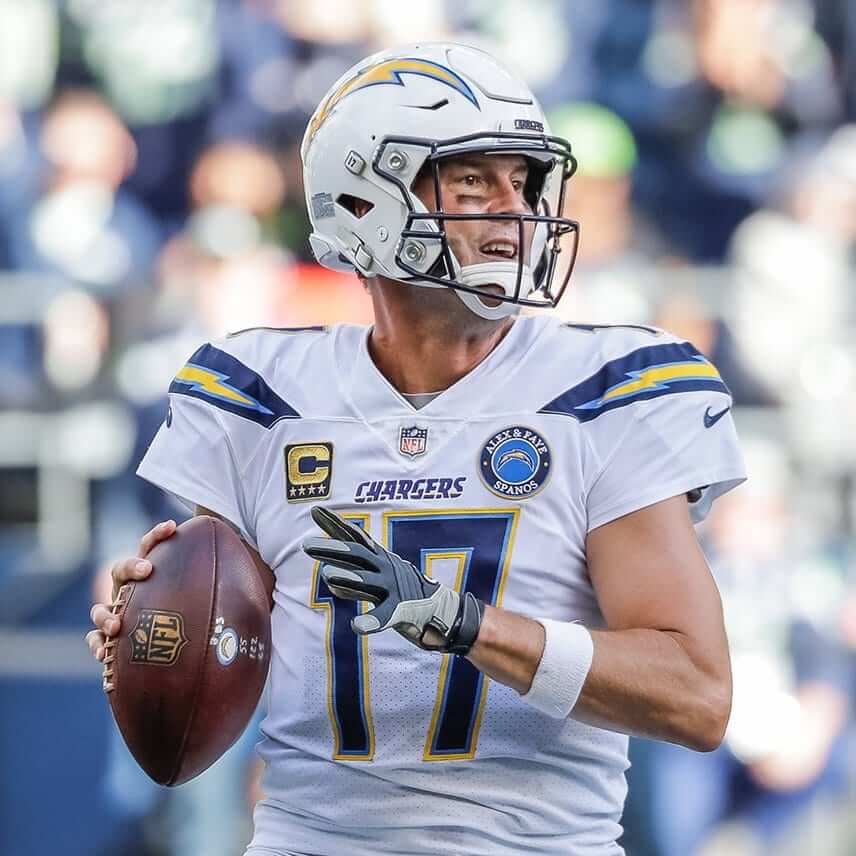 Click to enlarge
We've seen memorial patches for owners and for owners' spouses. But until yesterday, I'm not sure we'd ever seen a memorial patch for an owner and his spouse. That's what the Chargers wore yesterday for owner Alex Spanos, who died on Oct. 9, and his wife, Faye, who died back in August.
In other news from around the league yesterday:
• To my immense surprise, the Steelers did not add a patch or a helmet decal to acknowledge the recent act of domestic terrorism at the Tree of Life synagogue in Pittsburgh. But quarterback Ben Roethlisberger saluted the victims on his cleats, becoming the latest athlete to wear the Star of David (click to enlarge):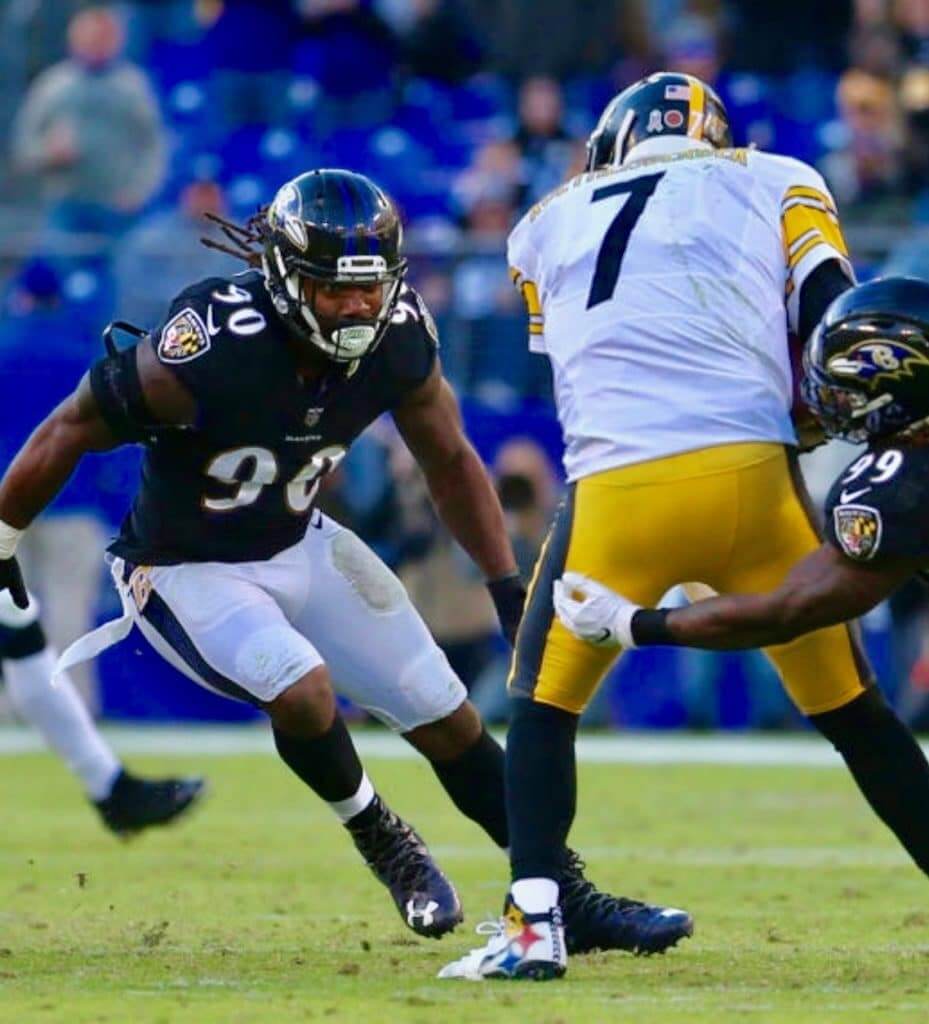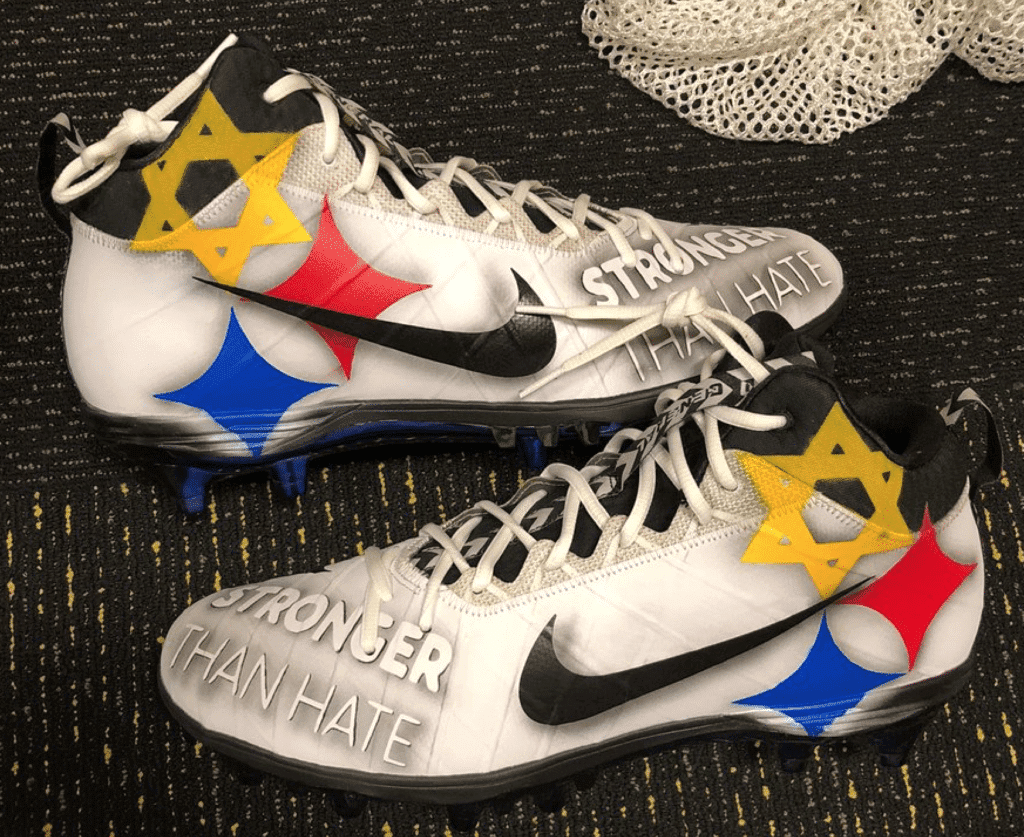 • As you can see in that first photo above, the Ravens wore their black alternate jerseys.
• The Browns went mono-brown: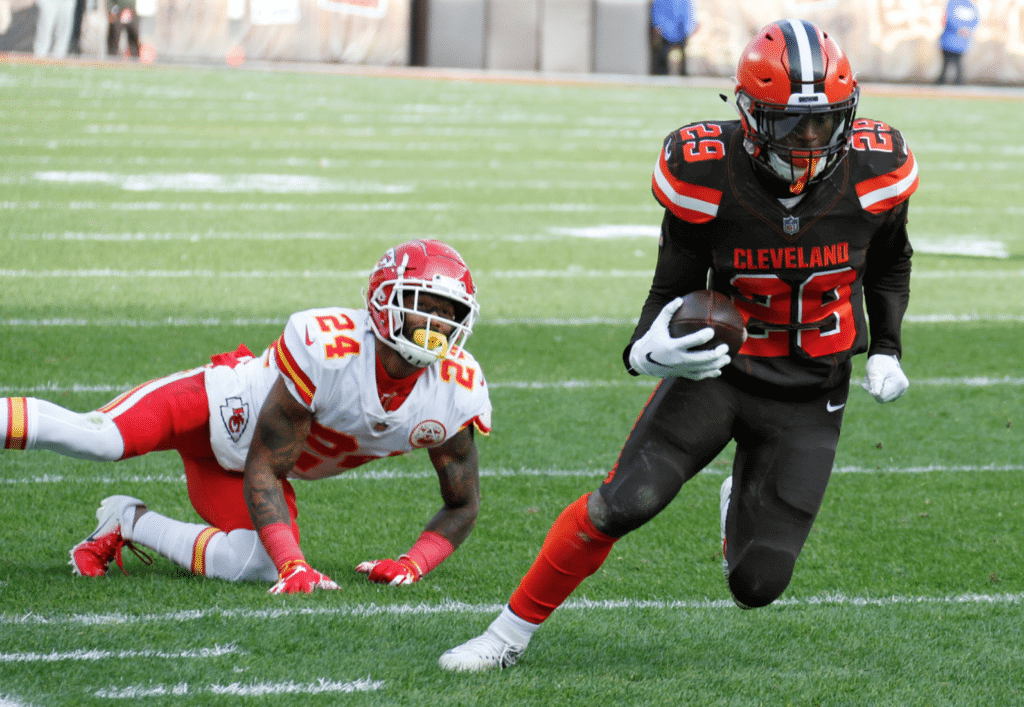 • The Panthers went mono-black: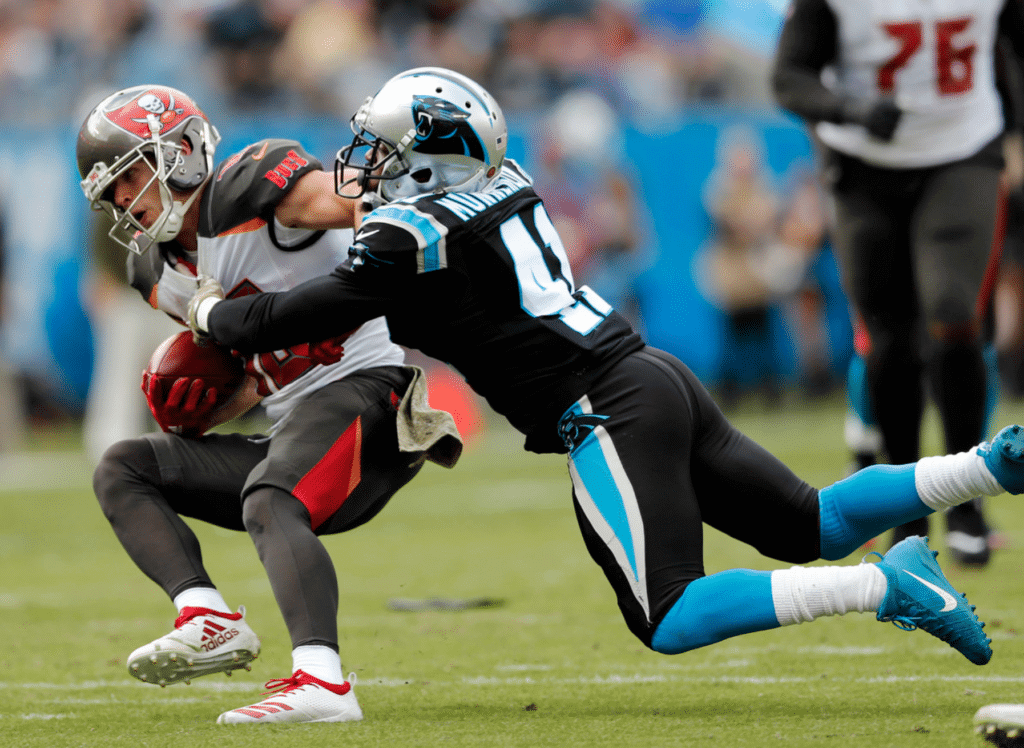 • The Bills went mono-blue: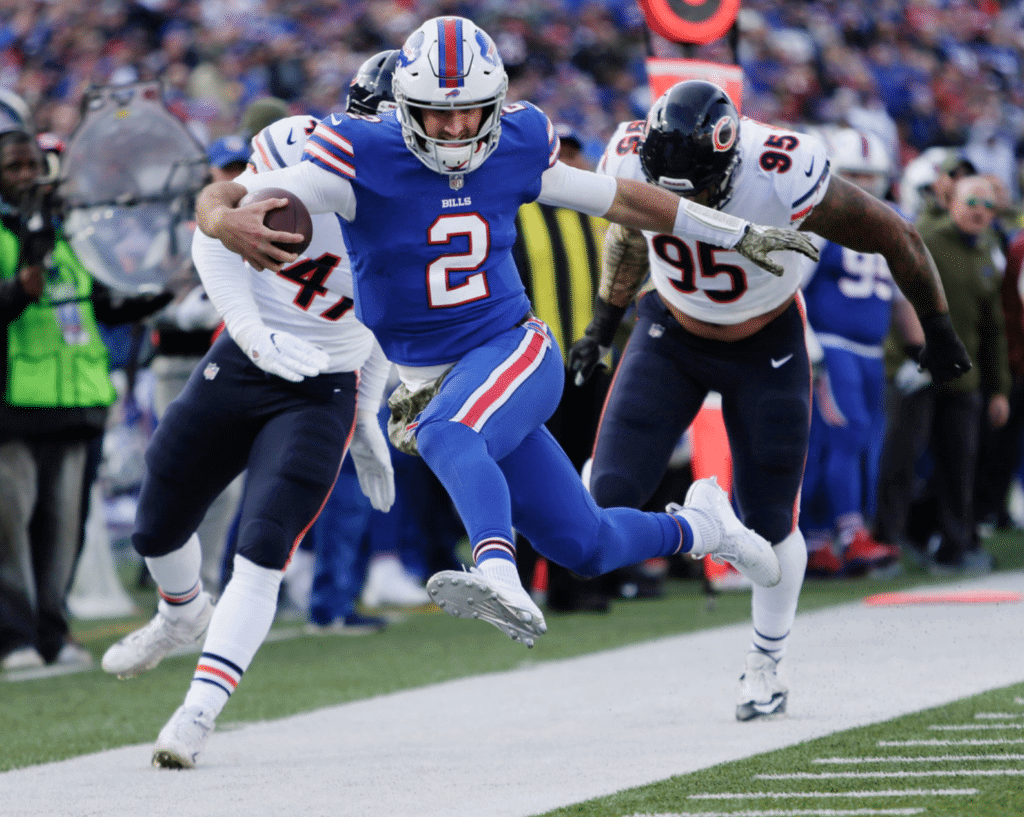 • The Saints went mono-black: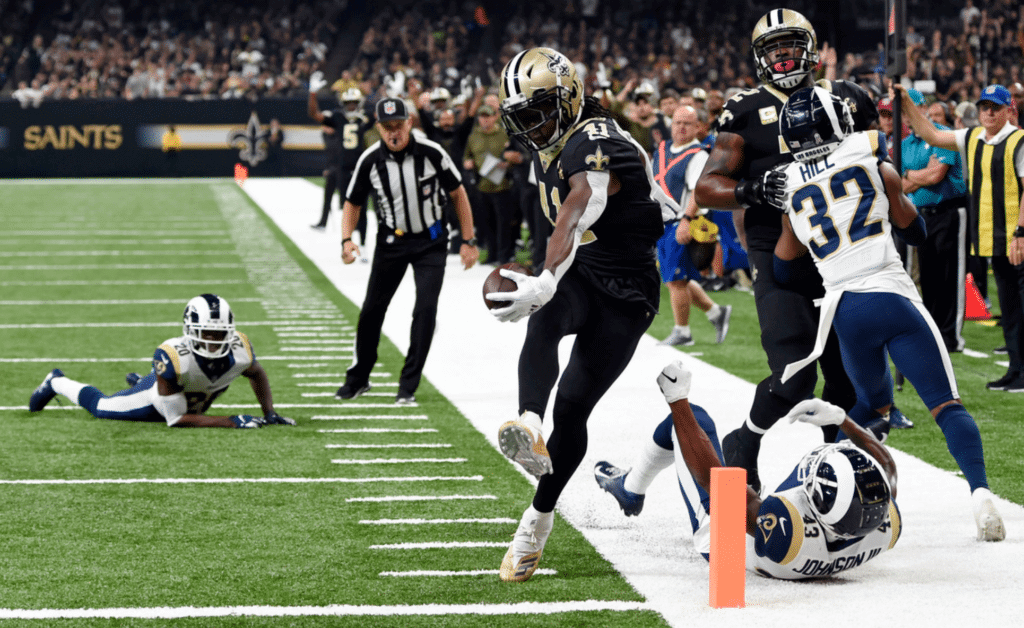 • The Patriots wore their mono-blue alternates: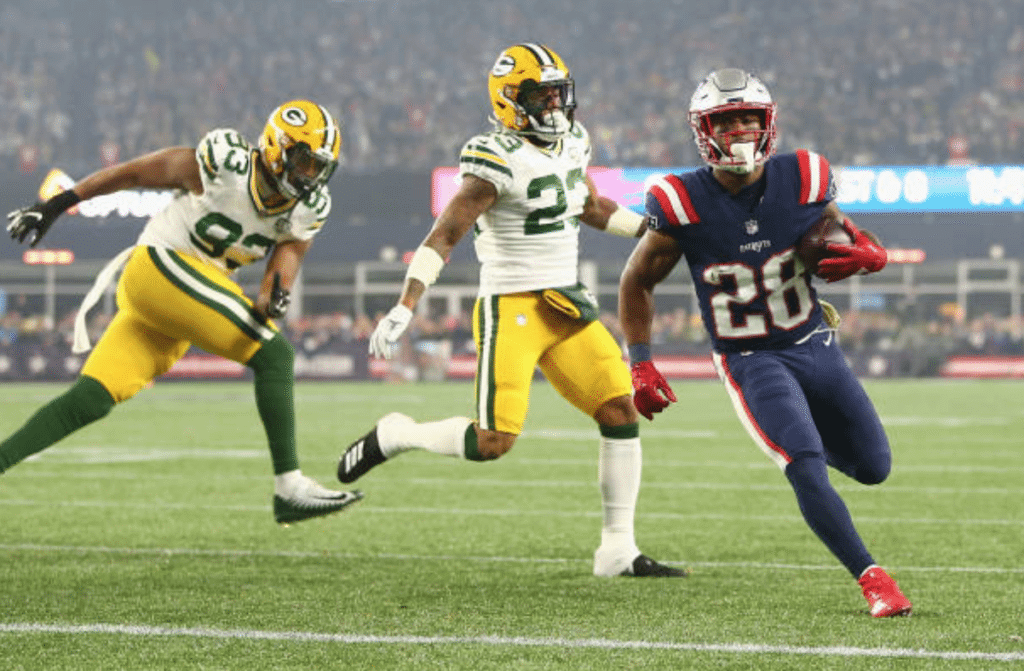 • Speaking of the Pats, coach Bill Belichick wore a shirt featuring the old name of his boat, VI Rings (which has since been updated to VII Rings) at his postgrame press conference: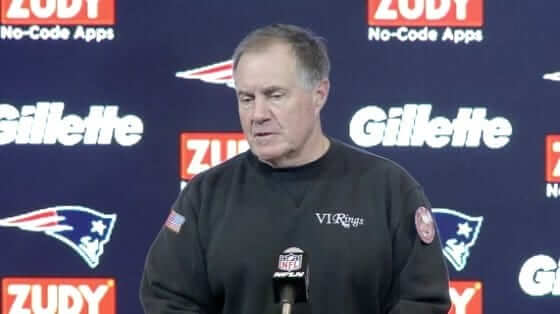 • Jets quarterback Sam Darnold at one point ended up with his chinstrap covering his nose (click to enlarge):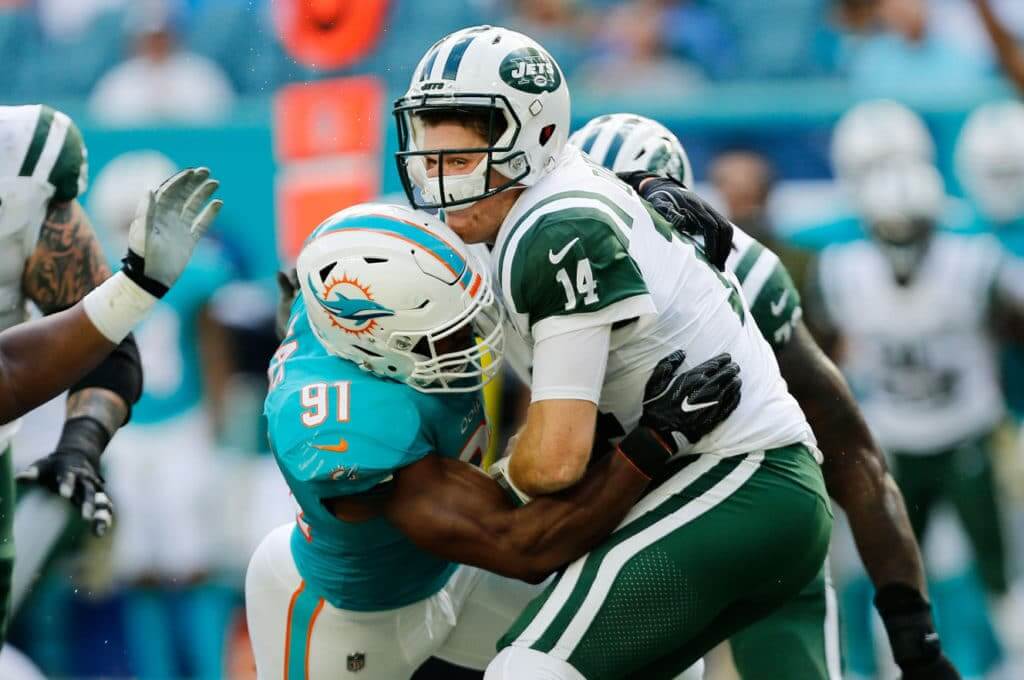 • In what might be the most inexplicable development of the week, the old NFL logo, which hasn't been current since 2007, appeared on one of the sideline yard markers in the Bears/Bills game (click to enlarge):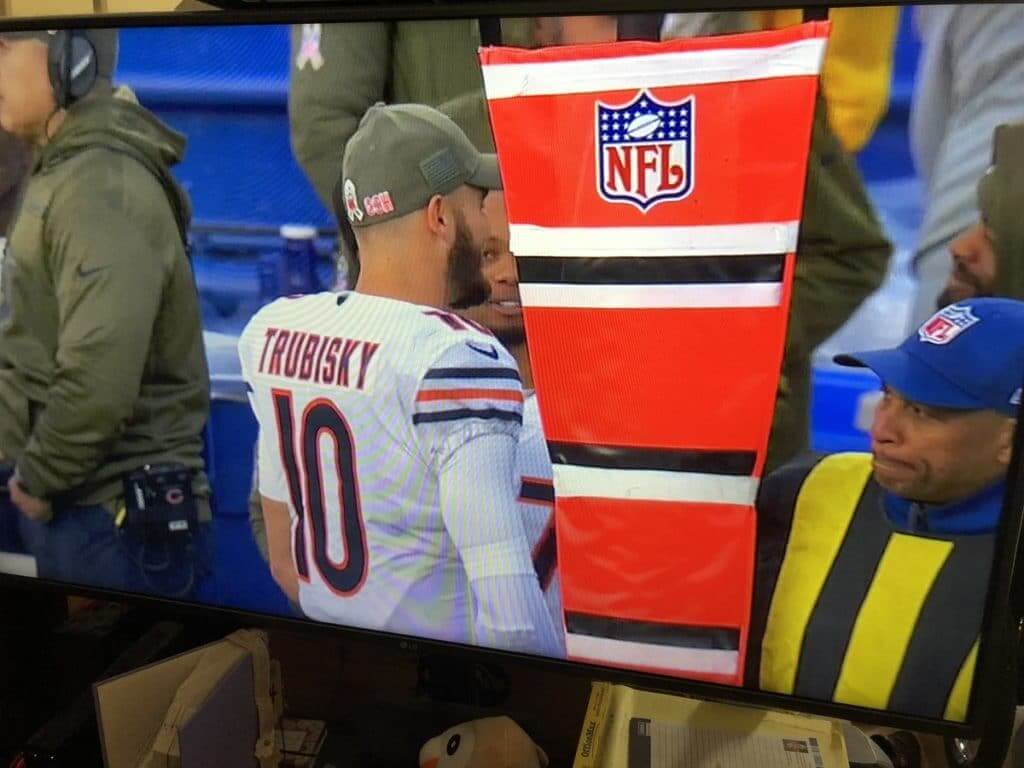 • For the second consecutive week, no teams wore white at home.
(My thanks to Brian Stanley and Ben Isaacs for their contributions to this section.)
• • • • •
[adrotate group="2″]
• • • • •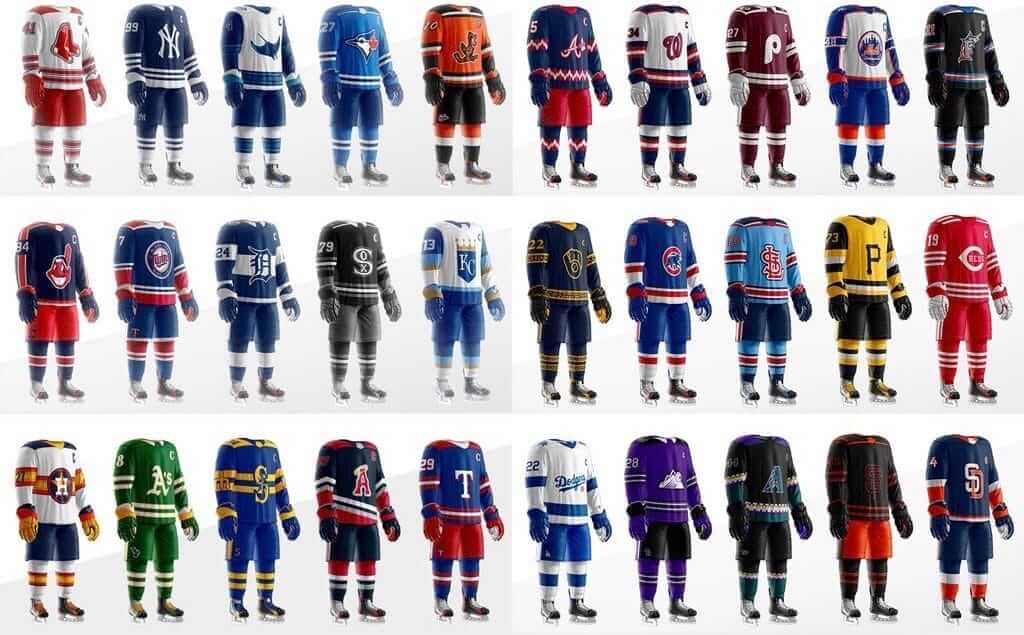 Click to enlarge
MLB/NHL crossover: I tend not to get excited over "What if..?" uniform concepts. But judging by the number of people who emailed or tweeted at me yesterday regarding this set of concepts that reimagines MLB teams as hockey squads (which was created by @Ferry_Designs), I'm guessing lots of you may want to discuss this one, so I'm giving it the sub-lede treatment instead of having it buried in the Ticker. Enjoy!
• • • • •
[adrotate group="2″]
• • • • •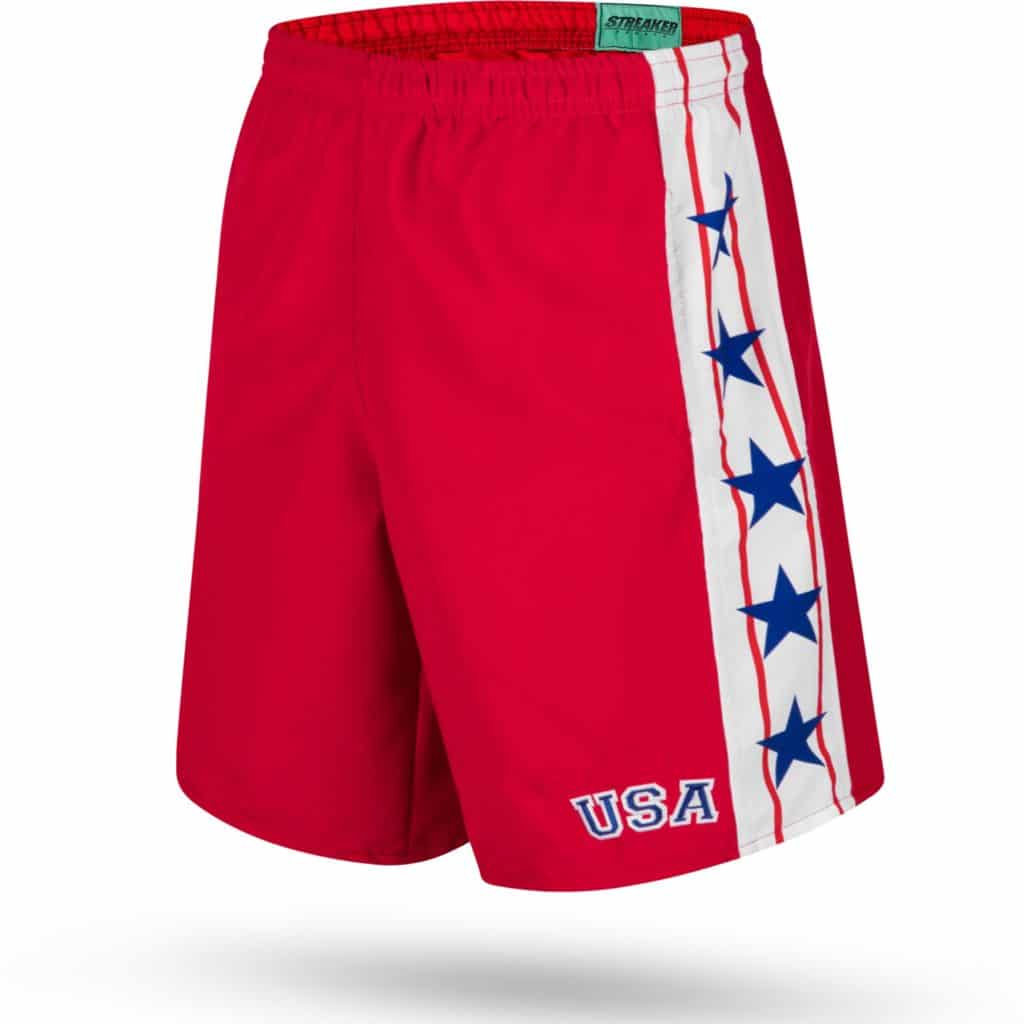 New advertiser shout-out: You may have noticed that we have a new advertiser in the right-hand sidebar — Streaker Sports. They sell all sorts of cool uni-related merch, including the shorts shown at right, which are based on Team USA's 1980 "Miracle on Ice" hockey uniform — a good gift for a hockey fan.
Those shorts are part of Streaker's hockey collection, plus they have fun T-shirts and other fun stuff for basketball, baseball, football, soccer, and a lot more.
I hope you'll check out their site for your upcoming holiday shopping. My thanks, as always, for considering our advertisers.
• • • • •
Raffle results: The winner of the Nostalgia Cases smartphone case is Kyle Romine. Congrats to him, and thanks to all who entered.
• • • • •
[adrotate group="2″]
• • • • •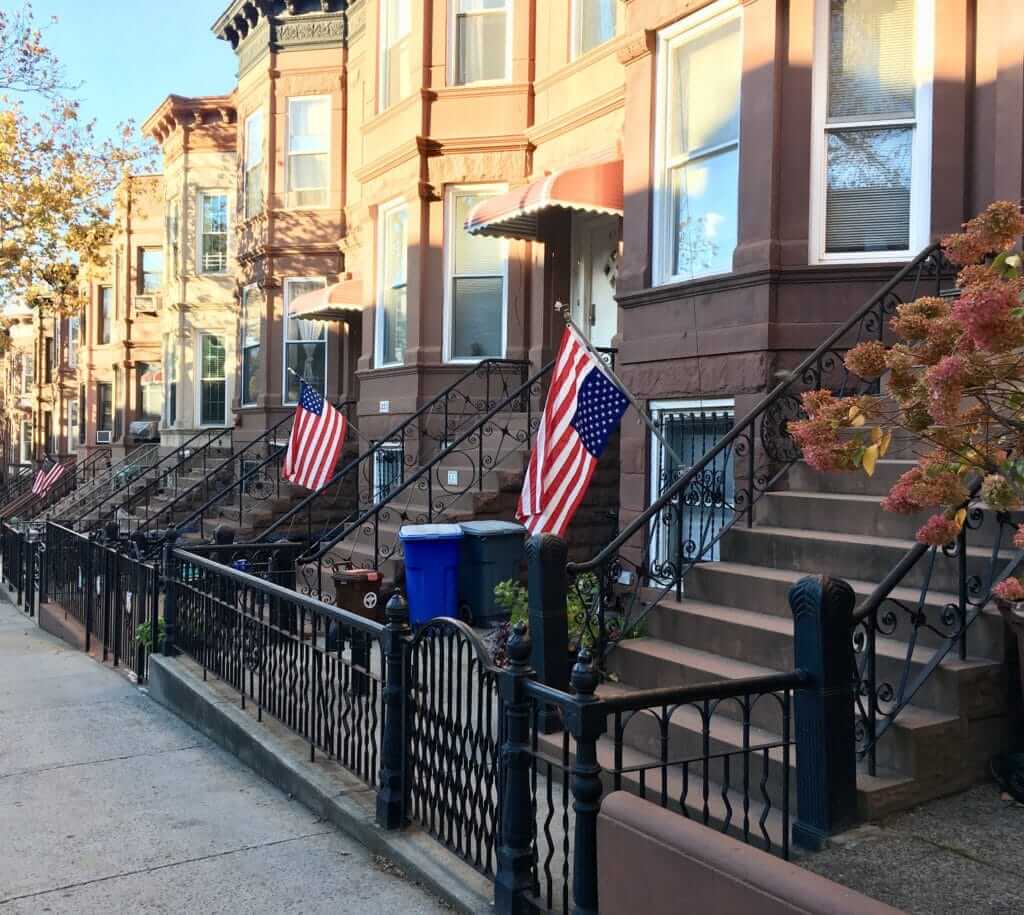 Click to enlarge
Chicken or egg? I was walking in the Sunset Park area of Brooklyn on Saturday and saw these two flags flying outside of two adjoining brownstones. I assume one was a response to the other, but which one came first? Hmmmmm.
• • • • •
[adrotate group="2″]
• • • • •
The Ticker
By Jamie Rathjen

Baseball News: The Fayetteville Woodpeckers, a new Astros Single-A affiliate, unveiled their logos and uniforms yesterday (from multiple readers).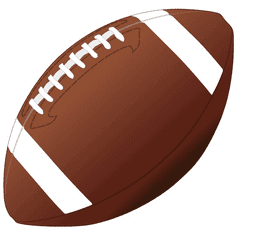 Football News: Anne Colquitt, the mother of Browns P Britton Colquitt and Chiefs P Dustin Colquitt, wore a front/back Frankenjersey yesterday (from Gary Bates). … The following three CFL items are from Wade Heidt: The officials wore poppies. … Also, referee Murray Clarke officiated his 500th game, which was commemorated on his cap. … In the 1986 West Divsion final, some BC Lions players were missing the sleeve logos the team wore at the time. … A fourth Canadian item from Wade, reprinted from yesterday's comments, is that the University of Saskatchewan wore poppy helmet decals. … Left over from Saturday: FCS Tennessee Tech wore throwback helmets (from John Jackson). … Alabama athletic director Greg Byrne said the team isn't planning to bring back white helmets (from Griffin Smith).

Hockey News: The Canadiens made noises that they are revealing something today, but it appears to be an "alternate" uniform only for use in a video game. … In this video, several Capitals players attempt to draw the team's Weagle logo.

Basketball News: UAB didn't make it into Paul's college basketball season preview, but they now have new white uniforms (from Ted Chastain). … In this picture, rapper Drake is wearing something with an NBA jocktag, but it's not readily obvious what, exactly, it is (from Prentice James).

Soccer News: While several English teams wore poppies (for more, see Saturday's Ticker), the Scottish poppy patch, different than the ones worn in England and Canada, only appeared on second-tier Falkirk. … The California supporters' group of Spanish team Athletic Bilbao sent us an article the team wrote about their kit history, including that Athletic became the last Spanish team to introduce a shirt ad in 2008. … Premier League Burnley got a new sleeve ad (or Mr. Yuk, if you prefer) for this season. That leaves Newcastle United and Tottenham Hotspur as the only teams in the league without a sleeve ad, and the latter as the only team never to wear a sleeve ad (from Josh Hinton). … German 2. Bundesliga team 1. FC Köln released a shirt for the start of the city's carnival season, which is next weekend. … Polish fourth-tier team Polonia Warszawa became the latest to release a shirt commemorating 100 years of the country's independence (from Ed Żelaski). … The men's soccer team at Yeshiva University wore warmup shirts with the names and ages of the Pittsburgh synagogue shooting victims prior to last night's game (from Yaar Fenix). … Real Madrid has announced a record-breaking kit deal with Adidas (from Josh Hinton).

Grab Bag: North Carolina wore anthracite black for the ACC field hockey championship, though perhaps for contrast's sake field hockey appears to do so a bit more often than other UNC teams, including earlier this season (from James Gilbert). … Speaking of field hockey, in this picture two different players are wearing captain's sock-bands for Iowa; the sport's rules only permit one captain and the NCAA does not modify that provision. … The next two items are from David Firestone: NASCAR's truck series has a new advertiser and logo. … Since we had a weekend post on wrestling a few weeks ago, here's a video about sports-themed wrestling gimmicks. … This statue made ca. 600-900 shows a player of the Mesoamerican ballgame wearing a football-like leather helmet (from @manymanylions).