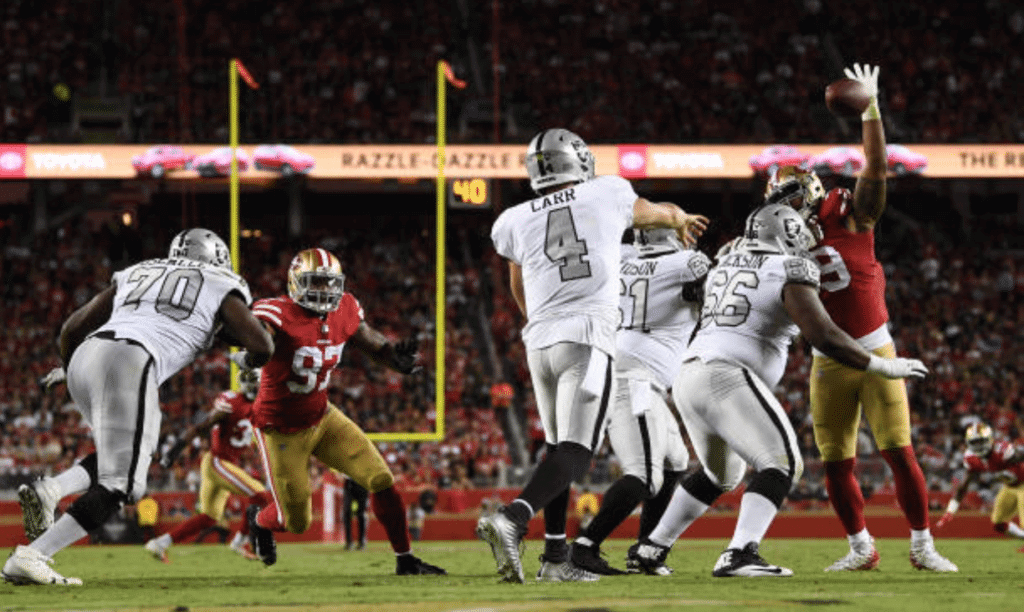 The Raiders and 49ers played the last-ever Battle of the Bay last night. Perhaps to commemorate that occasion, or perhaps just for the hell of it, the Raiders did something interesting. They wore their Color Rash jerseys — the ones with the silver numbers instead of their standard black numbers — but instead of pairing them with the white pants and socks, they wore their usual silver pants and black-topped socks, creating a de facto throwback look.
In another uni-notable move, the Niners wore captaincy patches: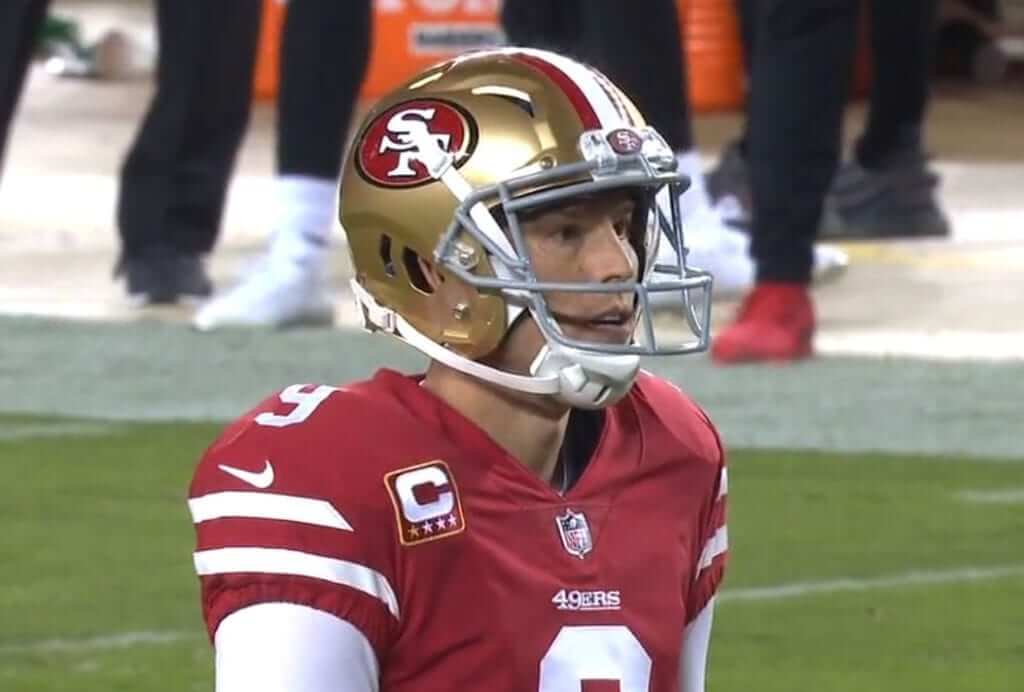 According to Twitter-er Chris Kirkegard, this is the first time the Niners have worn "C" patches since 2010. I haven't been able to confirm that date, but they definitely hadn't worn them in a while.
Anyway: Good-looking game. And the 49ers actually won! That means my two favorite teams (SF and NYG) now have a combined three wins this season. Is life one big party or what?
(My thanks to Brinke Guthrie for the Niners captaincy patch screen shot.)
• • • • •
[adrotate group="2″]
• • • • •
NBA leaks stop (for now), unveilings begin: As expected a bunch of NBA teams unveiled their new City alternates yesterday (including the Bulls, as shown above). You can read my assessment of them in this ESPN piece, which came out yesterday afternoon.
Every team except the Jazz is slated to get one of these new designs, and we've already seen leaks for a bunch of them, so more unveilings are presumably on the way, possibly as soon as today.
• • • • •
[adrotate group="2″]
• • • • •
And then there were two: The Wizards this morning became the latest NBA team to sell out to a corporate uniform advertiser. As usual, I will neither show the ad patch nor name the advertiser, but I will show how an ad patch on a Wizards jersey looks like shit: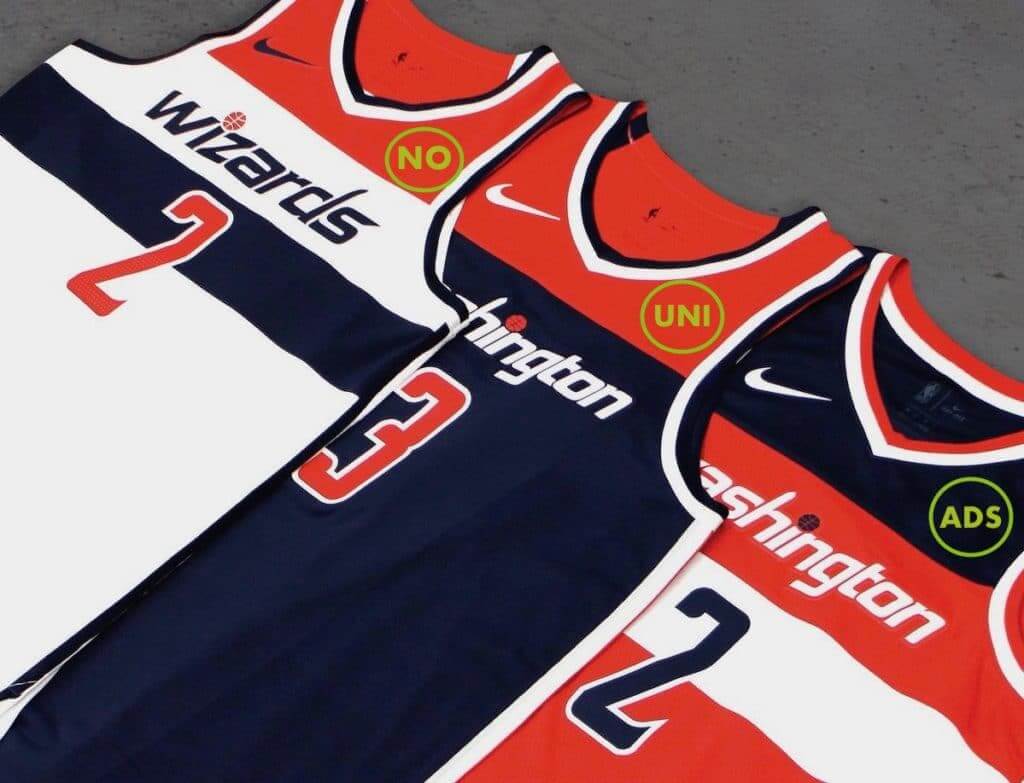 There are now 28 ad-clad teams and two ad-free teams — the Thunder and Pacers.
(Doubleplusthanks to Nic Schultz for his lightning-fast Photoshoppery.)
• • • • •
[adrotate group="2″]
• • • • •
EXCLUSIVE — NFL centennial logo update: Remember that crummy NFL centennial logo that was revealed a few weekends ago? A little birdie now tells me that it will not be worn as a conventional jersey patch next season. Instead, it will replace the NFL logo at the base of the collar.
The exception to this rule, according to my source, is the Bears. They're celebrating their own centennial next season, so they'll keep the standard NFL logo on their collar and wear a centennial patch. It's not yet clear if that patch will be strictly Bears-themed or if it'll somehow incorporate part of the NFL centennial mark. Stay tuned.
• • • • •
[adrotate group="2″]
• • • • •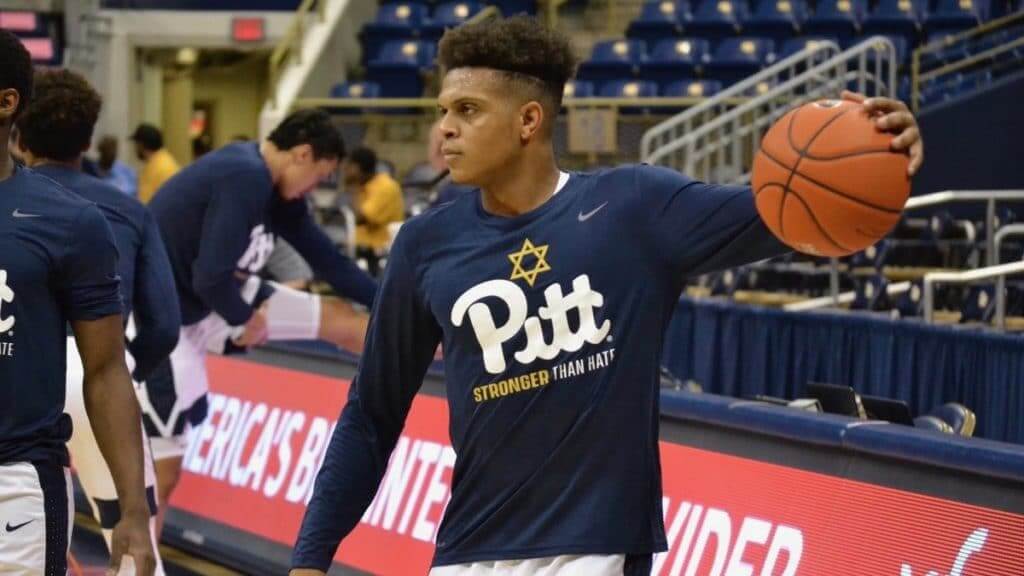 Photo by Alan Saunders; click to enlarge
Star of David, continued: The Pitt basketball squad became the latest team to respond to last Saturday's act of domestic terrorism at the Tree of Life synagogue by wearing the Star of David (albeit on their pregame shooting shirts for last night's exhibition game, not on their game uniforms). The visiting team, Pitt-Johnstown, also wore the shirts.
It's worth mentioning that several readers got in touch with me yesterday to voice their concern about many of these team-worn Stars being yellow, because the Nazis forced Jews to wear yellow Star of David badges.
This issue came up briefly in Monday's comments section, after I suggested that the Steelers should wear this Steelers-based design. But reader Michael Cooperman — one of those readers who emailed me yesterday — pointed out that Pittsburgh sports teams face a particular challenge in this regard, because the city's pro and college teams all use yellow or gold in their color schemes. It is, in Michael's words, "an interesting color conundrum."
(My thanks to Pittsburgh sportswriter Alan Saunders for being on top of this one.)
• • • • •
[adrotate group="2″]
• • • • •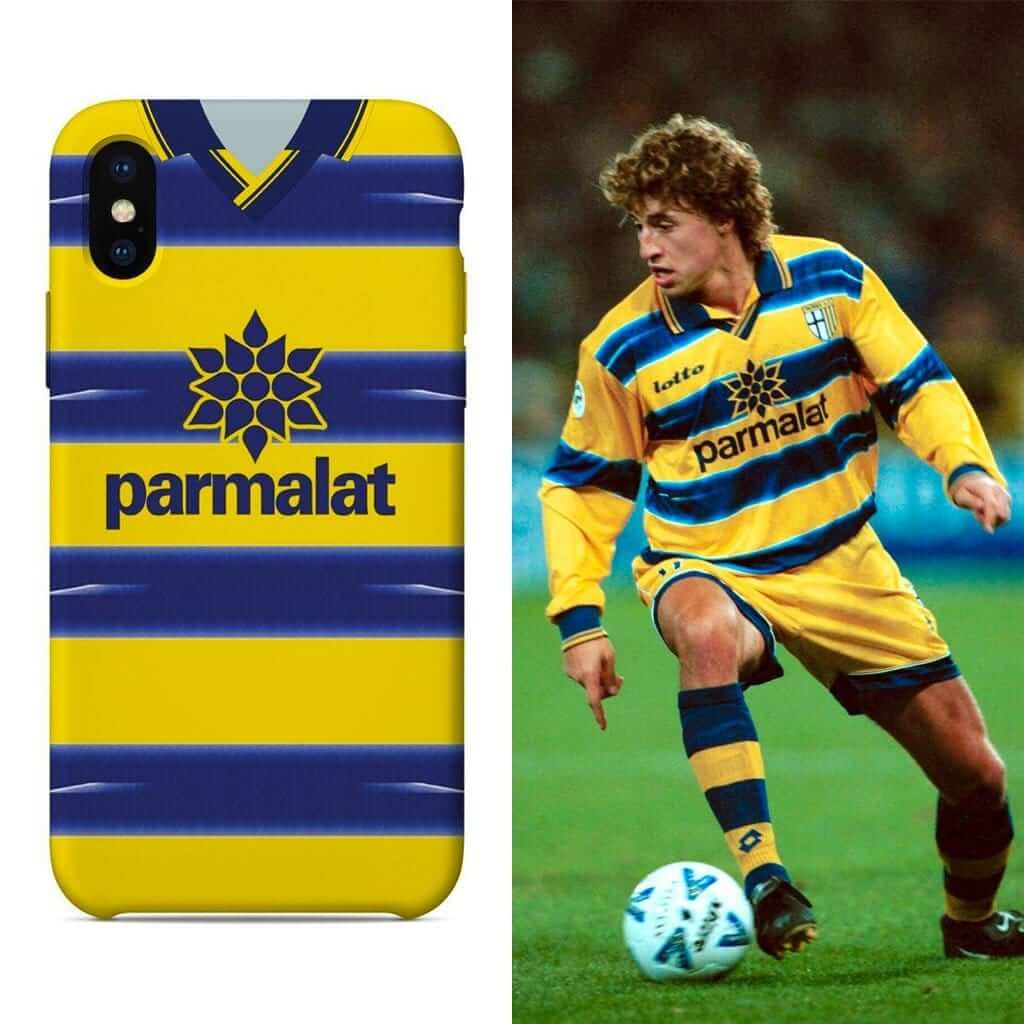 Click to enlarge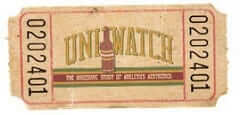 LAST CALL for the raffle and discount: Today is the last day to enter the raffle for a free soccer jersey-based smartphone case from our friends at Nostalgia Cases. To enter, send an email to the raffle address by 7pm Eastern tonight. One entry per person. I'll announce the winner on Monday.
Today is also the last day to take advantage of Nostalgia Cases' 10% discount offer. To get the discount, go to the Nostalgia Cases site and use the checkout code UNIWATCH.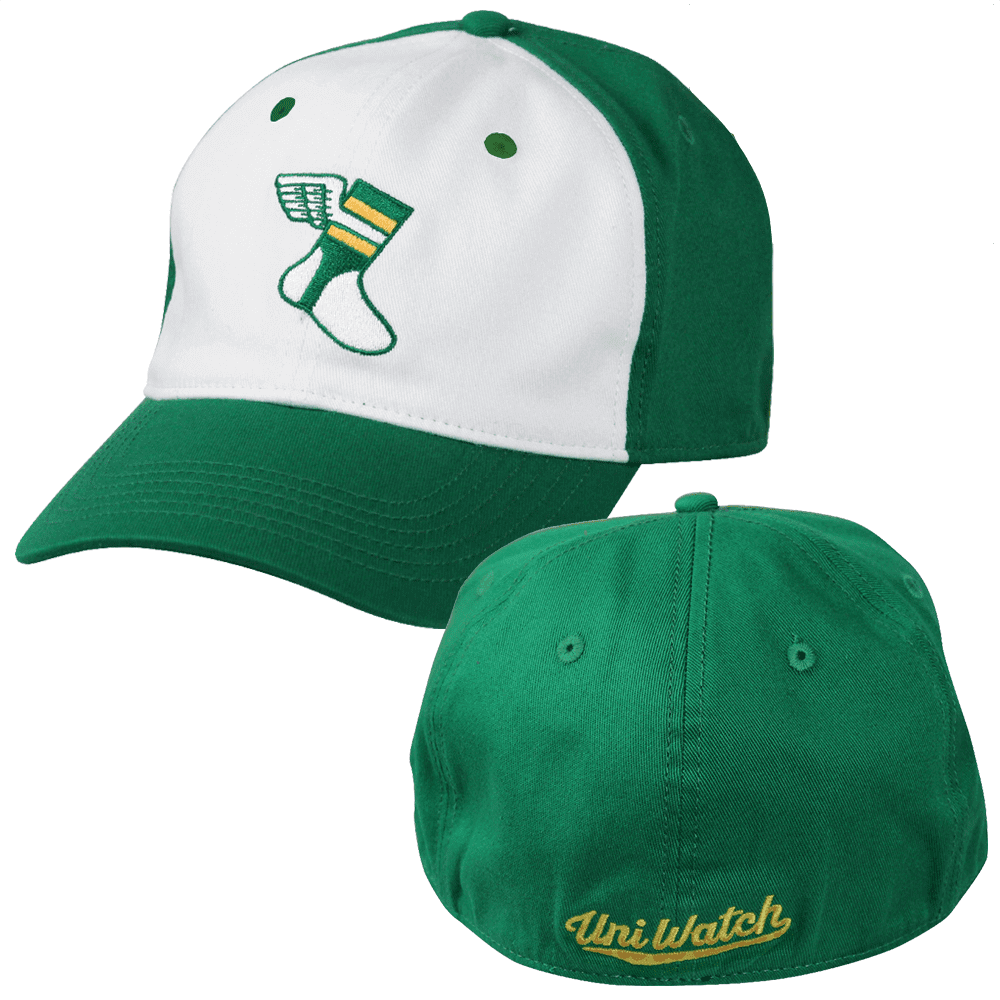 While we're at it, please keep in mind that we've recently reduced the price of our flex-fit Uni Watch alternate cap (shown at right). It was originally $29.99 but is now $24.99, and you can order yours here.
And as long as we're talking about caps, our Uni Watch classic cap, available exclusively from Ebbets Field Flannels, can still be ordered in all fitted sizes, we'll have the adjustable version back in stock early next week. Get yours here.
• • • • •
[adrotate group="2″]
• • • • •
The Ticker
By Paul

Baseball News: Several Red Sox players wore their red softball tops to last night's Boston Celtics game (from Tim Johnson). … This is pretty great: For Halloween, former MLBer Carlos Beltrán and his kids dressed up in the uniforms of the teams Beltrán played for (from Mike Chamernik). … The minor league Nashville Sounds are rebranding. No, wait, they're remixing. No, wait, they're remastering. No wait, they're doing a brand refresh. Whatever the fuck they're doing, it'll happen on Nov. 15. … Way back in 1936, the Cubs tried a TBTC promotion, sort of (from Bob Gassel).

College and High School Football News: Vicis — manufacturer of the highly rated Zero1 helmet — has launched its first youth helmet. … Here are this week's uni combos for Houston, Ohio State, Virginia Tech, Utah State, West Virginia, and NC State (from Andrew Cosentino, Ben Jamin, Josh Claywell, and Phil). … Here's a video report on Oklahoma State's mascot, Pistol Pete (from Sam McKinley). … Two Pennsylvania high schools — Penn-Trafford and North Hills — will wear "Stronger Than Hate" decals tonight in response to the Pittsburgh synagogue massacre. Unlike the the other patches and decals that have carried that wording, these decals will not include the Star of David (and as you can also see at that link, Penn-Trafford has poached Florida State's helmet logo, grrrrr). … TE Dalton Keene will be the VaTech player wearing No. 25 this week (Andrew Cosentino again). … Here's how the reflective highlights on UCF's space-themed uniforms looked under the lights last night. … New orange end zones for Florida.

Hockey News: The Ducks wore their infamous Wild Wing jerseys during last night's pregame skate. The game has Wild Wing pucks, too. … The Senators and Islanders debuted their new alternates last night (from Wade Heidt). … Pink in the Rink uniforms for the Prince George Cougars. … Remembrance Day jersey for the Kitchener Rangers. … And so it has come to this: The NHL now has an official military appreciation partner sponsor advertiser. … A Glasgow-based hockey team wore excellent skeleton-themed uniforms for Halloween.

NBA News: The Nets now have their own JetBlue plane livery. … Cross-listed from the baseball section: Several Boston Red Sox players wore their red softball tops to last night's Celtics game (from Tim Johnson). … Speaking of the Celtics, F Jayson Tatum says he wears No. 0 as a shout-out to Gilbert Arenas (from Mike Chamernik). … The 76ers wore red last night as a tribute to Allen Iverson.

College Hoops News: It happens every year: As soon as my annual college hoops preview comes out, there's inevitably a flurry of late-breaking news from schools that hadn't gotten back to me. It's too late to add them to the preview (I already taxed my editor's patience with a bunch of last-minute updates in the hours leading up to the piece being published), so they'll end up here in the Ticker instead. Ready? Here we go: New court design for Cincinnati. … New uniforms for Valpo (from Joel Mathwig). … New uniforms for Memphis. … New uniforms for Davidson (from Ethan Faust). … Southeast Missouri State will wear grey at home this season. … North Carolina-Wilmington has a new black alternate. … New uniforms for Purdue Fort Wayne. … New uniforms for Oral Roberts, which also has a new practice court and a new live mascot. … New court design for Georgetown. Additional info here. … New uniforms for Indiana. … New practice jerseys and warm-up tops for Northwestern.

Soccer News: "Scottish team Kilmarnock has released a 150th-anniversary crest," reports our own Jamie Rathjen. "Since we've been talking about religious symbols on uniforms lately, Kilmarnock's crest has featured a subtle one — a hand in a sign of benediction — for most of the team's history, although it did not appear on the jerseys until 1977." … Premier League teams are wearing black armbands in response to the Leicester City helicopter crash. … New official ball for the AFC Asian Cup UAE 2019 (from Josh Hinton).

Grab Bag: The police force in Painted Post, N.Y., is getting new uniforms. … A Canadian artist came up with an interesting logo for Transgender Awareness Month. … Interesting piece about political T-shirts (NYT link) and other political clothing. … New uniforms for Army lacrosse (from Griffin Smith). … Everyone's making money off the NASA logo except NASA. … Fans of the Australian rugby league team New South Wales Blues are upset about a new alternate jersey, which they're denouncing as a money grab. … Pro golfer Bryson DeChambeau, taking advantage of a new rule change, plans to putt with the pin still in the hole in 2019. … Speaking of golf, a safety expert says golfers should start wearing helmets (blame Phil).