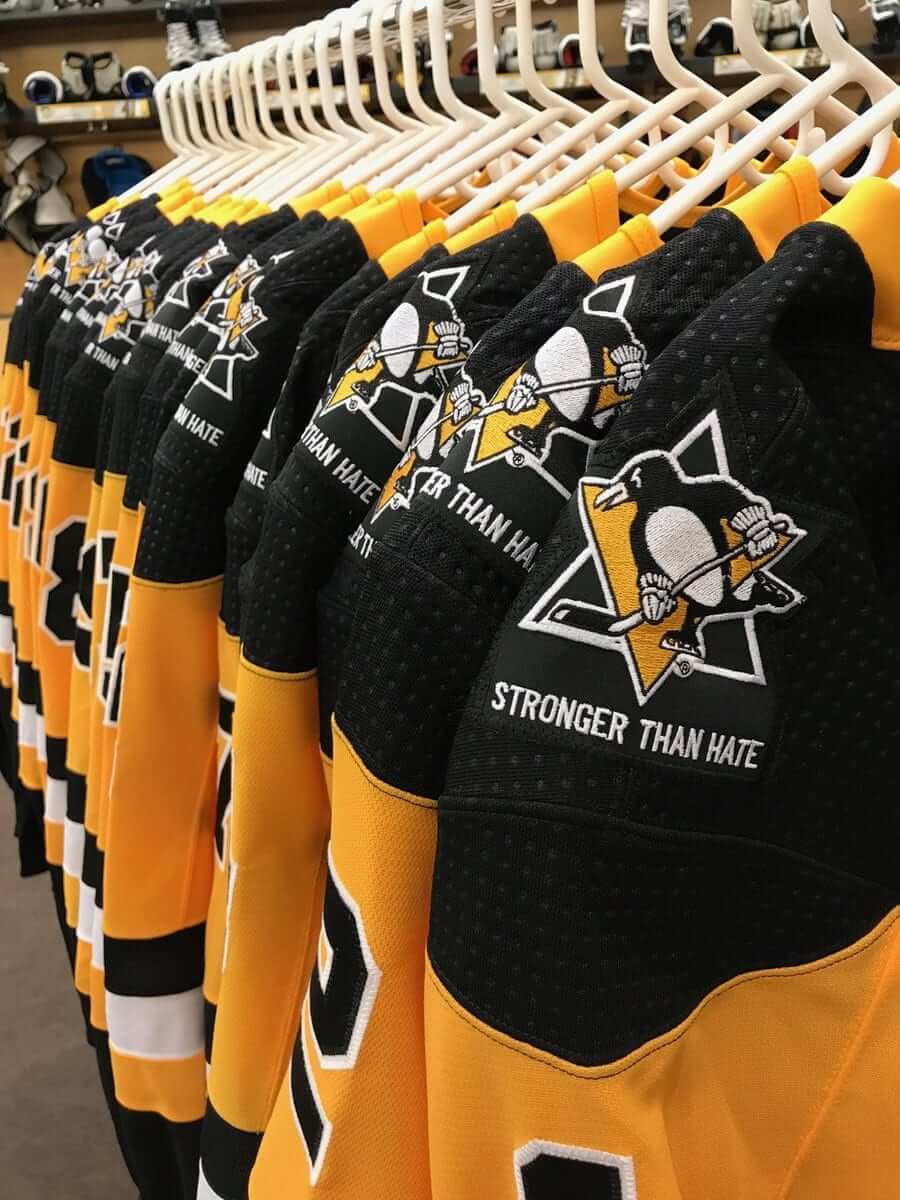 Click to enlarge
On Monday I speculated about the various ways that the Steelers might memorialize the Tree of Life massacre victims. But the Penguins beat them to it. For last night's home game against the Islanders, they wore a cleverly designed jersey patch featuring their standard triangle-based logo with an additional triangle added to it, forming a Star of David. Here's how it looked on the ice: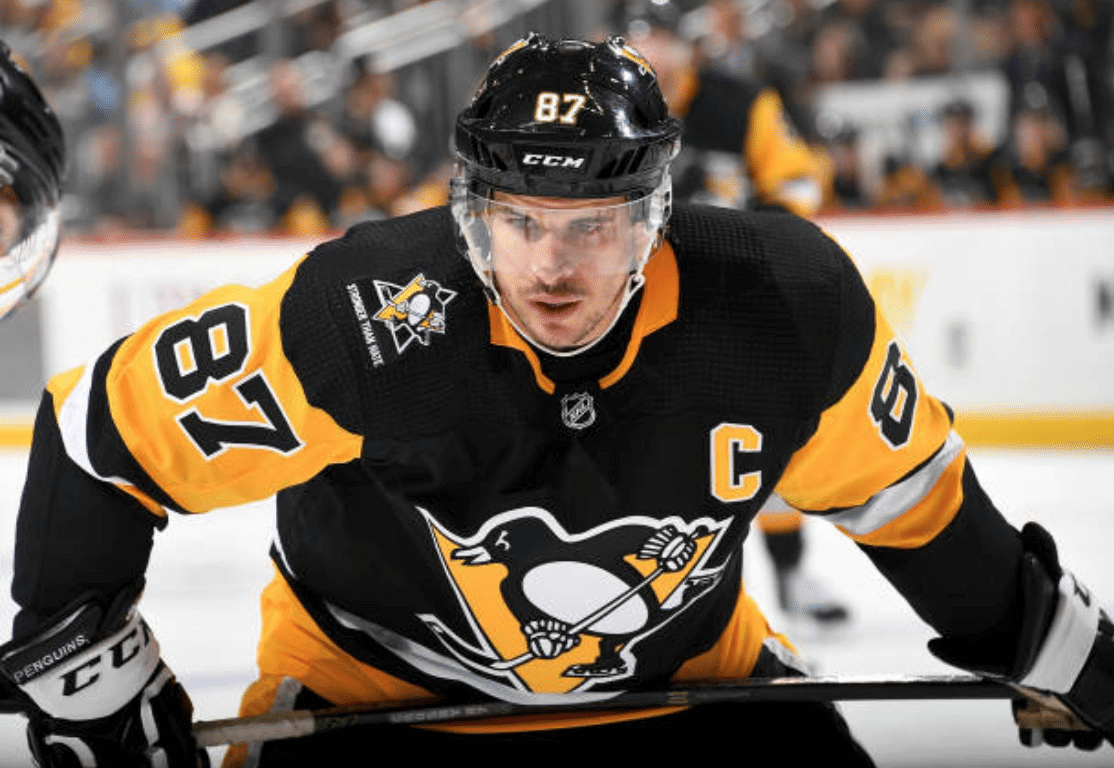 At least one fan had a sign with a similar design, but with the Star of David added to the mascot's chest: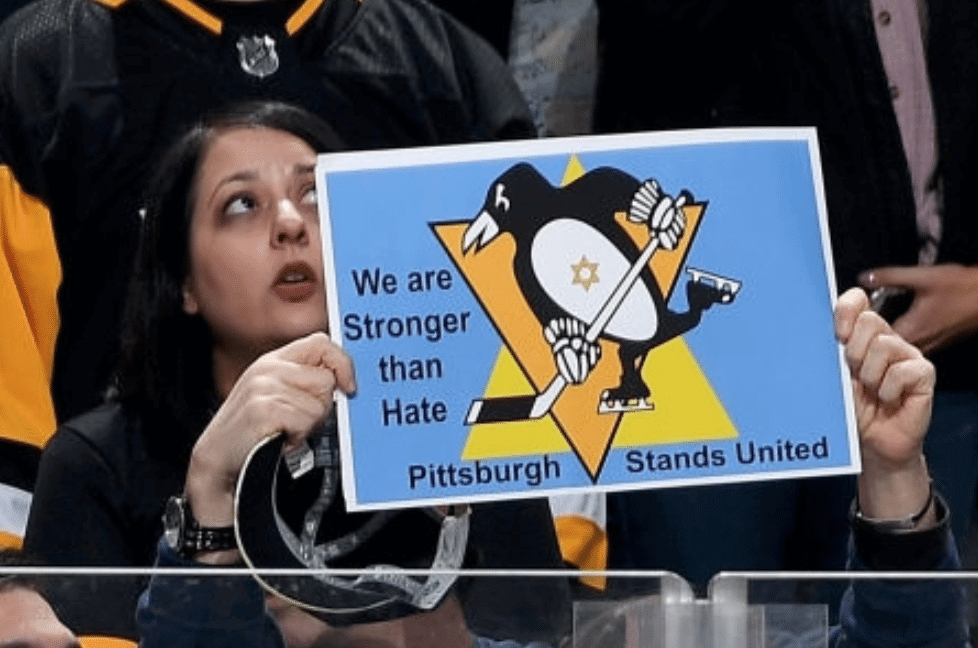 The Islanders showed their support by wearing a helmet decal that showed their primary logo superimposed over a Star of David (click to enlarge):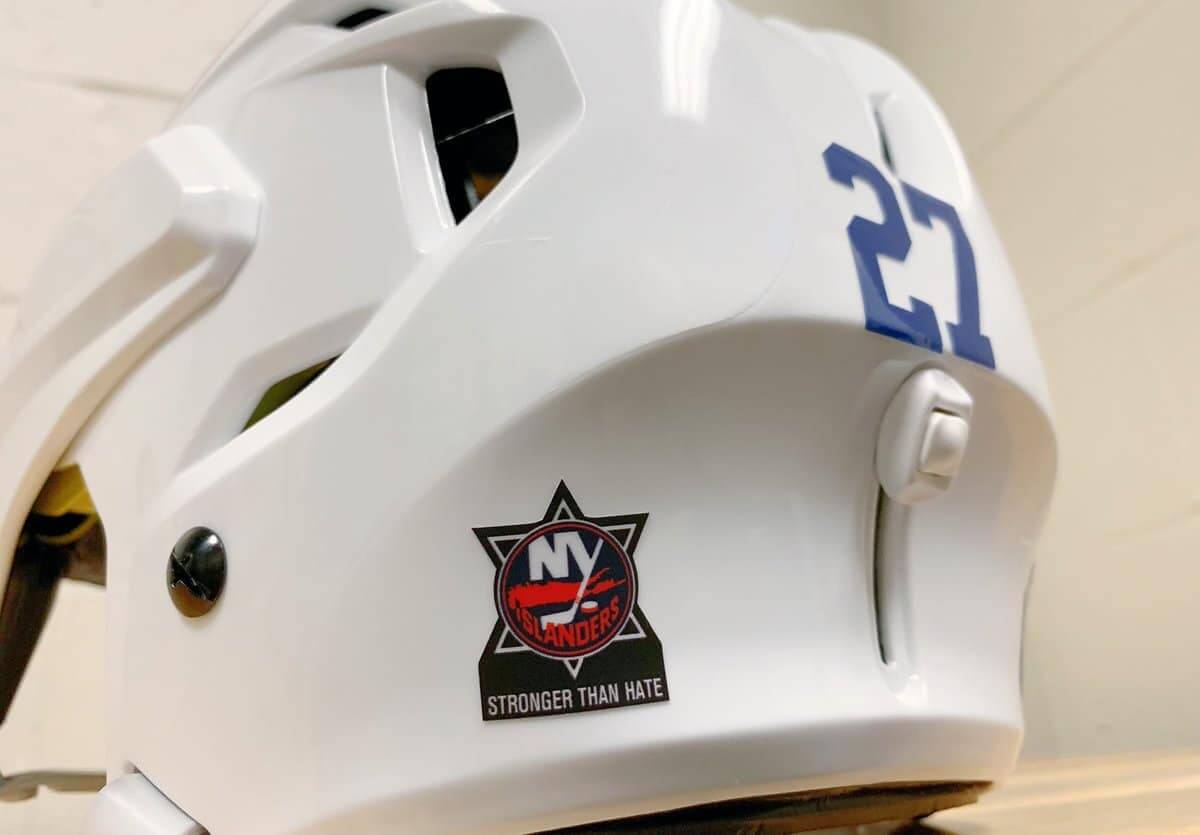 The first athlete I ever saw wearing the Star of David (aside from Israeli athletes in the Olympics) was light-heavyweight boxer Mike Rossman, who was known as "the Jewish Bomber." I remember watching his 1978 title bout against Victor Galindez — I was 14 at the time — and being surprised to see the Star on his trunks, and also on his cornerman's shirt: (click to enlarge):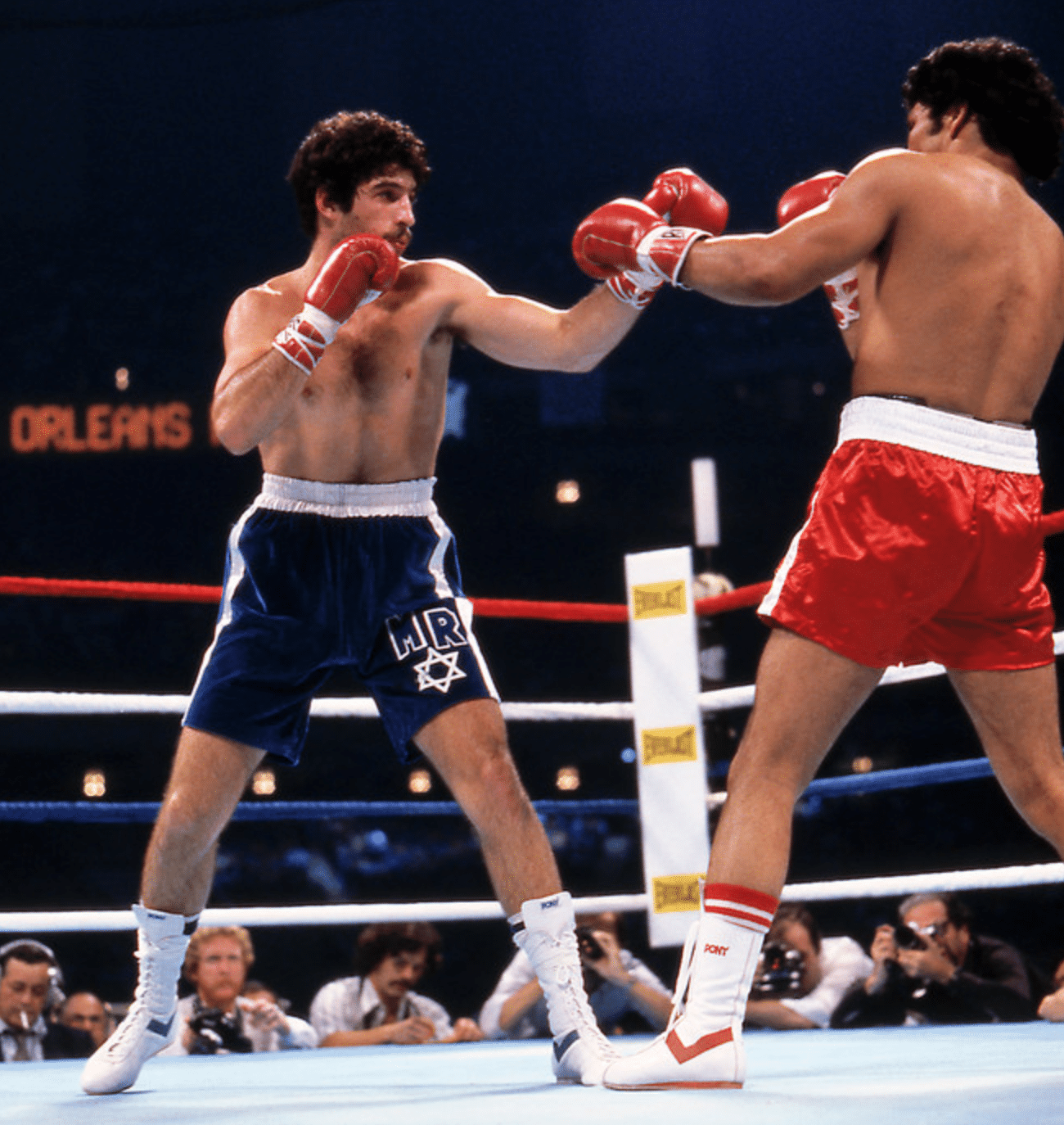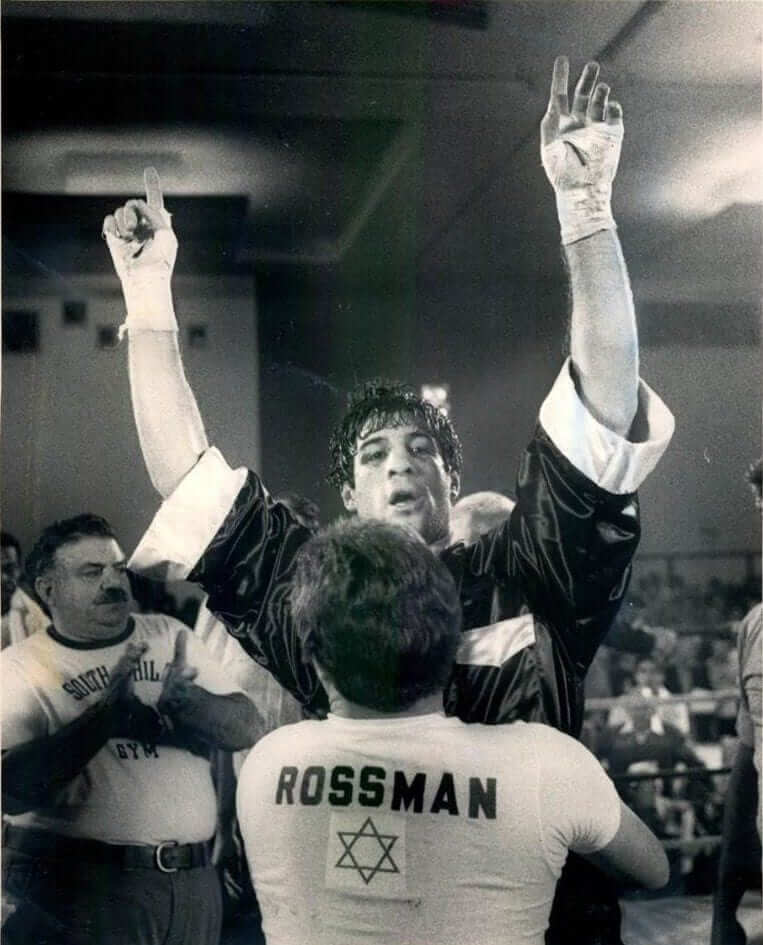 I later learned that there was a long history of Jewish boxers who'd worn the Star on their trunks, the most prominent of which was probably heavyweight Max Baer, who wore the Star while facing Joe Louis in 1935: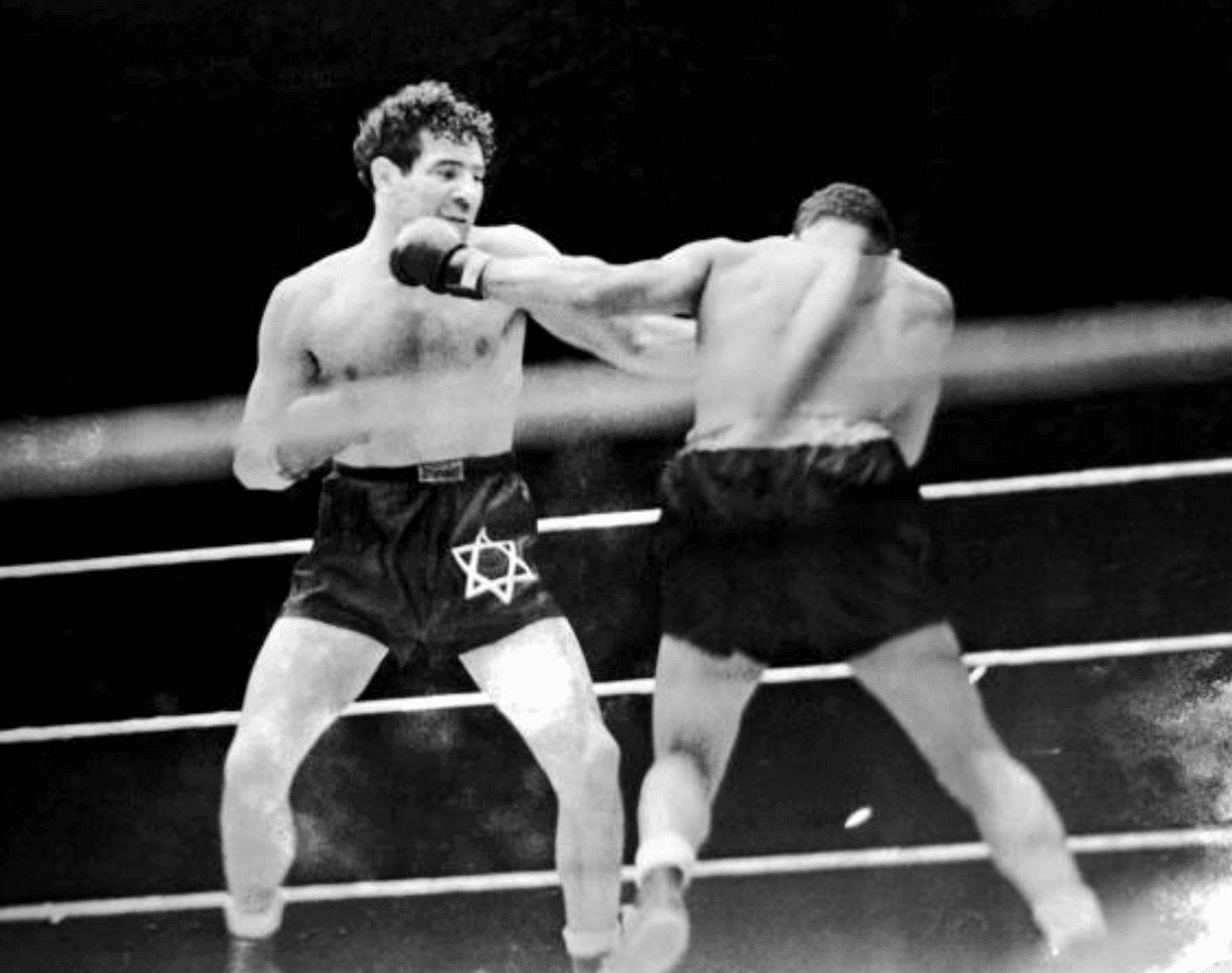 Other Star-clad Jewish boxers from that era included Ruby Goldstein, Al "Bummy" Davis, Jackie "Kid" Berg, Sid Terris, and many more.
Over on the baseball diamond, first baseman Mike Epstein, who played for a bunch of MLB teams in the 1960s and '70s (and whose nickname was "Super Jew"), drew a Star of David on his first baseman's mitt while playing for the minor league Rochester Red Wings (click to enlarge):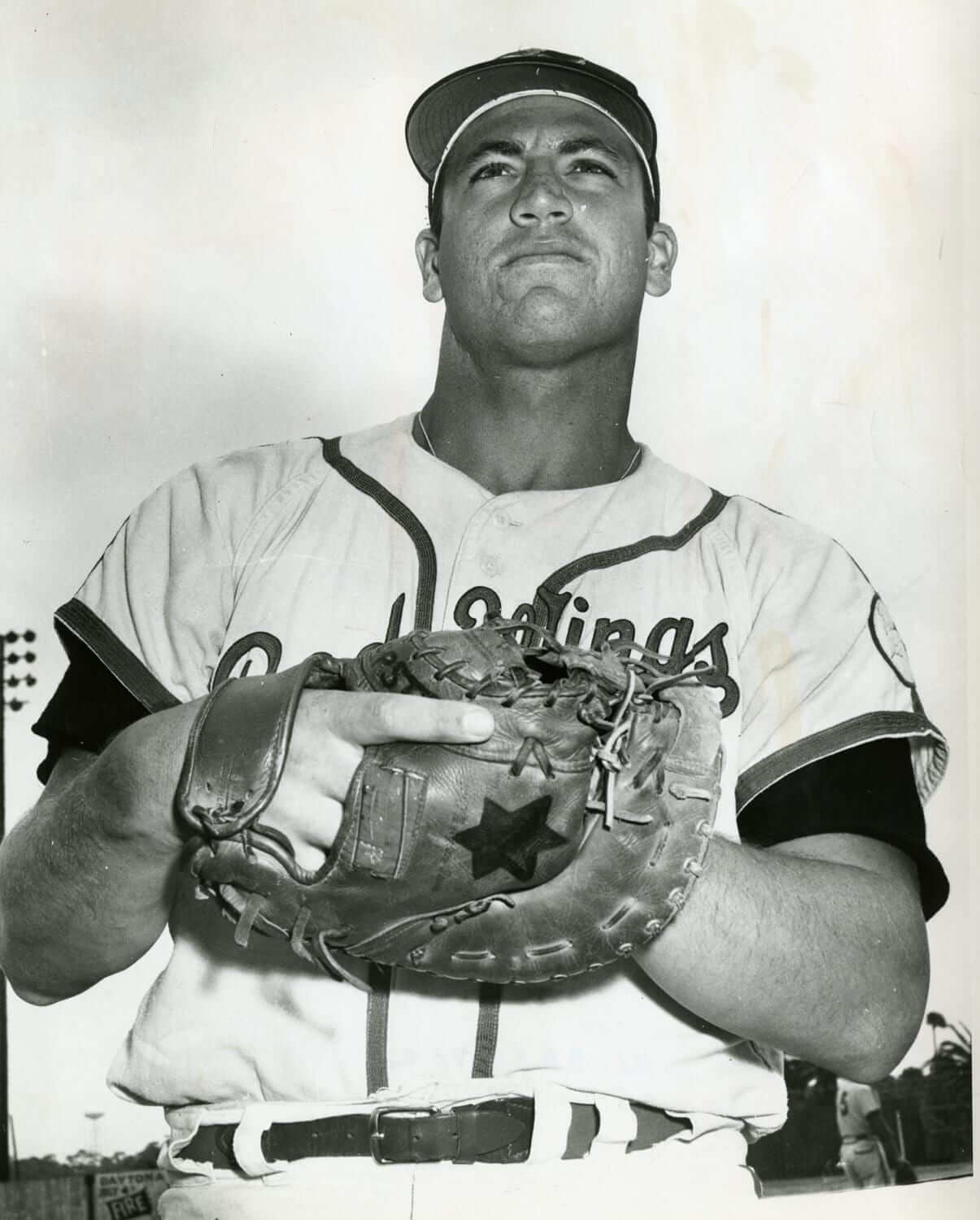 And then of course there's Pirates outfielder Dave Parker, who wore a necklace with a Star of David pendant because, as he famously put it, "My name is David and I'm a star":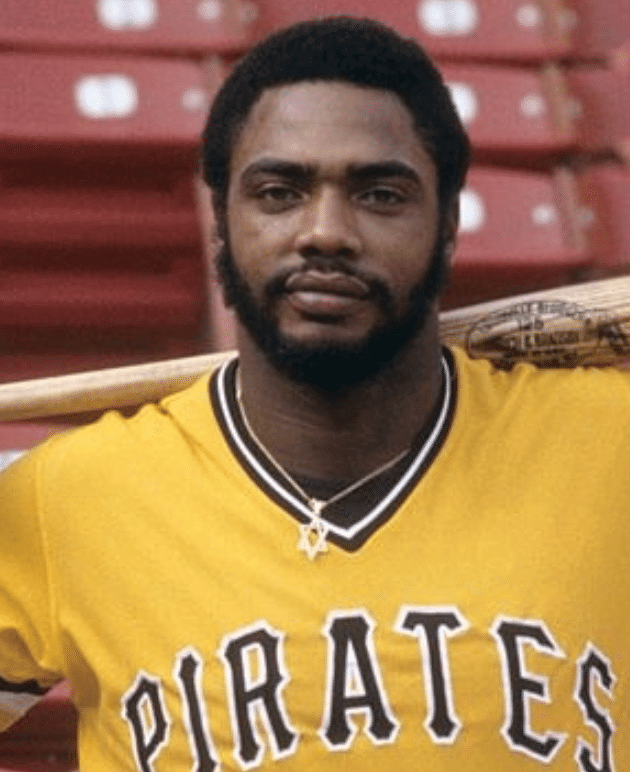 On the soccer pitch, the all-Jewish Austrian side SC Hakoah Vienna wore the Star on their uniforms, as seen in this photo of player Bela Guttmann (for more info on this team, look here and here):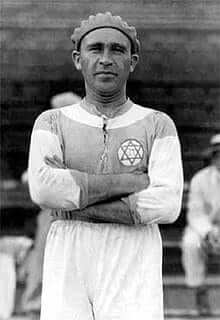 If you know of other examples of athletes or teams that have worn the Star of David (again, aside from Israeli national teams), feel free to post them in today's comments.
One footnote to all this: My friend Bruce Broderson, who works at the Baseball Hall of Fame, mentioned to me last night that he recalled Yankees first baseman/DH Ron Blomberg inscribing the Star of David on his bat knobs. I did some quick photo research and discovered that Blomberg did indeed put a star on his knobs — and also on his batting gloves — but it was a conventional five-pointed star, not a Star of David: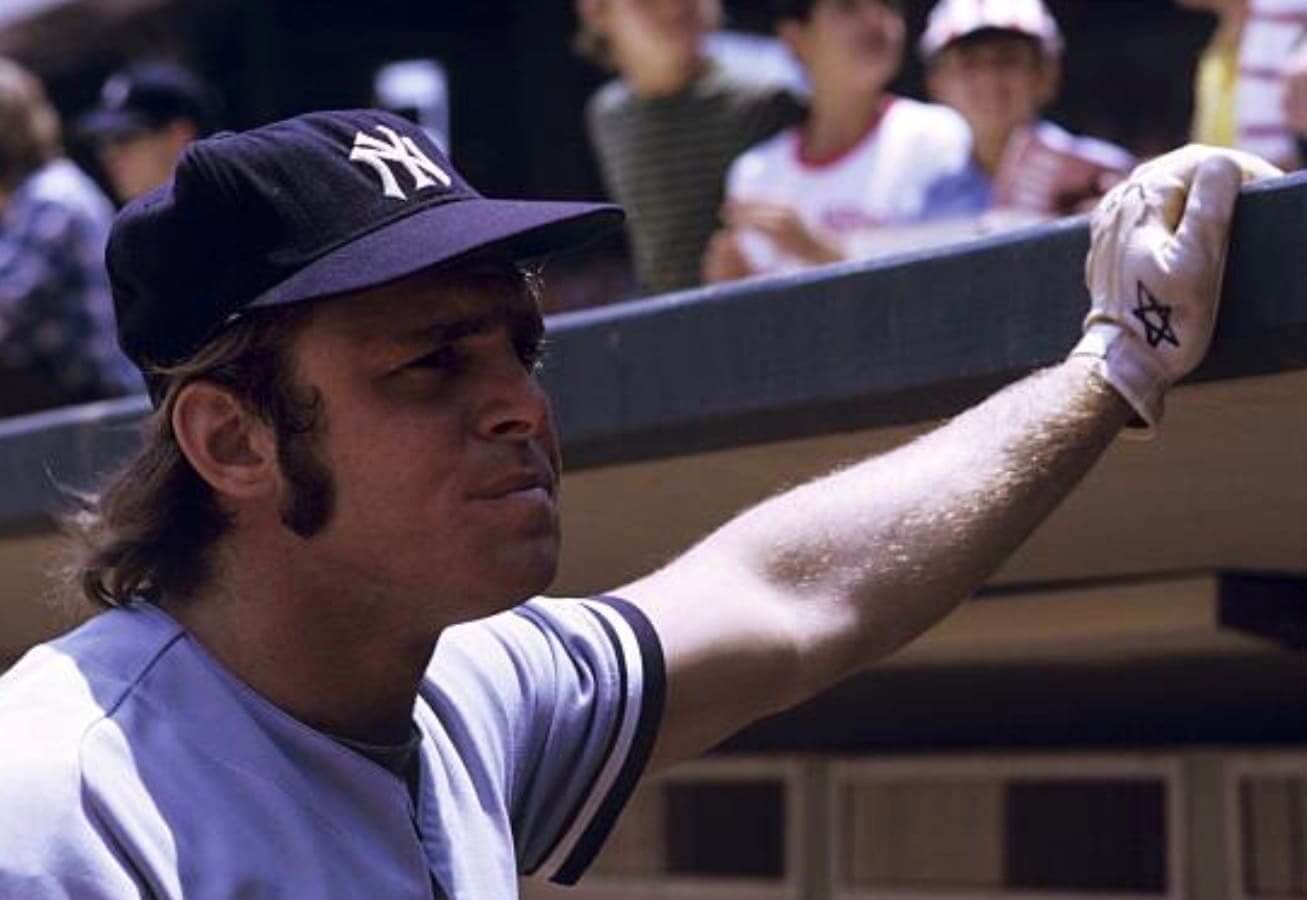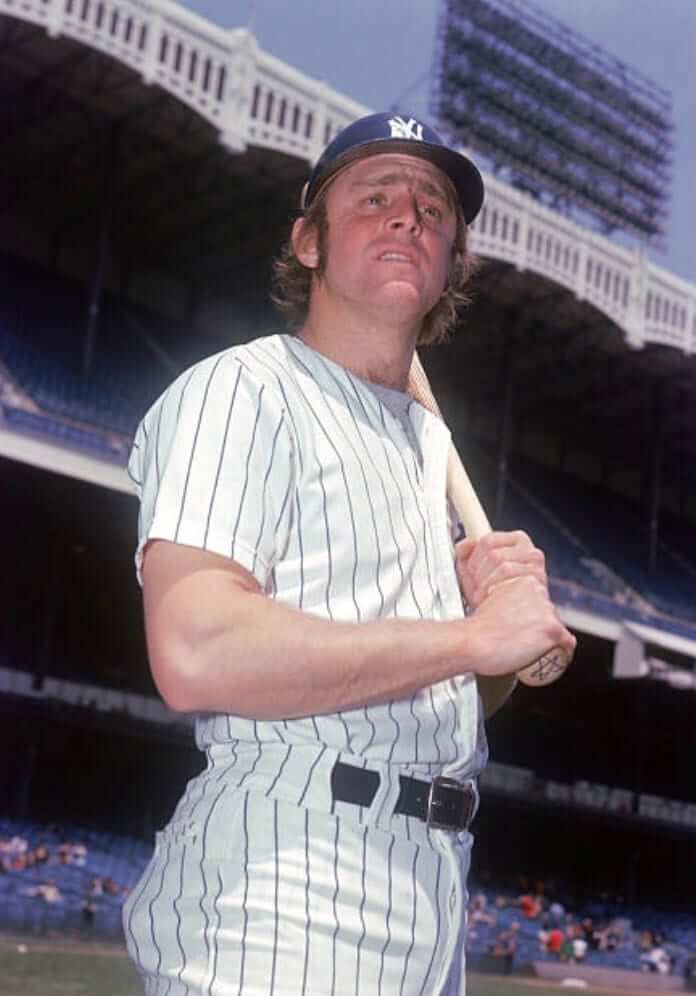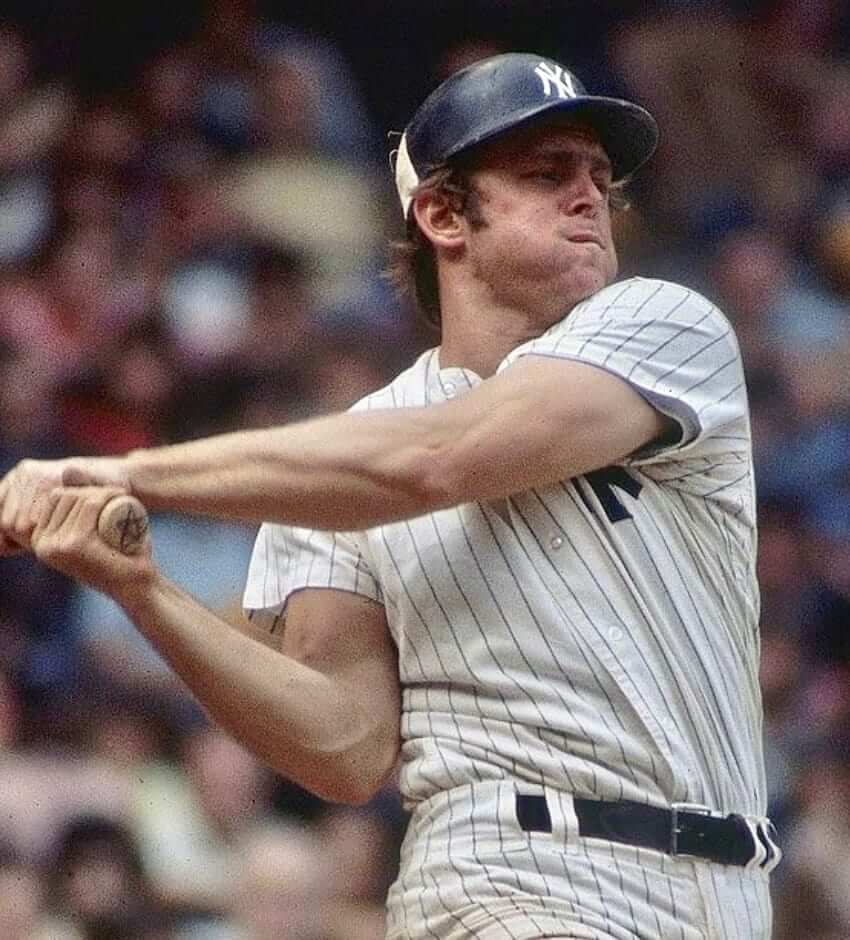 It's not clear, at least to me, what the significance of those stars was. Also, as an aside, that last photo is one of several shots, all from July and August of 1972, in which Blomberg appears to have had some sort of white tape on the back of his batting helmet. You can see the other pics I found here and here. Anyone know more?
(My thanks to Bruce Broderson, Bill Radocy and @hawkyankee for their contributions to this section.)
• • • • •
[adrotate group="2″]
• • • • •
Still more NBA leaks: Reader Kyle Kendrick was poking around on the NBA's LockerVision site yesterday and discovered that the "Earned" uniforms (those are the cringe-inducingly named alternates for last season's 16 playoff teams, due to make their on-court debut on Christmas Day) were being shown for two teams — the Spurs and the Trail Blazers.
Let's start with the Spurs (click to enlarge):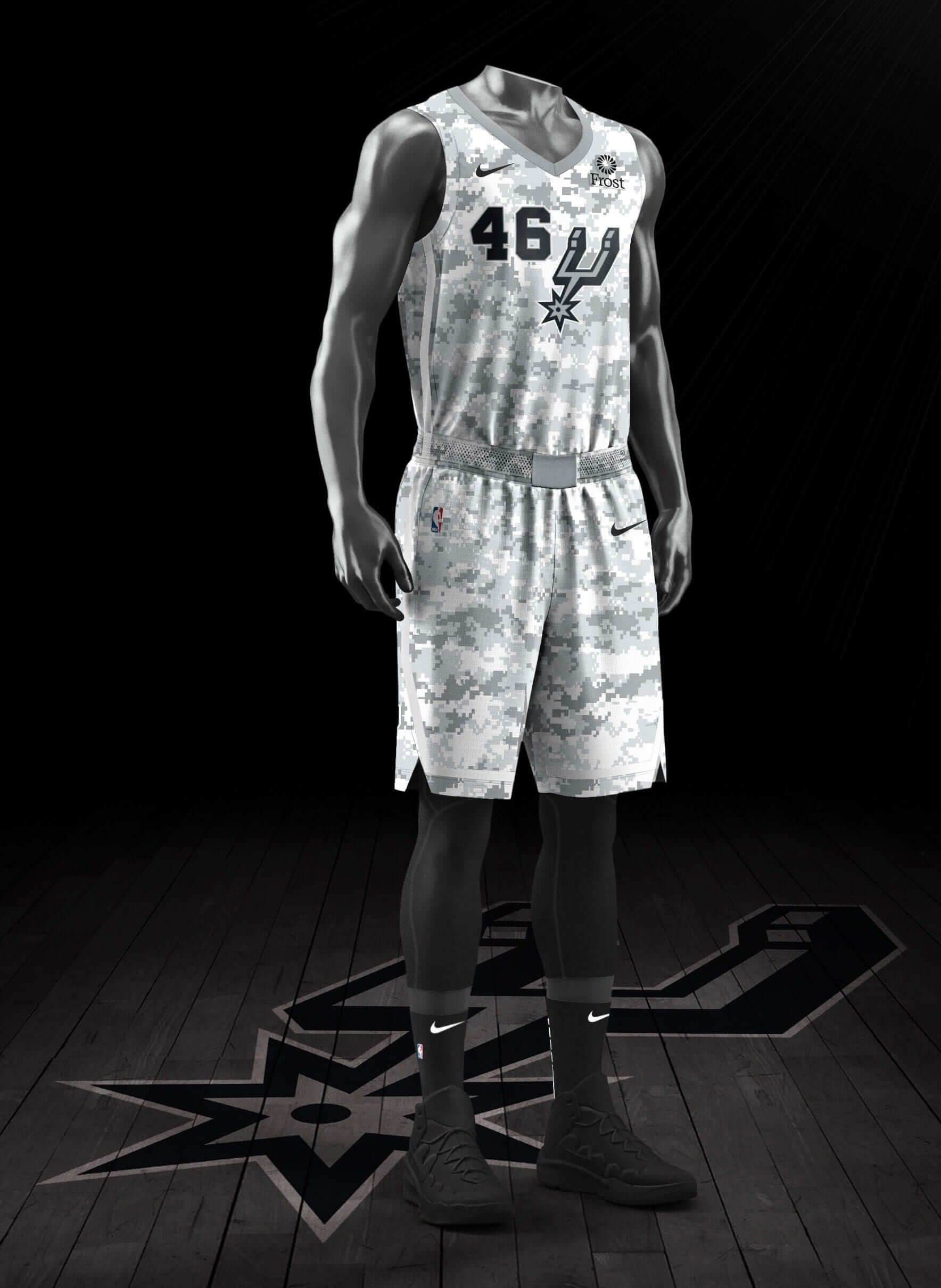 Yawn, another G.I. Joke design. As you may recall, this isn't the first or even the second time the Spurs have gone this route (although this one appears to have the added wrinkle of a faux belt buckle and faux belt loops on the waistband). Pfeh.
And now the Blazers (click to enlarge):
Nice enough, although I don't like the single diagonal stripe as much as their standard wider multiple-stripe treatment. I'm sure there's some "storytelling" aspect to it, though.
Meanwhile, we appear to have another retail leak of a City alternate, this time for the Bucks: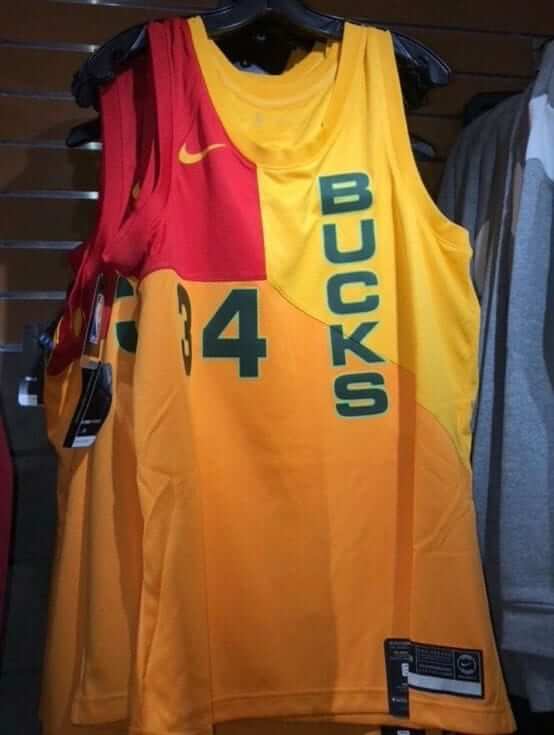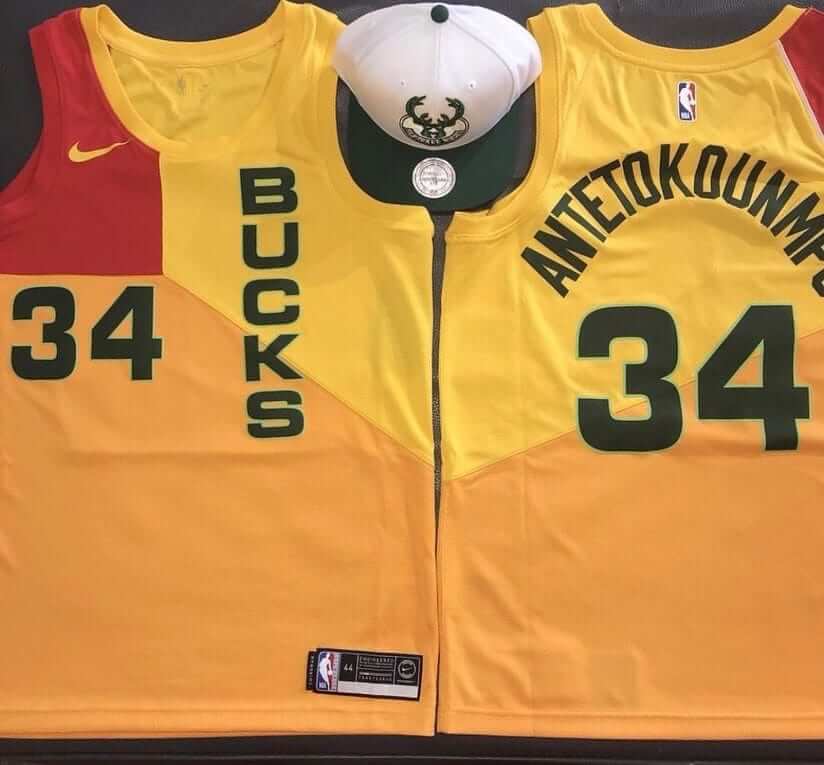 This one first appeared on the Bucks Nation fan page on Facebook. The photo was supposedly taken at a store called Villa in West Allis, Wis. The design is apparently based on the Bucks' old Mecca court, and the color scheme matches the color that was originally shown on LockerVision for the Bucks' City design, which suggests that it's legit.
Personally, I love this one and am eager to see how it looks with the shorts.
Finally, the 76ers have confirmed that the recent leak of their City alternate is legitimate — and, as many people speculated when they saw the grey fabric, it's meant to be Rocky-themed (click to enlarge):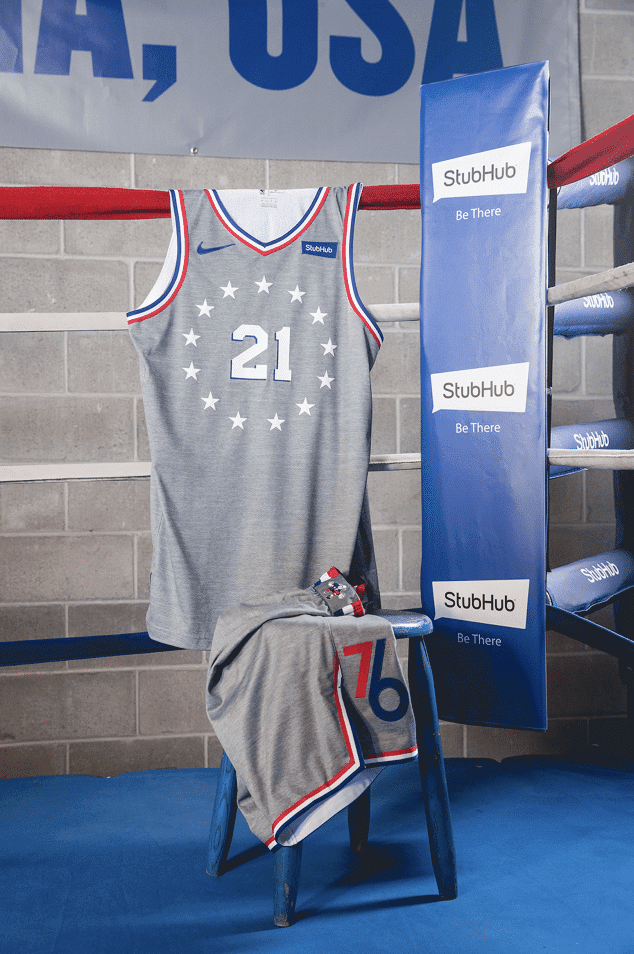 My ESPN colleague Zach Lowe has an excellent story on how this design was developed.
(My thanks to Bowen Hobbs for bringing the Bucks item to my attention.)
• • • • •
[adrotate group="2″]
• • • • •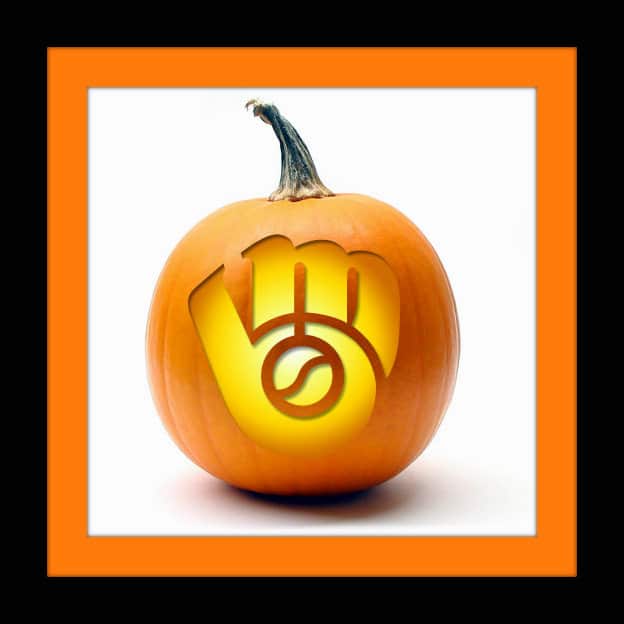 Last-Minute Pumpkin Carving Guides
By Brinke Guthrie
Looking for a fun design motif for your jack-o-lantern tonight? Many pro sports teams offer stencils for carving your pumpkin with your favorite team's logo. MLB appears to be the best at this, with every team but the Rangers participating (or at least easy enough to find); the other Big Four leagues are spottier:
MLB
A's
Angels
Astros
Blue Jays
Braves
Brewers
Cardinals
Cubs
Diamondbacks
Dodgers
Giants
Indians
Mariners
Marlins
Mets
Nationals
Orioles
Padres
Phillies
Pirates
Rays
Red Sox
Reds
Rockies
Royals
Tigers
Twins
White Sox
Yankees
NBA
Clippers
Kings
Lakers
Suns
If your team isn't listed here, check their website under the "Fans" section, or send them an inquiry via Twitter — they might respond. Your local craft store probably sells Officially Licensed Carving Kits™, too.
Some of these carving patterns are super-intricate. Try one of these Detroit Tigers tiger head logos, for example! I tried a San Francisco Giants logo during one of the recent World Series championship Halloweens, but somehow I got the logo carved inside-out or … something. If you end up doing better than I did, send us photos of the results.
Meanwhile, there's more than one way to carve a pumpkin, as seen in the seats prior to last night's NHL game in Nashville (click to enlarge):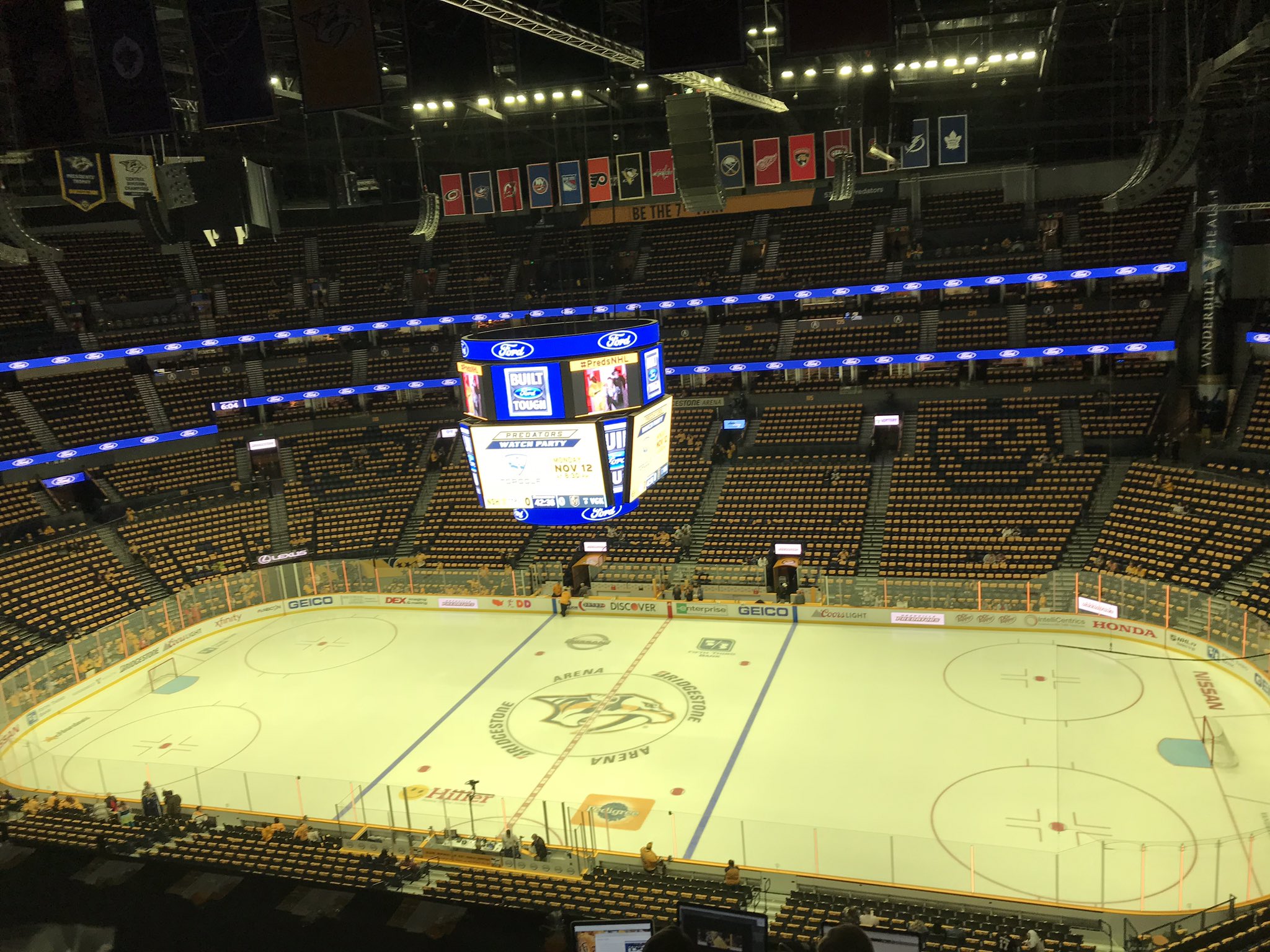 And if you want some additional sports/Halloween crossover, check out these old "Monsters of the Gridiron" cards from the 1990s. The funniest ones are for the Jags and Panthers, featuring "scary" mockups of the team logo mascots, because the two expansion franchises didn't yet have any players!
The promotion even had its own spoooooky TV commercial:
(Big thanks to our own Alex Hider for that Nashville photo and to Jon Solomonson for the Monsters of the Gridiron links.)
• • • • •
[adrotate group="2″]
• • • • •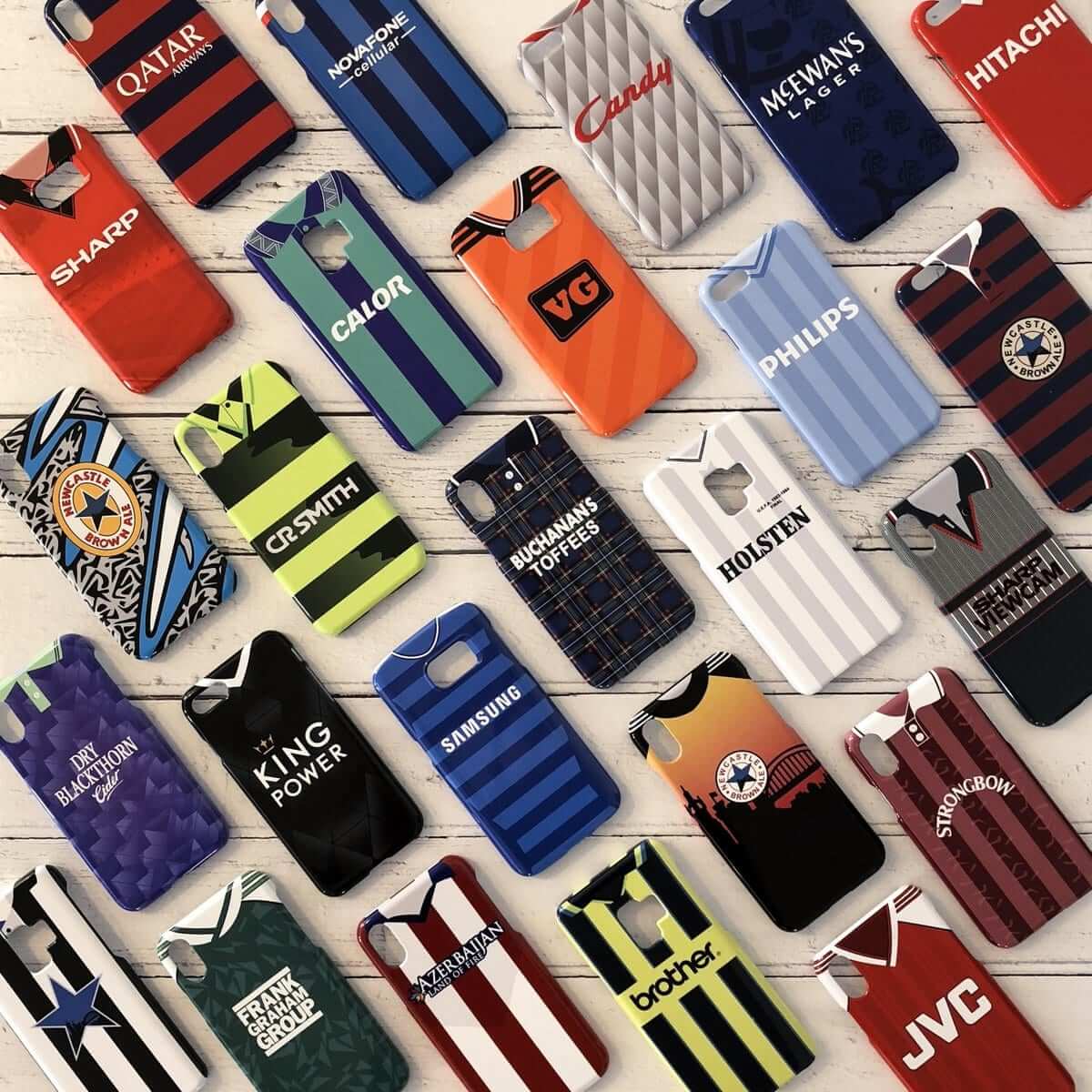 Click to enlarge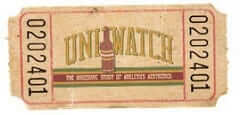 Raffle/discount/cap reminders: In case you missed it on Monday, our friends at Nostalgia Cases are raffling off one of their soccer jersey-based smartphone cases. To enter, send an email to the raffle address by this Friday, Nov. 2, 7pm Eastern. One entry per person. I'll announce the winner next Monday.
In addition, if you don't want to wait and see how the raffle plays out, Nostalgia Cases has also extended its 10% discount offer by another week. To get the discount, just go to the Nostalgia Cases site and use the checkout code UNIWATCH.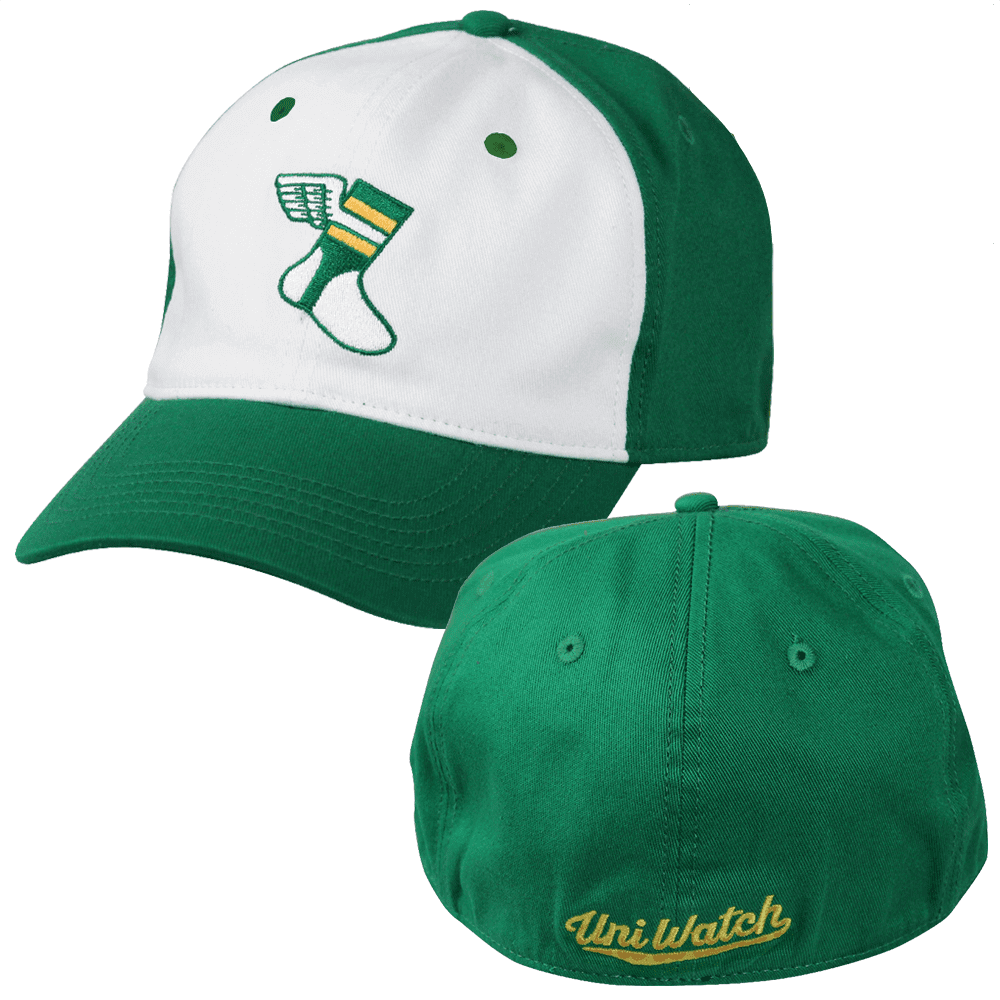 While we're at it, please keep in mind that we've recently reduced the price of our flex-fit Uni Watch alternate cap (shown at right). It was originally $29.99 but is now $24.99, and you can order yours here.
And as long as we're talking about caps, our Uni Watch classic cap, available exclusively from Ebbets Field Flannels, can still be ordered in all fitted sizes, we'll have the adjustable version back in stock early next week. Get yours here.
• • • • •
[adrotate group="2″]
• • • • •
The Ticker
By Lloyd Alaban

Baseball News: A Philadelphia cop has pleaded not guilty to dealing drugs with members of the corrupt Baltimore Police Gun Trace Task Force. Eric Snell, who also served in the Baltimore Police Department, used encrypted text messages mentioning the Orioles' home whites as code for cocaine (from Andrew Cosentino). … Here are some old school-looking baseball card calendars from Asgard Press.

NFL News: The jersey that Colts K Adam Vinatieri wore for his record-breaking game on Sunday is heading to the Pro Football Hall of Fame. … For the Win ranked the top five throwbacks in the league this season — and placed a non-throwback jersey at No. 1 (from our own Alex Hider). … The Chiefs will wear a patch during pregame warmups on Nov. 11 to celebrate the 100th anniversary of the end of WWI — what we know in the U.S, as Veteran's Day. Very unusual to see an NFL team doing a pregame gesture, something that is more common in the NHL (from Tailgate Throwback Sports). … Trevor Wilson Patton was watching footage of an old Browns game and was intrigued by the midfield logo. That logo doesn't appear on SportsLogos.net's Browns page. Anyone know more about it? … NFL social media producer Bryndon Minter recorded another time-lapse video showing how he Photoshopped a traded player into a new uniform. This time it's WR Golden Tate, who was dealt from the Lions to the Eagles.

College/High School Football News: Florida State is going gold/white/garnet for Saturday's game against NC State. … Michael Schonhoff found this Notre Dame jersey in the Fighting Irish campus bookstore. No word yet if this is an official alternate, or a way for Under Armour to squeeze a few more bucks out of ND's students. … Buffalo debuted their fifth helmet of the season last night (from Blaise D'Sylva). … Not to be outdone, Kent State debuted their seventh helmet this season last night (also from Blaise D'Sylva). … Miami (OH) sported a range of cancer awareness ribbon logos on their lids last night (from Andy Fiske). … A high school football team in Snellville, Ga., will wear helmet decals honoring Gwinnett County Police officer Antwan Toney, who was killed in the line of duty last week.

Hockey News: Ivan Provorov of the Flyers was wearing teammate Radko Gudas's helmet when he scored a goal last night. It's not clear whether he wore it for the entire game (from Flip Drexler). … Definitely a different approach than camo: The EHCL's Fort Wayne Komets will become the Fort Wayne Blacksnakes for Military Appreciation Weekend. Additional info is available here (from Garett Searight).

Basketball News: The Spurs will retire G Manu Ginobili's No. 20 in a ceremony on March 28 (from Mike Chamernik). … The University of Maine men's program has switched from Nike to New Balance.

Soccer News: Adidas has revealed the official ball for the 2019 MLS season. Named the Nativo Questra, the ball is inspired by the 1994 World Cup ball (from Josh Hinton). … Also from Josh: Here's a list of kit supplier switches from Europe's top flight teams. … Stoke City MF James McClean will once again not wear a Remembrance Day (or as we know it in the US, Veteran's Day) poppy on his shirt this season. Stoke released a statement in response. McClean himself offered his reasoning for not wearing one (from our own Jamie Rathjen). … FC Cincinnati's new identity will be revealed Nov. 12 (from Steve Hemesath).

Grab Bag: Reader Michael MPH gives us our first look at the Philadelphia Wings of the National Lacrosse League's new turf. … Interesting read from The Atlantic about how yoga pants and gym tank tops became regular streetwear (from Jason Hillyer). … In what might be characterized as a slight change in tone, the U.S. Marine Corps 31st Marine Expeditionary Unit changed their logo from a bald eagle over an anchor to a water dragon eating a skull. … The New Zealand All Blacks have revealed their new rugby union jersey (from Josh Gardener).