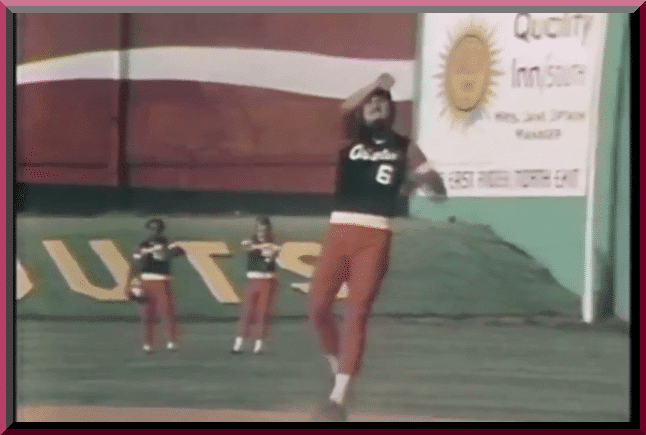 By Phil Hecken, with Dan Tarrant
Follow @PhilHecken

Today we have a special article by reader Dan Tarrant, who had originally proposed this to me a little over a year ago, and we had hoped to run it during Paul's annual August recess. Due to time and space limitations then, I'm running it today. Enjoy! — PH
Remembering the Charlotte Orioles
By Dan Tarrant
From 1976 to 1989, the Charlotte Orioles (popularly referred to as the O's) served as the AA farm club for the Baltimore Orioles, until joining the Cubs organization starting in 1990 and being renamed the Knights. Up until 1985, the team played in Jim Crockett Memorial Park, a classic wood-framed ballpark that seated about 8,000 and originally opened in 1941. Future major league stars Cal Ripken, Jr. and Eddie Murray were among the best-known players to suit up for the O's.
Fans of the O's continue to maintain a legacy Facebook page to remember the team. The page is a great site for uni aficionadoos in general, with a number of great pics of the team's surprisingly attractive later-day home uniforms, consisting of an orange jersey with "Charlotte" script and a royal blue cap with a white "C".
A really amazing find that was recently posted, however, is a 30 minute documentary produced in 1977 titled Diamonds Are Not Forever. Local WBTV sportscaster Bob Taylor signed a short contract to play for the team, and acted as an "embedded" reporter detailing life as a 1977 minor leaguer. Of course, the film contains a number of fascinating shots of minor league uniforms and old-school ballparks, not to mention other aesthetic details that differ from what you'll find 40 years later. [Note: the above link is to a Facebook-hosted version of the video; I found a copy (below) on You Tube — so the time frames mentioned by Dan may not line up exactly if you're viewing the video embedded below — PH]
Some highlights:
At about 4:15, Taylor bemoans the changes that were occurring in baseball at the time, complaining that "fields were swept instead of mowed" and that "wool uniforms have given way to knits".
First uni-related shot comes at about 6:18 as players are leaving the bus and collecting meal money from the driver. Note that the jacket and t-shirt represent the Baltimore Orioles and not Charlotte. This might indicate that minor leaguers may have been given hand-me down or leftover apparel from the parent club.
At 7:20 we see the O's getting dressed in the visitors locker room. This is where we first see the amazing 1977 team road unis.
Black jerseys with white letters and numbers, featuring orange sleeves with a single white stripe paired with orange pants with a single black stripe. The team wears the same white-paneled caps as the Baltimore Orioles. If this look doesn't scream "70's minor league baseball" I don't know what does. Interestingly, in the locker room we see a player putting on black stirrups, but then shots of the team warming up indicate that other players wore orange.
For this game, the O's appear to be playing the Chattanooga Lookouts. Note the hill in the centerfield with LOOKOUTS posted in large letters.
The Lookouts appear to be wearing uniforms similar to the Oakland A's at the time – green jerseys with yellow trim, white pants, and a wishbone "C" where "A's" would be. Yellow socks with green stirrups. Note that the pitcher for the Lookouts appears to have a logoless cap. (I was unable to determine if the Lookouts were an A's affiliate at the time).
At 10:54 we catch our first look at Charlotte's home ensemble — a slightly easier-on-the-eyes combination of an orange jersey with black sleeve paired with white pants.
Check out the fan's Orioles cap at 19:19 – never seen that style before, with the cartoon bird inside the circle.
For the shots of the O's at home, it's unclear who the opponents are – Taylor simply calls them the "visiting" team, but at 19:31 you can see they are wearing white jerseys despite being on the road, with red pinstripes and numbers and navy or black helmets.
But at 20:38 a shot of the pitcher reveals that they are sporting the red White Sox jerseys of the era.
To add a little bit of local flavor, I am a Charlotte native, born in 1974, who caught a handful of games at old Crockett Park as a child. As you can see from the video, it was a classic, cozy mostly wood framed park with an overhang covering most of the stands, supported by steel columns which did result in some obstructed views. To add to the charm, the park was nestled in the residential neighborhood of Dilworth, not far from Charlotte's uptown. If the name Jim Crockett sounds familiar to you, he was also a big name in pro wrestling in the South during the 70's and 80's, the owner of Jim Crockett Promotions who staged NWA matches in the Mid-Atlantic area feature such stars as Ric Flair, the Road Warriors, the Four Horsemen, and Dusty Rhodes.
By the time I was old enough to remember attending games, probably around 1979-1982, I recall that the team was always referred to as the O's instead of the Orioles, and had dropped the parent club's color scheme of black, orange and white in favor of royal blue, orange and white.
The team usually wore orange jerseys with white pants at home, with a script "Charlotte" across the chest and a blue cap. I also found baseball card with a white version of this jersey. (screenshotwhitejersey)
At some point they also had a blue version of the uniform, although I don't remember seeing it at home games so it might have been for the road. For at least one season, the team sported an orange jersey adorned simply with an "O's" script, here is a nice shot where you can see the number font used.
Other interesting items:
• The O's won the Southern League title in 1980 and 1984. Here are a couple of shots of the rings the players received (not sure which year).
• The ballgirls at Crockett Park were known as the Pepper Girls (not sure if this was a tie-in with Dr. Pepper soda but I seem to recall it might have been) with uniforms that matched the team's.
Watching the film and looking at photos, I couldn't help but notice how poorly the grounds were kept compared to the fields of today. Obviously, money was a lot tighter in those days and turf management has come a long way in the past few decades, but the Crockett Park field looks like something today's high-school teams would be ashamed to play on.
In 1985, tragically Crockett Park was burned to the ground by teenage arsonists. Their motive was never determined. The O's constructed a temporary ballpark on the grounds in order to keep playing, but attendance declined and the team was sold to George Shinn, founder of the original Charlotte Hornets. Shinn renamed the team the Knights, and built a stadium in nearby Fort Mill, SC, where they eventually moved up to Triple-A and played until returning to Charlotte in 2014. The former O's, currently part of the White Sox organization, now play in beautiful BB&T Ballpark, generally considered the best minor league stadium in America.
Crockett Park, like so many old wooden ballparks of the past, now exists only in the memories of older fans and, fortunately, on internet sites and old films like this one. Hope you enjoyed!
• • •
Thanks, Dan!
[adrotate group="2″]

Old Time Base Ball Photos
Readers will recall I featured Ronnie Bolton (who posts on Twitter as @OTBaseballPhoto and who you should definitely follow) earlier this year with some great football played on baseball field photos and writeups, some MLB Opening Day specials, and more recently with some old baseball stadia (here and here). Most recently, Ron took a look back at past All Star games, Play-O-Graphs and MLB stadia never built. As his twitter handle implies, Ronnie's specialty is old baseball photos.
With today's lede featuring the MiLB Charlotte Orioles, today Ron takes a look at some Minor League stadia from the past.
Enjoy. Here's Ronnie:
• • •
Seals Stadium, San Francisco, CA (1931-1959)
This iconic ballpark was built in 1931 and hosted two minor league teams in the San Francisco Seals and Mission Reds of the Pacific Coast League. But in 1938, the Reds, having trouble building a fan base, moved to southern California to become the Hollywood Stars, leaving San Francisco to the Seals. In 1958 the Giants arrived from New York and played in Seals Stadium for two years before the moved into Candlestick Park, this signal the end of the era of the Seals as the franchise moved to Arizona, where they became the Giants top farm team.
++++++++++
Parkway Field, Louisville, Kentucky, July 4, 1926
A Fourth of July game brings a near packed house to see the Louisville Colonels of the American Association in action. At the time of this photo, the 13,200-seat ballpark was just three years old and it would serves as home to Colonels into the mid-1950's and for a short period it hosted the Negro League Louisville Buckeyes.
++++++++++
Rickwood Field, Birmingham, AL, October 2, 1929
Action is captured here during the Dixie Series game between the Birmingham Barons (Southern Association champs) and Dallas Steers (Texas League champs). Today, it stands and is believed to be the oldest professional ballpark in the United States. During it's 108-year old history it has mainly home to the Birmingham Barons as well as the Birmingham Black Barons of the Negro Leagues.
• • •
Thanks, Ronnie. He'll be back periodically with more wonderful old photos and the backstories that go with them.
[adrotate group="2″]

Kreindler's Korner
I had the distinct pleasure of featuring the wonderful artwork of artist Graig Kriendler on two occasions over the summer and fall of 2017, and more recently, in August of 2018.
For those who don't wish to click the links, Graig paints baseball heroes (and regular guys) from the past, and is an immense talent.
Occasionally, I will be featuring his work on Uni Watch.
Here's today's offering (click to enlarge):
• • •
Title: "The Blessed Boon of Boston"
Subject: Cy Young, 1903
Medium: Oil on linen
Size: 20″ x 24″

Along with that of Napoleon Lajoie, Cy Young's defection to the American League in 1901 generated instant credibility for the upstart circuit, as the league gained one of the game's greatest pitchers. Winner of 286 games in his first eleven seasons, Cy Young had established himself as a model of consistency and excellence, pitching more than 300 innings every year from 1891 to 1900, and ranking among the National League's top five in ERA six times during that span. Still, cracks were starting to show in the great pitcher's facade. At 34 years of age, Young had already entered the phase of his career when most pitchers start to break down. Indeed, in 1900, Young suffered through one of his worst seasons to date, failing to win 20 games for the first time since his rookie season, and pitching fewer innings than he had in any previous full season. Opposing batters attested that Young was more hittable than ever, and newspaper reporters began routinely affixing the adjective "Old" in front of his name. By all appearances, then, when the Boston Americans signed Young to a $3,500 salary, the acquisition represented more a public relations coup than a legitimate pitching upgrade.

As it turned out, Boston, not to mention the rest of the American League, got much more than it ever could have expected. He won pitching's Triple Crown in 1901 – with 33 wins, a 1.62 ERA and 158 strikeouts – and tossed the first perfect game in American League history. The next year was almost just as good, with a league-leading 32 wins, a second place 2.15 ERA and a third place 160 strikeouts.

Though the great Young was a man advancing in years and gaining in weight, his pitching control only seemed to sharpen. In 1901 and 1902, he finished first and second in the league with the fewest walks per nine innings. And though his fastball had lost some of its effectiveness, the wily Young more than made up for it with a pair of curveballs: one thrown overhand with a sharp break, the other thrown side-armed with a sweeping arc. Both pitches were delivered from a variety of arm angles as well; occasionally, Young even threw submarine-style to upset the batter's timing. In his continued mastery of opposing batters in the face of declining strength and advancing age, Young rose pitching to an art form, and earned his place in baseball's pantheon of all-time greats.

His success helped the Boston Americans win both the pennant and the first World Series in 1903.
• • •
Thanks, Graig! You can (and should!) follow Graig on Twitter.
[adrotate group="2″]

MLB Playoff Uni Tracking
A few years back, reader Alex Rocklein tracked the MLB Playoffs by uniform — you guys may recall this. Here's what his 2010 Uni Tracking looked like. Alex also tracked the playoffs for Uni Watch last season as well. Here's how the 2016 World Series looked, and here's how the 2017 Playoffs shook out.
We welcomed Alex back last weekend, when he began tracking the Wild Card and Divisional Series games, and he'll be tracking the unis through the Big Dance. Here we go (just to note, due to the lateness of last night's Brewers/Dodgers game, the results are not included for that game, but since the Brewers evened the series, with Game 7 tonight, you can bet the Crew will wear the white tops again):
• • •
Wild Card & Divisional Series
• • •
NLCS & NLDS
• • •
Full Playoffs
• • •
Thanks, Alex.
[adrotate group="2″]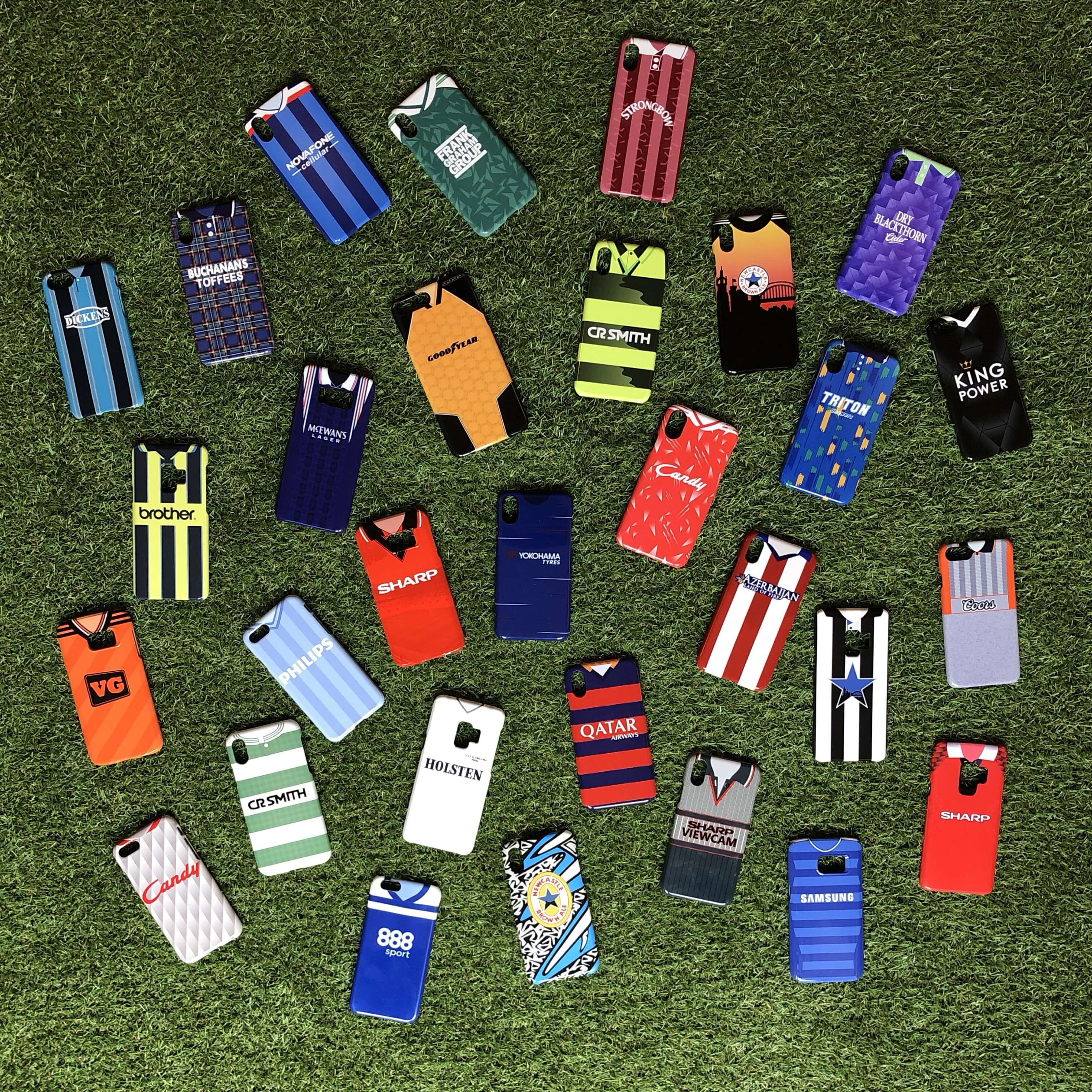 Click to enlarge
And now a few words from Paul
Hi there. In case you missed it on Friday, we're currently offering a special discount code from our friends at Nostalgia Cases, a company that sells smartphone cases with designs based on old soccer jerseys They have over 650 designs to choose from, each available for over 100 phone models, and worldwide shipping. If you want a kit design that they don't currently offer, you can request it and they'll produce it at no extra cost.
Uni Watch readers can get a 10% discount to Uni Watch readers for the next week. To get the discount, just go to their site and use the checkout code UNIWATCH by the end of Friday, Oct. 26.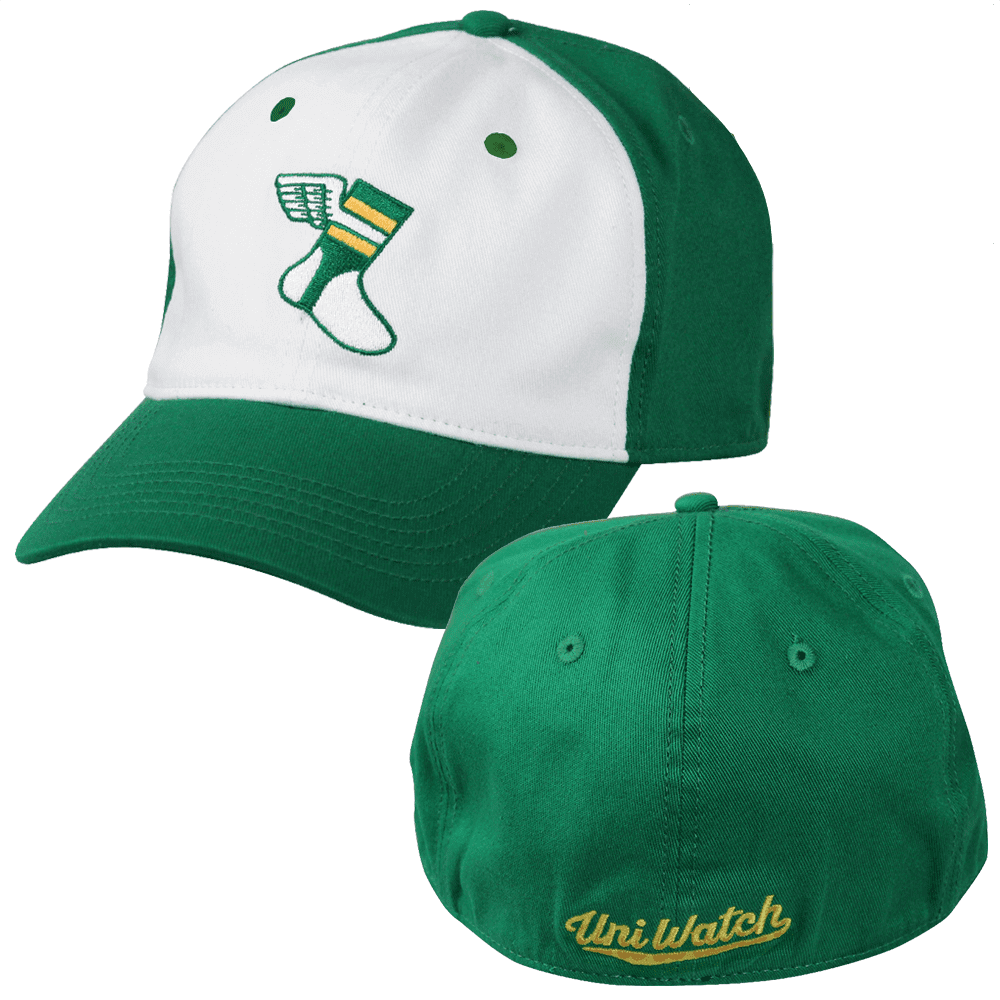 While we're at it, please keep in mind that we recently reduced the price of our flex-fit Uni Watch alternate cap from $29.99 to $24.99. If you've been on the fence regarding this cap, now would be a great time to climb down from the fence, or fall off the fence, or tear down the fence, or just buy a fucking cap already. You can order it here.
In addition, keep in mind that all fitted sizes of our Uni Watch classic cap, available from Ebbets Field Flannels, are back in stock. You can order yours here.
My thanks, as always, for your consideration of our merchandise. We now return you to your regularly scheduled Phil-fest.
[adrotate group="2″]
The Ticker
By Anthony Emerson

Baseball News: The Athletic has a great (paywalled) piece on the designer of the Brewers' famous ball-in-glove logo (from @BorchertField). … As a Red Sox fan, I've heard the World Series logo flag "conspiracy" before. Boston sports blog Off the Monster has a decent rundown of the "conspiracy" (from Gregory Zitelli). … Ketucky's new baseball stadium has a name: Kentucky Proud Park. The Kentucky Farm Bureau purchased the naming rights (from Josh Claywell).

NFL News: Our fearless leader was interviewed on KWFN in San Diego. Listen to the interview here! … Mohamed Sanu will wear Dragon Ball Z cleats for Sunday's game (from Mike Chamernik). … There was some discussion around Niners head coach Kyle Shanahan's choice of hat during last week's game, and yesterday he — kind of — elaborated on his choice (thanks, Paul). … The Rams' Ron Brown was going FNOB in a 1989 Monday Night Football game (from @theRealLT_). … Kenny Kaplan writes in with a few notes for Sunday: "Washington is wearing white uniforms at home, forcing the Cowboys to wear blue for the first time in Washington since 2009. When the Cowboys would wear blue in Washington in the past, it was because Washington's main home jersey was white. So this looks like the first time that Washington is going out of their way to force Dallas to wear blue by wearing their white jerseys at home. And the Giants will be wearing their main road whites for the first time this year. They did wear their white throwbacks last week at home when they faced the Eagles, but they've worn blue at Dallas, Houston and Carolina."

College/High School Football News: Pacific Standard did a deep dive into Oregon's relationship with Nike. Highly recommended (many thanks to @TeebzHBIC for sending this along). … You know LSU's new "color-changing" helmets? The paint for them costs $1,500 a gallon (thanks, Phil). … Oregon State is going with the classic Benny logo at midfield today (from @kingtaay). … Mizzou is going black-black-white with a rock-themed helmet logo today (from Matt Wilson and Matthew Thurman). … Kent State is going all-white (from Noah Kastroll). … The following are all from Phil: Syracuse is going all orange against UNC. … Liberty University is going with special helmets for their homecoming game. … Blaise D'Sylva reports that Boise State will have a new orange helmet and Memphis will have a new white helmet. … Old lockers from the Louisville locker room are available to be purchased (from James Gilbert).

Hockey News: You want to make a truly terrifying Jack-O-Lantern? Here are the instructions and template to make a Gritty Jack-O-Lantern (many thanks to sketches22). … New mask  Nick Rogers noticed that the Sharks did not have the All-Star Game patch on their alternate sweaters, which they debuted on Thursday night. … Also posted in the soccer section: Chicago is giving away soccer-style fauxbacks (from Casey Sudetic). … Islanders G Jeffrey Smith, who's currently with their AHL affiliate in Bridgeport, has a new mask (from Stan Capp). … Bauer Hockey posted a Twitter video showcasing some of their custom goalie pads for the college hockey season (from Nathan Hogue). … The University of Omaha appears to have adopted 3D helmet logos (from Ben Matukewicz). … New look for the Moose Jaw Warriors (from Lynn Valley Bryan). … Really subtle advertising for the ECHL's Florida Everblades (blame goes to @TomTalksStuff). … Canisius and Air Force went color-on-color for their opening game (from Joseph Pittiri). … The uni numbers on Ohio State's black sweaters are completely illegible (from Tommy Everson).

NBA News: NBA city edition jersey leaks seem to be a daily occurrence now, and now it's happened to the Pacers (from Nathan Geller). … Justin Essa Zayid noticed LeBron James's jersey had a weird pocket during his Lakers debut. Rib-padding on an undershirt? Microphone? … Speaking of LeBron, an ESPN graphic basically revealed the evolution in NBA jersey cuts since 2003 (from @atxaggie). … In a meandering Twitter thread, the Bulls revealed their full jersey schedule (from @TheSkyShowChi). … Speaking of the Bulls, this low-quality screengrab seems to indicate they're going with a Chicago flag motif for their "city edition" jerseys, rather than a wordmark (from Joe Gemma). … CJ McCollum sneaks we all rosed-up for his season debut in the Rose City (from Josh Claywell).

College Hoops News: New uni set for Georgia Tech men (thanks, Phil). … Providence men have new unis (from Anthony Gonsalves).
.

Soccer News: The English soccer season started back in August, but Coventry City has finally gotten around to releasing its third kit (from Ed Żelaski). … At the 10:40 mark of this video, Philadelphia Union's CBO Tim McDermott revealed that MLS is going to allow two primary shirt advertisements for clubs — one for the home kit, one for the away (from Gregory Koch). … Cross-posted from the hockey section: Chicago is giving away soccer-style fauxbacks (from Casey Sudetic).

Grab Bag: Jeff McBrayer found a wide variety of retro MLB, NFL, NBA and NHL patches at a thrift shop yesterday. … Marty Albert went to an open house on Thursday, and the house had this amazing sports-themed wood paneling. Very nice. … The Toro Rosso Formula One team is adding KFC advertisements to its livery for this weekend's United States Grand Prix in Austin. "'Merica, right?" says Ragnar Danneskjöld. … Speaking of F1, driver Romain Grosjean — who is French — went with stars-and-stripes shoes for the US Grand Prix (from Jack Wade and Kevin Brewer). … More F1 and USGP: Daniel Ricciardo is wearing a special, Texas-inspired helmet for the race (from Ragnar Danneskjöld). … New helmets for Dartmouth men's lacrosse. … ASU's logo shouldn't be used as an arrow, ever (from Jay Mantis).
[adrotate group="2″]