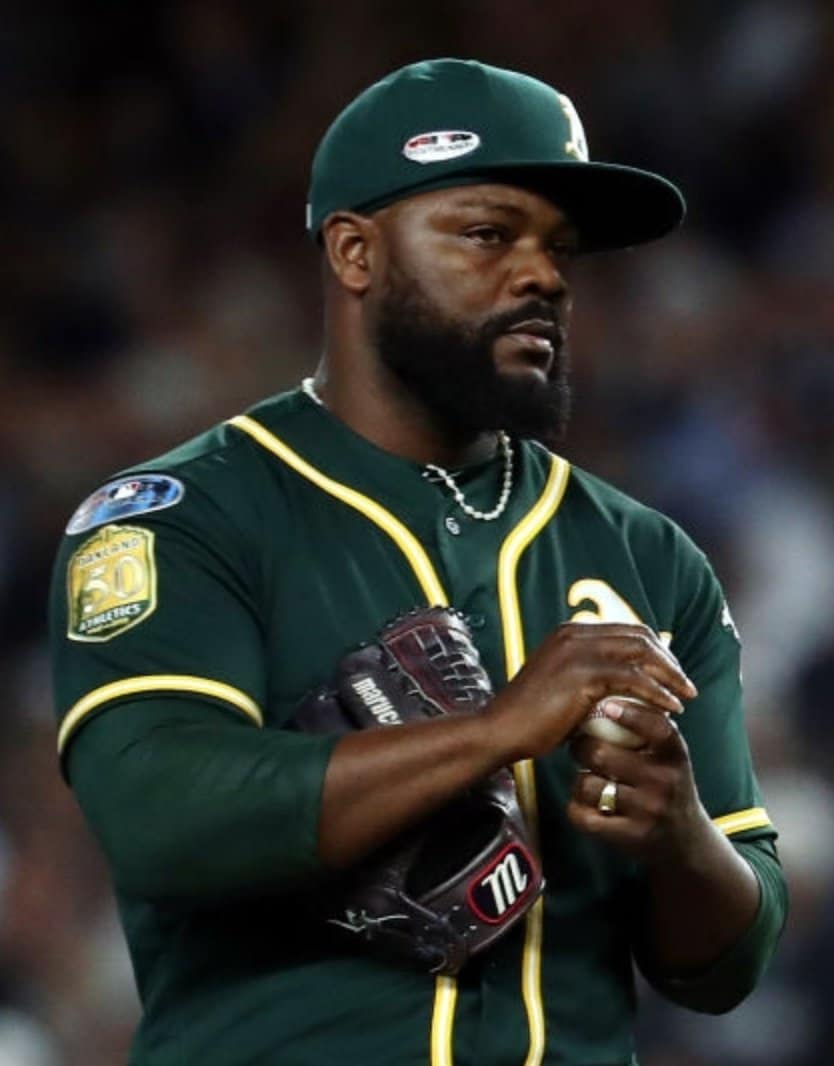 I think we can all agree that this year's MLB Postseason patch looks like shite. (For that matter, I hope most of us can also agree that the very idea of a postseason patch is unnecessary and that they should just stick to World Series patches.) But A's pitcher Fernando Rodney somehow found a way to make his cap patch look even worse in last night's American League Wild Card Game in New York.
By interesting coincidence, MLB has just released a commercial that ridicules the sport's "unwritten rules" and maxims and celebrates various "Look at me" behaviors by young players. The voiceover, which is by Junior Griffey, lists the various truisms that are being made fun of: "Don't stop and stare. Don't flip your bat. Respect the jersey" (emphasis mine). Maybe they can put Rodney and his cap in the next commercial.
A few other notes from last night's game:
• If you look again at that photo of Rodney, he appears to be wearing a wedding ring on his glove hand, which is usually a no-no for pitchers (cue the Whitey Ford story).
• The Postseason patch also looks pretty brutal on the umpires' sleeves, because it has to compete with all of the umps' memorial patches: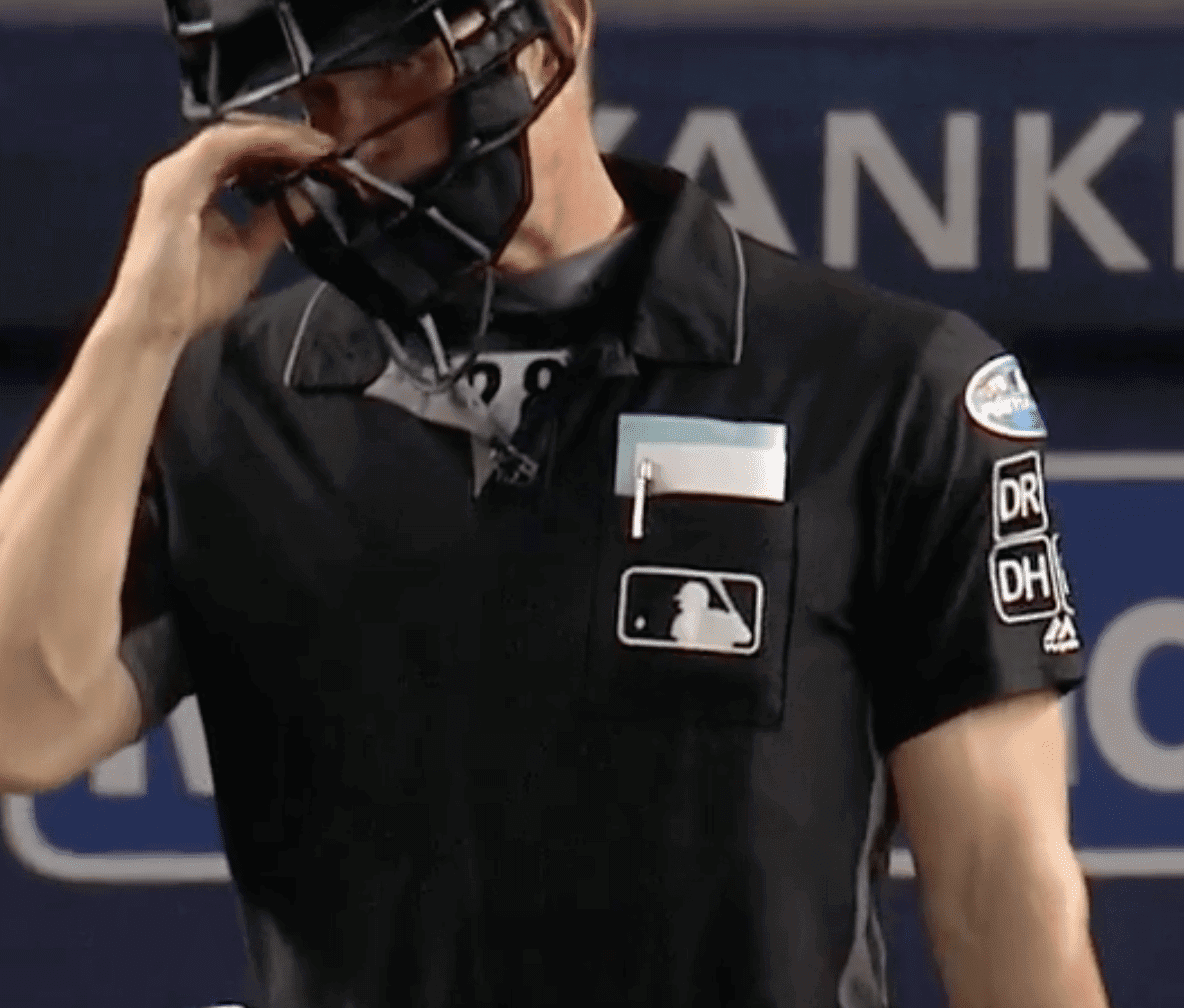 • A's pitcher Jeurys Familia was wearing a two-tone belt — green on one side and yellow on the other: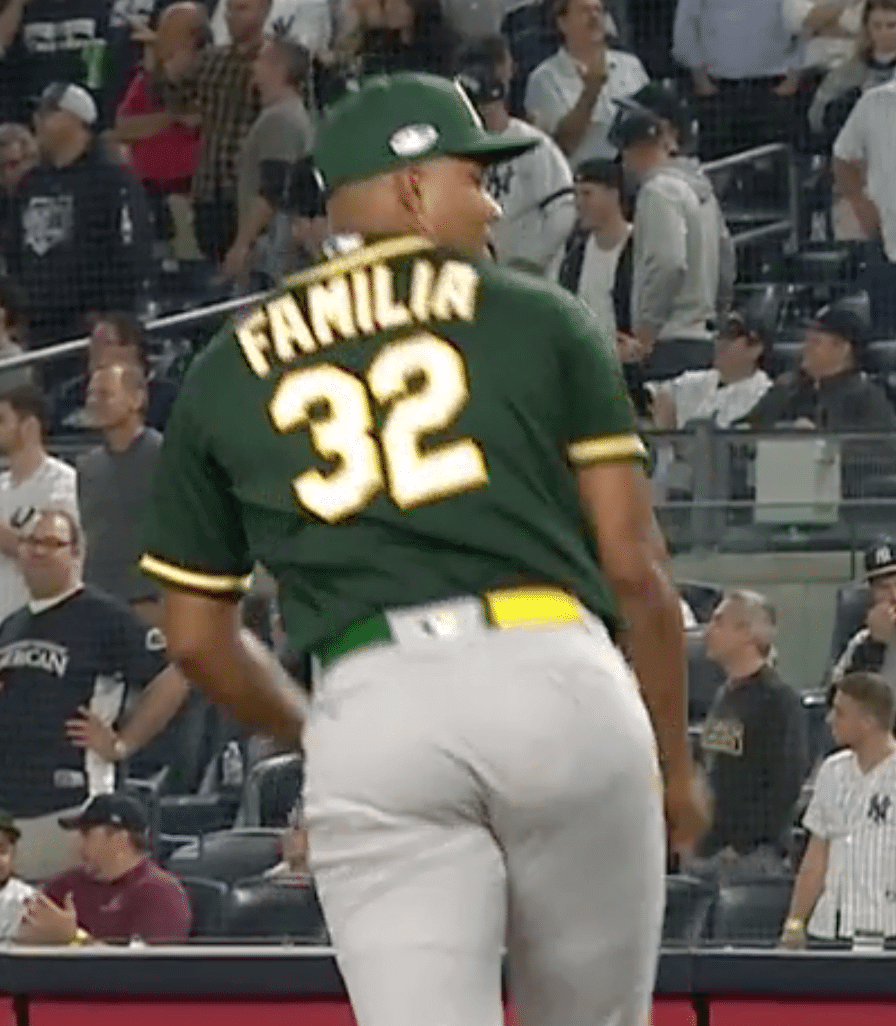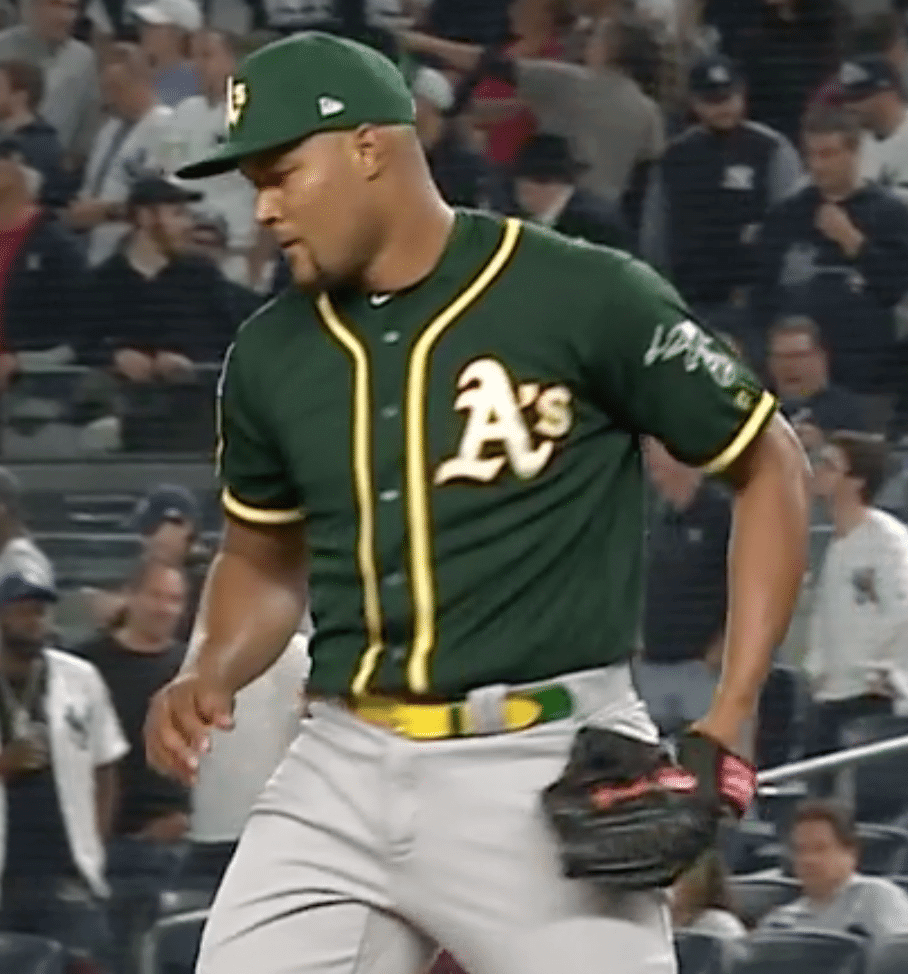 Some quick photo research reveals that Familia has been wearing this belt at least since Sept. 24, but we hadn't noticed until now. I'll see if I can find out more from A's equipment manager Steve Vucinich.
• Someone in the A's dugout — not sure who — was missing his anniversary patch:
(My thanks to Mike Miller, Jonathan Shaw, and @BerrysAthletic for this contributions to this section.)
• • • • •
[adrotate group="2″]
• • • • •
Click to enlarge
Jets contest results: The results of our Jets-redesign contest are now available for your enjoyment over on ESPN. I'm showcasing this entry by Tim Fesmire mainly because I love his presentation format, which looks like something out of a storyboard for the next Incredibles movie.
You can see all of the entries I received here.
• • • • •
[adrotate group="2″]
• • • • •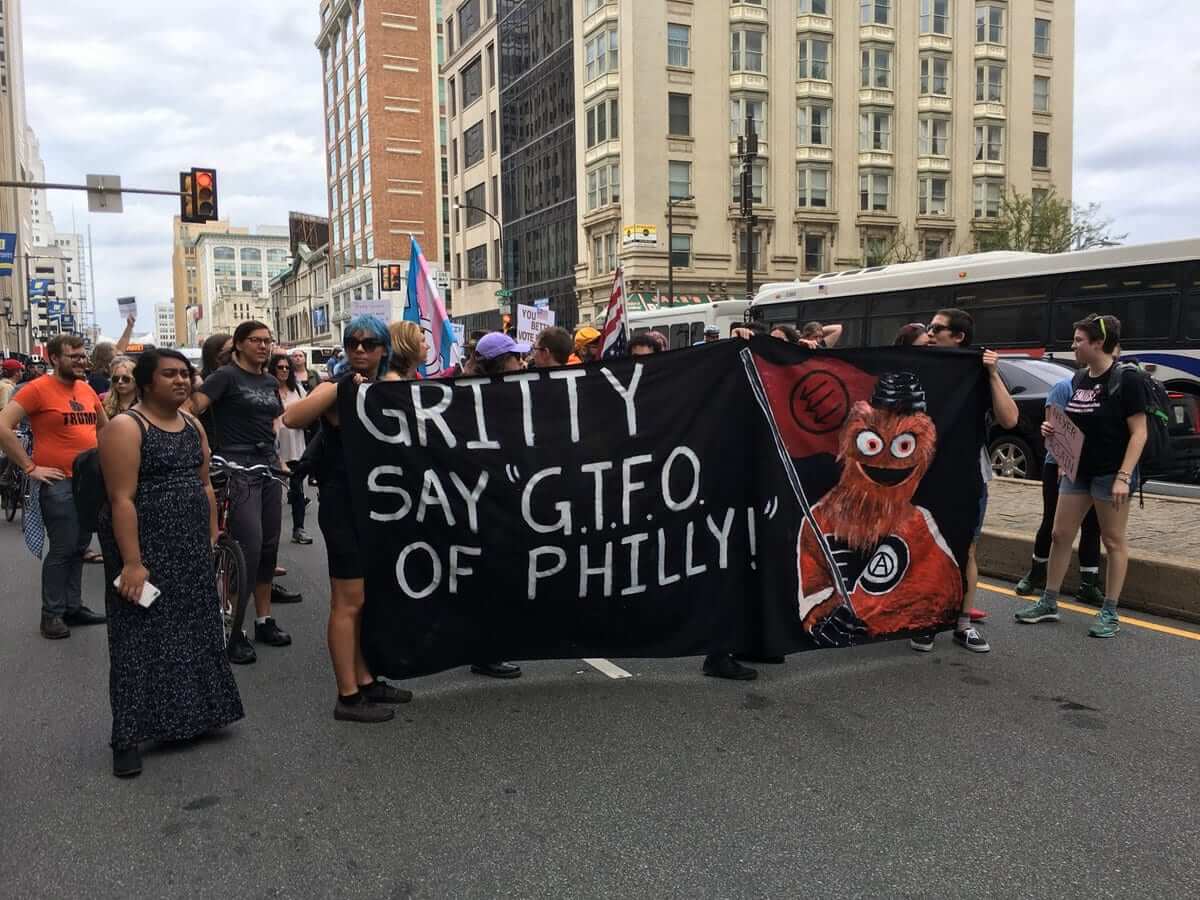 Click to enlarge
Occupy Gritty: Bizarre development this week in Philly, where Gritty — the new Flyers mascot that has been widely ridiculed as being the stuff of nightmares — was adopted by people protesting a visit by President Trump. A left-wing activist even set up a rather amusing IWW-style Twitter account called Fellow Worker Gritty, in which Comrade Gritty declaims on weighty subjects from a socialist mascot's perspective:
I wanna talk to my steward. #1u #gritty pic.twitter.com/4BG2qijmX6

— Fellow Worker Gritty (@FellowGritty) October 3, 2018
The kicker is this Daily Beast article, which concludes with this deadpan gem: "The Philadelphia Flyers did not return a request for comment on Gritty's political alignment." No word on whether they tried to get a quote from the Philly Phanatic.
(Big thanks to our own Anthony Emerson for bringing this one to my attention.)
• • • • •
[adrotate group="2″]
• • • • •
The Ticker
By Paul

'Skins Watch: A Canadian youth hockey team called the Northwest Warriors currently uses the Chicago Blackhawks' logo, but the team is working with members of the Tsuut'ina First Nation tribe to come up with a new logo that will portray First Nations people "in a positive light" (from our own Yianni Varonis).

NFL News: Did you know the Bengals wore a bicentennial patch during the 1975 (not '76) Hall of Fame Game? (Good find by Stephen, who didn't give his last name). … The Titans will wear white over blue this week against the Bills (from Eric Wright).

College Football News: Louisville coach Bobby Petrino, whose team is preparing to play Georgia Tech this weekend, says he finds Tech's uni numbers difficult to see when watching game film. … Here are this week's uni combos for Wofford, Troy, and Virginia Tech (from Ryan Bohannon and Andrew Cosentino). … Florida's equipment truck caught fire the other day, which has created a major challenge for the team's equipment staff (from @fitzsimmons22).

Hockey News: Don Cherry-themed uniforms are returning to the WHL this season (from Wade Heidt). … The Capitals raised their championship banner last night, although many observers noted that they essentially whitewashed any mention of former coach Barry Trotz from the proceedings.

NBA News: Looks like the Warriors will have a new throwback this season. … Corporate theater is so tedious: Suns rookie DeAndre Ayton recently signed an endorsement deal with Puma, but his new sneakers weren't ready in time for his first preseason game, so he wore Nike's with the logo taped over. … Yesterday's Ticker had a note about how the jerseys that the Nets wore at their Media Day event had a little "T" at the base of the collar. But then I was looking at the Mr. Yuk-ified Suns photos that Nic Schultz prepared for me and noticed that they seem to have an orange "T" or cross in the same spot. So then I went back and noticed that Grizzlies appear to have it as well. This is apparently some reinforced stitching to cut down on all the jersey rips that we saw last season.

College Hoops News: New uniforms for Oklahoma. … New "Flyin' Illini" throwbacks for Illinois (from Don Drever). … Whoa, look at the shorts worn by Mississippi Southern in 1954-55 (from Josh Manck). … New uniforms for UConn.

Soccer News: La Liga side Valencia was flagged for a kit violation due to a small maker's mark on their neck warmers. … New 90th-anniversary shirt for League of Ireland team Sligo Rovers (from our own Jamie Rathjen). … Here's a look at the one-off shirt that Louisville City will wear against North Carolina FC. "First monochromatic badge in club history," says Josh Hinton, and I'll take his word for it!

Grab Bag: Senator Chris Coons, while discussing the current Supreme Court situation, invoked a uni-related metaphor. According to that article, "Coons called for 'reduc[ing] the frequency with which we describe judges as wearing red or blue jerseys.'" … New uniforms for the Japanese volleyball team Oita Miyoshi Weisse Adler (from Jeremy Brahm). … A Sikh endurance cyclist is challenging the sport's mandatory helmet rule because it would prevent him from wearing his turban. … Sheriff's deputies in Summit County, Colo., are wearing Pinktober patches. … New logo for DuPont. … Did you know there was once a record label called Uni? It's true — great label design, too.