With the Panthers hosting the Bengals yesterday, both teams wore "One Carolina" helmet decals to support the Hurricane Florence relief efforts and show solidarity with the victims. (ECU wore this same decal on Saturday night, and lots of other schools across the Carolinas wore it as well.) It's not clear, at least to me, whether this was a one-game thing for the Panthers or if they'll keep wearing the decal for additional weeks.
In other news from the around the league yesterday:
• The Jags, while wearing white at home, also wore teal pants, I believe for the first time ever (their original prototypes notwithstanding):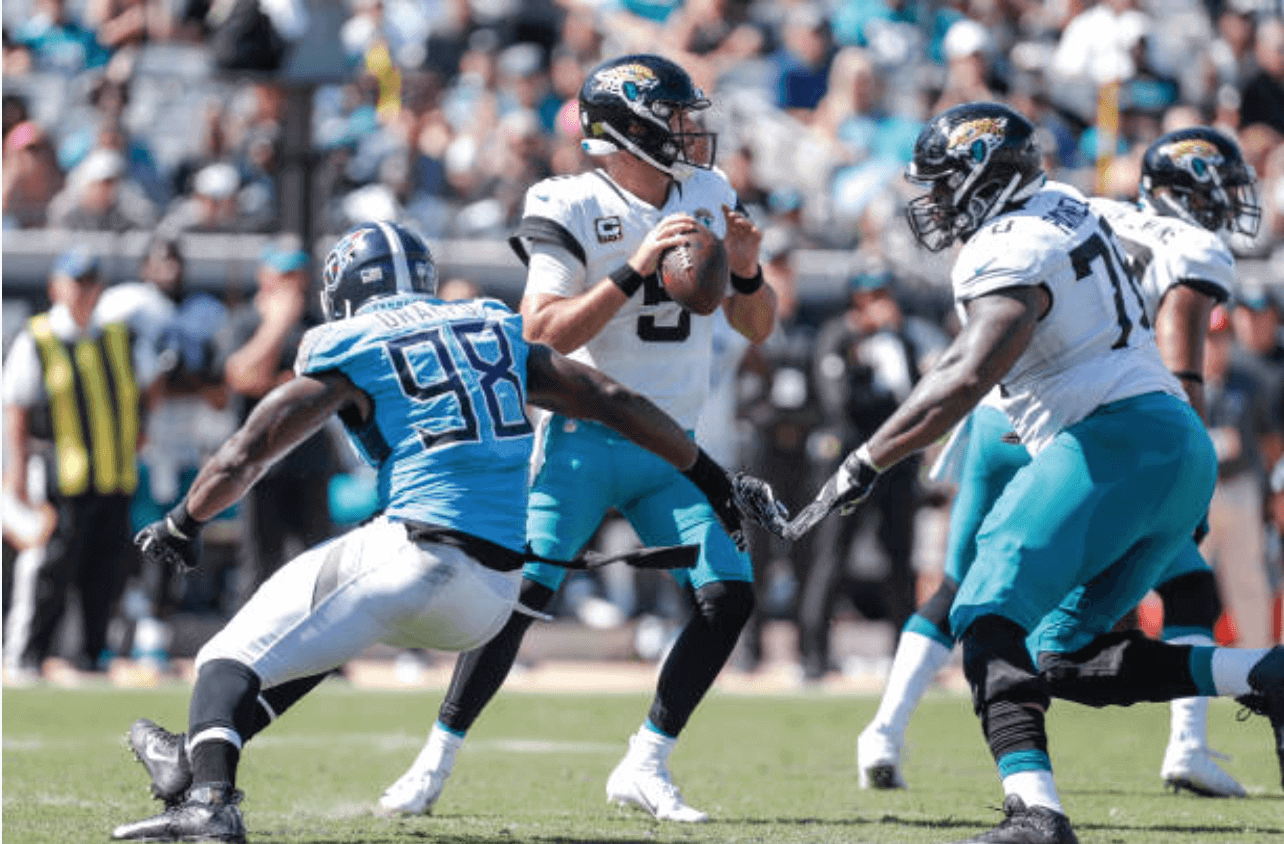 As you can see, the Titans' uniforms were sort of an inverse of the Jags' (I say "sort of" because the Titans' light blue and Jags' teal aren't a true match), which some observers found particularly off-putting.
• Speaking of pants: The Giants' protocol for the last few seasons has been to wear their white pants at home and grey pants on the road, irrespective of which jersey they're wearing. So if they've been on the road against an opponent wearing white jerseys at home (like a game in Dallas, for example), the Giants have worn blue over grey. But for yesterday's game in Houston, with the Texans going mono-white at home, the Giants wore their white pants instead of the usual grey road pants:
.@SAQUON to the end zone! #NYGiants lead 7-3 #NYGvsHOU pic.twitter.com/Jo9SaEdcAT

— New York Giants (@Giants) September 23, 2018
• After upgrading to the Riddell SpeedFlex helmet for the preseason and the first two games of the regular season, Pats quarterback Tom Brady went back to his old-school helmet for last night's game against the Lions.
• Surprising to see that Ravens wideout Michael Crabtree and Washington tight end Jordan Reed both played — and caught passes — bare-handed: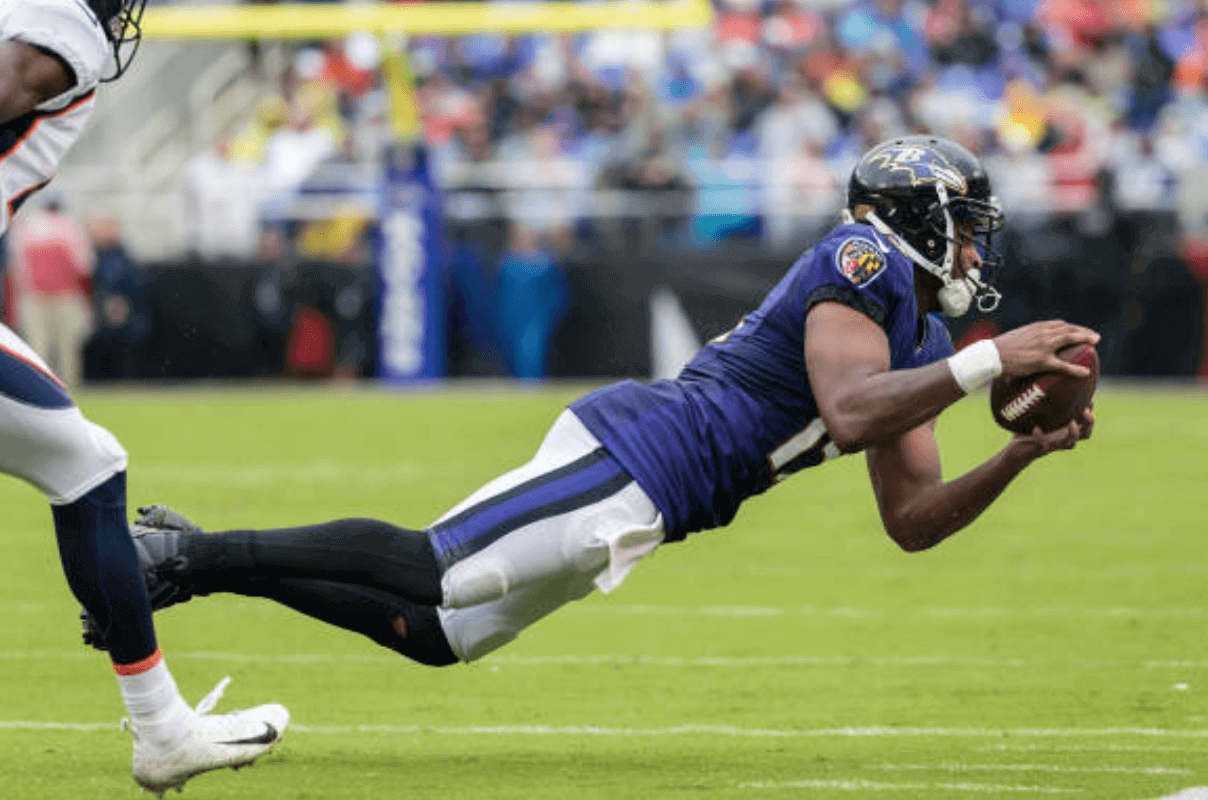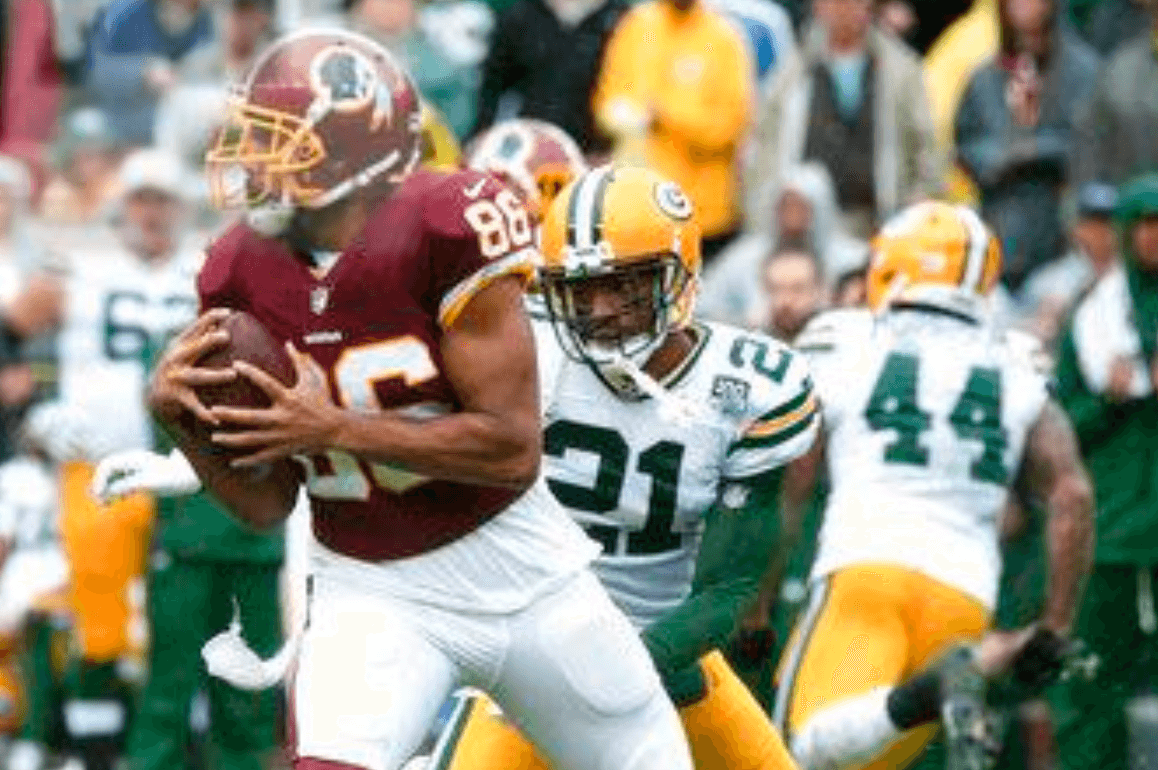 I did a little photo research and found that Crabtree wore gloves in Week Two but was bare-handed in Week One. As for Reed, he wore gloves in Week Two and Week One. Interesting to see that both of these guys went glove-free yesterday.
• On Friday I mentioned how several NFL quarterbacks had inconsistencies regarding the stars on their captain's patches. Here's another one: Washington's Alex Smith was wearing the gold "C" yesterday, indicating at least five years of captaincy with the same team, which makes no sense because this is his first year with the team (click to enlarge):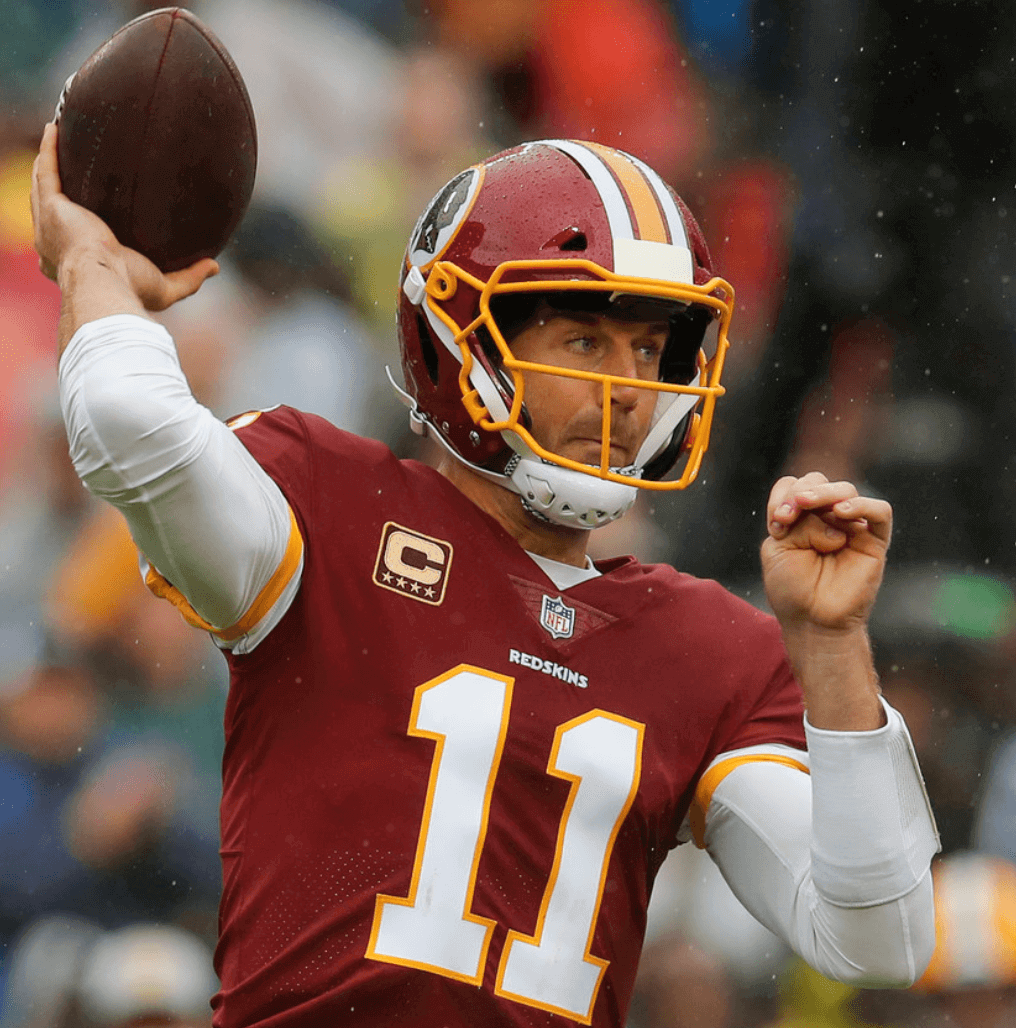 I checked and found that smith also had the gold patch last week, but we all missed it. The kicker is that he had a white "C" and only one gold star in the season opener (click to enlarge):
So that makes at least three QBs with new teams this season — Cleveland's Tyrod Taylor, Arizona's Sam Bradford, and now Smith — who properly had one gold star in Week One but then "graduated" to additional stars in Weeks Two and Three. It would be easy to think that the NFL issued a new patch protocol after Week One, except that Minnesota's Kirk Cousins, in his first year with the Vikings, still has only one gold star, which is as it should be.
In short: There's no rhyme or reason here. I'm also unsure whether these inconsistencies extend to other captains beyond quarterbacks. (QBs are much easier to track because they're photographed so frequently at close range, which makes it easy to see small details like captaincy stars.) Has anyone noticed anything similar going on with non-QB captains who've joined new teams this season?
The obvious solution, of course, would be to just scrap the stars, which are a silly gimmick. (You could arguably say the same thing about the patches themselves.) Anyway, I'll ask the NFL about the inconsistencies and see if they can clarify the situation.
(As an aside, it's worth noting that there are only two NFL teams with blank nose bumpers — KC and Washington — and Smith has now managed to play consecutively for both of them.)
• In addition to the aforementioned Texans and Jaguars, three teams wore white at home: the Dolphins, Rams, and Panthers (who, as you can see, also wore black socks once again).
• Here's a list of players who protested during the national anthem.
(My thanks to all contributors, including Gabe Cornwall, Clay Cutler, Wade Heidt, Jason Hillyer, Omar Jalife, and Dustin Pomprowitz for their contributions to this section.)
• • • • •
[adrotate group="2″]
• • • • •
Membership update: Some new designs have been added to the membership card gallery (including Ben Froehle's, shown at right, which is based on Utah State football). Really nice job on that gradation by card designer Scott Turner.
Remember, a Uni Watch membership card entitles you to a 15% discount on any of the merchandise in our Teespring shop. (If you're an existing member and would like to have the discount code, email me.) As always, you can sign up for your own custom-designed card here, you can see all the cards we've designed so far here, and you can see how we produce the cards here.
• • • • •
[adrotate group="2″]
• • • • •
The Ticker
By Jamie Rathjen

Baseball News: Muscular Reds P Michael Lorenzen appear to have busted out of his sleeve piping (from Jered Petrey). … Nationals OF Bryce Harper was wearing a jersey that he signed yesterday. It was given away after yesterday's game, though it's not clear if any of the other players participating in the giveaway also wore their signed jerseys (from @thefrownyface). … One of the suites at the Braves' stadium has a picture of Casey Stengel in the 1939 Boston Bees road uniform. "Dig the colored belt loops and the font I tend to associate with the Pirates," says Austin Gillis.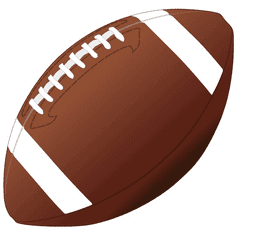 Football News: Nebraska is one of the teams to have added players' area codes to their nose bumpers. They weren't there when Nebraska's uniforms were updated this summer (from James Hendrickson). … A few Utah Jazz players appeared at Utah State's game against Air Force, and guard Donovan Mitchell, who has an endorsement deal with Adidas, covered the Nike logo on the jersey he was given with green tape (from @trayallday). … Virginia RB Jordan Ellis had some kind of X on his front bumper instead of the ACC logo. … Two San Diego-area high schools, West Hills (black) and El Capitan (yellow), played a color-vs.-color game on West Hills's blue field (from Brad Gomez).

Hockey News: The jerseys for yesterday's Sharks alumni game featured the team's foundation logo below the crest (from @OlegKvasha). … From the Western Hockey League's opening weekend (for more, see yesterday's Ticker): The Saskatoon Blades wore previously revealed Humboldt Broncos tribute uniforms, and goalie Nolan Maier wore a matching mask, while the Swift Current Broncos added an interlocking SC to their pants (from Wade Heidt).

Basketball News: Cross-listed from the football section: Jazz players Donovan Mitchell, Royce O'Neale, and Georges Niang appeared at Utah State's football game against Air Force. Mitchell, who has an endorsement deal with Adidas, covered the Nike logo on the jersey he was given with green tape, while the other players didn't (from @trayallday).

Soccer News: Saturday's NWSL championship game featured a patch of the game's logo in the lower corner of the front of the shirt, because the places where patches would go in other sports are taken in soccer. … In Scotland, Celtic goalie Craig Gordon wore what looked to be black training shorts and socks (and tights), clearly different from the black shorts on the rest of the team. … Scottish team Rangers have worn three different variations of their second kit in the Europa League this season, with the third appearing last Thursday. Additionally, winger Ryan Kent had the colors on his sash reversed (blue is supposed to be on top) for half the game Thursday (from @bryant_rf). … There were blue-vs.-blue matchups between Cardiff City and Manchester City in the Premier League and Philadelphia and Sporting KC in MLS. … English club Lewes claims to be the only club in the world to pay its seventh-tier men's and second-tier women's teams equally, and has used its shirts both last season and at the beginning of this season to promote gender equality.

Grab Bag: Austrian cycling team WSA Pushbikers showed up at the road world championships in Innsbruck with a team car in the form of a gloriously unpainted — naturally, team cars are usually in team colors — vintage Mercedes.