Click to enlarge
I rarely write about soccer, because I know so little about the sport. But I have a really fun new soccer-centric piece up on ESPN — it's a look an exclusive behind-the-scenes look at the creation of the crest for David Beckham's new MLS franchise, Inter Miami, with lots of developmental sketches (see above) and inside info. It was really fun to work on, and it even has some quotes from Beckham (although I didn't get to interview him directly — had to deal with an intermediary, grrrr). Check it out here.
• • • • •
[adrotate group="2″]
• • • • •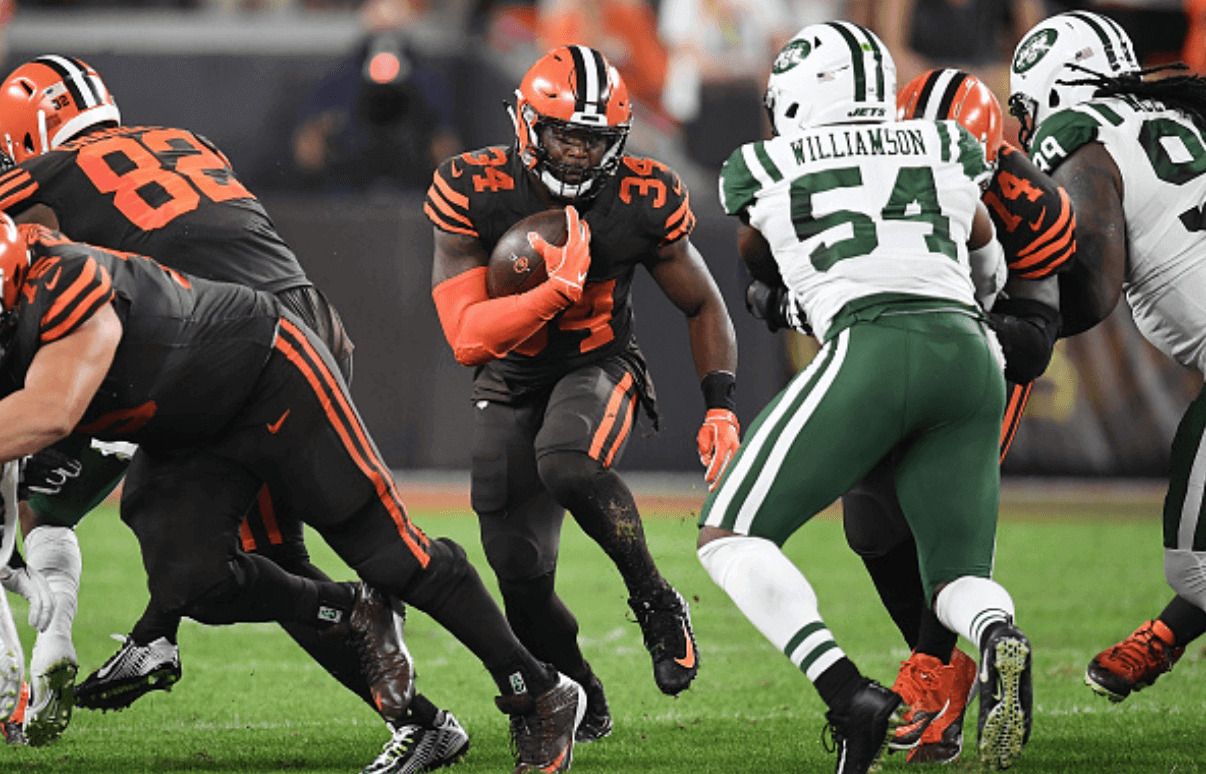 Living up to their name: The Browns' mono-brown Color Rash uniforms finally made their on-field debut for last night's game against the Jets and looked about how you'd expect. Can't say I'm a fan, although at least they don't have the big honking wordmark on the pants.
I am a fan, however, of the Browns' new striped end zones — although I'd be a much bigger fan if the old Browns script weren't bleeding through the stripes (click to enlarge):'
Speaking of stripes, the stadium's sideline fans have a Browns helmet design theme — even for the visiting bench:
In that same game, several people noticed that Browns quarterback Tyrod Taylor's captaincy patch had two stars. The stars are supposed to represent how many years the player has been a captain for his current team, and this is Taylor's first year with the Browns, so there's no way he should have two stars. And yet: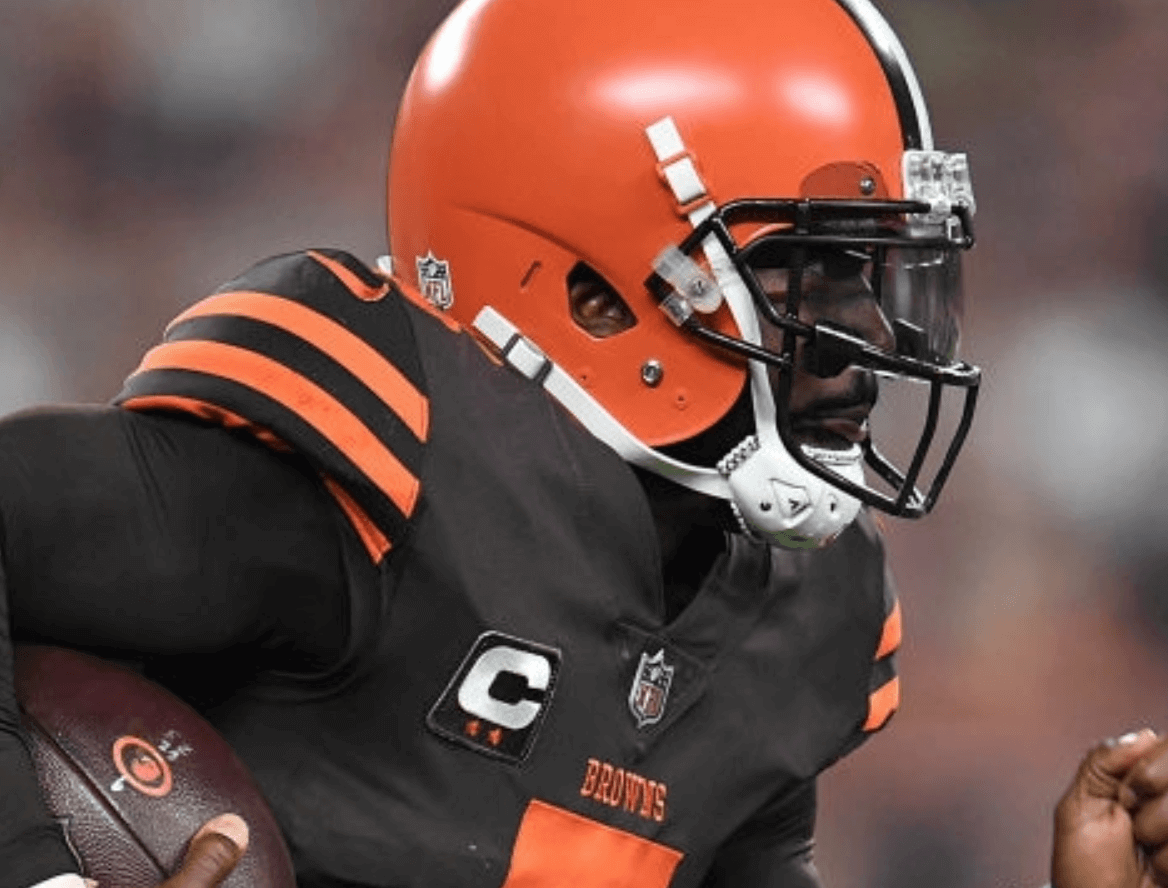 I did some quick photo research and discovered that Taylor had two gold stars — which, again, doesn't make sense — for last Sunday's game against the Saints, but none of us noticed (for all of these pics, you can click to enlarge):
But Taylor had only one gold star for the Browns' season opener against the Steelers:
Taylor isn't the only NFL quarterback with captaincy patch issues. Reader Clifford Baxter notes that Cardinals quarterback Sam Bradford, who's in his first season with Arizona, had three gold stars last Sunday: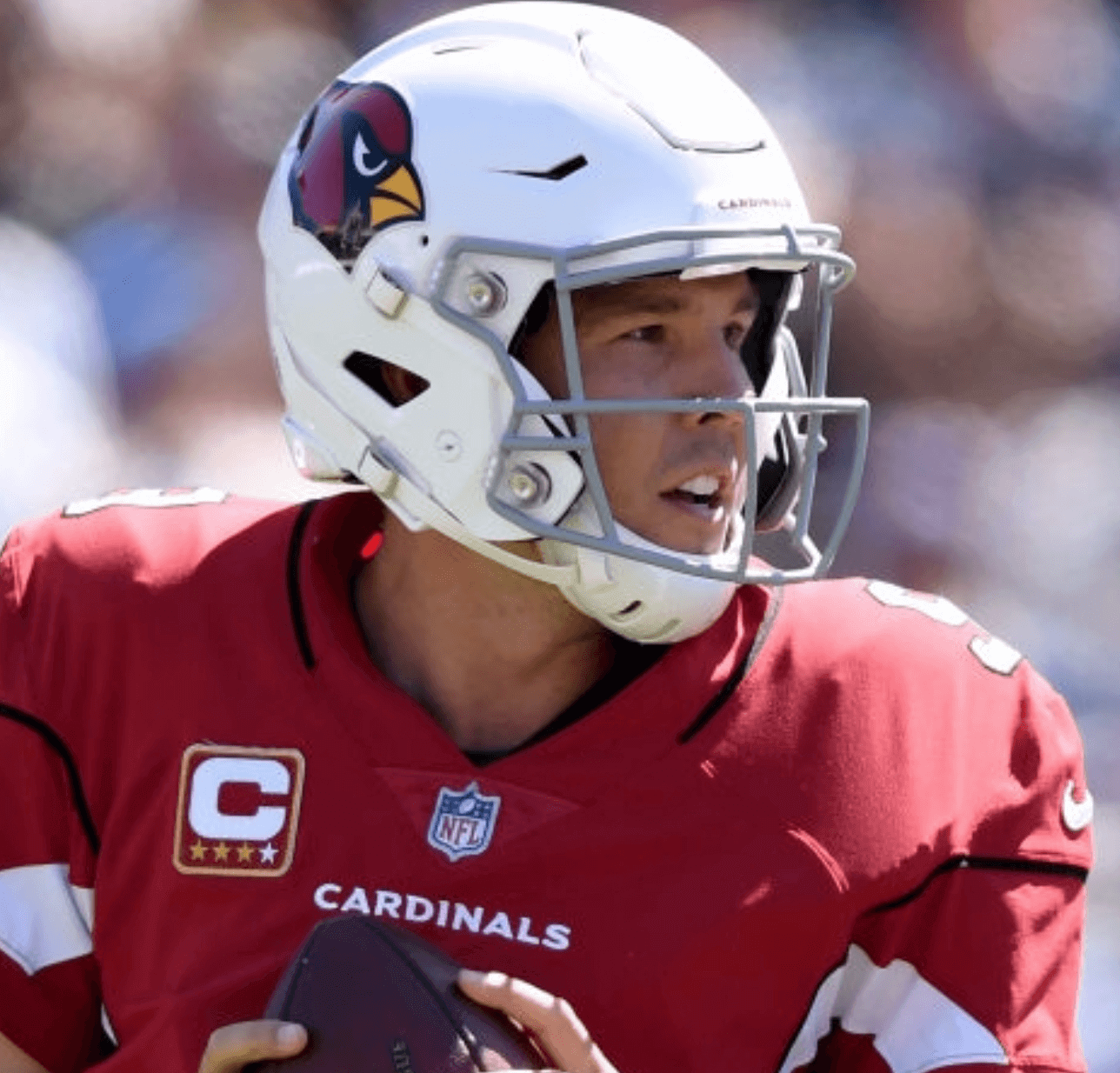 But for the Cardinals' season opener against Washington a week earlier, Bradford had only one gold star: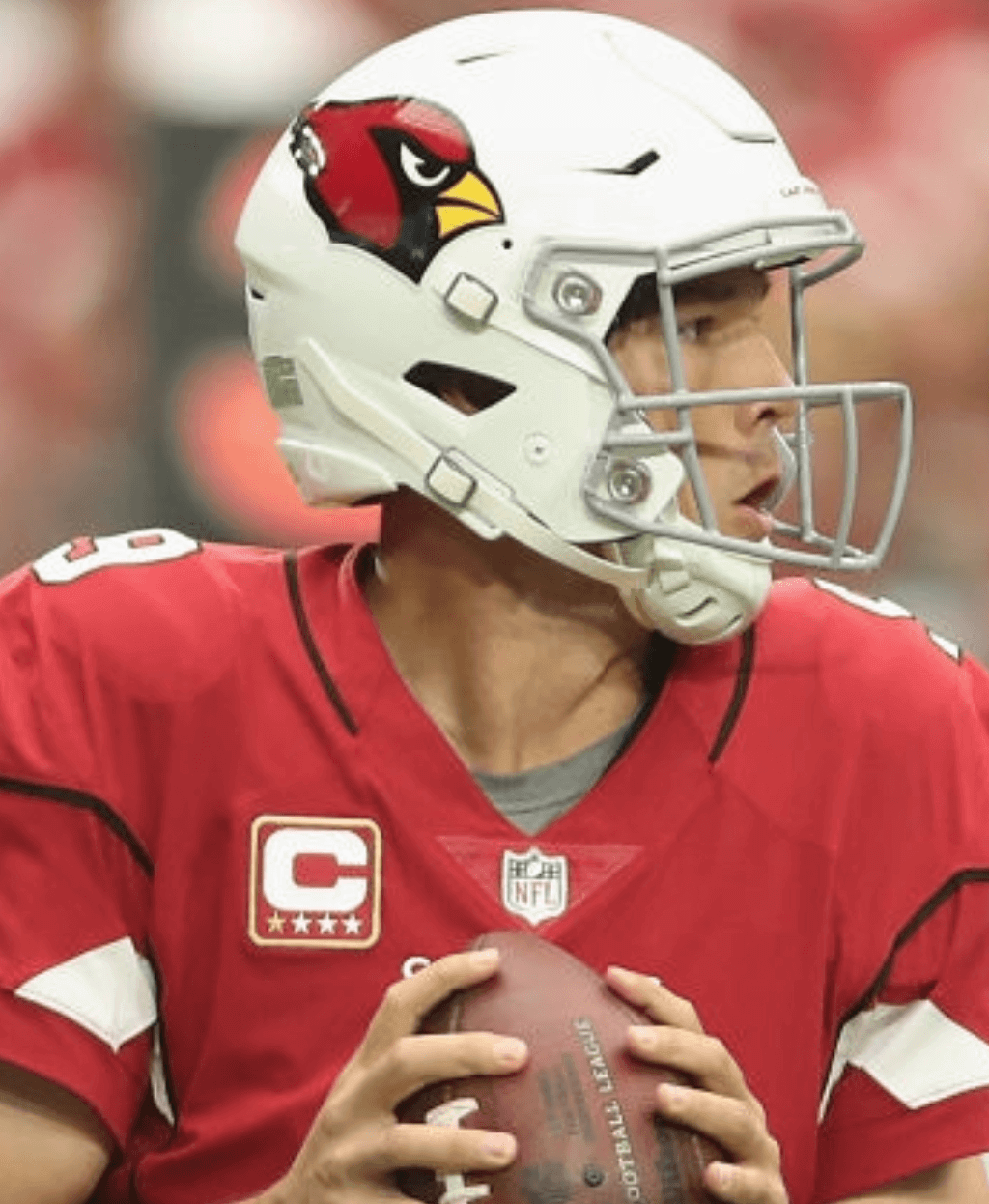 Just to compare some recent examples, when Peyton Manning moved from the Colts to the Broncos in 2012, he went back to wearing one gold star. Ditto for Brett Favre when he joined the Jets and Vikings. That's how it's supposed to work.


Speaking of the Vikings, quarterback Kirk Cousins joined their roster this year. Sure enough, just one star. Well done, Vikes.
(My thanks to Billy King for the end zone shot and Kenny Kaplan for the sideline fans shot.)
• • • • •
[adrotate group="2″]
• • • • •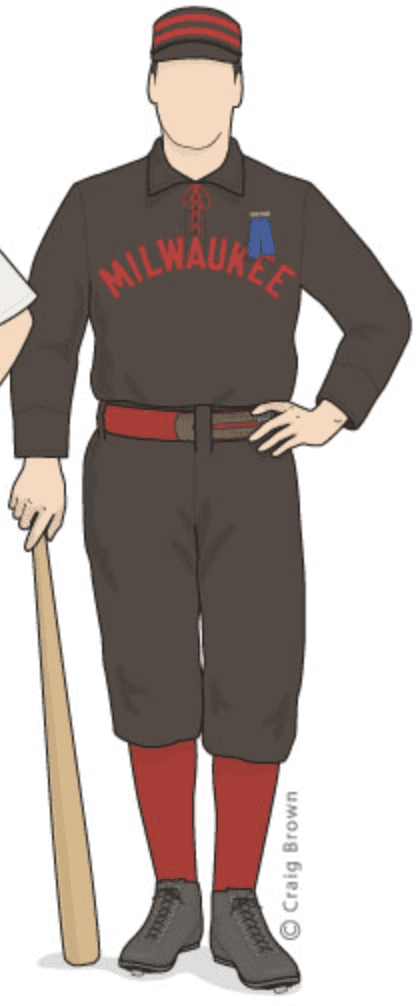 Early uni ad: The excellent Threads of Our Game site, which documents pre-1900 baseball uniforms, recently came up with an interesting example of ads on unis. It seems that in 1894, the Milwaukee team in the Western League — that was a short-lived minor league — wore blue ribbons on their road uniforms as a nod to Pabst Blue Ribbon beer, which of course was brewed in Milwaukee. At the time, PBR's packaging featuring actual blue ribbons on the bottles, so the ribbons on the uniforms were a very literal evocation of the product.
So far, there are no photos of this uniform, but Threads of Our Game historian Craig Brown has turned up several written descriptions of the ribbon-clad unis and used them to create the mockup shown at right. Brown's research also turned up an 1894 article with this passage:
The team is backed by a brewery, and its players are advertising the same on their uniforms. There have been advertisements on jockey's jackets at Latonia [a local horse racing track], but never before on a ball-player's back.
That indicates that there may have been a rear-jersey ad in addition to the blue ribbons, and also suggests that uni ads were unheard of up until that time.
Fascinating stuff. For additional info, check out Brown's full report.
• • • • •
[adrotate group="2″]
• • • • •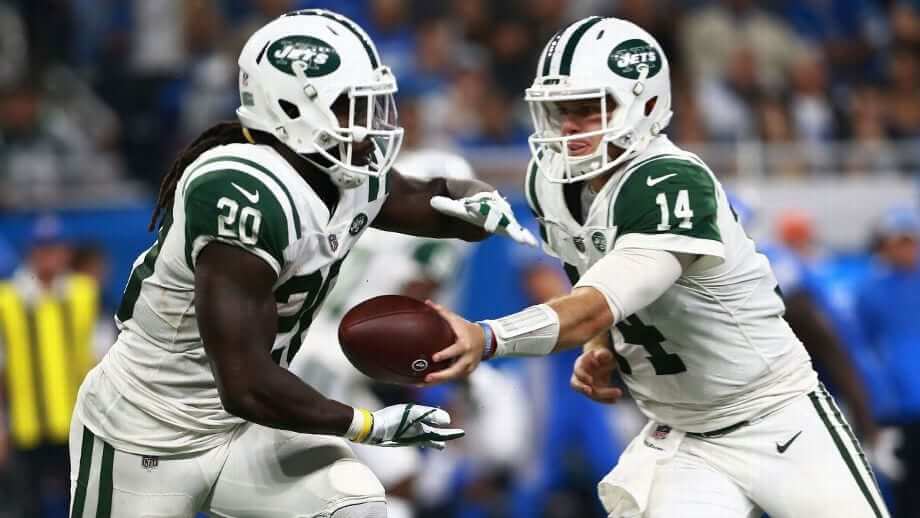 Last call: Today's the final day to get your entries in for my Jets-redesign contest. As usual, the best entries will be featured in one of my upcoming ESPN columns. Full details here.
• • • • •
[adrotate group="2″]
• • • • •
Naming Wrongs update: We had previously done some Riverfront Stadium shirts in Reds colors. But with the NFL season underway, we had some requests for Bengals-colored versions. They're now available in black with white lettering, black with orange lettering, and orange: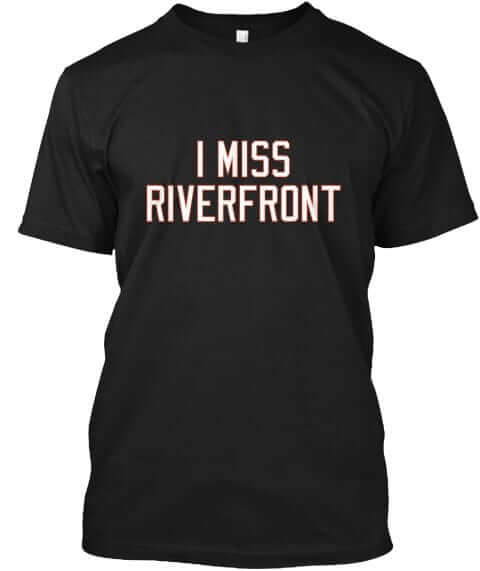 These designs are now available in the Naming Wrongs shop. They're also cross-listed in the Uni Watch shop, where card-carrying members can get 15% off. (If you're a member and need the discount code, send me a note and I'll hook you up.) My thanks, as always, for your consideration.
• • • • •
[adrotate group="2″]
• • • • •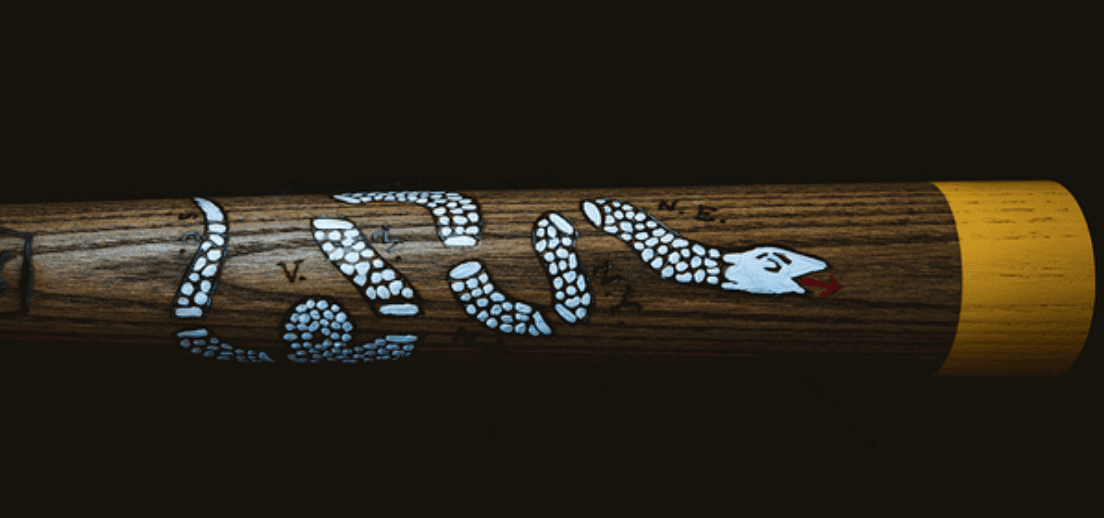 Bat giveaway: One of our steady advertisers, the Pillbox Bat Co., is raffling off one of their "Join or Die" bats (the barrel of which is shown above). Full details here.
• • • • •
[adrotate group="2″]
• • • • •
The Ticker
By Brinke Guthrie, pinch-Tickng today

Baseball News: No polo pony here, but that is indeed designer Ralph Lauren wearing a Yankees cap with his signature on the bill. Looks like the cap is using the jersey version of the "NY" (from @GuffMichael). … The Round Rock express are now affiliated with the Astros and have new logos and uniforms. … When the Twins used to play at the Met, the grounds crew would chalk up the visiting team's logo on the fungo circle (from Chris Hickey).

NFL News: Reader Alan Topolski was in a Los Angeles Ralph's supermarket and took note of the store's Rams balloon display. "They had a display of Rams helmet foil balloons. I was surprised that they were using the outdated style that they stopped wearing during the 2016 season." … Jason Brooks created a set of Eagles concepts. …A Browns fan came up with a new NOB for a Browns jersey after last weekend's kicking woes. … The NFL is closing its NFL Experience store/exhibit on Times Square. Paul had written about it earlier this year. …@IHSAState wants to know if there's a cooler football helmet anywhere than this one for the Fisher (Ill.) HS Bunnies. … Deadspin published a piece on how the NFL uniform code "needs to be destroyed" (from Eric Bangeman). …The Bengals are wearing their home black over white when they visit the Panthers this Sunday (from Joshua Hinton).

College Football News: Syracuse will retire Joe Morris's No. 47 on Saturday (from Phil). … Virginia Tech will wear white/orange/white at Old Dominion this Saturday (from Andrew Consentino). …Clemson to wear white jerseys at Georgia Tech for the first time since 2007 (from Benji B). … Hard to believe, but the University of Oregon is cutting back on uni combos (paywalled, from Jason Hillyer). … Oklahoma will wear a "thunderbird" decal on their helmets this Saturday vs. Army, and Tennessee will go orange over white against Florida (from Phil). … The Force is clearly with Temple University (from Phil).

Hockey News: The Sabres tweeted "there's a story behind every (goalie) mask." …Chris Creamer has a history of the NHL All-Star Game logos following the 2019 ASG reveal for San Jose. …The Shawinigan Cataractes (Quebec Major Junior Hockey League) will wear these throwback jerseys for Oct. 7 and 13 home games (from @PThomas19). …The AHL San Antonio Rampage will use this logo for their first-ever "Dia De Los Muertos" game. The team will be known as "Los Chimuelos De San Antonio" (from @StrosBros1).

Basketball News: Virginia Commonwealth University showed off its new home whites (from Tommy Turner). …Nike has released the new Air Jordan XXIII.

Soccer News: Jimmy Lonetti says, "Minneapolis City SC of the NPSL has created an alternate logo that honors the Minnesota Kicks of the old NASL".

Grab Bag: Roger Federer is using a new red version of his Wilson signature racket for this weekend's Laver Cup in Chicago. … If red's not your color, Head has released a yellow 25th-anniversary edition of the Andre Agassi Radical rackuet design. … Naomi Osaka, who won the women's title at the U.S. Open, has scored a huge payday from Adidas. … How tech times have changed: Teams and leagues used to send Uni Watch confidante/logo designer Todd Radom info on floppy discs! . … An Italian clothing company is selling battered-looking sneakers that are intentionally distressed and critics say they are "mocking poverty". They also cost, er, $530 (from Jason Hilyer). …"Hank Steinbrenner bought into Indycar's Harding Racing, to form Harding Steinbrenner Racing. His son George IV races for Indy Lights. The kicker, next year we'll see Yankee pinstripes on an Indycar," says Tyler Scott
• • • • •
Happy birthday to DIY genius Wafflebored, who turns 50 today. Have a good one, buddy. By coincidence, today is also my half-birthday, so Wafflebored and I are both equinox babies. The 21st is a very good day on which to be born!