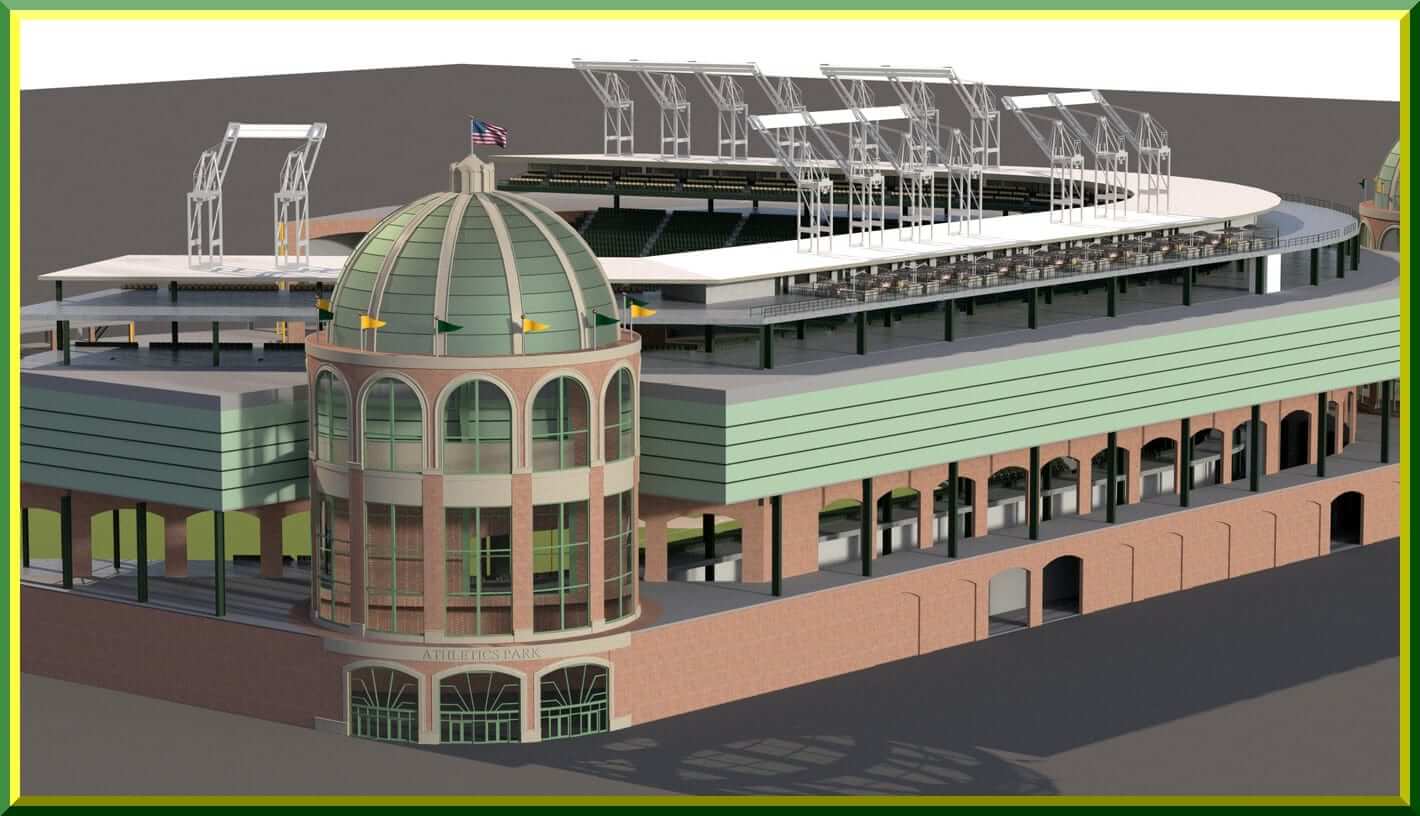 [Editor's Note: Paul is on his annual August break from site. Deputy editor Phil Hecken is in charge from now through the end of the month, although Paul is still on the clock over at ESPN and may be popping up here occasionally.]
By Phil Hecken, with Mark Anderson
Follow @PhilHecken

If the name "Mark Anderson" sounds vaguely familiar to you, it's because I've featured him on Uni Watch a couple times before, but not for several years — admittedly, we both lost touch — but over the summer, Mark began tweeting some graphics of a ballpark he was hoping the Oakland Athletics might someday build (if they ever leave the Coliseum). At first I thought it was just for fun, but after speaking with Mark, I realized the proposal was more than just some pipe dream (though it may ultimately end up being just that). But he went from dream to almost-reality with this, and I asked him if he'd share a pretty incredible story about his vision for the new home of the A's.
It's a bit long (but in a good way) and it's a GREAT read, complete with amazing graphics, all below. Enjoy!
• • •
A Vision for a New Oakland A's Ballpark
By Mark Anderson
The Building Boom
When Oriole Park at Camden Yards (OPACY) opened in 1992, it blew everyone away. It instantly rendered Comiskey Park II (now Guaranteed Rate Field), completed just the year before, obsolete. The design, largely credited to Janet Marie Smith (then vice president of planning and development with the Baltimore Orioles) brought back a lot of the classic elements, the brick façade and backstop, wrought iron details, the scoreboard clock, green seats and more.
The design also updated a new revenue stream, the luxury suite, which for a time gave the Orioles a competitive advantage. Soon, every team in baseball wanted their version of Camden Yards and the building boom began. The problem, the firm (HOK, now Populous) that built OPACY also did the vast majority of all the new ballparks, offering little innovation or variation to the Camden Yards design. OPACY essentially ended the era of the cookie cutter multipurpose stadium and started a new cookie cutter era of it's own image. Even the Mariners, who went with NBBJ, one of the few teams that used a different firm than Populous, didn't change the mold. Mariners executives, when planning for Safeco Field visited three of the newer ballparks and it is easy to tell which one was their favorite, because if you follow the grandstand from foul pole to foul pole, Safeco Field is almost identical to Coors Field. It's like the Mariners executives said, give me Coors Field, switch up the outfield stands and bullpen a bit and add a retractable roof.
The flaw in the Camden Yards Design and the Best Seat in Baseball
Every ballpark built since OPACY is better than the one it replaced with exception of maybe Comerica Park, which replaced Tiger Stadium. The OPACY design put as many seats in the lower bowl as possible, with little shade and added the mid-level suite and club level deck. By doing this, it pushed the upper deck further back and higher up. Fans that claim that their home ballpark does not have a bad seat in the house never made it to Comiskey Park or Tiger Stadium. Had they, they would know that even the "Uecker seats" were better in comparison to today's upper deck limits.
The last row of the upper deck at Comiskey Park was closer to field than the first row of the upper deck at Guaranteed Rate Field. Cleveland Municipal Stadium, which sat upwards of 80k, last row of seats were closer to the field than the last row at Progressive Field, which currently seats just over 35K.
Athletics Ballpark, Support poles, and Design.
In middle school and high school when my friends were doodling Metallica and other band's logos on notebook paper, I was doodling ballpark designs (badly). Ever since then I wanted to see my vision for a ballpark come to life, The problem is that I'm not an architect or engineer and I'm not very good at drawing and have zero graphic design skills. This summer, when I was sharing my ideas on Twitter someone mentioned I should talk with Oakland Athletics president David Kaval about their new ballpark design. I replied back saying that I would love to have lunch with him. To my surprise, Kaval entered the conversation and we exchanged email to set up a time to meet. While I lived in northern California for close to a decade, I now reside near Savannah, GA so; I had to arrange a time to get out to Oakland. In the meantime, I wanted more than just some bad sketches to show my ideas.
In the late 1980s when the White Sox were looking to replace Comiskey Park, a group put together a ballpark plan called Armour Field, which would have been the first retro ballpark. Jerry Reinsdorf, the White Sox owner, ignored it. A couple years ago, an engineer in Chicago by the name of Matt Bond sent me an image of Armour Field that he constructed using Google SketchUp. I reached out to Bond and asked him kindly if he could help me come up with a couple images I could use in my discussion with Kaval. After sending Bond some badly drawn images, I hoped to get a cross-section out of it. I was shocked to see most of the grandstand built. The more we worked on it the further I wanted to take it. I was lucky to have Bond volunteer his time and continue to work on it.
Then Kolin Schmidt, an architect from Cedar City and another one of my Twitter followers entered the fray. He volunteered to render what Bond had done in vRay this time.
What I wanted to show Kaval was a forward thinking ballpark in which there was no middle deck, like at PNC Park, but with the upper deck brought closer to the field. Every time I tweet out a picture of Tiger Stadium, I get inundated with replies from fans that miss that place and the feeling of being right on top of field. The idea was to come up with a grandstand similar to that of League Park, Tiger Stadium and Comiskey Park without the view obstructing support poles, a 360-degree open concourse, and with the suites on the roof.
The best seat in baseball was the first row of the upper deck at Tiger Stadium, but the support poles and overhang got in the way of the fans below. Luckily, it's not 1912. There's a way, with today's technology, to cantilever the upper deck over the lower bowl without the support poles. To solve the problem of having some of the seats in the lower deck obstructed from seeing pop-ups, was to eliminate the last few rows of the lower deck and replace them with bar rails to stop by on your way around the 360-degree open concourse (not yet visible in the renderings as it's still a work in progress).
By eliminating the middle deck and bringing the upper deck forward I was able to place the suites on the roof. They would be much closer, provide shade for the upper deck and only be slightly higher than where they are in most ballparks. Another benefit of having the suites on top is you could add a patio behind them. Today's typical suite you walk down a hallway like in a hotel. Inside the door, there's usually a buffet table on one side, a table or island in the middle with six chairs or stools and a peninsula with four stools that overlook the field separated by a bi-fold window you can open all the way or completely shut out the elements. In front of the suite are usually three rows of 5-7 seats. Now imagine that suite with a pass through on the back with another bi-fold window, a bar height countertop and a patio with a gas fire pit Adirondack chairs and a cabana with more seating behind it.
It's no secret that the A's covet the Howard Terminal site in Oakland, which would put them right on the Estuary, while keeping the option on Coliseum site open. In this design, I tried to be realistic as possible. Ideally, you would want the ballpark to face the water, but ballparks must face east (with some give to the north and south) as you don't want the sun to interfere with the batter. By placing the ballpark on the edge it would still capture a potion of the Estuary and have a great view of downtown Oakland, Jack London Square and the Oakland hills. The patios behind suites on the first base side would have fantastic water views.
From the field level, I wanted to bring back the view outside the stadium underneath the grandstand like was at Comiskey Park. I loved the look of those arches. Shibe Park, the Athletics home in Philadelphia from 1909-1954, also had them. To open up the view outside the field as much as possible I built two circular ramp rotundas, similar to the ones at PNC Park and dressed them up similar to the rotunda at Shibe Park, only with a glass dome.
In rethinking the lower level open concourse, one of the flaws I see in today's design, is the line from concession stands often extend out to the walkway and you ideally don't want a cavernous concourse either (see new Yankee Stadium). The way to fix this is have a split-level open lower concourse. After 12-15 feet you can't see the field anyway. By dropping the concession part of the concourse a bit (not fully completed in renderings as the lower level will be raised) you eliminate this problem. Fans can walk the "HOV" concourse around the park without interference from concession lines while being able to view the whole field and all of the concession stands. This also allows for concession stands to not block the view out of the arches.
The current signature at Howard Terminal are the huge white shipping cranes, in which I hope they keep at least one of them at the location. By far the most popular feedback on this design, was using the shipping cranes as inspiration for the light standards.
The scoreboards or ballpark village isn't in the renderings yet, but whether the A's get the Howard Terminal or Coliseum location they will have control of the immediate land around the stadium. Since Kaval has already stated he wants a Wrigley or Fenway like feel to the area around the ballpark, I thought of building a four or five story building across the street from the ballpark in left field. The lower street level would have restaurants with sidewalk seating, the middle floors would be mixed use, and the top level would be a rooftop bar or two. You could even add Wrigley style rooftop seating. And since the A's will control that building, they won't have to fight with the rooftop owners. Instead of putting a large scoreboard to block the view from the rooftops at Wrigley, imagine the scoreboard on top of the rooftops at Wrigley. Even with the board on top of the building across the street from this concept, it would still be closer to home plate than the boards at the Coliseum now.
Scoreboard graphic by @THIRTY81Project Lou Spirito
I recently made my first trip to latest ballpark built, the Braves' SunTrust Park. I was certainly more impressed with it live in person than from images I had seen, but they still put zero thought into the bullpen design. Ballparks today need to cater to all types of fans, baseball nerds like you and I, all the way down to the person that is just there to hang out with friends, have a drink or two, and socialize. It's crucial you have enough hangout areas and standing areas, as today's fan is less likely to sit in their assigned seat the entire game. Bullpen design should be included, in my opinion, in this function. I've put seats in front of the bullpen like at Progressive Field (immediately adding value) and a two-level viewing area behind the bullpen where all fans, if they choose, can be close with the pitchers warming up.
Mark Anderson, Kolin Schmidt and Matt Bond will continue to update this ballpark concept. You can follow this project on their Twitter accounts: @MLBcathedrals, @ccfirman, and @Bonderman92, respectively.
The Meeting
Schmidt and I flew out to meet with Kaval. The meeting was originally scheduled at their office, but the day we could be out there was a day game, so we all decided to meet in Kaval's suite during the game. Kaval was a gracious host, is obviously a people person, and listened and liked what we had to say. This isn't a surprise since he actually listens and responds to fans input on Twitter. We were already on the same page about a lot of things (closer upper deck in particular). Don't be surprised to see a ballpark that seats as few as 28,000 fans and is more intimate than any ballpark today (including Fenway park and Wrigley Field).
Aftermath
It was recently revealed (post meeting) that the A's hired BIG to oversee the ballpark village, Gensler to do the ballpark, and James Corner to do the landscape. Clearly, don't expect anything retro like my design as far as aesthetics.
• • •
Thanks, Mark! Fantastic job on those renderings (by all involved) — as I said yesterday, I love ballparks almost as much as I love uniforms, and this project … already well underway … really needs to have a serious look by the A's brass. This is retro but modern all at the same time and — especially if the A's can secure a location and surrounding areas like you've laid forth above, then every consideration should be given to constructing something along these lines! Well done, sir!
Readers? What say you?
[adrotate group="2″]
Griffins Jersey Voting Results, Rounds C & D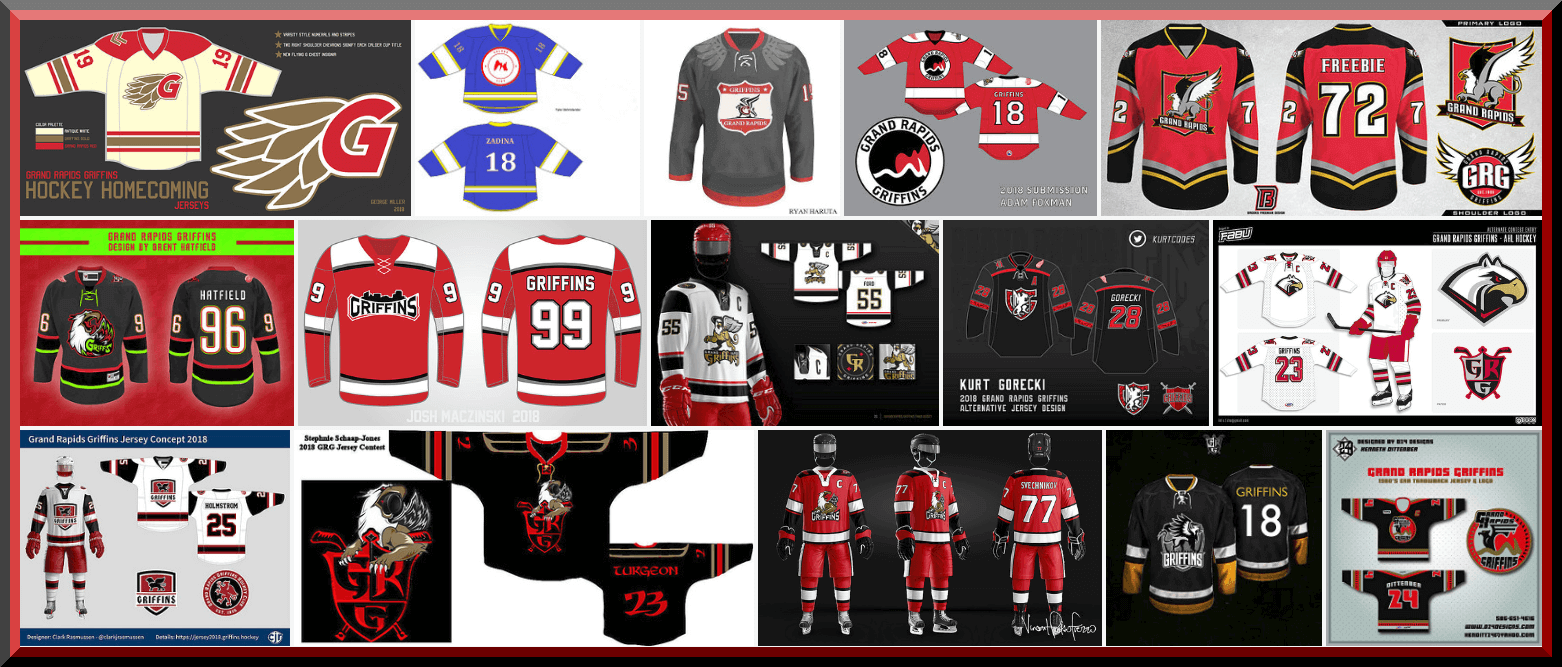 The results of the first two days of voting on the Griffins Alternate Jersey Contest are now complete.
Congratulations to Group C Winners Garrett Pickard, Johnny Woods and Zack Rueger. You three will be moving on to the Group of 12, from which the Griffins will select one overall winner. The results of the Group C voting are below:
Thanks to everyone who submitted. You can see all of the Group C submissions here.
• • •
Congratulations to Group D Winners Clark Rasmussen, George Miller, and Zach Grantham. You three will be moving on to the Group of 12, from which the Griffins will select one overall winner. The results of the Group D voting are below:
Thanks to everyone who submitted. You can see all of the Group D submissions here.
[adrotate group="2″]
Griffins Jersey Design Contest — The Final 12
And now, with the results tallied for Groups C & D (above), I'm pleased to announce our final 12 contestants. I've already sent all 12 of these off to the Griffins, whom I'm expecting to give me the name of the winner by Thursday, so I can announce it here on Friday. I'll have a summary of the contest (along with some insight from my pollster, the Great Larry Torrez) at that time. But for now, here are the Final 12:
. . .
Matthew Harvey:
. . .
David DiFalco:
. . .
Joe Hilseberg:
. . .
Mason Fiske:
. . .
Adam Cain:
. . .
Turner Rintala:
. . .
Garrett Pickard:
. . .
Johnny Woods:
. . .
Zack Rueger:
. . .
Clark Rasmussen:
. . .
George Miller:
. . .
Zach Grantham:
. . .
You can see all 12 finalists entries here.
Good luck to all who advanced, and thanks to everyone for participated or voted!
[adrotate group="2″]
Raffle reminder: In case you missed it earlier this week, our friends at Vintage Brand are raffling off two free items from their extensive catalog for a pair of lucky Uni Watch readers.. Full details here.
[adrotate group="2″]
The Ticker
By Alex Hider

Baseball News: White Sox P Carlos Rodon stopped wearing an undershirt nine starts ago. Since then, he's 4-0 with a 1.84 ERA (from Mike Chamernik). … An Astros fan wore a custom-made championship ring hat to a recent game (from Ignacio). … MLB Network flashed the AL standings yesterday and forgot to include the Orioles. Probably for the best, since they're nearly 60 games below .500 (from Billy King). … Almost all baseball bats used to be made of ash. That is, until the mid-'90s. Now maple bats are king (from Mike Chamernik). … For those into baseball art, check out the work of Margie Lawrence. She also has a website with more information. … Jose Bautista has been given a 3D helmet, despite the fact that the Phillies bailed on the raised logos months ago (from Tim Kelly). On another note, Joey Bats is now on the Phillies?!? … Awwww, this bat dog was just doing her job (from Mike Chamernik).

NFL News: The Bengals released their 2018 uniform schedule yesterday. They'll wear their Color Rash jerseys during Week 1, a Sunday (from Jeff Gluck). … This Pizza Hut box appears to group teams by division — save for the Bengals and Bills (from Corey Buck). … Here's a behind-the-scenes feature about Washington's team cafeteria (WaPo link) (from Tom Turner). … Brian Spiess found a Rams display poster at Dick's that featured the team in their least-favorite uniform combo. … The Tennessee Titans will debut their all blue combo Thursday night. Ugh.

College Football News: Purdue will have a train track design running up and down their sidelines this season (from Griffin Smith). … Georgia has added 3D front bumpers to their helmets (from Joseph Culverhouse and Chance). … Indiana has added a memorial decal for former coach Bill Mallory to their helmets (from Chuck Weiss). … Hawaii coach Nick Rolovich asks fans on Twitter if the Warriors should continue to wear the island chain on their helmets. As of 1:15 p.m. ET on Tuesday, the 94 percent said the islands should stay (from Charles George). … Looks like there's a new helmet for South Carolina (from Brad Darby). It's got a script "Carolina" on the side (from Mike Uva). … Virginia Tech has new banners for their retired numbers (from Andrew Cosentino).

Hockey News: The Ducks announced yesterday that they'll wear nine different classic jerseys during warmups before nine separate home games throughout the 2018-19 season (from @JBeck132). … The Blackhawks unveiled the logo they'll be using for the upcoming Winter Classic game yesterday (from Eric Lovejoy). … The Jets will be unveiling a third jersey on Sept. 14 (from Michael Remis). … ESPN has a great feature on the equipment quirks of a number of NHL goalies, and how the new equipment rules will impact some goaltenders (from John Muir). … Canadiens captain Max Pacioretty hosts a charity golf tournament that includes a giant captain's "C" — complete with stitching — for photo ops (from Moe Khan).

NBA News: Sneaker artist Dominic Chambrone gifted LeBron James a $100,000 pair of LeBron's signature shoes. They're made of crocodile skin coated in 24K gold (from Mike Chamernik). … Oh goody: The NBA is removing ALL footwear color restrictions for the upcoming 2018-19 season. Players can wear whatever colors they want, every night (from Mike Chamernik).

Soccer News: As you probably know, North America (the US of A, Canada and Mexico) will host the World Cup in 2026. I'm not exactly sure what this jersey is, but here's a photo of Jared Kushner holding a white USA jersey with "26" (for 2026) on the back (from Chad Smith).

Grab Bag: French tennis player Alize Cornet was given a code violation during the US Open yesterday because she briefly took her shirt off during the match. … The Associated Press published an excellent report yesterday detailing just how litigious large universities are when it comes to protecting their trademarks (from Griffin Smith). … Here's a review of friend of the site Todd Radom's excellent book, "Winning Ugly: A Visual History of the Most Bizarre Baseball Uniforms Ever Worn" (from Dennis Anderson). … Top 14, a rugby league in France, has a nice little uni quirk built into its rules — the league's reigning champions always have the right to wear whichever jersey they like in the event of a kit clash (from @Stumpy7780).
[adrotate group="2″]