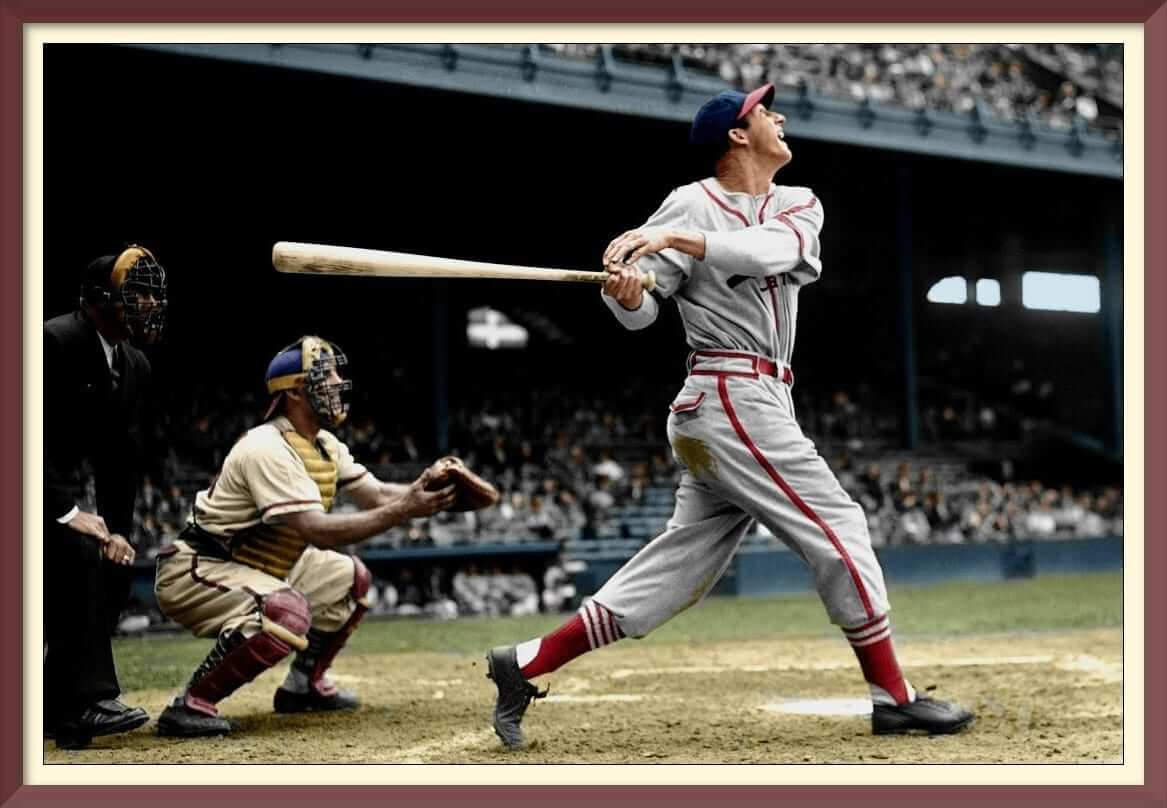 [Editor's Note: Paul is on his annual August break from site. Deputy editor Phil Hecken is in charge from now through the end of the month, although Paul is still on the clock over at ESPN and may be popping up here occasionally.]
By Phil Hecken
Follow @PhilHecken

As most of you are aware, I love old photo colorizations, especially old time baseball photographs, and I've featured a number of posts over the years from a few of the colorizers I've "met" (and usually interviewed). You know the names: Chris Whitehouse ("ManCave"), George Chilvers, Larry Bodnovich, Matt Olbert ("Fenway Photoshops"), Mark Truelove, Gary Chanko; I'm sure I'm missing some. I also used to run a sub-lede segment called "Colorize This" which lasted for a couple years. Today, I would like to introduce yet another outstanding artist who colorizes the black and white photos of yesteryear: Don Stokes.
I interviewed Don (that follows) and also asked him if he could show us 10 of his colorized works, with short descriptions. I'm sure you'll enjoy them all.
. . . . . . . . . .
Uni Watch: OK, standard question first — are you a Uni Watch follower (and if so, for how long?) and what first brought you to the blog?
Don Stokes: Yes, it started 2010 with Colorize This with some 1913 Washington Senators and have been following since.
UW: How old are you?
DS: 73 and live in Galesburg, Illinois.
UW: As readers know, I've always loved colorizations, and featured many (including one or two by you so far) on the blog. How long have you been doing them?
DS: Since 2009 off on on.
UW: I was first introduced to your work by Ron Bolton (OT Baseball Photos), who has contributed many pieces to Uni Watch. How long have you know Ron, and how often have you worked with him?
DS: I've known Ron going on 4 years in November. Actually I work with Ron almost on a daily bases as far as baseball research goes.
UW: Do you only use photoshop? Or do you have other programs you use, like Illustrator? When I did colorizations (and not well, I used GIMP, which is of course the "free" version of Photoshop).
DS: I started out using a program called Recolored then I went to Photoshop Elements 9 and now up to Elements 14. And I also use the on-line Pickmonkey photo editor to sometimes fine tune My work, but that's just me. I also use a on line color picker to get all the color codes I need before I start.
UW: What attracted you to colorizations? Do you do any non-sports ones?
DS: I've done a couple of football ones for Ron Bolton but no other sports.
UW: Is this a hobby or do you do any of this professionally? If not professionally, would you like to try to turn it into a money making venture?
DS: Just a hobby and no intention of making any money for doing it.
UW: How long did it take you to "learn" to colorize? Do you use any 'tricks' or special techniques?
DS: I picked it up rather quick but always learning and some of my early stuff was pretty bad but I don't really do anything special
UW: How long does an "average" colorization take? What picture took you the longest?
DS: The small ones without much surroundings maybe an hour. And the longest maybe 12 hours over a period of days.
UW: What's been the most difficult or challenging photo?
DS: Doing crowds and some whole team uniforms take the most time.
UW: Where can we see more of your work? Do you have a website or blog? We can obviously follow you on twitter @ Dto716, but do you have any other social media presence(s)?
DS: Here you go.
UW: Great! Thanks, Don — ok, can you show us some of your work and give us some quick descriptions?
. . . . . . . . . .
1903 New York Highlanders
The 1903 New York Highlanders first year road uniforms with a mystery player finally revealed. Third player in the top row was for years was mistaken for Doc Adkins but is actually Bill Pounds who didn't even make the team.
. . . . .
Ty Cobb Sliding
Charles Conlon's famous 1910 photo of Ty Cobb of the Detroit Tigers sliding into third base occupied by Jimmy Austin of the New York Highlanders at Hilltop Park in New York.
. . . . .
1911 Washington Senators
The 1911 Washington Senators with 23 year old Walter Johnson at Hilltop Park in New York. The Senators have 11 losing season until Clark Griffith takes over in 1912 as owner, manager and player.
. . . . .
Miller Huggins
Always been a Miller Huggins fan and this photo taken around 1927 is just a great photo with Miller probably thinking about how to keep his great player Babe Ruth in line.
. . . . .
Walter Johnson and Babe Ruth
1926 Walter Johnson and Babe Ruth munching on some Ruth candy bars. I wonder if they tasted any good?
. . . . .
Babe Ruth with Jack Barry and Rabbit Maranville
1935 Babe Ruth with Jack Barry and Rabbit Maranville at Braves Field. Jack played with Ruth in his rookie year with Boston Red Sox.
. . . . .
Bob Feller and Satchel Paige
Bob Feller and Satchel Paige (July 7, 1948) of the Cleveland Indians talking about pitching in the majors and 2 days later Paige would make his major league debut in relief against the St. Louis Browns.
. . . . .
Walter Johnson, Patsy Gharrity and Steve O'Neill
1935 Cleveland Indians manager Walter Johnson and his coaches Patsy Gharrity and Steve O'Neill. Just love the photo and the Cleveland Indians road uniform.
. . . . .
Stan Musial
Stan Musial at Shibe Park against the 1946 Philadelphia Phillies. Just a great photo of a Hall of Famer who I got to see play in many games at Chicago's Wrigley Field an Old Sporstman's Park in St. Louis.
. . . . .
Jake Atz
Always liked this photo of Jake Atz in a 1907 Chicago White Sox road uniform. Jake only played four seasons.
. . . . . . . . . .
Wow. Great stuff, Don — thank you for sharing! OK readers, whaddya think?
• • • • • • • • • •
[adrotate group="2″]
• • • • • • • • • •
The U Goes Green…
Yesterday afternoon, the University of Miami Hurricanes unveiled a "new" uniform — the first-ever football uniforms made with repurposed and upcycled materials created in partnership with Parley for the Oceans (if Adidas and "parley" sound familiar, it's because they've been making soccer kits with Parley before). But this is a first for a football uni.
The team will be breaking out these uniforms for their opener, September 2, versus LSU.
Here's a couple more looks:
According to the corporate-speak press release,
Creating a unique look for the Canes, the Miami x Parley A1 uniform features "The U's" home jersey orange colorway that is accompanied by accents that are an ode to the cause to end plastic pollution of the oceans. The jersey sleeve caps and the stripes white pants feature a wave print that fuses Miami's signature dark green with the EQT green colorway that adidas x Parley has become synonymous with. Subliminal tonal palm trees on the sides of the jersey pay homage to South Floridian landscapes and the environment that enriches the biodiverse local ecosystem. The literal thread tying the Miami jersey to Parley is continued in a green stitched pattern within the white block numbers.
I couldn't really find a photo that showed the sublimated palm trees, but we'll just take their word for it. You can kinda sorta see the "wave" print on the sleeve caps:
The jersey is orange — similar to Miami's new home jersey — but noticeably different with the green sleeve caps replacing the striping, as seen below. The pants look to have slightly different striping as well, with a green logo on the pants waist, as compared to an orange one for the new 2018 unis (new 2018 uni on left, parley uni on right):
Apparently the unis look good when wet…
"Our players and staff are excited to wear the new adidas Parley jerseys and gear for our season opener. We're also excited that adidas and Parley are teaming up with UM to help promote sustainability around the world," Hurricanes coach Mark Richt said in a statement released by UM. "Community service has always been an integral part of our football program, and this partnership with adidas and Parley helps us continue those efforts."
Yeah, yeah. So what exactly is this "parley" uniform material?
Highlighted by elements of the ocean from top to bottom, Miami's new special edition adidas x Parley A1 football uniform is composed of over 70% regenerated ECONYL® yarn; a raw material transformed from fishing nets and other nylon waste intercepted in marine environments. As a part of their partnership, adidas x Parley rework these various marine plastic waste materials into technical fibers that create the material framework of a durable, yet breathable fabric that is optimal for adidas performance apparel
You can read more about these new uniforms here.
Oh yeah, I almost forgot the hype video…
Canes creating new waves.

Reppin' @parleyxxx & takin' the game by storm. #DefendersOfTheDeep #adidasParley #teamadidas pic.twitter.com/TAgdLah9A9

— Canes Football (@CanesFootball) August 20, 2018
I don't hate these. I prefer the new orange jersey (and its accompanying white pants) because I'm not a fan of the green sleeve caps, but these are nice as well. And hey, if these are made from "fishing nets and other nylon waste intercepted in marine environments" then that's a good thing as well.
• • • • • • • • • •
[adrotate group="2″]
• • • • • • • • • •
Collectors Corner
By Brinke Guthrie
Here we have a pair of 1970s Pittsburgh Penguins salt and pepper shakers because why not? They are three inches tall and the logo shown was used from the 1968/1969 through 1971/1972 seasons. Now for the rest of the week:
========
• This 1970s Rawlings Miami Dolphins jersey featured #22 for RB Mercury Morris, though it doesn't show his name being on the back- I don't think kids jerseys did that at the time. I remember going to the Sears near our house in Dallas for a felt number kit- punch out the numbers from the sheet and your trainer, er, mom sews 'em on. Not sure if she put my last name on the back, but I think she did! (If you look closely you can see "17" on my sleeves; I think I did that for Don Meredith for some reason- he had already retired by the fall of 1971.)
• Of course, these days baseball bobbles resemble a specific player. It wasn't always like that, and early on they had a generic little kid look to 'em, as you can see on this San Francisco Giants 1960s paper mache bobble.
• Fans of the Brew-Crew will like this 1970s Brewers baseball sponsored by The Golden Arches.
• Nice 1980s poster of Walter Payton, though he never wore Puma to my knowledge. All the Payton shoe pix I ever saw were either Roos or taped up.
• This shirt says "NFL Alumni Baltimore Colts" on the chest. Since it is a size medium- did it belong to the punter or kicker?
• This 1970s Champion Minnesota Vikings T has some interesting stripe placement.
• NFL Game Plan by Tudor from the mid-1970s is an absolutely terrific board game, and I highly recommend it! Between this one and the SI board game from the same era, I was the master of my domain.
• Niners fans will want to check out this 1970s 49ers watch from Bulova, still in the box.
• This 1970s L.A. Lakers light switchplate has also never been removed from the package.
• The facemask on this 1970s Placo Bucco Bruce helmet plaque is riding a little low- I bet it's just loose and can be fixed easily.
• • • • • • • • • •
[adrotate group="2″]
• • • • • • • • • •

LAST CALL! DEADLINE TONIGHT AT 11:00 EDT
Griffins Design Contest
In case you missed it, I'm running the third annual "Grand Rapids Griffins Jersey Design Contest," in which readers are asked to submit jersey design concepts for a third (or alternate) jersey for the team.
Like past years, the team is asking for a jersey (only) design, but other than that, it's pretty wide open.
All of the details are here in this post, but the important big detail is the contest submission deadline, which is TODAY Tuesday, August 21st, 2018 (by 11:00 pm E.D.T.). Everything else you need to know is in that post.
Update The jersey of the winning designer will be worn on December 29, 2018 and not February 15, 2019, as previously announced.
OK? OK!
• • • • • • • • • •
[adrotate group="2″]
• • • • • • • • • •
The Ticker
By Alex Hider

Baseball News: I'm all for this brown-gold-and-orange "tequila sunset" Padres concept. What say you, Dads fans? (From @BBTB2018). … Braves P Bryse Wilson made his first MLB start last night wearing No. 72. He's  the third player to wear that number this year (from Daren Stoltzfus). …  If you have a few hundred bucks laying around and the time/ability to drive down and pick it up from Great American Ball Park, you can own this Reds logo spotlight that's being auctioned off. Note the caveat: Does not function. … The White Sox are giving away a Blackhawks mascot bobblehead tonight (from Griffin Smith). … The Stockton Ports, the A's Single-A affiliate, are planning a British Night promo, and OT Sports has a first draft of the jersey design. … Brendon Yarian was at the National Silver Ball Tournament, an 1860s base ball tournament that took place in Mumford, New York earlier this month and took a ton of photos. … Michael Goldberg found this 1930s Ohio Oil baseball uniform (including red pants!) and a nifty Astrodome pennant at an antique store in Woodstock, Illinois. … Mikey Brethauer found this Mets knockoff shirt at a discount store in San Francisco. Not quite Paul's "Meats" shirt, IMO.

Pro Football News: As the NFL season inches closer, another thinkpiece has been published on the intersection of militarization and football, and how merchandising plays a role (from Phil). … Since he's been coaching in the CFL, Saskatchewan Roughriders coach Chris Jones often wears all black. However, coaches wore specific T-shirts this weekend for the league's "Diversity is Strength" campaign, so we were treated to the rare site of Jones coaching in color (from Wade Heidt).

College Football News: Here's a look at some of the new jerseys and helmets that have been introduced so far (from Phil). … Virginia Tech has already unveiled their new jerseys, but here's a good look at how the shoulder striping will look on the back (from Andrew Cosentino). … A few HBCU teams have unveiled new Under Armour jerseys (from Phil).

Hockey News: A three-on-three pickup lacrosse team in Vancouver has been told to hand over their jerseys that feature a modified version of the Canucks' Johnny Canuck logo (from Phil). … Repost: The Chicago White Sox are giving away a Blackhawks mascot bobblehead tonight (from Griffin Smith).

Soccer News: Norwich City in England's Championship has gone the Iowa route and painted their visiting locker room pink (from Alex Evans). … Brazilian club Inter went GFGS on Sunday (from Hit The Glass). … Fans at a Dutch Eredivisie league game between Excelsior and Feyenoord threw stuffed animals on the pitch Sunday. The toys were donated to sick children at a local hospital (from Alex Evans and Jamie Rathjen). … Louisville City FC signed Jose Carranza yesterday. However, they photoshopped him into a 2017 jersey — the sleeve ad is wrong and the 2018 jersey has gold accents (from Josh Hinton). … 3rd Degree has updated his 2018 MLS tracker.

Grab Bag: The Charlotte Hornets will be giving away a number of retro bobbleheads for their 30th "season" (from James Gilbert). … Ole Miss has a new alternate logo to go with their new "landshark" mascot and unofficial nickname (from Gregg Elkin). … Madison, Wisconsin's transit department's logo its (from Shawn Dobbins).
• • • • • • • • • •
[adrotate group="2″]
• • • • • • • • • •