For all of today's photos, click to enlarge
[Editor's Note: Today we have a guest entry from reader/photographer Mark Palczewski, who recently had an up-close view of some interesting uniforms. Enjoy. — PL]
By Mark Palczewski
I'm a sports photographer based in central Pennsylvania. Back in April, I worked a fundraiser basketball game between the Pittsburgh Steelers basketball team, which is called the Steelers Footballers, and an "all-star" team of teachers, coaches, and alumni from Manheim Township High School in Lancaster, Pennsylvania.
The Steelers team consisted of a mix of alumni and current NFL players. Some of them wore their NFL uniform numbers, and others did not. In the photo shown above, for example, No. 34 on the left side of the photo is linebacker Arthur Moats, who wears No. 55 on the gridiron. That's former quarterback Charlie Batch wearing No. 16 — the same number he wore for the Steelers. Next to him is former wide receiver Louis Lipps, wearing his familiar No. 83.
The Steelers' jerseys featured the team's wordmark on the front with the helmet logo, minus the word "Steelers," at the neckline and piping on one shoulder and down one side:
On the back of the jersey, everyone went NNOB and had the team's tri-colored hypocycloids below the rear collar — except for linebacker Keith Kelsey (No. 44), whose hypocycloids were missing, as you can see in this photo of him alongside Batch and linebacker Farrington Huguenin (No. 41):
Most players just wore the jersey and shorts. But Moats wore a long-sleeved yellow shirt under his jersey and black tights under his shorts:
Another player with some added accessories was wide receiver Wes Lyons, who wore a black T-shirt under his jersey, black tights, and a wristwatch — all of which apparently helped him dunk:
As for the Manheim Township All-Stars, they just wore T-shirts and an assortment of black shorts:
———
Paul here. Great stuff from Mark — big thanks to him for generously sharing his work with us. If you want to see more of his sports photography, check out his website and Instagram feed.
Update, 8am: Reader/researcher Jerry Wolper just sent me this 1968 newspaper photo showing how the Steelers' basketball uniforms looked 50 years ago: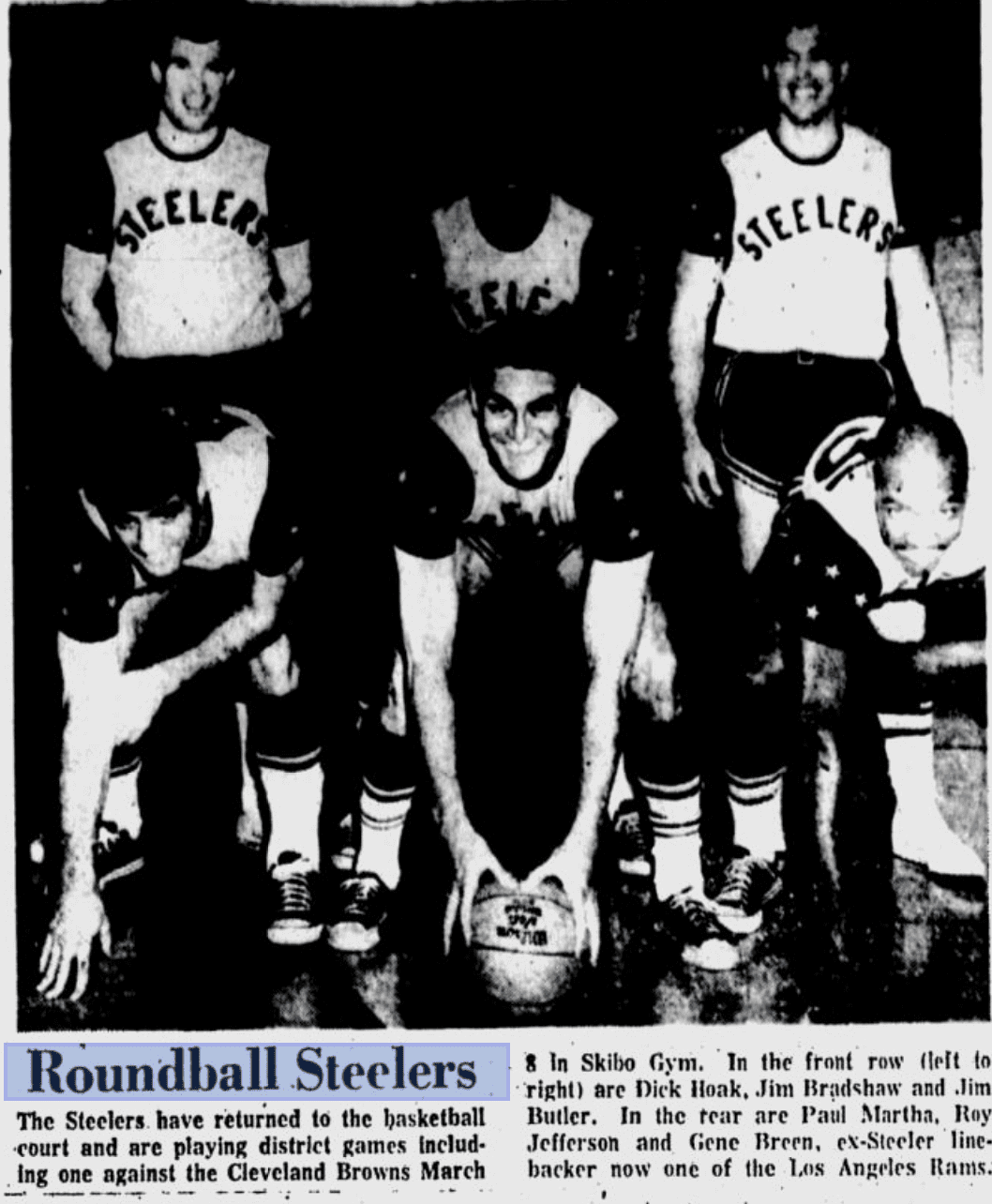 • • • • •
[adrotate group="2″]
• • • • •
And so the purge begins: Two workers came to Uni Watch HQ last night and took my 1967 Coke machine down the stairs and out the door — the first step in what will be my Summer of Unloading Lots of Stuff.
I found the Coke machine at a flea market upstate in 2007. I've enjoyed owning it, and now it's time to let someone else enjoy it. It still works, but it sucks a lot of juice — more than I can justify using — so I've rarely plugged it in over the past dozen years or so. I sold it to a local pizza joint, where it will get used. I'm happy about that.
I have a lot more deaccessioning to do before I can move in with the Tugboat Captain in two months. At some point in July I'll have a big stoop sale, which will feature a lot of cool items, some of them uni-related. Details to follow once I settle on a date.
• • • • •
[adrotate group="2″]
• • • • •
The Ticker
By Paul

Baseball News: Rays P Sergio Romo wore a cap that appears to show Felix the Cat flipping the bird during a postgame interview two nights ago (from Rand Martin). … The Vancouver Canadians wore Molson-themed throwbacks the other day (from Wade Heidt). … Pall bearers at the funeral of a 15-year-old Yankees fan in the Bronx wore Yankees jerseys — with NOBs. … Here's the latest article about MLBers' increasing use of the C-Flap. It mentions that Phillies OF Rhys Hoskins, who's been wearing flaps on both sides of his helmet, will eventually shed one of them after his fractured jaw heals a bit more (from Tom Turner). … Cubs 2B Tommy La Stella was listed as just "Stela" on the Dodger Stadium scoreboard last night (from Max Wagner).

NFL/CFL News: The NFL's new helmet-contact rule could lead to the end of the three-point stance. … All CFL teams are wearing helmet decals this week for the Humboldt crash victims and survivors (from Moe Khan). … In 1984, the Browns tried changing the numbers on their brown home jerseys from white to orange, but that ended up causing legibility problems, so the orange-numbered style was worn only in the preseason. Here's video showing one of those preseason games (great find by Alan Zimmerman).

College and High School Football News: New helmets for Virginia. "It's the same basic design, so unless the stripes are changing (it's hard to see in the picture), all that's new is the number font and perhaps one new helmet sticker — the 'earned not given' one — while the other stickers were moved around," says our own Jamie Rathjen. … New helmet design for Fort Scott Community College (from Parker Kubiak and Andy Otto). … Missouri tweeted a graphic showing the team's helmet history, along with a hint that a new design may be coming soon (from Steve Johnston). … Michigan LB Tim Schulte, who played for the Wolverines in the 1980s, had FNOB. Fellow LB Todd Schulte, who was also on the roster, presumably did as well. … Michigan DL Mike Hammerstein also went FNOB in the 1980s (from Mike Altese). … Brad Eenhuis was doing some research on the now-defunct Klemme High School in Iowa and discovered that the 1970 junior high football team wore white helmets with shamrock decals in an unusual arrangment. Here's another shot. … Here's our best look so far at Virginia Tech's new white jerseys. "The maroon part of the collar looks really bizarre," says Andrew Cosentino.

Hockey News: Hurricanes owner Tom Dundon said during a radio interview that the team will wear Hartford Whalers throwbacks this season. I followed up on that with a team spokesman, who said he had "no details to confirm yet" (from Steve Dodell). … Stars C Tyler Seguin has chairs painted to look like each jersey he's worn during his career (from Jeff Israel). … Very nice new jerseys for Henry Sibley High School in Minnesota (from Ryan Nelson-Cain). … The Wild are giving season ticket holders a chance to see some alternate jerseys for upcoming seasons (from Alex Westad).

NBA News: With the Bucks' new arena almost completed, here's a slideshow with dozens of photos showing the interior and exterior of the new facility.

Soccer News: All of these are from Josh Hinton: New away kit for Huddersfield Town of the Premier League. … New fifth-anniversary kit for Sacramento Republic FC of the USL. … New away kit for AS Roma. … Manchester United's new home kit has leaked.

Grab Bag: With Wales in the grip of a heat wave, schools are rethinking their uniform policies. … Police officers Greater Sudbury, Canada, can march in the town's upcoming Pride Parade as long as they don't wear their uniforms. … You can vote on the design of a new California license plate that encourages bicycling (from Matt Shevin).