Click to enlarge
Tremendous time last night in Syracuse, as Brannock Device Night was a huge success. That's me in the center of the photo shown above, flanked by Phil on the left (who drove up all the way from Long Island) and Sportslogos.net poobah Chris Creamer on the right (who drive down all the way from Toronto). It was awesome having both of them on hand for this special night.
Chris and Phil were both sporting the temporary tattoos, based on my real tattoo, that I gave out to various folks. Here's another shot featuring, from left to right, Jack (who was the Syracuse Chiefs' "assistant GM" for last night's game); my childhood pal and current Syracuse resident Pete Simmonds (who was my best friend in elementary school until his family moved away when we were in sixth grade, and who I hadn't seen in 40 years until last night); Chiefs GM Jason Smorol (an amazing guy who personifies everything great about the minor leagues); Phil; and the Tugboat Captain (click to enlarge):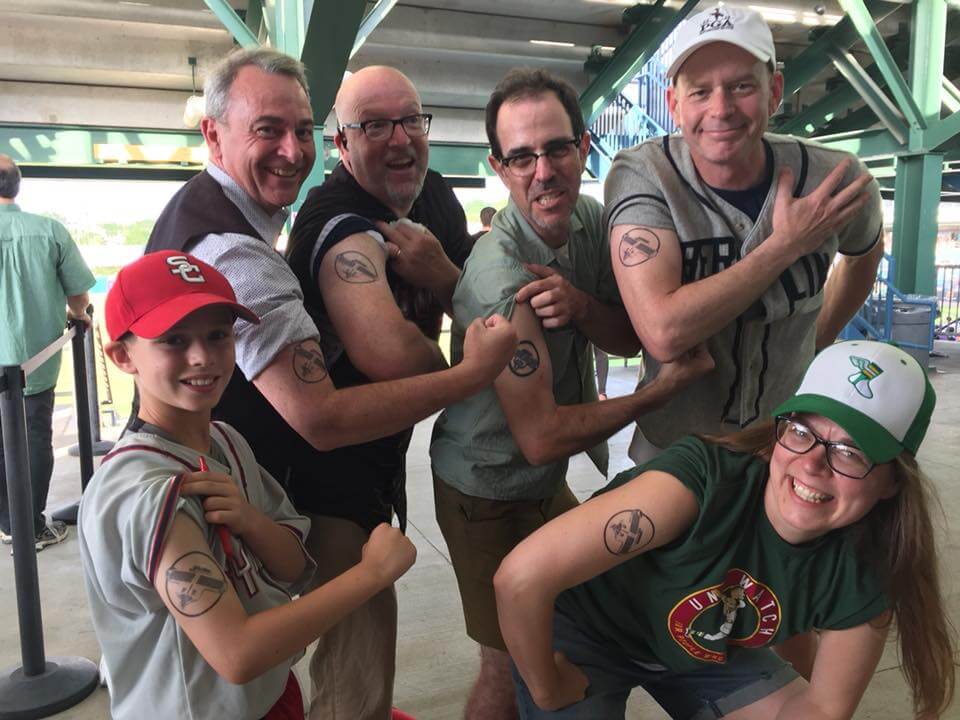 As for my first pitch, I'm relieved to say that I did alright. Here's some video shot by Phil:
I want to thank all the readers who showed up at the ballpark, including Doug Brei and his charming stirrups-clad daughter, Maddie; Bill Emigh; David Sonny and his lovely family (who came all the way from Cincinnati!); T.J.; Joe and Nicky; and the many other people whose names I can't recall now. It was a really wonderful night — thanks so much.
I also want to thank the Chiefs, especially GM Jason Smorol; graphics and social media director Danny Tripodi; merchandising director Katie Berger; equipment manager Jody Pucello; ticket sales director Will Commisso; and media relations honcho Michael Tricarico, all of whom were terrific.
I also got to do two half-innings on the radio with play-by-play man Eric Gallanty, who's a total pro — it was a real pleasure to be on the air with him. (Fate lobbed me a softball when Jarrod Saltalamacchia came up to bat for Toledo during my radio segment, giving me an easy topic to discuss. How tailor-made is that?!)
The rest of my day was sensational, highlighted by a tour of the Brannock Device factory, which was pretty much a geekfest of epic proportions for me. I'll have more to say about all of that later. By the time you read this, I'll already be on a plane heading back to NYC, so please forgive the brevity of today's post. We'll get back to more substantive content tomorrow.
• • • • •
[adrotate group="2″]
• • • • •
The Ticker
By Kris Gross

Baseball News: The Dodgers called up P Dennis Santana on Wednesday, and he brought Triple-A teammate Yimi García's glove with him (from Stetson Pevear). … There's a sweet new mural in centerfield at Minute Maid Park (from Ignacio). … The Bowling Green Hot Rods poke fun at USA soccer with their "What Should've Been" jerseys (from Kyle Wolz). … The Memphis Redbirds will play as the Memphis Música on Wednesday (from Trey Morgan). … Here's how the Sussex County Miners looked on Star Wars night (from John Cerone). … According to a Reddit post, Arkansas can no longer wear their white jerseys or pants because they got turned pink in the wash (from Sean Patton). … We had a color-on-color matchup between Oregon and Arizona State from the Women's College World Series yesterday (from Jeffrey Seals).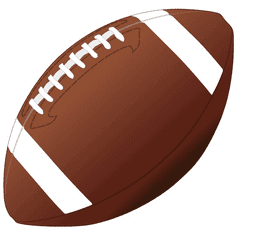 Football News: The Montreal Alouettes plan to change their helmet logo every month as part of an effort to create a more attractive stadium culture (from Moe Khan). … Speaking of the Alouettes, we had a NOB misspelling last night (from @habspats18).

Hockey News: The Hurricanes will give a first look at their third jersey on June 22 (from Ed Hughes). … From the 1968-69 Penguins media guide, Jean Pronovost's jersey logo was falling off (from Kevin Vautour).

NBA News: LeBron's outfit before last night's Game 1 of the NBA Finals was … something (from Jared). … Speaking of LeBron's style, he, Kevin Durant, and James Harden wore generic jerseys in a commercial (from NYCKING). … Basketball isn't big in Samoa, but NBA jerseys are (from Mike Chamernik). … Kevin Durant is now on the side of an Alaska Airlines plane. … Brian Petree found a mannequin wearing a LeBron James jersey and shoes of his former Cavs teammate, now Celtic Kyrie Irving. … It was originally reported that Fiserv, a tech company, was nearing a naming rights deal for the new Bucks arena. But Fiserv is now denying those reports (from our own Alex Hider).

Soccer News: CD Leganés is celebrating their 90th anniversary with a lace-collared traditional away kit (from Ed Żelaski). … The Bowling Green Hot Rods poke fun at USA soccer with their "What Should've Been" jerseys (from Kyle Wolz). … The next few are from Josh Hinton: Slovakia's official 2018 home and away kits were unveiled. … The MLS All-Star shirts and new home kit for Ajax was leaked. … Here is the new Premier League match ball for 2018-19. … The US Open Cup's tweet about 4th round matchups uses an old Louisville City FC logo. … New home kit for San Marino (from Ed Żelaski). … Portland Timbers defender Zarek Valentin will wear a bow in his hair if he gets 10,000 retweets (from Kenny Ocker). … Derby County unveiled their new home kit yesterday (from Ed Żelaski).

Grab Bag: Two high schools in Elkhart, Indiana, are consolidating into one, so students got to vote on the name, mascot, and colors of the future school (from Terry Mark). … Edinburgh Rugby has undergone a total redesign (from Eric Bangeman). … Band Trouble Funk performed a "Tiny Desk Concert" at NPR in matching baseball jerseys (from R. Scott Rogers).