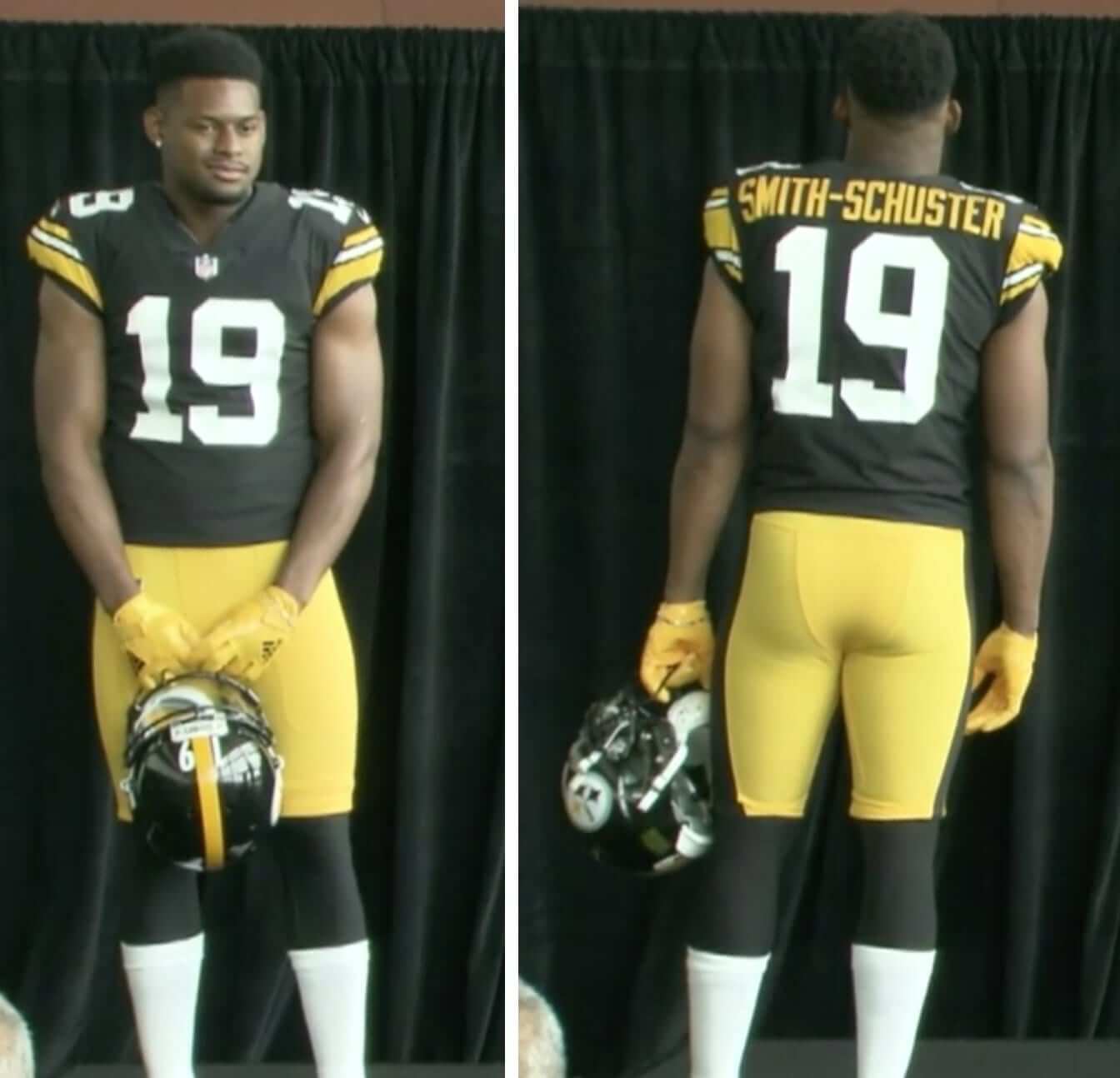 The Steelers unveiled their new throwback yesterday. As had been expected, it's a late-1970s design, which means that only changes are the block typography and the removal of the logo patch on the chest. Everything else is the same as their current primary look. I had my say in this ESPN piece, which was published yesterday afternoon.
Here's a side-by-side comparison of the team's primary home uniform and the new throwback: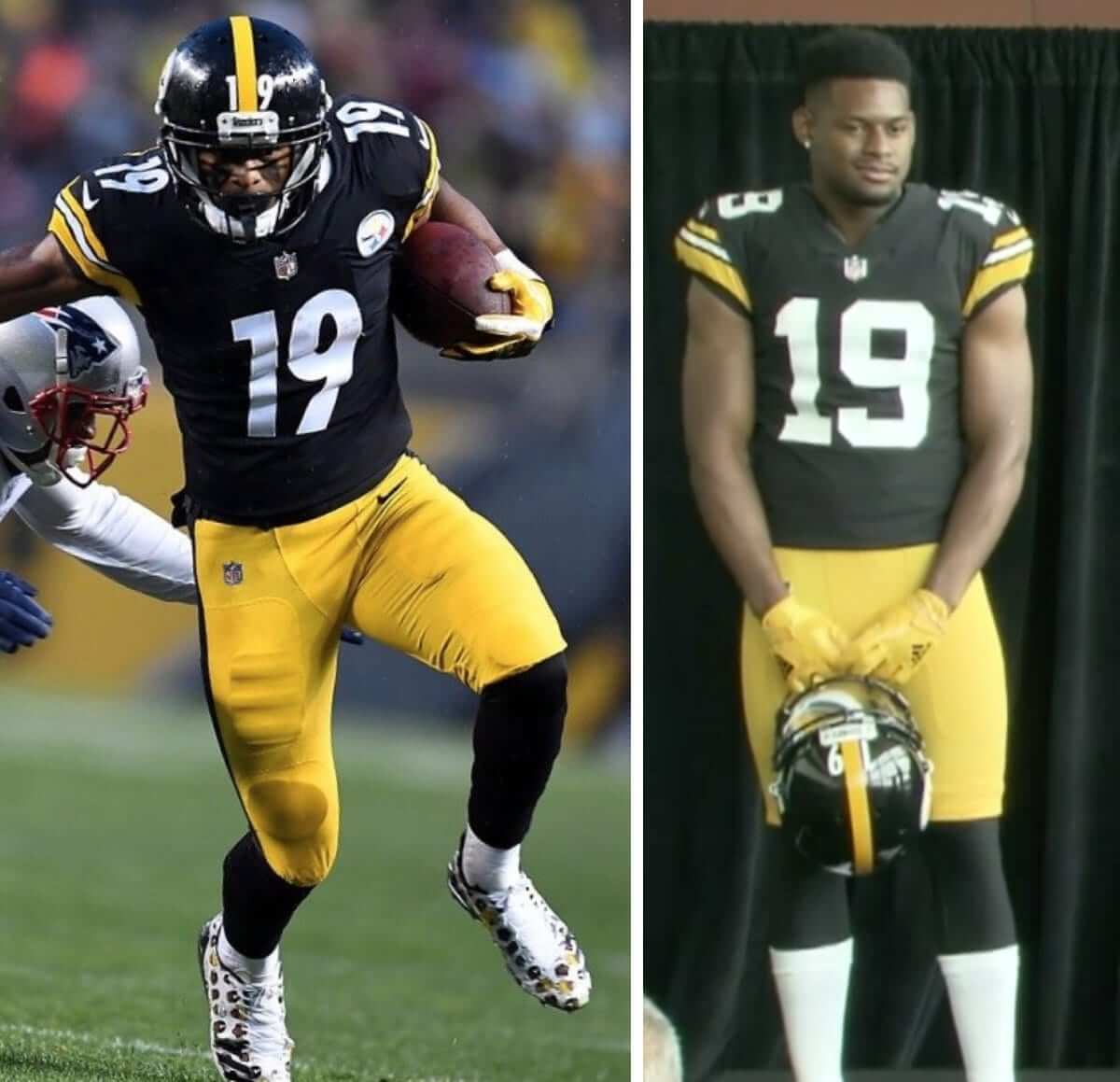 A few additional thoughts:
• I've never really minded the Steelers' current primary number font. I think it nicely mirrors Pittsburgh's transition from an industrial city to a post-industrial city, and the sleek numerals seem more in keeping with the athleticism of modern football (as opposed to the "three yards and a cloud of dust" style of the block numeral era). I also think the current NOB font is really nice.
All of that said, however, I have to admit that I felt a few pangs of nostalgia when I saw the new throwbacks. It's a very strong look.
• As I mentioned in my ESPN piece, I wish they'd resurrect the Batman design as a throwback. But I wonder if that's feasible with Nike's current template. The jerseys have no seams, so how do you build in the yellow fabric panel? Sublimation might work, I suppose. Still, it seems like a tough fit for modern uniform tailoring.
• At the press conference, team owner Art Rooney II said the uniform would be honoring the 40th anniversaries of the team's victories in Super Bowls XIII and XIV, meaning that the throwback will be worn at least this season and next season. I asked a team rep if it would also be worn beyond those two years. He said he wasn't sure but would try to find out. (I'm assuming they'll wear them for at least five years, just as they did with the bumblebees.)
• • • • •
[adrotate group="2″]
• • • • •
Tattoo you (and you and you and you): Just before I left for Utah, I ordered a bunch of Brannock Device temporary tattoos (same design as my real tattoo). They were waiting for me when I got home two nights ago, and I'll be giving them out to people who come by our party at tonight's Syracuse Chiefs game.
For those planning to attend: Gametime is 6:35pm. I'll be throwing out the first pitch shortly before then. We'll have a gathering space at the end of the third base concourse. Phil and I will be there for most of the game, and SportsLogos.net poobah Chris Creamer is driving down from Toronto for the game as well, so just buy a regular game ticket and come by whenever you like. I'm told that the space is right next to a concession stand and a beer cart. Even better, it's "$1 Dogs and $2 Beers Night."
Looking forward to it. See you there!
• • • • •
[adrotate group="2″]
• • • • •
The Ticker
By Paul

Baseball News: MLB is taking some heat over the lack of transparency regarding proceeds from Memorial Day merch. … There's going to be a new Jackie Robinson museum opening in NYC next year, and they're currently looking to hire a curator and an education director (from Mark Ribbing). … Good article on the increasing use of C-flaps in MLB (thanks, Phil). … You can cast your vote to help name the new Texas League franchise in Amarillo. … Grateful Dead-themed jerseys upcoming for the Lakewood Blue Claws (from John Cerone). … Good story on the Trenton Thunder's "Trenton Pork Roll" Friday uniforms (from Jason Hillyer). … The annual Rickwood Classic took place yesterday, as the Birmgingham Barons and Chattanooga Lookouts wore 1950s throwbacks (from Roger Kirk). … Flag-desecration jerseys upcoming for the Fort Wayne TinCaps (blame Blake Harper). … For reasons that aren't clear, at least to me, Cubs OF Albert Almora Jr. wore a West Virginia football helmet in the dugout last night (from Griffin Smith).

NFL News: Love this shot of former Giants coach Bill Parcells with his "B.P." initials on his sweatpants (from Bill Kellick, who also sent along an old shot of his childhood bedroom, which had a serious Sears/NFL theme going on). … Browns rookie DB Denzel Ward, who was drafted out of Ohio State, was wearing Buckeyes gloves at OTAs yesterday (from Erin Ford).

College Football News: In case you hadn't heard, a new NCAA rule limits the number of coaches who can wear headsets on the sidelines this year, and coaches aren't happy about it. … Cross-listed from the baseball section: For reasons that aren't clear, at least to me, Chicago Cubs OF Albert Almora Jr. wore a West Virginia football helmet in the dugout last night (from Griffin Smith).

Basketball News: Here are the uniform pairings and warmups and shooting shirts for the NBA Finals. … Meanwhile, regarding the court design: Two months ago it was reported that the new NBA Finals logo, including an ad for YouTube TV, would appear on the court, but it looks like it'll actually be on the sidelines, where ads have appeared in the past (from Jeff Mangurten). … Warriors F Kevin Durant has his shoes fall off more often than any player in NBA history (from Mike Chamernik). … The last two active players to have worn a Sonics uniform — Kevin Durant and Jeff Green — will be facing off in this year's NBA Finals (from Mark Ribbing). … New court design for FAU (from Jake Elman).

Soccer News: FC Cincinnati is getting a name change (from Marcelo Triunfo). … Nike outfitted the most teams in the 2014 World Cup, but this year the top outfitter is Adidas. … Here's another ranking of World Cup jerseys (from Charles George). … And yet another World Cup ranking. … If you want to see all the World Cup jerseys side-by-side, look here (from Josh Hinton). … New kits for English Championship team Ipswich Town (from our own Jamie Rathjen). … Also from Jamie: "It appears that the NOB font for the English Football League (2nd-4th tiers) was updated to optionally include the logo for the mental health charity Mind, which is a small squiggle (maybe a flower?) extending from the first letter of the player's name. Seems to be up to each team to decide whether to use it. The logo also appears on the top of each number." … There's a new book covering the uniform histories of 20 top teams (from @ScottyBeats86). … Nike is upset about an influx of counterfeit Nigerian soccer jerseys.

Grab Bag: The U. of Nevada, which had been outfitted by Nike, is switching to Adidas (from Damon Herschenson). … Swedish cycling apparel maker POC has added ceramic protection to its cycling gear. … New logo for the upcoming Avengers 4 movie and also for John Wick 3. … New logo for the South African cell service Cell C. … Here's the lowdown on the catsuit that Serena Williams is wearing at the French Open (thanks, Brinke). … Speaking of Serena, she has a new fashion apparel line. … Did you know that the U.S. Postal Service is now selling scratch-and-sniff stamps? I didn't! Only problem is that nobody actually mails letters anymore (from Max Weintraub). … Amazon has given Whole Foods employees blue "Prime"-branded apparel (thanks, Brinke). … Students at a San Diego school are studying for the SATs by wearing vocabulary-centric uniforms. … Justify, who is going for the Triple Crown in next weekend's Belmont Stakes, is changing to a new silks design. "Has that ever happened before from one Triple Crown race to the next?" asks Jonathan Horowitz. Good question — anyone..?
• • • • •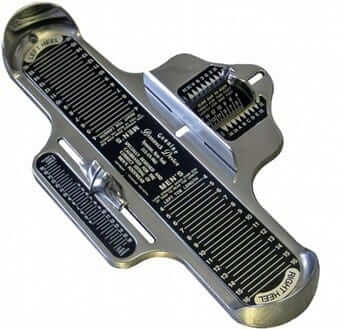 On the road again (again): By the time most of you read this, I'll be on my way to Syracuse, where I have a busy itinerary. Looking forward to seeing lots of you there tonight, and then I'm heading back home tomorrow. Apologies in advance for not being available to respond to comments or emails — between my recent vacation and the Syracuse trip, this has been a busy stretch. We should get back to normal next week. — Paul