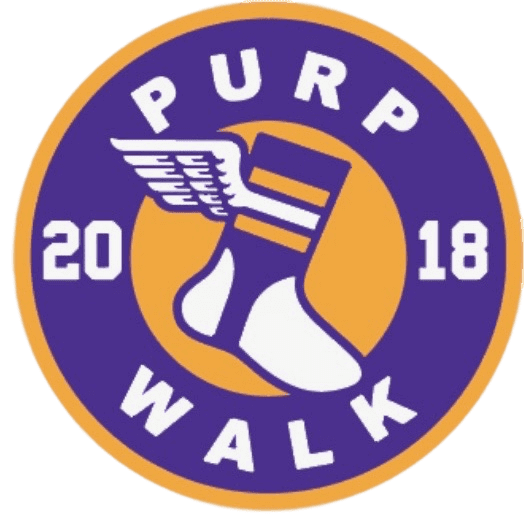 Hello there! Welcome to the 2018 edition of Uni Watch's Purple Amnesty Day — or as I now like to call it, the Purp Walk. Today is the 12th anniversary of the first entry ever posted on this website, which by longstanding tradition is the one day of the year when I grudgingly acknowledge the world's most accursed color.
People sometimes say I have "purplephobia." But as I always explain, that's not accurate, because "phobia" means fear. I don't fear purple; I loathe purple. If anything, purple should fear me.
What makes me hate purple so much? Short answer: a near-bottomless reservoir of good taste. Longer answer: I actually think purple in nature is quite nice — violets, plums, eggplants. But purple as a human-imposed design element has always struck me as tasteless and tacky (well, almost always). It's the diva of colors, the Celine Dion of colors — loud, grandiose, never content to do just enough when it can do way too much.
But do I think teams like the Vikings, Rockies, LSU, and other purple-clad teams should stop wearing purple? Honestly, no. They chose their colors and now they're stuck with them that's part of who they are. Today — and only today — I salute those teams and their fans.
As usual, Purple Amnesty Day has three components:
1. Obviously, the site looks a bit different today, and so does my Twitter page and the Uni Watch Facebook page. I find all of this more than a little distressing (imagine your eyeballs being gouged with rusty barbed wire), but I'm trying to tell myself that it's therapeutic or something. Assuming I don't slit my wrists in desperation at some point today, everything will revert back to normal at midnight. And not a moment too soon.
2. As always, this is the one day of the year when I'll accept Uni Watch membership card orders with purple-inclusive designs. So if you've been waiting for the opportunity to order a card with a Ravens, Northwestern, or Lakers motif, now's your chance. At midnight Eastern time tonight, the door will slam shut and you'll have to wait until next year's Purp Walk.
3. For the fourth consecutive year, we have a special piece of purple merchandise. This year it's this excellent snapback cap that comes with a custom hangtag — and the hangtag is actually a peelable vinyl sticker (click to enlarge):
It's hard to see there, but the purple part is the tag, and the white outline of the script is where you can peel the sticker.
Pretty cool, right? The cap is $26.99, and we're also offering the sticker by itself for $3.99 (just in case anyone wants to get in on the Purp Walk fun but isn't into caps). You can order them here until midnight Eastern tonight, and then they're gone for good.
Finally, amidst all the purple silliness, it's worth remembering that Purple Amnesty Day is the site's anniversary, and that anniversary belongs to all of us. Here's to 12 years of daily posts!
(Big thanks to Bryan for cap and sticker designs. Thanks also to membership card designer Scott M.X. Turner, who came up with the term "Purp Walk" back in 2015, and to reader Tim Cox, who came up with the whole idea of Purple Amnesty Day back in 2010.)
• • • • •
[adrotate group="2″]
• • • • •
Click to enlarge
A's history mystery: The photo shown above was sent my way yesterday by longtime reader Ferdinand Cesarano. As you can see, it shows A's skipper Dick Williams wearing the team's white jersey while pitchers Blue Moon Odom, Catfish Hunter, and Ken Holtzman were all wearing the gold jerseys. (Williams is also wearing a white cap, but that was standard for the team's manager and coaches at the time.)
We know that the photo is from 1972, because that's the only year from that era that the A's wore front jersey numbers. I'll let Ferdinand pick it up from there:
We have seen A's players wear non-matching uniforms at All-Star Games. But we know that this photo is not from the 1972 All-Star Game because (a) Odom was not on the '72 All-Star team and (b) the A's didn't add front numbers to their '72 jerseys until after the All-Star game. This is confirmed by this shot from the player introductions.

My guess (with no evidence to support it) is that the photo is from a press conference announcing the addition of those front numbers.
Interesting guess, although uniform unveilings were very low-key in those days, and I have a hard time believing that a midseason addition of front jersey numbers would have merited a presser. Also, note the bunting in the background, which suggests that this was probably either Opening Day or a playoff or World Series game (although none of that would explain why the manager and players were wearing different jerseys). Knowing the location might shed some light on the situation, but I don't recognize the stadium. Anyone..?
Update: Reader/commenter Dan Sliwinski has solved the mystery. The photo was taken at the Oakland Coliseum when the A's were doing a team portrait following their 1972 World Series victory. That explains the bunting. Here's the full team portrait, which shows some players wearing green, others wearing gold, and the coaches and skipper wearing white:
In this larger version, you can see the bunting in the background.
Good work, Dan!
• • • • •
[adrotate group="2″]
• • • • •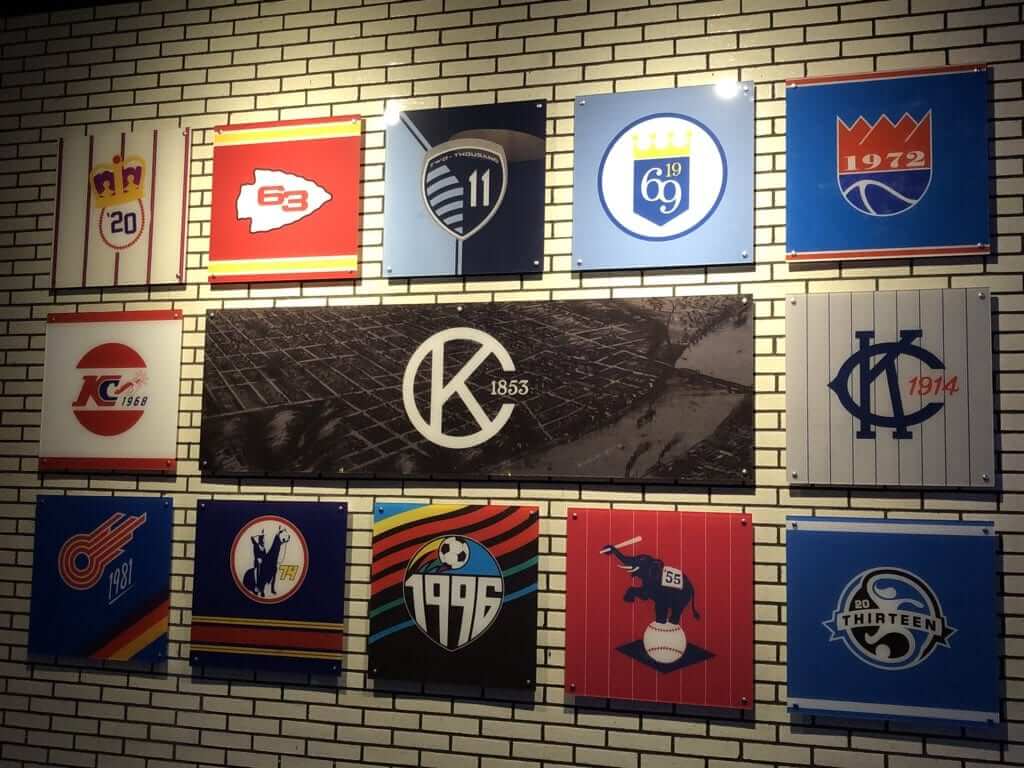 Click to enlarge
Stands for "kinda cool": So apparently there's this big sports bar and gaming center in Kansas City called No Other Pub, which is owned by the soccer team Sporting KC. And on the wall they have the artwork you see above, which shows the logos for various KC teams, but modified to show the years they were founded. I like!
The logos are the work of Chad Reynolds, who's Sporting KC's creative director. Good stuff.
(My thanks to reader Zack Remmers for letting me know about this one.)
• • • • •
[adrotate group="2″]
• • • • •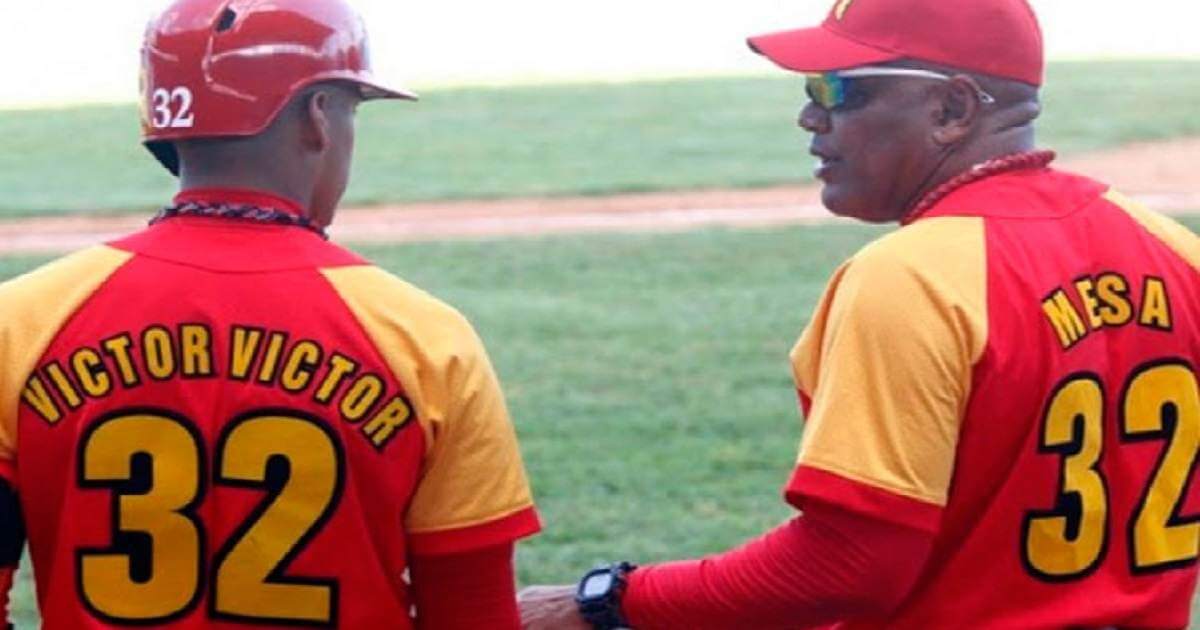 Click to enlarge
To the Victor Victor go the spoils: The No. 32 on the right is Victor Mesa, one of the greatest ballplayers ever to play in Cuba, who's now a coach. On the left is one of his sons, Victor Victor Mesa — not to be confused with his similarly named other son, Victor Mesa Jr. (Both sons are reportedly on their way to play in America.)
As you can see, Victor Victor wears — well, what shall we call it? FMOB (first, middle on back)? Or would this simply qualify as a nickNOB? Something else? Or should we just skip the whole debate since they probably won't let him wear that in the States?
I hope I'm wrong about that last part, because it would be awesome to see him wearing Victor Victor. It'd be a win-win — literally!
(My thanks to Eric Abneri for this one.)
• • • • •
[adrotate group="2″]
• • • • •
Cap update: I promise not to post every single photo I receive of people wearing their Uni Watch caps, but I wanted to show you this one from reader Tom Jackson, if only because his shirt is arguably even cooler than the cap:
Received my @UniWatch cap from @EbbetsVintage today. It is glorious. pic.twitter.com/DWkHfYWXB3

— Tom Jackson (@tomj_52387) May 16, 2018
Nice, right? As you probably know by now, we've sold out of the fitted sizes, but you can still get an adjustable cap with a handsome leather strap and a burnished metal buckle by ordering here.
• • • • •
[adrotate group="2″]
• • • • •
Duh: I'm supposed to be a pretty observant guy. And most of the time, I am. But somehow I've gone nearly 18 years — until last night — without really noticing what it says on my kitchen stove. Check it out (click to enlarge):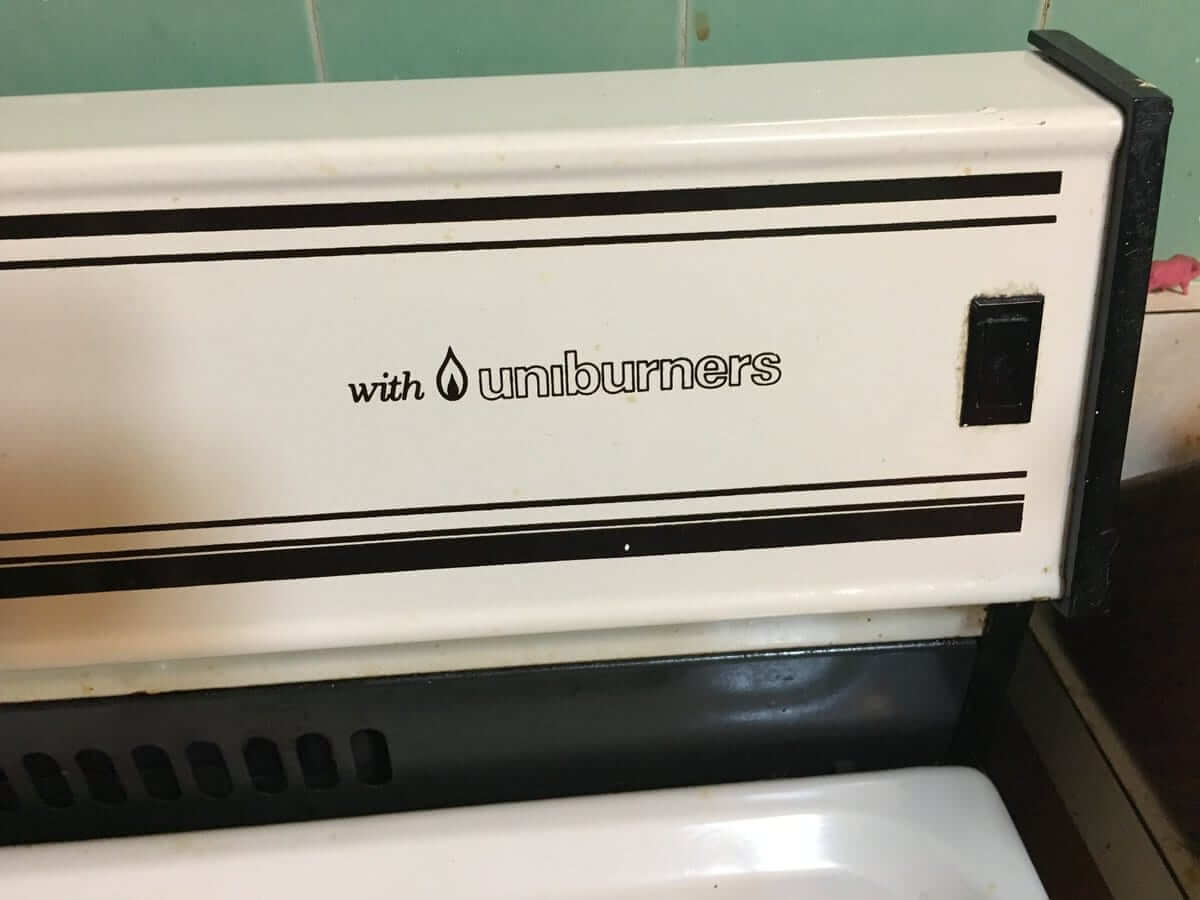 I'm sure I read that little notation countless times over the years, but it never really registered until last night. How is that even possible? A good reminder that details are often right under our noses without our realizing it.
• • • • •
[adrotate group="2″]
• • • • •
The Ticker
By Paul

'Skins Watch: A Colorado high school whose teams are called the Indians has reached out to the local Arapaho tribe and involved them in revising the school's logo. The tribe in turn has given its blessing to the school's team name and iconography, and has even held powwows at the school (thanks, Phil). … Yesterday's Ticker had a link to a new basketball court design for North Dakota. As you can see, it has "North Dakota" at center court, rather than the school's new "Fighting Hawks" team name. That point, it turns out, is the crux of a nasty spat between UND prexy Mark Kennedy and the Engelstad Family Foundation, which is a major UND donor. The short version is that Kennedy thinks the Foundation is resisting the use of the Fighting Hawks name at center court as a way to protest the scrapping of the old Fighting Sioux name. For the long version, check out this fascinating piece based on emails obtained via a public records request. Excellent reporting, and fascinating reading (big thanks to Greg Enkers).

Baseball News: The Rangers' latest college-themed cap is for Baylor (from Ignacio Salazar). … Here's a fun SI piece on some of the uniform regulations in MLB's collective bargaining agreement with the players' union (thanks, Phil). … … Gross: The Mets put out this sort of Mad Libs-ish thing for kids that basically teaches them to spend money at the ballpark. … Speaking of the Mets, they used the wrong Canadian flag on their scoreboard while playing the Canadian national anthem prior to Tuesday night's game against the Blue Jays. … New tropical plant-themed jerseys for the Chiba Lotte Marines. … The Frederick Keys will wear Washington Capitals-themed jerseys tomorrow (from @ColonelWill). … New Mets reliever Buddy Baumann, temporarily added to the roster because Jerry Blevins is on paternity leave, wore some nifty stirrups in his debut with the team yesterday. … A youth hockey league in Orlando, Fla., uses MLB-themed jerseys (from Marc Mandin). … The Rockies' season tickets have a pretty cool augmented reality feature (from @Techanas_Spade). … We've seen eye-black, eye-blue, eye-pink, and lots of other colors, but I think this might be the first time I've seen eye-yellow.

NFL News: Pro tennis player Bethanie Mattek-Sands, who's a big Packers fan, received an autographed helmet from Green Bay QB Aaron Rodgers. … The Ravens have added a new videoboard to their stadium (from Andrew Cosentino). … The Bills will retire Thurman Thomas's No. 34 on Oct. 29. Rumors that they plan to give him a helmet and then misplace it just prior to the ceremony are almost completely untrue (thanks, Phil).

College Football News: NC State will honor the jerseys of two former athletes, including football player Bradley Chubb. Any future Wolfpack players who wear his No. 9 will wear a patch.

Hockey News: The Lightning have an official jeweler who makes the team's bling. … Cross-listed from the baseball section: The Frederick Keys — that's a minor league baseball team — will wear Washington Capitals-themed jerseys tomorrow (from @ColonelWill). … Also from the baseball section: A youth hockey league in Orlando, Fla., uses MLB-themed jerseys (from Marc Mandin). … Some Chicago-area union locals for ironworkers and pipefitters use Blackhawks-themed logos (from Pat Finley).

NBA News: Rockets F Gerald Green got the team's logo braided into his hair (from WB Young). … Green also did an interview about his love of jerseys (from Ignacio Salazar). … My ESPN.com colleague Zach Lowe's article on the NBA draft lottery included the following: "Sign I am old: I got annoyed noticing even the black briefcase in which the lottery balls are carried into the drawing room has branding — State Farm– emblazoned on it" (from Mike Chamernik). … Retired NBAer Baron Davis ranked the various jerseys he wore during his career (from Rex Henry). … There's no "i" in "team," but there is in "Nike": According to this Instagram post, a key consideration in the 2017 redesign of the Cavs' uniforms was making sure the "2" and the "3" looked good together. Good thing, since LeBron's gonna play for the Cavs for a long ti — uh, never mind (from Don Lehman). … Still more Gerald Green news: He wore a Robert Horry jersey to last night's game against the Warriors (from Ignacio Salazar). … Looks like former 76ers star Billy Cunningham's NOB was AWOL during this 1970 game (from Eric Griffith).

College Hoops News: Cross-listed from the college football section: NC State will honor the jerseys of two former athletes, including basketball player T.J. Warren. His No. 24 will now hang from the rafters.

Soccer News: Louisville City FC wore their away kit (white and gold hoops) vs. Long Island RoughRiders in the second round of the US Open Cup on Wednesday, despite being the home team (from Josh Hinton).

Grab Bag: Here's a video interview with sneaker customizer Billy Hobbs of True Blue Customs. "He has done a lot of work with University of Kentucky players," says Jeremy Baker. … Cross listed from the NFL section: Pro tennis player Bethanie Mattek-Sands, who's a big Packers fan, received an autographed helmet from Green Bay QB Aaron Rodgers. … Buses in Dublin, Ireland, are changing to a new color. … Some packages were stolen from New Jersey porches last week by thieves wearing FedEx uniforms. … New logo for the New Orleans tourism bureau. … Students on Prince Edward Island in the Canadian Maritimes have been wearing rugby jerseys in memory of a high school rugby player who died during a recent match. … The U.S. Patent and Trademark Office has ruled in favor of a Florida pizzeria whose logo looks a lot like the highway markers on New Jersey's Garden State Parkway. … New logo for the Hippodrome 3R harness racing track in Quebec. …NASCAR and Camping World have expanded their agreement to provide Gander Outdoors naming rights to the NASCAR Camping World Truck Series, which as of 2019 will be known as the NASCAR Gander Outdoors Truck Series (from David Firestone). … Postgame jersey swapping has never been a thing in cricket, but that might be changing.