Interesting news out of Houston, where police chief Art Acevedo has given his officers permission to wear black Rockets caps like the one shown at right for the rest of the team's playoff run.
Something similar took place last October, when Acevedo allowed officers to wear Astros caps toward the end of the World Series, which the 'Stros eventually won. In addition, some of the city's mounted officers rode on Astros-branded horses.
Houston isn't the only city to mix sports logos and law enforcement. In Green Bay, police officers have worn the Packers logo on their badges.
I'm conflicted about this. On the one hand, I don't think municipal officers should ever be promoting a for-profit business. Like, if a city was famous for a particular restaurant, it would be completely inappropriate for cops to wear the logo of that restaurant. They're enforcing the law, not serving as the local tourism bureau.
In addition, police officers do really important work; they carry and sometimes use firearms. I worry that the logo of something like a sports team could cheapen their status.
On the other hand, I've been saying for years that sports teams aren't just business entities — they're also civic entities, part of the shared fabric of local experience. So when viewed in that context, having police officers signaling their support for the home team seems like a good way to strengthen civic bonds and improve community relations.
Despite my misgivings, I think something like an Astros or Rockets cap is probably okay. But putting a team logo on a badge — the most literal symbol of a police officer's authority — seems way out of bounds. That shouldn't happen.
Also: While sports teams may be civic entities, sportswear manufacturers are not. There's no reason for '47 Brand (or New Era, or whomever) to be getting free advertising out of this. So the cops in Houston should use a Sharpie to black out that maker's mark — or, better yet, use a seam ripper to eliminate it altogether. Yeah, I know — I'm not holding my breath on that one.
(My thanks to @spadilly for letting me know about the Rockets caps.)
• • • • •
[adrotate group="2″]
• • • • •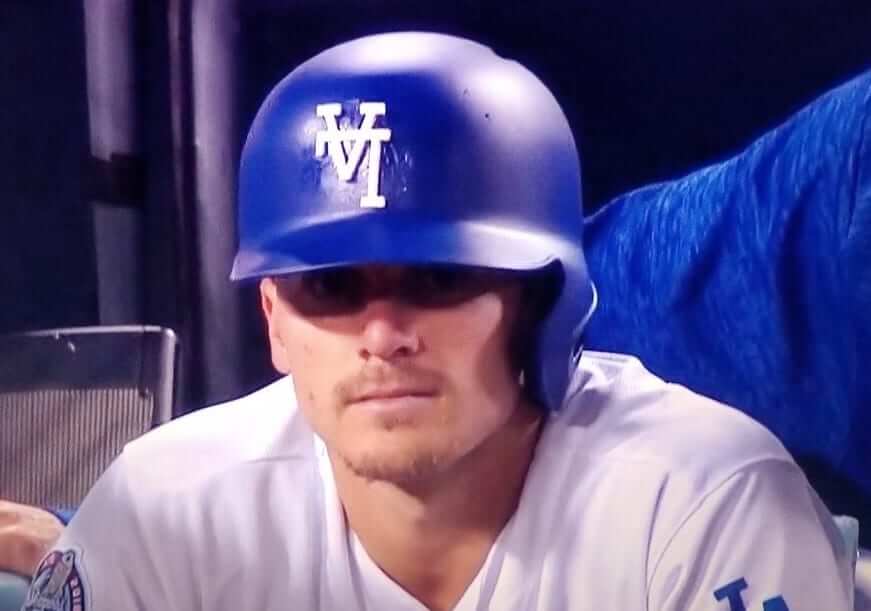 Click to enlarge
No, that's not Roman numeral VI: At first glance it appears that Dodgers utility man Kiké Hernández had a helmet logo malfunction during last night's game against the Diamondbacks. But reader Billy Ballas, who was watching game, says Hernández actually turned the logo upside-down intentionally, to create a rally helmet. He wore his regular helmet, with a properly oriented logo (and a C-flap) when he came up to hit.
• • • • •
[adrotate group="2″]
• • • • •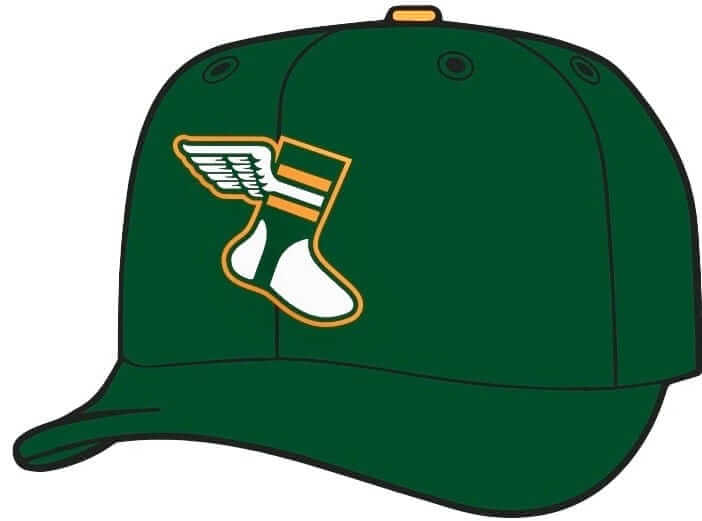 Cap update: The folks at Ebbets Field Flannels tell me that the Uni Watch cap is now in stock and that the web page where it can be ordered should be ready by the end of today. I'll tweet the link when it's ready (if you don't already follow me on Twitter, you can do so here), and of course I'll have it here on the blog tomorrow.
Some of you have asked if this cap will be eligible to be part of EFF's "triple play" offer of three caps for $99. Unfortunately, the answer is no, because it would create various logistical headaches for EFF. Sorry about that.
Our "alternate" cap, with the white front panel, is on track to be available in late June. And our purple cap for Purple Amnesty Day will be available for exactly 24 hours next Thursday, May 17 — one week from today. As you know, that's also the only day of the year that I accept orders for purple-inclusive membership cards, so all your Ravens, Lakers, and LSU fans should get ready!
• • • • •
[adrotate group="2″]
• • • • •
The Ticker
By Paul

'Skins Watch: While the use of Native American mascots is on the decline here in the U.S., it has maintained a surprisingly large foothold among European sports teams (NYT link). Fascinating reading. … The student senate at Cal State Long Beach, whose teams are called the 49ers, is debating a resolution that would urge the school to retire its Prospector Pete mascot character because California gold prospectors slaughtered Native Americans (from Chris Cruz). … The Potawatomi casino in Milwaukee has an ad on the outfield wall at Miller Park, but that ad was covered up for yesterday's game against the Indians. Why? The casino routinely does this as a protest when Cleveland and Atlanta come to town. This has apparently been going on at least since 2009, but I didn't realize it until now (from @waynerboardman).

Baseball News: Here's an old shot of Deion Sanders, during his time with the NFL's Atlanta Falcons, wearing a Braves cap on the sidelines (from Pro Football Journal). … Twenty-three of the 30 MLB teams are hosting LGBT pride nights this season. … Mets 3B coach Glenn Sherlock wore a cap instead of a helmet for yesterday's game against the Reds (good spot by @KPagan34). … Here's the logo for the Dodgers Alumni Game (i.e., an old-timers game), which will take place on Saturday (from Chris Cruz). … Here's a good video clip of MLB players wearing the wrong jersey, cap, or helmet. … Yesterday's Ticker mentioned that Yankees 3B Miguel Andújar was using former Yanks 2B Starlin Castro's bat. Turns out Andújar's been using Castro's bats since last year (from @brianspeaksnow). … Citrus war: The A's and Astros went yellow vs. orange yesterday. … Softball players at Florida wear flowers in their hair (from Paul Friedmann).

Pro Football News: We've seen this before, but Broncos OL Dave Widell had a very interesting FNOB. … Speaking of old Broncos NOBs, check out this sideways period. … Cross-listed from the baseball section: Here's an old shot of Falcons CB Deion Sanders wearing an Atlanta Braves cap on the sidelines (from Pro Football Journal). … Here's an old shot of a Browns player with one of his numerals torn off of his jersey. … Here are the uni numbers for Washington's rookie class (from Griffin Smith). … Pro football teams in Austria have just a few ads on their uniforms. That's the Graz Giants and the Danube Dragons (from Bryan Beban). … Two New Jersey high schools — Salem and Gloucester Catholic — play in the same conference, are both called the Rams, and both poached the L.A. Rams' logo (from Mike Driscoll).

College Football News: Former UGA LB Roquan Smith's stolen jerseys have been recovered. … This is weird: TV numbers usually appear on the shoulders or sleeves, but there's a video game that shows Rice with TV numbers on the shoulders and sleeves.

Hockey News: The new NAHL team will be called the Maryland Black Bears — not exactly a surprise, since the ownership group that was granted a franchise is called Black Bear Sports Group. They've also unveiled their team logo (from Andrew Greenwood).

Basketball News: "I popped into the Arizona state capitol in Phoenix recently and they had a little exhibit on the Phoenix Suns," says Adam Vitcavage. "A lot of school-aged children were being ushered in right after me, but I managed to get some photos as quickly as possible." … Thirty Nike EYBL teams have added orange patches to oppose gun violence.

Soccer News: New kit sponsor advertiser for Boca Juniors (from Josh Hinton). … Looks like Man U's new away kit will be pink (from Ed Zelaski). … New uniforms for Crystal Palace. … Last Sunday was Mother's Day in Spain, so Barcelona's players wore their mothers' names on their pregame shirts. … A day after Man City released their 2018-19 home kit, they wore it against Brighton yesterday. "While it's not uncommon for a team to wear the upcoming season's kit on the last game of the current season, I can't recall a team doing it the second-to-last game, as was the case here," says Josh Hinton. … You're heard of teams wearing an anniversary patch? The Lakeland Tropics' new uniform celebrates the 70th anniversary of their jersey advertiser (from John Flory). … New home shirt for new Scottish Championship team Ayr United (from our own Jamie Rathjen). … Real Sociedad's captain is retiring, so they're putting his face on their jersey crest this weekend (from Derek Noll).

Grab Bag: The Rajasthan Royals — that's an Indian cricket team — will wear pink jerseys for cancer awareness on May 11. … Minneapolis police officers are changing shirt colors, from white to blue. … Speaking of police uniforms, Officer.com has released its list of the best-dressed law enforcement units. Check out what the South Dakota highway patrol wears! … A Bollywood movie star has been served with a legal notice for auctioning the naval uniform he wore in a movie. In selling the uniform he was deemed to have "played with the sentiments of armed forces personnel and widows" of fallen soldiers. … New logo for Best Buy. … Oooh, check out this awesome "ribbon map" of the Mississippi River. … Reprinted from yesterday's comments: New helmets for the Swiss Guard. … Yesterday was "typography appreciation day" for BYU's creative design team, one member of which — assistant creative director Jacob Gibb — wore a Uni Watch T-Shirt Club tee (from Greg Welch). … New logo for the teams at St. Mary's Colgan Catholic Schools in Kansas (from Scott Nuzum). … Tyler George, who helped teach me to curl back in 2010 and was part of Team USA's gold medal-winning squad at the recent Winter Olympics, is retiring from the sport. Way to go out on top, Tyler.