Click to enlarge
Uni Watch girl mascot Caitlin turns 13 today. That's about 68 in human years, but you'd never know it from watching her — she's still the same little monkey she's always been, inquisitively investigating everything, periodically getting ants in her pants and racing back and forth for no apparent reason, and chatterboxing throughout all of it. She's the best!
One of the many awesome things about Caitlin is that she spends a lot of time upside-down. Sometimes she just falls asleep that way, and at other times she flips back and forth on her back on the floor: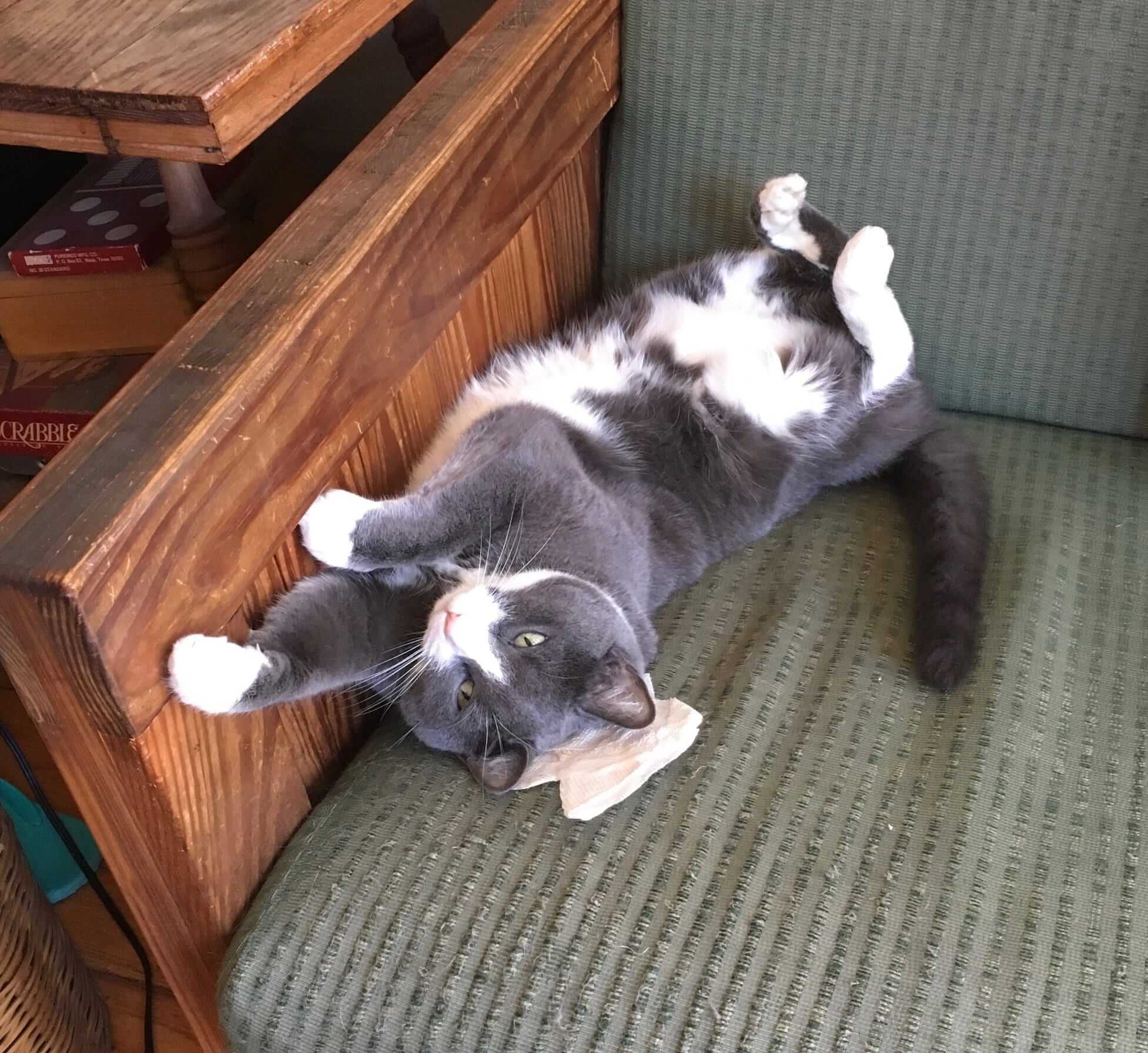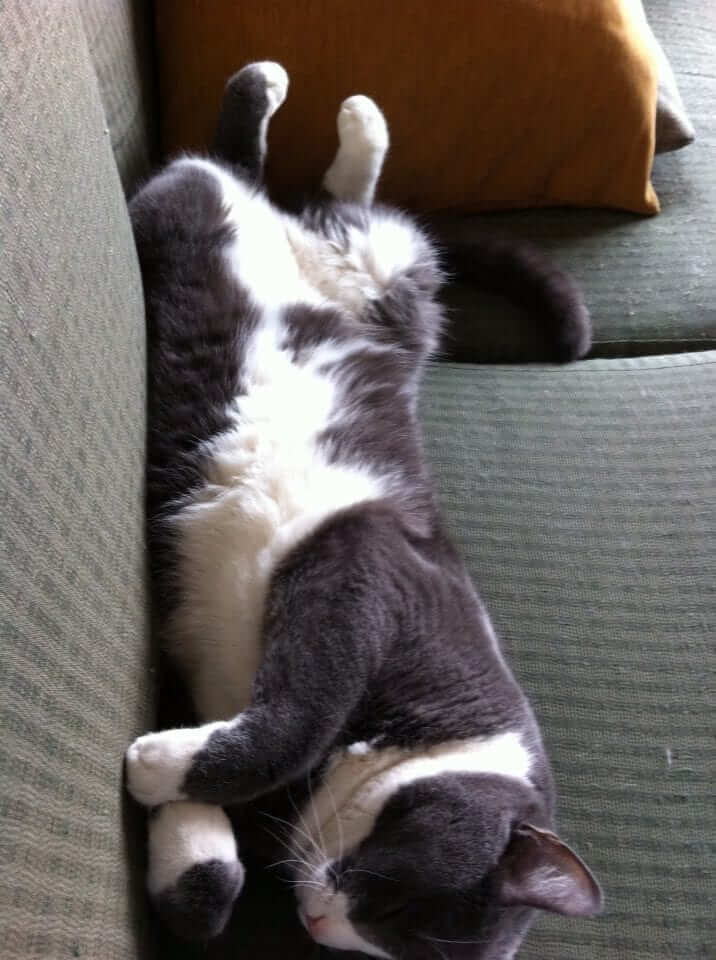 In addition, Caitlin has a really unusual tendency: She likes to straddle things. In particular, she likes to straddle the top cushion of a chair in my apartment. She'll just climb up there and settle in this weird straddle position, like Snoopy laying down on top of his doghouse. I've never seen a cat do anything like this — it's a Caitlin original, a Caitlin special!
This is Caitlin's first birthday without Uni Watch boy mascot Tucker, who died last August. We both miss him, but Caitlin seems to enjoy getting all of my attention now that she's the only cat in the house, and our bond has definitely gotten stronger over the past eight months.
That bond, like all human/pet bonds, strikes me as a bit of a miracle. Imagine if you didn't already know that people had pets. Then imagine if someone told you, "You're going to have completely different species living in your home with you, and you're going to love them, and they're going to love you back." It seems like a really dubious proposition — like, how could that work? But the cross-species bond does work, and I think that's really special.
Caitlin doesn't know it, but this will also be her last birthday at Uni Watch HQ, at least in its present location. That's because I have some news to share: The Tugboat Captain and I are shacking up. Later this year, probably on Sept. 1, I'll be moving into her apartment, which is about five miles away in another part of Brooklyn.
I've lived in my current apartment for 18 years, in my current neighborhood for 29 years, and by myself (cats notwithstanding) for 25 years, so this will be a big adjustment, but I'm excited about it. I'm sure it will also be a big adjustment for Caitlin, which I feel bad about, but I figure she'll settle in eventually.
As you may have gathered from seeing various photos of my apartment over the years, I have a lot of stuff. Not all of it will be coming with me to my new home, so I'll be having a few moving sales to lighten my load. More details on that later, probably in June.
But enough about me. Today is all about Caitlin. Happy birthday, cutie — you have some major catnip and toys on today's agenda!
• • • • •
[adrotate group="2″]
• • • • •
NBA update: All hopes for an ad-free NBA Finals collapsed yesterday, as the Pacers lost the seventh and deciding game of their first-round playoff series to the Cavs, thereby removing the Eastern Conference's last hope for an ad-free standard-bearer.
The only remaining ad-free team in the playoffs is Houston, which finished with the best regular season record and remains the top-seeded team in the Western Conference. They are now Uni Watch's official #NoUniAds rooting favorite. If you don't already have a strong emotional tie to one of the remaining teams, I hope you'll join me in cheering for the Rockets to take the championship.
Getting back to the Pacers/Cavs series, two items of note: First, the Pacers wore their yellow alternate uniforms for all seven games of the series. I'm assuming that's the first time a team has ever worn the same uni throughout a postseason series. And second, neither team wore a white uniform for any game of the series. That's presumably an NBA first as well.
• • • • •
[adrotate group="2″]
• • • • •
Click to enlarge
A new flap: My recent ESPN article about the C-Flap has led to a lot of people approaching me with their ideas for new safety accessories. One of the more intriguing ones comes from a Seattle firefighter and Little League coach named Eric Peterson, who points out that when batters turn away from an inside pitch, their necks are exposed. So he's devised a flap attachment that hangs down on the back of a batting helmet to protect this area. It's sort of a combination of the C-Flap and Steve Yeager's old catcher's mask flap. (There's also a version for lacrosse helmets.)
Peterson doesn't yet have the backing to bring his concept to market, and I have no idea how viable the accessory really is. But it's an interesting idea — you can learn more about it here.
• • • • •
[adrotate group="2″]
• • • • •
Reminders, raffle results, etc.: In case you missed it last Friday, you can help to support Uni Watch by entering the auction for a full set of 2015 Uni Watch T-Shirt Club shirts in a custom-made box (shown at right). Full details here.
Also: Bobblehead doll restoration artist extraordinaire Chris Callan is willing to make custom Uni Watch bobbles for a limited number of customers. Full details here.
Also-also: The winner of the raffle for the Santurce Cangrejeros T-Shirt from Ebbets Field Flannels is Richard Jurnack. Thanks to all who entered — more raffles coming soon.
• • • • •
[adrotate group="2″]
• • • • •
Culinary Corner: Beef shin is usually cut crosswise, so get a small round of bone with the meat surrounding it, like this. But during a recent visit to my local butcher, I was intrigued to see several hunks of beef shin cut lengthwise, with the bone cut open to expose the marrow (a marrowbone style often referred to as "canoed"; for all photos, click to enlarge):
I'd never seen beef shin sold this way before, so I bought a three-pound hunk of it and popped it in the freezer for later.
"Later" turned out to be two nights ago. Shin is super-flavorful but has a lot of tendons and connective tissue, so the most obvious way to cook it would be to braise it. But I decided to slow-roast it instead, because I didn't want to lose all that marrow. Nothing fancy — just salt, pepper, and some potatoes at the bottom of the roasting pan:
It turned out great. The meat pulled back from the bone, and the marrow roasted within the bone beautifully:
I removed the bone from the meat, so we could slice the meat without disturbing the marrow:
Beef shin can be sinewy and chewy if it's cooked too fast, but our little roast sliced up beautifully:
We served it with the potatoes and a side salad. That's a dollop of marrow to the left of the salad — mmmmmm.
• • • • •
[adrotate group="2″]
• • • • •
The Ticker
By Jamie Rathjen

Baseball News: Pitt wore Homestead Grays throwbacks and had a accompanying giveaway yesterday (from multiple readers). … Reader Patrick Karraker wonders if the Giants are the most bespectacled team in baseball history, as they feature three players who wear glasses on the field. … The Triple-A Buffalo Bisons debuted Blue Jays-themed Sunday alternates (from Gabriel Hurl). … In this 1960 photo, five-year-old Pirates mascot/batboy John "Jake" Brown is wearing uni No. 1/2. As I'm sure many of you are aware, we can compare this to the more famous example of the St. Louis Browns' Eddie Gaedel (from Stephen in DC). … The Pennsylvania Road Warriors, an Atlantic League team that doesn't have a home ballpark and therefore plays all of its games on the road, have red alternates with a big Rawlings logo on the front. More info on the Road Warriors' unusual situation here (from Scott Markiewicz). … Musicians Jack White and Ken Bethea Get It (from Michael Raymer). … The Hiroshima Carp are wearing a black memorial ribbon for the late Sachio Kinugasa, the ironman who had more consecutive games played than Lou Gehrig, but fewer than Cal Ripken Jr. (from Graveyard Baseball). … Someone on Reddit was going through his family's old home movies and found rare color footage of Jackie Robinson (from @NorthwestPurple). … Stanford's new caps have contrasting eyelets on the front two panels but not on the other panels. "I hate this look," says John Furstenthal. … Umpire Angel Hernandez, who was working the plate in last night's Yanks/Angels game, had blue jaw pads in his mask to match his jersey (from Ryan Bower). … Here's some old footage of country singer Charley Pride taking BP with the Texas Rangers in 1974. "Pride was a former minor and Negro League ballplayer himself," notes Daren Landers. "What I found interesting is that at the 0:54 mark, you can see that they gave him a jersey that has been renamed and renumbered."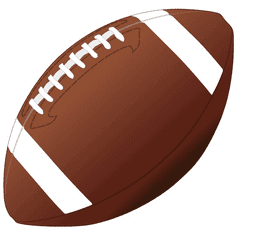 Football News: Former Iowa linebacker and new Broncos draft pick Josey Jewell had a Broncos helmet as a kid, so he posted a picture of himself now with the same helmet (from Kary Klismet). … It looks like the Giants will continue to use both of their white jerseys next season (from Moe Khan).

Hockey News: At the under-18 world championship in Russia, some of the U.S. jerseys have faint stars on the shoulder yoke and some don't (from Eprahim Vorzman). … As the top tier of the full world championship starts May 4 in Denmark, the Hockey Hall of Fame now has a uniform-based display for the Danish national team.

Soccer News: New kit roundup: Starting with World Cup teams, here's Costa Rica's second shirt. There's also new looks for Dutch teams Ajax (second kit) and PSV (second), and Scottish teams Celtic (first), Queen of the South (first and second), and Stirling Albion (first). Ed Żelaski sends us Welsh team Wrexham, who play in the fifth-tier English National League, while Tranmere Rovers of the same league have a new outfit as well. … Additionally, what may be Real Madrid's new first shirt is popping up in stores (from Josh Hinton). … Speaking of Celtic, their right-back Mikael Lustig celebrated a goal yesterday wearing a hat he took off a police officer's head (he gave it back). … In two games, the home team changed and forced the away team to change as well: Vancouver Whitecaps (grey)/Real Salt Lake (white) in MLS and Motherwell (black)/Dundee (red) in Scotland. … In Germany, VfB Stuttgart goalie Ron-Robert Zieler wore a kit of their red second shirt and socks and the same white shorts as the rest of the team. … Liverpool honored Irish fan Sean Cox, who is in the hospital after being attacked prior to Tuesday's Champions League semi-final against AS Roma, by hanging in their locker room the shirt from Cox's Gaelic Athletic Association club, St. Peter's of Dunboyne. Manager Jürgen Klopp also wore a pin of the team's logo in the Irish tricolor. … New home kit for Everton (from Will Hughes). … Uruguayan side Peñarol found out on arriving to Sunday's match against Progreso they had the wrong colored keeper's shirt, so a fan had to loan out his replica shirt to get the game going (from Andrew Tice).

Grab Bag: Virginia hosted the ACC men's lacrosse tournament as the lowest seed and therefore wore orange at home for both games against teams in white (NCAA teams wear white at home). … Also posted in soccer: Liverpool honored Irish fan Sean Cox, who is in the hospital after being attacked prior to Tuesday's Champions League semi-final against AS Roma, by hanging in their locker room the shirt from Cox's Gaelic Athletic Association club, St. Peter's of Dunboyne.