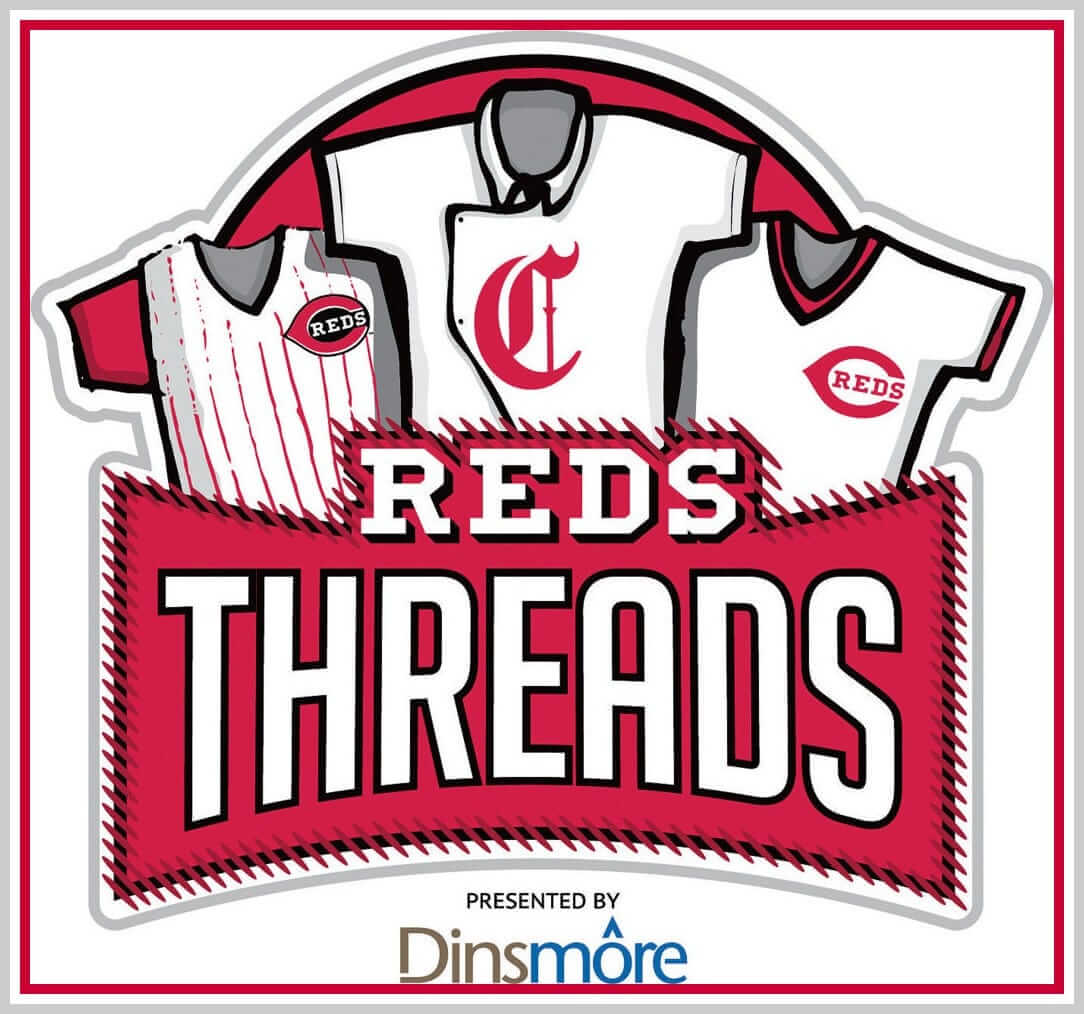 By Phil Hecken, with Cam Miller
Follow @PhilHecken

A few weekends ago, I introduced you to Cam Miller, a film maker, composer, motion graphics editor, baseball historian and freelance writer and deeply involved with the Cincy Reds Hall of Fame. On Opening Day (which happened to be rained out in Cincinnati), the Reds Hall of Fame opened an incredible new uniform exhibit, appropriately entitled "Reds Threads," which features not only a very comprehensive collection of Cincinnati uniforms from roughly the past 100 years, but it also include uniforms from roughly 26 current and past major league teams. There are stand-alone exhibits devoted to fabrics, one year styles/rare styles, and non-Cincinnati major league uniforms manufactured in Cincinnati (Goldsmith, MacGregor-Goldsmith, MacGregor) as well as others on the first floor. Because of the size of this year's display, this will be the first time the feature exhibit has extended up to the third floor. Here you will see contrasts and evolution between National League uniforms from the 1950s to the 1970s, a special section on uniforms and patches from 1976 (both leagues) as well as a nice grouping of All Star Game uniforms, featuring distinctive patches worn throughout the years.
I'm back with Cam today to give us a mere taste of what's in the museum. I say taste, because he'll be back shortly with a much larger perspective, including some video as well as a look at some unis that aren't even in the exhibit. But that's the main course down the road. Today, the appetizer. Here's Cam:
• • •
Reds Threads
By Cam Miller
One of the great things about the Cincinnati Reds Hall of Fame and Museum, (and there are many), is that in their 14 years as a part of Great American Ball Park, they find a way to do something bold, fresh, and new on a yearly basis. There aren't many museums that can pull that off. This year is no different. The 2018 feature exhibit is called "Reds Threads" and if you appreciate history and have a keen interest in baseball uniforms and style, this exhibit will blow your Red Stockings right off.
"Reds Threads" features over 200 game worn pieces. In fact, the exhibit is so expansive, that it takes up two floors making it one of the largest public displays of baseball uniforms ever assembled, and the largest Reds Hall of Fame and Museum exhibit ever constructed. Each section of the exhibit follows a timeline of the history of not just the beloved Cincinnati Reds uniforms but also showcases unique ensembles from a number of major league teams.
Some of the magnificent pieces you'll find at the Reds Hall of Fame (click any image to enlarge):
++++++++++
1940
A 1940 Reds uniform with black armband worn in tribute to Willard Hershberger who took his life that August. The Reds would wear the armband for 30 days.
++++++++++
1948)
This 1948 Reds Satin cap was worn in night games. The players complained that the hat was too hot and was never used again. This hat was worn by Reds catcher Ray Mueller.
++++++++++
1976 White Sox
The 1976 Chicago White Sox uniform top that was infamously a part of the "shorts" ensemble that would be worn only a handful of times in August of that year. Mary Frances Veeck, wife of owner Bill Veeck, designed the uniforms.
++++++++++
The 70s
Display case full of colorful 1970s uniforms. Polyester became a popular choice for the pullover style uniforms that would remain in circulation throughout the 1990s for most clubs.
++++++++++
1919
Rare 1919 Reds game worn wool road cap. The Reds would win the World Series that season over the Chicago White Sox, The series would forever be associated with the "Black Sox" gambling scandal.
++++++++++
1920s
A very rare display of a complete set 1920s era Reds home and road uniforms.
++++++++++
Decades
Decade by decade Reds uni's. Notice rare 1980s white batting helmet which was worn as an experiment in spring training of 1983.
Many of the artifacts in the Reds Threads exhibit are on loan courtesy of renowned uniform expert Mr. Dave Grob.
• • •
Thanks, Cam. We're all looking forward to your much more in-depth exploration of the museum.
[adrotate group="2″]

Old Time Base Ball Photos
Readers will recall I featured Ronnie Bolton (who posts on Twitter as @OTBaseballPhoto and who you should definitely follow) earlier this year with some great football played on baseball field photos and writeups, and more recently with some MLB Opening Day specials. As his twitter handle implies, Ronnie's specialty is old baseball photos.
As our theme for today is the Cincinnati Reds, I asked Ron to delve deep into his archives for some Cincy specials. As always, he didn't disappoint.
Enjoy. Here's Ronnie:
• • •
Slim Sallee, pitcher 1908 to 1921
This very slender southpaw hurler, seen here at Redland Field during 1919 World Series, stood 6'3 but thanks to his thin frame (weighing just 148 pounds) and long arms he looked taller. He had incredible pinpoint control with his curve ball and a slow-motion delivery that perplexed hitters, and sometimes umpires!
In 1909 in a complete game win, Sallee threw a first-pitch strike to every batter he faced. On September 26, 1919, in a 3-1 loss to Brooklyn Robins, Sallee threw just 65 pitches in the complete game effort that took only 55 minutes to play!
His best season was likely 1919, that year he won 21 and lost 7 with a 2.06 ERA. In 227 innings he walked just 20 batters, 0.8 every 9 innings. And then there was this stat I still can't wrap my head around, even during an era known for contact hitters – in those 227 innings, he struck out only 24 batters. 0.9 for every 9 innings. One five game stretch he threw 44 innings, striking out only one.
And this is just scratching the surface why Harry "Slim" Sallee was one of my favorite characters of the Deadball Era.
. . . .

Above: Redland Field, Cincinnati, October 1, 1919 – Game One of the infamous 1919 World Series with White Sox pitcher Eddie Cicotte on the mound, Buck Weaver at third base and Shoeless Joe Jackson in left field.
++++++++++
Redland Field, Cincinnati, 1940
While the Cincinnati's 1940 season ended in victory and glory, it at one point was met with unthinkable sadness and pain. On August 3rd in a Boston hotel room the Reds catcher, Willard Hershberger, a popular teammate and fan favorite, took his life after a losing battle with depression.
Heartbroken, the Reds committed themselves to winning the series for "Hershie". But with their other catcher, All-Star Ernie Lombardi, sidelined with an injury heading into the World Series against the Detroit Tigers, the Reds backstop depth was razor thin. Their top option now was a former catcher who they brought out of retirement after Hershberger death, Jimmie Wilson. WIlson not only stepped in but starred in hitting .353 and leading the Reds to their second World Series title.
Willard Hershberger
• • •
Thanks, Ronnie. He'll be back periodically with more wonderful old photos and the backstories that go with them.
[adrotate group="2″]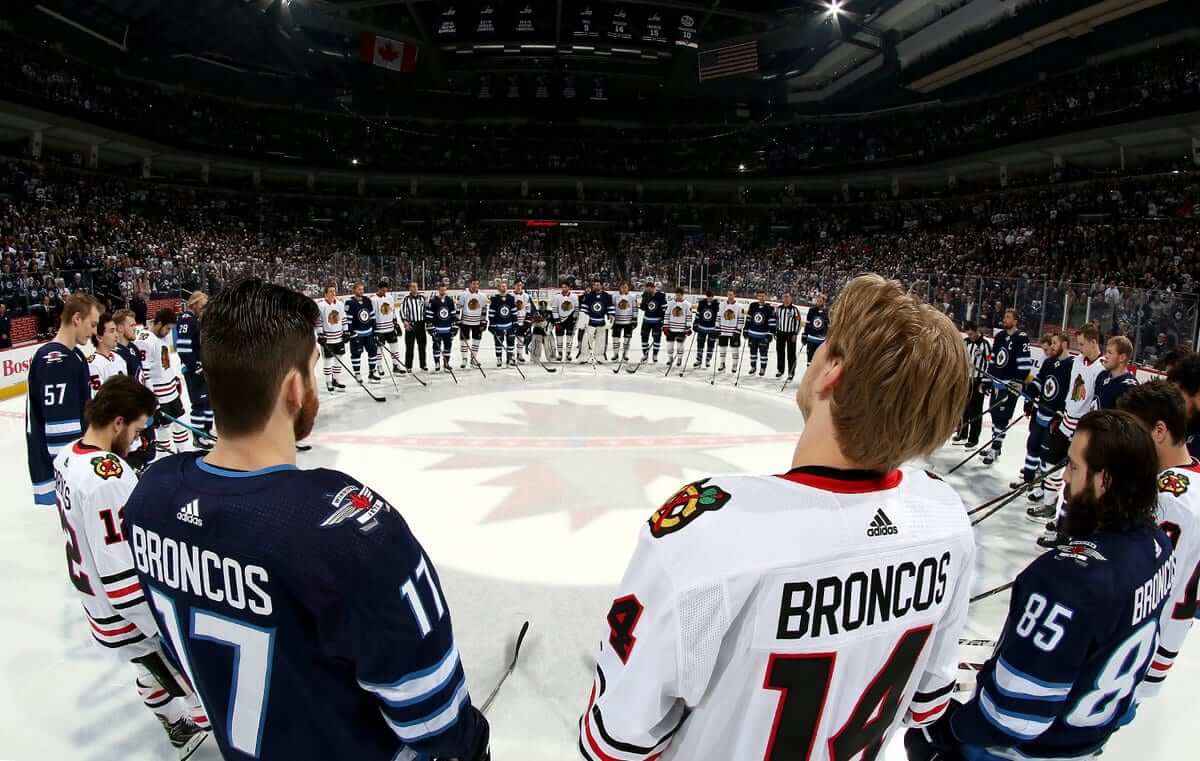 Click to enlarge
Hockey World Responds to Humboldt Deaths

By Paul
By now you've probably heard about how a Canadian junior hockey team, the Humboldt Broncos, was involved in a bus crash on Saturday that killed 15 people and injured 14 more. The Blackhawks and Jets, who played each other last night in Winnipeg, responded to the tragedy by replacing their standard NOBs with "Broncos" — not just for pregame warm-ups, as shown above, but also for the game itself: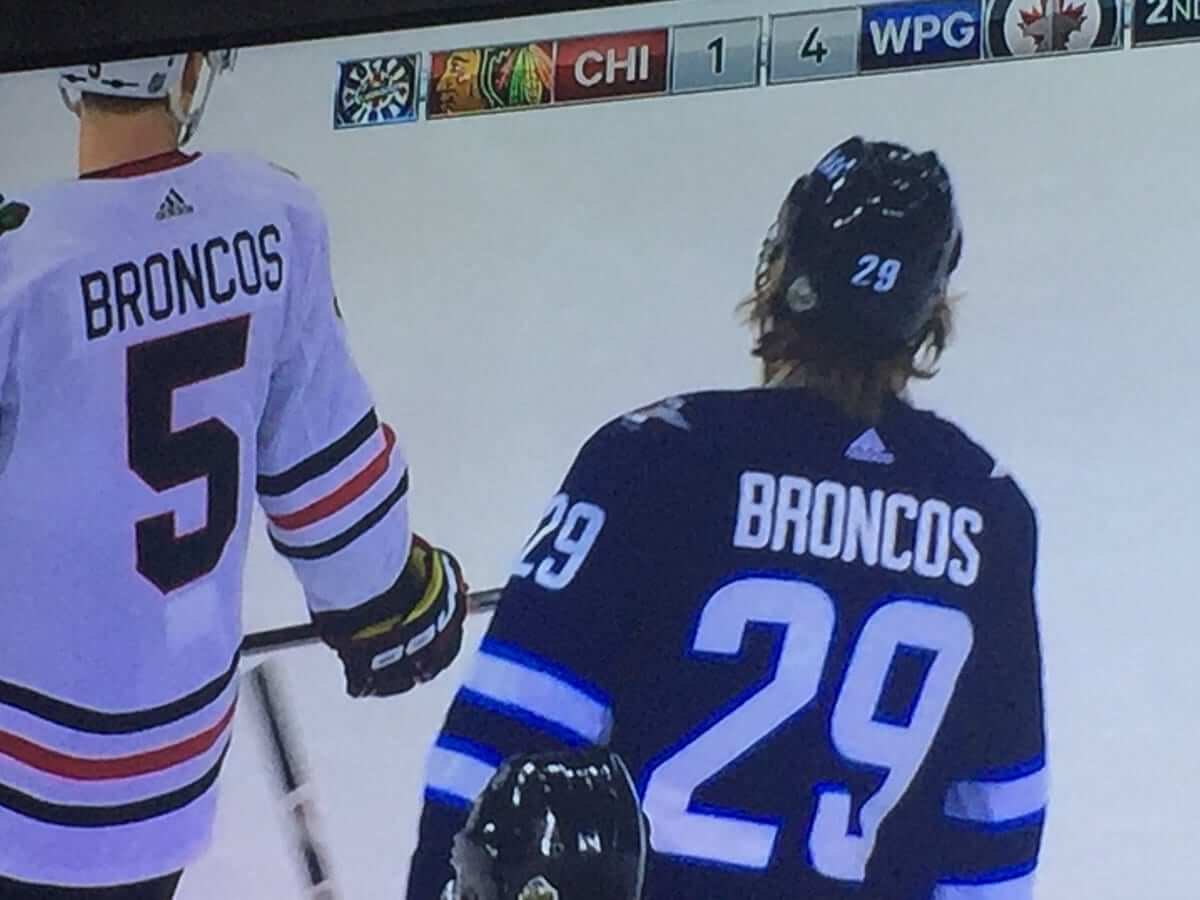 Across Canada, there were lots of other uni-related gestures connected to the Humboldt crash. I'm sure this list is not complete, but here's some of what took place:
• The Maple Leafs and Canadiens added a helmet decal:
We play for Humboldt. #PrayForHumboldt pic.twitter.com/kgvUTmzokw

— Toronto Maple Leafs (@MapleLeafs) April 7, 2018
• The Oilers and Canucks added a different helmet decal, and their coaches donned ribbons in Humboldt colors:
#Oilers & Canucks players will have decals on their helmets for tonight's game while coaches will wear lapel ribbons. #PrayForHumboldt pic.twitter.com/JgtgErDOfU

— Edmonton Oilers (@EdmontonOilers) April 7, 2018
#Canucks & Oilers players will have decals on their helmets for tonight's game while coaches will wear lapel ribbons. #HumboldtStrong pic.twitter.com/VHFqoSljjZ

— Vancouver Canucks (@Canucks) April 7, 2018
• In MLB, Blue Jays pitcher Marcus Stroman added an inscription on his cap:
Marcus Stroman with a tribute to the Humboldt Broncos on his cap tonight in Texas #BlueJays pic.twitter.com/ufvijxB8Pi

— Chris Creamer (@sportslogosnet) April 8, 2018

Again, I'm sure there were other tributes, but Phil and I were both busy last night, so I had to throw this together at the last minute. Thanks for understanding, and our condolences to everyone in the Humboldt community.
[adrotate group="2″]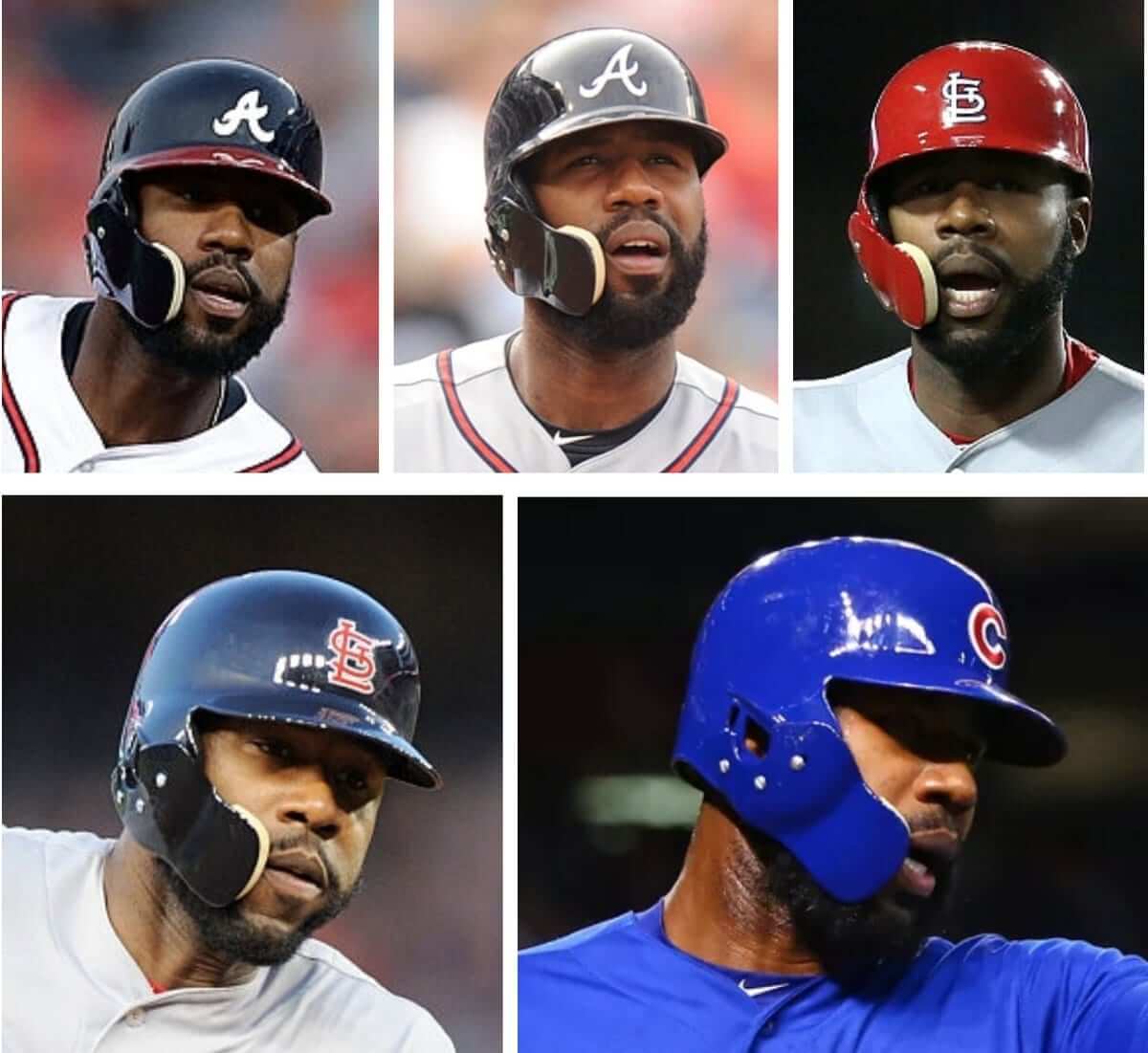 And now a few (more) words from Paul: Hi there. In case you missed it a few days ago, I have a new ESPN column about the C-Flap, the protective faceguard accessory that is literally changing the face of Major League Baseball (thanks in part to its use by Jason Heyward, shown above, who holds the unofficial records for wearing the flap in the most games, during the most seasons, with the most teams, with the most helmet designs, and in the most colors). It's a deep dive that explores the flap's past, present, and potential future. I hope you'll check it out here.
In addition, I ran some follow-ups to the ESPN piece on the blog yesterday. Look here.
Meanwhile: Todd Radom and I are so happy with the response to our limited-edition "Rain Check" print that we're thinking of doing another print based on another one of his T-shirt designs. We're trying to gauge how much demand there'd be for such a print and could use your input — full details here.
That's it. We now return you to your regularly scheduled Phil-tacular.
[adrotate group="2″]
And finally, that's all for today. No Phil-tacular to follow. I had a VERY busy day yesterday and I will have another one today. Apologies for no Ticker, but we'll be back with a full Paul-tacular tomorrow, with (probably) a double-wide ticker then. You guys have a great week and I'll catch you next weekend!